Vancouverites dreaming of sipping a cocktail on a glistening white sand beach have some ultra-cheap options to choose from for this fall and winter.
For locals looking to escape "Raincouver" in January (notoriously the most "blue" month of the year) or even in December (typically the busiest travel month of the fall/winter season), Swoop, WestJet's discount carrier, is currently offering a couple of ultra-low-cost deals that include direct flights and accommodation in sunny Mazatlán.
To take advantage of the deal, locals must fly out of Abbotsford International Airport (YXX). However, there is a bus that takes travellers from Metro Vancouver to the airport called Ebus. A one-way transfer costs about $46.82.
Swoop offers a four-night package that includes flights and hotel for under $500 including tax per person to Mazatlán. While it isn't as popular as Puerto Vallarta, the sun-drenched Mexican vacation destination boasts breathtaking beaches, historic markets, vibrant nightlife, and fantastic fresh seafood. It is also famously known as the "Pearl of the Pacific."
The accommodation portion is powered by Expedia, but booking the hotel with the flight through the discount carrier saves travellers up to 50 per cent off the cost of their hotel.
The outbound flight departs from Abbotsford on Tuesday, Dec. 6, and returns from Mazatlán on Saturday, Dec. 10. Guests will stay for four nights at the Hotel Morales Inn in a standard room.
The total cost of the package for two people, including the direct flights and accommodation, comes to $961.50 including all taxes and fees. That cost breaks down to $480.75 CAD per person.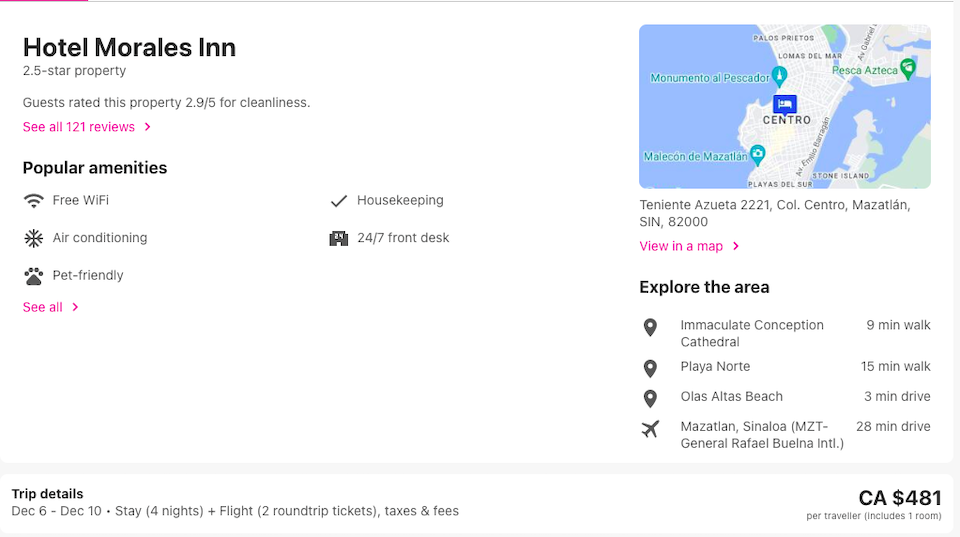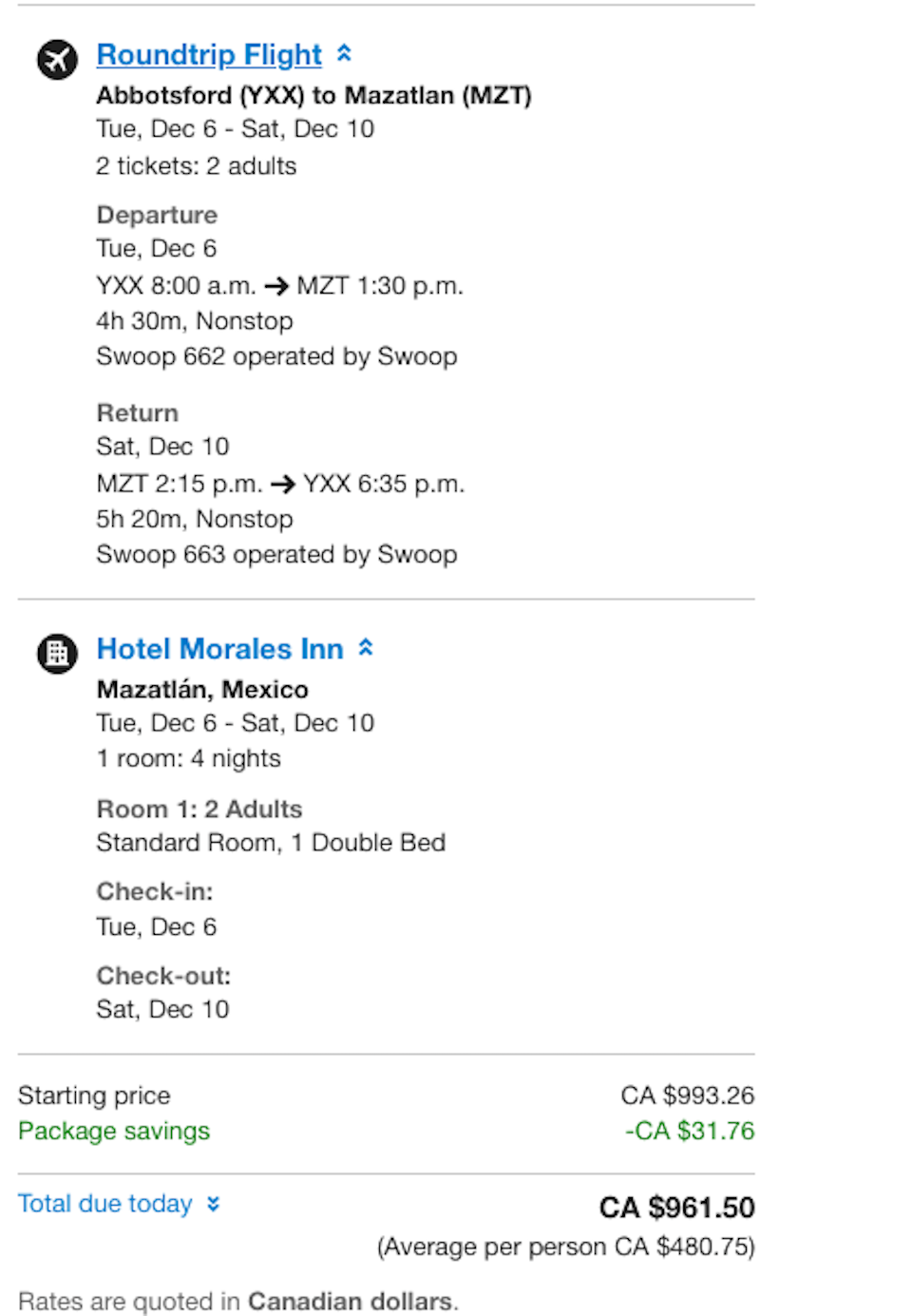 Mexico all-inclusive options and higher-rated properties
While this price point is extremely attractive, bear in mind that it is for a 2.5-star property. That said, if you aren't looking to spend much time in your hotel, it might offer the perfect place to lay down your head at night after a full day and evening of exploring the fascinating and beautiful city.
On the other hand, if you're looking for luxury, or simply want a resort or hotel that you'll enjoy spending more time in, you'll want to book a higher-rater property. Also, keep in mind that properties in Mexico that are rated below three stars can be a gamble; it is a safer practice to book three stars and up.
There are several options to choose from if you are willing to spend a few hundred dollars more per person. For example, you can stay at the Hilton, which is a well-appointed, 4-star hotel with direct beach access and a stunning, infinity pool view of the Pacific ocean. It has also been given an "excellent" cleanliness rating by guests.
With this in mind, there are several options in a variety of price ranges to choose from.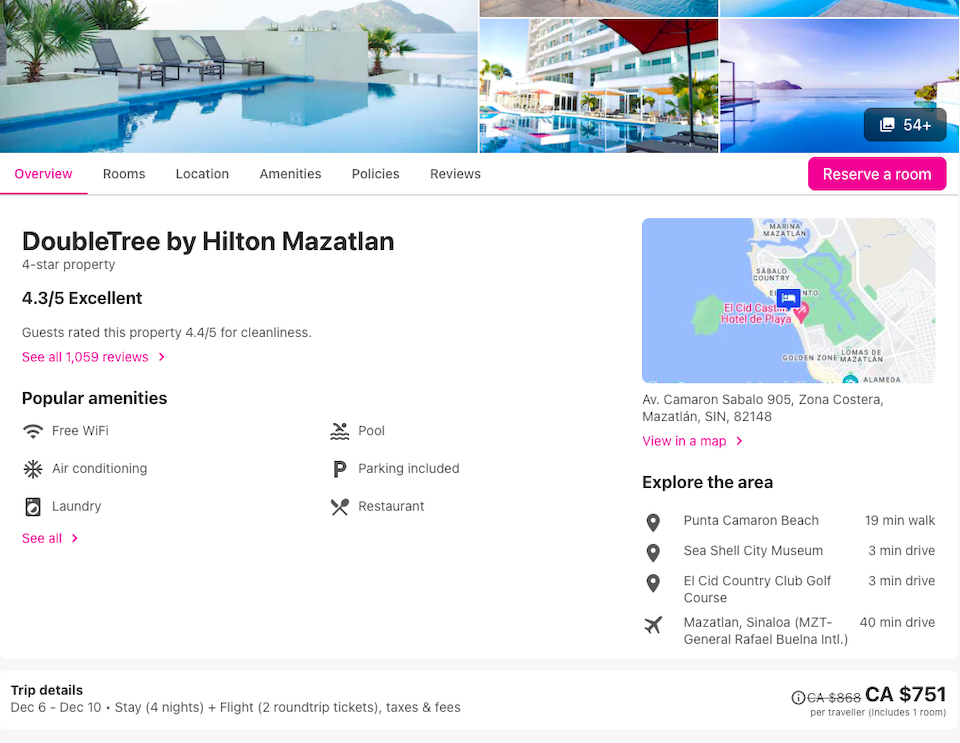 Travellers looking for a week-long stay have numerous options to choose from when they depart from Abbotsford on Tuesday, Dec. 6, and return from Mazatlán on Tuesday, Dec. 17.
Many of the packages include properties that have excellent reviews and cost just over $700 CAD including tax for a full week.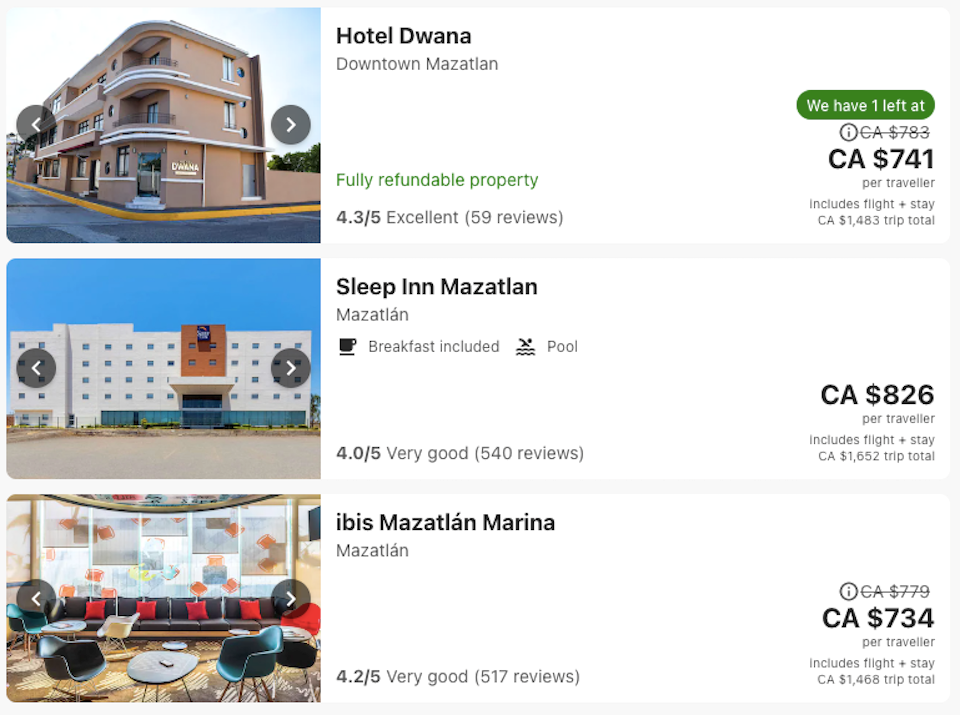 There are also some great deals for all-inclusive options over the winter, including a beautiful property with excellent reviews for $1,088 in January for a week-long stay.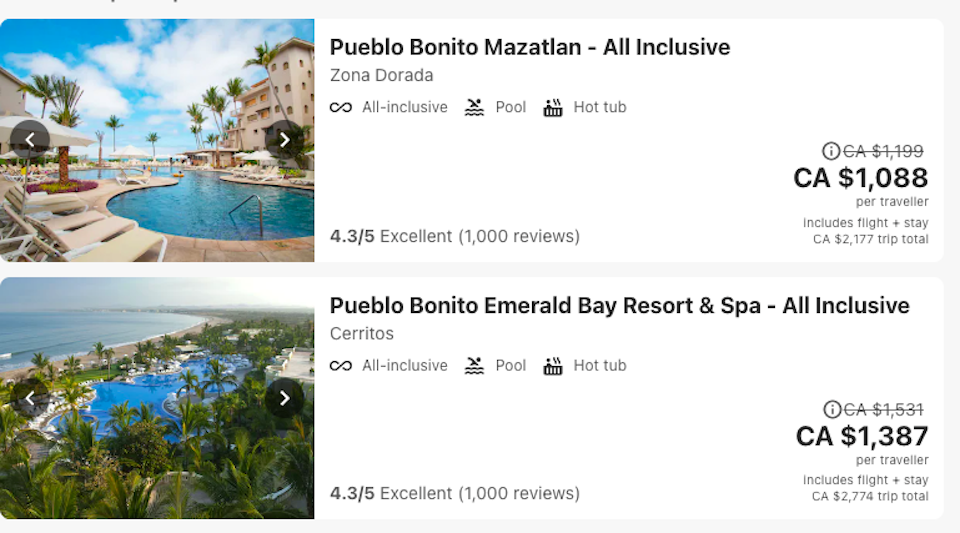 You can book your travel with Swoop Getaways.
Travel from Vancouver to Mexico in 2022
If you are looking to travel to Mexico in the near future, there are several things to consider before you pack your bags.
Deciding what region of Mexico to visit will dramatically determine what kind of experience you enjoy while you are in your destination.
If you aren't a fan of the super-sized parties, you might find the atmosphere at Cancun's famous club, Coco Bongo, a little oppressive. But if you're down to dance until the sun rises, this is most certainly the place for you. Of course, the region's glistening white sand beaches and crystal-clear waters are nothing to scoff at, either.
I recently visited Los Cabos, on the other side of the country, in early December 2021. Find out what the spell-binding destination has to offer in our guide.