Locals looking to sail into Vancouver on a "mega-ship" have slim pickings in the not-so-distant future.
While some towering behemoths have cruised into Vancouver, some ships simply can't fit under the Lions Gate Bridge during regular or high tide, such as Royal Caribbean International's (RCI) newly announced Icon of the Seas, which is now the largest ship at sea.
In 2018, Norwegian Cruise Line's (NCL) Norwegian Bliss carried over 4,000 passengers into Canada Place terminal, which made it the largest cruise ship to ever dock in Vancouver at the time.
Since the Lions Gate Bridge has a low clearance, the mighty ship can only reach Vancouver during low tide -- but it is absolutely worth checking out when it does. Only a handful of these mighty vessels make it under the bridge.
Not only does the Bliss have a winding, massive go-kart track, but it also has a spiral water slide that triumphantly towers skyward from its impressive upper deck.
NCL is a favourite among cruisers who enjoy a more relaxed atmosphere on board, without sacrificing quality and style. There's no dress code or scheduled dining times but guests can still enjoy elegant dinners in specialty restaurants onboard.
NCL also offers world-class entertainment, luxurious spa facilities, and areas designated for kids and teens.
On the Norwegian Bliss, families will find no shortage of activities to keep their young ones entertained, as the statuesque vessel boasts an impressive resume of games, sports facilities, and other amenities. For example, the ship holds the record for the "longest race track at sea" and offers other fun, specialty activities such as laser tag and a mini-golf course.
The five-day Pacific Coastal sailing departs out of Los Angeles on Sunday, Apr. 9, and spends two days at sea before it sails into Victoria on Wednesday, Apr. 12. The ship overnights in Vancouver from April. 13 to April 14, which means you'll get to enjoy the ship's offerings and cuisine for a full 24 hours at home before you disembark.
Date
Port
Arrive
Depart
Sunday, April 9
Los Angeles (San Pedro), CA
4:00pm
Monday, April 10
At Sea
Tuesday, April 11
At Sea
Wednesday, April 12
Victoria, B.C., Canada
8:00am
8:00pm
Thursday, April 13
Vancouver, B.C., Canada
8:00am
Friday, April 14
Vancouver, B.C., Canada
Disembark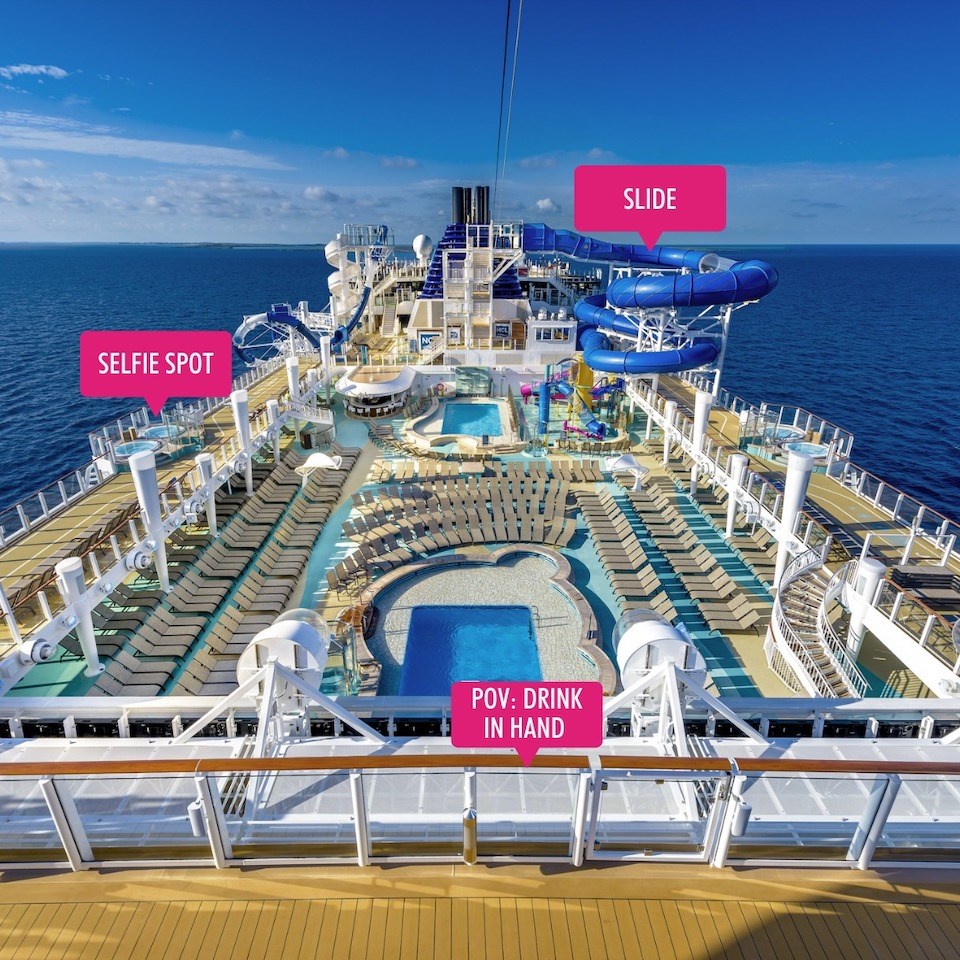 Cruise from Los Angeles to Vancouver with Norwegian Cruise Line
The total for two guests in an interior stateroom works out to $1,089.16 including all taxes and fees, which works out to $544.58 CAD per person. Since the cruise is six days long, this works out to a per diem cost of $90.76.
Currently, NCL is offering travellers one more day to take advantage of the following: 50 per cent off the price of the cruise fare for all guests booked in the stateroom; free cruise fares for the third and fourth guests -- but they must pay for tax ( only available on select dates); and two-for-one guest deposits, which means travellers only pay one deposit for every two guests in the stateroom (this promotion applies to sailings booked four months in advance.
These perks are included in the lowest fare category for the sailing.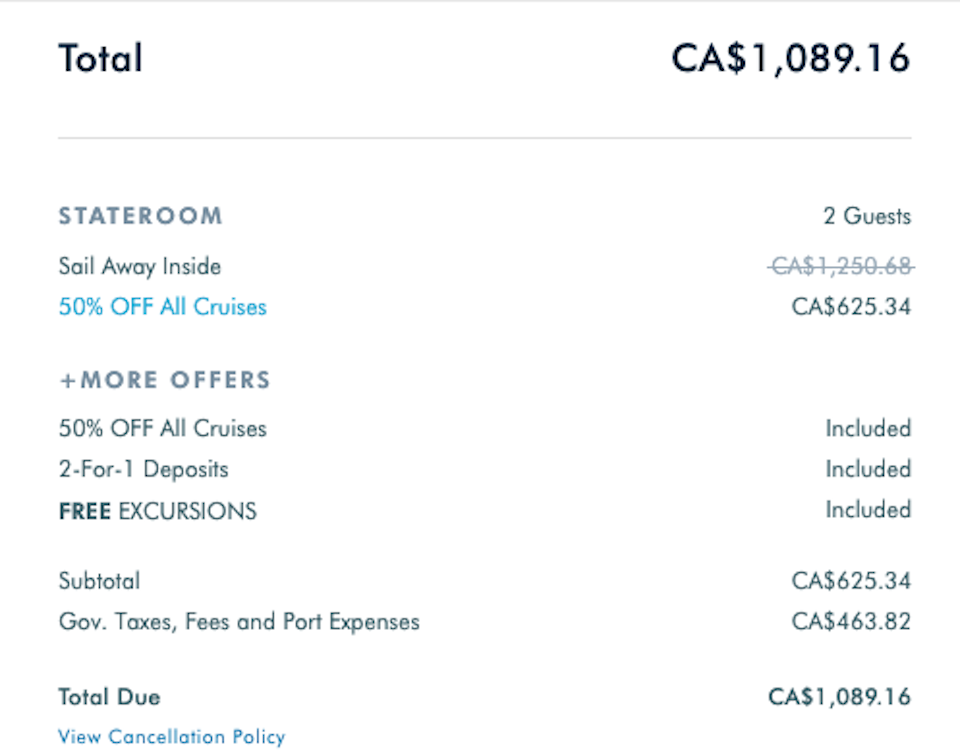 The cruise line is also offering four free offers for its "Free at Sea" promotion for the next booking class up. The offer includes the unlimited open bar perk, which means you can enjoy all the spirits and cocktails, wines, draft beer, juice, and pop for all guests 21 years or older (valued at US$1,400).
The promotion also includes free meals at the specialty dining for guests one and two, as well as a WIFI package (valued at US$130). NCL also includes US$50 per excursion per stateroom.
For folks who haven't cruised, the WIFI packages can work out to be quick a bit of money. If you plan on checking emails, logging into social media, or surfing the web on board, you'll need the WIFI package. If you plan on having drinks, they are not regularly included on almost any regular cruise line and end up being quite expensive.
While you don't have to pack for the drink or specialty dining packages, you must pay for gratuities. Included in the stateroom total are the open bar gratuities (C$297 ) as well as the ones for specialty dining (C$27.24).
The package with the "Free at Sea" promotion costs C$1,495.12 including all taxes and fees for two guests in an interior stateroom works out. This price works out to C$747.56 per person or a per diem cost of C$124.59.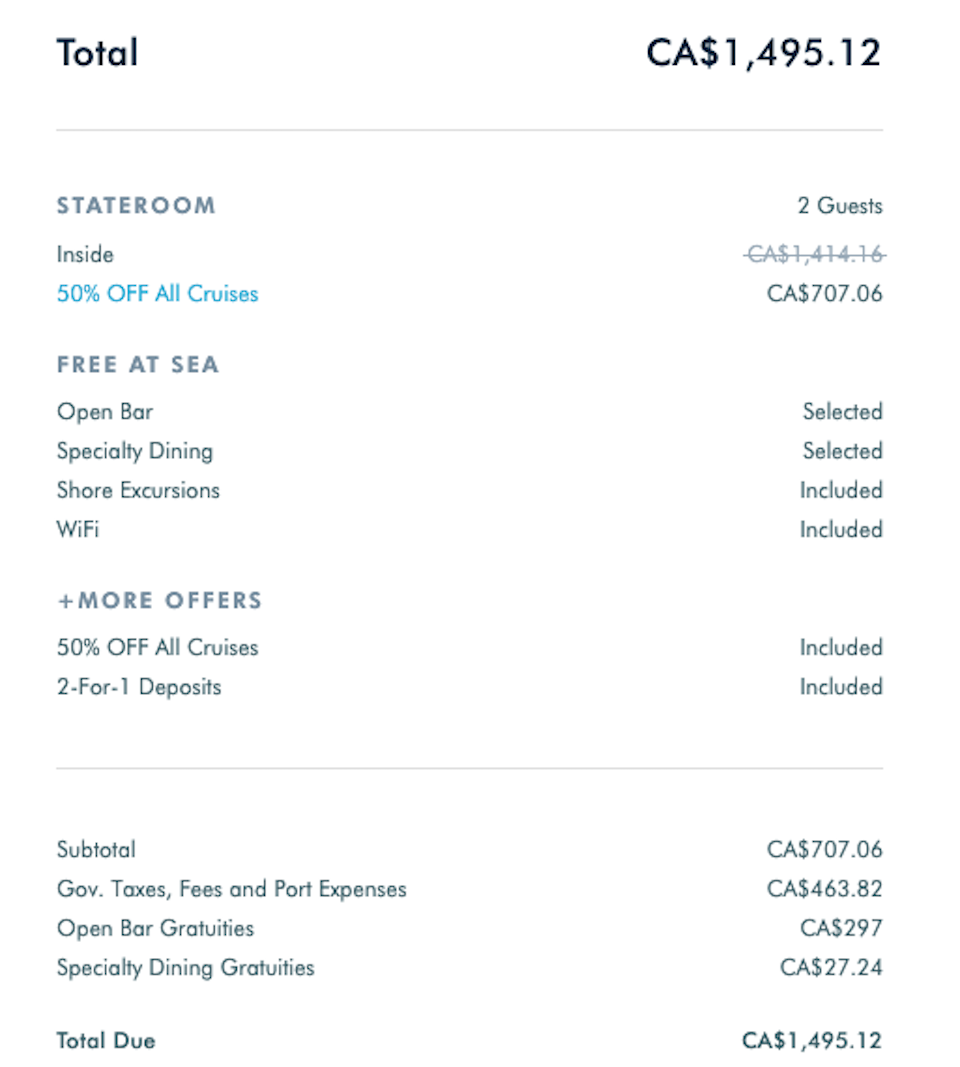 Book your cruise with Norwegian Cruise Line online.
Early this year, I sailed on another cruise line's first voyage to Vancouver since the onset of the pandemic. Read my experience sailing from San Diego in April.