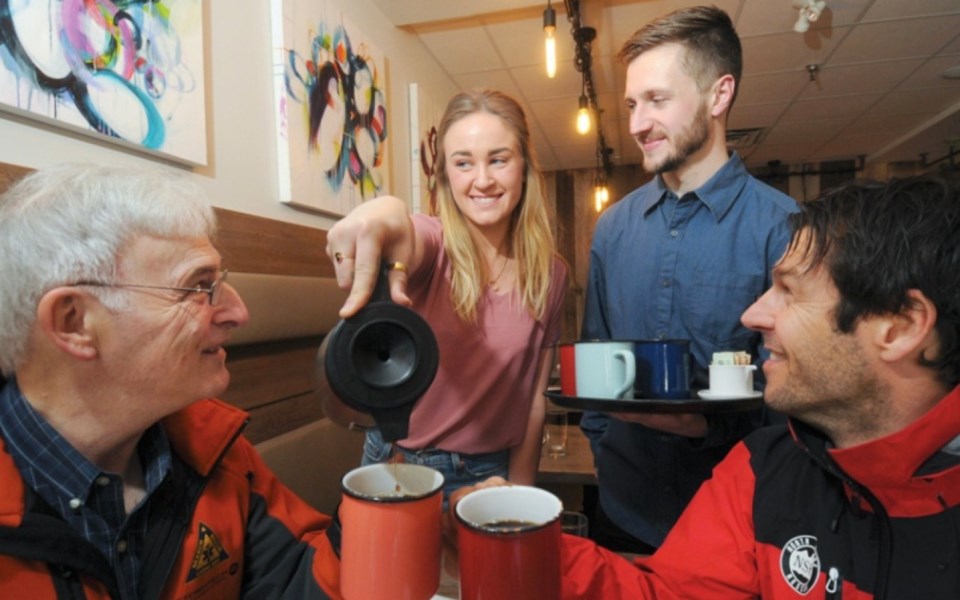 As the February night chill set in, Lillith Foxx huddled on a precarious platform protruding unspeakable metres above Howe Sound, holding her boyfriend extra tight.
"Don't fall, don't fall, don't fall," hauntingly played on a loop in their minds.
"Because it wasn't like if you fell you would break your leg – if you fell, you're dead," recalls Foxx.
The Upper Lonsdale resident and her boyfriend Matt Beer almost didn't live to tell this story.
It was a bluebird day on Feb. 8.
The couple set out from the Lions Bay area, with a less-popular hiking spot – Hat Mountain – as their target destination to spend the night.
"Where we were going, it's a little low-key – it hadn't been updated online," describes Foxx, of the route, located below Brunswick Mountain – the highest peak in the North Shore Mountains.
About 100 metres from their destination on Hat Mountain, the GPS co-odinates the duo was relying on led them into a large ravine marked by loose rock.
Foxx and Beer scrambled to find their footing.
The final push to summit Hat Mountain (1,450 metres above sea level) is a Class 3 scramble up a hillside, often requiring crawling and climbing, according to one local hiking forum.
Being "very, very close" to the top, the couple climbed up a bit and tried to conquer the ravine again. The pair repeated the process until the inevitable was realized: They weren't going to make it across the gully.
The next plan was to go back into the treeline and attempt to hike above the ravine to get to the other side.
"But on our way back we ended up getting to this point where there was nothing around us," recounts Foxx.
"My boyfriend was crossing ahead of me and at one point, when I was scrambling behind him, all four points of contact – my hands and feet – started slipping. He actually had to grab me and pull me to him."
The couple wound up on a makeshift ledge, created from a fallen tree and precariously perched above Lions Bay.
"There were 350-metre drops all the way around us," recalls Foxx, with a palpable quiver in her voice.
Foxx sat in front on the three-by-four-foot platform, while her boyfriend crouched in behind her.
Beer wanted to make an escape attempt from the ledge but Foxx immediately grabbed him and said: "We're calling search and rescue right now."
It's a message that search and rescue officials constantly repeat for backcountry explorers to heed when they get in over their head: Stay put and call for help.
Being on an open cliff face meant, fortunately, the stranded couple had good cell service.
It was quarter to six in the evening when they called 911 and explained their predicament.
There was about 20 to 30 minutes of being put on hold and transferred to different emergency agencies, recalls Foxx.
"As we were sitting there, if we moved at all – the rocks were falling off [the platform]. We could hear them tumble and tumble. It was terrifying," she recalls.
The couple's timing was terrible. Most of the Lions Bay Search and Rescue team was on a training trip in the Coquihalla Highway area.
"So we had to wait for them to drive all the way back, through Hope, through Vancouver, out to Lions Bay, and then physically climb up to us," says Foxx.
Seven-and-a-half hours later, the first Lions Bay rescuer reached the couple on the ledge – at midnight.
Using climbing gear and harnesses, the rescuer rappelled the couple over to safety, starting with Foxx.
Nine more Lions Bay Rescue members were waiting 30 metres above that point, on a marked trail.
From 1 a.m. to 4 a.m. those members attempted to reach the trio below but were blocked by dense forest, despite being so close.
At that point, under clear, chilly skies but barely a breeze, Beer and Foxx hunkered down for the night on sleeping pads they had packed, alongside their rescuer.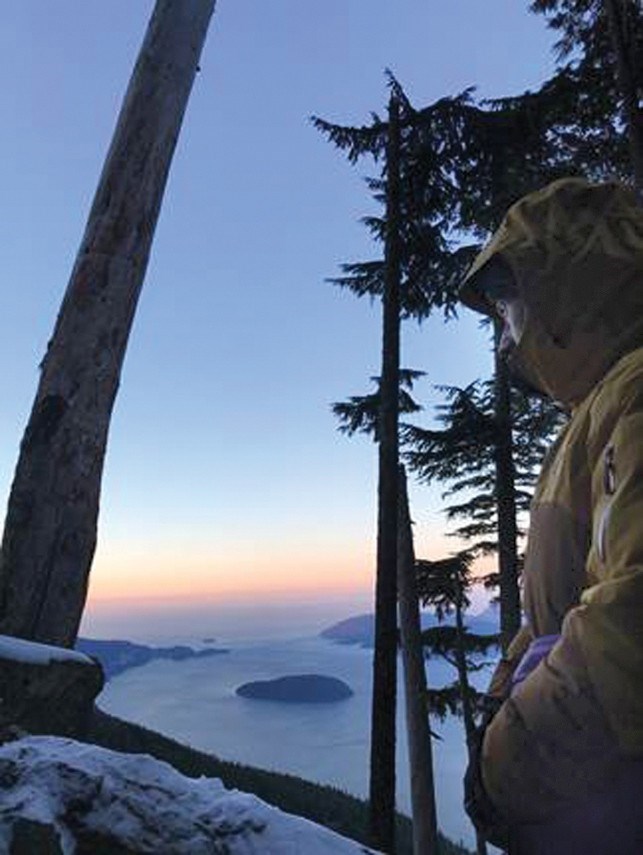 At sunrise, a North Shore Rescue team arrived on the scene with a Talon helicopter to longline the couple down to Lions Bay, where they landed in an elementary school field.
Foxx initially feared dangling below the helicopter from the longline.
"But the ropes are so thick you don't even think about it," she explains.
Looking back at the sheer mountain face as the helicopter pulled away, Foxx felt a shiver run up her spine and clutched the rope tighter.
"Giving perspective of how huge [the cliff face was] it was almost an even worse feeling. Realizing how much of a risk there had been."
A week after they landed safely on solid ground, Foxx got wind of the fact search and rescue teams in B.C. were unsure of any future provincial funding.
Foxx's boss at Feast Restaurant in Dundarave, where she works as a bar manager, suggested hosting a search and rescue fundraiser there.
"I just kind of said, Hell yeah," recalls Foxx. "That's an easy one."
Feast supplied food and beverages for the April 7 fundraiser, which attracted North Shore politicians and search and rescue members, among other guests.
Ticket sales from the event, along with silent auction items, raised $12,000, which was given to both Lions Bay Search and Rescue and North Shore Rescue for their joint effort in rescuing Foxx and Beer.
Talon Helicopters donated a tour for four people, worth $1,200, to the silent auction.
For its part, North Shore Rescue received $2,000 from the Feast fundraiser, which is "incredible," says team leader Mike Danks. "For us, every little bit helps."
Asked what's on the top of North Shore Rescue's wish list at the moment, Danks is frank.
"Oh man, honestly the list doesn't end," he reveals.
As an example, an upcoming, four-day training session with the helicopter will cost NSR $10,000 a day.
"Everything has its cost and it all adds up over time, especially when you calculate how many members we have," explains Danks.
The team has ongoing expenditures that aren't attractive for people to donate to, "because they are the costs that just go with running an organization," such as electricity for their headquarters, says Danks.
In 2018, NSR spent more than $800,000.
Danks says the rescue outfit's costs keep rising, as the level and amount of training with specialized equipment increases.
Public and private donations make up the majority of the team's funding, according to Danks.
"We're lucky here on the North Shore that the local municipalities contribute, I think it's around $150,000 annually, which makes a huge difference for us. We do get money back from the province for assets of ours that are used, such as our SAR stations."
Minister of Public Safety and Solicitor General Mike Farnworth announced in March the province is committing $18.6 million to the B.C. Search and Rescue Association's 80 teams over the next three years.
The Feb. 8 co-ordinated rescue was pretty routine for NSR.
"I think what's memorable about it is the fact they followed through and did a fundraiser and made people aware of the work that search and rescue teams do in B.C.," says Danks.
"When people step up like this and do these fundraisers, it makes a big difference because it takes the pressure off of our teams."
For Beer and Foxx, the decision to hold the fundraiser was, first and foremost, to thank the rescue teams for saving their lives.
But the couple's aim is also to help fund a future rescue.
"I just don't want anyone else to ever be afraid to call because they think maybe they are not deserving," says Foxx.
"Their life is definitely worth calling search and rescue – that's why we have that service set up."
This article originally appeared here.