Roddy MacKenzie was just a young boy the first time he met the Queen during a royal visit to Saskatchewan in 1959. She was travelling by train across Canada and stopped in Moosomin, where she came over to speak to MacKenzie's mother, who was in a wheelchair.
MacKenzie remembers the Queen as "incredibly kind and gracious" that day.
For MacKenzie, the early encounter with a young Queen Elizabeth II was the start of a lifelong fascination, which included becoming a life member of the Monarchist League of Canada.
"She was so deeply embedded into the fabric of Canada," he said.
MacKenzie said many people have taken comfort in the stability of the Queen, who was a steady figure through decades of world political leaders.
"She was a continuing example of our better selves," he said.
This week he stood in front of the Queen's coffin in Westminster Hall and bowed to her for a last time.
MacKenzie said he booked his flight to London as soon as he heard the news that she had died.
Queuing for Queen 'like a pilgrimage'
The experience of queuing with thousands of others, in what MacKenzie dubbed the QE Queue, to pay his respects, was "unlike anything I've experienced," he said.
For MacKenzie, it took nine hours of lining up to get into the hall and spend a moment in front of the Queen's coffin, including walking for an hour just to get to the end of the lineup and two hours before he was handed a wrist band.
MacKenzie said for him, the experience was akin to a pilgrimage, "to pay our last respects to someone we deeply admired and looked up to."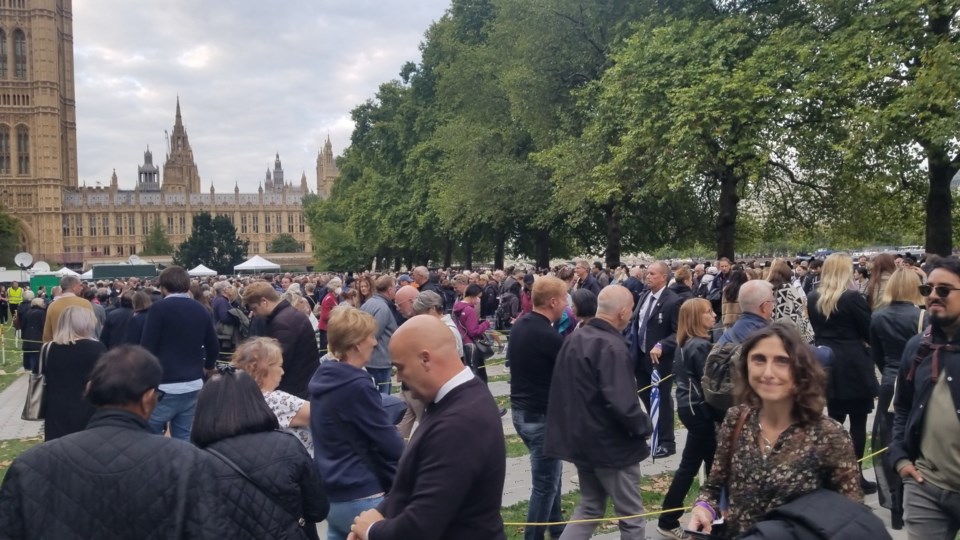 During the nine-hour line-up, MacKenzie had plenty of time to make friends with similarly minded people.
One woman saved him from flagging by offering an energy drink from her backpack, said MacKenzie, while another fellow mourner and Queen's Scout, Stuart Cunningham, made sure MacKenzie was OK during the long hours in the queue.
Many of those he met in the lineup spent hours swapping stories about why they were there and what the Queen had meant to them, he said.
MacKenzie said during his hours in the queue he was also interviewed several times by reporters from around the globe, who asked about his views on constitutional monarchy, what he thought of about the scale of the mourning for the Queen happening in the U.K., as well as his personal memories of the Queen.
The very end of the lineup involved walking back and forth about 70 times in a yard filled with people, he said, before finally approaching the security check, similar to systems in airports.
Nine-hour lineup 'worth it'
Once actually in Westminster Hall, however, a hush fell on the crowd, he said. They approached the Queen's coffin single file.
MacKenzie said he stopped, turned to face the coffin and gave the Queen a deep bow.
"Our time with her of only a minute or so was worth all nine hours of walking," he said.
As it turns out, MacKenzie was probably one of the lucky ones with only nine hours of queuing to file past the Queen's coffin.
By early Saturday morning U.K. time, officials were asking people not to join the lineup, as waiting times to see the Queen's coffin stretched to 24 hours. According to the BBC, the queue – being tracked on a government "queue tracker" – had stretched to five miles long and was at capacity.
Among those also in the queue this week were former British prime minister Theresa May and her husband Philip. American celebrity Sharon Osborne and British soccer star David Beckham were also spotted in the queue. Alberta Premier Jason Kenney was in the queue as well, remarking on Twitter that it was good to see so many Canadians paying their respects.
Meanwhile the queue seemed to take on a life of its own, with the BCC livestreaming the procession of mourners entering Westminster Hall around the clock.