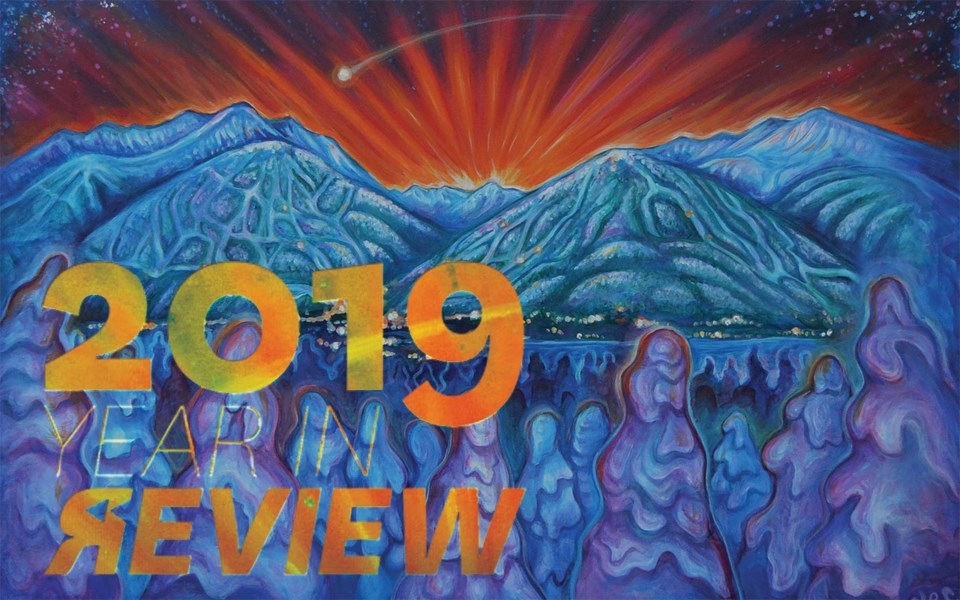 Whistler
By Braden Dupuis
Do you ever get the feeling that you're living through the calm before the storm?
Flipping back through Pique's pages from the past 12 months, one almost gets a sense of delayed or impending—not doom, necessarily, but drama at the very least.
Because 2019 was, for want of a better phrase, quite boring.
Lacking in the major, resort-shaking headlines we've seen in years past—like changing ownership at the mountain, a new mayor and council, landmark anniversaries or natural disasters—2019's headlines were mostly business as usual, perhaps in anticipation of something bigger.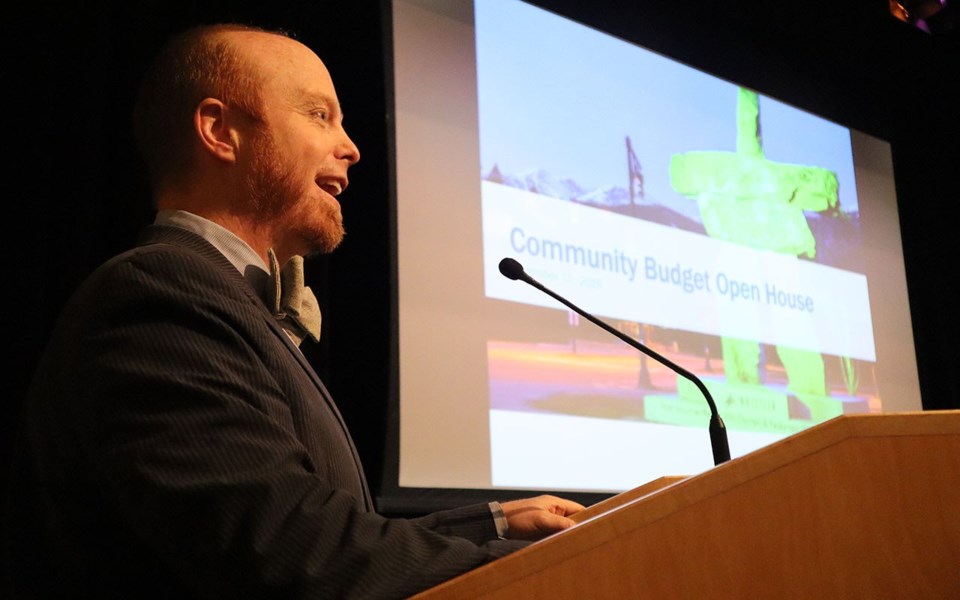 We did have a federal election in the later months of the year, but for those paying close attention, it was mostly bereft of substance and rife with personal attacks and misinformation at the federal level.
The Sea to Sky's campaign was cordial in comparison, with Liberal Patrick Weiler eventually taking the win.
We've heard for some time now that Whistler's booming resort economy is due for a slowdown—will that play out over the next 12 months?
How will the 2020 American election affect life in our little resort bubble?
What other fractious, contentious geopolitical developments will play out beyond our borders, and how will local decision makers respond to our rapidly changing world?
Alas, we're getting ahead of ourselves.
For now, let's kick back, relax (preferably with a hot chocolate, and possibly some deep, calming breaths), and reflect on the year that was.
Another year in tiny town
The biggest news story of the year, as voted by Pique readers in our annual Best of Whistler poll, was the announcement in May that Ironman Canada won't return to the resort in 2020.
The landmark triathlon will head back to Penticton in 2020, a year before its contract was up in Whistler, to the dismay of some locals and the relief of many others.
Whistler's new council, sworn in back in November 2018, made progress on several fronts, including the community's most pressing issue: housing.
Work continues behind the scenes on Cheakamus Crossing Phase 2, which could yield up to 750 new homes, while the Whistler Housing Authority opened projects at 1020 Legacy Way in Cheakamus (24 units and 53 employee beds) and 8350 Bear Paw Trail in Rainbow (20 units and 39 employee beds for seniors)
A third, at 1330 Cloudburst Dr. in Cheakamus that will add another 45 units and 103 employee beds, is slated for occupancy in 2021.
Meanwhile, a new 200-plus bed Whistler Blackcomb employee-housing building got the necessary municipal approvals, and will begin construction in 2020, while an initiative to allow private developers to build employee housing in exchange for bed units has left a bad taste in the mouths of many residents—and changes to the guidelines to allow said developers to include "limited amounts" of market housing in their proposals did nothing to wash it out (residents revolting against a recently announced project on Alta Lake Road is just the latest example of several).
Two new committees launched in late 2018—on governance and strategic planning—met behind closed doors throughout the year, and the public will presumably see some of the fruits of their labours in the coming year.
There were frustrations, too.
A project to build three washroom buildings in Whistler Village at a cost of $4.5 million seems exorbitant to many, though Mayor Jack Crompton says the municipality is confident the spend is reasonable.
Many Pique readers, as evidenced again by our annual poll, are still waiting on a local pot shop following cannabis' legalization in late 2018.
Paid parking is still having an impact on neighbourhoods, childcare is still a challenge, the housing file isn't moving fast enough for some, and the decision to create a new senior management position for CAO Mike Furey (as chief of strategic planning and partnerships, lasting until early 2021) remains questionable in the eyes of many.
The RMOW has budgeted $75,000 in 2020 for a professional hiring firm to broaden the search for Furey's replacement, who will continue on at his previous salary—the municipality's highest paid staffer.
And the implementation of regional transit—a stated goal of more than one council member before the election—appears to be stalled out.
As previously mentioned, all of these issues seemed to be bubbling just beneath the surface in 2019. Is 2020 the year they boil over?
For the environment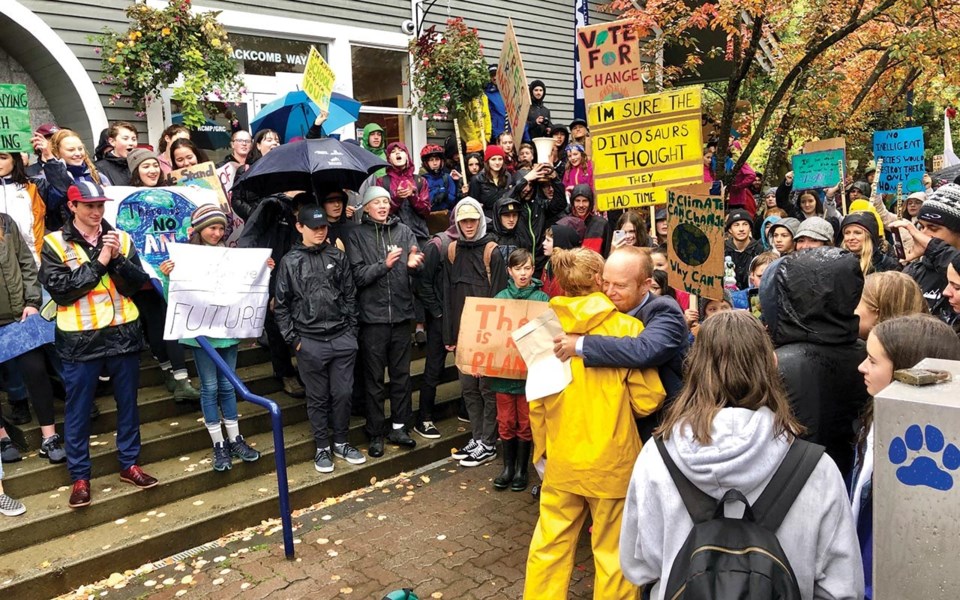 Asked to choose their favourite trend of 2019, Pique readers chose action on climate, and an increased awareness around environmental issues, as their second favourite trend in our annual reader poll.
Pique's headlines from 2019 reflect that and then some.
A global climate march in late September drove millions to the streets demanding climate action, and in Whistler, nearly 600 marched in the rain for the cause.
"I really feel like there was an energy at the march that I've never experienced before," said Aaron Murray, one of the Whistler march's organizers.
"It was that collective energy of, 'We can do this. It's possible to change.'"
The Resort Municipality of Whistler (RMOW) officially brought on a climate change coordinator in May, Maximilian Kniewasser, who will be charged with implementing actions from the RMOW's Community Energy and Climate Action Plan. The move came two years after the municipality first committed to hiring a climate coordinator.
A zero-waste committee is also in the works.
Councillor Arthur De Jong, in his first year, took on a host of environmental issues, including (but not limited to) a campaign to get local businesses to close their doors in winter and working to ban single-use plastic locally.
While he ran into some administrative red tape on both fronts, he says he won't be deterred.
"I will do everything that I can, in partnership, to be able to do a number of the small actions that we didn't get done this year, like [the] closed-door merchant policy in the village, like banning of single-use plastics, and have a whole list by the end of Year 2 of what's doable in the next two years that will have greater impacts, in terms of reducing our greenhouse gas emissions," De Jong told Pique in September.
"That would mean that we've been able to achieve some transit goals that we don't yet have; certainly more local transit, as well as regional transit."
The year that was
While Whistlerites are right to be anxious about the threat of wildfire after some smoky, smouldering summers, 2019 was a welcome reprieve.
Just over 800 fires occurred province-wide this year, burning a total area of 21,000 hectares (compared to 2,117 fires burning 1.3 million ha. in 2018).
In April, communities in the Sea to Sky and beyond were devastated by the news that pro skier Dave Treadway had died after a 30-metre fall into a crevasse in the Pemberton backcountry.
Hundreds attended a memorial at the Fairmont Chateau Whistler on April 22.
According to his father Tim, Dave had a knack for making "friends and fans everywhere," whether a group of "tattoo-parlour bike mechanics" in Thailand, an old Korean man he taught card tricks to on a flight to Canada, or a lonely neighbour who would sit with Dave around a fire discussing the deeper meanings of life.
"You know how interested he was in people," remembered Dave's mom, Deanna. "Always caring for other people until the day he died. That was David."
A controversial strata termination, it was reported in late October, could force the sale of iconic Whistler businesses Sushi Village, Black's Pub and the Mexican Corner for "nickels on the dollar." The RMOW says it has raised the issue with the province, but sees no obvious legislative fix.
And on Nov. 14, Pique celebrated its 25th anniversary.
In the words of publisher Sarah Strother, "we have no better singular purpose than to reflect our community and tell Whistler's stories: stories of where Whistler's been, its people and its places ... and all that's still to come."
Crime
By Brandon Barrett
While there were a few notable exceptions to this trend, Whistler was largely immune to the kind of headline-grabbing crimes in 2019 that captured the attention of both local and national audiences last year.
That's not to say local police weren't kept busy: two of the resort's most common offenses, impaired driving and fraud, regularly graced the pages of Pique's weekly police briefs, while another crime that has historically been the bane of Whistler RCMP, bike theft, has continued its steady decline—the total value of bikes stolen in 2019 was approximately $85,000, way down from the $300,000 reported in 2016—thanks to Mounties' ramped-up enforcement and successful bait-bike program.
As we move into the New Year, let's take a look back on some of the biggest crimes and trends of 2019, along with a handful that tickled our funny bones on The Lighter Side of the Blotter.
Taxi driver comes to aid of victim following triple stabbing
An outburst of violence that left three with stab wounds in a village brawl was followed by a selfless act from a Good Samaritan who risked his own safety to help a man with life-threatening injuries.
Mounties were called to the Village Square fight in the early hours of Feb. 11. Police at the time said it appeared that several bystanders tried to break up a fight, which ultimately resulted in three men stabbed—including one in critical condition.
A quick-thinking cab driver near the scene, Jashan Sing Sangha, noticed one of the victims and removed his turban to apply it to a life-threatening wound on the man's lower extremities. He also transported the man to hospital.
Sangha was later honoured in an April ceremony at the Whistler RCMP detachment.
First confirmed case of fentanyl hits Whistler, police say
As the Lower Mainland begins to get a handle on its own opioid crisis, Whistler police, in March, confirmed the first known case of fentanyl to hit the resort.
That's not to say it's the first instance of the potent synthetic opioid showing up here—in a tourist town like Whistler, with its bustling party scene driving demand for illegal substances, the presence of fentanyl is inevitable; it's merely the first time local police found it through a forensic lab test.
The substance was found through an analysis of drugs that were seized from a home on Eagle Drive in December 2018, part of an investigation into alleged drug trafficking.
At the time, police said they found more than five ounces of cocaine, a large quantity of cash, 50 pills believed to be MDMA, and "other ancillary hard drugs."
Police ultimately recommended charges of cocaine possession against a 30-year-old Australian man and a 23-year-old Whistler man, as well as a trafficking charge against a 25-year-old Whistler man.
Whistler man charged in pimping case
In one of the more surprising cases of the year, a local man was charged with pimping in the early summer following a two-month-long investigation.
Sam London Hamer, 44, appeared in North Vancouver court in June on one count each of procurement and benefit from sexual services.
"Charges of this nature arise when individuals recruit others into providing sexual services for consideration (money), and when they benefit (financially or materially) from those providing the services," police said in a release at the time.
The Whistler RCMP, working in consultation with the Provincial Counter Exploitation Unit, began the investigation in April, and executed a search warrant in Creekside on April 20, when the suspect was arrested.
Hamer's case, which is under a publication ban, heads to a preliminary hearing this month.
Charges stayed against Alberta RCMP officer accused of off-duty assault in Whistler
Charges against an Alberta RCMP officer linked to an off-duty assault in Whistler were stayed after he completed an "alternative measures" program.
Const. Vernon Hagen, a member of the Alberta RCMP's Federal Serious and Organized Hate Crime Unit, faced two counts of assault and one count of obstructing a peace officer stemming from the Jan. 28 incident.
Whistler RCMP Staff Sgt. Paul Hayes confirmed at the time that Hagen resisted arrest.
The charges were stayed in September after Hagen completed a program that allows for a person accused of a crime—typically a first offence—to address it outside of court. To be eligible, the person much accept personal responsibility and agree to make amends, such as financial compensation for loss or damage, an apology or community service.
Vancouver cop charged with sexual assault that allegedly took place in Whistler last summer
Another off-duty cop got was charged in Whistler in July after he allegedly sexually assaulted a person that was previously known to him.
Squamish RCMP received the complaint against Vancouver Police Department member Jagraj "Roger" Berar, 51, on July 19, several days after the alleged incident is believed to have taken place.
"The RCMP believes this was an isolated incident involving persons known to each other," read a release from police. "Police do not believe the allegations are related to his employment as a police officer."
Conditions imposed against Berar include having no contact or communication with seven people, and that he must not consume alcohol unless he is in his own residence, "or if in a public place, only in the presence of your wife."
Whistler ranks 17th in impaired driving offences nationwide
Maclean's released its annual Canada's Most Dangerous Places list in November, and ranked Whistler No. 1 in impaired driving offences nationwide, but the figures didn't tell the whole story.
That's because the magazine used a 2018 population of 13,056, which only counts the resort's permanent residents, not seasonals or visitors. Whistler's estimated daily population equivalent (DPE) last year was 34,347. With 193 offences last year, Whistler had an impaired driving rate of 561.91 offences per 100,000 once its DPE was factored in—still three times the national average. That would rank Whistler 17th out of 237 Canadian communities on the list, just above Penticton.
The steep rise in Whistler's impaired driving rate is something of a chicken-or-egg debate: Is drunk driving on the rise as Whistler's popularity grows, or are police just stepping up their enforcement? According to Staff Sgt. Hayes, it's the latter.
"I've been mentioning since I arrived here [in 2017] that impaired driving would be a focus and I've never shied away from that comment," he said at the time.
"We have, over the years, seen a drop in other areas with a high incidence of impaired driving investigations. So we see less crashes, we see less injuries, we see less deaths on the road, but I can't specifically say it's because of our impaired focus. But I think there can be something said towards high investigations in impaireds and then lower in some of the other more serious events that occur out there on the road, and we haven't seen them."
Whatever the underlying factors, there's no question Whistler police have dealt with a far greater number of impaired driving infractions in the past year-plus. Presenting to council in March, Hayes said there were 493 people busted in 2018 for impaired drug or alcohol infractions (which included provincial sanctions such as immediate roadside prohibitions, unlike the Maclean's list), a 72-per-cent jump from the year prior and a far cry from the five-year average of 263.
The detachment's efforts were recognized in May when six Whistler and Pemberton RCMP officers were named to Alexa's Team, which honours the exemplary efforts of police who have made impaired driving a priority. Eligible officers are those who removed a dozen or more impaired drivers from the road through a criminal charge or through an immediate roadside prohibition.
Once the DPE is incorporated, Whistler came higher than the national average in only two other criminal categories: cocaine trafficking or production, and trafficking or production of drugs other than cannabis (pre-legalization) and cocaine. The resort ranked 64th and 48th in Canada in each respective crime.
Although Whistler ranked 188th nationwide in fraud, it still saw more than double the incidents of fraud in 2018 (87) than the year before (42). Fraud stats have not yet been compiled for 2019 (the RCMP typically presents the previous year's stats to council in late winter), but a quick look through Pique's weekly police report regularly turns up instances of rental fraud, ticket scams, and Bitcoin schemes.
"I don't know that we're specific to that," Hayes said of the trend. "A lot of these Bitcoin scam-type things we've seen an explosion of in the last little while."
Local RCMP call off search for missing Calgary man whose burnt-out truck was found near Pemberton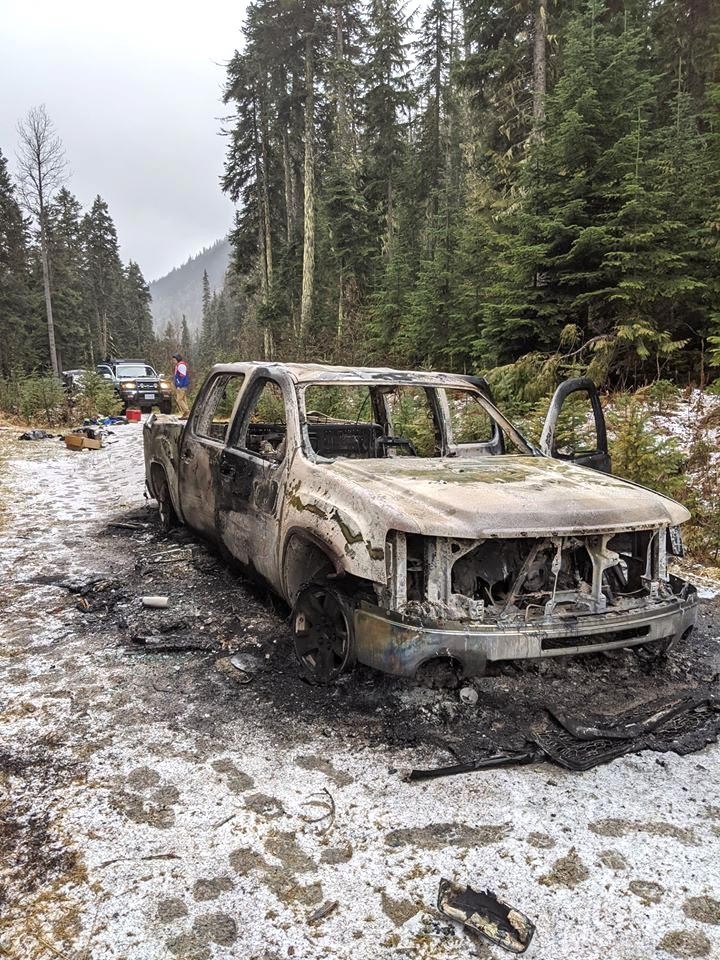 Whistler and Pemberton RCMP called off the search for a missing Calgary man whose burnt-out truck was mysteriously found outside of Pemberton in November.
Marshal Iwaasa, 26, was last seen by family in Lethbridge, Alta. on Sunday, Nov. 17. Iwaasa told family he was returning to Calgary, however, he has not been seen or heard from since. He was reported missing on Monday, Nov. 25, the day after his charred pickup truck was found alongside some personal identification, clothes, three smashed cellphones and a destroyed laptop near the Brian Waddington backcountry hut.
"It felt like a crime scene and had a very eerie feeling," wrote James Starke, who discovered the truck with some friends, on the South Coast Touring Facebook group.
"We have no idea where he could be," said Whistler RCMP Sgt. Rob Knapton. "Basically, we've exhausted the search efforts in the area we know he was in, and there's nothing else to suggest other locations to look at."
Knapton added that police believe Iwaasa was likely the driver of the truck and that he may have left on foot.
Knapton also said there is "nothing to suggest that there has been any foul play."
Speaking to media, Iwaasa's family said it would be "weird" if he went on a hiking trip to B.C. without telling anyone. The file has now been turned over to Lethbridge police, who will continue the search efforts.
The Lighter Side of the Blotter
Overmatched skier calls police after getting caught on run that was 'too difficult'
There are myriad reasons to call 9-1-1 in the event of an emergency; getting stuck on a ski run beyond your skillset is definitely not one of them.
On Jan. 26, Whistler RCMP received a call from an individual who reported they were "on a ski run that was too difficult, and wished police assistance," according to a release. The skier was redirected to ski patrol for help.
Drunk Windsor man lights T-shirt on fire following arrest in Whistler
An incendiary Windsor man lit his own T-shirt on fire late last summer in what we can only assume was a drunken form of protest over his arrest. Officers responded to a complaint of an intoxicated person walking—although stumbling is probably more accurate—on the road shoulder of Highway 99 near Blueberry on Sept. 7. The 28-year-old told police he was trying to get to Vancouver International Airport—a solid 36-hour stroll.
After being taken into custody over concerns for his own safety, police said the man "attempted to start a fire by lighting his T-shirt on fire." The flames were luckily put out before any damage was caused.
Sports
By Dan Falloon
Despite being in that mushy middle after the last Winter Olympic Games and the 2022 Games in Beijing, China, Whistler's athletes still had plenty of noteworthy action going on in 2019.
Take a quick dive into the faces and events Whistler will forever associate with this particular year.
Athletes
Marielle Thompson
The 2014 Winter Olympic ski-cross champion enjoyed a bounce-back season in 2018-19 after sitting out the entire World Cup season the year before after suffering a knee injury in training.
Thompson won the FIS World Championships in Utah in February and placed third in the overall Crystal Globe standings.
Early in the 2019-2020 season, Thompson posted wins at Montafon, Austria and Arosa, Switzerland.
Maia Schwinghammer
The Freestyle Whistler alumnus was a quick study on the FIS World Cup moguls scene.
Making her World Cup debut in Calgary at age 17, Schwinghammer tied for 10th.
Schwinghammer later took 18th at the World Ski Championships.
Sofiane Gagnon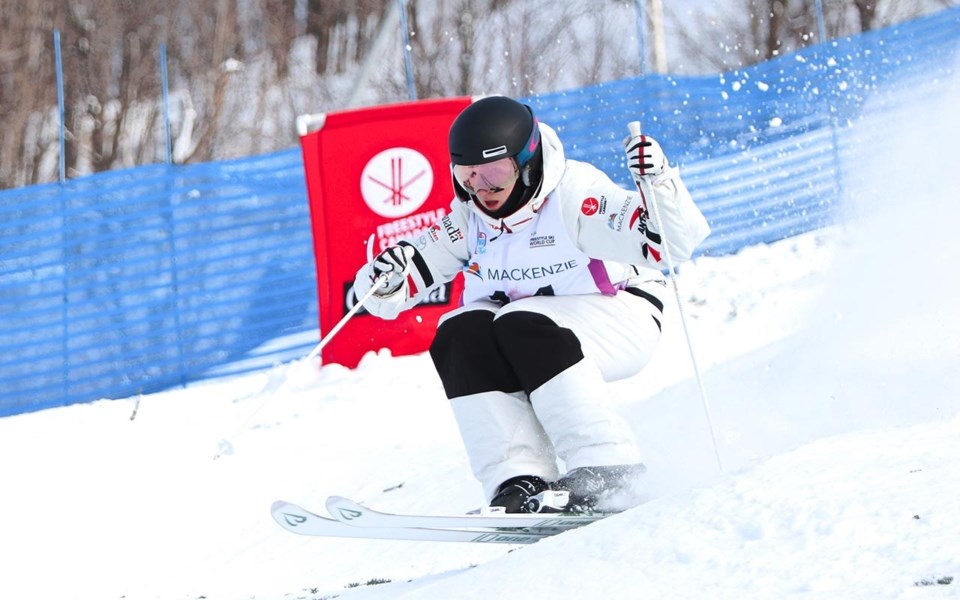 Schwinghammer's fellow Whistler moguls skier posted the best results of her young career in 2019, taking back-to-back eighth-place finishes at Lake Placid and Mont Tremblant in January. Gagnon then placed 10th in both her disciplines at the World Ski Championships.
Brodie Seger
The Whistler Mountain Ski Club alumnus put up the best result of his FIS World Cup career with a 16th-place showing in January. He mached that in the Lake Louise super-G before taking 13th in the downhill at Beaver Creek in December.
Natalie Corless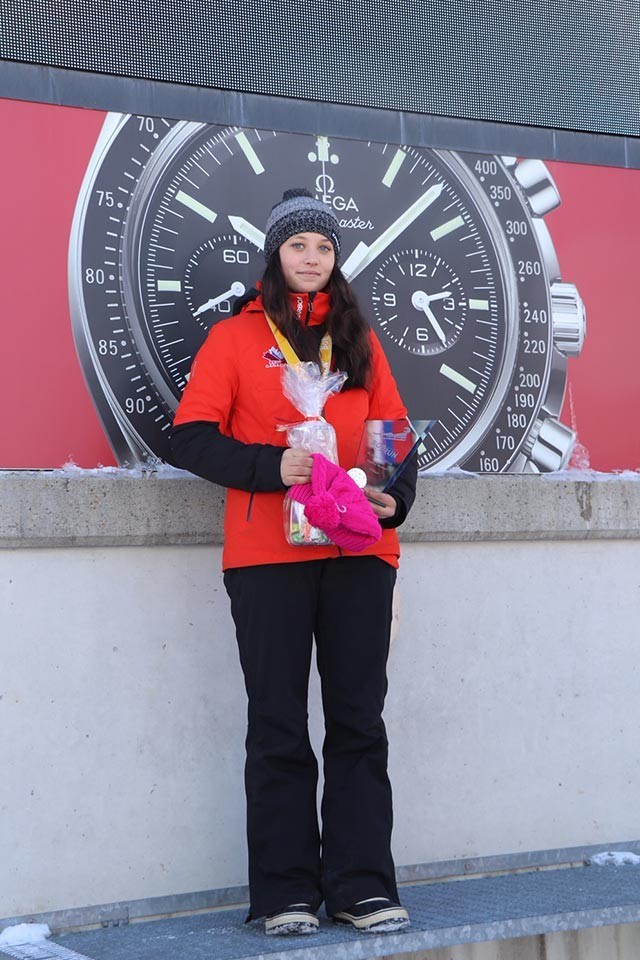 The up-and-coming Whistler luger enjoyed a fantastic FIL Youth 'A' World Cup season, earning a win at St. Moritz, Switzerland in January and hitting the podium the next month with bronze in Winterberg, Germany.
She won two Crystal Globes, one in singles and then in doubles with Caitlin Nash.
Tom Peiffer
The Whistler Freeride Club alumnus made an impact in his Freeride World Tour debut, posting a third-place finish in his first-ever competition at Hakuba, Japan en route to a sixth-overall showing in his rookie season.
Cassie Sharpe
The Whistler halfpiper and 2018 Olympics gold medallist added X Games Aspen gold to her mantle with a victory in January. At the World Ski Championships the following month, she was edged out for gold by Estonia's Kelly Sildaru. However, she rebounded from that with a win at Calgary's Halfpipe Rodeo.
Logan Pehota
The Pemberton freerider made headlines with a daring jump across a CN line as a train approached in January, and in his return to the Freeride World Tour as a wildcard, scored a third-place result at Kicking Horse in February.
Finn Finestone
The Whistler slopestyler came home from the Canada Winter Games in Alberta with a gold medal.
Ethan Hess
The Pemberton-bred para-Nordic skier came home with a trio of gold medals from the Canada Winter Games shortly after competing at the World Para-Nordic Skiing Championships.
Simon d'Artois
The Whistler halfpipe skier claimed his first-ever FIS Crystal Globe in March after finishing the season with a second-place result at Mammoth Mountain.
Benita Peiffer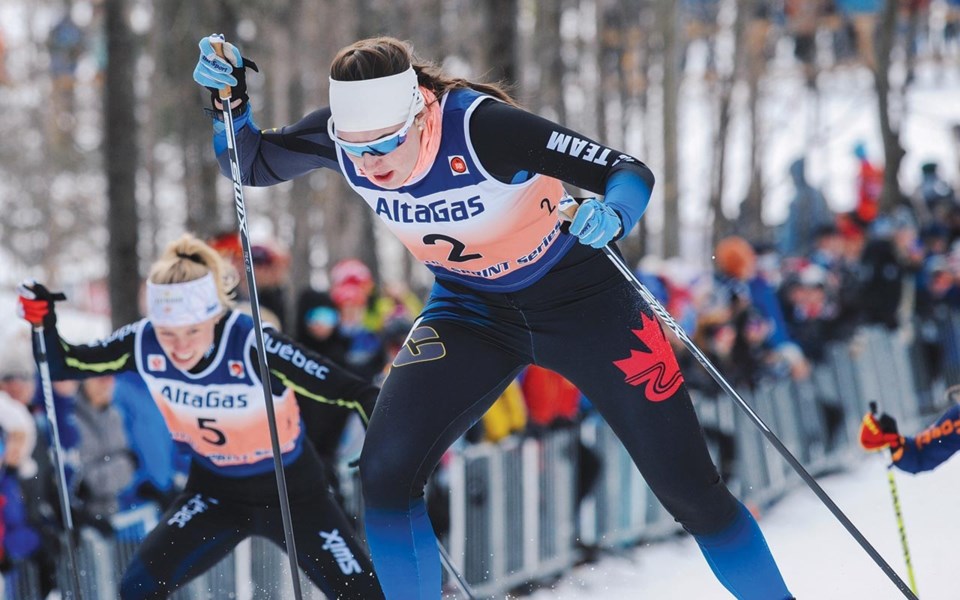 The Whistler Nordic skier topped the junior girls' sprint race at the Canadian Ski Championships in Quebec in March.
Juliette Pelchat
At age 14, the Whistler snowboarder captured the Western Canadian and Junior Nationals crowns at Air Nation finals in Calgary in March.
Floyd Guy
The young Whistler freerider won the U12 men's division at the North American Freeride Championships in April.
Wei Tien Ho
This Whistler freerider also came home with a continental win in Golden, edging out teammate and overall season champion Marcus Goguen in the men's 12-to-14 division.
Axemen Rugby Club
The local side came home with the BC Rugby Union Division 3 crown in May after toppling Richmond 33-3 in the final, earning promotion to Division 2 in the process.
Finn Iles
The Whistler downhill biker scored a new career-best UCI World Championships finish after taking fourth in Fort William in June. He also shone at Crankworx, taking a silver in Rotorua before defending his Air DH gold here in Whistler.
Jesse Melamed
Despite another injury-hampered season, the Enduro star placed 11th in the overall standings on the strengths of third-place finishes in Rotorua, New Zealand and Madeira, Portugal.
Julia Long
The Whistlerite captured the U21 women's division at the Norco Canadian Enduro Championship in July.
Spencer Wight
Whistler's Wight came home with the expert men's victory at the Norco Canadian Enduro Championships.
Scott McLagan
The Pemberton paddler earned seven medals, including a gold, at the International Dragon Boat Federation World Championships in Thailand in August.
Lucas Cruz
The Pemberton downhiller wrapped up his junior career by finishing third overall in the UCI World Cup standings.
John Blok
The longtime Whistler triathlete claimed bronze in the Xterra World Championships in Hawaii.
Asher Jordan
The Whistler Mountain Ski Club alumnus earned his first NorAm Cup win at Copper Mountain in November.
Events
IBSF World Championships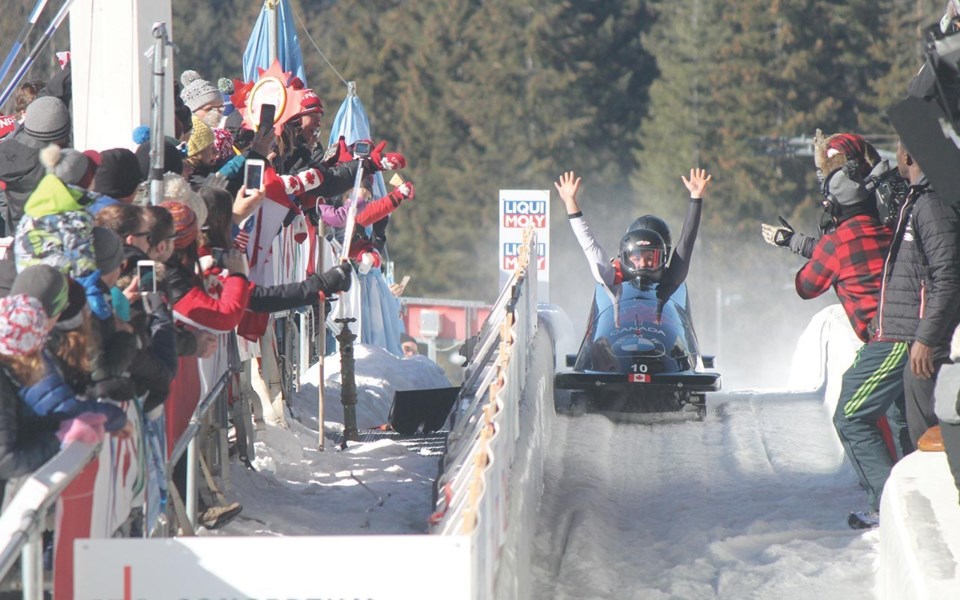 Canadian bobsledders, led by pilots Justin Kripps and Christine de Bruin, didn't disappoint the home fans when the IBSF World Championships came to the Whistler Sliding Centre in March. The Canucks medalled in all four bobsleigh events, though they were shut out in the skeleton contests.
Whistler Cup
Led by Quebec skier Arianne Forget, Canada captured the U16 Whistler Cup for the first time since 2013. In U14 action, Whistler's Felix Shorter took home the Dave Murray Award.
Subaru Ironman Canada
Whistler's seven-year run as the triathlon's host met a poetic end with Kelowna's Heather Wurtele winning the pro women's race. Wurtele's husband, Trevor, had won the pro men's race the first time Whistler hosted in 2013. The race is moving back to its original home of Penticton for 2020.
Meanwhile, Whistler's Bill Geddes topped his age division in the 70.3 race to qualify for next year's world championships.
Crankworx
This year's edition of Crankworx Whistler continued the festival's mission of providing more opportunities for women, as the first women's Speed and Style contest made its debut, with American Jordy Scott pulling off the win.
Other memorable moments included Sweden's Emil Johansson scoring the win in Red Bull Joyride after battling health problems in recent years, Finn Iles capturing his second consecutive Air DH, Mitch Ropelato catapulting from seventh to first in the King of Crankworx chase on the strength of three wins and a runner-up performance during the week, and Vaea Verbeeck becoming the first Canadian to win Queen of Crankworx since that title expanded to cover the Crankworx World Tour.
RBC GranFondo Whistler
The final tune-up before hosting the 2020 UCI Gran Fondo World Championships went off fairly well with record participation. On track, Brendan Armstrong of Vancouver led Trek Red Truck Racing to victory on the men's side, while Megan Rathwell did the same in the women's race.
FIL Wold Cup
Canadians didn't win any medals at the World Cup at Whistler Sliding Centre in December, though the Canucks enjoyed a historic moment when Natalie Corless and Caitlin Nash becase the first women's sled to compete in the World Cup doubles at just 16.
Arts and Culture
By Alyssa Noel
It's fair to say that Whistler's arts calendar is marked by tried-and-true events. While those favourites continued to serve as signposts as the months and seasons whizzed by in 2019, there were also a handful of event departures and new, exciting additions.
Let's take a look back at a few of the highlights.
January
At the beginning of the year, we saw a very unusual addition to Whistler's arts scene when Jonathan+Olivia revealed that they had a bonafide Banksy painting securely on display at the streetwear shop.
Sadly, the store has since closed, but still, it may be the only time in Whistler history the anonymous street artist's work is displayed in the resort.
Meanwhile, annual events like the Snowed In Comedy Tour, the Whistler Pride and Ski Festival and the Deep Winter Photo Challenge returned.
We didn't know it at the time, but that Deep Winter could've been the last. Later in the fall, Whistler Blackcomb announced the event would not be returning in 2020.
February
Pemberton's Gruff Goat Dance proved that the Village was hungry for performance art when its show, Wabi-Sabi Love, packed two performances. "It's always been a creative community," said choreographer Trish Belsham. "The population is growing enough so there's enough like-minds to partner with one another."
March
Summer might have felt far away at the time, but the Resort Municipality of Whistler ignited stoke for the season ahead and announced an outdoor concert series that would include Broken Social Scene, The Tenors, and Rock & Roll Hall of Famers The Family Stone.
Also that month, Arts Whistler and the Community Foundation of Whistler announced a new scholarship in honour of beloved late painter Chili Thom to offer bursaries to graduating high school students pursuing art.
Long-time local musician Stephen Vogler also released his first new EP in several years, called Some Assembly Required.
"It felt great to finish something," he said. "I like making things; I'm a creator, so it's nice to finish them and move on to the next thing."
April
Mount Currie-based band the Spiritual Warriors released their latest record, Ancestors, in April. Later in the fall, the album earned them a Native American Music Award in the Best World Music Recording category, alongside the St'atl'imx Friends whose record The Kindness Project took home an honour for Best Historical and Linguistic recording.
In Whistler, the World Ski and Snowboard Festival returned to cap off another season. As part of that festival, Los Amigos won Intersection; Kevin, a stop-motion film by Kyle James, won the 72. Hr. Filmmaker Showdown; and Italian freeride mountain bike photographer Ale Di Lullo won the Pro Photographer Showdown.
Capping off a busy month, Arts Whistler's popular Anonymous Art Show sold $10,000 worth of local art, offering a boost to the organization.
May
Kicking off the month of May, Arts Whistler hosted a new exhibit called The Land and People are One at The Gallery at the Maury Young Arts Centre. It featured a variety of work—from carving to painting, weaving and regalia—by Lil'wat Nation artists.
"We're starting to create familiarity, see some friendships be made, and have the communities get to know each other through art," said Mo Douglas, executive director at Arts Whistler.
June
A sure sign summer is on its way, the Whistler Multicultural Festival returned to celebrate our diverse community at the Whistler Public Library. There was food, performances and crafts representing cultures ranging from Japan to the Philippines, Mexico, and New Zealand, to name just a few.
Later in the month, Ira Pettle launched his first Whistler Kids Cabaret in an effort to showcase what talented local youth can accomplish.
Finally, the Squamish Lil'wat Cultural Centre celebrated National Indigenous Peoples Day on June 21 with guided tours, crafts, a film screening and discussions.
"It's something that's meaningful to our team," said Mandy Rousseau, manager of marketing and communications at the centre.
July
Kids descended upon Whistler Olympic Plaza for the Whistler Children's Festival at the beginning of July. One of the resort's longest-running events, it featured crafts, performances and some educational elements too.
On the very big screen, locals saw one of their own when Henry the avalanche dog was featured in the IMAX film Superpower Dogs over the summer. (He was also perhaps the most welcomed visitor to the newsroom in 2019.)
August
In the heat of summer, The Point Artist-Run Centre hosted its annual Flag Stop Theatre & Arts Festival. This year, The Point's artistic director, Stephen Vogler, penned the play About The Moose, which, later, also toured the Sunshine Coast before a two-night run at the Maury Young Arts Centre.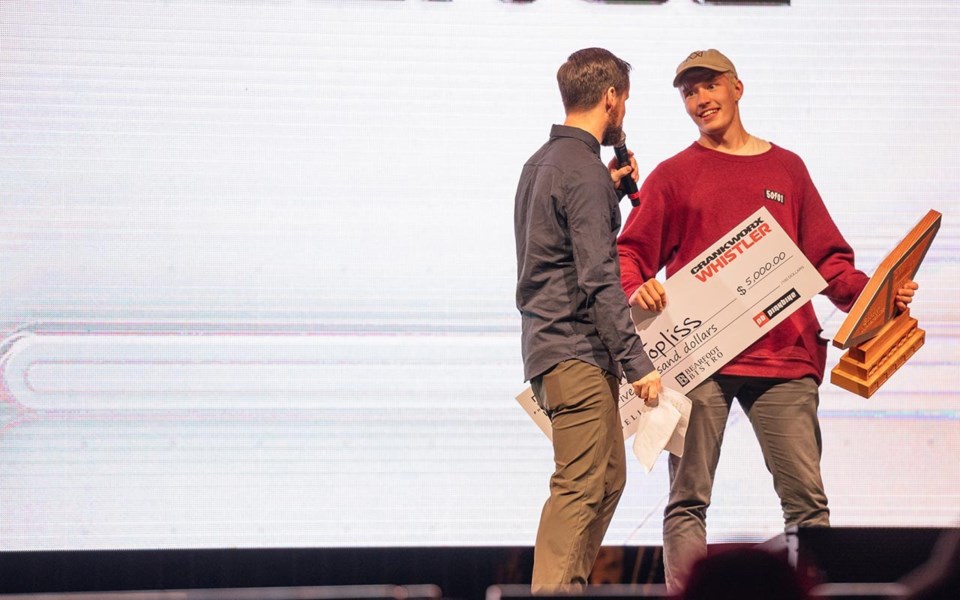 Crankworx, voted the best festival of 2019 by Pique readers, also returned and with it Manchester photographer Jim Topliss won his second Deep Summer photography contest. On the film side, French director and producer Damien Vergez held onto top spot at Dirt Diaries for his short, Men in Bikes.
September
Arts Whistler hosted what was probably the most powerful production of the year with útszantszan. Written by and starring the Lil'wat Nation's Yvonne Wallace, the one-woman show, performed largely in Ucwalmicwts, was a stirring reflection on Wallace's own reckoning with her bi-racial identity.
October
The Whistler Writers Festival marked another successful year when it hosted an array of big-name writers in October. Festival founder Stella Harvey even had a new book—called Finding Callidora—to launch as part of the festivities.
In October, Pique's newsroom also welled up with pride when A Whistler Vacation hit the stage at the Maury Young Arts Centre. Pique reporter Brandon Barrett co-wrote the production with Ira Pettle—and earned a standing ovation from a sold-out crowd.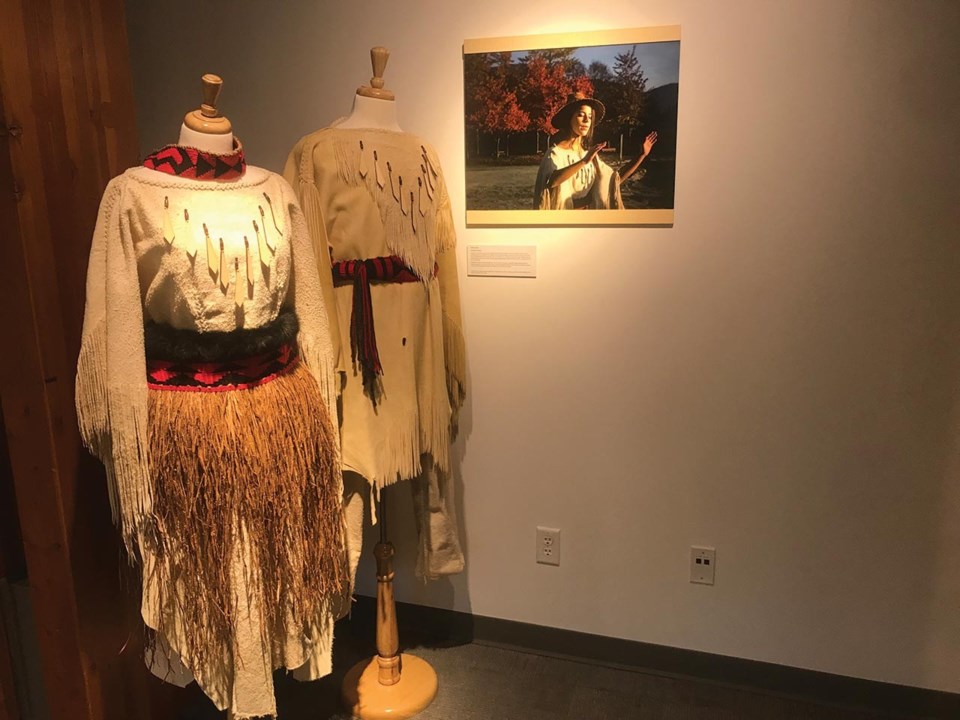 Over at the SLCC, a new photo exhibit called AMBASSADORS featured images by local photographer Logan Swayze. He captured the faces and stories behind the centre's Youth Ambassador Program.
Meanwhile, the HeavyHitting HorrorFest brought blood, guts, and a little nudity to the big screen for a sold-out crowd keen to mark Halloween at its new venue, The Hangar.
November
It might seem surprising that shoulder season saw so much arts action this year—but then Arts Whistler has done a fine job branding the autumn under its Fall for Arts umbrella.
To that end, it hosted the first solo exhibit, called After the Blast, of Lil'wat artist Levi Nelson. "I think about it as there being all these different facets that play into who I am as a person, being from this traditional territory of Lil'wat, but also growing up with a colonial mindset," he said about his work. "There are these tensions that create a lot of interesting dialogues that can be transformed into painting."
The Arts Whistler Holiday Market and Bratz Biz led us into the holiday season with local goods on full display.
December
Before the Christmas season unfolded, locals enjoyed the Whistler Film Festival for another year. The five-day event brought film stars and industry shakers to the resort to catch a whopping 86 films, many of them Canadian—not to mention plenty of industry events.
Pemberton
By Joel Barde
Pemberton saw a lot of change this year—and not just to its downtown core, which received comprehensive enhancement thanks to a $5.3-million federal government grant.
The community's growing pains and pointed council debates figured large in the pages of Pique, and its decisions will have an effect for years to come.
So with that said, here's a look at the year that was.
January
In January, the Village of Pemberton (VOP) put up banners adorned with the work of Lil'wat Nation artist Levi Nelson, whose first solo exhibit, After the Blast, showed at the Maury Young Arts Centre late last year. "He's very, very talented," said VOP Mayor Mike Richman. "Just the beautification of having (Nelson's) work in the Village is going to be great."
Pique also reported on the Pemberton & District Public Library's new look, which saw a redesign of the front entrance, reconfiguration of the shelves, and the creation of dedicated spaces for computing and studying.
February
VOP council gave staff the go-ahead to proceed with the development of a 16-car parking lot on a section of Fougberg Park. The decision—voted as Pemberton council's "most dubious" in Pique's Best of Pemberton 2019 readers' survey—was vehemently opposed by Councillor Amica Antonelli. "I see this as us using our very limited resource—of Village of Pemberton land—to provide a private business with parking," she said. (While the resolution is still in effect, the VOP said in an emailed statement that it will be "monitoring parking over the winter" to determine whether the controversial development is required.)
Also in February, the Pemberton Ice Cap was the scene of a horrific accident, when an Ontario man died after falling into a crevasse while snowmobiling. Friends on the scene administered first aid until search-and-rescue crews arrived. He was 32.
March
Showcasing not only the VOP's but Pembertonians' appetite for legal weed, council approved the Village's second cannabis shop. The application was supported by staff and did not receive any negative comments from the public.
While supportive of the application, Coun. Leah Noble objected to the proposed name: Puff n Stuff Dreams. "I find it trivializes a restricted substance that we don't want to appeal to youth. I'd really like to see you guys rethink the name," she said.
March also saw an incident in which a small avalanche on the Lillooet River Forest Service (FSR) trapped a group of people who were visiting Keyhole Falls hot springs.
The group was eventually saved by the driver of a four-wheel drive located on the opposite side of the slide.
Later in the month, Pique also reported that a pregnant cow moose had been struck and killed on the busy road (although the incident took place in late January).
The accident led the Pemberton Wildlife Association (PWA) to call for the province to review public access on the Lillooet River FSR. "We are basically playing Russian roulette [by allowing] the public to drive up and down the road at any time of the day," said PWA President Allen McEwan.
April
Pemberton's downtown enhancement project kicked into high gear. The project, which continued on through the summer, saw the rehabilitation of Birch, Frontier, Aster and Prospect streets, as well as the replacement of aged, underground piping.
The project also includes new storm-water and catchment systems, and the installation of new sidewalk LED street lights throughout the downtown core.
A poster, designed as part of a new health and wellness initiative from the Southern Stl'atlimx Health Society (SSHS), went viral.
The poster—titled How to Live a Decolonized Life—provides a number of suggestions on how to live happier and healthier lives, such as "get outside and get to know your traditional territory," "learn your language," and "celebrate everyone's success."
May ­
In May, VOP council spoke out against BC Parks' engagement process for its Joffre Lakes Provincial Park visitor-management strategy. "We (were) relying on (BC Parks) for a comprehensive management plan that we can then comment on," said Mayor Richman. "We got a list of eight bullet (points) here that is basically everything that has already been talked about."
The Squamish-Lilloet Regional District (SLRD) and the VOP also finalized the transfer of management of the Pemberton and District Recreation Service to the Village.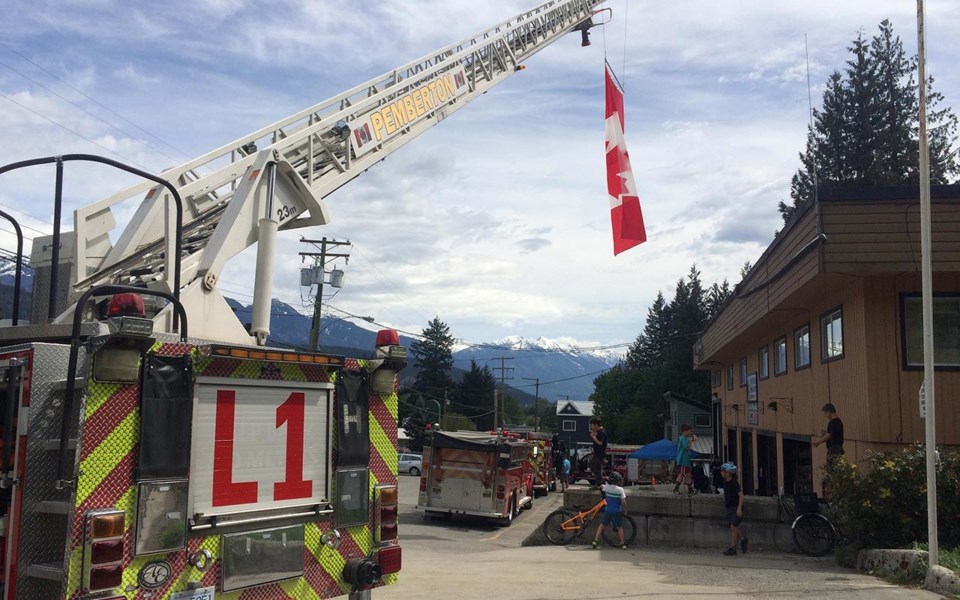 And finally, two significant landslides occurred on the northeast face of Joffre Peak, in the Cerise Creek Conservation Area, with some pointing to rapidly melting permafrost (and climate change) as the culprit. This resulted in a closure of the area to recreation.
June
A new report underscored the depth of Pemberton's daycare crisis. It found that there are approximately 12.5 licensed spaces for every 100 kids (up to 12 years old) living in Pemberton, and all 73 of the community's licensed spaces are filled.
The report, commissioned by the Social Planning and Research Council of BC, calls on the VOP and SLRD to commit to supporting the target of establishing an additional 46 licensed daycare spaces by 2023, increasing the capacity from 73 to 119 spaces in Pemberton.
The province also released its long-awaited visitor management plan for Joffre Lakes Provincial Park, resulting in the creation of two First Nations steward positions as well as the expansion of the day lots.
July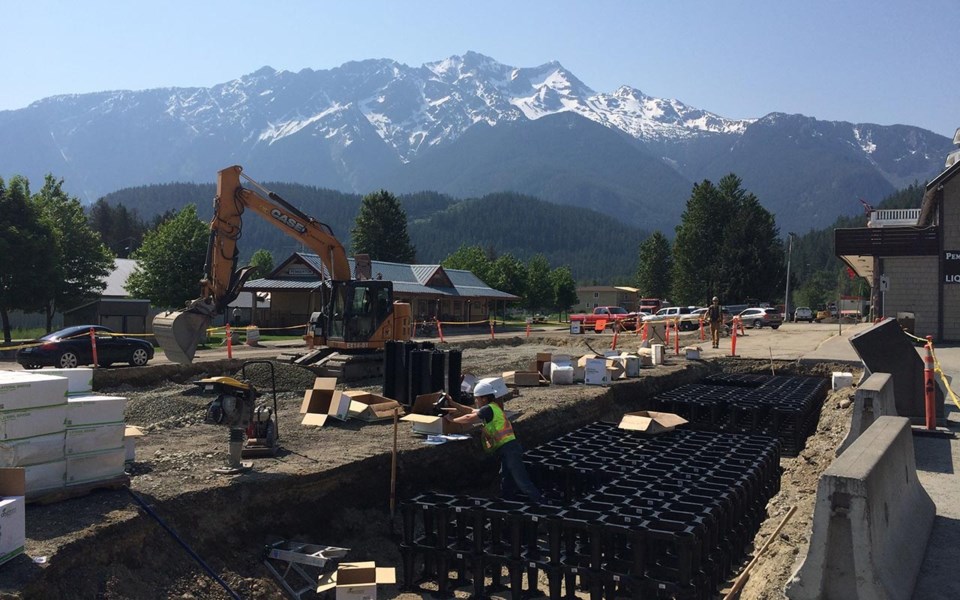 In July, council received two letters about the speed limit between the Industrial Park and the Plateau, along Highway 99. This resulted in some lively debate about what the speed limit should be (although ultimately it's up to the province).
VOP council learned that it was successful in borrowing up to $980,000 through an Alternate Approval Process to cover the cost of extending and paving the parking lot adjacent to the Community Barn and serve as a contingency fund for the downtown enhancement project. A total of 67 community members registered opposition—less than the 195 needed to veto the project (10 per cent of the community's population).
August
In August, VOP council's attendance records went public for the first time. Coun. Antonelli was listed as having missed the most meetings since the current council sat in November. She, however, took issue with the way VOP staff presented the information: "A more accurate depiction of attendance is that I have missed one more day than the others," she shared in an email to Pique. "I think it is really unfortunate that staff have released a report to the public which is inaccurate."
The month also saw the PWA call for an illegal dumping strategy after a clean-up in the Pemberton Valley resulted in PWA members finding a "freezer full of meat."
Pique also learned that Blackcomb Helicopters axed a controversial element of their heli-biking tenure application with the province. If successful, it would have seen the company build three trails in the Tenquille to Owl Lake Recreation Area.
September
The Lil'wat Nation kiboshed an unsanctioned rave that was set to take place in Mount Currie, forcing the organizers of the Impact Festival to relocate to the Kamloops area in the days before their party.
VOP council also took action on the community's daycare problem, approving a $3-million grant application for a building that would be constructed on the same lot as the Pemberton Children's Centre and be used to expand the number of spaces it offers.
October
Pique reported about Lil'wat Nation's plan to expand its farming footprint by hiring an agricultural manager to implement an agricultural plan that was first developed in 2014.
The Pemberton Valley is considered some of the best agricultural land in the province, and the nation has formal title to approximately 910 hectares of it, much of which is suitable and zoned for farming.
BC Parks also revealed the results of its Joffre Lakes Provincial Park visitor management survey. It garnered just over 2,500 responses, with 70 per cent of them saying they would be willing to pay day-use fee to enter the park if they knew that the money was being reinvested into the park.
November
A Tourism Pemberton-commissioned report estimated that some 325,000 people visit the area a year, generating $31.2 million in domestic output in Area C and Pemberton.
Don Coggins of Tourism Pemberton told Pique the report spells out the "value of tourism in the area" and will be used to help the organization to secure a source of long-term, secure funding.
To the delight of backcountry skiers, the Province amended the closure of the Nlháxten/Cerise Creek Conservancy, a move that will allow the public to access Keith's Hut, which previously lay within the closed area.
VOP Council also gave fourth and final readings to two resolutions that will allow Sunstone Development Ltd. to move forward with a plan to create nine new 2,000-square-metre "estate lots" and enlarge four existing lots.
Council also gave first and second readings to two amendments that would see Pemberton Secondary School students build a residential home on the corner of Poplar Street and Aspen Boulevard as part of their studies.
December
In December, Pique learned that the Whistler Adaptive Sports Program will start a trial Leisure Buddy program at the Pemberton & District Community Centre beginning in January.
The buddies will be trained to work with people of various diagnoses, helping people with diverse needs take part in the centre's programming.