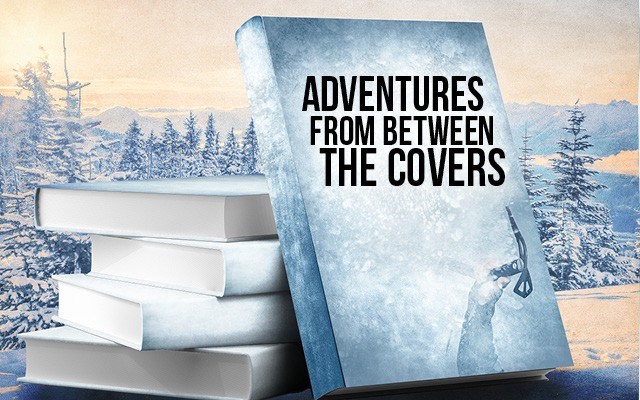 The World Ski and Snowboard Festival celebrates the end of the snow season in Whistler and the beginning of the next set of adventures over the summer. Drawing, as it does every year, an eclectic audience, there is one thing we all have in common — a love of mountains and the culture that surrounds them. With that in mind, Pique asked three local adventurers and writers to choose books they would like others to discover and enjoy, which embody our wild spirits, and share them through a review. Writers, Susan Oakey-Baker, Mitchell Sulkers and GD Maxwell share with you some of the books that have shaped their relationship with the outdoors.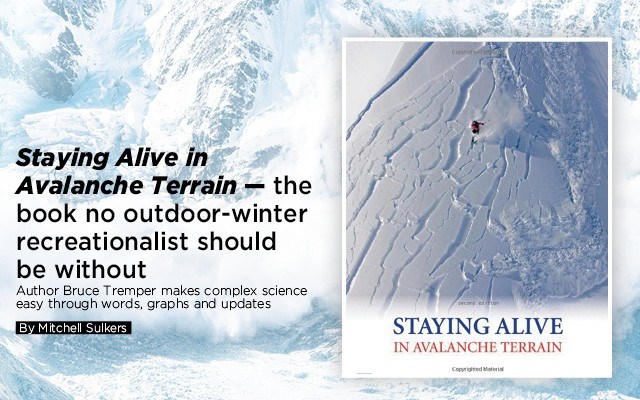 Staying Alive in Avalanche Terrain — the book no outdoor-winter recreationalist should be without
Author Bruce Tremper makes complex science easy through words, graphs and updates
By Mitchell Sulkers
There are many tomes dealing with the complex science of snow dynamics and avalanches, terrain and weather, and the dangerous mix that often occurs when people are introduced to the equation — many are authored by experts in various fields of the study.
But there are precious few that provide a readable and persuasive text suitable for educating the untrained. Some time ago Bruce Tremper took his considerable skill and experience and produced the very effective and readable Staying Alive in Avalanche Terrain (Mountaineers Books, Seattle, Washington, 2008. Sixth printing 2012) in an effort to produce such a document.
His first effort — reviewed by 17 noted North American avalanche experts, with the additional feedback of an even larger group of experts — quickly became a mainstay for industrial-level training programs and high-level avalanche courses for recreationists after its publication in 2001; but, with the increasing number of enthusiasts accessing mountain terrain in winter, combined with significant research aimed at understanding avalanches and why people get involved in them, Tremper decided to produce a second edition in 2008 to bring an already excellent resource into even better and updated form.
The book is clearly a deeply personal and engaging result of decades spent in the avalanche patch in a number of locations throughout North America.
Tremper's interest in avalanches mirrors my own, and was precipitated by a serious personal avalanche involvement that could have been his first and last in one fell swoop.
Tremper uses this experience in his introduction to make a personal connection with the reader and, at the same time, demonstrates an ability to put ego aside and demonstrate the plain and simple truth that the snow does not know, as some have noted, that a rider crossing a slope is considered an expert.
Having made that connection with the reader, Tremper spins out ten tightly written chapters that neatly summarize the major elements of what each and every person who heads to the backcountry in the winter mountain environment should be aware of.
What makes the text even more accessible is that each chapter does a very good job of standing alone, in the sense that the chapters need not be read sequentially to be effective, though of course the assumption and my recommendation is that it should be read in its entirety.
Since its original printing, many of my colleagues and I have made it a ritual to review the book annually before the ski season begins, and each time one goes through the text another pearl seems to pop-out, some piece that fits another "ahaa" moment into understanding avalanches.
Tremper takes on the daunting task of informing a community that typically is active and kinetically oriented through a largely textual format in 312 pages. To do so, he is deeply cognizant of the perils of dry and scientific analysis and manages to artfully employ several techniques to make his writing fresh and accessible: the use of appropriate anecdotes, memorable analogies, relatable examples, plain-speaking word choice, and humour all increase the effectiveness of his writing.
In short, it is clear that Tremper understands his audiences and their needs very well and he masterfully weaves a series of chapters to simplify the complex matter of understanding avalanches and human behaviour in the zone of the white dragon.
Naturally, an effective educator must be an effective communicator in more than one mode, and Tremper demonstrates his appreciation for the variety of learning styles and modalities by including much more than tightly written prose in this edition. His inclusion of multiple art forms, including photos, graphs, illustrations, tables, flowcharts, and step-by-step instructions allow the reader to consider concepts and processes from a variety of perspectives, much as a keen avalanche professional would use several approaches to understand the numerous variables of avalanche mechanics to calculate the resultant hazard.
In addition to the finely composed and edited main text of Staying Alive in Avalanche Terrain, 2nd ed., Tremper includes an appendix, efficient glossary, succinct bibliography, and an index. In doing so, he has managed to create the best avalanche text for those interested in understanding the many aspects of what is a very complicated and unpredictable problem: understanding why it is that people are still being "slaughtered by avalanches."
This was Tremper's main concern in producing this book and, in spite of his excellent effort, and those of others educating and informing the public, the numbers continue to demonstrate that the battle to reduce this slaughter has not been won in North America.
It is a pity that Tremper has now retired. I would love to see a third edition of the book. While the reader should be aware that some references are a little dated — avalanche research and improved resources have been developed since the 2008 publication date — none of these, like the improved Canadian produced Avaluator v2.0, the Decision Making in Avalanche Terrain field book, or specifying outdated professional resources, is a deal breaker.
Staying Alive in Avalanche Terrain, 2nd ed., remains the best print resource available for Anglophones planning to do just what the title proposes.
Come October, I expect I'll be reviewing my copy for the sixteenth time while sitting on a beach in Baja California Sur, waiting for the fall rains to become winter storms, filling up our winter mountain playground for yet another year.
Mitchell Sulkers is a Professional Member of the Canadian Avalanche Association, Education and Training Committee of Avalanche Canada, and an AST1/2 provider currently working within the public-school system and with Avalanche Course providers in the Sea to Sky Region of B.C.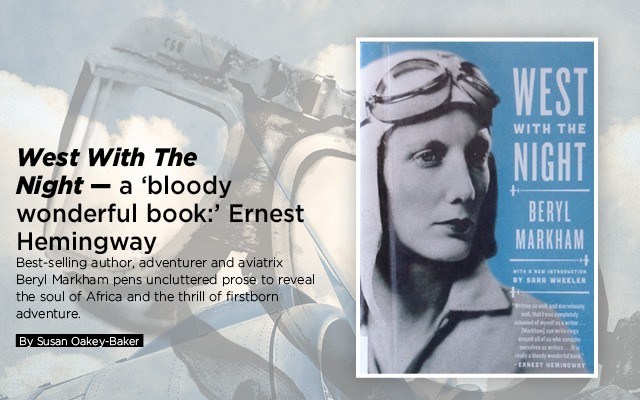 West With The Night — a 'bloody wonderful book:' Ernest Hemingway
Best-selling author, adventurer and aviatrix Beryl Markham pens uncluttered prose to reveal the soul of Africa and the thrill of firstborn adventure.
By Susan Oakey-Baker
Six-foot tall (1.8m), lanky and Nordic-looking Beryl Markham was the first female racehorse trainer in Africa at the age of seventeen, the first female bush pilot in Africa, the first pilot to scout elephants by plane, and the first woman to fly solo non-stop from England to North America.
She lived for the moment, was mostly broke, and only contemplated boredom when she resided for a year in London.
She valued a kinship with the elemental forces that provided her purpose in life.
I read West With The Night (North Point Press) as a young woman in 1983, 40 years after its first publication. Markham's wisdom has humbled me on many of my outdoor adventures:
"We fly but we have not conquered the air. Nature presides in all her dignity, permitting us the study and the use of such of her forces as we may understand. It is when we presume to intimacy, having been granted only tolerance, that the harsh stick falls across our impudent knuckles, and we rub the pain, staring upward, startled by our ignorance."
As a child, Markham moved from England to a farm in Kenya with her father. She spent years hunting barefoot with the Nandi Murani (warriors) and her accomplice Buller, a scarred, cat-killing bull terrier mix who barely bested attacks from a leopard and a wild boar many times his size.
When her father's flourmill went bankrupt and he moved to Peru, 17 year-old Markham opted to ride north in Africa, alone, on her horse Pegasus, to become a successful racehorse trainer.
She met legendary pilot Tom Black and decided to learn to fly. She made a meager living delivering supplies by plane, until she decided to scout elephants for safari hunters. She flew with a vial of morphine in her jacket pocket and a Luger gun, just in case.
Markham describes, with humour and irony, the heart of a racehorse who will run through pain, the exhilaration of flying over the emptiness and warmth of the African plains, the horror of being skewered by Sansevieria weed, or eaten by Siafu ants as she belly-crawled away from an irate bull elephant, and the loneliness of flying west with the night from England to North America.
She describes the soul of Africa and the soul of adventure.
Critics speculate Markham's third husband actually wrote West With The Night. Regardless, it is Markham's unique character and life that inspire us as much as the writing.
Known to the Africans as "Beru," "She Who Cannot Fall Off A Horse," and "The Lady From the Skies," Markham embraced change, work, danger and pleasure, good friends and "a world without walls to live in."
From her extraordinary life she learned "what every dreaming child needs to know — that no horizon is so far that you cannot get above it or beyond it."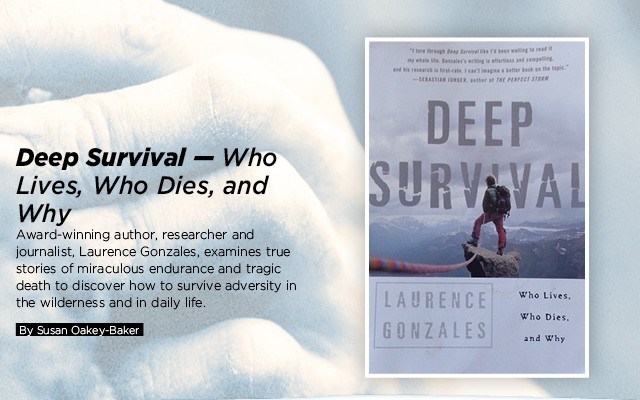 Deep Survival — Who Lives, Who Dies, and Why
Award-winning author, researcher and journalist, Laurence Gonzales, examines true stories of miraculous endurance and tragic death to discover how to survive adversity in the wilderness and in daily life.
By Susan Oakey-Baker
After years of listening to survival stories of his Second World War combat-pilot father, and after years of his own research and risk-taking, Gonzales explains in the prologue of Deep Survival — Who Lives, Who Dies, and Why (W. W. Norton & Company) his intriguing premise of survival:
"Those of us who go into the wilderness or seek our thrills in contact with the forces of nature soon learn, in fact, that experience, training, and modern equipment can betray you. The maddening thing for someone with a Western scientific turn of mind is that it's not what's in your pack that separates the quick from the dead. It's not even what's in your mind. Corny as it sounds, it's what's in your heart."
As a reader, I felt compelled to rip through the book. Did I have a survivor's heart and what exactly was that?
The author details story after story where seemingly rational people make irrational decisions, when faced with adversity. And seemingly inexperienced, unprepared people survive while those with abundant equipment and training perish.
A small plane crashes and a seventeen year-old walks for eleven days in the Peruvian jungle to safety while other adults give up and die. A pleasure boat capsizes in shark-infested waters and a determined, organized young woman keeps to her plan of survival while young men drink salt water and lose their wits. A snowmobiler guns it up an open avalanche-prone bowl after being warned of probable death. Scuba divers pull their regulators from their mouths and die, even though they have air in their tanks. An experienced outdoorsman persists in his direction even though he knows it is incorrect and becomes completely lost.
Gonzales found the survivors had common traits. He admits training and equipment are important, but equally important, when faced with adversity, are the human elements of character, personality, and our way of viewing the world.
Through this rollercoaster ride of disasters, Gonzales explains the brain's reaction to fear, why we take risks, and offers rules of survival for the wilderness and for facing everyday adversity: 1. Stay calm. 2. Break problems down and do the next right thing. 3. Deny denial and see what is really there. 4. Count your blessings 5. Have a mantra 6. Give up your fear of dying, but do not give up hope. And with deliberate practice and time, we can learn these soft tools of survival.
Gonzales encourages the reader to practice effective survival skills on a daily basis and to examine frequently the risk-reward loop by asking What is my goal and what am I willing to pay for it?
Survivors are prepared, persistent, organized, able to calm themselves and formulate a plan, and are very socially connected and motivated to survive for their loved ones.
Just as Beck Weathers was lured back to life by images of his family, after being left for dead multiple times on Everest. Just as in the movie Princess Bride when the "mostly dead" Wesley was asked what he had to live for and he moaned, "True Love."
Knowing our hearts is important for survival in the wilderness and in life. As Gonzales eloquently summarizes,
"To survive you must find yourself. Then it won't matter where you are."
Susan Oakey-Baker is a writer, teacher, painter and guide living in Whistler. Her memoir, Finding Jim (Rocky Mountain Books 2013), was launched at the Whistler Writers Festival. She is currently working on a novel about Mount Kilimanjaro. See her website: susanoakeybaker.com.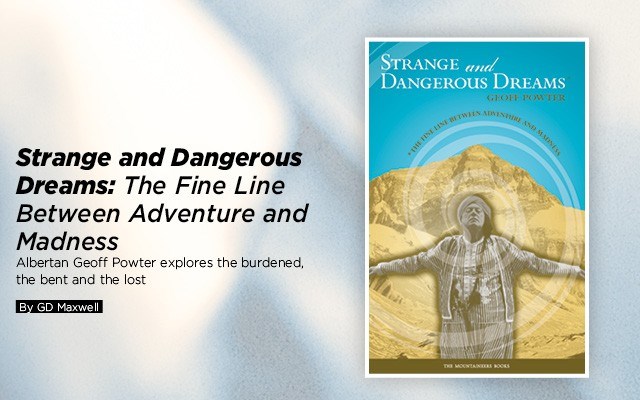 Strange and Dangerous Dreams: The Fine Line Between Adventure and Madness
Albertan Geoff Powter explores the burdened, the bent and the lost
By GD Maxwell
Geoff Powter is a clinical psychologist from Canmore, Alberta. He's also a mountaineer and writer and he's fascinated by flawed heroes, human stories and the human spirit's hope of redemption through heroic challenge.
In Strange and Dangerous Dreams (The Mountaineers Books, Seattle, WA), he profiles 11 "heroes," some well known, some obscure, who danced on both sides of the line between adventure and madness. He's organized them into groups he labels the burdened, the bent and the lost.
Some are household names. Meriwether Lewis, co-leader of the Lewis and Clark Corps of Discovery expedition to explore and map Thomas Jefferson's Louisiana Purchase, killed himself, perhaps unable to live with or up to the fame he found so burdensome. The stories of Robert Falcon Scott's ill-fated Terra Nova expedition to Antarctica and John Franklin's ice-bound search for the Northwest Passage are well known.
Less well known is the analytical parsing of the dreams and demons that drove them and ultimately destroyed them. This is the crux of Powter's retelling of their tales. He claims to have become fascinated with the difficult lives of several adventurers he's known personally, and keenly interested in the intersecting contradictions of accomplishment and drive with confusion and self-doubt that seem to "lie near the heart of many great adventures."
He recounts the drug and occult-fuelled descent of "the wickedest man in the world," Aleister Crowley, who also happened to be one of the most accomplished mountaineers of his time, albeit reckless and threatening to the lives and sanity of those who ventured into the mountains with him.
Powter recounts the tragic tale of Claudio Corti's assault on the north face of Eiger in 1957, an expedition only Corti survived, having ultimately been carried safely to the summit on the back of a member of the rescue party who came to his aid. Corti's is, "one of the most compelling examples of the problems raised by the adventure advocate's belief in the right of every person... to challenge themselves in risky places." In telling the tale, Powter draws parallels to Jon Krakauer's Into Thin Air, Krakauer's first-hand account of Mt. Everest's disastrous season of 1997.
For 235 pages, Powter struggles to explain the drive, motivation and personality flaws that have driven so many adventurers to the brink of disaster and beyond. Whether it was the grandiose dreams of men like Corti — who, having been hauled up to the summit of the Eiger by his rescuers, turned triumphantly and claimed to be the first Italian to reach the top of the North Wall, unfazed and seemingly unconcerned with the dead climbing partners he'd left behind because of his blind miscalculations — or the almost inhuman self-interest of debutante beauty Jean Batten, a pioneering woman pilot in the 1930s who left a trail of used and abused enablers in her wake.
Powter shines an understanding and at times sympathetic light on the complex psychological motivations behind the clichéd answer, "Because it's there" to the equally clichéd question, "Why did you climb this mountain?"
Mountaineering: The Freedom of the Hills
This must-have guide as relevant today as it's first edition
GD Maxwell
[pullquote-1]
It resonated with a lot of people. Mention Mountaineering: The Freedom of the Hills (The Mountaineers Books, Seattle, WA, 8th edition) around a group of people who spend time adventuring in mountains and you can see the spark of recognition in their eyes. Instant animation.
"I can't count the number of times I fell asleep with that book on my chest, having just reread a section dealing with something I was going to encounter tomorrow," said Paul Street, climber, skier, mountaineer.
"I remember reading that book about multi-pitch climbing because I wanted to be more informed," remembers Mitch Sulkers, who's taught more Whistler Secondary students the ins and outs of backcountry mountain travel than he can remember, and owns multiple editions of the book (check out Sulkers' own book review in this feature).
"It was the seminal book," Jayson Faulkner recounted. "The reference book. You had to read that and you'd get all the skills you needed to move into the mountains. We carried it around for a couple of years in our backpacks on trips."
Freedom — it's often shortened to that one word — is the Joy of Cooking of mountain adventuring. It won't give you hands-on experience, nothing will except, well, hands-on experience, but it will teach you the right way to do just about anything you need to do hiking, climbing and mountaineering. It will inform you of hazards you may well be unaware of if your primary mode of learning is simply trial and error. It'll keep you alive.
The eighth edition, published in 2010, celebrated the book's 50th anniversary, half a century of teaching people about the freedom of the hills. In the pre-Internet days, learning mountaineering skills by reading Freedom was the second-best, safest way to go. The only safer option was hiring a certified guide to take you safely into hazardous terrain. But that wasn't in anyone's budget and not nearly as good a way to learn. Freedom was the way, the single source to learn about everything you needed to know, from what clothing to wear, to rock climbing technique, alpine climbing, glacier travel, ice climbing and emergency prevention and response.
It's impossible to prove the book saved my life. But it's equally impossible to believe it didn't, many times over. At a time when climbing harnesses hadn't been invented, it taught me how to tie in to a safety system that wouldn't crush the life out of my chest if (when) I fell against it.
The most recent edition has updated everything. It's kept up with technology and trends. Whether you're novice or old hand, rock climber, ice climber, expedition leader, backcountry skier or just curious about these magnificent mountains we live in, Freedom will teach you something, maybe even humility. If you're new to mountain travel, it's the one book you must read. If you're an old hand, it's an easy way to review and improve your skills.
It's a labour of love put together largely by volunteers among whose numbers are some of the most respected names in North American mountaineering.
G.D. Maxwell was seduced further into dangerous, mountainous places decades ago after reading Mountaineering: The Freedom of the Hills. He's a corporate dropout, refugee from both the U.S. and Toronto and has been offending people for over two decades with his rantings on the last page of Pique NewsMagazine. n