Package No. 1
Sarah Johnston and Mike MacWilliams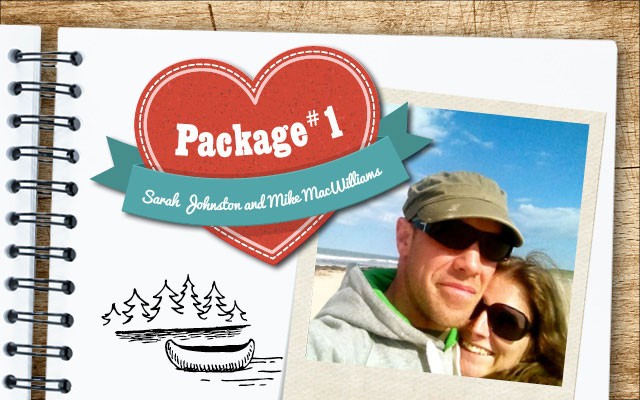 Four Seasons Resort: One night stay in a deluxe king room
TAG - The Adventure Group: Snowmobile dinner tour for two people ($458)
Aura: Three course dinner for two with wine pairings
Nicklaus North: Sleigh ride & dinner for two
Nesters Market: Gift basket ($100)
Setting: The River of "Colden" Dreams.
Sarah: Three years ago I met Mike. For one of our first dates he invited me on a beautiful sunny May evening to accompany him, and a group of his friends, down the River of Golden Dreams. I bundled myself up, wore my favourite flip-flops, a cute sweater, did my hair and got ready for a fun date.
Mike and his friends worked for a guiding company, so I thought what could possibly go wrong with a group of guides?
Mike: One May evening three years ago a group of us were heading down the River of Golden Dreams to check out the water level for work. We didn't really know what to expect, but I thought it was only the River of Golden Dreams, what could possibly go wrong?
I am a guide after all.
Sarah: We confidently canoed off from Lakeside Park. We were laughing, taking photos and watching the sun go down over the mountains. It was turning out to be a fun adventure. We hit the river and the calm waters and good times continued. As we came out into the fast-flowing waters just under the bridge, the rapids picked up and we were charging down the river. Mike started spinning the canoe, as I was laughing and yelling, "careful we might go in." His words: "Don't worry babe I'm a raft guide." Mike: I'm awesome! This girl is going to think I am a God if I spin the canoe and pretend like we are about to tip. I'm awesome!
Sarah: We slammed into the riverbank, water started spilling into the canoe and we were in the river. It was 6 p.m. in early May. Needless to say it was cold. I came up for air and saw our canoe floating down the river. I jumped on to it and Mike, from behind me is saying, "don't let it go — stop it from floating away."
I'm 120 pounds and this was a canoe upside down charging off in the spring rapids. Not being able to speak, due to the extremely cold water, I just hung on and looked at him. All I could think of at that moment was, "you f***ing idiot." But it was our second date, so I smiled sweetly and swam over to the bank.
Mike: My cell phone...
Sarah: My flip-flops...
Three years later we are engaged and very happy, but every now and then when he says, "don't worry babe" I'm reliving our best and worst date — all over again.



Package No. 2
Marc Dionne and Stacey Bodnaruk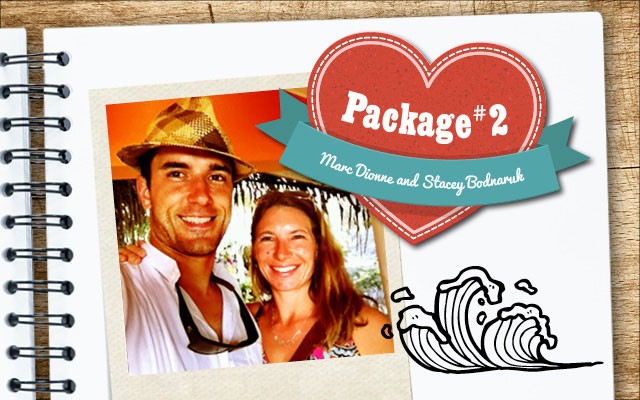 Canadian Wilderness: Mountain-top fondue by snowmobile/snowcat
Days Inn Vancouver: One night stay in a king room with breakfast
Pacific Coach: Return transportation for two, Whistler to YVR or downtown
Sidecut: Dinner for two
Rocky Mountain Chocolate: Gift basket ($100)
Mexican Corner: $100 gift card
As if waking up breathing next to the one you love, in Mexico, while staying in a gorgeous villa, on the ocean isn't romantic enough...
We were spending 10 days in Mexico on the water after renting a big, beautiful and private home where 11 friends and I could all enjoy some quality time in, and out of, surf breaks, restaurants, and pools. This trip was concentrated around love. Our friends were getting married on the beach and managed to get 60-plus friends and family together for what turned out to be a magical day.
But back to the "waking up breathing next to a woman I love" part. It's Halloween day, it's our last day of the trip. Most of our friends had left the villa by this time. My girlfriend and I chose to extend our stay to enjoy some alone time. Like most days, the local fruit breakfast and coffee kicked us off to what turned out to be the most romantic day of my life.
The surf swell was small, so we wondered where to surf to catch those last few rides before heading off? The scene... a golden, orangey, warm, hugging sunset in the west, a cresting half moon in the east, sitting on surfboards in a warm, glassy ocean...waiting for the next set of liquid rides to show. Life could be worse.
Waiting, waiting, absorbing this exceptional conclusion to the day... the colours, the breeze, the joy of surfing with the one you love.
Nothing better... until, I turned over to see her. A beauty paddling up towards me, ring in hand, expressing that she had waited for me her entire life and asked me to marry her.
In that moment, I melted. She had surfed this entire sunset session with the ring on her surfboard leash... just waiting until we would be wrapping up to propose.
The moment was perfect. There was one other guy on the line who must have wondered why at this moment we decided to just start "celebrating" in the water, but a nice moment for him as well I'm sure, because just at that point, a beautiful set of five waves came in... and we didn't go for a single one. He got to pick and choose the wave he wanted while we relished the moment of being lost in love.
There's something exciting about proposing... but I think for a man, being proposed to, at least in my case, melted me like coconut butter on a Mexican countertop.
If I can just add one last detail to the melt factor, the ring is silver in colour and has a sun, a half moon, a wave and a surfboard engraved on it.
We are now happily married.



Package No. 3
Shannon Story
Superfly Ziplines: Dinner tour for two ($398)
Home Hardware: Electric Fondue and two Champagne glasses ($100)
Elevation Hair: $100 gift card
Sushi Village: $75 gift card
Upper Village Market: Gift basket ($150)
Red Door Bistro: $75 gift card
Towards the ends of my time in university, I broke up with my long-term boyfriend, and I was feeling like I would never find true love. So I decided that I was done with dating for a while.
I had a girls' night out with some friends and a handsome stranger came up and started talking to me. He said that he was in "finance" and he seemed to have his life together. He asked me out and my girlfriends harassed me until I said yes.
He picked me up the next weekend in a brand new BMW, which I'm embarrassed to admit impressed me a bit, as I was currently driving a 15-year-old Toyota Tercel, and my recent ex-boyfriend had no wheels to speak of.
He took me to an expensive restaurant where we had great wine and conversation. He was smart, witty, well read and he was very engaged in our conversation. As we were leaving the restaurant at the end of our dinner, I excused myself to go to the restroom and as I refreshed my lipstick, I thought that maybe I shouldn't give up on love and that I should give this guy a chance.
I smiled to myself as I walked out to his car to meet him.
As I opened the door to the restaurant, I saw my date lying face down on the ground with his arms and legs pinned down by two policemen.
I stood back until they got the handcuffs on him and then I approached and asked what was going on. One of the police told me that my date was a member of the Satan's Choice motorcycle gang, and that he was bad news, and that I seemed like a "nice girl," so I should go home and never speak to him again.
As I walked away my "date" yelled at me to ask me whether I wanted to go on a second date.
I turned around silently and walked away, caught a cab home and decided that it felt damn good to be single.



Package No. 4
Julie Campbell
Blackcomb Snowmobile: Snowmobile tour for two
Hy's Steakhouse: $100 gift card
Avello Spa and Health Club: $100 gift certificate
Sushi Village: $75 gift card
Old Spaghetti Factory: $50 gift card Scandinave Spa: Bath passes for two
The best date I can say has honestly changed my life forever. We arrived at the entrance gates of Canada's Wonderland in Ontario at 12:00 p.m. (late start to the day), and I said let's go on the newest, biggest, scariest ride to get it over with. The Leviathan it was. The ride started out slowly, and I turned to my boyfriend and said (while gripping his arm tightly): "If I die on this thing, you're going down with me."
His reply: (of course with his mischievous smile): "Baby, will you marry me?"
Me: "Don't worry baby, we are not really going to die!"
His reply: "No, I'm serious; will you marry me?"
Me: "YES!"
His reply: "OK, my mom has the ring at the bottom!" (thank goodness!)
Not even a second after saying yes, we dropped 250feet riding down, up, back, forth, upside down and around. Neither can remember the actual ride!



Package No. 5
Angie Nolan and Fish Boulton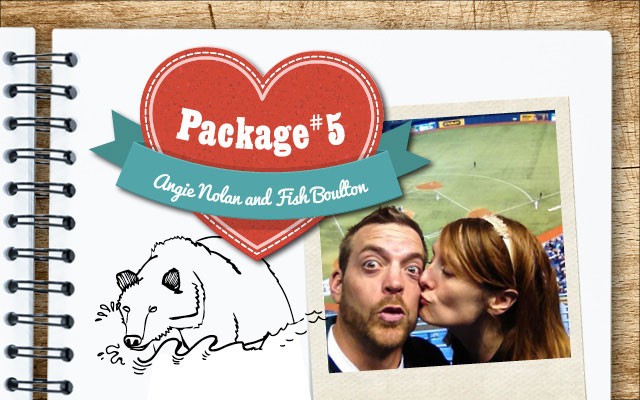 Ziptrek: Eagle tour for two ($260)
Maxx Fish: Two tickets to the Valentine's Day show
La Bocca: $100 gift card
Keg at the mountain: $100 gift card
Sushi Village: $75 gift card
Scandinave Spa: Bath passes for two
The best date I've ever been on was the first date my "now husband" took me on.
It was late spring and he showed up at my house at dusk with a bottle of wine and food for a picnic. He took me out in a canoe on Alpha Lake where we chatted, snacked and watched the sun go down.
As we paddled around in the dark under the stars, we heard the slapping of beaver tails on the water, and one strange sound we couldn't quite decipher.
Being his adventuresome self, my boyfriend decided to paddle towards it. My intuition kept telling me that it might not be the greatest idea, but didn't want to seem lame.
My mind was eased at seeing a small floating dock straight ahead of us in the dark, where I thought we might stop... we just had to get around the big floating piece of driftwood that was coming up on my port side.
Funny thing was, the strange sound was not, from the floating piece of driftwood, but the deep breathing of a large, swimming bear, which was quite quickly "bearing" down on us.
I screamed, and I swear the bear did too. He didn't know what to do. We didn't know what to do.
Somehow my now-husband steered us in the right direction and got us to a safe place.
We laughed so hard we couldn't breathe, and he's been my safe place ever since.



Package No. 6
Chelsey Allen
Dubh Linn Gate: $100 gift card
Creekbread: $100 gift card
Bounce: $75 gift card
Great Glass Elevator: Gift basket ($75)
Prior Snowboards: Apparel package
Scandinave Spa: Bath passes for two
Back in the mid 2000s, I was looking for love in all the wrong places— i.e. Plenty of Fish, the Pit pub at UBC, the bottom of a Doritos bag and so forth.
On my road to online dating redemption, I came across a prospect by the name of, let's say, Weird Al. Despite some initial red flags —- his profile listed aspiring actor, hears voices, into conspiracy theories and recreational streaking —- all of which I presumed to be satirical, we had a few mutual friends on Facebook, so I thought we might actually click, and not just on each other's POF profiles.
We decided to meet up for dinner at an Indian restaurant in the city. Our initial greetings were friendly and cordial. Things were off to a smooth start until he broke the ice with a dining theatrical performance.
He literally stepped up on his chair and started serenading me with a bizarre ventriloquist love song using our table napkins as crude finger puppets (poorly rehearsed I might add). No one in that restaurant missed out on this show. After about an eternity, the madness subsided.
He then shared to each table in the "audience" that his piece was part of a play he was producing. Cool, I thought this guy is either psychotic or into shameless self-promotion.
I nearly fled, but the aroma of curry and entertaining value of this disaster date was too hard to resist.
When our entrées arrived, Al then proceeded to emulate our server by impersonating her Indian accent right to her face. This did not go over well.
Oh, and when the nightmare finally ended, I had to pick up the full tab due to his excuse of, "I'll take you out again when I land my next audition."
Never again, Weird Al.
Honorable Mentions
My worst date started with the man I was meeting giving me his card, his personal business card. It had his name, phone, e-mail and the following title "Guardian Supreme of the Starship Council." I figured out we were from different planets pretty quickly.



***
The worst date I have ever been on started quite innocently, at a coffee house in Vancouver where I met a man who was sitting at a table next to mine. We began a conversation that led to a date, set for a week from then, to go ski touring up Singing Pass in Whistler.
We arranged to meet in the parking lot at Whistler's base, and spend the day climbing the trail to get some fresh air and get to know each other. We discussed bringing a wee picnic, and voilá, plans were made!
The day arrived sunny and snowy —— seemingly perfect conditions for out first date. I spotted him as he got out of his car while I was setting up my ski-touring gear, unsticking my skins and preparing my stuff. He opened his trunk and pulled out... a pair of snowshoes. "Snowshoes! What?" I thought in a panic. That was not at all my idea of a ski tour, but I swallowed my opinion and bravely proceeded with the day.
We got on the trail, and slowly painfully made our way up —— him shuffling on his snowshoes on a packed trail that would have been easier to walk on —— me skinning up knowing full well we would never make it anywhere that day.
But, I thought, "this way we'll get to know each other, and I suppose there is no rush to get anywhere."
As it turns out, the conversation we did have was more like a job application with his questions based on my likes/dislikes of children, dogs, drugs, alcohol and religion. It felt like he was ticking off a list of subjects and judging me on my final score.
Any jokes I cracked to make the situation more lighthearted were taken as negative marks on my exam, and I soon found myself at minus a hundred.
Within the hour he suggested we stop for our picnic. We had gone about 500 metres from our departure point. I could see the lower part of Olympic run through the trees. So much for getting out into the alpine for the big-mountain views. Musical Bumps no way today.
So we sat down on the snow and he pulled out a piece of cheese the size of what you might put in a mousetrap to snare a rodent. And a cracker. And began nibbling. I had carted up some wine, smoked salmon, capers, cream cheese, and a few veggies. In disbelief I opted on just snacking on my chocolate bar, since I was convinced his spectacular, seduction picnic must be coming out later.
After the nibble, we got back on our skis/snowshoes and shuffled some more. By that time it was about 2 p.m., and after another half hour he suggested we head back down, since he feared it was going to get dark, and we would be "benighted." Incredulously, but with a mounting sense of relief that it might soon be over, I took my skins off and I coasted down to the village in a ridiculous two minutes. He arrived panting in about 10 minutes. It was then just before 3 p.m. We parted ways in the parking lot.
I caught the last lift up and skinned to Fissile. He must have gone home and crossed me off his list, since I never heard from him again.



***
My first (and only) date with Jeremy left me wondering if I had secretly been cast in some new reality show called, "Surprise! Dating is the Worst."
Jeremy and I shared mutual friends, and though I told them I was totally averse to blind dates, and I'd been nursing a course in sad-sack singledom for months, I agreed to meet him.
Via text, Jeremy insisted that we go to a pretty fancy sushi place downtown. I wasn't flush with cash and told him something more casual would be more in my price range, but he insisted saying, "don't worry about it, honey."
While I generally find the use of the term "honey" only appropriate when referencing cartoon bears, I eventually agreed.
Jeremy showed up almost 45 minutes late. Right when I was about to give up on him, he strolled over and greeted me with "wazzzzzzzzzzup."
Since it was not 1998, I wasn't impressed. Once seated, Jeremy proceeded to talk on the phone with his friends while eating the sushi with his fingers; luckily for me, he described our date to them, so I knew what was going on. Apparently I was, "eh, doable, I guess."
When the bill came, Jeremy stood up, passed it to me and said, "Yeah, could you take care of this? I'm going to go to the crapper and I'm pretty broke."
Begrudgingly, I paid the bill and Jeremy came back to the table. I stood up to leave, and Jeremy asked me for cab fare: "my friend with benefits cancelled her plans, so I'd really like to catch up with her before it gets too late."
I didn't reply and I left.
After, I seriously questioned the judgment of our mutual friends. Bright side? At least the sushi was good.



***
A very long time ago, I was at a barbecue at a friend from work's place. There were drinks and I had a few. After it got dark outside a few extra people showed up.
This is when I met Phil. It was dark. I had drinks. I gave him my number and remember thinking he was an amazing catch.
He called me the next day to set up a proper date, asking me to the Symphony of Fire fireworks competition in Vancouver. I agreed.
He said he worked for his dad, who was a food supplier for Greek restaurants, and he had to make a couple of deliveries and asked if it would be OK if he picked me up a little earlier. I was happy for the extra time. He picked me up at 3 p.m. in an old, rusty, orange, beater hatchback stuffed with Greek food.
He did not look like what I remembered him looking like, and he smelled. So did his car.
On the drive to the city I discovered he had the worst road rage I had ever seen. He yelled at joggers and little old ladies alike. I slumped down in my seat as low as I could.
His music taste was terrible. We did not eat dinner, but stopped by his buddy's place to pick him up (I was actually relieved to not be alone with this guy), and watched his buddy eat dinner. We did get offered a PBR beer.
He was offensive all night, burping, farting and saying things that were completely offside, as well as continuing to rant at innocent strangers.
As night fell, the crowd at the beach got dense, and as he tried to grab my hand I found myself purposely trying to lose myself in the crowd. I was successful for a while —— I figured I could take a bus home, or stay at a friend's, but he eventually found me somehow.
The drive home was long and awkward, as he had figured out by this time that I wasn't impressed, which made him say mean and inappropriate things to me intermittently.



***
While working in Africa, my girlfriend set up the most incredible date night.
We'd been making websites for luxury safari lodges, and unbeknownst to me, she kept in touch with one of the clients. After a rugged week trekking in Mozambique, I was wrecked. I had been whining like a baby about needing a hot shower, a bed that involved a mattress, and some proper food —— I'd been in charge of the victualling for the trek, so we lived on tins of cold corn beef for most of the time.
This was what seemed like my billionth trek in a few months, and I was more than over it. We were doing it so "The Mrs." could have a real jungle experience. In return, on our first full day out of the jungle, there was an envelope at the end of the bed with my first clue in it —— she'd secretly set up a treasure hunt for our monthly date night!
First stop was a monkey sanctuary, where we spent hours grooming, feeding and playing with the monkeys.
I didn't think the day could get any better. As we left there was a vintage and immaculate Land Rover waiting for us (I'm into vintage cars and Africa, so this was incredible!), which took us to a waiting HELICOPTER!!! Having no idea what was going on, we flew to a small island with one exclusive resort on it, with just six rooms —— it belonged to one of the clients we'd done some website work for months before —— but never imagined we'd experience the product! Under a ceiling of stars on our private beach, a butler brought us a huge lobster dinner, our bed was as big as a bus, and I couldn't have dreamt of a better date. Thank you.



***
The most romantic night of my life: He had the ring, planned it to perfection, all that was left was to carry it out.
My now-husband is one of the romantics —— hard to come by these days.
He told me he had a project at work that required him on a Saturday, not knowing he was in fact preparing for his proposal. I called several times in the day to see how things were going.
Unbeknownst to me he had prepared all he could, and was just spending time at the beach. He made the effort to run inside to the quietest place possible to make it sound like he was in an office when I called.
We decided we were going out for dinner that evening, so I drove to his place dressed up for a night on the town. He opened the door and it suddenly dawned on me that we were having a night in.
"Our song" was playing. I walked through red rose petals, love messages and a tea candle lit entrance.
There were red roses everywhere with little notes hanging off them. We went around together reading each one. "So many of my smiles begin with you," "You are my favourite thought," "Any day spent with you is my favourite day... so today is my new favourite day" (I know, it makes your heart melt). Until we got to the last one, which said, "All that's left is to ask, will you be my wife?"
Then down on one knee, and through a blur of tears (the happy kind) I was his! All this followed by a home-cooked feast of my favourite foods.
I will never forget the most romantic night of my life, and I get to see evidence of it every single day.



***
After ending a relationship with a guy who really was never all that into me, my friend Jamie, with a not-so-secret crush on me, asked me out on a "secret romantic date."
Upon meeting up outside the Whistler Grocery Store, he greeted me with, "I tried really hard to injure myself on the mountain today to get out of this." He was so nervous!
I had absolutely no idea what we would be doing. He began nervously checking directions on his phone whilst walking down the Valley Trail, and heading further into a residential area. Then, finally getting to a dead end he pointed towards the woods and said uncertainly, "I think it's this way."
I was getting pretty nervous at this point, as the trail seemed to have disappeared. After a five-minute walk uphill he declared, "We are here." Looking up there was a clearing in the trees ahead of us that looked out onto Alta Lake —— our own secluded balcony —— with the sun setting over the mountains, and the frozen lake shimmering.
He then opened his backpack and revealed a bottle of champagne, strawberries, and cucumber sandwiches and declared he wanted to treat me to a "proper English date."
He then proceeded to light candles and lay a blanket underneath us. We sat there huddled together listening to a play list compiled of all the love songs he'd sent me the past two months (told you it was a not so secret crush) with the most romantic setting I've ever experienced.
I would have been crazy to have not kissed him.
April will mark our one-year anniversary.



***
Years ago, before I moved to beautiful British Columbia, I was dating a guy who wasn't really into hockey and had therefore never been to an NHL game before.
What better way to introduce him to Canada's game than to take him to a Toronto Maple Leafs' game as his early birthday present, I thought? It was a snowy, winter evening at the end of December when Alfredsson and the rest of the Ottawa Senators rolled into town.
Our evening started with dinner at one of the fine local sports bars that Toronto has to offer located close to the arena. The energy was electric, and to my surprise my boyfriend really seemed to be getting into it, chirping teasingly to the people at the other end of the bar wearing their ridiculous red jerseys, as he sat there proudly boasting my brothers' Leafs jersey.
A pound of wings and a couple of jugs of beer later and we found ourselves comfortably in our seats at the arena, anticipating the start of the game. As luck would have it, a rowdy group of "red shirts" (read: Sens fans) filed into the row behind us. It was clear they had been drinking and each had their hands full with more booze yet to be consumed.
Unfortunately, yet not altogether surprisingly, one of these beverages meant for consumption ended up spilling down my back. An argument ensued, with my boyfriend demanding the man who spilled the drink apologize to me. The Sens fan was in no mood to apologize; he was pissed off about spilling his $9.00 beer!
Things quickly escalated, and before I knew it I was in the middle of a full-on fistfight.
I tried unsuccessfully to stop the fight, resulting in my beloved Leafs jersey getting torn, as spectators tried to pull me out of the melee.
I didn't even get to see the puck drop before we were escorted out of the arena by security. As a result of my great idea of a date night I was out $520 for the hockey tickets, my Leafs jersey and a boyfriend (not to mention my dignity!).



***
"You're buying me a Beer!" startles me as I walk up to the urinal. I turn around, still with barn door closed thankfully, to see the cute girl from my new workplace.
You see, I had just started a temporary job in Toronto for a teashop chain (you know the one) after moving there from Ireland and we were at the Christmas party. Now I don't want to confirm any stereotypes, but I may have consumed an alcoholic beverage or two first. I could also see that this girl standing in the doorway of the men's washroom perhaps had also had a couple.
I agreed, on the condition she didn't continue to stand there while I made room for more beer.
Quickly it became clear we would much rather go on a date than stay at the Christmas party. "Well, no time like the present."
We slipped out, got some exceptional burritos and made our way through the dim city lights to a quiet, little park where we both felt sitting on the swings was the obvious choice.
And that's where we spent most of the night. Just talking about nothing. Well, nothing about ourselves at least. We just gently swung in time discussing how Big Bird's parents were really lazy with naming their child, and how the hell does nobody notice that Clark Kent is just Superman with glasses.
We later walked down to the corner so we could see the sun coming over the buildings.
It's clichéd I know, but if it makes it better for you we were both feeling a little hung over at this point. So the sun came up and I walked her home, now her hand in mine.
I gave her a kiss goodnight and that was that.
Oh, and the wedding is June 28. Love you, Tasha.



***
I am Brazilian and my husband is French. We met each other in New Zealand.
We were colleagues in a hotel; he was the new employee and we became good friends as we had so many things in common.
One day he asked me, "What's your favourite movie?"
I said, "There are so many."
He said, "Tell me one."
"OK," I thought, "Sweet November."
He had never watched it, but next day he came to me and said, "I watched your movie last night and I really liked it." Of course, after a while we started seeing each other.
His visa was going to expire soon —— he had only two more months left, and all his friends had left New Zealand, so he had to find a new flat, change his flight date because he wanted to stay his last month, he wanted to get to know me better.
I was a bit confused. I wasn't ready for a relationship, so he returned to his country. We kept in contact though. We spent four hours every day on Skype for three weeks, until the day he decided to get a loan of $1000 to come back to New Zealand to see me again (he was broke and he got a last minute ticket).
I didn't know, I was waiting for him on Skype when someone knocked on my door asking for me with a huge bouquet of flowers and a card saying, "I will be waiting for you at this place, and at this time."
I was so happy. I couldn't sleep waiting for the date that was in two days on the November 20. When I arrive in the hotel there was a key just outside the door with some instruction— knock three times and count until 10, then after that open the door slowly.
I opened the door and the music of the movie Sweet November was playing, there were candles and roses everywhere, and the biggest surprise was that he created the main scene of the movie right there. There were calendars on the walls all over the room with the month of November, he also made a t-shirt with the flag of our countries together and a Brazilian and a French flag the top of the bed.
He was on the balcony wearing my country's jacket, and with his hand stretched toward me he said, "I told you I would be your sweet November and I will never let you go."
I can say that now he is my sweet November, December, every month.
We got married in less than six months and it has been three years now. It was the best thing I did in my life. He is still the same sweet and romantic man. He makes me the happiest woman in the world, and I love him with all my heart.