If this year's edition of the Best of Pemberton looks somewhat familiar to you, there's a good reason for it — Pembertonians are a consistent bunch.
That lingering sense of déja vu you're feeling can be attributed to some of the fine folks of Pemberton, who year after year are deemed the favourite by their peers or the best at what they do.
But while some things have stayed the same around Spud Valley, others have not. This year saw the election of a new mayor and council, now heading into its sixth month of governance.
There's no official "Best Mayor" category in these most prestigious awards, but if there were it would have to go to Mayor Mike Richman — by default, because he's the only mayor.
In assembling this feature, Pique caught up with His Worship to ask him about what makes Pemberton so special.
"When I moved here I was attracted by the pace and the geography, when I was in my 20s," Richman said.
"And then as I started to grow older and became more motivated to become part of my community and get involved and raise a family within a community, I just realized that the geography and all that really is second in Pemberton.
"We have an awesome population. We have an incredibly diverse demographic for a small town, and a supportive and respectful, and for the most part, awesome community.
"It's really the people that make it up that make it special."
Writing this feature, I came to develop my own appreciation for the people who make Pemberton what it is.
I hope you find a similar appreciation after reading it.
(And if you have any suggestions for new categories in next year's Best of Pemberton, feel free to email them to bdupuis@piquenewsmagazine.com)
Quintessential Pemberton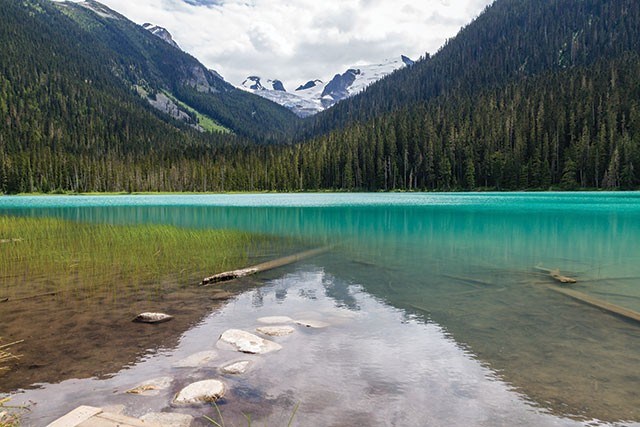 Best Daytrip Destination
JOFFRE LAKES
You have to go back several years in the Pique archive to find the last time Joffre Lakes was not No. 1 in this category — all the way back to 2009, when the Meager Creek Hot Springs were voted Pemberton's favourite daytrip.
But perhaps there's a reason for the dominance of the Joffre Lakes daytrip.
Located 23 kilometres north of Pemberton on the Duffey Lake Road, the Joffre Lakes Provincial Park is well worth the short drive.
With 1,460 hectares to explore, the park boasts opportunities for climbing, fishing and hiking — but the crown jewels of the park are the three pristine mountain lakes.
The Pemberton Glacier and Nairn falls were second and third this year, respectively.
Best Neighbourhood
THE GLEN
Much like Joffre Lakes in the Best Daytrip category, The Glen Neighbourhood has dominated the Best Neighbourhood category for years.
Affectionately referred to as "Vinyl Village" for the trademark vinyl siding on its single-family homes, The Glen has been voted best neighbourhood every year since 2008.
The Glen's proximity to Pemberton's hotspots and its family-oriented appeal have once again placed it on top in 2015.
Runners up were Pemberton Meadows (second) and Pioneer Junction.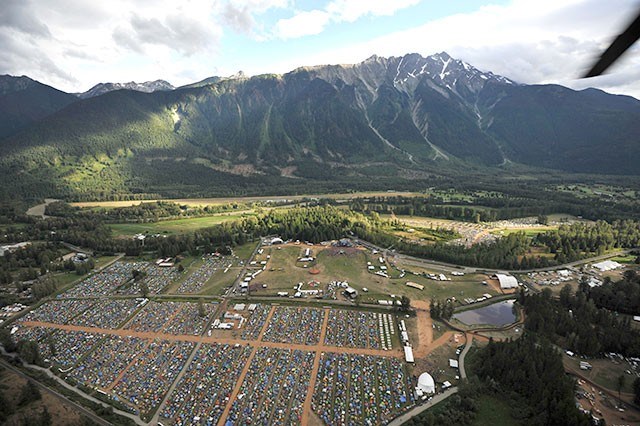 Best Party/Event
PEMBERTON MUSIC FESTIVAL
It was a dead heat, but in the end the resurgent Pemberton Music Festival narrowly defeated the Library Fundraiser to take the crown of Best Party/Event.
I personally did not attend the Library Fundraiser, but it must have been a wild time to come so close to upsetting one of Canada's biggest music festivals.
The Pemberton Music Festival will return this July, while the Slow Food Cycle — Pemberton's favourite party in both 2013 and 2014 and third place finisher in 2015 — will return August 16.
Best Pemberton Trend
BABIES
Back in the top spot this year after a couple of years off, babies are the best Pemberton trend in 2015.
I can't vouch for any upswing in pregnancies or births in Spud Valley this year, but this year's top trend received more than twice as many votes as the runner-up — biking — so I'll take your word for it, Pemberton.
Local Farm Food finished just behind Biking to take third.
Best Use of Money/Worst Use of Money
THE COMMUNITY BARN
Pembertonians are split on the Community Barn.
This year the barn was voted as both the best and worst use of public money.
Mayor Mike Richman said the news didn't come as a big surprise.
"I know there's some people that are still skeptical because they haven't seen a ton of use for it yet, but it's coming," he said.
"We've got a bunch of events that are planned there or people that have booked the space for the summer, and some really great ideas that are percolating and in the works, so I think it's only a matter of time before people see the community usefulness of the barn."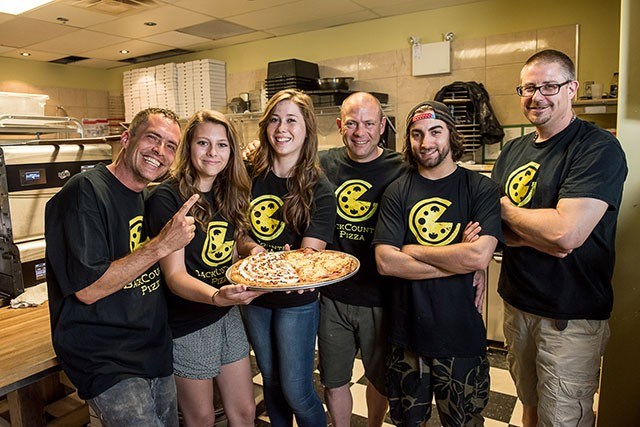 Best New Business
BACKCOUNTRY PIZZA
Pemberton's favourite new business is BackCountry Pizza, which has been serving up slices of freshness since opening its doors on December 16.
"It's awesome. It's a good feeling to be recognized," said owner Paul Auger after hearing the news.
"Feedback has been amazing. We've got a huge amount of repeat customers that are in weekly if not twice a week, and we've just been getting rave reviews from our customers... I'd like to thank the population of Pemberton for supporting us. It's been a great ride and hopefully it will continue."
Solfeggio and Mile One Eatery — two businesses that are not exactly new — came second and third, respectively.
Most Desired Big City Amenity
SWIMMING POOL
Take note, Pemberton decision makers — Pembertonians want a swimming pool.
In every year since 2007, a swimming pool has been voted as the most desirable big city amenity.
This year, it wasn't even close. The closest runner up — an ice rink — received just a tenth of the votes that swimming pool garnered.
But the hot, unrefreshed people of Pemberton might have to wait a bit longer before taking a dip — Mayor Mike Richman said a pool is not on the radar at this point.
No. 1 Reason We Are Not Like Whistler
LESS PRETENTIOUS, MORE RELAXED
To hear it from Pembertonians, Spud Valley is much less pretentious than that mountain resort down the road.
It's a place where the pace is slower and the outdoors is bigger yet somehow more settled.
There were a lot of unique entries for this category. Here are some of my favourites, presented without context and in no particular order: mosquitoes, chill, Aussies, space, no attitude, quaint, more mature, simplicity, we are not materialistic, we are nicer, we have hearts.
So there you have it. People in Pemberton have hearts, while people in Whistler do not.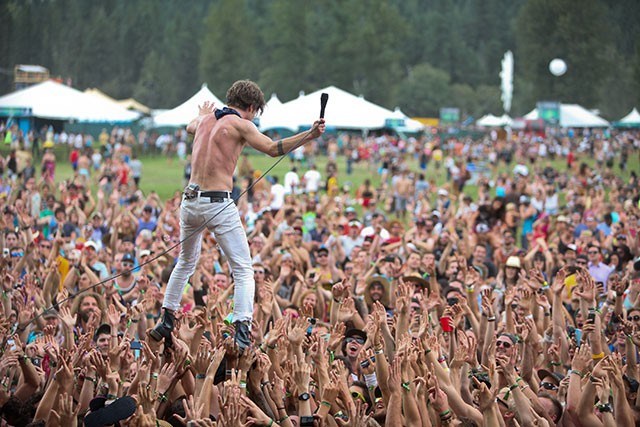 News Story of 2014
PEMBERTON MUSIC FESTVAL
Either Pembertonians are decidedly disengaged or the Pemberton pace is just too leisurely for people to take stock in the news. Either way, News Story of 2014 was the most poorly responded to category in this year's Best of Pemberton by a long shot.
Only 16 people voted for the No. 1 answer — the return of the Pemberton Music Festival.
The second biggest news story of the year — the Community Barn — received just four votes, while No. 3 — the death at the Pemberton Music festival — received three.
What will be the biggest news story of 2015? There are still six months left in the year, but so far the Pemberton Music Festival is once again the odds-on favourite.
Most Dubious Decision Made By Council/Best Decision Made By Council
THE COMMUNITY BARN
Back again to divide the people of Pemberton is the Community Barn — the project that nobody can seem to agree on.
Is it the best use of money or the worst? Council's best decision or its poorest? Make up your mind, Pemberton.
Second place for most dubious decision was the incredibly cynical "all of them," followed by "moving the Pemberton sign."
Runners-up for council's best decision were facilitating the return of the Pemberton Music festival, followed by "no idea."
Example of a Wild West Attitude
HITCHING POST
Pemberton loves its horses.
Every year, this category is dominated by equestrian interests — and perhaps rightfully so. Is there any symbol of the Wild West more enduring than that of the horse rearing up on its hind legs, sunset emblazoned in the background?
Pemberton doesn't think so, which is why Hitching Post is your No. 1 example of a Wild West attitude and horses is right behind it in No. 2.
Rounding out the top-three is the rodeo.
Media, arts & culture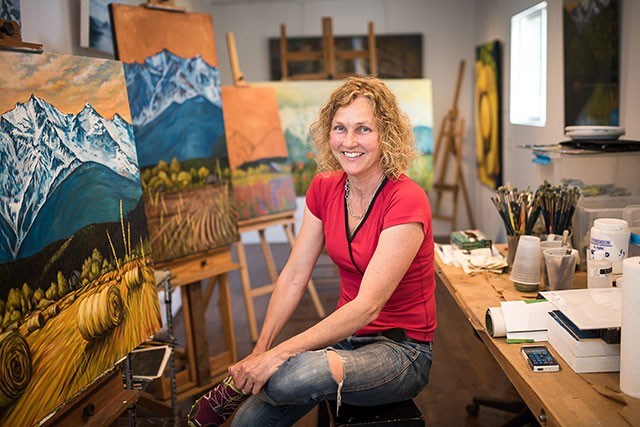 Favourite Artist
KAREN LOVE
On being told she is once again Pemberton's favourite artist, Karen Love said: "Don't they have any new categories this year?"
No Karen, we don't.
But that's OK, because Pemberton is clearly happy to show its affection for Love.
Aside from a year or two here and there, the painter — who once again provided the cover art for this feature — has dominated the category of Favourite Artist for the past decade.
"I'm honoured. I think that it's sweet," Love said.
"This community really embraces the arts, and unfortunately there aren't a ton of artists to choose from, but I just feel honoured that I've accomplished something that makes other people happy, so I'm just spreading the love."
Valerie Butters and Lynn Pocklington were second and third, respectively.
Favourite Band/Musician
THE HAIRFARMERS
The duo of Grateful Greg and Guitar Doug are nothing if not consistent — the hair-heavy rockers have been voted Whistler's best band every year since 2001.
Now their dominance has been extended up the road to Pemberton.
"It's just really cool that we've got so much great local support and so many old school great locals that I guess still dig what we're doing," said Greg Reamsbottom, one half of the Hairfarmers.
Reamsbottom moved to Pemberton in 2008.
"We really love playing in Pemberton, so it's nice to hear that somebody in Pemberton likes us," he laughed.
"What we do is not possible without the fans that support live music and come out to see it, so it's all about them really. We're just lucky to get to do the job that we love to do, and it's really fortunate that people still seem to enjoy it, so gotta call that winning."
Runners up were Suzanne Wilson and DJ Ritchie in second and third, respectively.
Favourite photographer
DAVE STEERS
Local shutterbug Dave Steers grabbed hold of this award in 2010 and hasn't looked back. 2015 marks the sixth straight time Steers has been named favourite photographer.
"It's really flattering, because there are a lot of good photographers in Pemberton," Steers said.
There's no one particular subject Steers likes to shoot — action or landscapes, you name it, he's shot it — but a place like Pemberton makes it easy for anyone with a camera to capture beauty, he said.
"It's a pretty easy place to take pictures," he said. "Point your camera in almost any direction and you're going to have a pretty picture."
Second place went to Cowboy Wildlife Photography while third went to Bryn Hughes.
Favourite Local Writer
LISA RICHARDSON
If it were up to her, Pemberton's favourite local writer Lisa Richardson would have someone else winning this year's award.
"I wanted to actually run a campaign to vote for Katherine Fawcett as the best writer in Pemberton, because she just has this collection of short stories out which I'm like 'Wow, that's real writing,'" Richardson said.
Fawcett came third in this year's voting — Anna Helmer was second.
2015 marks the seventh straight year Richardson has won this award.
She says her favourite thing to write about is the interesting people who call Pemberton home.
"It's sort of neat to unearth those humble, everyday people, (and) some of the amazing, accomplishments they've achieved," she said.
"That's certainly something that I'm really enjoying, just unearthing those everyday treasures."
Food and drink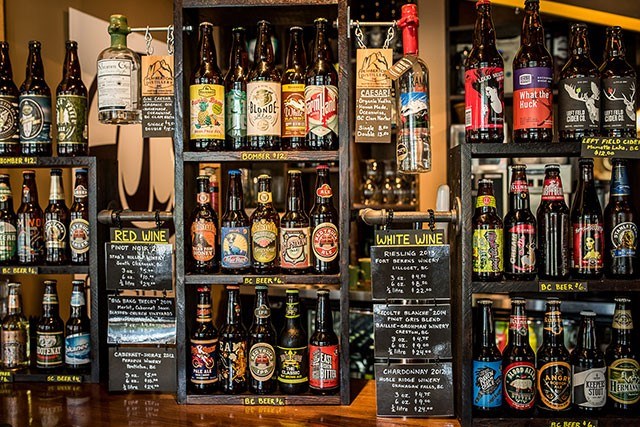 If current trends keep up, this section might soon be renamed the Mile One Eating House awards.
For the fourth year in a row, Mile One has taken home the lion's share of food-related awards in the Best of Pemberton.
This year's honours include: Best Overall Eatery, Best Value, Best Burger, Best Beer Selection, Best Breakfast and Best Service. Randy Jones — co-owner of Mile One along with his wife Cindy Yu — also won Best Chef.
"We're completely blown away all the time," Yu said.
"We never take it for granted... the amount of feedback that we get on a daily basis from people is just overwhelming at times. It's great that people see the vision that we have and they embrace it as well."
Chef Jones shared his gratitude in a follow-up email.
"I am incredibly proud of what our team has accomplished over this past year, there has been some very dedicated work to allow the business to grow and deliver the product that we do," Jones wrote.
"I am equally thankful for the support that the Pemberton, Whistler and part-time locals show for the Mile One offering. Their patronage and positive comments really push us to challenge ourselves to grow the Mile One experience, and add our touch to this great valley."
While Mile One was certainly the majority winner, it wasn't a complete sweep.
The Pony took home the honours for Best Steak, while bartender "Shaky" Chris Nathan earned himself the honour of best bartender and best server.
Nathan said it's likely his conversational skills that have made him the local favourite three years running.
"I really like to talk. I'm an only child, so it's always nice to have a conversation with somebody," he laughed. "That coupled with my love of beer and other spirits, it's just the perfect job. It goes good with my golf addiction as well, so it's perfect."
Blackbird Bakery once again took home the award for Best Dessert.
"We are daily overwhelmed with the support from the community, especially with our recent move," owner Raven Burns wrote in an email.
"We are looking forward to a great summer and continuing to fill everyone's sweet spot in Pemby."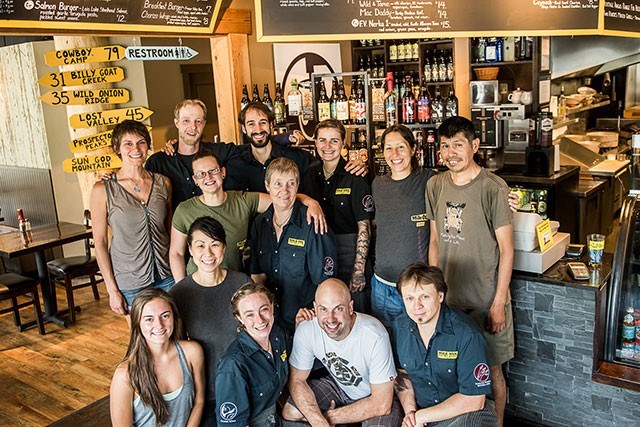 Best Overall Eatery
Mile One Eating House
The Black Squirrel at the Meadows
The Pony
Best Value
Mile One Eating House
The Thrift Store
BackCountry Pizza
Best Dessert
Blackbird Bakery
Mile One Eating House
Solfeggio
Best Latte
Mount Currie Coffee Company
Blackbird Bakery
The Black Squirrel at the Meadows
Best Burger
Mile One Eating House
The Black Squirrel at The Meadows
Grimm's Deli
Best Bartender
"Shaky" Chris at the Pony
Kevin McLeod at The Black Squirrel
Craig at Mile One
Best Beer Selection
Mile One Eating House
The Pony
The Wood
Best Breakfast
Mile One Eating House
The Pony
Mount Currie Coffee Company/Blackbird Bakery (tied)
Best Chef
Randy Jones at Mile One
John Ferris
Trevor Turner at The Wood
Best Patio
Fescues at Big Sky
The Pony
The Black Squirrel at The Meadows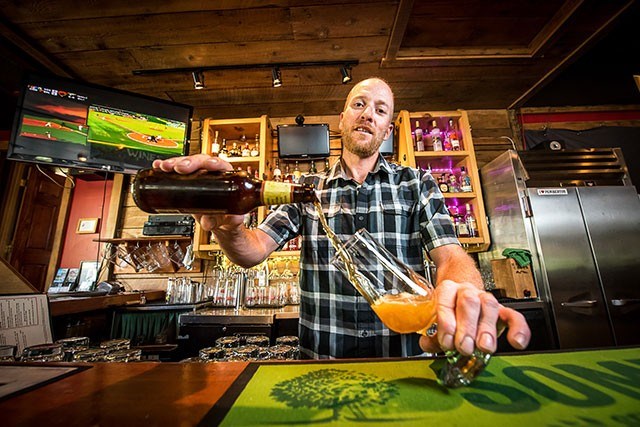 Best Server
"Shaky" Chris at the Pony
Kevin McLeod at The Black Squirrel
Craig at Mile One
Best Service
Mile One Eating House
Garden Services
The Black Squirrel at The Meadows
Best Steak
The Pony
Mile One Eating House
The Wood
Best Takeout
Centennial Café
Mile One Eating House
The Pony
People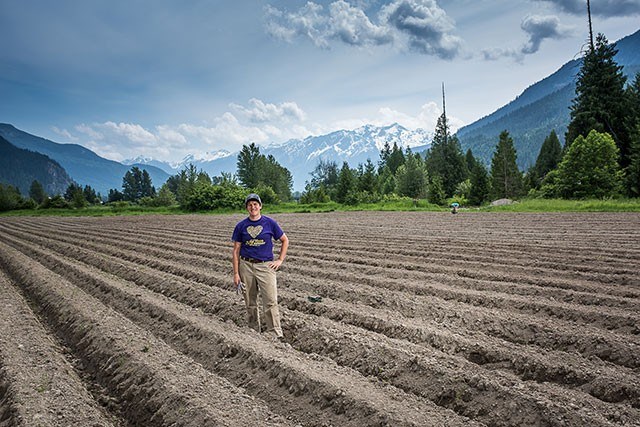 Favourite Farmer
ANNA HELMER
Helmer's Organic Farm has owned this category for years, and the story is no different in 2015.
Anna Helmer shared her thoughts in an email: "Thank you for the recognition and support — we know we speak on behalf of the other farmers who feel fortunate to be producing high-quality food on this rich Pemberton farmland," she wrote.
"It's been a good growing season so far, the air is clean, and water is flowing. We are looking forward to seeing everyone at the Friday afternoon Pemberton Farmers' Market under that fabulous barn."
Bruce Miller came second while Simone MacIssac placed third.
Favourite Pemberton Athlete
DAVE TREADWAY
Local professional freeskier Dave Treadway had some unexpected competition for this year's favourite athlete award.
"Some people told me that they had voted for my son Kasper — who is a year and a half — as best athlete," Treadway said.
"I'm not sure how many votes he got but I was super stoked to hear they were nominating him."
Treadway won this award for the first time last year, and he doesn't take the honour lightly.
"I actually include it on my portfolio when I send it to major sponsors, because I hold it right up there in value up against winning Red Bull Cold Rush and Powder awards and stuff like that," he said.
"That's what the world thinks, but your own community knows you best, so I'm very honoured."
Mark Abma and Hugh Fisher came second and third, respectively.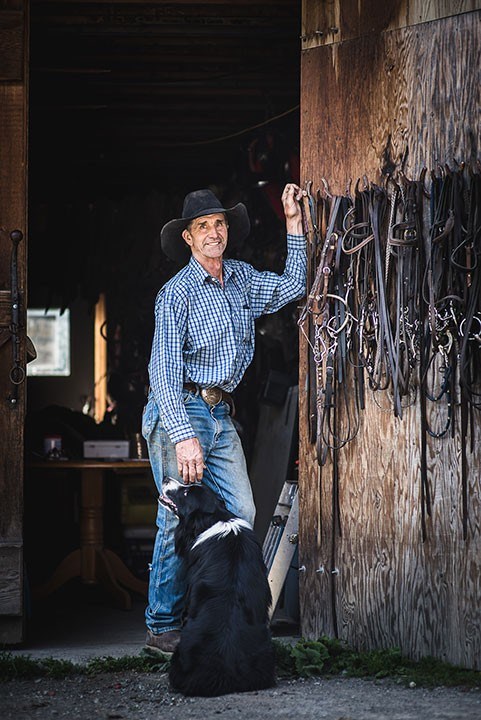 Favourite Pembertonian
BOB MENZEL
Bob Menzel has been the victim of some good-natured ribbing after being named Pemberton's favourite resident the past few years — but he's not letting it get to him.
"People tease me but I guess I'm doing something right. I think they're a little jealous sometimes," he joked.
Menzel — longtime owner and operator of Adventures on Horseback — thinks his business might give him an edge when discussing favourites.
"All the kids in the whole community, they've all been coming by here since they were born to see the horses," he said. "I have kind of an unfair advantage in a way."
Menzel has not been without a horse in 60 years, he said — which might help cast him in the role of the prototypical, Wild-West Pemberton cowboy.
Bruce Miller came second while Shirley and George Henry placed third.
Favourite Outdoor Guide
BRAD KNOWLES
Brad Knowles — owner of Pemberton Fish Finder — spends more than 300 days of the year fishing.
"If I was going to get sick of fishing I would have been sick of it by now, I figure," Knowles said with a laugh.
He best not get sick of it anytime soon, as Knowles has a bit of a streak going — for the second straight year he's been named Pemberton's favourite outdoor guide.
"To get that honour back to back, I'm pretty excited about that," Knowles said.
"I put a lot of hard work into my website and my fishing reports, and it feels good to have the public's support on that."
Rich Prohaska came second while Eric Pehota came third.
Favourite Volunteer
MARNIE SIMON
In assembling this massive feature, Pemberton's favourite volunteer and I played a spirited game of phone tag in an attempt to get her comments included.
In the end, we were unable to connect, but that's OK — If Marnie Simon was busy with other things, you can be sure it's something worthwhile.
Over the years, Simon has volunteered her time to the Rotary, the Women's Institute and the Pemberton and District Library, among many other things.
This year she helped spearhead the Pemberton Men's Shed project, fronted the Pemberton Valley Seniors' Society and assumed the role of chair of the Arts Council.
This is Simon's second straight year wining the award.
Pat MacKenzie placed second while Sandy Rehaume came third.
Favourite Hair Stylist
TARA KANDULSKI
Since opening in 2012, Mynt Salon and Tara Kandulski have consistently been recognized as Pemberton's favourite hair stylist.
But Kandulski is quick to pass the praise back to Pembertonians.
"The people are amazing. Everybody that lives here is fantastic, and there is so much local support of our businesses," she said.
"Everyone is always just in such an awesome mood, and our clients are all so supportive. It makes getting up and coming to work pretty exciting."
In second place this year was Kaitlyn McNary, while Ayla Pascal came third.
Favourite Therapist (massage, physical, chiro, etc.)
SHANNON PAUL
Pemberton Valley Wellness chiropractor Dr. Shannon Paul is Pemberton's favourite therapist for 2015.
"I just wanted to say thank you to everyone for their never-ending support," Paul wrote in an email.
"I feel so blessed to be a part of this wonderful community. It is like no other place in the world."
Vicki Powell came second while Allison Megeney placed third.
Favourite Dentist
ANNE CROWLEY
Technically, Pemberton's perennial favourite dentist Anne Crowley isn't currently practicing in Spud Valley. The longtime Pemberton dentist is currently on hiatus doing some travelling — but she plans on being back in Pemberton come 2016.
"I miss my patients and I miss practicing," Crowley said. "I'm very grateful for the trust and the support my patients place in me, and I just continue to thank them for that."
Dr. Jack Wong came second and Dr. Ray Krumme came third.
Favourite Realtor
LISA HILTON
After six years of selling realty in Pemberton, Lisa Hilton has been named Pemberton's favourite realtor for the first time.
In an email, Hilton said helping people with their dreams was the best thing about her job.
"Customer service is first and primary for my clients," she wrote. "Relationships are very important to me."
Matthew Kusiak placed second while Danielle Menzel came third.
Favourite Doctor
REBECCA LINDLEY
Dr. Rebecca Lindley takes home the honours of Pemberton's favourite doctor for the second straight year.
Dr. Tony Ho Chen came second and Dr. Danielle Patterson placed third.
Favourite Veterinarian
LAURA WHITE
For the third year in a row, Laura White is Pemberton's favourite veterinarian.
White took the honour over second-place finisher Owl Creek.
Shops & wares
Best Value for Money
MILE ONE EATERY
As if taking home the majority of the Food and Drink Section wasn't enough, the Mile One Eating House has also been voted Best Value for Your Money in Pemberton.
Small Potatoes Bazaar came second while Prospects Thrift Store came third.
Best Hotel/Bed and Breakfast
PEMBERTON VALLEY LODGE
The Pemberton Valley Lodge has once again been named the best hotel in Pemberton — this year's win makes it four in a row.
Second place went to The Log House Bed and Breakfast while there was a three-way tie for third between Country Meadows Bed and Breakfast, the Greenwood Inn and the Lillooet River Lodge.
Best Customer Service
LISA HILTON
Pemberton's favourite realtor in 2015 also offered the best customer service, according to readers.
The Mile One Eating House came second and the Small Potatoes Bazaar third.
Sports & recreation
Best Lake
ANDERSON LAKE
The "Best Lake" category offers something of an anomaly in this year's Best of Pemberton. Anderson Lake — this year's top choice — didn't finish in the top-3 in either of the previous years.
In 2015, Anderson Lake narrowly edged out the reigning champion of the last two years — One Mile Lake — to claim the top spot.
Gates Lake came third.
Best Place to Snowmobile
RUTHERFORD and PEMBERTON ICE CAP
Tradition returns to the Best of Pemberton awards with the anointing of the Rutherford Trails/Pemberton Ice Cap as the best place to ride your snowmobile.
The Rutherford Trails have taken top honours in this category every year since at least 2007.
The Hurley Road and the Duffey Lake Road were second and third, respectively.
Best Place to Ride Your horse
EVERYWHERE/ANYWHERE
As previously noted in this feature, Pembertonians love them some horses.
They love horses so much that they don't even care where they ride them.
Not for the first time, Everywhere/Anywhere has been voted as Pemberton's favourite place to ride horses.
The Valley Loop and Pemberton Meadows came second and third, respectively.
Best Place to Ride Your Dirt Bike or ATV
HIGHLINE
The Douglas Trail — also known as the Highline Road — has seen a rapid ascent to the top of this year's offroad heap.
Last year's winner, the Green River Motocross Park, was bumped down to third place while the 2013 winner — the Hurley FSR — took second.
Best Outdoor Sport
BIKING
Since this survey was deployed around the time the last thoughts of winter were leaving the Sea to Sky, it's no surprise biking is on the mind of most Pembertonians.
For the eighth-straight year, biking takes the honours of Best Outdoor Sport in Pemberton.
Skiing came second and golf third.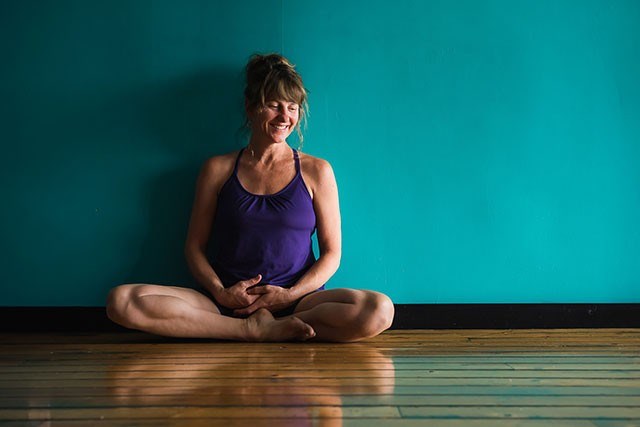 Best Indoor Sport
YOGA
Pemberton is known as a hub of outdoor activity, so it's no surprise the indoor offerings don't receive much love.
In one of the lowest-responded-to categories in this year's Best of Pemberton, Yoga was named best indoor sport.
Basketball took second and "baby-making" — apparently a sport now — took third (which might explain why babies are so trendy in Pemberton these days).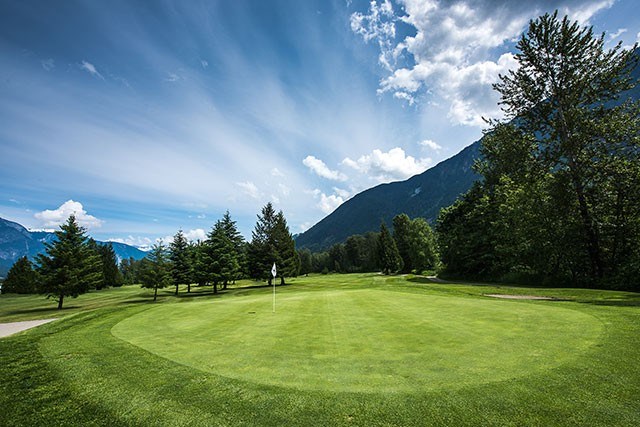 Best Golf Course/Hole
THE MEADOWS/18TH HOLE
Pemberton only has two golf courses, which makes this category a perennial battle to the death between The Meadows and Big Sky.
"Battle to the death" might be a bit dramatic — let's call it a friendly competition.
The two courses traded wins in 2013 and 2014, but this year's golf champion is the Meadows.
The 18th hole at The Meadows was voted Pemberton's favourite golf hole, while the 19th and 14th holes at Big Sky took second and third, respectively.
Best Bike Trail
HAPPY TRAIL
Pemberton boasts some admirable mountain biking terrain, but it's Happy Trail that seems to keep Spud Valley's mountain bikers smiling.
Why else would they vote it Best Bike Trail for four years running?
The Bathtub Trail came second, while Pemberton Pool on Swimming Pool Road in Pemberton placed third.