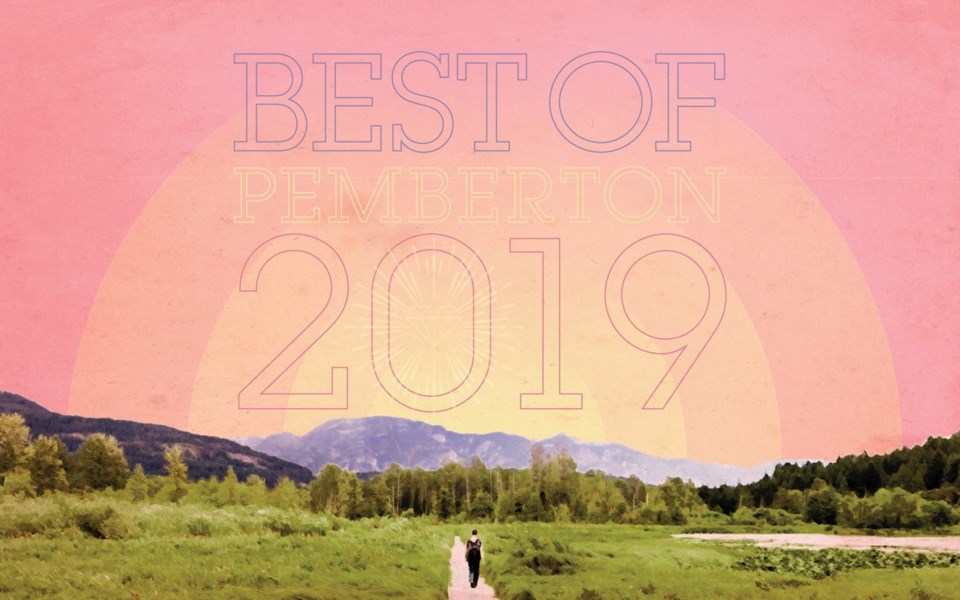 In many ways, Pemberton is the best parts of two seemingly disparate worlds. Pembertonians take pride in the community's small-town feel, while taking full advantage of the abundance of awe-inspiring natural and recreational opportunities—without the gobs of visitors that clog neighbouring Whistler. This fine-tuned balance between farm town and recreational hub is a recurring theme year in and year out of Pique's Best of Pemberton readers' poll. Voters continue to appreciate the neighbourhood haunts and watering holes that make up the fabric of the community, while recognizing the change the town is undergoing.
There's plenty worth celebrating in the Spud Valley—and the list just keeps growing. You'll notice a few changes to Best of Pemberton this year. Along with adding several new categories—including the inaugural Environmental section—we've decided to profile a handful of winners from each section to give you greater insight into what makes Pemberton tick.
A big thanks to everyone who took time to cast their votes this year, and a heartfelt congratulations to all the winners and runners-up. Until next year!
Quintessential Pemberton
By Joel Barde
Favourite Pembertonian:
Bob Menzel
It was a repeat win for Pemberton's favourite resident, Bob Menzel, who exemplifies the cowboy culture that has defined the community for generations as a horse breeder and trapper, as well as the man behind the family-run Adventures on Horseback. (See profile on page 33.)
Former Pemberton Mayor and BC Community Achievers Award winner Shirley Henry once again earned enough votes for second place, while there was a three-way tie for third between Brad Knowles, Graham Turner and Mayor Mike Richman.
A bridge between eras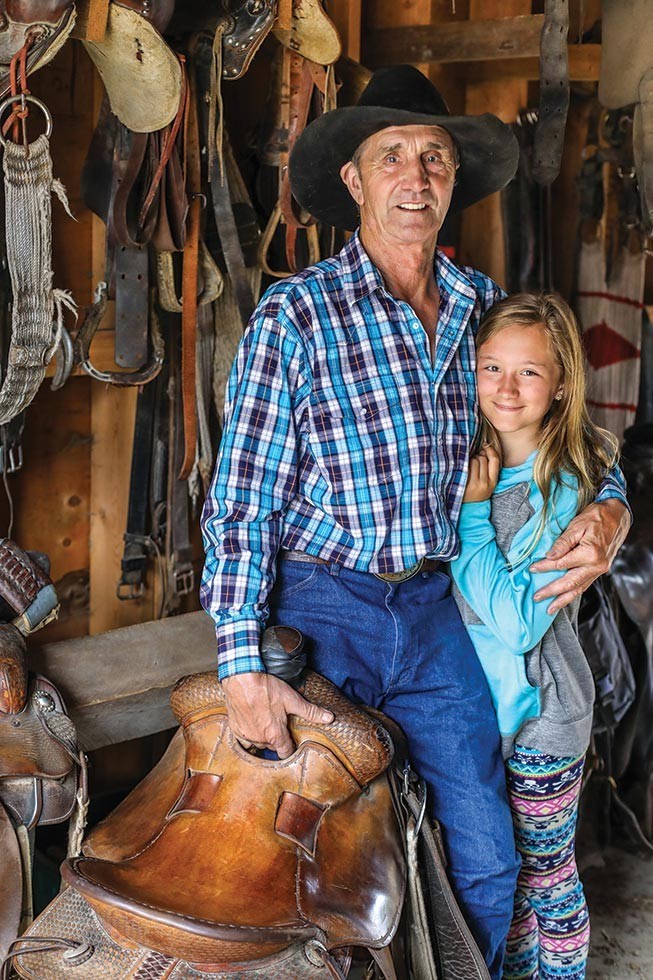 With yet another win in the favourite Pembertonian category, Bob Menzel is humble when hearing of his widespread popularity, attributing it to his friendly attitude and deep roots in the community.
"I pretty much say good morning to everybody—strangers and local people alike," says Menzel. "That's part of it I guess."
While Pemberton increasingly has an international feel—with new residents drawn by its stunning beauty and endless opportunities to recreate, not to mention realatively affordable housing—Menzel is Pemberton through and through.
The 70 year old was born here, and his father's family moved to the area back in the 1930s.
A horse breeder, backcountry trapper and former logger, Menzel has run guided trail-riding company Adventures on Horseback, along with his family, for the past 30 years.
Over the years, Menzel has had a front-row seat for the evolution of Pemberton, from a frontier-type town to what it is today.
"Basically, we've gone from horse trails to bike trails," he says.
While expressing satisfaction with the direction of the community, he does have one concern: "A lot of people don't like horse shit, so that don't help—even though they don't mind it on their food," he says, with a chuckle, referring to its fertilizing properties.
Menzel continues to fish and hunt, recently returning from a hunting trip to Bridge River.
"When I was a kid, we could bring our guns to school, and go hunting after school," he recalls.
Some people would even keep their guns in their locker, so they could go duck hunting on the way home.
"It's a whole different world!" reflects Menzel.
Over the years, Menzel has taken great joy in his relationship with the Lil'wat Nation. "The people who taught me everything, when it came to logging, were Lil'wat people," says Menzel. "I was the only white man in the crew."
Favourite Volunteer:
Graham Turner
In another repeat of last year, Pemberton BMX founder and Pemberton Chamber of Commerce president Graham Turner was named the community's favourite volunteer—and with good reason.
Turner had dedicated countless hours to building the sport of BMX locally, helping with track maintenance, organizing race nights, and taking care of marketing, although it's a role he says he is planning to step back from with his kids no longer racing competitively.
Turner is in his third year at the helm of Pemberton's Chamber of Commerce, steering the ship of a community that continues to evolve at a breakneck pace.
Shirley Henry was the runner-up in this category, with Garth Phare rounding out the list.
News Story of the Year:
Joffre Lakes visitor strategy
In a sign of the Sea to Sky's continuing struggles with overtourism, it's no great shock that the long-awaited visitor management strategy for jam-packed Joffre Lakes Provincial Park topped the list of biggest news stories of the year for Pembertonians.
And if the Canada Day long weekend was any indication, there's a strong chance overcrowding at Joffre Lakes could remain in the headlines into next year. BC Parks rolled out its new visitor strategy over the national holiday weekend, which saw shuttle buses ferrying visitors from the trailhead to Duffey Lake Park and back contend with delays. There were even reports of verbal abuse towards parks stewards after frustrations mounted.
Coming in second was this winter's closure of the Friendship Trail Bridge, followed by a story in May about calls from the Pemberton Animal Wellbeing Society to expand to keep up with demand—an unlikely solution given the shelter is built on Crown land.
In the news
It was another busy year for Village of Pemberton (VOP) council.
But readers selected BC Parks' new Joffre Lakes Provincial Park visitor-management strategy as the major story of the year. After years of heavy visitation (and issues related to littering and illegal parking), the agency plans to better manage the crowds through increased staffing, a shuttle bus, and increased enforcement of illegal parking.
"There is concern that this beautiful resource is getting damaged and overused," says VOP Mayor Mike Richman, explaining why he thinks the story was selected as especially important.
"We've all travelled the Duffey Lake Road, and we know what that can be like ... There are some significant safety concerns"
The award for "most dubious" council decision went to VOP officials' go-ahead, in February, to the development of a 16-car parking lot on a section of Fougberg Park—a decision that struck many locals as shortsighted and a waste of limited public space.
The proposal—which is supported by some downtown business owners concerned with the loss of parking related to the downtown enhancement project—still has to go through the public consultation process, says Richman.
"No major decision has been made on [the parking lot]," he adds. "[We] will go through a public consultation process before anything is done on it."
According to readers, the "best" VOP council decision was its choice to amend its comprehensive zoning bylaw last summer.
In its original form, the draft bylaw would have impacted automotive repair shop Blacks Hot Wheels and ATV sales and repair shop Valley Chainsaw Recreational Ltd.
They would have been considered "legal non-conforming," meaning they could operate and even sell the business to another owner, but could lose their "legal non-conforming" status if they were to cease operations for six months or more or if their respective buildings were destroyed beyond 75 per cent of their value.
The decision to amend the bylaw came after a well-attended public hearing on the bylaw and a petition that received over 1,400 signatures.
Richman says that the result, the amendment, "proves that the system works."
"That's why we go through these processes, is to hear from the public," he says.
Most Dubious Decision Made by Council:
Add parking lot to Fougberg Park
Parking, always a contentious issue in the Sea to Sky, was at the centre of what Pembertonians deemed the Most Dubious Decision Made by Council in 2019. In February, Village of Pemberton (VOP) officials gave the go-ahead to a 16-car parking lot on a section of Fougberg Park adjacent to a nearby Rona store—a decision that was opposed by Councillor Amica Antonelli, who doesn't believe Pemberton has a parking problem.
"I see this as us using our very limited resource—of Village of Pemberton land—to provide a private business with parking," she said at the time.
Perhaps appropriately so for such a "dubious" category, the VOP's moratorium, from last December, paving the way for retail cannabis sales, came in second, while the Village's later decision, in March, to approve Puff n' Stuff, the community's second pot shop, came in third.
Best Decision Made by Council:
VOP amending comprehensive zoning bylaw
On the other end of the spectrum, residents applauded the VOP's move to amend a comprehensive zoning bylaw last summer to allow site-specific zoning for auto repair and equipment servicing shops after outcry over the original draft bylaw, which could have had major consequences for two local shops (see below).
Council seeking funding to build a soccer field and amenity building came in a close second in this category, while the Village saying no to a proposed extension of its municipal boundaries wound up in third.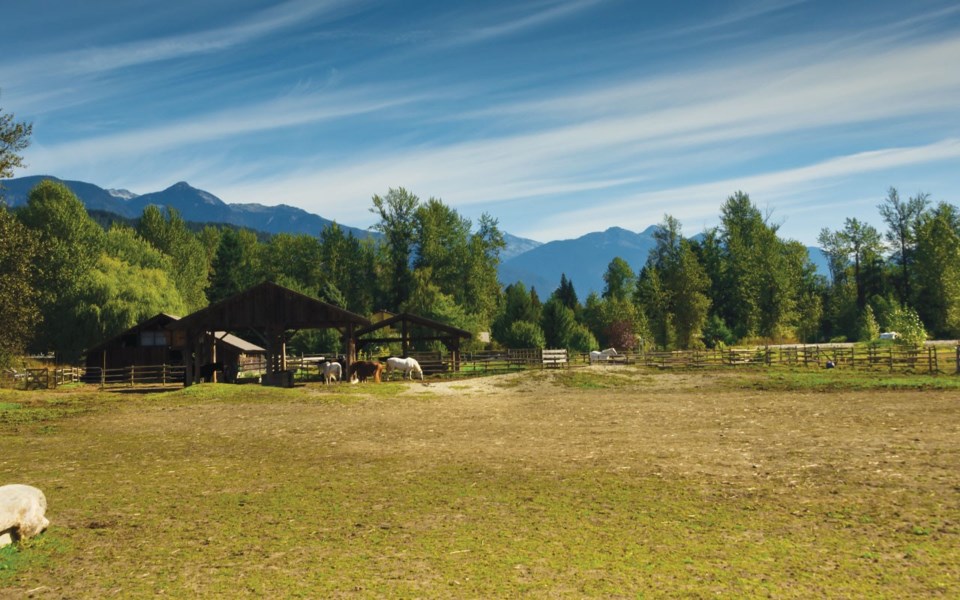 Best Neighbourhood:
Pemberton Meadows
The 17-kilometre strip of farmland known as Pemberton Meadows isn't technically a neighbourhood, but it still holds a firm place in the history and hearts of the community. The area is where the Lil'wat people had settled primarily before being relocated to the Mount Currie reserve. Today, Pemberton Meadows is the agricultural epicentre of town—not to mention the host of Pemberton's perennial favourite event, the Slow Food Cycle.
The Glen grabbed second slot this year, with Mount Currie coming in third.
Best Pemberton Trend:
Lifestyle
We're not quite sure the laidback albeit active lifestyle of Pemberton constitutes a trend per se, but it earned enough votes to nearly double the second-place finisher, biking, which, let's face it, is another pursuit that's been around Spud Valley for long enough to no longer be called a trend.
Pemberton's homey sense of community wound up in third.
Most Common Pemberton Myth:
It's boring
Pemberton is anything but boring, at least according to the voters who selected the town's impression as a sleepy bedroom community as its most common myth. In close second was the myth that "everyone is a redneck," followed in short order by the belief that "housing is more affordable than Whistler."
Most Desirable Amenity Missing from Pemberton:
Swimming Pool
Yes, Pembertonians have a number of crystalline lakes to enjoy in the summertime, but sometimes you just want to take a dip in the comfort of a heated, chlorinated swimming pool. Is that so wrong? Scores of readers once again picked a swimming pool as the amenity they'd most like to see in town, and given the number of young families Pemberton now counts, there's no question why.
An ice rink came in a distant second this year, with "more restaurants" rounding out the list.
No. 1 Reason We are Not Like Whistler:
fewer Tourists
Tourism to Pemberton has been on the upswing in recent years, but locals still appreciate that there are less—far less—visitors than its tourist-laden neighbour to the south.
In a similar vein, Pemberton's tightknit sense of community was a close second for voters deciding what separates it from Whistler, while the "friendly people" came in third.
Best place to cure a Hangover:
The Lake (Any Lake)
Pembertonians weren't choosy when picking where to while away the day after a night of inebriation: The lake, any lake, will suffice.
And in a town that loves to party, it's a good thing Pemberton has plenty of lakes to choose from.
In a tie for second, Pemberton chose a pair of classic local spots to nurse that hangover: Mile One Eating House and The Pony.
Home was a close third.
Favourite Family Outing or Activity:
biking
There is no shortage of options when it comes to family fun in the Spud Valley, but in Pemberton, two wheels are king. Voters chose biking once again as their favourite family activity, and with more than 160 trails, there is a route for everyone. Alternatively, you could ditch the bike and head out of two feet, with hiking taking second place, and the always-popular One Mile Lake coming in third.
Media, Arts & Culture
- Brandon Barrett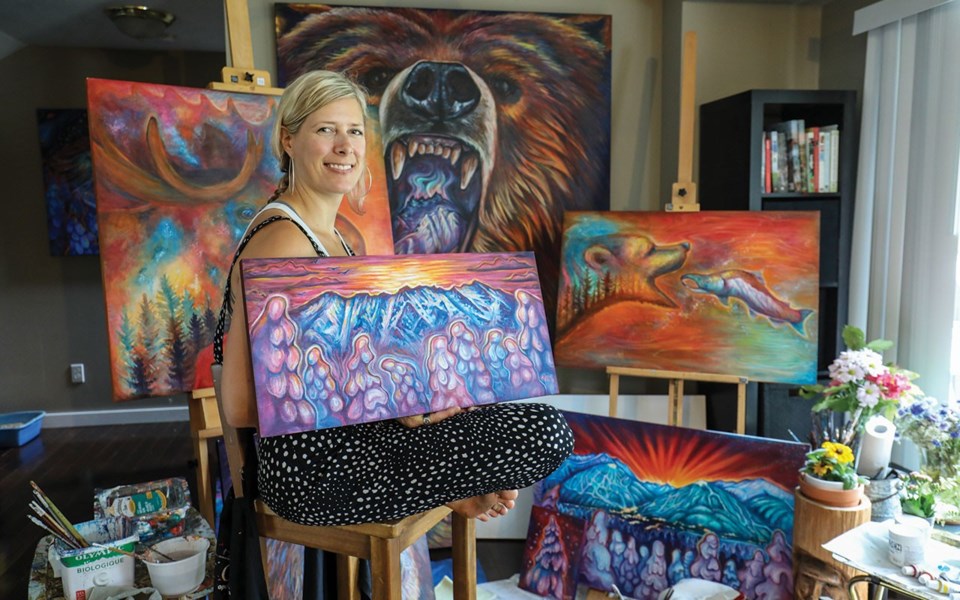 Favourite Artist:
Vanessa Stark
The Vanessa Stark dynasty continues.
An artist whose impact can be felt just as strongly in Whistler as in her home of Pemberton, Stark's unmistakable landscape and wildlife paintings can be found everywhere from farmers' markets to upscale galleries, from street banners to ski topsheets.
This is the third year in a row she's won this category.
Landscape painter Karen Love reclaimed second spot this year, with jeweller Natalie Livermore earning enough votes for third.
'Little pieces of soul'
Vanessa Stark, Pemberton's Favourite Artist for four years running, isn't one to turn down a job. But as her boldly coloured paintings continue to be in such high demand—Nes' long list of commissions includes Whistler Blackcomb, Volcom and Prior Snowboards & Skis—Stark is starting to take more time for her own artistic pursuits.
"I don't necessarily know (what I want to do), but I definitely want to go forward. I want to do more of my own pieces and I really do enjoy sharing art with people, so I enjoy doing live art," she says, highlighting the 3D chalk art she often does during the summer in Whistler. "As long as you're moving forward and you're going the way the current is pushing you, it's going to take you to a good spot."
Stark is a passionate snowboarder who has long drawn inspiration from the natural wonders of Pemberton and the Sea to Sky—a visual feast for any artist.
"It's just mind-blowing," she says. "You leave your house on your mountain bike and go up the mountain and have these incredible views—you're surrounded by nature and woods. It's pretty unbelievable. I do try to remember it and appreciate it and take moments to remember how lucky I am to live here."
Mostly self-taught, Stark says her unmistakable aesthetic—typically landscapes and wildlife painted in a swirling, almost psychedelic style—comes primarily from her subconscious.
"I've always had a really intuitive style. I've only ever had my own style; I've never tried to imitate anyone else," she says. "With intuitive painting, it goes into you and comes back out. It's like you're putting a little piece of yourself into all the (work). I let mine happen in a really natural way so it's got my little pieces of soul in it."
Favourite Band/Musician:
Dakota Pearl
Pemberton loves to rock, and its most recognizable band is happy to oblige.
Country rockers Dakota Pearl continue to build on their momentum after their 2018 win in this category. Last year also saw the addition of drummer Dean Feser, who some will remember from Whistler band The Railtown Prophets. At the moment, the band continues to tour, and the first single and accompanying music video, "Nothing to Lose," off their upcoming EP is due out next week. (See profile on page 69.)
Pemberton's own Grateful Greg of The Hairfarmers was second, while The Courageous Mountain Rangers cracked the list in third.
Favourite Local Writer:
Lisa Richardson
It's fair to say the Pique newsroom has a bit of a journalism crush on Lisa Richardson, the perennial winner of this category for more than a decade.
A sought-after freelancer who also pens Pique's biweekly column, "Velocity Project," Richardson writes with such a finely honed authenticity and profound empathy for her subjects that it's hard not to envy her prodigious talents. It surely doesn't hurt that she is also one of Pemberton's most vocal and eloquent champions.
Business writer and owner of her own PR company, Blair Kaplan moved up to second place this year, while fourth-generation farmer Anna Helmer, who self-published A Farmer's Guide to Farmers' Markets last year, claimed the third spot.
Favourite First Nations Artist:
Levi Nelson
It was a repeat win for Levi Nelson in the second year of this category. A Lil'wat painter that blends traditional First Nations style with a more contemporary, urban aesthetic, Nelson is no stranger to accolades, having won the 2018 IDEA Art Award, which got his work featured in UBC's gallery.
He was also commissioned earlier this year to feature two brightly coloured pieces in the Woodland Anishinaabe style, Medicine Man Summoning the Spirits and Creatures of Land & Water, on banners along Portage Road, part of the Pemberton's ongoing downtown enhancement.
Lil'wat carver Redmond Edmonds was second, with weaver Vera Edmonds in third.
Favourite Photographer:
Amie LeBlanc
It's a first-time win for born-and-raised Pembertonian Amie LeBlanc, a wedding and lifestyle photographer.
A graduate of the Alberta College of Art and Design, LeBlanc has been capturing "I do's" since 2012.
She edged out second-place finisher, landscape photographer (and owner of Mount Currie Coffee Co.) Chris Ankeny by just one vote this year, while the always-prolific founder of Sea to Sky Photography, Toshi Kawano, was in third.
Candid camera
Amie LeBlanc, Pemberton's Favourite Photographer for 2019, draws her inspiration from a simple yet powerful source.
"Happiness," she says. "That sounds so cheesy, but just that candid moment of pure joy that people have is really exciting to be able to see."
The born-and-raised Pembertonian now splits her time between Spud Valley and New Westminster, where she works as a teacher, but keeps busy in the summertime shooting (mostly weddings) exclusively in Pemberton.
LeBlanc's history in the community is what enables her to gain her clients' trust on what is often the most important day of their lives.
"There's a lot of trust there because I know where we live and how to find the best locations that really accommodate peoples' needs," she explains. "They know I'm not going to put them on the spot and make them do anything cheesy. We're going to have a really natural experience, essentially."
It doesn't hurt that LeBlanc get to bring out her clients' beauty in a way they don't always recognize on their own.
"To have people appreciate their own beauty, when they see the photos and they're like, 'Oh, I look good.' Yeah, you do. That's really satisfying and is definitely a motivator for me," she adds.
Best Cultural Event:
Slow Food Cycle Sunday
There is perhaps no event that better encapsulates the Pemberton lifestyle than Slow Food Cycle Sunday, a celebration of biking, farm-to-table cuisine, and homemade arts and crafts.
Heading into its 15th year this August, Slow Food Cycle is a 40-kilometre bike trip up and down Pemberton Meadows Road, with attendees going at their own pace and choosing which farms to stop at along the way, where they can sample food and bevvies and purchase art.
The Lil'wat Nation Rodeo and Powwow edged out Pemberton's Community Barn Dance for second.
Business Services
- Braden Dupuis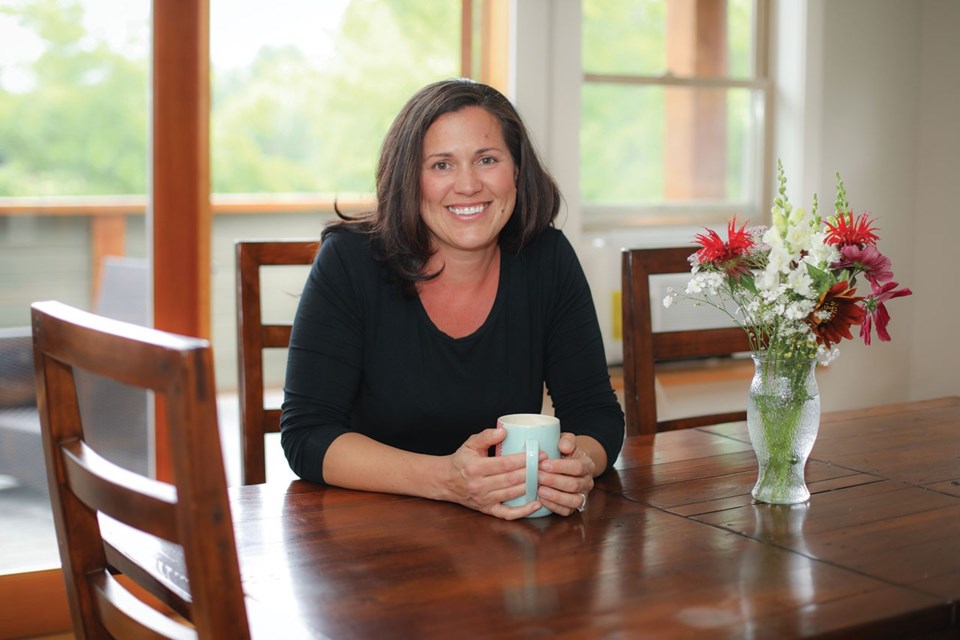 Favourite Realtor:
Danielle Menzel
It was another runaway win in this category for Pemberton's Favourite Realtor, Danielle Menzel, which, given her history in the community, should come as no great shock. (See profile on page 40.)
The daughter of another favourite Pembertonian, Bob Menzel, Danielle is a fourth-generation local and former president of the Pemberton Chamber of Commerce.
Two fellow Whistler Real Estate Co. realtors join Menzel in the Top 3: Lisa Hilton in second and Erin McCardle Stiel in third.
Home sweet home
Since taking home the honours of favourite realtor for the first time in Best of Pemberton 2010, Danielle Menzel has won the category every year but one (in 2015, when she had her son and took some time off)—but she's still not taking the community's appreciation for granted.
"I don't ever expect to actually win again ... There's so many great realtors," she says.
"I'm always surprised when I do."
While she can't say exactly why she's proven so dominant in the category since setting out on her own in 2008, it might be her decision to focus solely on Pemberton, or her deep roots in the community (her father Bob Menzel is a perennial winner of the Favourite Pembertonian category as well).
"It's where I grew up, and it's a place that I really believe in, so it's easy for me to focus on it and sell Pemberton," she says.
"My family has been here awhile, so I can dig a lot of different people for information. There are a lot of people I can consult to get information that you can't just find looking up."
Her most valuable source might just be her father, who can fill in the historical gaps of the valley for Menzel in terms of things like flooding and land use.
"He's a wealth of information," she says. "I don't know what I'd do without him."
Selling real estate in Pemberton has been "a rollercoaster, like everywhere else" over the past decade, Menzel says.
"I started when it was really tough. It was 2008, so the market had just crashed," she recalls, adding that while the past few years have been "really crazy," the market is starting to even out again.
"It's more of a balanced market ... We're getting back to having more listings and a little less demand, so it's a nice little change from the pace that we had before," she says.
"I like to work with buyers, so it gives them a little bit more breathing room ... The last few years were really stressful for them, and so it's giving them a bit of a break."
While her advice for buyers right now is that they still have to jump on properties they want, "you do have the time to look around and get a feel for what's out there," Menzel says.
"You don't have to jump on the first thing you see, which is what's been happening the last couple of years."
Best Hotel/Bed and Breakfast:
Pemberton Valley Lodge
The Pemberton Valley Lodge has staked its claim as a key driver of tourism to the Spud Valley, as well as being a devoted community partner.
Featuring a selection of roomy suites, an array of amenities, including massage services, pool and hot tub, fitness studio and café, the lodge is consistently ranked as the best play to stay in town. It is also part of several local initiatives, supporting the Pemberton Animal Well-Being Society, Cops for Cancer and the Pemberton Food Bank.
The Joffre Creek Cabins, a pair of beautiful log cabins nestled into the forest about 20 minutes from Pemberton, snuck into second place by just two votes over the Longhouse B&B.
Favourite Farm:
North Arm Farm
North Arm Farm's dominance in this category continues in 2019.
There is perhaps no better example of blending agriculture, tourism and downright tasty food than 24-hectare farm, which welcomes visitors year-round to experience everything from fruit picking, horse-drawn carriage rides, and one of the best breakfasts in town.
Rootdown Organic Farm moved up to second place this year, with Helmer's Organic Farm falling close behind in third.
Favourite Health Service Provider:
Pemberton Medical Clinic
It was a narrow win for perennial Favourite Health Service Provider, the Pemberton Medical Clinic.
The family practice clinic offers a range of medical services, including physicals, pre- and post-natal care, X-ray, and specialist referrals. Munroe Chiropractic returned in second, with Pemberton Valley Wellness rounding out the list.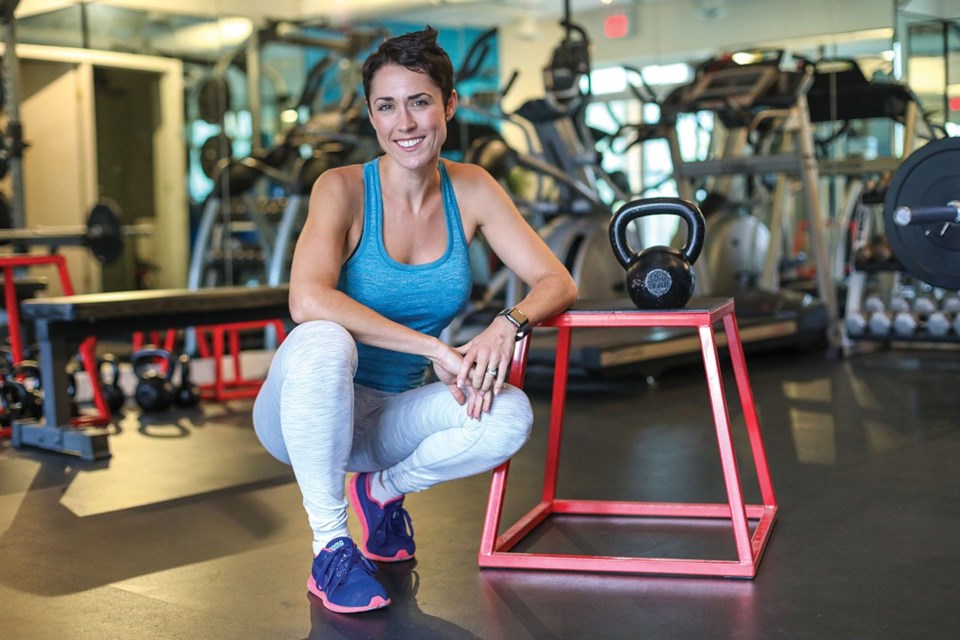 Favourite Wellness/Fitness Service:
Kufuka Fitness
Kufuka Fitness is the repeat winner in this category and has gained Pembertonians' appreciation through its two boutique studios located in the heart of town.
Offering both private training and group "Kollektiv" classes, there should be something for every kind of gym rat at Kufuka, from kickboxing, spin, yoga, barre and even pre- and post-natal personal sessions.
Evergreen Fitness & Yoga joins the list in second this year, with Kula Wellness Centre returning in third.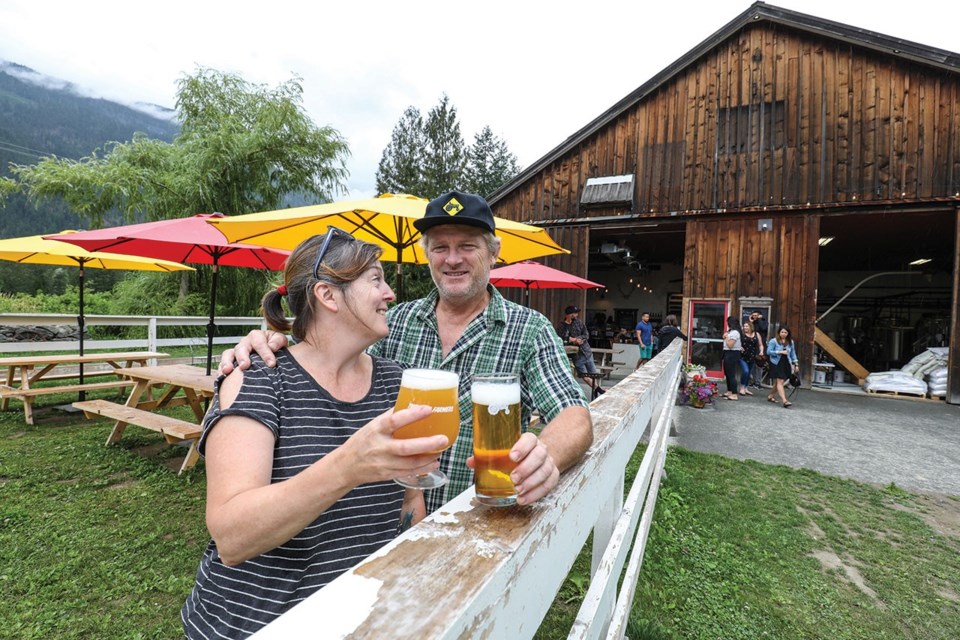 Best New Business:
The Beer Farmers
It turns out Pemberton loves its suds.
For the second year in a row, a craft brewer took home the award for Best New Business. Following in the Pemberton Brewing Company's footsteps in 2019 are The Beer Farmers, a farm brewery that is one of B.C.'s only beer makers' growing its own hops and barley, bolstered by the Miller family's generations-long experience working the land. (See profile on page 39.)
Town Square, a full-service restaurant, caterer and food truck that draws inspiration from the abundance of ingredients available in the Pemberton Valley, earned second, with Backcountry Motorspots, a dealership specializing in almost anything on wheels, came in third.
Farming excellence
More than a century after a 16-year-old W.M. Miller left Scotland to start a farm in the Pemberton Valley, his great-grandchildren continue to find new ways to work the land.
And with The Beer Farmers—Pemberton's best new business in 2019, according to Pique readers—the whole family is in on the fun.
"We're four generations of people that have been living here and farming here, and making a go of it, and now we have the brewery, which is a super family endeavour," says co-owner Will Miller.
"My mom's the brewer, my dad's the farmer, and I have [myself] and four brothers all run the brewery and the bar, so it's kinda fun to be bringing some more energy back into a farm that's had a lot of different life cycles."
The community has responded in the microbrewery's first year (The Beer Farmers also took first for Best Beer Selection, and came second for Best Patio), in turn, adding some energy of their own to the farm.
"It's been a lot of fun," Miller says. "It's nice to get people out on this side of town, and engaging with some of the history of Pemberton."
Historically, there hasn't been a ton of meeting spots for farmers in the valley, or opportunities for social gatherings, he adds.
"Especially growing up in the Meadows, you just stayed on your farm all summer and worked. You barely ever saw anyone, right?" Miller says.
"So now, it's kind of fun to have a community gathering area. You get to see a lot of people, and it's been really nice."
As for that beer selection, Miller says the family is fortunate to be a little out of the way, where it can get away with "classic, approachable, well-done beers."
"If you're in a busier, more beer-type place, you kinda get caught up in the arms race of crazy this, crazy that to stand out," he says.
"There's nothing wrong with a beer-flavoured beer, and I think it's been fun that we can allow that to become part of our identity."
After such resounding success in its first year, what's on tap for Year 2?
"We're not trying to take over the world or anything like that," Miller says.
"We're just trying to get our operations running smooth and keep it a family business, and keep it unique and special.
"We're not trying to be the next big thing or anything like that."
We'll drink to that.
Best Building/Construction Company:
Fitzgerald Building Company
Fitzgerald Building Company specializes in high-performance homes and commercial projects, serving Pemberton as well as the rest of the Sea to Sky. Founded in 2011 by Tom Fitzgerald, the company prides itself on maintaining open lines of communication, using cloud-based project management services to keep clients up to date in real time.
BC Passive House and its Pemberton-based factory came in close second this year, while New Leaf Contracting wasn't far behind in third.
Best Gas Station:
AC Petroleum
It turns out Pembertonians have plenty of opinions on their favourite local gas station, AC Petroleum, which garnered an abundance of votes in this category.
The locally owned company delivers fuel and propane to both residential and commercial customers across the corridor and the Lower Mainland.
Not too far behind in second was the Pemberton petro canada, while the Lil'wat Gas Station took third.
Best Wedding Venue:
Big Sky Golf Club
The breathtaking views of Big Sky aren't just reserved for golfers. Big Sky Golf Club sits in the shadow of majestic Mount Currie, and provides the perfect backdrop for a day of matrimonial bliss. It repeats this year as Pemberton's Best Wedding Venue.
Another impossibly scenic venue, Riverland's Red Barn, placed second, with North Arm Farm bringing up the rear.
Food & Drink
- Brandon Barrett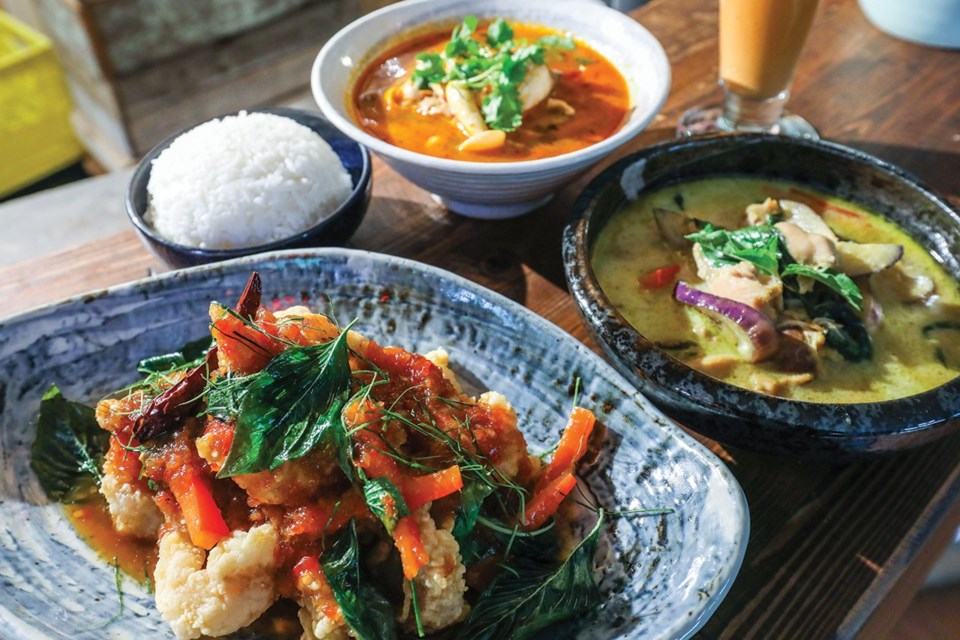 Best Overall Restaurant:
Barn Nork
Barn Nork has quickly moved to the top of locals' restaurant recommendation list since opening in Mount Currie three years ago—and with good reason. The family-run establishment prides itself on its attention to detail, dishing out the best Thai food you'll find in the Sea to Sky—and maybe even the province.
This is the second year in a row Barn Nork has taken home Best Overall Restaurant. (See profile below.)
Another adored local spot, the Mile One Eating House, with its juicy, homemade burgers and selection of creamy mac n' cheese varieties, returned in second place, beating out The Pony by just one vote.
An unlikely gem
On its face, Barn Nork, voted Pemberton's Best Overall Restaurant for the second year in a row, seems an improbable success. An authentic Thai restaurant located on the edge of a rural farm town, in a First Nations reserve, three hours from the nearest Thai food store, is just not supposed to work.
But with the best Thai food this side of the Lower Mainland—and you could make a convincing argument it's the best Thai food in the province—diners are more than willing to go the extra distance for a taste of Barn Nork.
"(Owners and chefs Jay Nuttamarn and Janice Sriwantan) are definitely surprised that so many people support them and will come out and make the drive," explains manager Judith Thompson. "From someone who works there and was a customer, the food is so good that you would drive from anywhere to get it."
Part of the restaurant's appeal is Nutamarn's and Sriwantan's fervent attention to detail. Formerly of the iconic Mandarin Oriental Hotel in Bangkok, the husband-and-wife team don't scrimp on anything, eschewing canned or pre-prepared ingredients for the real deal.
"There's a lot of shortcuts you can do in Thai food, but there's no shortcuts here," Thompson notes. "The cooking methods are very authentic, down to the point that when we do the red chilli pepper, there's a chilli flake you can put on top to add some spice. Janice hand-roasts and hand-grinds the peppers—there's no store-bought product used in that way."
Barn Nork also steers clear of the mass cooking you'd find in some larger restuarants, firing their boldly flavoured curries (the beef massaman will change your life) one or two at a time in the wok—a thoroughness that even extends to staff meals.
"We have a staff meal every night and we get to pick from the menu just like everyone else. Janice doesn't even take any shortcuts there. If we all order a green curry, it's one or two at a time. She wants everyone to enjoy it to that level. I've never really seen anything like it," Thompson says.
"In all honesty, as corny as it may sound, there is love in the food. These two really love to cook."
Best Service:
Mile One Eating House
An exquisite menu will only get you so far. To move the needle from "good restaurant" to "great restaurant" requires a commitment to quality service that will keep diners coming back for more.
And that's the level of hospitality Mile One consistently maintains even while dealing with the staff shortage that has affected many Pemberton businesses and a change of ownership more than a year ago.
Best Overall Restaurant Barn Nork's friendly service landed it in second once more this year, while Mount Currie Coffee Company joined the Top 3.
Best Value:
Mile One Eating House
When Pembertonians want the most burg for their buck, they head to Mile One Eating House, which serves up highly affordable comfort food that doesn't skimp on quality. In a repeat of the previous category, Barn Nork landed in second spot, with Mount Currie Coffee Company, which, along with a damn good cup of coffee, dishes out a variety of homemade, organic sandwiches, baked treats and fresh salads, in third.
Best Takeout:
Barn Nork
In a continuation of their battle for local restaurant supremacy, Barn Nork beat out its Pemberton counterpart, Mile One, in the takeout category for the third year in a row.
BackCountry Pizza and its tasty 'za and subs claimed third.
Best Burger:
Mile One Eating House
You probably knew the winner of this category before even opening this issue: there's no way Mile One Eating House is going to relinquish its well-earned burger supremacy anytime soon; the award-winning restaurant's two-handers are just that good.
The Pony finished a distant second, while The Black Squirrel at The Meadows at Pemberton golf course took third.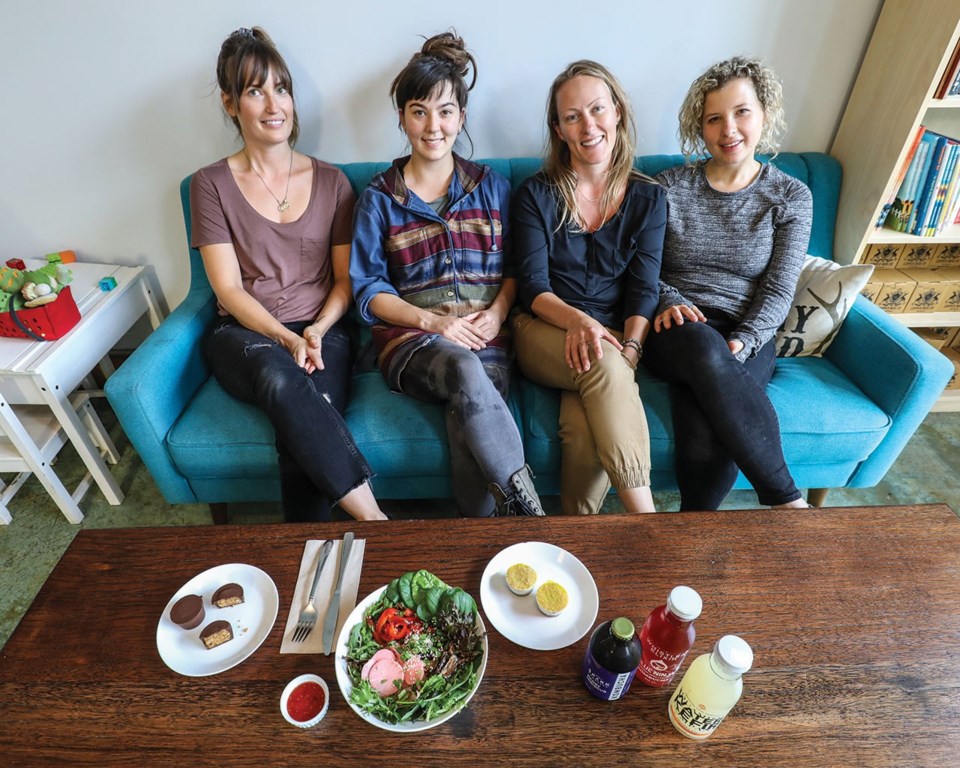 Best Plant-Based Meal:
Stay Wild Natural Health
Stay Wild Natural Health claimed top spot in the first year of this category—and it wasn't even close.
The health food store, juice bar and eco-friendly café has Pembertonians' well-being at top of mind, and its nourishing menu, chock full of hearty vegetarian and vegan bowls, vibrant salads and invigorating smoothies is proof of that. (See profile on page 44.)
Barn Nork came in a distant second, with North Arm Farm earning third.
Wild things
To this day, Pemberton cuts a rugged image.
There's no denying the community is, like the rest of the Sea to Sky, evolving, but it still hews close to the cowboy culture of generations past, when loggers and ranchers would wake at dawn to cram into (the since closed) Centennial Café for heaping plates of bacon and sausage to start their day.
You could be excused for thinking that legacy would prevent Pemberton from supporting a thriving health food store, but Stay Wild Natural Health is all the proof you need to counter that line of thought.
"This is the way of life here," says Leah Langlois, owner of Best of Pemberton's inaugural winner of Pique's new Best Plant-Based Meal category. "It's not like a health food store seems scary here or not within your realm. Everybody here is very conscious."
Part of that accessibility is due to Stay Wild's Swiss-Army-knife approach: more than just a health food store, it doubles as an organic juice bar, cozy café, and supplier of ethical, high-quality health and lifestyle products.
"Because we do have the juice bar side as well as an organic grocery and supplements, it makes it very approachable," Langlois notes. "People who may be scared to come into a supplement store or a health food store can come in because we have smoothies and raw desserts and build-your-own-bowls, so it's a lot easier for someone who isn't in that kind of a diet to be able to come here."
Langlois also credits the creativity of her kitchen team, which, along with dishing out a range of staple mixed bowls, will regularly switch up their specials based on whatever fresh produce is available locally that day.
"It's fun," she says. "The girls are really creative. We have a breakfast bagel that's always on the menu, a noodle bowl, a glory bowl, but then they really go out and do different specials every day, which is a big part of the appeal."
Best Beer Selection:
The Beer Farmers
The Beer Farmers, also named this year's Best New Business, may not have the most extensive beer list, but the locally crafted lagers, ales and stouts they do pour proves that quality is indeed better than quantity.
Growing its own barley and hops on the multigenerational farm, the Miller family has the luxury of tweaking its recipes at every step of the process to ensure an approachable beer list that emphasizes balance and drinkability. (See profile on page 39.)
Among its core beers are its Draft Horse Pale Ale, Farmer's Daughter White, Cover Crop Hazy IPA, Locals Only Lager and BlackSheep Coffee Stout, joining its ever-rotating selection of seasonal brews.
Beloved watering hole The Pony fell to second this year, only a handful of votes ahead of the Pemberton Brewing Company.
Best Patio:
Fescues at Big Sky Golf Club
Situated at the foot of Mount Currie, we all know Big Sky Golf Club has some of the best views on the links. But once your round is done and its time to unwind, the club's in-house restaurant, Fescues, offers the perfect patio views. It's expansive outdoor patio is home to Fescues' approachable farm-to-table menu, as well as some great live local music.
The Beer Farmers' unique indoor-outdoor tasting room got enough votes for second, while The Black Squirrel at Pemberton's other golf course, The Meadows, came in third.
Best Breakfast:
North Arm Farm
Starting your day with a hearty breakfast just steps away from where its ingredients were plucked is the height of eating local, and North Arm Farm consistently over-delivers not only with its farm-to-table menu, but a warm hospitality that the Sturdys' family-run farm is known for.
Serving breakfast all day, North Arm offers the freshest, organically grown produce and a range of farm-baked treats.
Mount Currie Coffee Company continued its strong showing this year in second, with Grimm's Gourmet & Deli in third.
Best Cup of Joe:
Mount Currie Coffee Company
Mount Currie Coffee Company takes the art of coffee seriously. Using the finest ethically sourced beans around, its baristas are trained in how to produce a good cup of joe consistently time and again.
With its Whistler location a regular winner of this category in the "Best of Whistler" readers' poll, it would seem Mount Currie Coffee Co. has a firm grip on the Sea to Sky's coffee scene.
Blackbird Bakery wasn't too far behind in second, with mobile coffee shop Lynx Café in third.
Best Dinner:
Barn Nork
Pemberton's favourite restaurant unsurprisingly serves up Pemberton's favourite dinner.
That's a good thing considering the family-run Thai spot no longer opens for lunch due to staff shortages—turns out it's difficult to attract chefs experienced in the intricacies of Thai cooking to the area.
Mile One Eating House was in second, with sushi spot, Fish & Rice, in third.
Best Lunch:
Mile One Eating House
It was a tight race for this category, with first-place Mile One Eating House beating out The Pony by just a handful of votes.
Mount Currie Coffee Company wasn't too far behind in third.
Going the extra mile
It's been a year and a half since chef Erin Kerr—who has worked at Mile One since its inception in 2011—took over the reins from original owners Randy Jones and Cindy Yu, and just a few weeks ago, she put what is probably her biggest mark yet on the beloved burger joint: She completely overhauled the menu.
"It's an all-new menu, all-new sandwiches, salads, mac and cheese. It's a big change," says the 28 year old. "I kind of streamlined things and freshened it up a little bit. I'm excited to do something a bit different."
Before you take to the streets with pitchfork in hand, know that you can still find a number of classic dishes on the menu—along with a handful of new ones. The reason for the changes are twofold: one, like pretty much every other Sea to Sky business dealing with the effects of the corridor's ongoing housing shortage, qualified staff has been hard to come by.
"It's actually crazy how hard it is. I grew up in Whistler and grew up in kitchens my whole life and never really experienced it this much," Kerr says. "It definitely was a factor with just trying to really be smart about the way the menu is built and the amount of staff that I have, and just trying to make it something I can execute with a smaller team."
But the other factor driving the changes is probably the most significant: Even with the abundance of goodwill the restaurant has earned with locals, the last thing Kerr wants is for Mile One to get stale.
"I want the love for Mile One to continue," she says. "I wanted to keep it interesting. I have all this creativity that I need to get out, so I'm using the town of Pemberton as my guinea pig for that."
Best Dessert:
Blackbird Bakery
Venture to Blackbird Bakery on a summer morning and you're likely to find a long line to get your hands on one of the shop's outrageously delicious baked treats. Having trained under three-star Michelin pastry chef Thierry Busset, chef Raven Burns' skills in the art of baking are undeniable—just try one of her flaky pain au chocolats, doughy cinnamon rolls, or specialty cakes to find out.
The Pony's elevated desserts came in second, while new kid on the block, Town Square, came in third.
Sports & Recreation
- Dan Falloon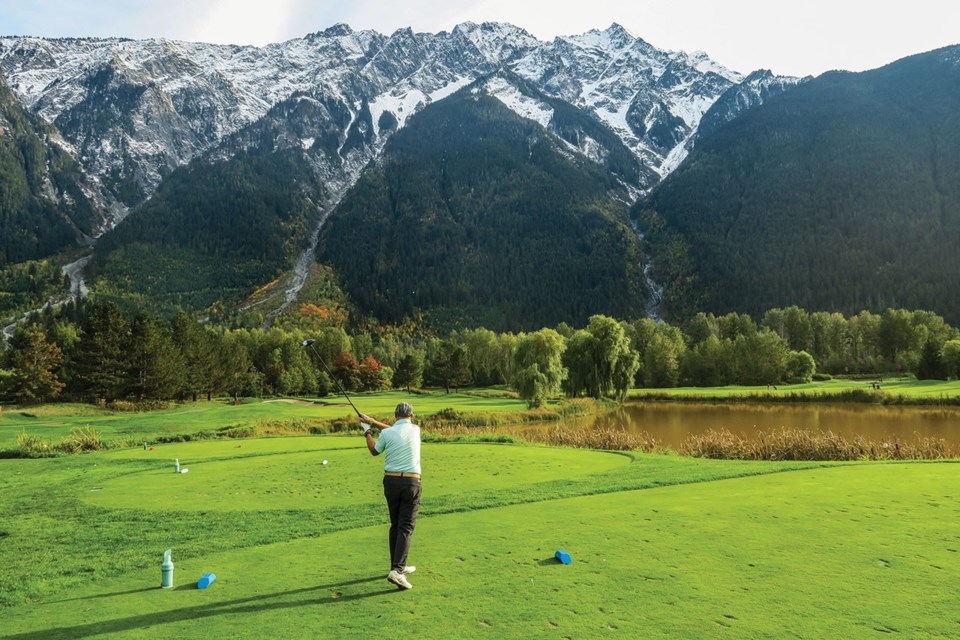 Best Golf Course:
Big Sky Golf Club
While this two-horse race is always a tight one every year, it's Big Sky Golf Course that once again edged out its neighbour, The Meadows at Pemberton in 2019.
Designed by Robert Cupp, Big Sky features a long, winding 18 holes that offer a level of challenge to pretty much any style of golfer. Not only that, but its renowned golf academy program, approachable staff and quality facilities consistently rank it among Canada's top public courses.
Just down the road is The Meadows, which, while offering similar views as Big Sky, provides a more affordable, laidback alternative that is probably more suited to the novice golfer. It also hosts a slew of community events, live music and family-friendly activities that should appeal to even the most jaded non-golfers.
Best Bike Trail:
Cream Puff
Pembertonians have an abundance of epic trails to choose from, which explains why there are only two votes separating first and third place on this list. Cream Puff, a local classic in the MacKenzie area that features a handful of gnarly rock slabs and views for days, just edged out nearby Happy Trail for first.
The second-place finisher is considered by some to be the best climbing trail around, and was reworked in 2017 to make it easier to ride.
Fat Tug, a fast, flowy trail that offers a wide diversity of terrain, was close behind in third.
Best Hiking Trail:
Lumpy's Epic
The longest trail in the area of One Mile Lake, Lumpy's Epic is not just a classic cross-country ride for bikers; it also offers jaw-dropping views of Mount Currie (if you're not afraid of a bit of climbing, that is).
We've all heard about the crowds at Joffre Lakes, the envy of Instagram junkies everywhere, and despite the challenges around managing the influx of visitors in recent years, it still ranked high on voters' list of local hikes.
Another popular and photogenic spot, Nairn Falls, came in a close third.
Best Lake:
Birkenhead
With so many beautiful, soul-stirring lakes to choose, it's a major vote of confidence for Birkenhead Lake, voted as Pemberton's best for the third year running.
A prime spot for swimming, fishing, and camping, the Birkenhead area is also home to a number of wildlife important to the region.
Gates Lake was a few votes behind in second, with Anderson Lake in third.
Best Winter Adventure Activity:
Backcountry skiing and snowboarding
Locals don't need the long lines and costly lift ticket prices of Whistler to have a bit of a fun on a board or skis: Pemberton offers a plethora of awe-inspiring backcountry terrain to scratch their adventure itch.
Cross-country skiing ranked second in terms of locals' favourite winter adventure activity, with the growing sport of snowmobiling in third.
Best Summer Adventure Activity:
Mountain biking
With more than 215 kilometres and 100 trails of some of the most diverse, eye-popping and challenging riding terrain the province has to offer, Pemberton should be on every mountain biker's bucket list.
There's no denying the majority of the community's trails are difficult—about three quarters of them are rated as black or double black diamond—but with the number of avid riders in this part of the world, that has not dampened Pemberton's appeal as a biking destination.
Backcountry hiking was a distant second on this list, with boating not far behind in third.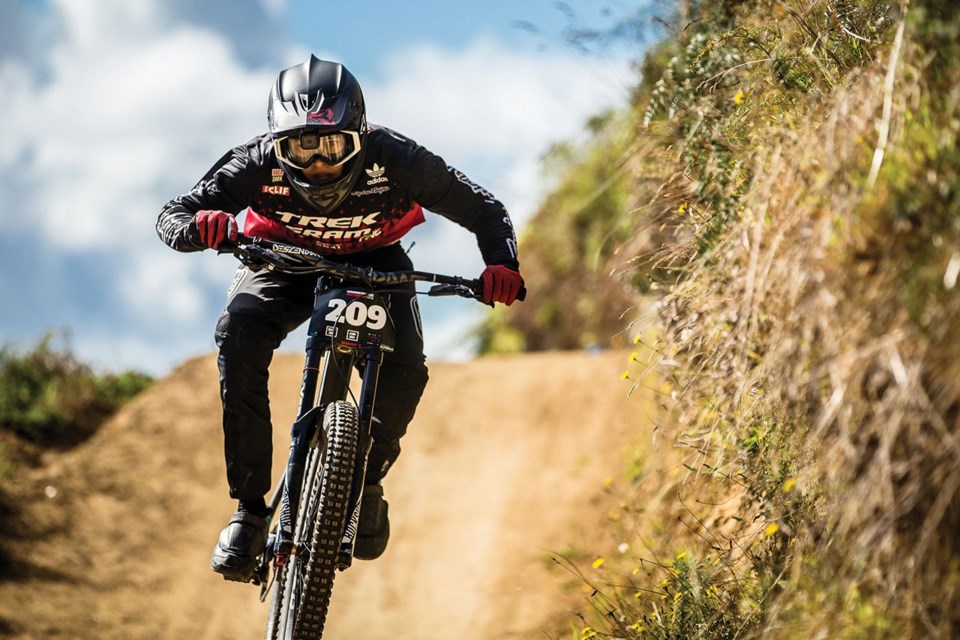 Favourite Pemberton Athlete:
Lucas Cruz
It's the second year in a row that Lucas Cruz has been named as Pemberton's favourite athlete.
Fresh off his first career UCI World Cup podium this month, the young mountain biker has a long and promising career ahead of him. (See profile 47.)
Freeskier Logan Pehota wound up in second this year, while sit-skier Ethan Hess was third.
Riding high
He may just have graduated from Pemberton Secondary School, but Lucas Cruz is already primed for big things.
The second-year rider on the UCI World Cup junior men's downhill tour was voted as your favourite Pemberton athlete a year after finishing second to para-Nordic skier Ethan Hess by just one vote.
"It's really cool to see that I'm getting some recognition and that I have the whole community behind me," Cruz says. "The BMX club has given me a lot of support, not just in the last year, but forever.
"Also, my peers at school have been super supportive of me, through social media and just having good relationships with them. They understand what I'm doing and they're always very supportive of me."
Cruz says though he's gained international fame and acclaim in recent years, his life in Pemberton is still familiar.
"Luckily, I live in a small town, so I know everyone. All the teachers are definitely behind me, so that helps a lot with flexibility and courses. I got to graduate early this year in January, so that just shows support right there. They're helping me through it and letting me achieve my goals," he says.
Graduating early, Cruz says, has been a boon during his sophomore season on the World Cup tour. He recalls in his rookie campaign that he planned to finish a math course online on the road, but got behind and had to catch up in the winter. Now, he can put all his attention towards riding.
"It's just been 100-per-cent focused on racing. I'm loving it even more because I'm not as stressed out about getting stuff done for school," he says. "When I'm overseas for racing, I can enjoy it all, take it in, and do the best I can.
"I've been doing lots of road trips and riding. I just have time to go to the gym during the day instead of early in the morning. Everything's a little bit more relaxed while I'm at home. I have all the time I need to go on training rides or go do shuttle laps.
"I can prepare myself a lot more than last year."
So far this season, Cruz started off strong before hitting a little lull. While he was happy with his riding during a fourth place in Maribor, Slovenia, though he knew he could have made the podium.
"I knew that I was so close to the podium and I really wanted to be on that. It was a little bit of a hard result. It just made me more hungry for the rest of the season," he says. "The results that came after that were a little bit worse, so I just took the positives from those races and I'm just going to try to carry those on to the next ones."
Good news for Cruz, however: he took his first career World Cup podium at Vallnord, Andorra this month.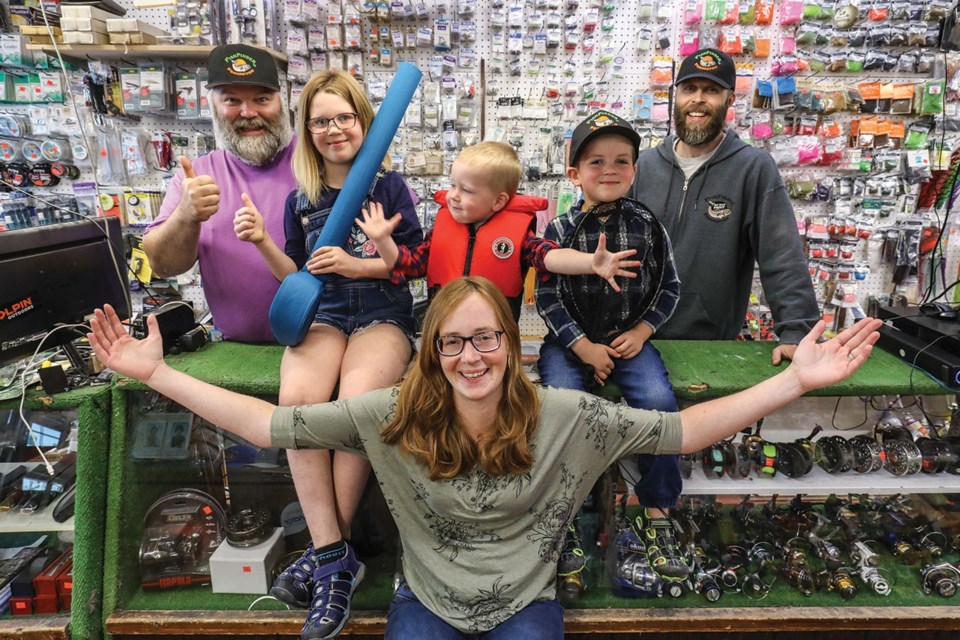 Favourite Tourism Operator:
Pemberton Fish Finder
Pemberton Fish Finder is the inaugural winner of this category, thanks to its engaging year-round guided fishing tours in Pemberton as well as in Whistler and Squamish. The company offers a variety of options for fishers of all types, whether it's ice fishing, heli fishing or fly fishing you're after. (See profile 48.)
Whistler Jetboating was only two votes behind in second, with horseback riding tour company, Copper Cayuse Outfiitters in third.
Going deep
Starting 10 years ago as an ice-fishing guiding company in a crowded market, Pemberton Fish Finder has found a way to not only break into the summer market, but become locals' favourite tourism operator.
Owner Brad Knowles says there are several things to credit for the business' success, and gave credit to each and every employee.
"I think any successful business is surrounded by a successful team and that's the reason that we do so well," he says. "We have the best team in the corridor.
"We pride ourselves on providing that extra 10 per cent, going above what people expect of you. Because of that, people love us."
One way in which Pemberton Fish Finder goes the extra mile is in through its willingness to share information. Knowles, who has a great head start considering he was born and raised in the area and grew up fishing all over, explains that his guides are encouraged to provide one another with as many tips as possible, while the company has long provided information through social media to clients and potential clients.
"We're able to engage, and I think that's been a winning strategy for us," he says. "If you find a winning recipe, you stick with it. Of course, you're always tweaking your game a little bit, but to stay on top, you've got to have your feet in a bunch of different directions."
However, finding the right place without the skill to match won't result in catching many fish, so Knowles and Co. ensure they observe clients closely and provide tweaks to their fishing to make their efforts as effective as possible.
"We go above just putting a rod in people's hands. We show them how to use them properly and we also explain proper reading of water and etiquette," he says. "It's one thing to be a professional fisherman, but you've got to have a feel for your clients. In the short time that you have them, you've got to get a feel of what they need to focus on to make them a better fisherman or fisherwoman."
Knowles adds that there's something for everyone in his coverage area, with more than a dozen species of fish, including sturgeon, Pacific salmon, bull trout, rainbow trout, steelhead, coastal cutthroat and kokanee, to chase in over 100 bodies of water.
Environmental
With the Best of Pemberton's new environmental section (compiled with the generous help of the Whistler Naturalists and Stewardship Pemberton), Pique wanted to shine a light on some of the green initiatives making the most impact locally
Best Local Environmental Initiative :
Integration with Lil'wat Nation/N'quatqu for opportunities to learn from traditional knowledge.

In its inaugural year, readers voted for the ongoing integration efforts between the Lil'wat and N'quatqua to teach the area's non-First Nations residents more about the traditional Indigenous ways of life. That includes efforts in the local schools to teach the basics of Ucwalmicwts, the Lil'wat language, to young students, as well as the N'quatqua's rainbow trout program, which not only employs a handful of nation members but educates locals and participating restaurants on the community's long legacy of fishing.
Salmon restoration efforts, which include a multi-year project on the Lillooet River to protect sensitive habitat, was voted in close second, with ongoing measures to reduce bear attractants like fruit-bearing crabapple trees, was third.
Biggest Environmental Concern:
Logging of old growth forest
The continued logging of old growth forest is a concern shared by many Pembertonians and Whistlerites alike, and ranked as the most pressing environmental issue in this year's inaugural category.
In the same vein, wildlife habitat destruction and alteration—which, of course, old growth logging is a major contributor to—came in second, with the environmental impact of Pemberton's sprawling bike trail network coming in a close third.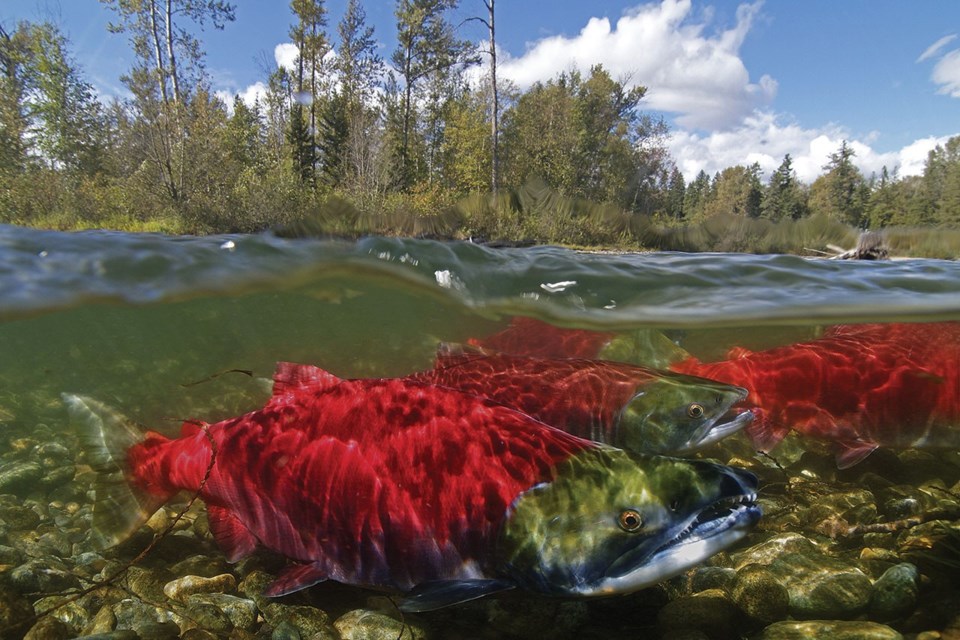 Species of greatest concern:
Birkenhead sockeye
Sockeye salmon may not have the adorable furry qualities of some of the other animals on this list, but they are such a vital part of the local ecosystem that Pembertonians voted them—and specifically Birkenhead sockeye—as their species of greatest concern.
Sockeye returns to the Birkenhead have taken a dive in recent years, and the Lil'wat, in partnership with senior levels of government as well as local stewardship groups, have taken the lead in monitoring and conservation efforts.
The sockeye's cousin, the Chinook, tied with mountain goats for second place, while the hard-to-spot wolverine came in third.