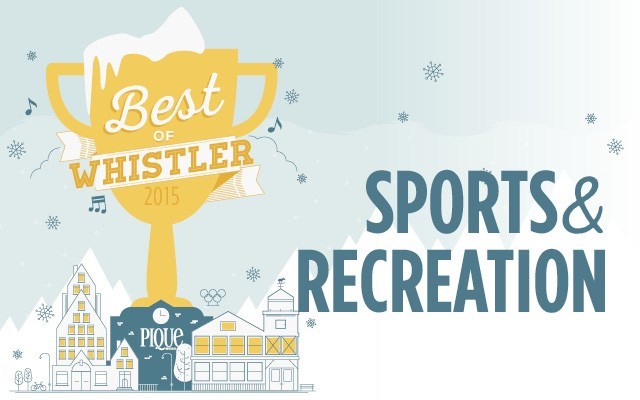 Favourite Summer Athlete
Brandon Semenuk
Over the course of the first two Crankworx events of the season, it would have been easy to wonder if 24-year-old Squamish product Brandon Semenuk had passed the torch.
It was fellow Canadian Brett Rheeder who had won both the Rotorua and Les Deux Alpes slopestyle events convincingly and who was on-track to become the first Triple Crown of Slopestyle champion on the newly formed Crankworx tour.
But when coming back to the Sea to Sky for the Red Bull Joyride, Semenuk regrouped and put down a jaw-dropping run to once again thrill the throng of local fans. Semenuk scored a 93.80, and even though it was his fourth Joyride title, it proved to be the dearest to Semenuk's heart.
"It's the biggest for me. Everyone of those wins (at Crankworx) is the biggest one I've had," he told Pique at the event.
Semenuk, who also went behind the wheel for Rocket Rally Racing this summer, also wasn't ready to pass on the title of favourite summer athlete, winning handily.
Enduro rider Jesse Melamed placed second and downhill rider Finn Iles was third.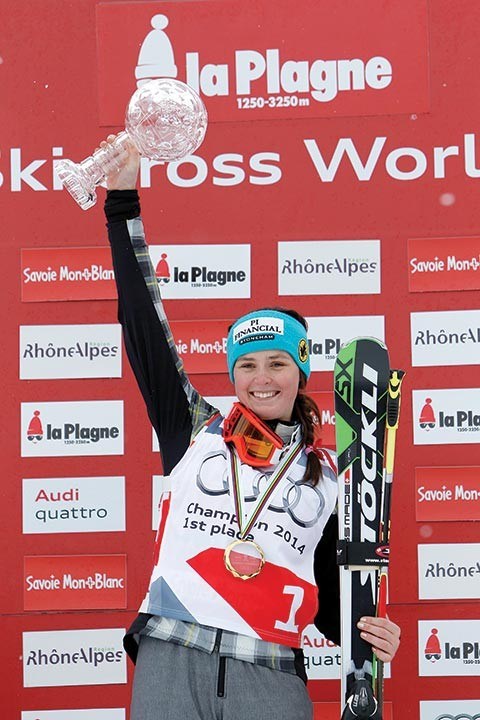 Favourite Winter Athlete
Marielle Thompson
This honour was one that followed ski-cross racer Ashleigh McIvor-DeMerit well into retirement.
Winning Olympic gold on home soil will do that for you.
But this time around, 2014 gold-medallist Marielle Thompson captured voters' imaginations and took the win.
The 23-year-old had an up-and-down season in 2015, as she started on a monstrous pace, romping to wins in the first three races of the year before a knee injury at the World Ski Championships dashed her hopes for a third FIS Crystal Globe.
Thompson returned from injury in style, winning in Montafon, Austria to reassert her position on top of the heap.
"It's nice to know I can ski at full intensity again without injury being on my mind," Thompson told Pique in an email after the win.
Skier Mike Douglas took the proverbial silver while McIvor-DeMerit, skier Julia Murray and snowboarder Mercedes Nicoll found themselves in a three-way deadlock for third.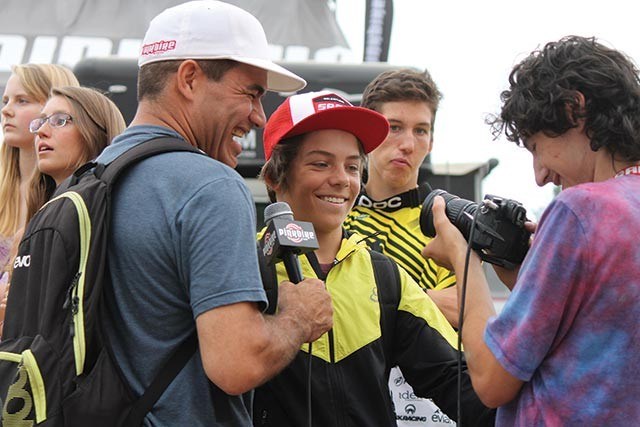 Favourite Junior athlete
Finn Iles
The 16-year-old Iles is already such a legend in the resort that it would take a heroic effort to knock him from his perch in this category.
Well, age will probably disqualify him first.
Iles cemented his Whistler legacy in 2014 with a riveting campaign to allow him to compete in the Whip-Off World Championships as an underage rider. Then he went out and he won the darn thing.
In his first year with Team Lapierre Gravity Republic, injuries kept Iles from defending his title this past August, but he took the runner-up position at the Les Deux Alpes whip-off contest.
Twelve-year-old downhill biker Finn Finestone placed second and well-rounded competitor Kaitlyn Hill, a gymnast and golfer among other pursuits, was third.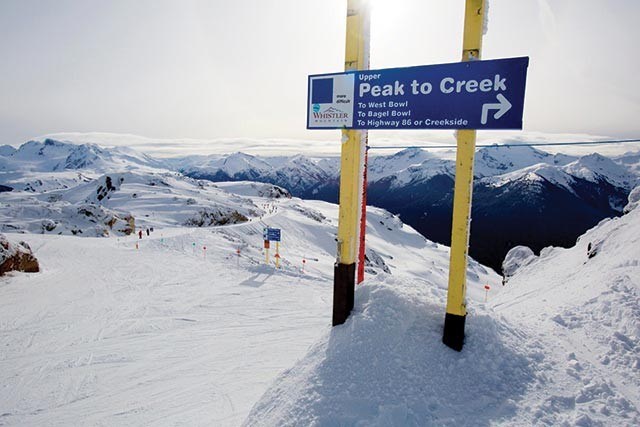 Best Run on Whistler Blackcomb
Peak to Creek
Size doesn't always matter.
But sometimes, it's a factor.
The 11-kilometre ski run on Whistler Mountain has been delighting skiers and riders for nearly a decade of action after opening in 2006.
The run is a little over 1,500 metres of continuous downhill. Those on their way down can take a few moments to extinguish burning thighs on any of the benches installed along the run.
With the bottom end of the run ushering skiers and riders into Creekside — and often, directly into a booth at Dusty's for a well-earned pitcher and a snack — it's hard to see Peak to Creek being unseated anytime soon.
7th Heaven and Panorama are the most likely challengers, finishing second and third, respectively, in this year's voting.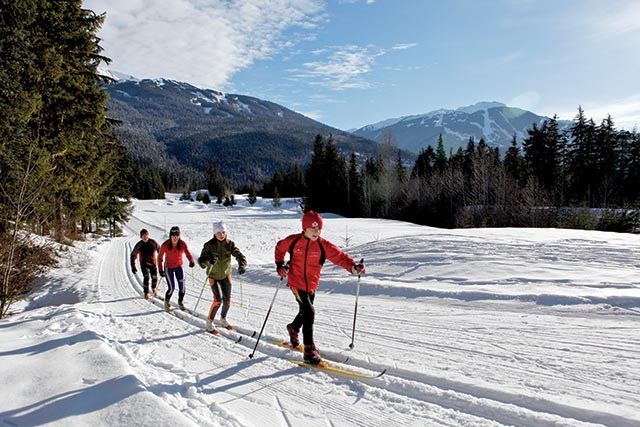 Best Cross-Country Ski Trail
Lost Lake Loop
Not all skiing in Whistler will send you downhill.
The more horizontal option of cross-country skiing is popular among Whistlerites as well. And when they choose to power their legs along some trails, the Lost Lake Loop is the choicest challenge of all.
Mayor Nancy Wilhelm-Morden says receiving so many votes was an honour, (the Panorama Loop also podiumed in third place), especially with low-snow conditions stretching sport lovers' patience last winter.
"It's remarkable given the challenge that we had last year," she says.
Wilhelm-Morden explained crews work hard to create the best conditions possible — which should be a little easier this winter with a good amount of snow with which to work. Skiers get glorious views of Whistler and Blackcomb mountains during the day, while being open until 8 p.m. each evening provides a different experience when the sun goes down.
"At night, it is just magical," she says. "The proximity to the village is such a selling feature for the Lost Lake Trails. They're groomed daily for classic and skate skiing, and the grooming is really top notch."
Whistler Olympic Park in the Callaghan Valley was the second-place finisher.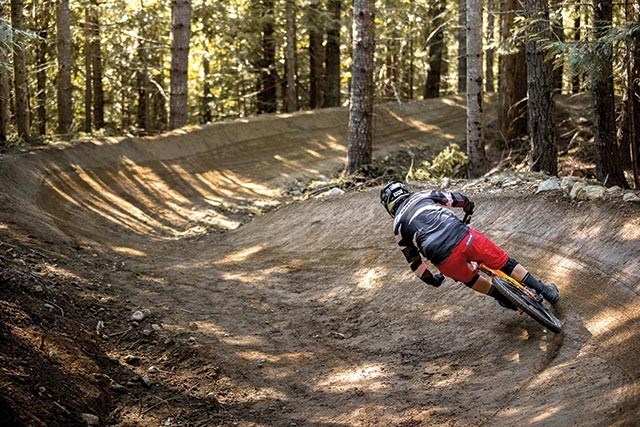 Best Bike Trail
A-Line
Local downhill bikers are a discerning bunch, grading on a pretty steep curve.
But there's one trail that always seems to end up with an A-plus.
Whistler Mountain Bike Park's iconic A-Line topped the heap once again this year.
Ryan Dunfee of Teton Gravity Research posted a glowing review of "possibly the most famous bike park trail in the world" this summer.
In the article, posted in August, Dunfee praises the grippy dirt, likening an appreciation of the trail to, essentially, an addiction.
"Once you start mastering the roller-coaster ride that culminates in the trail's biggest table, the heroin of A-Line's airtime highs will have you scratching your arms at the base, itching for more," he wrote.
Crank It Up was a distant second, while Dirt Merchant and Top of the World knotted for third place.



Best WORCA Toonie Race Sponsor
WORCA (Oct. 29)
None of the Toonie Race regulars would have been overly happy to see the season wrap up.
But it went out in the best way possible.
The annual Halloween Costume Ride is always a draw and, this year, was the top ride for all who took part.
Contestants rode the Lost Lake course and, instead of a catered après, there was a post-race potluck at the PassivHaus.
Last year's winner, Fanatyk Co. and Southside Diner, was beloved once again with a second-place showing for their hosting of the June 18 race.
And in third was the penultimate race of the year on Sept. 10, put on by Slopeside Supply, Lucia Gelato, Mount Currie Coffee Co., Scandinave Spa and Peaked Pies, saw riders go for a dip at Scandinave following the après.



Best thing to do while Injured
Netflix
In what may be the biggest upset in all categories, the introverts won out over the extroverts (well, we hope).
Injuries come with the territory of the Whistler lifestyle, and it's always advisable to have a plan when your number eventually comes up.
Past sufferers have generally turned to Drink (this year's second-place option) to numb the pain, but in a win for financial literacy, those in recovery can enjoy all-you-can-watch Netflix for the cost of a cheap sixer.
Netflix's Canadian service has improved dramatically for offerings of popular and critically acclaimed syndicated movies and series alike in recent years, but with the hooks of well-reviewed originals like Narcos, Orange is the New Black, BoJack Horseman, Wet Hot American Summer: First Day of Camp and House of Cards just to name a few, this category will be hotly contested for years to come.
A trip to the Scandinave Spa placed third.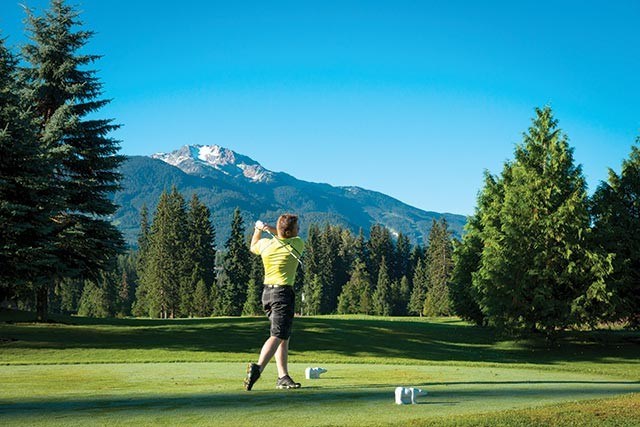 Best Golf Course
Nicklaus North
Nicklaus North Golf Course director of golf Andrew Smart knows the competition is stiff when people are looking to hit the links.
"There's so much good golfing in the valley," he says.
So it's always thrilling for whoever ends up acing the category and, in this case, Nick North had emerged once again. With sunny and warm conditions for much of the summer, golfers had a prime year to knock around the white, dimpled ball.
"We're excited to be recognized once again," Smart says. "It was a good year. We had exceptional conditions."
The par-71, 6,961-yard course opened in 1996 and was designed by "The Golden Bear," Jack Nicklaus, who won 18 career majors.
The Fairmont Chateau Whistler Golf Course took second place and Whistler Golf Club placed third.



Best Sports Event of 2015
Crankworx
Crankworx expanded its international footprint this year, creating a true world tour by adding a spring stop in Rotorua, New Zealand.
So in addition to the glory of individual victories in Les Deux Alpes and, of course, here in Whistler, several year-long titles — and the cash prizes that went with them — were on the line when the top riders in the world descended on the resort in August.
Crankworx Events Inc. general manager Darren Kinnaird credited those who put in hours upon hours making all the races go off without a hitch, even when a torrential downpour unleashed its fury on the signature Red Bull Joyride event.
"It showcases the hard work that's all (done by) the team working: the volunteers and the athletes and the sponsors, the team at Whistler Blackcomb and the RMOW (Resort Municipality of Whistler) — everyone working to make it happen every year," Kinnaird says.
Kinnaird explained how Crankworx has woven itself into the sport's fabric to the point where Whistler's August event is basically a Mecca for the world's best riders — and their legions of fans.
"(People love it because of) the evolution of mountain biking and how Crankworx has become so much a part of the culture of that and the core of mountain biking," he says. "For a lot of people, it's their summer Christmas."
Subaru Ironman Canada finished the voting in second place while the World Ski and Snowboard Festival rounded out the podium in third.



Best Fitness Facility
Meadow Park Sports Centre
Any athlete will tell you it's one thing to be the best. It's another to stay there.
Even with its perennial dominance in this category, Meadow Park Sports Centre took that challenge to heart with some key renovations to its already-popular offerings.
The Resort Municipality of Whistler (RMOW) brought in a new filtration and piping system for the pool, improvements to the sauna and new weight equipment.
But all the latest fitness gizmos and gadgets wouldn't result in roughly 270,000 visits a year and 5,000 individuals taking part in official programming at the centre without a worthwhile all-around experience.
"It's a whole combination of things — the programming, the great facilities themselves, the friendly staff," Mayor Nancy Wilhelm-Morden says. "The Meadow Park staff frequently achieve 10 out of 10 on the secret shopper scores as part of the Chamber's weekly service check."
Whistler Core Climbing and Fitness Gym placed second. The Core features a huge climbing area, free weights, cardio equipment and two fitness studios for indoor cycling, yoga, circuit and other classes. Bounce was third.



Best Adventure Tour
Ziptrek's Sasquatch Tour
In a revamped category, a brand-new entry took the crown.
Even though we asked voters to specify which tours in particular they loved, perennial winner Ziptrek wound up on top again with its Sasquatch Tour.
The attraction opened in August to great fanfare as the Sasquatch line; at over two kilometres long, it's the longest such zipline in Canada and the U.S. The full meal deal of a tour starts with the Sasquatch before participants hop on the Eagle Tour — five more ziplines taking them down Blackcomb Mountain.
Ziptrek is looking to boost the excitement even further when it starts up the Sasquatch again next June.
Though the Sasquatch line is only one component of the tour, it's clearly the crown jewel, according to Ziptrek director of marketing Warrick Hubbard.
"In no uncertain terms, it's the significance of that line ultimately being the longest in Canada and the U.S.," he says. "It's all about longest, highest, fastest.
"When you think of where it launches from, up on Blackcomb Mountain at almost the 1,500-metre mark, you're way up there. The views are spectacular. The zipline rides amazingly quick, but when you're on a line of that length, you obviously have some time to take in the surroundings."