Best Coffee: Mount Currie Coffee Co.
There are plenty of places to grab a great cup of joe in Whistler, but there can only be one undisputed King of Coffee. For the past three years, that's been Mount Currie Coffee Co., the Main Street haunt that has been giving the resort its daily caffeine fix since 2012.
For owner Chris Ankeny, the key to his shop's success is in the details.
"Starting with great coffee from both Pallet Coffee Roasters and Elysian is a good start, and then having that attention to detail when we're preparing each cup and putting a lot of energy into it also goes a long way,' he says.
Like a lot of winners on this list, the independent shop couldn't do it without its stellar staff.
"I have to thank my staff 100 per cent for this award, because it's mostly them," Ankeny says. "They take good care of our regulars who come back every day and spread the good word."
Function Junction's Camp Lifestyle + Coffee Co. cracked the list for the first time in second place, while Moguls rounded out the Top 3.
________________________________
Best Hot Chocolate: Blenz
Blenz has taken home this exalted honour five years running. And it's easy to see why: the Olympic Plaza mainstay sources the finest Belgian milk, dark or white chocolate chips, giving it's cocoa a rich, silky finish. But there's also another ingredient in every cup that is just as essential, says owner Wendy Kendall.
"The reason we are constantly voted Best Hot Chocolate is twofold — quality ingredients and it's prepared with love," she says. "The love comes from our philosophy that this coffee shop is our workplace 'living room.' When people come in, we try and greet everyone by name and offer them food and a beverage. All staff at Blenz Whistler are trained that this is our 'work' home, we are here to have fun and make everyone feel special."
Moguls Coffee House was second this year. Starbucks rounds out the top 3.
________________________________
Best Breakfast: Elements
When you're trying to make ends meet in an ultra-pricy resort such as Whistler, you look for savings anywhere you can find them.
In a town that loves a good breakfast, it's that focus on affordability that keeps locals coming back to perennial morning favourites, Elements and Wildwood, says Brian Dixon, who manages both restaurants.
"It just comes down to value," he says. "And we offer that all year round, we don't just pick certain seasons — locals are important to us all year."
Elements, with its modern spin on breakfast classics, beat out the more traditional Wildwood this year after both joints tied for top spot on our 2015 list. Stonesedge made the list for the first time in third.
________________________________
Best Quick Lunch: Ingrid's Village Café
Burger King may have coined the slogan "Have It Your Way" back in the '70s, but when Whistlerites want a fast, fresh lunch just the way they like it, they head over to Ingrid's Village Café.
"We are consistent in serving quality products that people know they can order and adjust it as necessary," says co-owner Fiona Minton. "They make the sandwich how they want it, and I think people like that." Claiming this category for the fifth year in a row, Ingrid's has been serving up hearty, made-to-order sandwiches, soups and salads from the heart of the stroll going on two decades.
Gone Village Eatery repeats in second place this year, while taco joint La Cantina nabbed the bronze.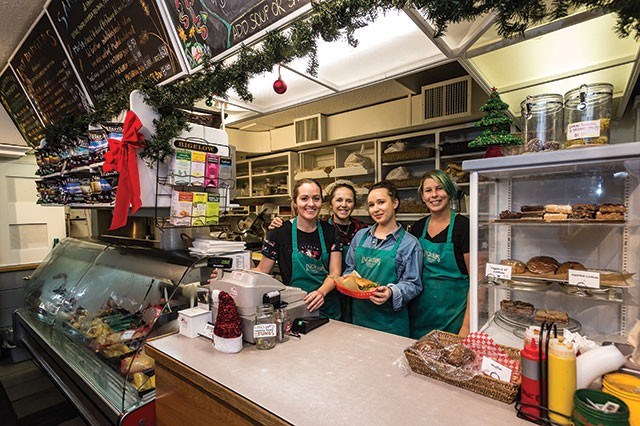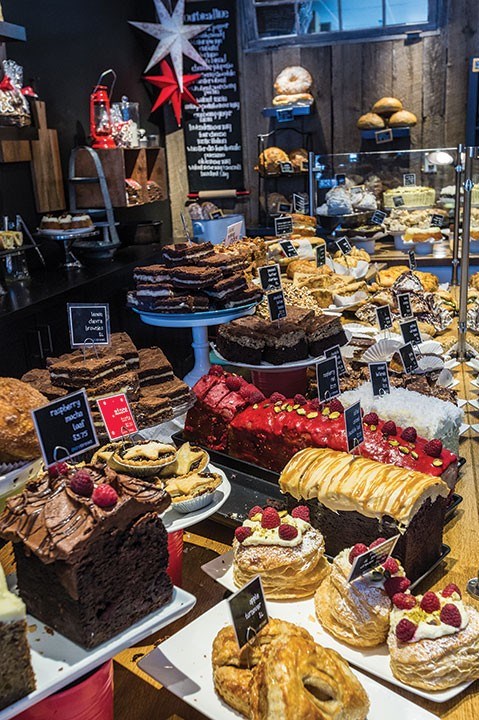 Best Dessert: Purebread
When it comes to sweet treats, the first name on most locals' chocolate-covered lips is Purebread, Whistler's longtime mecca for decadent desserts. Taking home this honour for the second year, co-owner Mark Lamming says the beloved bakery manages to strike a balance between the old and the new.
"We continually create consistent products but also generate new things. It keeps people coming back to see what else we can come up with," says Lamming. "We do that both for ourselves and the customer. We get very bored, so we're constantly looking at what's new out there."
Purebread comes from humble beginnings, starting out of the Lammings' kitchen years ago before making the jump to local Christmas markets. Today the bakery has locations in Function, the village and Downtown Vancouver to satisfy your sweet tooth.
Rimrock Café and its indulgent dessert menu claimed second again this year, while Cows' legendary ice cream earned third.
________________________________
Best Wine List: Araxi
It's been a year of milestones for sommelier Samantha Rahn and the team at Whistler's iconic fine-dining institution, Araxi.
Staying busy with the opening of its sister restaurant, Bar Oso, in late 2015, along with the luxurious private dining space, The Cellar, Araxi continues to put its stamp on Whistler's dining scene. The Cellar also gave the award-winning Rahn more room in which to play.
"With The Cellar came more wine. It's allowed us to expand our inventory a little bit," she says.
With its 1,000-bottle wine list, Araxi offers a healthy selection of B.C. wines along with rare and unique vintages from the rest of the world.
"I try to make a concerted effort to choose the best wines not only from the Okanagan, but from other regions of B.C. as well," Rahn says. "We also try to keep a good balance of all the international favourites, and bring in a few exciting wines that maybe people haven't seen before and always represent the best of B.C."
Bearfoot Bistro and its massive wine list claimed second. Rimrock finished third.
________________________________
Best Patio: The Garibaldi Lift Co.
The GLC's spacious patio overlooking Skier's Plaza was under construction for most of 2016, which had manager Mike Wilson worried the beloved après spot might relinquish its Best Patio title this year.
"We won? Even with all our orange tarps and everything?" Wilson laughs.
The good news is the second phase of the patio's renovation, which will offer chilly guests a covered, heated canopy to hide out from the cold, should be open by the time this issue hits newsstands.
"It's going to really increase our curb appeal down in Skier's Plaza," Wilson says. "We're looking to really animate the space and I think it'll be super exciting for our business."
The top 3 for 2016 was identical to last year's poll, with The Longhorn in the No. 2 spot and Table Nineteen at the Nicklaus North Golf Club in third.
Best Burger: Splitz Grill
Many of Splitz Grill's customers weren't even born when the gourmet burger joint first opened its doors in 1997. It has still yet to lose this category. When co-owner Cathy McGeough was asked what it will take to knock Splitz Grill's juicy, all-organic two-handers off the burger throne, she was understandably cagey. "I'm not gonna reveal that!" she exclaims.
The restaurant's unrivalled reputation hasn't got them resting on their laurels, either.
"You know, we appreciate it. I don't think (winning) gets old," says McGeough. "There are new people here every year, so we're always scared that maybe tastes have changed. But they don't seem to, do they? Hopefully a good burger is always what we're going to give 'em."
Garbo's Grill in the Carleton Lodge was a distant second this year, and The Cure Lounge at Nita Lake Lodge dropped a spot to round out the list.
________________________________
Best Pizza: Creekbread
A lot of restaurants pride themselves on taking a local approach to their cooking. Whistler's favourite pizza joint eight years running takes that philosophy one step further.
"We try to do our best to support our local farmers and suppliers, but not only them, but our local community as well," says Cameron Taylor, manager of the beloved Creekside restaurant.
Creekbread goes to great lengths to give back to Whistler, hosting regular fundraisers for a whole host of causes big and small, and donating a portion of its proceeds every Tuesday night.
It also helps that Creekbread doesn't dish out the typical pizza pie.
"We're a little bit more unique compared to traditional pizza," Taylor says. "I mean, we're putting potato on pizza and a lot of people haven't heard of that. We come up with some pretty unique and fun ideas and that's what we like to do."
Pizzeria Antico's authentic old-school 'za came in second, with late-night guilty pleasure Fat Tony's in third.
________________________________
Best Steak: Hy's Steakhouse
Hy's Steakhouse is a throwback to an era when no detail of a meal was too small. Between sourcing the best Canadian prime beef available, butchering each steak by hand, and making Ceasar salad right at diners' tables, it's clear why Hy's has been the No. 1 name in steak since 1955.
"We're Canada's premier steakhouse for a reason," says GM Michael Kyle. "We do everything at a very high level and we also take great care in making sure that if things aren't perfect, we rectify them. We're empathetic and we just do a great steak."
Hy's is undefeated in this category since it launched in 2010, but The Keg put up a good fight in second place, with the Four Seasons' Sidecut bringing up the rear.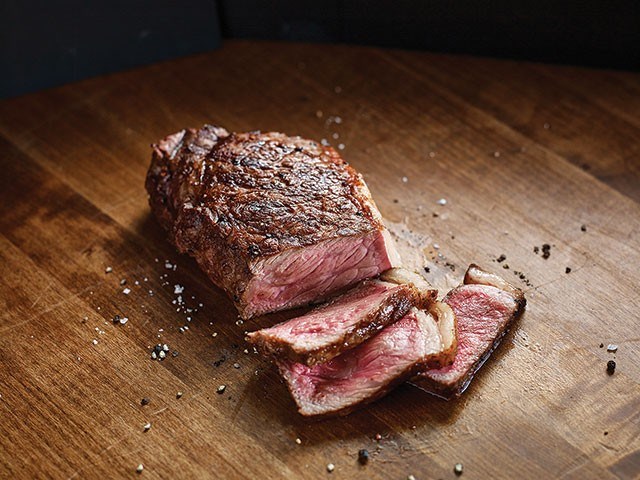 Best Sushi: Sushi Village
When you've been the life of the party in Whistler for as long as Sushi Village has, there's not a lot of reason to change the formula that's made it the go-to spot for sushi, with a side of debauchery, going on 31 years.
"We keep the classics, and try new things occasionally," says manager Dee Toporowski. "Sake margaritas forever."
Opened in 1985 when sushi was still fairly new to the West Coast, Sushi Village has since developed into an anchor of Whistler's thriving Japanese community.
Sachi Sushi, opened by a former Sushi Village disciple, was voted second, while Nagomi Sushi in the Upper Village rounds out the list.
________________________________
Best Vegetarian: The Green Moustache
Nicolette Richer always had big plans for Whistler's favourite vegetarian spot, The Green Moustache. But even she was surprised by how quickly things have taken off since opening the franchise's first restaurant in the village four years ago.
"I thought we'd have one café in Whistler and that eventually I might sell it after a few years and have money to be able to go to school. Honestly I didn't realize we'd have such a huge impact in our community and beyond. It's definitely a surprise," says Richer. "But once we saw how people were taking to it and how much they appreciated it, there was no turning back. We knew we had to create more of it for people that don't have access to this kind of food."
The Green Moustache, which also now counts locations in Function, Squamish and Vancouver, appears to have a bright future ahead after the Richers' appearance on the hit CBC show, Dragons' Den. (The episode airs Feb. 15.)
"A lot of our stuff is quite simple, but at the end of the day it's why I think we're so popular," adds Richer. "It's simple, clean and unprocessed, so we just appreciate that people value what we serve."
The rest of the list was the same as last year, with Ingrid's Village Café grabbing the silver and Naked Sprout in the final spot.
________________________________
Best Takeout: Samurai Sushi
Samurai Sushi is no stranger to taking home the hardware for Best Takeout. So much so, that Ru Mehta has run out of ways to thank the community for what has become something of an annual tradition.
"I dunno, buddy. What did I answer last year?" he asks when phoned for a comment. Mehta was reminded that he said he wasn't much for soundbites after winning this category in 2015. "I guess I haven't grown as a person at all this year, have I?" he jokes.
But despite his lack of personal development, Mehta does have some ideas on what makes his unpretentious sushi place such a hit with locals.
"We know people are in a rush at lunch and we try and get it out quickly, but obviously we want to maintain a certain level of quality, too," he says. "Somehow we've managed to find that balance."
In second once again was Pasta Lupino. La Cantina, which added a second location in Function this fall, took third.
________________________________
Best Overall Experience: Rimrock Café
In the fickle food world, there are plenty of restaurants out there continually trying to reinvent themselves in order to keep up with diners' evolving tastes. And then there are places like the Rimrock Café, where the upscale menu of seafood and game has remained largely unchanged for years,You know what they say: if it ain't broke, don't fix it.
"I think that's one of our secrets," says longtime co-owner Bob Dawson. "People can come back year after year, or every couple years, and they get the same quality and the same service. People like that when they're going out. There are no surprises."
Rimrock took home the award for Best Overall Experience in 2015 as well, and once again beat out Araxi for top spot, with Bearfoot Bistro wrapping up the list.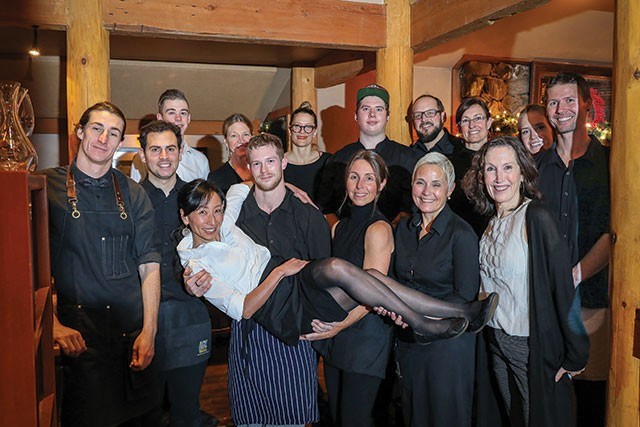 Best Value: El Furniture Warehouse
El Furni's $4.95 food menu is Whistler's worst kept secret at this point. It's the place to go for starving lifties and thrifty families alike. But manager Luke Evans believes there's more to the bar's appeal beyond the bang you get for your buck.
"I think we create a really good vibe in the restaurant," he says. "We're a snowboard town, and I think we relate a lot to the people coming to Whistler. We have a very laidback, fun atmosphere, and I think our staff is very friendly. We try to make everyone feel at home."
21 Steps' modern comfort fare took second, with the high-end Rimrock Café in third.
________________________________
Best Chef: RD Stewart of Red Door Bistro
Last year, RD Stewart of the critical darling Red Door Bistro, lost the Best Chef category to Araxi's James Walt by just two votes.
This year, Stewart got a bit of payback on his former boss, proving that revenge isn't always a dish best served cold.
"I hope James isn't mad," Stewart laughs. "It's always nice to be recognized."
The restaurant burst onto the scene when it opened in 2014, wasting no time climbing to the top of many best-of lists. And while Stewart is no stranger to this award from his time at the now closed La Rua, this is the first time he's been named as top chef at the West-Coast-inspired French bistro.
"The restaurant is unique in itself," says Stewart. "It's the quality of the product, the price point, the service. It's just something unique to Whistler that no one else really does."
Walt misses out on top honours for the first time since 2013, while Erin Stone of Stonesedge repeats in third.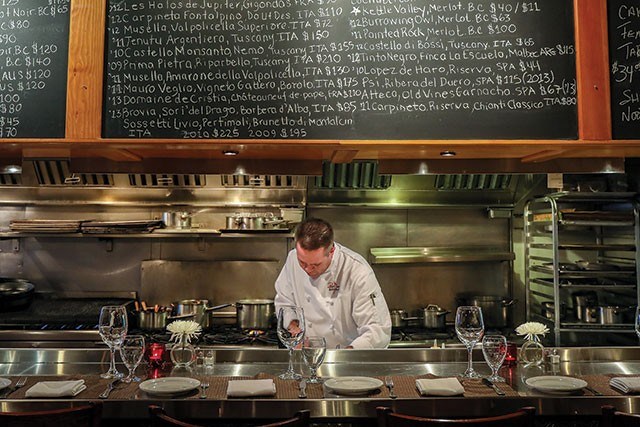 Best Server: Rich Budd at Hy's Steakhouse
It's fair to say Rich Budd was a little taken aback when he learned of his win in this category. The Niagara Falls transplant has been at Hy's for five years, and he'd be the first to tell you this honour wouldn't be possible without the team beside him.
"I just try to go above and beyond every time we take care of someone here. We have an awesome staff that really makes that easy," says the 33-year-old.
Brandi Woodnut of Sushi Village was singled out in second place, while the Rimrock's Johnny O wasn't far behind her, missing out on the silver by just two votes.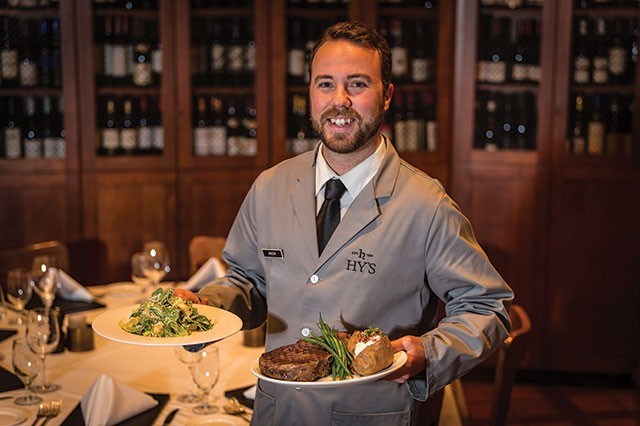 Best Service: Rimrock Café
In a town where most employers practically have to beg workers to fill jobs, Rimrock Café has had virtually the same waitstaff in place since Jean Chretien was prime minister. That's not an exaggeration: co-owner Bob Dawson says the junior waiter on the payroll has been at the Creekside restaurant for over a dozen years.
"We have quite a lot of very polished staff who are proud of the product we serve, and they know their stuff," Dawson says. "We are consistent, both in food and in service."
The staff at Araxi earned enough votes for second in this category, while the newly renovated Earl's Restaurant came in third.