Best Bike Tech: James Barrett, The Fix
"It's good to be back!" James Barrett says when notified of his 2016 win.
Barrett last enjoyed the top honour as Best Bike Tech in 2012, and immediately put it into perspective.
"I truly stand on the shoulders of giants in this place."
Barrett says he's been second place the last two years: "I'm always the bridesmaid," he says with a laugh. And there is a trend in some categories in which the three finishers bounce around from place to place, year to year.
"At The Fix, 90 per cent of the business is local, or recommendations from locals," says Barrett. "We don't actually advertise very much — we're kind of this weird little anomaly tucked away in Function.
"We get a lot of the industrial-strength repairs. A lot of shops send bikes to us that they can't actually fix. We make parts, we do everything.
"If there's something that can't be done with a hand drill — we'll jump in and do it for real," he says with a laugh. "That's why we're The Fix. Full stop."
Thomas Thacker at Coastal Culture is second, while Kevan Kobayashi at Fanatyk Co. is third.
________________________________
Best Boot Fitter: Kevin Ahearn, Fanatyk Co.
Victory is sweet for the No. 1 boot fitter, especially when he beat out perennial favourite George McConkey at McCoo's, who was No. 1 last year and is now in the No. 2 spot.
"Awesome! Oh my god!" says Ahearn.
"I've been in the running for so many years. I've been third, second, — second, then third for so many years," he says.
The secret?
"Great support staff — all of the boot fitters," he says. "We have a lot of customers, we certainly have a large following of locals we help — and then they send us their vacationers."
Good news travels by word of mouth. And reputation.
"If they get me when they walk in the door, then they come back and get someone else, they always get great service — we have a great support staff."
McConkey at McCoo's is second, while Barry Allison at Whistler Village Sports is third.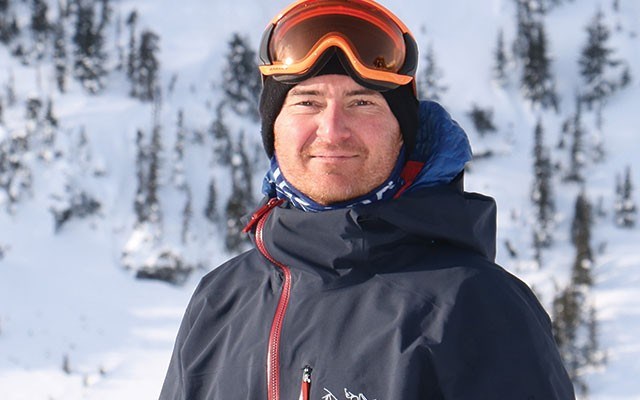 Best Ski Shop: Fanatyk Co.
2016 marks 20 years for Fanatyk Co. and the third year in a row for the stoked staff to be named Best Ski Shop.
"We couldn't be happier," says Kevin Ahearn — who also took top honour for best boot fitter.
With Fanatyk Co. on top, second place went to Coastal Culture, and third place to Comor Sports — shaking up 2015's showing with Summit Sport and McCoo's.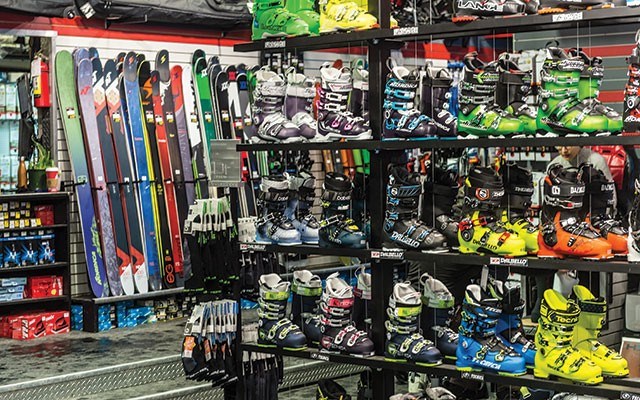 Best Snowboard Shop: Showcase Snowboard Surf & Skate
This is the third year in a row that Showcase is the top favourite for Whistlerites.
And the staff is stoked.
"That's amazing," says manager Deanne Gale.
Showcase underwent a renovation recently, and Gale credits the larger space and new feel that just adds a new dimension for the dedicated staff and its collective spirit.
"And we just make sure we're offering amazing brands."
When notified of Showcase's win, Gale had just completed a repair for a boarder who'd snapped a binding in the minus-15 temperature in mid-December.
"That's what we do — just help people get back up the mountains."
Gale has been in Whistler for 15 years and says she can't imagine being anywhere else.
"I love it here. Showcase runs in my blood."
Voters named The Circle as second, with Prior as third.
________________________________
Best Bike Shop: Coastal Culture
The new kid in town: Coastal just opened in April this year and they've charted a meteoric rise to the No. 1 spot as Best Bike Shop.
When notified of this No. 1 honour, Ryan Brown exclaimed: "Whoa! That is cool! To take that away from Fanatyk Co. — that's neat," he says with a laugh. "That's very exciting."
Brown is a co-owner with Thomas Thacker and they say that — like many Whistler businesses — it's their staff that can make or break it. So the owners give a shout-out to the crew: Christian Stalder, Justin Roy, Caleb Jones, Matt McGuiness and Anna Szkraba.
Brown also says it's dedication to service that comes from living what you love.
"I've been here a long time. If anyone asks how we do a good job, we're all passionate riders — obsessed might be the right word," he says.
Fanatyk Co. earned second place, while Evolution got third.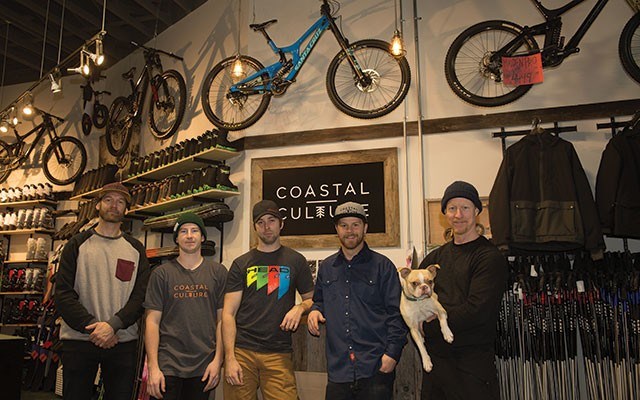 Best Clothing Shop: The Beach
"Wow! Four years in a row!" says Jaime King, buyer and general manager of the Village's Best Clothing Shop.
"We are so incredibly honoured and humbled to be recognized again this year," she says. "It really means the world that our community continues to hold us in such high regard."
King says their formula to curate an eclectic, fashion-forward mix of brands and products to keep people excited about coming back works well.
"We love what we do and are so fortunate that our vision translates to our customer. We can't wait to show you what we have coming for 2017."
King says staff is key, but so is the creative freedom she gets from owner Peter Elzinga. And a big thank-you goes to fellow Whistlerites who send new customers to the shop.
"Thank you from the bottom of our bikini-obsessed hearts!" she says.
Second place goes to Aritzia, while The Gap and the Re-Use-It Centre tie for third.
________________________________
Best Jewelry Store: Keir Fine Jewellery
"We're so excited," says Keir's manager Dorothy Harwood when notified of the win. Another perennial favourite, Keir credits its reputation for quality and unique collections that bring customers back — whether they're local, regional or worldwide.
"A lot of locals come to us for gifts for special occasions, and we have a lot of return customers."
Harwood said Keir also has a loyal following of visitors who purchase something on their first trip here, but then contact the store for future purchases whether they are in town or not.
"And we have a really strong Lower Mainland client base — many of them prefer to buy from us than from somewhere in the city."
Keir opened a second shop in the Fairmont this year, increasing it's exposure.
"This year has been really exciting," says Harwood.
Ruby Tuesday takes second spot, and Rocks and Gems came third.
________________________________
Best Store for Browsing and Exploring: Rocks and Gems
Getting the vote for the No. 1 spot for browsing and exploring is "sweet," says sales rep Jake Scott.
This store has become sort of indoor landmark over the years, says Scott.
"Whistler is known for its outdoor experiences, but a lot of the feedback I get from customers who come into the store is that they've been coming to Whistler for quite a while but never saw this place until a couple of years ago — they've learned about this place and now come here every year."
Scott says the owners prefer a sort of word-of-mouth, organic form of promotion. "It's been part of the culture for awhile," says Scott. "I think it's the locals who usually direct the people who are following a travel guide or Trip Advisor when they come here."
The Re-Use-It centre came second, while Showcase and The Beach are tied for third.
________________________________
Best Law Firm: Race and Company
Upon learning the news that the firm has won for another year, Karin Emond says: "We are thrilled. It is an honour to be voted Best Law Firm again this year. Our team of lawyers, paralegals and legal assistants work hard to provide practical and quality legal services in the areas of personal injury, real estate, business, estates and family law.
"Winning this award means that all of our hard work is appreciated and recognized by the community," Emond says. "Thank you, Whistler!"
Second place goes to Double Diamond Law Corporation, and Mountain Law Corporation was third.
________________________________
Best Grocery Store: Nesters Market
Ian Fairweather, manager of Nesters, says another Best of Whistler accolade comes as the store just marks 30 years.
"That's exciting," he says. "We're very honoured. I appreciate it very much."
Fairweather says the community is supportive, which makes all the difference.
"We're very fortunate to be retailing here."
Second place went to Creekside Market, while the newly opened Your Independent Grocer debuted in third spot.
________________________________
Best Customer Service: Nesters Market
Hands down a favourite, Nesters also takes first place as Best Grocery Store.
"We've got a great customer base and a great relationship with our customers, and with the community," says Ian Fairweather, the manager of Nesters.
A staff of about 130 keep the market humming — and 50 per cent of that staff is seasonal, says Fairweather.
Second place goes to Fanatyk Co. and third to McCoo's.
________________________________
Best Automotive Shop: Barney's
For the third year in a row, Barney's takes top honour as Best Automotive Shop.
"Get out of town!" joked owner Scott McKay.
The secret?
"Good, honest hard work," says McKay, who credits his "great staff" and the repeat customers who keep him busy.
"We stay pretty steady all year — over the Christmas break we slow down a little bit. Other than that it's non-stop," he says.
'I'd just like to thank everybody for their support over the 30 years I've been here."
Second place goes to SMD Automotive, and Local Automotive third.
________________________________
Best Tradesperson: Ben Towsey, Twin Peaks Engineering
"Thanks a lot for your continued support," says Towsey. "We appreciate the work that comes in and the fact that we work with some great clients and builders.
"It's a great little community here."
Ian Jackson at Eco Alpine is second, and plumber Dan Ashton is third.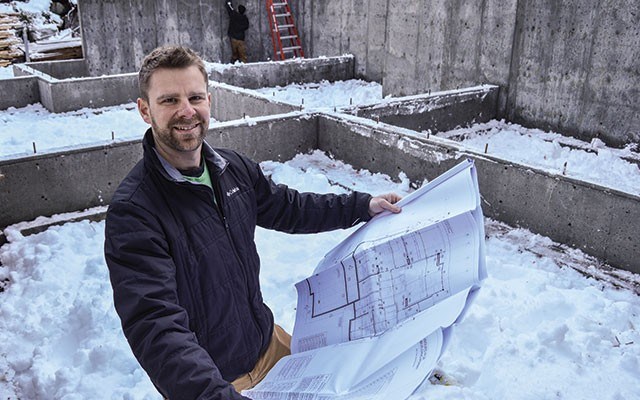 Best Shop for Deals: The Re-Use-It Centre
Scoping out the deals at this popular spot means you're likely to find something whenever you walk through the door — and you'll be helping the community because the Whistler Community Services Society (WCSS) gets 100 per cent of the profits. So that cozy warm sweater you picked up for $7 will keep you toasty and help someone in the community.
WCSS Executive Director Cheryl Skribe says: "There isn't a week that goes by that someone doesn't walk into the Re-Use-It Centre, telling us they had a hand in starting it. This really speaks to the investment the community has in the Re-Use-It's long and important history. It's a Whistler success story that we can all be proud of."
The Clearance Centre in the Village comes second, while The Gap takes third place.
________________________________
Best Overnight Accommodation: Fairmont Chateau Whistler
It's a winning formula at the Chateau, as it is voted Best Overnight Accommodation again.
"These awards not only acknowledge the hard work and diligence of each and every Fairmont colleague, but also a passion for genuine hospitality," says Norman Mastalir, Managing Director at Fairmont Chateau Whistler. "We would like to thank the readers and voters of the Pique's "Best of Whistler" Awards for recognizing our teams' efforts for the third consecutive year."
Many pollsters voted "camping" as a close second in a tie with Nita Lake Lodge, while Four Seasons came in third.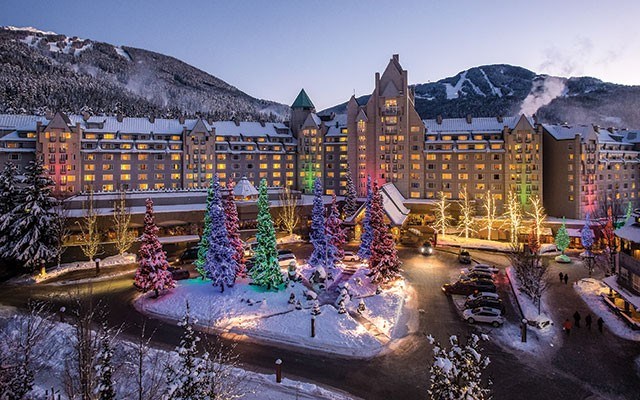 Best Front Desk Service: Four Seasons
It's Team Four Seasons.
Christine Kim, Public Relations and Communications Manager for Four Seasons says teamwork sets The Four Seasons apart.
"Four Seasons Whistler has an amazing front desk team, which is made up of the perfect blend of passionate and hardworking individuals who spice up every day with their very unique personalities. "This passionate team from all around the world places pride into every interaction by providing the best anticipatory services for our guests — and insights into the magical town we live in," says Kim.
Holly Charlton, Front Desk Guest Relations Officer, adds: "We have the best front desk service in Whistler because we will always try and go the extra mile, and we always have a smile on our face while doing it."
Fairmont Chateau Whistler is second, while Nita Lake Lodge is third.
________________________________
Best Mortgage Specialist: Chantel Jackson, CIBC
"That's exciting news. I am very honoured and grateful to be voted Best of Whistler this year," says Jackson of her first-place win after being second for the past two years.
"I love helping people to become happy homeowners, it means a lot to me.
"It's all about creating quality connections in our community and making a difference for people to continue living the dream here."
Second place is a tie between Karen Garrett at Sea to Sky Mortgages and Jon Decaigny of RBC. Eileen Craig at Sea to Sky Mortgage is third.
________________________________
Best Realtor: Dana Friesen Smith, with re/max
Whistler realtor Dana Friesen Smith takes the top spot again for 2016, having last won this category in 2014.
Friesen Smith says: "I am so honoured and blessed to live in the community that I love, and to serve the people — who also love this community — and their housing needs. Whistler is a town that continuously pushes the limits, aims high, and looks for the fun in what they do and I try to incorporate those same qualities into my career."
Second place goes to David Lewis, and third to Carolyn Hill.
________________________________
Best Financial Institution: TD Bank
Once again TD takes top spot this year.
Second place goes to RBC, while Blue Shore Financial takes third.