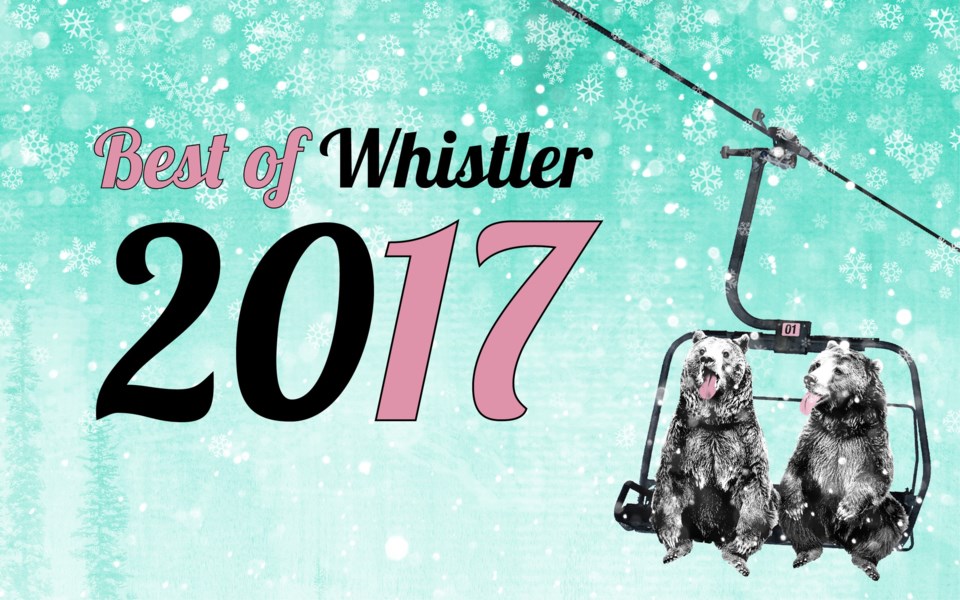 Let's face it: 2017 was a rough year by almost any standard. Between a scandalous billionaire prone to childish outbursts in the White House, a new celebrity scandal at every turn, and what feels like the increasingly toxic cultural conversation on social media, the countdown to a new year could not come soon enough.
Whistler isn't immune to the trends of the wider world piercing our happy little bubble, either. Like other tourism hotspots around the globe, Whistler has had to contend with the growing impacts of its own success in the realms of housing, affordability and transportation, issues that came to a head this fall with the byelection to fill the late Andrée Janyk's vacant spot on council.
All of these challenges make one realize how important it is to take time to appreciate the positives of life — and there are plenty of those to go around in this one-of-a-kind ski mecca.
So, as we look ahead to a brighter new year, let's take a look back at the best places, people and things that Whistler had to offer in 2017, as voted by you, Pique's savvy readers.
Quintessential Whistler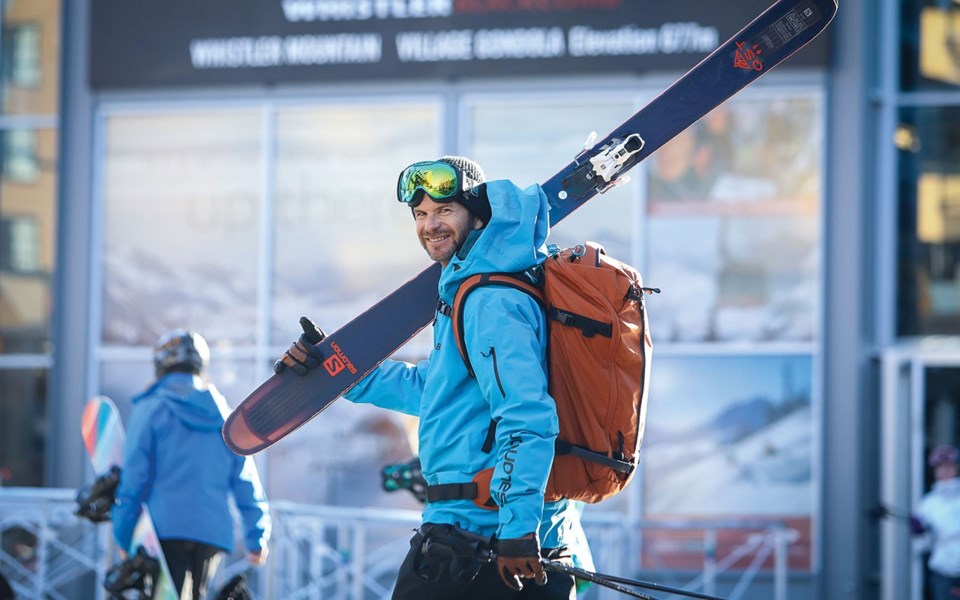 Favourite Whistlerite
Mike Douglas
After a year off, your perennial favourite Whistlerite Mike Douglas retakes the throne.
The filmmaker, who took this category four years running before being displaced last year by the late Chili Thom, wasn't expecting to get the call this year.
"I thought my run was over," Douglas says.
"This is definitely a surprise, for sure."
It was an interesting year for the founder of Switchback Entertainment, one in which he parted ways with Whistler Blackcomb after a 20-year partnership.
"It's a bummer, for sure, but I'm trying to not wallow in it, and just looking at it as an opportunity to maybe try some new stuff," Douglas says, adding that he's fielded a few calls from interested parties and has a new batch of adventure documentary films in the works with Salomon.
"We're starting to branch out, and not just doing ski-based content," he says. "We've got a climbing film in the works right now, and we've got another sort of hiking adventure film that we're scripting right now, so that's kind of exciting."
As for right now, he's enjoying the start to the ski season — the best he's seen here in 30 years.
"When the snow is here, people are smiling, and a lot of those things that kind of drive us nuts on a day-to-day basis sort of slip away," he says.
And when it comes to his Best of Whistler accolade, he's humble as always.
"I think I'm as surprised this year as the first year, because I really, really didn't expect it," he says.
"So that's really cool."
DJ, radio host, go-go dancer, filmmaker (and so much more) Ace Mackay-Smith took second place for the second straight year, while Brendon "Quatchi" King and Chili Thom tied for third.
Best Excuse For Being Late
On the hill
Whistlerites again had a lot of creative excuses for being late this year, but there's just no better alibi than the mountains themselves.
This year, the hill was Whistler's best reason for being late.
Your second best excuse was that you were hitting it hard, and are now terribly hungover. You poor thing.
The classic Whistler powder day was third.
But as always, the real gold comes in the less common answers.
One of you uses the vague-but-untouchable "It's a woman thing" as an out, while another relies on their hermit crab's diabetes.
Other interesting answers included being subpoenaed to testify against Donald Trump, being attacked by raccoons and getting caught in the space-time continuum (hate it when that happens).
Best Neighbourhood
Alpine Meadows
(Henceforth known as The Alpine Meadows Excellence Award for Best Neighbourhood)
We get it, Whistler. Alpine is the best.
So good, in fact, that as far back as we can tell, there has never been a year in which the neighbourhood has not won this category.
Is it the dedicated core of longtime locals? An elaborate, annual vote manipulation using masked IP addresses? Maybe Alpiners are just really diligent survey takers? (Nerds.)
Or is there something more diabolical at play? (Pique editor Clare Ogilvie lives in Alpine... perhaps the fix is in?)
No, it's legit. Alpine is just really good, you guys.
So from this year on, we're following through on a promise from years past: Alpine will retire undefeated and this category will henceforth be known as the Alpine Meadows Excellence Award.
Then maybe next year Whistler Cay can finally take its true place at the top.
In second place this year was Creekside, while Bayshores took third.
Best Whistler Trend
Active mountain lifestyle
Whistler was built on relentless determination and the spirit of adventure, and it thrives on the millions who converge to witness the mountain culture for themselves.
So it's really no surprise then that your favourite trends this year are all so inherently linked: the active mountain lifestyle, the friendly and social atmosphere and the après that ties it all together when the day's wanderings are done.
Some of your other favourite trends were toques all winter (for those low-maintenance hairstyles); an increase of women riding the bike park; taking your own wine to restaurants; being environmental; greasy moustaches; volunteering and giving to charity; the legend of Piñata Steve; and just generally loving life.
This category consistently produces the most positive results, and it's always a treat to see what readers love about this place.
Keep spreading those good vibes, Whistler.
Worst Whistler Trend
Housing woes
It can't all be pow days and après, of course, and Whistlerites had plenty to gripe about this year, too.
No surprise to anyone, housing woes (lack of inventory; high rents and shared rooms) were Whistler's worst trend in 2017.
In second place was doing drugs, followed by complaining and trolling on social media.
Some of the other things you hated this year, in no particular order: not showering/a general lack of hygiene (you know who you are); littering; man buns; high heels in the snow; losing stuff; being pantsed in the middle of the village; and "ignorant yet self-righteous online criticism."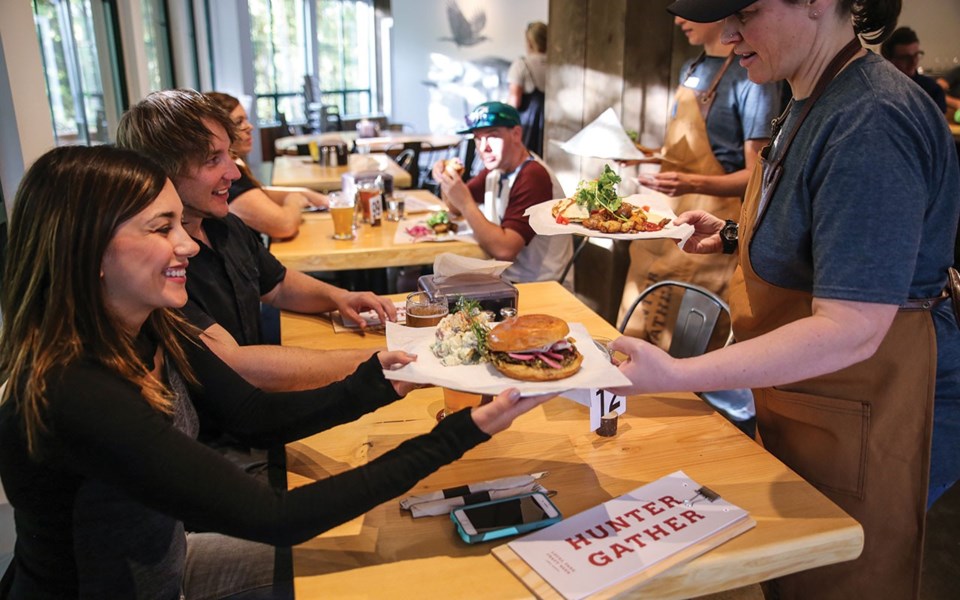 Best New Business
Hunter Gather
Since opening in June, Hunter Gather has fast become a locals' favourite.
"I'm kinda floored, I guess. It's amazing," says co-owner Grant Cousar, after hearing the restaurant was Whistler's favourite new business.
"We've put a lot of work into it and we've had a lot of great feedback that we're on the right track. It's amazing for it to be recognized that way by the public."
Cousar and his wife Hilarie, co-owners of Whistler Cooks Catering since 1999, launched Hunter Gather with a simple goal in mind.
"We just saw that there was kind of a slight void in the space of good, easygoing, casual dining mixed with great craft beer," Cousar says, adding that the response so far has been amazing.
"We're just thrilled to be here, and thrilled to be running a great business, and wow — thanks for the recognition."
Forged Axe Throwing in Function Junction took second, while HandleBar Café and Après came third.
Best Whistler Myth
Dual Mountain
Whistler certainly has a mythical aura to it; the type of place that inspires tall tales and hidden mysteries.
You had some good ones again this year, even if some are a little farfetched.
Some notable myths you thought were worth mentioning: the Dolphins of Lost Lake; Sasquatch and Bigfoot are sighted here regularly; tourists have to book the gondola; the weather is different depending on which mountain you're on; and the legend of the Scandinave Spa's hidden gold.
Several of you also seem to think your friend's penis is a myth. No comment there.
But once again, the myth of Dual Mountain takes the top spot.
If you don't know how to find it, ask a local. Whistlerites are very friendly and helpful, and will surely point you in the right direction.
That moguls are stored over the summer came second, while Whistler's famous trained bears came third.
Best Free Thing To Do
Hiking
It's no secret that affordability is a challenge in Whistler, but there's plenty you can get up to if your bank account is buckling (or if you lost your card after getting a bit too sendy in the village).
Hiking anywhere and everywhere was the top choice for cheapskates, followed by hitting the lakes and biking the local trails.
Honourable mentions go to the skatepark, the disc golf course, the library, dogwalking and breathing the fresh mountain air.
Best Tip For Saving Money
Eating and drinking at home
If you're looking to trim that budget, you should probably just become a hermit.
According to Pique readers, eating and drinking at home is the best way to save money, followed by not drinking at all (yeah, right) and avoiding the clubs and bars.
You can also get another job, hunt for deals and specials, trade your car in for a bike, shop at the Re-Use-It Centre and consist entirely on day-old slices from Misty Mountain or baked potatoes from IGA.
Whatever you gotta do to get by.
Best Photo Op
Peak of Whistler
Whistler was built for photo ops, and according to Pique readers, there is no better place to get that perfect shot than the peak of Whistler.
The top of Seventh Heaven was your second favourite, followed by the classic (but entirely lacking in creativity) anywhere.
Best Council Decision
1,000 beds
It was another busy year at the Whistler council table, and continued work on housing was your favourite decision at municipal hall this year.
The RMOW is targeting 1,000 beds over the next five years, but how many of those will be realized remains to be seen (we'll see which side of the coin this answer falls in Best of Whistler 2022).
In the wake of B.C.'s worst wildfire season on record, Whistlerites also appreciated council's decision to increase funding for and emphasis on wildfire prevention.
The decision to purchase the 81 hectares of waterfront green space known as the Parkhurst lands came third.
Most Questionable Council Decision
Pay parking
No surprise here. Whistlerites despise pay parking.
While council has its reasons for bringing it back, the return of pay parking was far and away your least favourite decision from the council table this year.
Not enough action on housing was your second choice, followed by considering spending $4 million on an artificial turf field (the budget is now closer to $3 million, but we have a feeling that's not going to change the sentiment from those who don't agree).
Some of you seem to think every single decision made by council is questionable, which is a bit much.
But with a municipal election scheduled for October, voters will have their say in 2018.
Biggest News Story
Worst wildfire season
While Whistler wasn't directly affected aside from a couple of weeks of smoky skies, the worst wildfire season in B.C. history was your choice for biggest news story of 2017.
More than 45,000 British Columbians were forced from their homes as almost 900,000 hectares of forest burned across the province.
The cancellation of the Pemberton Music Festival was second and grappling with continued growing pains and overtourism was third.
What Is One Thing You Would Change About Whistler?
Affordable housing
Whistler is a special place, and many of you wouldn't change a thing about it — which means you must have stable homes and well-paying jobs.
The majority of Pique readers, however, would add more affordable housing, improve affordability and lower the cost of living, as well as finding a way to better manage traffic.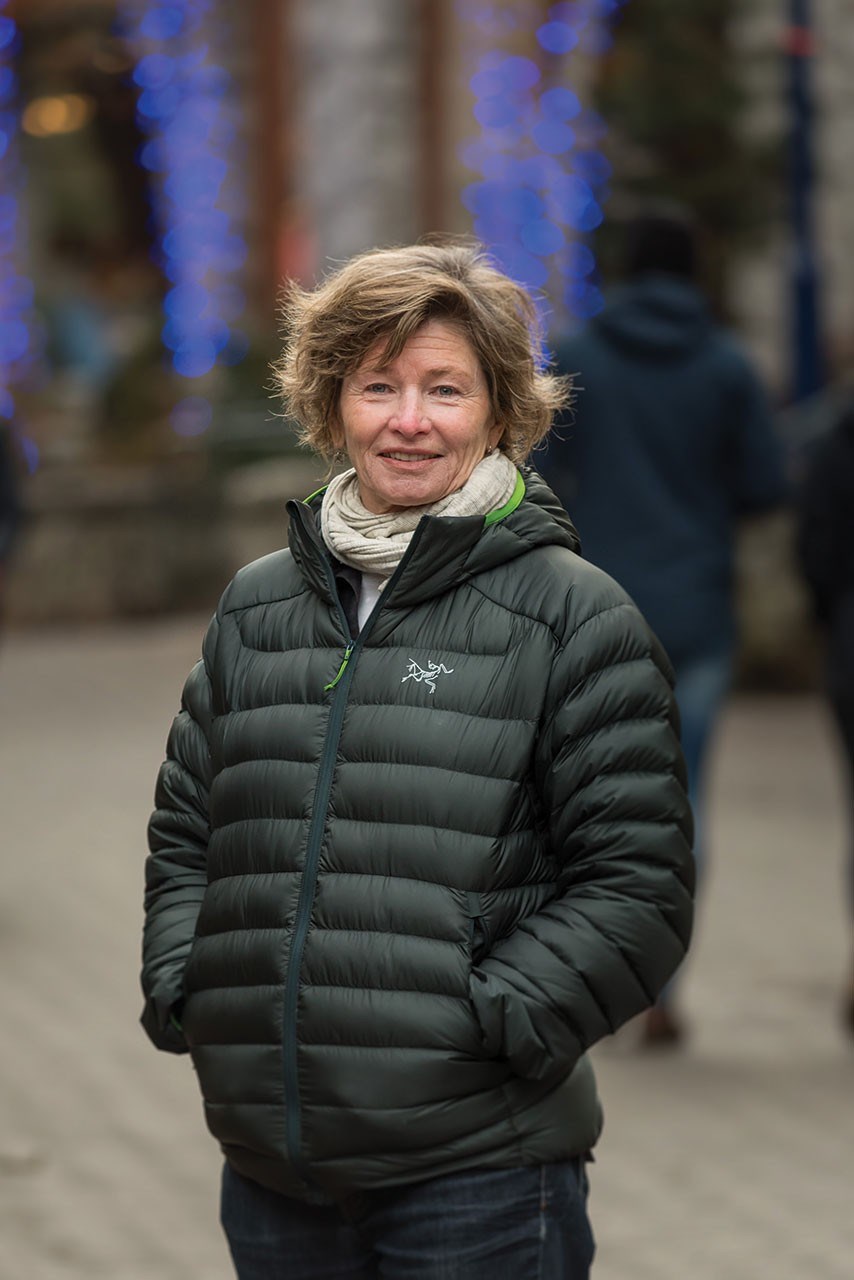 Favourite Individual Volunteer
Cathy Jewett
It was a big year for Cathy Jewett.
She claimed a seat on council after a resounding victory in October's byelection, and now she's been named the town's favourite individual volunteer.
Jewett has lived in Whistler since 1976 and boasts decades of volunteer experience, including as a founding member of AWARE, as current chair of Communities That Care Whistler, as a WORCA ride guide, a docent at the Audain Art Museum and various roles on local and provincial Parent Advisory Councils (among other things).
But even with all that experience, this is her first time winning this award.
"I am incredibly honoured... There are so many amazing volunteers in this community, and really, how do you choose?" Jewett said.
"I thank the community for the recognition, and send my praise on to the people that maybe aren't recognized for what they do."
If she had to pick one, Jewett said her work with Communities That Care would be her favourite volunteer effort, followed by volunteering at the Audain.
Heather Paul came second, while Emily Kane from Zero Ceiling was third.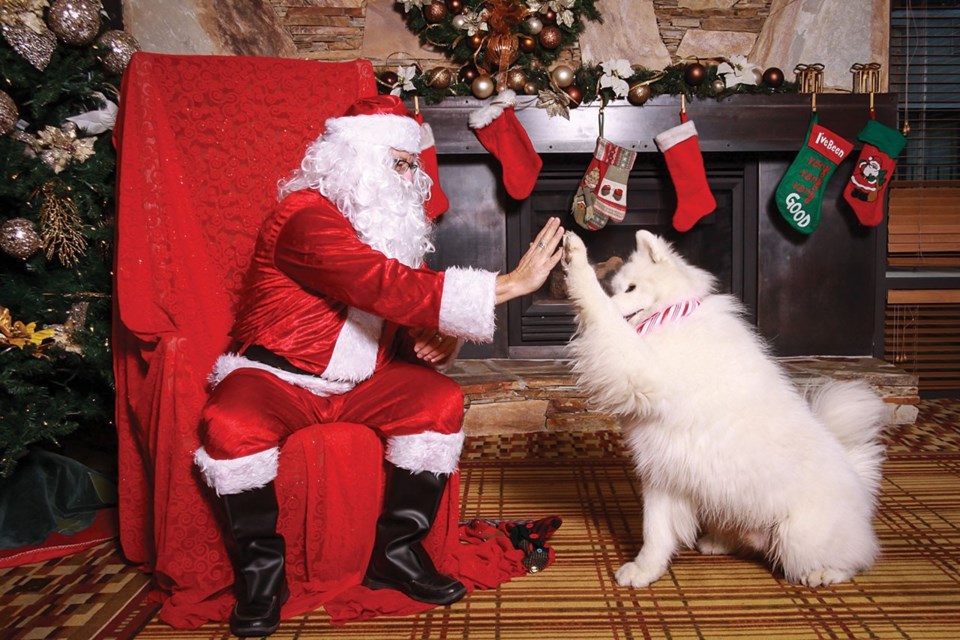 Favourite Non-Profit Organization
Whistler Animals Galore
There are more than enough worthy choices in this category, but your selections for favourite non-profit organization provide a glimpse into the hearts of Whistlerites.
People here clearly love animals mountain biking and exploration, so it makes sense that Whistler Animals, Galore, the Whistler Off-Road Cycling Association and Whistler Search and Rescue were your top three choices for favourite non-profit.
Best Rainy Day Activity For Families
Escape! Whistler
Whistler's favourite rainy day activity is once again Escape! Whistler.
"That's super awesome. We're pumped. We are so happy with the support that we've gotten from the town and loving that people are still loving to come and see us," says co-owner Kori Klusmeier.
The Escape! team was hard at work on a brand new pinball-machine-themed room when the call came in, with a goal of having it open by Christmas.
"It will be like you broke into an old '80's video game arcade and somehow you get sucked into one of the machines. It's going to be pretty cool," Klusmeier says.
"We're going in a completely different direction with this one, and it's going to be really fun."
The Meadow Park Sports Centre was second and catching a movie at the Village 8 was third.
Best Place To Take A Visitor If They're Only Here For One Summer Day
Peak 2 Peak
If you've got a friend in town for just one summer day, there's one experience that stands above the rest.
Whistler Blackcomb's Peak 2 Peak gondola is a marvel of engineering, and a great place to show off the valley's beauty to newbies.
A journey to Lost Lake came in second (for the nudity, we're guessing), while alpine hiking in the mountains was third.
Why not do them all in one day?
Best Place To Take A Visitor If They're Only Here For One Winter Day
Skiing/Snowboarding
If you've only got one winter day with your guest, though, it's all about the mountains.
Take them skiing/snowboarding, hit the Peak 2 Peak to experience both mountains, and test their mettle with a trip up Whistler Peak Chair.
Which Is Best? Whistler Or Blackcomb?
Blackcomb
Blackcomb Mountain was a little later opening this year than its neighbourly competition, which must have upset a fair few of you.
After all, Blackcomb is now undefeated in this category, taking home three straight victories.
But Whistler has kept it competitive each year, giving us hope that the resort's namesake mountain can eventually pull off the victory.
Everyone loves an underdog.
Best Backcountry Or Slackcountry Tour
Flute Bowl
Make it three in a row: Flute Bowl is once again your favourite backcountry/slackcountry tour (even though it's technically a marked in-bounds run at Whistler Blackcomb).
In second place was "It's a secret," followed by Khybers.
Cafés and Restaurants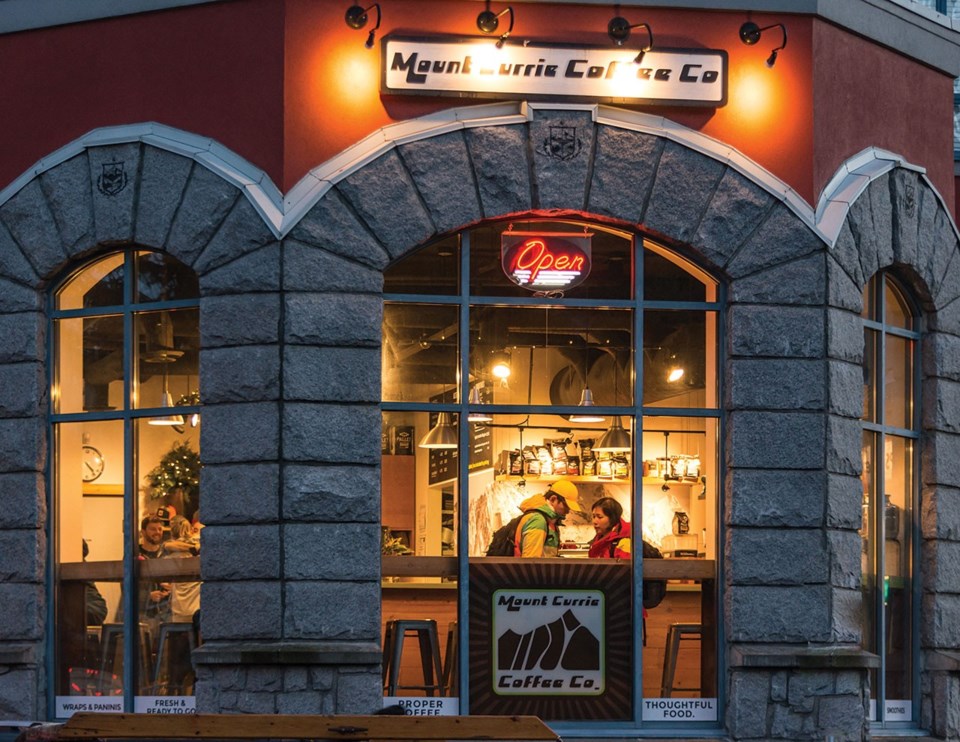 Best Coffee
Mount Currie Coffee Company
Since first claiming this category in 2014*, Mount Currie Coffee Co. owner Chris Ankeny has been looking over his shoulder at his fellow caffeine-hawking competitors. But the anxiety was all for naught, with the locally owned shop claiming the Best Coffee title for the fourth year in a row.
"Every year, I wonder if I'll get that call," Ankeny says. "Every year there's more and more great coffee in Whistler. Pikolo's doing a great job, Camp's doing a great job, Purebread. There's obviously the chains that do what they do, but I feel that third-wave, specialty coffee is definitely booming and growing. That's why I always want to try to make it better."
Moguls was second in 2017, and Camp lifestyle & coffee was third.
A previous version of this feature said Mount Currie Coffee. Co. has won Best Coffee category since 2013. The village shop has in fact won the category ever year since 2014.
Best Hot Chocolate
Blenz
In a year of major change at Blenz Coffee, one thing has remained the same: the village shop's dominance in this chocolatey category.
"What an amazing year at Blenz Whistler: new partners, Caitlin and John Corvino, a beautiful renovation, and now the seventh consecutive win for Best Hot Chocolate," says co-owner Wendy Kendall. "2018 is gearing up to be fantastic!"
The secret to Blenz's dominance is the quality of milk, dark and white chocolate chips it uses. No chalky powder here! The result is a rich, silky smooth cup of cocoa that tastes like a warm hug in the icy cold.
Moguls earned enough votes for second, while Mount Currie Coffee Co. was third.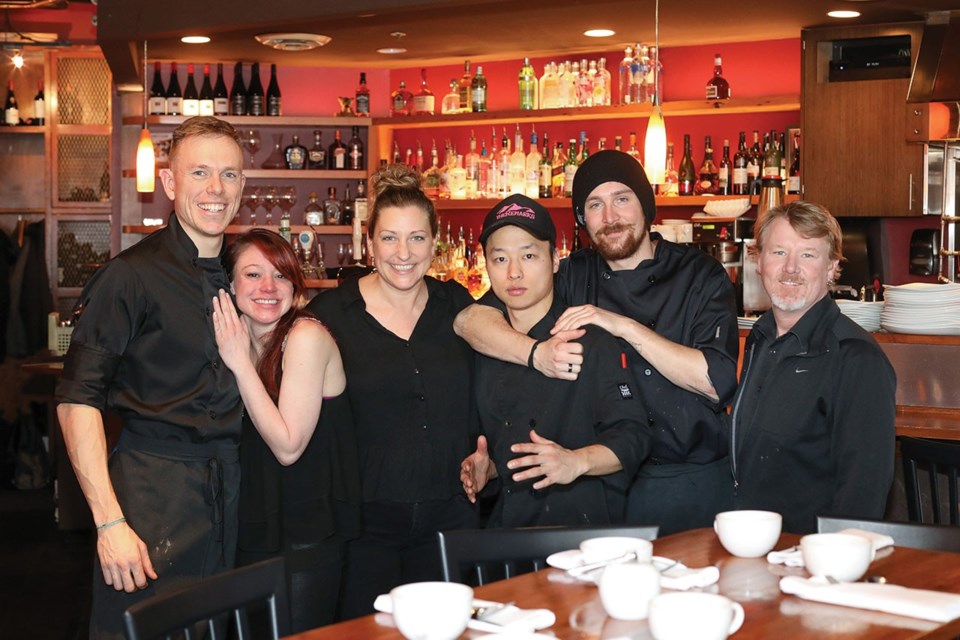 Best Breakfast
Elements
Word on the street is the staff at sister restaurants Elements and Wildwood, which counts two Whistler locations, gets mighty competitive when it comes time to decide whose breakfast reigns supreme.
In 2015, both restaurants tied for first before Elements squeaked out a win over its friendly rival last year. In 2017, Elements' elegant spin on morning classics once again edged out Wildwood's more traditional village location. But it should be noted that if you tallied the votes between Wildwood's central and Function locales (the latter officially came in fourth), the diners would have earned a collective first place this year.
Rounding out the list was beloved greasy spoon, the Southside Diner, in third.
Best Quick Lunch
Ingrid's Village Café
Consistency is the name of the game at Ingrid's Village Café, and it also explains the village eatery's sway over the lunch crowd for the past six years.
"We make our product fresh and try to get everything as fresh as we can," says co-owner Fiona Minton. "We've had a good run of staff over the years and it just seems to work. It's quite a small operation and people keep coming back."
Ingrid's is especially popular with local workers in the village who rely on the small but mighty café for a steady stream of hearty sandwiches, homemade soups and plenty of delicious vegetarian and vegan options in a hurry.
Hidden gem Gone Eatery grabbed second spot this year. Urban taco bar La Cantina — which just added a location at Nesters — claimed third.
Best Dessert
Purebread
It's going to take a minor miracle for Purebread to relinquish its claim on Whistler's Best Dessert, a title it has won every year this category has existed. The place to go when you're hankering for a decadent, indulgent treat, Purebread keeps reinventing itself with a slew of new and unique baked goodies while still satisfying the regulars with their longtime favourites.
But it's the down-home vibe that owners Mark and Paula Lamming have worked hard to nurture that keeps sweettooths coming back.
"People enjoy the product, but really it's the whole package: people enjoy the service and the feeling of the place," says Mark. "We continue to provide the best quality products that are innovative and new. It's a combination of that and the feeling when people come in"
Rimrock Café — with a special shoutout for its legendary sticky toffee pudding — won second again, and it was another repeat in third: Cows Whistler.
Best Wine List
Araxi Restaurant + Oyster Bar
With Toptable Group, owners of Araxi, adding another beloved resort restaurant to its portfolio this year, Il Caminetto, it's given wine director Samantha Rahn ample opportunity to do more of what she loves.
"Over the last year we did beef up some of our Italian selections, which is definitely one of my specialties and one of my passions in the world of wine," she says. "It's been lots of fun to expand that section on Araxi's list."
The award-winning Rahn has also played around with her 1,000-strong wine list thanks to Araxi's special event space, The Cellar, which has been open now for two years.
"We've done lots of really interesting wine pairing events down there, and of course a huge Cornucopia this year with 10 really distinctive wine pairing dinners. It's really been a busy and fun year on the wine frontier."
Bearfoot Bistro's herculean wine list repeats in second this year, with Rimrock Café coming in third.
Best Patio
Garibaldi Lift Company
The Garibaldi Lift Company's new patio has been in place for just over a year, and, according to manager Mike Wilson, it has come with some big changes at the beloved bar overlooking Skier's Plaza.
"It's kind of revolutionized our business and took us to the next level," he says.
Featuring an expanded seating area with five toasty fire pits and a selection of comfy lounge chairs with panoramic views of the mountain, the renovated area has become even more sought after at Whistler's No. 1 après spot.
"I never thought the day would come that (the patio) would be more in demand than the inside of the GLC, but on some days it is," Wilson adds.
Nicklaus North's scenic patio at Table Nineteen took second, with The Longhorn picking up third place.
Best Burger
Splitz Grill
When Peter Goff and his partners took over Splitz Grill in November, he knew there were a few things that wouldn't change at Whistler's cherished burger joint.
"Don't worry, we're keeping the burger recipe and we're keeping the Splitz Sauce," he reassures.
After 20 years under previous owners Cathy and Paul McGeough, Goff saw an opportunity to build on Splitz's legacy and "bring it into this next decade."
"There's a menu diversification or complements we want to look to get into. We think we can really accentuate our poutine, fried chicken and, as we get going, build our systems," he says.
Splitz has won this category for as long as it has existed, but there's no shortage of quality two-handers being dished out in Whistler. This year, Garbo's Grill in the Carleton Lodge claimed the second spot, while The Beacon Pub and its charred wagyu beef burger landed in third.
Best Pizza
Creekbread
There's a sign when you walk into the Creekbread kitchen, home of Whistler's favourite pizza nine years running, that reads: Food is love.
"That's something that means a lot to us," says manager Cameron Taylor. "We care so much about our community and try to give back as much as possible, and one of the ways we do that is through our food."
Known for its all-organic, wood-fired pies, Creekbread stands out from the rest of the late-night pizza crowd with an emphasis on unique, farm-fresh ingredients.
"There are a few things you don't normally see on pizzas, such as potatoes. People don't often see that and are usually blown away. But it's one of our bestsellers," relays Taylor.
Pizzeria Antico and its authentic Neopolitano 'za repeats in second this year. Fat Tony's finished in third.
Best Steak
Hy's Steakhouse
Hy's has remained the No. 1 name for steak in this country since opening its first location in Calgary* over half a century ago. In a town renowned for world-class dining and service that goes the extra mile, the old-school steakhouse fits right in.
"In terms of quality and service, I think we're a cut above the rest," says GM Michael Kyle. "With Whistler being such a resort-driven town and with people from all over the world, I take pride in my staff being able to take care of guests and provide the kind of service they would expect anywhere else in the world. I just think we provide a top-notch product with top-notch service from a top-notch staff."
The Keg Steakhouse reclaimed silver in this category, while Sidecut in the Four Seasons repeated as well in third.
*An earlier version of this article incorrectly stated that Hy's original location is in Edmonton, not Calgary. Pique regrets the error.
Best Sushi
Sushi Village
In a year that Sushi Village lost its beloved founder, Miki Homma, claiming the title of Best Sushi took on special significance.
"I really think that having the community support behind us has been so special, especially on the day of his memorial (in September) when all the other sushi restaurants closed. That was something so unexpected and so thoughtful," says co-manager Dee Toporowski.
Sushi Village and its endless flow of good times and sake margaritas has become known since its opening in 1985 for its lively atmosphere and fun-loving staff — a vibe that stemmed first and foremost from Homma himself.
"Keeping that spirit alive is the goal," Toporowski adds. "Keep serving sake, making people happy and keeping the party going — it's what he'd want."
Sachi Sushi, which was launched by a former Sushi Village staffer, came second. Nagomi Sushi in the Upper Village brought up the rear.
Best Vegetarian Food
The Green Moustache
When it comes to the link between a plant-based diet and good health, the proof is in the pudding for Green Moustache founder Nicolette Richer.
"We make nutritious food that's delicious; that's key," says Richer, of Whistler's fave spot for vegetarian eats. "And the fact that we're strictly plant based is also really important, especially with all the recent research in the medical world saying that a plant-based diet is the way to go to reverse disease."
Since opening its first location in the village five years ago, The Green Moustache has grown into a veritable green food empire, with locations now in Function, Squamish, two in Vancouver, and another slated to open in Revelstoke next month. Richer believes the café is tailor-made for the ski set.
"In a lot of these small ski towns, you're lucky if you can get a vegetarian meal, let alone a gluten-free meal or a vegan meal or a plant-based meal. So I think in that sense, we're totally suited to ski towns," she says.
Ingrid's Village Café returned in second, and Gone Eatery cracked the list in third.
Best Takeout
Samurai Sushi
When Ru Mehta was called in 2016 to get a comment on another win in this category, he complained of not having anything fresh to say. This year, he's taking a different route, choosing to quote one of his favourite flicks, Bull Durham, to encapsulate his thoughts on taking the Best Takeout title.
"Sometimes you win, sometimes you lose, sometimes it rains," he says. Deep.
With a wide selection of affordable Japanese comfort foods, Samurai Sushi is the place to go for good eats in a hurry — and you don't have to feel bad about getting takeout for the third time in a week, as the restaurant uses biodegradable packaging.
Main Street's Pasta Lupino was second, while taco bar La Cantina came third.
Best Overall Experience
Rimrock Café
Amidst a sea of change in the restaurant and wider community over the years, there's one spot you can count on staying the same: Rimrock Café.
"We're still owner-operated by the same two guys that started it 32 years ago. That doesn't happen very often," says restaurant co-owner Bob Dawson.
Featuring an upscale menu of seafood and game, the Rimrock is fiercely committed to maintaining the top quality and service that has made it the spot to go for birthdays, anniversaries, or, simply a damn fine meal, for over three decades.
"Year in and year out, the secret is our consistency," says Dawson. "People come back and usually say it's better than they remember."
Beloved longstanding fine dining restaurant Araxi took second. The Red Door Bistro in Creekside was third.
Best Value
El Furniture Warehouse
By now, the cat is out of the bag: everyone on a budget knows El Furni is the spot if you don't want to break your bank but still want a quality plate of grub.
Its $4.95 food menu feels like a throwback to a bygone era, but the village pub attracts all kinds of guests, be it the penny-pinching liftie or a thrifty family of four.
21 Steps was second in this cost-cutting categeory, with Earl's in third.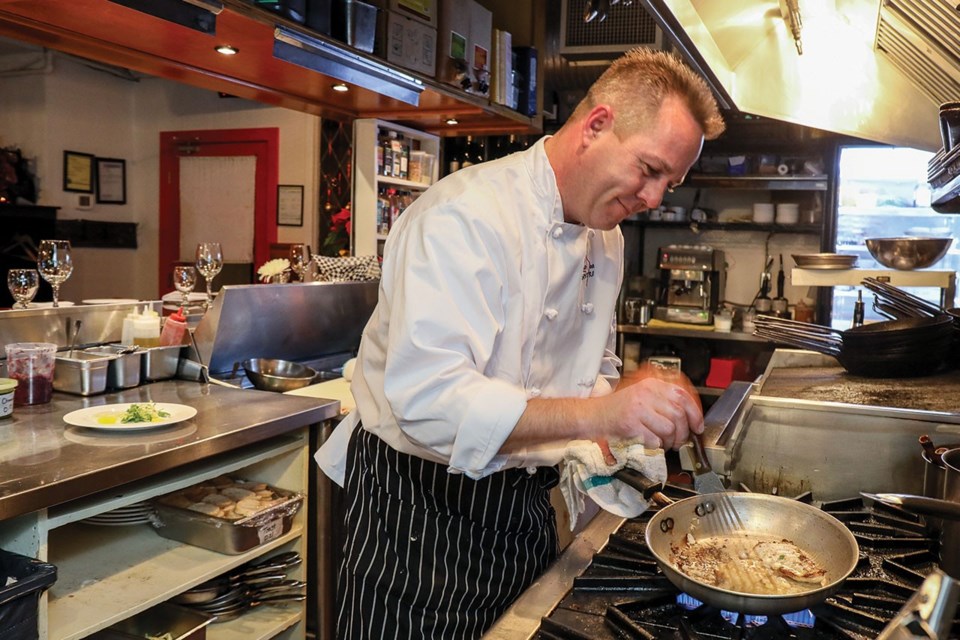 Best Chef
RD Stewart at Red Door Bistro
It was a repeat win for RD Stewart and his hidden gem of a restaurant, the Red Door Bistro, tucked away in Creekside.
The bistro burst onto the scene in 2014, climbing onto a litany of critics' best of lists for its distinctly West Coast spin on modern French cuisine.
Along with winning this title last year, Stewart has been recognized as Best Chef before during his tenure at the now closed La Rua.
Melissa Craig at the Bearfoot Bistro claimed second this year, with James Walt at Araxi — although he recently moved over to sister restaurant, Il Caminetto — taking the final spot on the podium.
Best Server
Rich Budd at Hy's Steakhouse
If there's a secret to Rich Budd's success as Whistler's Best Server for the second year in a row, it's this: bribes.
"I've just been buying a lot of drinks at a lot of bars lately to get me some votes," says an ecstatic Budd with tongue planted firmly in cheek following the news of his win.
A seven-year veteran of Hy's, Budd credits the staff behind him for helping him earn this accolade.
"I just love the staff I work with. They're absolutely amazing and by far the best staff I've ever worked with," he says.
Brandi Woodnut at Sushi Village earned enough votes for silver, while Brandy's' Jenny Yeung snatched the bronze.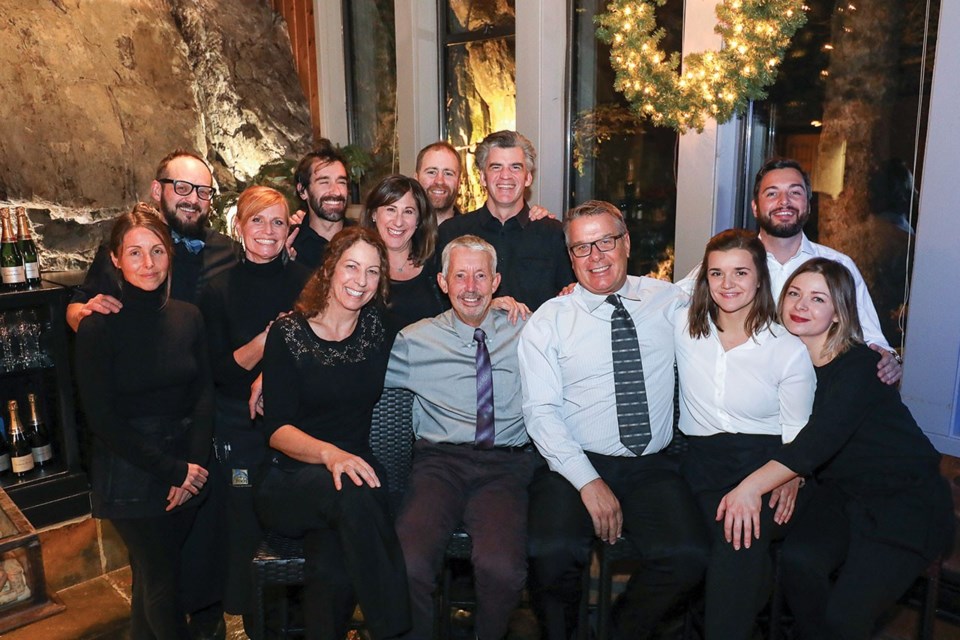 Best Service
Rimrock Café
Bob Dawson doesn't want to say his staff is "old," per se, but there's no denying the majority of his employees have been at the acclaimed fine dining establishment a good while.
"If you look at the age of our staff, we have probably some of the oldest — well, I'm going to say mature — staffs in town," he says with a laugh. "And they're all invested in Whistler."
Rimrock's team may not be the spryest bunch, but they're sometimes decades-spanning careers at the Creekside spot does mean the service hits a rarified level.
"People come back and they realize the staff is really good, mature, they're knowledgeable and they have pride in what they sell," notes Dawson.
Araxi took second in this category, with Sushi Village in third.
Bars, Pubs & Clubs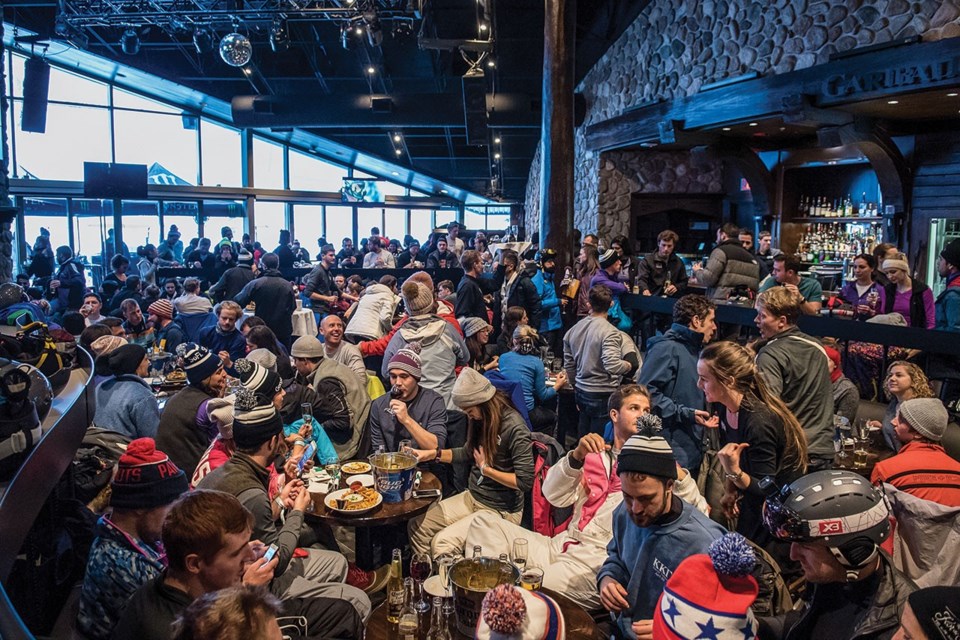 Best Après
Garibaldi Lift Company
Variety, as they say, is the spice of life, and it's also key to the Garibaldi Lift Company's (GLC) continued success as Whistlerites' fave après spot.
"Every day can be different and we program it differently so it doesn't feel like you're walking into the same place every day," says GLC manager Mike Wilson.
Stop by the spacious bar and you may find long-time resort rockers The Hairfarmers one day, a local DJ the next, a rousing round of Seinfeld trivia the day after that, all topped off with a stellar menu jam-packed with comfort foods and signature cocktails to keep you going after a day on the slopes. Dusty's over in Creekside claimed second spot this year, with another Skier's Plaza haunt, The Longhorn, rounding out the list.
Best Club/Late-Night Bar
Garfinkel's
Garf's, a staple of the resort's nightclub scene going back a quarter century, repeated as Whistler's top spot for some late-night fun this year.
Catering to Whistler's 20-something demographic, Garf's has positioned itself in recent years as the go-to spot for young skiers and boarders.
The Top 3 was identical to last year, with Moe Joe's in second, and Brandy's in third.
Best Bartender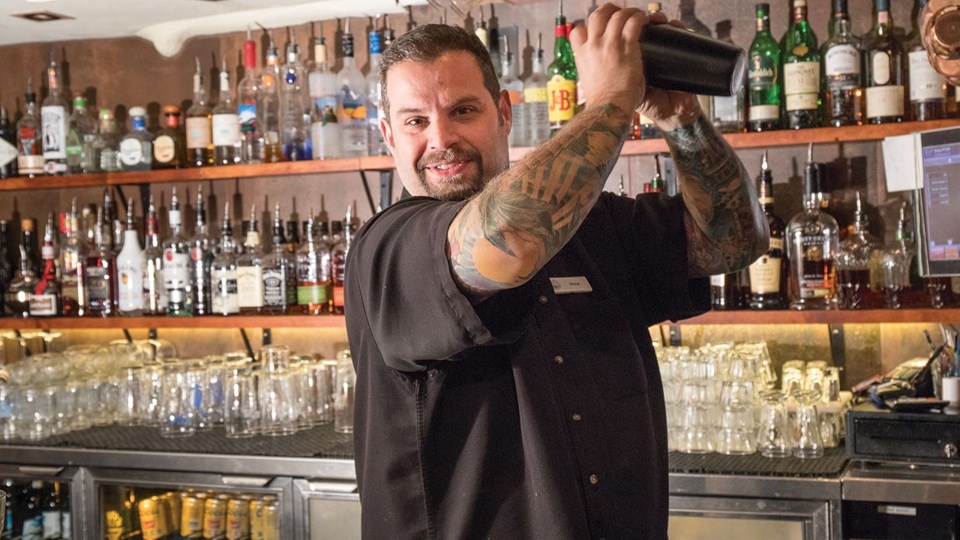 Tie-Bram Stoker at Brickworks and George Skoupas at The Beacon Pub
Brickworks' Bram Stoker and The Beacon's George Skoupas, who tied for Best Bartender in 2017, go way back. In fact, the two longtime barkeeps are staunch fans of each other's work, each voting for the other in this competitive category.
"It's a pleasure to be included in such great company this year!" says Skoupas, who worked with Stoker at various points throughout his career, first at Longhorn and then at the late, great Citta's. "Bram and I have the same outlook when it comes to tending bar: no drama, great times, delicious cocktails and huge laughs!"
Stoker, who came second in 2016 to his ole' pal, believes the key to being a good bartender is taking the time to get to know your customers.
"Truly most people that come in, I know them, so there aren't really any words that need to be spoken because I know exactly what they're drinking," he explains. "I'm just happy to be there to brighten their day."
Kevin Morris, who mans the bar at Brandy's, earned second place, with the Bearfoot Bistro's bar manager Scott Barber and Jeremy "Stinky" Peterson at the Brewhouse tying for third.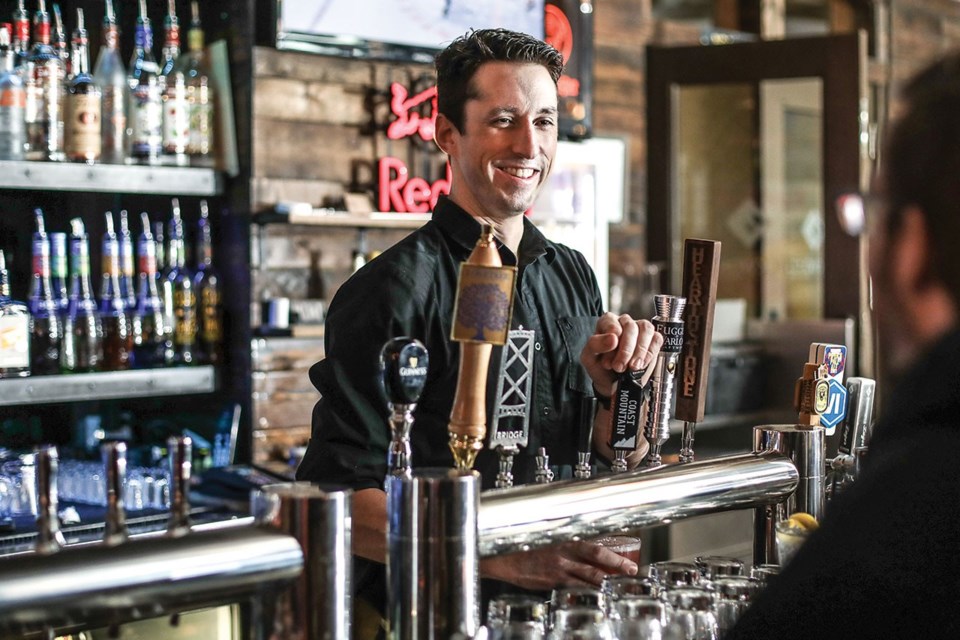 Best Martini/Cocktail
Bar Oso's Oso Sour
Bar Oso's namesake Oso Sour turned sweet for the second year in a row, winning the title of Whistler's best adult beverage.
"Our Oso Sour's reputation has definitely grown amongst locals and guests from near and far. This Pique Newsmagazine accolade means the world to Bar Oso as we take our craft seriously and pride ourselves on creating a strong cocktail program that provides a sense of place," says the tapas spot's bar manager, Jason Redmond.
A Spanish-inspired cocktail with a Canadian twist, the Oso Sour features bacon-infused bourbon, lemon juice, a hint of chartreuse, egg whites for texture, and a splash of maple syrup, all topped with candied bacon. Mmm... bacon.
Mexican Corner's signature margaritas earned second, with another Bar Oso favourite, Brockmans Brew Tonic, claiming third.
Best Beer Selection
Dubh Linn Gate
In spite of some stiff competition, Dubh Linn Gate's extensive selection of finely crafted beer once again claimed victory in this sudsy category.
The classic Irish pub pours two-dozen brews from around the globe, with a particular focus on B.C.'s booming craft beer industry.
Relative new kids on the beer block, Coast Mountain Brewing in Function Junction in second, and the Upper Village's HandleBar café and après in third, both cracked this list for the first time.
Best Local DJ
Ace Mackay-Smith aka DJ Foxy Moron
DJ, go-go dancer, artist and all-around dope person Ace Mackay-Smith tops this list yet again, but the partystarter also known as Foxy Moron concedes that Whistler is overrun with talent behind the wheels of steel.
"I'm honoured. Although I feel the title should be amended to 'Favourite' or something, instead of 'Best.' There are better DJs," says the 30-year local. "It definitely means a lot to me that people took the time to vote and thought of me. I thank them kindly."
Foxy Moron's playlists tend to veer towards old-school funk and soul — a point of pride for the vinyl disciple.
"I've still never played a (Justin) Bieber or Taylor Swift song. It would be cool if that was the reason (I won)," she says.
Billy Shearer, aka DJ Billy the Kid, took the second spot on the podium. Tyler "TyMetal" Shelley was voted third.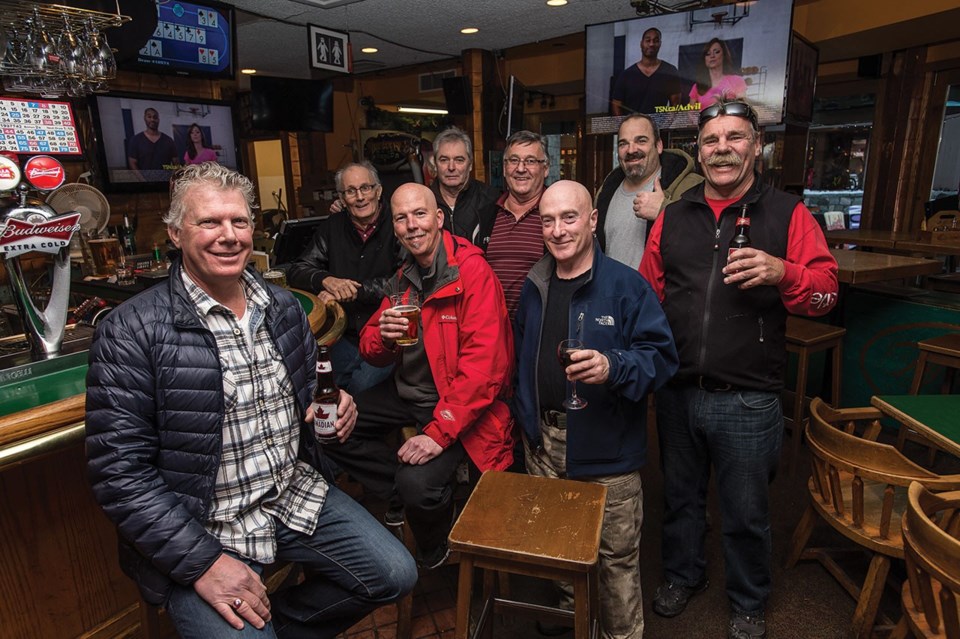 Favourite Locals' Hangout
Tapley's Pub
Tapley's Pub has had more than 25 years to hone the distinctly homey atmosphere that has made it locals' favourite haunt for yet another year.
"Tapley's is the best local hangout spot because it has this magic, this 'feel' that you're in your hometown with your close friends," explains manager Peter Lawrence. "Tapley's is the local watering hole for 30-year vets and fresh arrivals all the same. There's history, nostalgia, and a sense of home here."
One of the village's first bars, Tapley's is the place to be to catch the game or a rocking live show.
Longtime late-night bar Brandy's snatched the second spot, while Roland's in Creekside took third.
Arts, Media & Culture
Best Comedy Event
Whistler Comedy Showdown
Whistler's favourite event to bust a gut at in 2017 was the Whistler Comedy Showdown.
Aussie Josh De Grandi took home top prize this year, walking away with $1,000.
The event was held at Buffalo Bills as part of the World Ski and Snowboard Festival, with proceeds going to a good cause: Whistler's Concussion Support Group.
Elevated Comedy Nights at the Crystal got second billing, while the Whistler Writers Festival kickoff event, Comedy Quickies, got third.
Best Artist
Chili Thom
Chili Thom was no stranger to the Best Artist title, having won it 14 times before his passing last November.
So it makes sense that Whistlerites would honour the late painter and patron of the arts. "He landed on a truly iconic style," explains Mo Douglas, executive director of Arts Whistler.
So much so that, on the hill, the word "Chili" is sometimes used to describe the snow-covered trees reminiscent of his boldly-coloured paintings.
"He's going to be a favourite in people's hearts for a long time," said Douglas.
Vanessa Stark won second place, while Andrea Mueller was third.
Best Art Gallery
Audain Art Museum
A relative newcomer on the scene, the Audain Art Museum took home the honour of Whistler's top gallery only a year and a half after opening its doors.
The breathtaking building boasts 6,000 square feet of gallery space and one of the world's finest collections of traditional First Nations and contemporary B.C. art.
The past year marked a number of high-profile exhibits at the facility, including drawings by French master Henri Matisse, and the arresting industrial landscapes of photographer Edward Burtynsky.
The Squamish Lil'wat Cultural Centre earned second, with Art Junction in Function in third.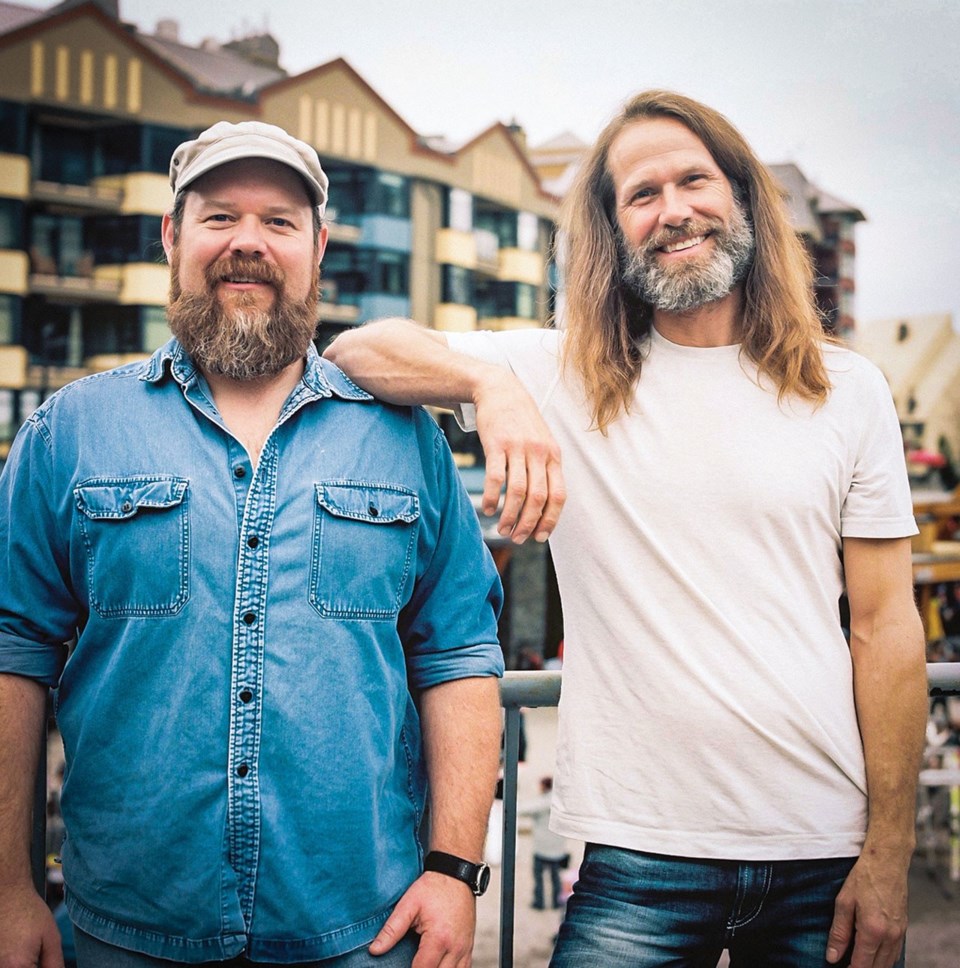 Best Local musical act
The Hairfarmers
The Hairfarmers have once again rocked their way to the top of the poll, having won Best Local Musical Act for the 17th straight year.
A staple of the local bar scene, the duo, made up of Grateful Greg and Guitar Doug, has played a huge range of venues over the years, from small private gigs to outdoor music festivals.
"The core local fans have come along for the ride since we started playing together during the '99-2000 ski season. And now their kids are of age and coming to the shows or having us play their weddings," explains Grateful Greg.
The band is always learning new songs, but also enjoys playing "deep tracks" that people may have forgotten about.
"They'll hear a certain song and go 'oh yeah!'" Greg adds.
Lately, the boys have been playing songs by recently passed artists who have made a lasting impact on them: David Bowie, Glenn Frey, Tom Petty and Gord Downie among them. "People pick up on what we're doing, and appreciate that we're honouring those artists," Greg says.
Red Chair was voted in second, while JennaMae and the Groove Section got third.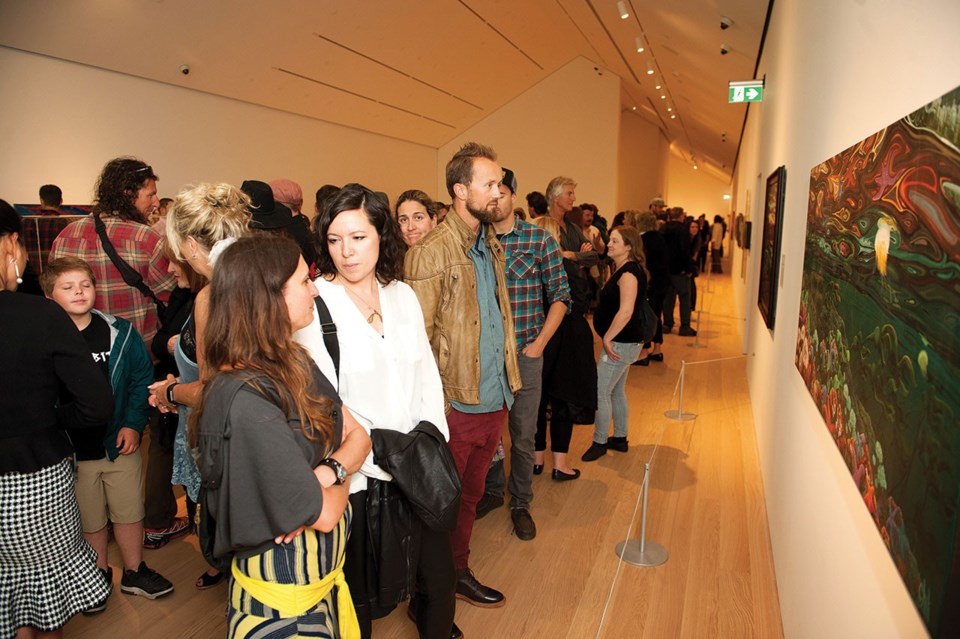 Best Arts and culture event of 2017
The Chili Thom Experience
Whistler paid tribute to one of its own in a big way in 2017.
The Chili Thom Experience was organized by Arts Whistler and utilized several spaces, including the Audain Art Museum and the Whistler Museum. "We're thrilled. And I'm sure Chili's thrilled," says Mo Douglas, executive director of Arts Whistler.
The event saw Thom's work showcased in five venues around town, giving visitors a sense of his wide-ranging work.
"The event provided a depth of experience about who Chili was and what his art was all about," adds Douglas.
The 72 hour filmmaker showdown, part of the World Ski and Snowboard Festival, took second, while the Whistler Film Festival claimed third.
Best festival/Party of 2017
Crankworx
For general manager Darren Kinnaird, this year's Crankworx had an extra dose of local flair, with Jesse Melamed and Brandon Semenuk winning the enduro and slopestyle events, respectively.
"To have the festival bookended by two local boys was really cool," Kinnaird says.
The event's success owes to the booming popularity of mountain biking in Whistler, according to Kinnaird. "Our town is so into mountain biking, and the world loves coming to Whistler to ride their bike. It's become a really inclusive celebration of mountain biking for one and for all.
"The fans, the volunteers, the partners, the athletes, the media, the Crankworx team — all these people who are invested in this crazy thing called Crankworx — can't thank them enough," he adds.
the World Ski and Snowboard Festival was voted second, while the Whistler Village Beer Festival got third.
Best Place to See a Live Act
The Garibaldi Lift Company
The GLC's central location and teeth-rattling sound system has created great memories going back years.
"We always get some good events. It's always a good time at the GLC!" says Rory Porter, a bar manager.
With regular shows from local favourites like the Hairfarmers and SkiiTour, the GLC knows how to bring the funk.
olympic Plaza received second, while Dubh Linn Gate was third.
Best Celebrity Sighting
The Beckham family
The hottest celebrity sighting went to none other than soccer superstar Dave Beckham, his wife, former Spice Girl Victoria, and the rest of their adorable family, who were in Whistler on a ski trip.
The impossibly good looking family destroyed the slopes, posting photos of their amazing adventure to Instagram. Unfortunately, Brooklyn Beckham — a young photographer who is arguably as studly as his dad — broke his collarbone.
The second best sighting went to former U.S. President Bill Clinton, while his political compatriot, Prime Minister Justin Trudeau, was third.
Favourite Piece of Public Art
Creekside Mural
Jessa Gilbert's massive mural, located under the Creekside underpass, was voted Whistler's favourite piece of public art.
The mural — which depicts the Sea to Sky's stunning mountain ranges in bright pastels — brings the backcountry to the valley.
Gilbert, who got into split boarding a few years ago, says she wanted to replicate the experience of being in the alpine. "I wanted to share the feeling of being completely humbled by the mountains with people who might not be able to go touring or haven't explored the backcountry yet."
The Resort Municipality of Whistler commissioned the 2,400-square-foot piece. More of Gilbert's work can be seen in Coast Mountain Brewing's tasting room and at the Maury Young Arts Centre.
The Welcome Figure Totem by Aaron Nelson received second and the Whistler museum Mural by Kris Kupskay was third.
Best Whistler Writer
Feet Banks
For Feet Banks, Whistler's resident enfant terrible, being recognized as Whistler's favourite writer yet again was anything but.
"The overall talent level in town is way higher than the first time I won in 2005," he says. "There's a lot of young kids coming up, and it's great to still be the people's champ."
Moreover: "It's always nice to beat Max!"
Banks is known for his boundary-pushing, irreverent takes, on everything from film to freeskiing. In addition to his weekly film column for Pique, he is a contributing editor at Mountain Life Magazine and writes for various other publications.
And while his prose can come across as effortless, a lot goes into it. "You've got to put the time in — especially when that's what you do all day long. It's a lonely endeavour: sitting there in the dark in front of the screen."
Over the years, he's come across a secret ingredient to get the creative juices flowing: chronic outdoor "hippy" stuff. "It helps you see things from a new perspective and find a way to power through," he explains. "And then you can fix it in the morning!"
Pique columnists G.D. Maxwell and Leslie Anthony came in second and third, respectively.
Best Photographer
Joern Rohde
Joern Rohde, Whistler's favourite photographer, knows he's up against some serious talent in this picture-perfect category.
"Considering the amount of phenomenal photographers in this town, it's an honour," says Rohde, who has now won this title two times.
Rohde has been living in Whistler for 22 years and shooting professionally for the past 20.
The scenery and vibe keep him here. "The scenery may stay the same but the mood changes every day. It's a spectacular place to live and bring up kids," he says.
Rohde credits his (understanding) wife for helping him along the way.
"I couldn't do it without the support of my wife. She lets me go out and play with my camera," he says.
Blake Jorgenson was voted second, while David McColm came third.
Shops & Wares
Best Ski Shop
Fanatyk Co.
For the fourth year in a row, Fanatyk Co. has been voted Whistler's favourite ski shop.
For Scott Humby, the shop's owner, it's a great affirmation. "It feels great!" he says. "It shows that all the hard work we put in comes back to us."
Coastal Culture was voted second, while Whistler Village Sports was voted third.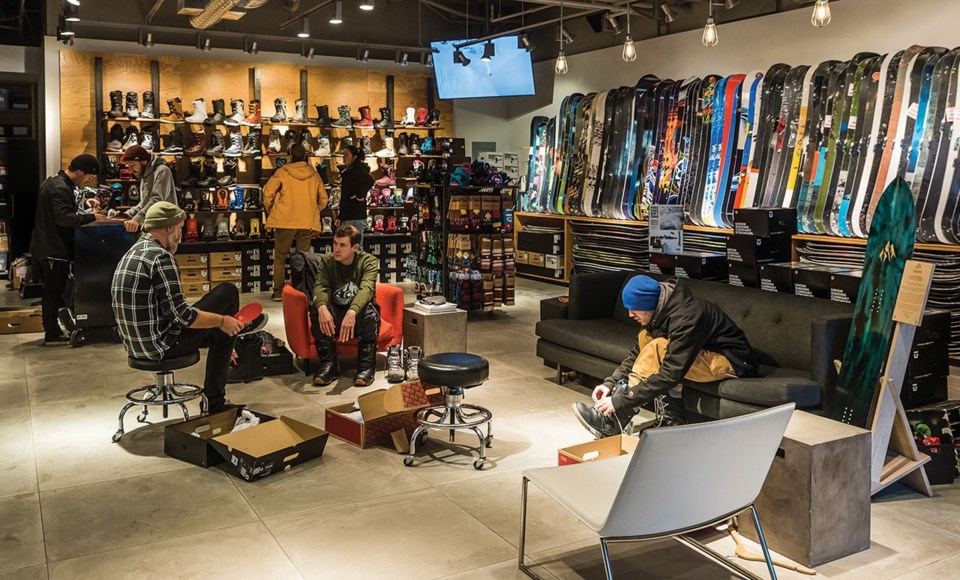 Best Snowboard Shop
Showcase Snowboards
For Showcase manager and buyer Deanne Gale, this year's win comes down to the store's knowledgeable staff.
"I would classify them as legends — and some are wizards in terms of their snowboard knowledge," she says.
Showcase boasts a huge, centrally located space and some of the best board brands, including Never Summer, Lib Tech, Burton and CAPiTA.
"We go with quality," says Gale. The store, she adds, also factors in environmental impact when choosing brands.
CAPiTA, she notes, builds their boards in The Mothership, an Austrian snowboard factory that's known for environmental sustainability.
"It's an amazing facility, so we're very supportive of that," she says.
Second place went to Prior snowboards and skis, while third went to The Circle.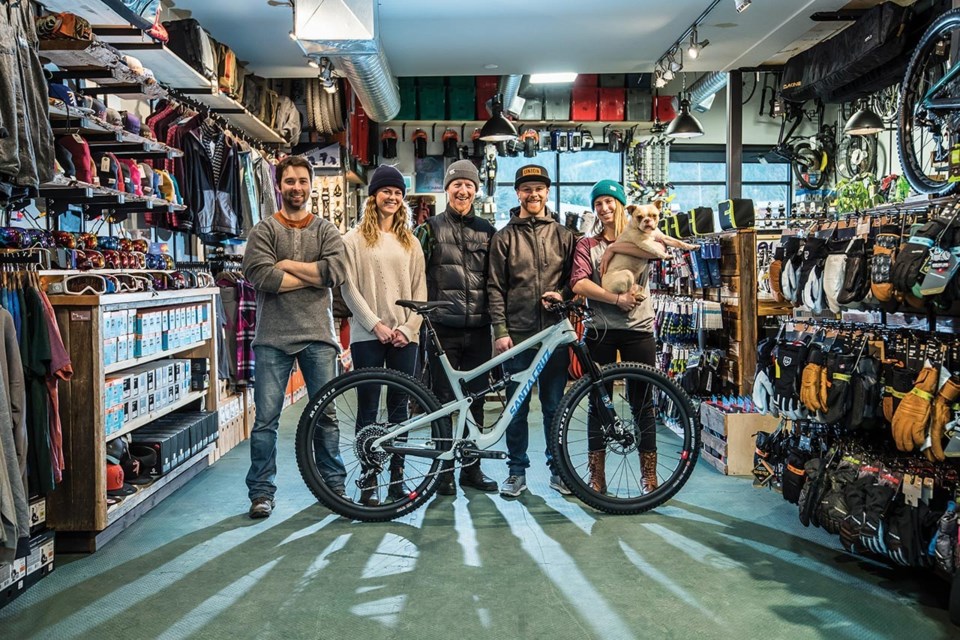 Best Bike Shop
Coastal Culture
"It's always great to win. It's a nice touch," says Thomas Thacker, co-owner of Coastal Culture, upon learning his shop has been named best bike shop.
Though the shop is only in its second year, it has already made a strong connection to the community. Thacker and his partner, Ryan Brown, have been around Whistler for years and are deeply involved with Whistler's burgeoning mountain bike scene.
"A big thank you to the community for voting for us. Hopefully we can continue to support them and give back as well," he says.
"I try to treat people the way I think they'd like to be treated."
Fanatyk Co. won second, while Evolution Whistler was voted third.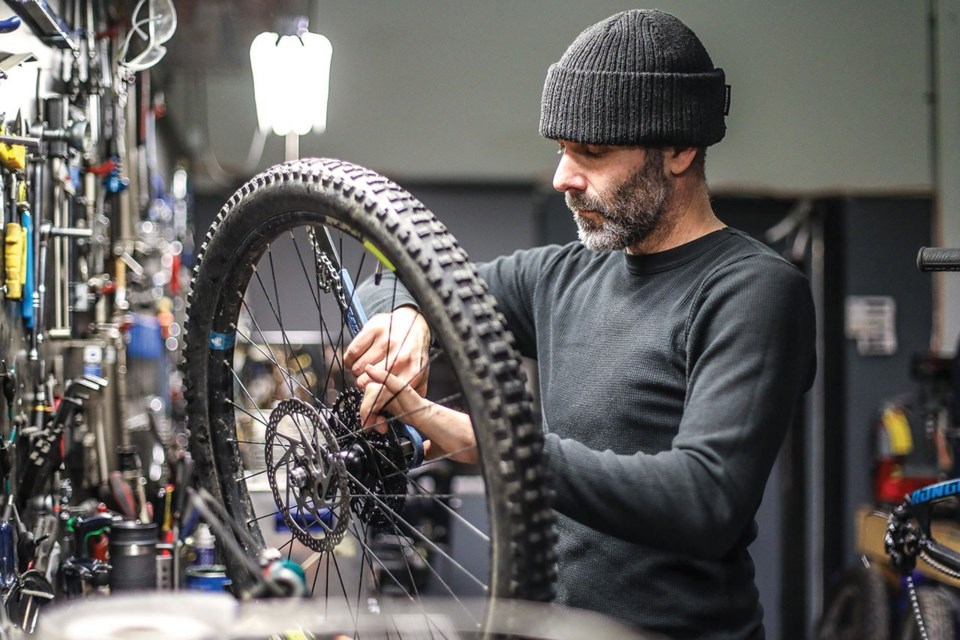 Best Bike Tech
James Barrett at The Fix
The Fix's James Barrett, who won this award last year as well, has a long history in the industry, getting his start sweeping floors in a bike shop at the age of 14.
In recent years, The Fix has branched into manufacturing its own parts, a booming business with sales around the world.
This year brought a lot of "dropper post" repairs, explains Barrett.
The mechanism allows riders to raise and lower their seat post with the push of a button.
"There's only one or two companies that have really nailed that," he says.
In summing up, Barrett gives a shout out to his staff. "They're the rock I can stand upon," he explains.
Bike techs Kevin Kobayashi at Fanatyk Co. and Tom Thacker at Coastal Culture took second and third, respectively.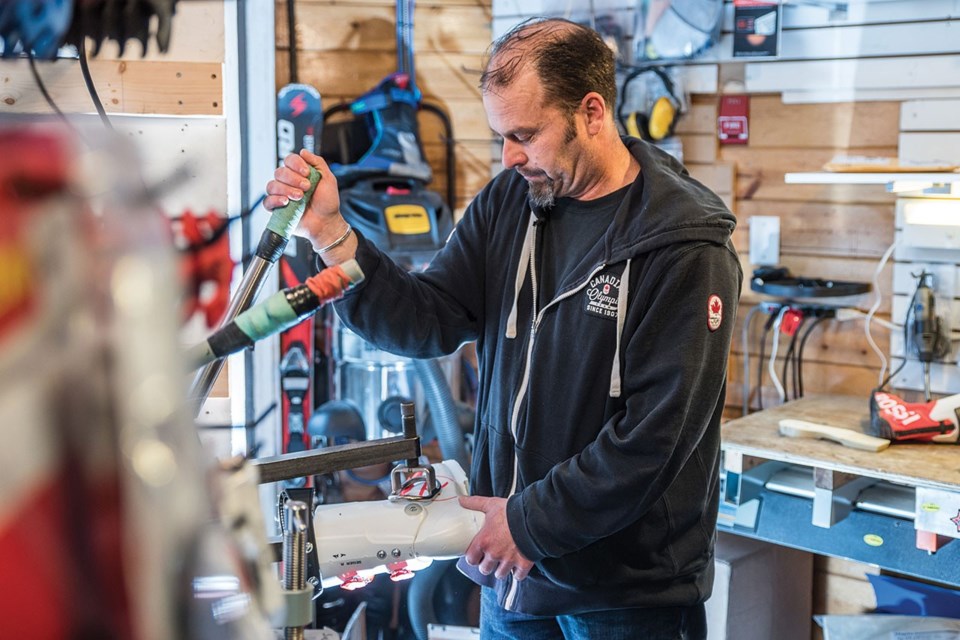 Best Boot Fitter
Barry Allison
If these boots were made for skiing, then Barry Allison at Whistler Village Sports was made for fitting.
"It's fantastic ­— it feels really good," says Allison, who took third last year in this category.
A good boot fit is about spending time and energy with clients, he explains. "It's about knowing a skier's ability and their expectation of a fit."
Whistler Village Sports carries leading boot manufacturers, including Tecnica, Lange, Atomic, and Rossignol.
Allison, who works by appointment only, says he's thrilled over the win, especially in light of the long list of talented boot fitters who work in Whistler.
"In a town with so many great boot fitters, it's a real honour," he says.
Second place went to last year's winner, Kevin Ahearn at Fanatyk Co., while third went to George McConkey at McCoo's Whistler.
Best Clothing Shop
The Beach
Independent retailer The Beach has been selected for best clothing shop — for the fifth year in a row.
"Five is a nice round number — I like it!" says Jaime King, buyer and general manager.
King attributes the shop's success to her sales staff and the stylish brands the store is known for.
"We're constantly reinventing ourselves with regards to brands and the look of the store."
In this last year alone, The Beach has brought in Boys and Arrows and Ekumenik.
"People love shopping unique and independent and supporting an independent retailer," says King.
"We're really thankful for the community we live in and very thankful to be nominated for the fifth year in a row."
The Re-Use-It Centre took second, while Aritzia was voted third.
Best Jewelry Store
Keir Fine Jewellery
Keir Fine Jewellery added a little extra shine to its lustre this year as Whistler's fav jewelry store.
"It feels good. We're super excited that we won," says staff member Dorothy Harwood.
In July 2016, Keir opened a second resort location in the Fairmont Chateau Whistler. "It's going really well," says Harwood.
"It gives people an alternate location to see even more beautiful, sparkly things. We're loving having two stores!"
Second place went to Ruby Tuesday accessories, while third went to Rocks and Gems.
Best Grocery Store
Nesters Market
At Nesters Market, it's all about the locals.
"We see the same customers once a day — if not twice a day," says store supervisor Julien Desrosiers.
Staff goes the extra mile to help customers find what they're looking for. And if Nesters doesn't have it, they order it in, says Desrosiers.
Nesters also offers talks focused on health and wellness every Thursday morning.
The speaker series began seven years ago.
"It's been amazing. They have some good crowds there sometimes," Desrosiers says.
Your independent Grocer in Rainbow and Creekside Market earned second and third, respectively.
Best Customer Service
Fanatyk Co.
Fanatyk Co. took top spot in the customer service category, and according to store owner Scott Humby, management style is a big factor in this arena.
"We give our staff free rein when making decisions when it comes to dealing with customers. I think it's very confidence-inspiring," he says.
Second place goes to Whistler Village Sports, and third is a tie between Coastal Culture and Creekside Market.
Best Financial Institution
TD Bank
TD Canada Trust in Marketplace offers clients a full range of services, and was once again recognized as Whistler's favourite financial institution.
Second place went to RBC Royal Bank, while third went to BlueShore Financial.
Best Realtor
Dana Friesen Smith
"That's awesome! I'm pumped!" says an elated Dana Friesen Smith upon hearing of her win.
It's the third time Smith has won the category in the past five years.
Smith says she couldn't have done it without her team, assistant Kristen Dillon and buyer's agent Madison Perry.
"Having a team allows us to perform single agents and take our service to the next level," she explains.
Second place went to Maggi Thornhill of Thornhill Real Estate Group, while third went to The Wolf of Whistler himself, David Nagel.
Best Law Firm
Race and Company
Race and Company has been voted Whistler's Best Law Firm once more. The firm specializes in personal injury, real estate, business, estates and family law.
Double Diamond Law Corporation and Mountain Law Corporation received second and third place, respectively.
Best Store for Browsing and Exploring
Rocks and Gems
Rocks and Gems is the best spot for taking a look-see.
The store has won the title three years in a row, and offers an unmatched selection of gemstone jewelry, meteorites, fossils and rare minerals.
"We have some pretty unique products, and people enjoy having a look around," says Michelle Couture, store manager.
Couture says staff aims to create a warm and welcoming environment — even for those who aren't necessarily there to purchase something.
"Sometimes people are browsing and then they come back the next day and buy something," notes Couture.
Three Singing Birds was voted second, while the Re-Use-It Centre was voted third.
Best shop for deals
Re-Use-It Centre
If you're looking for a screaming deal, look no further than Whistler's Re-Use-It Centre.
The thrift store just had its winter sale, where it sold a brand new pair of Castle skies — which run around $800 — for $250.
"For someone, that's a great deal," says store manager Paul Rehel.
"There are always great deals and little treasures that people find. We're here to make sure people get good deals.'
The shop, however, relies on the community for its stock.
"We wouldn't be able to do what we do here without the generosity of the public and Whistler community," he says.
The Re-Use-It Centre is gearing up for a big move in 2018 from its original Function location to the new Whistler Community Services Society building at Nesters.
Second place went to the Clearance Centre, while third went to The Gap.
Best Mortgage Specialist
Karen Garrett
Looking to get into Whistler's million dollar-plus housing market?
Karen Garrett has been named Whistler's best mortgage specialist. "I'm very honoured to be this years winner. And I could not have done it with my associate Krystle Zimmer," says Garrett, who's won the award once before.
Second place goes to Chantel Jackson, and third to Eileen Craig.
Best Overnight Accommodation
Camping
Whistler has its fair share of first-rate accommodation. Yet Pique readers chose a unique option — camping — in the Best Overnight Accommodation category.
The options abound, with Garibaldi Provincial Park and Wedge Mountain being favourite places to lay under the stars.
When it comes to actual hotels, the votes went to the Fairmont Chateau Whistler and Nita Lake Lodge into second and third positions, respectively.
Best Automotive Shop
Whistler Automotive
Whistler Automotive has been crowned best automotive shop. "It feels great to win," explains staff member Sophie Wilde.
Wilde credits owner-operator Dennis Vanderzwaag with helping to make for a great customer service experience.
"Pretty much everyone that walks in the door is a referral. That's a testament to Dennis and how he runs his business," says Wilde.
The mechanics — three are senior and two are apprentices — also play a critical role.
"They're all very honest. They don't do work that doesn't have to be done. They get to the root of the issue," notes Wilde.
Second went to Barney's Automotive, while third went to SMD Automotive.
Best Front Desk Service
Fairmont Chateau Whistler
The luxurious Fairmont Chateau Whistler prides itself on offering an unparalleled experience to its guests — which starts at the front desk.
Combining classic elegance with modern luxury, the hotel boasts a range of impressive amenities, including an 18-hole championship golf course.
And as impressive a building as it is, it's the staff that bring it to life, providing guests with the memorable experiences that keeps them coming back year after year.
Nita Lake Lodge won second, while The Westin Resort & Spa rounded out the list in third.
Best tradesperson
Contractor Ian Jackson
Ian Jackson of Eco Alpine West Coast Building says it's been a journey getting to this stage in his career.
"I do a little bit of everything from foundation, to tiles to cabinets. It's been a learning curve over the years, trying to get good."
Known as a personable and hard worker, last year's second-place finisher says he's busy through the year, largely with repeat customers.
"This time of year is almost too busy — I'm probably going to be working right to Christmas!" Jackson says in mid December.
Handyman Mark Walter and plumber Sandy Tyler at Whistler Mechanical won second and third, respectively.
Sports & Recreation
Favourite summer athlete
Brandon Semenuk
The slopestyle slayer was back on top of his game this year.
After a season away from the top of the Red Bull Joyride podium, the 26-year-old ensured the contest was over pretty much as soon as it began. Semenuk's first run of the day was enough to outlast each and every one of the riders who dropped after him as he came away with his fifth Joyride title to cap the 14th edition of Crankworx.
Another Crankworx superstar, Jesse Melamed, placed second. Melamed scored his first-ever Enduro World Series win at the Canadian Open Enduro in August. Finn Iles, meanwhile, was third.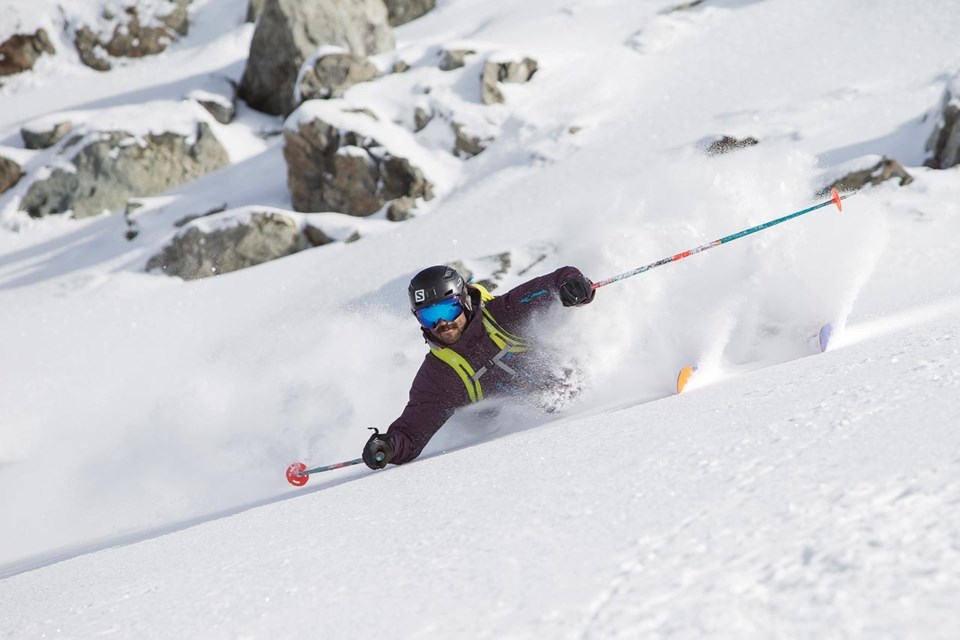 Favourite winter athlete
Stan Rey
The first-time champion in this category acknowledges some irony to earning the title this year — the ski adventurer wasn't out exploring as much as he'd have liked last season.
Still, the Whistlerite by way of Crans Montana, Switzerland, was thrilled and honoured to be recognized in 2017.
"It's pretty humbling and pretty cool to be thought about in a town I've loved so much and grown up in. I'm honoured to have the opportunity to be an athlete of Whistler, and doing very well," Rey says. "I'm super stoked."
Rey was waylaid by projects last year that made him reconfigure his balance of work and play, but he enjoyed it all the same.
"I didn't have a ton of time to ski to myself," he says, noting much of 2016-17 was spent filming movies like Magnetic. "I've already skied more to myself this season than I did all of last year."
Marielle Thompson, who secured her third FIS ski-cross Crystal Globe in 2017, took second in the poll, while Mike Douglas was third.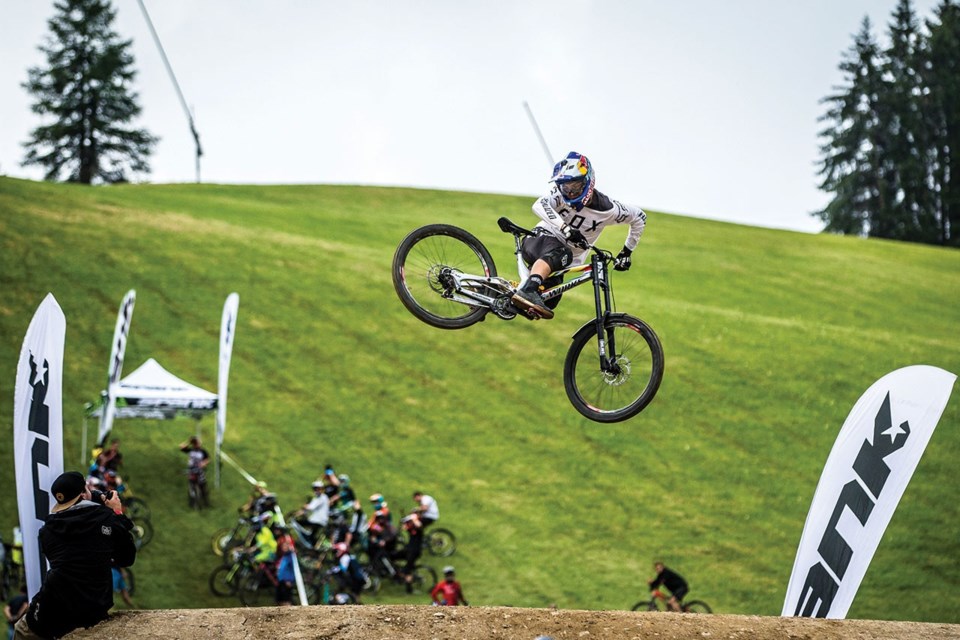 Favourite junior athlete
Finn Iles
There will be a new champion in this division next year, but for a final time in 2017, it was Finn Iles' crown to lose.
The 18-year-old went home with his second UCI junior men's downhill title this summer, and though he struggled in this year's world championships in Cairns, Australia, he still captured an impressive three of four major honours in his two years on the tour.
When Iles won, which he did six times on the World Cup circuit this season, he dominated, posting times rivalling the top pro men. As he makes the jump to the top loop in 2018, he should immediately be a force to be reckoned with.
Finn Finestone took second while Jackson Goldstone was third.
Best run on Whistler Blackcomb
Peak to Creek
Sure, David and Goliath stories are fun, but Goliath's reputation preceded him for a reason.
When it comes to Whistler Blackcomb's (WB) collection of over 200 marked runs, one truly towers over all the others, literally and figuratively.
Starting with pristine views before you descend into the thigh-scorcher to end all thigh-scorchers, Peak to Creek offers a challenge others cannot.
"It's the full experience. You're looking at an 11-kilometre a run that takes you through everything we have to offer from the high alpine skiing all the way to that mid-mountain treed area," says WB senior manager of communications Marc Riddell, "and you end off at Dusty's, so that's not too bad."
But before you start your run, be sure to drink in everything you can from the very top of Whistler Mountain.
"You have that great view of Black Tusk, and you look down toward Cheakamus Lake. You can see Whistler Village from there," Riddell says.
Ridge Runner was the runner-up while the Dave Murray Downhill was third.
Best XC ski trail
Whistler Olympic Park
In the non-gravity-aided ski option, it wouldn't be fair to consider the Callaghan Valley's Whistler Olympic Park to be a Davidian underdog. However, after the Lost Lake Trails won this survey year after year, perhaps a hidden gem was just receiving its chance to shine.
"Finally!" exclaims Whistler Sport Legacies president and CEO Roger Soane upon receiving the news. "Obviously, it's great for the team at Whistler Olympic Park, but it's a bit of a hidden secret if you've never been out there.
"I talk to so many people who say, 'I've never been out there,' but they've lived in Whistler for many, many years. They're avid downhill skiers, but Whistler Olympic Park is not on their radar... Hopefully it will encourage more people to go out and see it."
Soane notes there are several other activities to do at the park in addition to skiing, but regardless of what you do, it's a worthwhile experience to go and connect with nature in a new way.
"It is a fantastic location not only to ski but toboggan, snowshoe and fatbike. It is so different from everywhere else in Whistler," he says. "When you go to Whistler Olympic Park, you go to the edge of the wilderness and you feel like you're away from everything.
"You don't have to go far into the park to realize that we live in this spectacular wilderness."
Lost Lake dropped to second this year while "Wherever you can bring your dog," unsurprisingly, received enough votes to take third.
Best bike trail
Lord of the Squirrels
The long-awaited messiah finally arrived to bring local peddalers to the Promised Land.
With its official opening this September, a three-year wait was finally over as riders came from far and wide to survey the Sea to Sky alpine.
"It's a mark of honour for all the trailbuilders that did it and put their hearts into it for three years. They did a fabulous job and it totally deserves it," raves Whistler Off-Road Cycling Association (WORCA) president Craig Mackenzie.
In his trail-work review on the WORCA website, head trail builder Dan Raymond noted over 6,000 people tried out the seven-kilometre trail, which offers 200 metres of climbing and 900 m of descent.
Lost Lake took second, while the Whistler Mountain Bike Park's famous A Line tumbled to third place.
Best thing to do while injured
Watch Netflix
Hell, many would argue this is the best thing to do even if you're not immobile and/or in devastating pain.
New seasons of Stranger Things, BoJack Horseman, Unbreakable Kimmy Schmidt and Master of None hit the mark again while coming-of-age tale Big Mouth and wrestling saga GLOW are off to promising starts. Throw in steadily improving original movies, important and explosive documentaries like Icarus, and Netflix's ability to bring in top offerings from other studios, and the streaming titan remains impressive.
If only the actors were the only ones breaking a leg.
"Drink!" was an enthusiastic second, while a trip to the Scandinave Spa was third. (Pique recommends these in reverse order if completed together.)
Best WORCA Toonie Race Sponsor
Arbutus Routes, HandleBar, Whistler Sliding Centre and Coast Mountain Brewing on May 25
The third ride of the season around the Blackcomb trails proved to be the most memorable to seasoned connoisseurs.
Some relative newcomers to both Whistler and the WORCA scene proved they could put on one heck of a race, with HandleBar taking care of the après in the Upper Village.
The June 29 offering from Chromag, North Shore Billet, Delish Catering and Phillips Beer touring Cheakamus was second, while the June 15 ride down Tunnel Vision put on by Coastal Culture Sports, Creekside Dental Creekside Market and Sabre Rentals was third.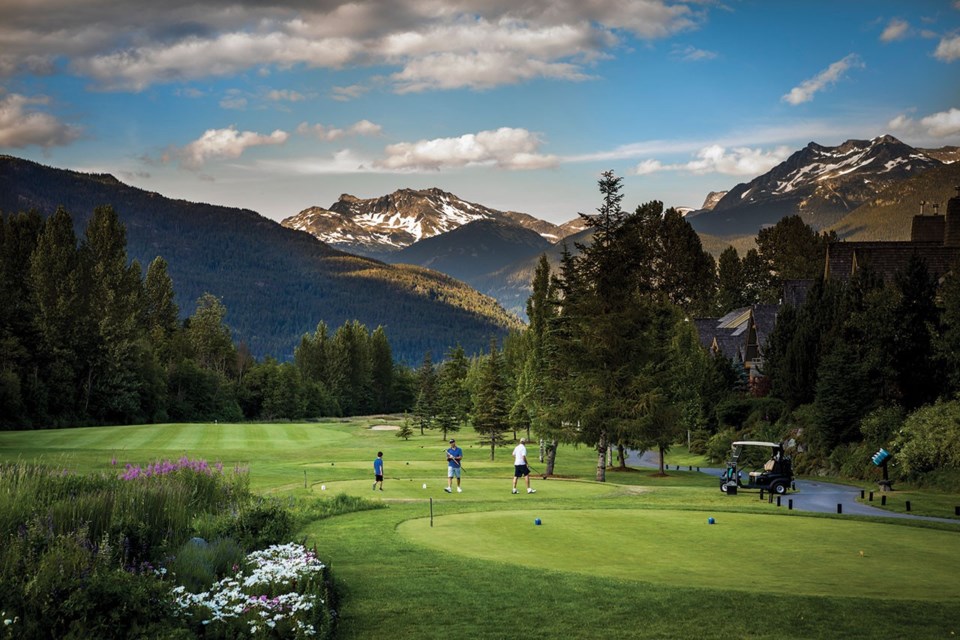 Best golf course
Nicklaus North Golf Course
Some minor adjustments to the overall golf experience brought in by new general manager Jason Lowe helped keep the perennial champion atop the standings.
Nicklaus North's 18 holes are a delight to all who play them.
"Locals have great golf options to choose from," Lowe says. "We are honoured with this recognition. We pride ourselves on having what is fairly well known as a world-class design. That's where it all starts.
"We have great course conditions and, I think, humbly, that we've got some stylish service and good attention to details. Those are the cornerstones that keep people coming back."
While the spring was a little on the slow side, Lowe says, the summer rebounded nicely.
"It was a late start, but then once the sun came out, it didn't really go away," Lowe says. "We made up for it with a pretty solid summer."
No. 2 was Whistler Golf Club and No. 3 was Fairmont Chateau Whistler Golf Course.
Best sports event of 2017
Crankworx
If you'll recall the favourite summer athlete category, you'll have a pretty good understanding as to why the August mountain-bike-lover's dream come true topped the standings once again.
Living legends Brandon Semenuk and Jesse Melamed recorded historic victories in their respective disciplines, with Semenuk extending his record with a fifth Red Bull Joyride title while Melamed finally broke through on the Enduro World Series tour, overcoming a final-stage wipeout to nail down his first-ever win.
Having Melamed and Semenuk top their podiums on consecutive Sundays was the highlight for Crankworx Events Inc. general manager Darren Kinnaird.
"It's pretty unprecedented to see two hometown boys win events on a scale like this in their respective disciplines. That's pretty cool. There must be something in the water here," he says.
With the Whistler festival the largest of the four on the Crankworx World Tour, it's the extravaganza that the mountain-bike world eagerly awaits every year, and Kinnaird says everyone needs to be at their peak performance.
"It's a great testament to all that the team does throughout the year," he says. "We have so many people, from volunteers to athletes to teams to sponsors to media who put in a lot of hard work to make it all happen."
The World Ski and Snowboard Festival took second and Subaru Ironman Canada was third.
Best fitness facility
Meadow Park Sports Centre
Meadow Park Sports Centre is the gym of choice for Whistlerites of all stripes as it offers a wide variety of options to those looking to stay or get fit.
In addition to its workout equipment in a vast gym, Meadow Park also houses squash courts, an ice rink, newly repaired pool and freshly renovated steam room and sauna facilities.
Acting Mayor Jack Crompton says the facility holds a special place in the community for countless families.
"Our community raises its kids at Meadow Park, and when you move here, you realize the world revolves around Meadow Park and the ski hill," he says.
Crompton stresses that the Resort Municipality of Whistler places an emphasis on recreation, which he says is embodied in Meadow Park's popularity.
"Meadow Park is serving us well. We intend to continue investing in recreation to improve year over year," he says.
Whistler Core climbing & Fitness gym placed second and Whistler Creek Athletic Club was third.
Best adventure tour
Canadian Wilderness Adventures
If you're looking for a ramble off the beaten path, Canadian Wilderness Adventures probably has the means and the guide for whatever adventure you seek.
The company offers ways to enjoy our winter wonderland ranging from dog sledding to snowmobiling to snow-catting your way to a fondue feast. For sunnier fun, you can ATV, off-road buggy, 4x4 Jeep, canoe or, new this year, e-bike.
Though Canadian has doubled in size from 50 to 100 employees in communications manager Brittia Thompson's five-year tenure, it's still a relatively compact operation compared to some of the others in the region.
"We are a small company competing with larger companies, so to get this recognition is great," Thompson says. "It's really nice to get this support from the Sea to Sky community."
Thompson adds the conditions that blessed Whistler and surrounding areas this year were a boon for Canadian.
"We have had an amazing 2017. The weather and everything was so great to us. It allowed us to have an amazing winter and it just continued on throughout the summer," she says.
Ziptrek Ecotours placed second, while its gargantuan Sasquatch zipline was singled out in third.
Health & Fitness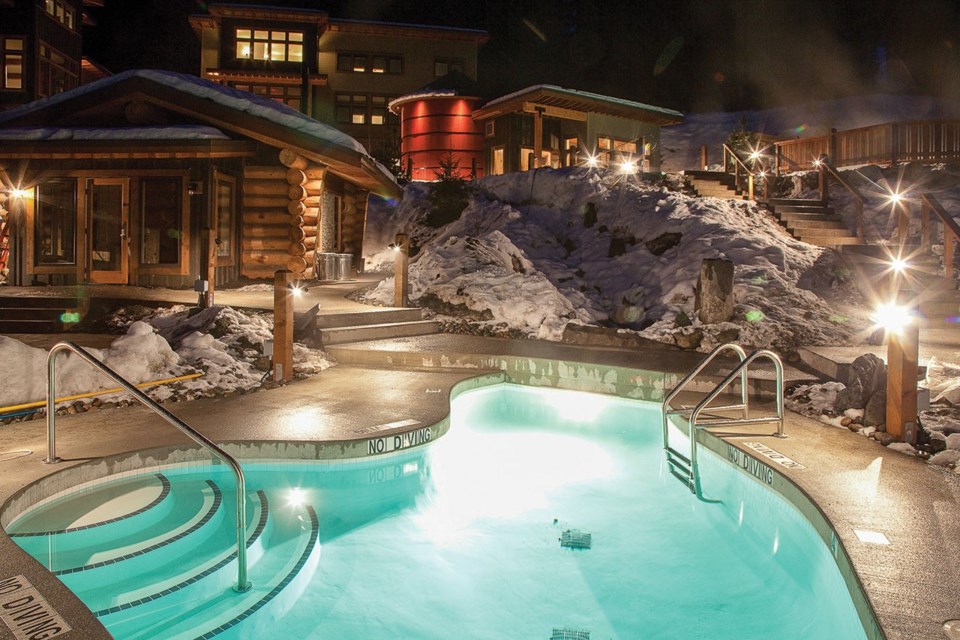 Best Spa/Best Massage Facility
Scandinave Spa
Patrons may have to be quiet while in Scandinave Spa, but they can't help but sing its praises when they step outside.
Scandinave once again doubled up in the Best of Whistler survey, taking home best spa and best massage facility honours in 2017.
"To get that community support is really important for us," says marketing manager Simmone Lyons. "We try to help the community as much as possible because Whistler is an adventure-packed town.
"We all lead such a busy lifestyle that finding time to relax and recuperate is really important. We're one of the few places in Whistler where people can really do that."
The spa, which boasts hot and cold outdoor baths, as well as sauna and solarium facilities, is a relaxing place of serene solitude. As well, the spa recently expanded its parking lot to accommodate its booming business.
Lyons adds that Scandinave is constantly touching base with its massage therapists to ensure the highest level of customer service.
"We take a lot of time with our therapists to ensure that we have the right fit," she says.
In the Best Spa category, The Spa at Nita lake lodge placed second, while Vida Wellness spa at the Fairmont Chateau Whistler was third.
In the best massage facility class, Peak Performance Physiotherapy and massage therapy was the runner-up, while Back in Action physiotherapy was third.
Best Chiropractic Facility
Whistler Chiropractic
If you need someone to get your back, our voters say Whistler Chiropractic is the place to go.
The team of Dr. Keith Ray, Dr. Jacqueline Brusset and Dr. Patrick Shuen has established itself in the community treating scores of professional and amateur athletes.
"We're fortunate to get to live in this amazing community and have such great patients. From all of us and our staff, we'd like to thank our patients for their enduring support and confidence," Ray says. "The locals that we see and the tourists that come here are always motivated to get better. That just makes it so much nicer as practitioners to work with."
Rounding out the top three are Dr. Adam Underhill Chiropractic at Coast Medical Clinic and Dr. Andrea Bologna with Village Centre Chiropractic, which operates in Blue Highways Massage.
Best Physiotherapy Facility
Back in Action Physiotherapy
If you're heading up to enjoy the mountains, it's essential to have an experienced physiotherapist in the back of your mind.
After years of domination by Peak Performance Physiotherapy, Back in Action has snagged the top spot this year.
With its team of eight physiotherapists, two centrally located clinics in Whistler Village and a number of top Sea to Sky athletes in its files, voters felt it was time to give Back in Action its due.
Dr. Bianca Matheson explains how connecting within the community with organizations like Whistler Community Services Society and local minor sport groups has helped the practice reach more people looking to recover from injury.
"Good local support is always really appreciated," she says. "We've tried to really diversify physio to get the best result for the community that we can."
Matheson adds the practice recently beefed up its services in the women's health and concussion fields to better serve its clientele.
"We strive to bring the best knowledge from all over the world to your clinic," she says. "Things are moving forward fast so it's great to keep up with it."
Though community is its focus, Matheson adds its practitioners have combined to work at eight Olympic Games.
"When you do good work, teams hear about it," she says.
Peak Performance was second this year, while Lifemark Whistler Physiotherapy took third.
Best Medical Clinic
Whistler Medical Clinic
Once again, the team at Whistler Medical Clinic (WMC) pulled together to top this category.
The team of six doctors in the office located conveniently inside the Whistler Health Care Centre proved to be the top option for those suffering from minor ailments and pain.
It was a busy 2017 for the clinic, as Dr. Rob Burgess and Dr. Lauren Shaw both retired, while Dr. Kristin Johnston moved out of the country.
In an email, manager Jocelyn Dean emphasizes how the doctors appreciate the boost of knowing their efforts are recognized, especially in the face of the turnover.
"We have welcomed Dr. Laura Malley, Dr. Sarah Truscott and, most recently, Dr. Danielle Patterson to our practice. With one of the local clinics closing, we have been working hard to increase capacity for family practice access. We have also introduced online booking, finally! If you are a family practice patient at WMC, you can now book appointments online with your GP. We are hoping that will eventually help calm down our super busy phone lines," Read says. "We appreciate our patient patients, and being recognized again as Whistler's Best Clinic warms our hearts!"
Coast Medical Clinic was second and Town Plaza Medical Clinic was third.
Best Dental Clinic
Creekside Dental
Word of mouth usually spreads good news, but with Creekside Dental, nary a word needs to be spoken.
A quick smile is all anyone needs to know you're more than thrilled with your dental service.
The clinic took the top spot once again this year and office manager Marjorie Ordona says getting word of their repeat win is some of the most gratifying news the staff and doctors can receive.
"We're ecstatic. We're always humbled when we get this announcement. It's been a challenging year, I think, for everyone in the community and the locals really do keep us in mind and know that when they walk in that door, they're going to be looked after," she says. "It's always an honour. We're very fortunate to be in this community and supporting it any way we can."
With Whistler's ever-shrinking shoulder season, there's less chance for many to catch their breath. However, Ordona notes the clinic responded well in 2017.
"We just had to keep going and, gosh, we are like a machine," she says. "At the same time, we've been doing this for awhile. We know the town and we know how to keep going."
Whistler Dental took second while Whistler Smiles placed third.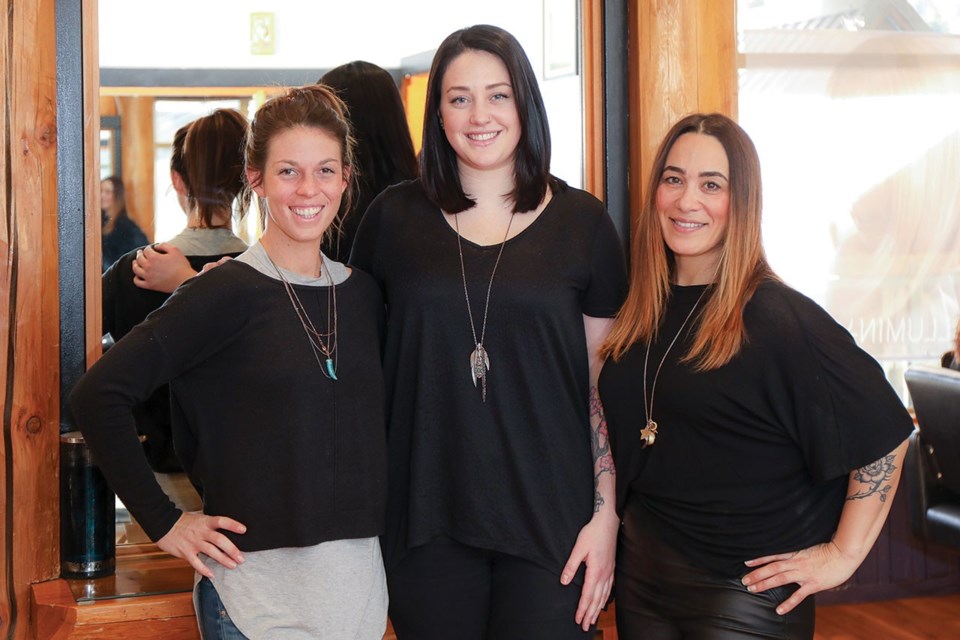 Best Hair Salon
Elevation Hair Studio
Though they've earned the confidence of voters for four years running now, Elevation Hair Studio manager Rhiannon Rogers admits there are some gut-wrenching moments in early December when she hopes to receive the news they've won.
In a sense, she explains, the previous year flashes before her eyes and she starts considering how they can better serve their customers. The flipside of that reflection, though, is the quality hairstyles and friendly service they gave their clients the previous 12 months.
"I was so nervous. I just find every year it comes up, you start looking at things that you want to do for next year, that you wish you had spent more time doing this year, so it's just a really amazing opportunity to reset and refocus," she says.
"I'm very happy that our clients are so happy. It is the best feedback other than people just leaving with a smile. To know that everyone in the community is happy enough with us to vote for us makes such a huge difference and makes all of us so excited to come to work."
Rogers noted the studio has gone through "growing pains" with the team tripling in size in recent years. However, 2017 was a year of relative stability on the staffing side of things, which allowed some creativity in other endeavours.
"We're maximizing every day, bringing in a few new products, new treatments, trying new (things)," she says.
Farfalla Hair and Esthetics placed second while The Loft took third.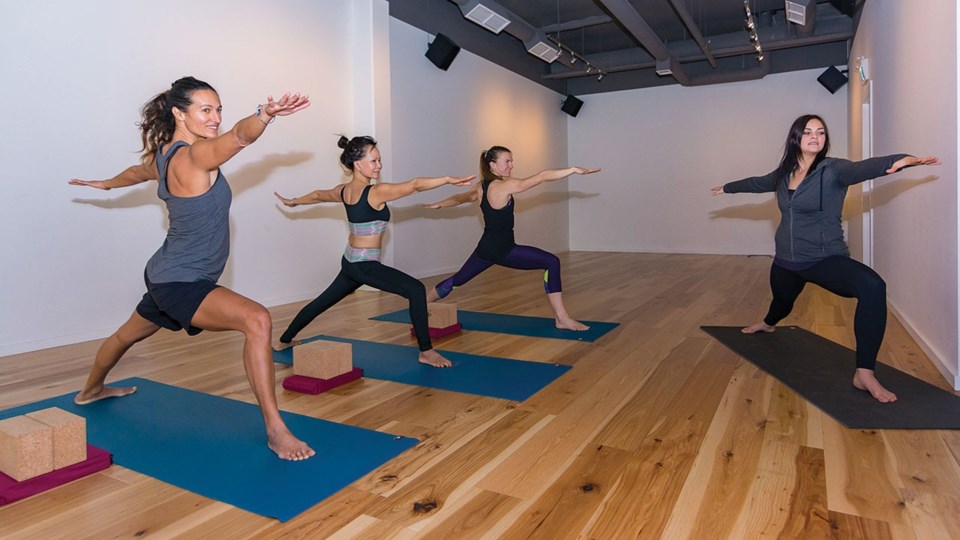 Best Yoga/Pilates Studio
Bear Paw Yoga
If you need to find your centre — or need to work off some calories after finding the centre of a bearclaw — your best bet is with Bear Paw Yoga.
In a strong debut, the Rainbow-based studio, which opened in July, fit seamlessly into the northern Whistler neighbourhood.
"It was beyond expectation for the energy that has been created," studio owner and director Julie-Anne Roy says. "What we stand out for is our willingness to help and support the community with a very community-centred business."
Roy notes the studio's location is also convenient for those in Alpine Meadows and Emerald Estates, as yogis in those parts of the resort don't have to sojourn all the way to Whistler Village to get posing.
The studio gave folks a try-before-you-buy opportunity upon opening, Roy notes.
"We did a week of yoga by donation. It was actually free yoga, so we had a lot of people (come out)," Roy says.
White Gold Yoga took second and Whistler Core was third.
Best coach/personal trainer
Andy Robinson from Whistler Core Climbing & Fitness Gym
As he attempts to push his athletes to be their very best, Andy Robinson changed his strategy a bit in 2017.
"I changed my attitude to a certain degree and decided I was going to focus on giving my clients the best quality I possibly could," he says during a brief break between sessions. "If that means I see a few less people, then so be it."
Robinson expresses appreciation for Whistler Core in that they support him however he needs, ensuring he maintains a work-life balance and that he has the necessary equipment.
Robinson explains 2017 was a busy year overall, but he loves all that he gets the opportunity to do, so it's all worth it.
"I'm so stoked. I feel very, very lucky to have won again. I love living here in Whistler. I love the community we've got and I love the work I do," he says.
Meghan Sutter from Peak Training jumped into the second-place slot while Rich Sievewright placed third.