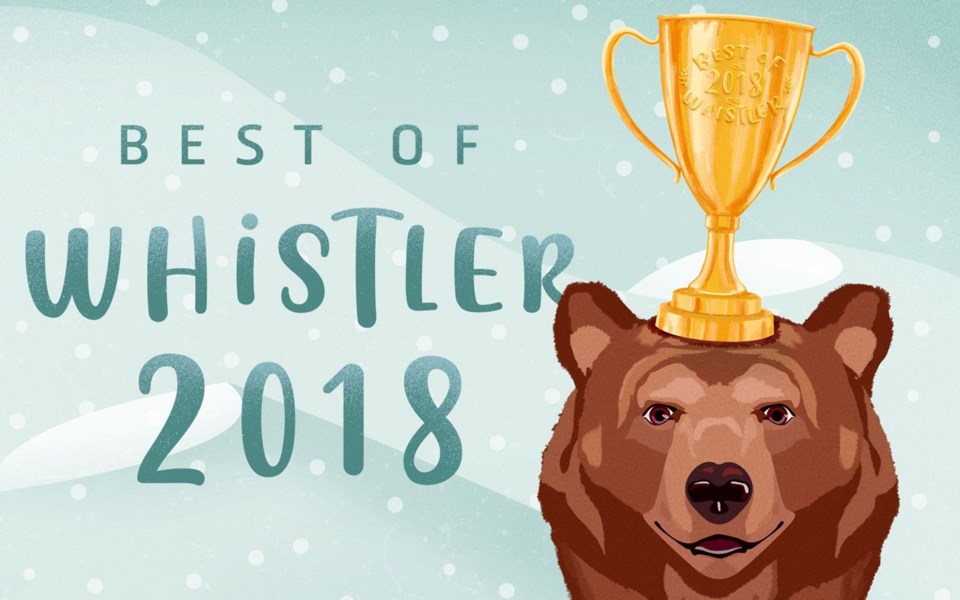 If 2017 was a year of transition, 2018 was the year that Whistler settled into its new reality.
We're now more than two years removed from Vail Resorts $1.4-billion purchase of Whistler Blackcomb, and well into the second full year with the Colorado company at the helm of operations of North America's largest ski resort.
October saw a new council elected to office, including Whistler's latest mayor, Jack Crompton, who ran unopposed.
But with all that change, some things defiantly remained the same. Housing is still the pressing issue of the day, with no real end in sight to Whistler's longstanding accommodation and staffing shortage. Our visitation numbers continue to rise, setting new records on a nearly yearly basis, as Whistler builds on its global reputation.
If you're a regular reader of Pique's annual Best of Whistler, you'll probably notice some familiar names and faces this year. In one of the most dynamic, ever-changing communities in Canada, it makes sense that us locals are creatures of habit, craving the familiarity of our favourite places, people and things that make Whistler what it is.
That's not to say there isn't any fresh blood this year, though. We've got a brand-new Favourite Whistlerite, and a handful of new categories added to the mix.
So, as we set our sights on the year to come, Pique is proud to bring you the results of this year's Best of Whistler poll, as voted by you.
Happy New Year!
Quintessential Whistler
FaVourIte WHIstlerite: Ace Mackay-Smith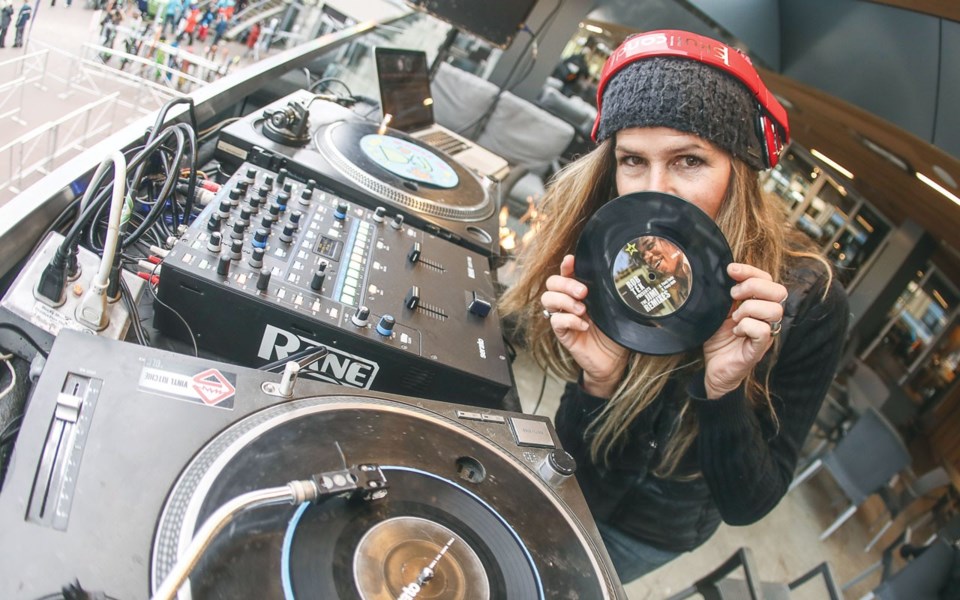 There are moments during her public DJ gigs when Whistler mainstay Ace
Mackay
-Smith is struck with an existential fear of sorts.
"Sometimes when you're in the public like that, like in front of people, you're like, 'Oh god, I hope people don't think I think I'm cool up here," Mackay-Smith says, deploying her trademark, infectious laugh.
"I just want us all to have a good time. I'm not up here to be like, 'Hey, look at me!'"
For years now, the DJ, radio host, go-go dancer, filmmaker (and so much more) has been providing the good times for Whistler locals and visitors alike—and looking damn cool doing it, whether she'll admit it or not.
After years of finishing second or third in this category, Mackay-Smith has finally earned the honour of being voted Favourite Whistlerite.
"I feel like, 'I'm not worthy'—Mike Myers," she says with a laugh.
"And now I feel like there's pressure ... I'm representing something. I don't know. I don't know if I like that." (More laughs.)
"Thanks to all those weirdos and crazy people who voted for me."
Five-time Favourite Whistlerite Mike Douglas tied for second place with new Mayor Jack Crompton, while pro skier Stan Rey finished third.
Best Excuse For Being Late: On the Hill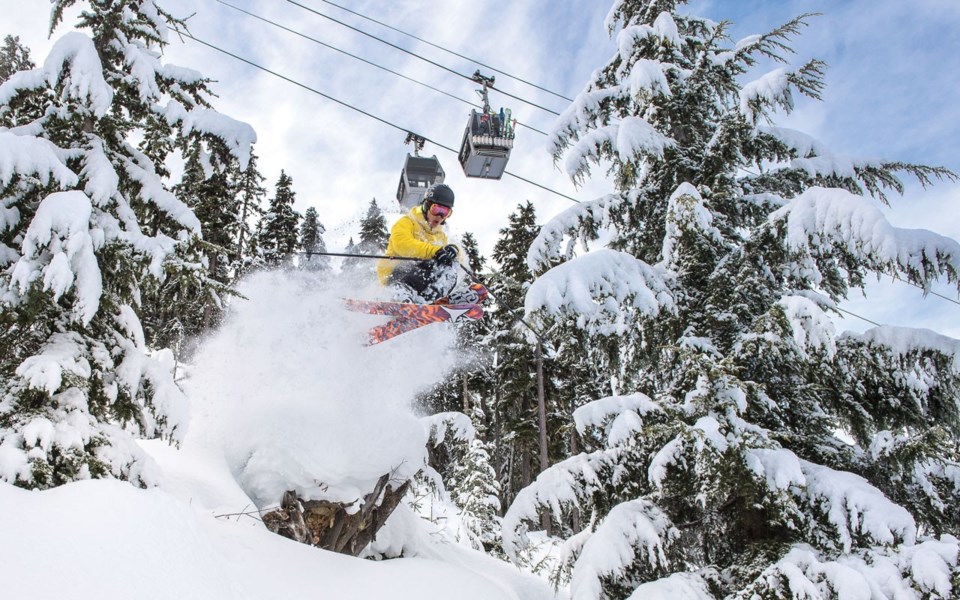 As always in this category, the real fun is not in the winner (you were late because you were On the Hill—practical, effective, and boring), but in the honourable mentions.
Common excuses like being hungover or stuck in traffic aside (second and third in this category, respectively), Whistlerites had some very interesting dilemmas again this year.
This year's honourable mentions include poop-related tardiness (a disturbing amount of this, actually), sex-related tardiness (we get it, you fuck), a cat on fire (let's hope this one was reported), a sheep in need of a walk (let's hope this good boy got to stretch his legs), and our favourite: standing in amazement looking at the $7-million Gateway Loop.
We don't blame you—it really is hypnotic.
The Alpine Meadows Excellence Award for Best Neighbourhood (formerly Best Neighbourhood): Creekside
Last year, we officially retired Alpine from this category, hoping to give one of Whistler's other neighbourhoods a shot at the crown in 2018 (Alpine Meadows has never lost).
Then we forgot about it, and Alpine ended up winning again.
So for those of you who voted for Alpine again this year, we're sorry. Your vote is appreciated and noted (though ultimately meaningless).
For everyone who has so diligently voted for Creekside over the years, now is your moment of vindication—your charming little hub is the inaugural winner of the Alpine Meadows Excellence Award for Best Neighbourhood!
In second place was White Gold, followed by Rainbow.
Best Place to Smoke a Joint: At home
To hear it from Pique readers, literally every square inch of traversable land is the perfect place to light up.
Responses on this question were wildly varied, with readers getting lifted in gondolas, parking lots, lakes and docks, the Village Stroll, a grassy knoll, seemingly every available run on Whistler and Blackcomb, and everywhere in between.
But your favourite, most perfect chill spot to burn one down is in the comfort of your own home, or at a friend's place.
In second place was "I don't smoke" (vaping and edibles it is, got it) followed by the versatile and effective "anywhere."
Tragically, one Pique reader apparently broke their cannabinoid receptors when they were about 17 after one too many bong hits.
Live by the flame, die by the flame.
What is the Best Whistler Trend?: Active, healthy lifestyle
Here in the Pique newsroom, our journalists know the importance of staying fit.
Last January, several of us participated in an impromptu 15-minute group stretch (which we affectionately dubbed "Getting Limber for 2018"), and with only one month left in the year we're counting down the days to the next annual stretch.
No pain, no gain.
So, we feel you when you say that living an active, healthy lifestyle is the best Whistler trend (because as mentioned, we are limber as all heck).
Wearing toques and beanies anywhere, anytime was your second favourite trend (we can relate to this one, too), followed by being sociable.
What is the Worst Whistler trend?: Lack of affordable housing
How long before a trend is just referred to as the status quo?
For the third year in a row, Whistler's housing, rental availability and affordability woes combine to take the mantle of worst Whistler trend.
In a similar vein, "complaining about everything" moves up a spot to No. 2, while "doing drugs" falls to No. 3.
This year, Pique readers also took issue with Vail Resorts, Instagram influencers, littering, beards, flossing, entitlement, STIs, shit moustaches, pay parking, not showering, losing things, lad culture and forest fires.
Best Whistler Myth: Dual Mountain
A good myth is one that endures the test of time; it stays effective even when its origins begin to get blurry.
Dual Mountain is one of those myths.
If you've never witnessed the mythical peaks for yourself, you're missing out.
Finding them won't be easy, but it will be worth it.
Longtime locals know the truth—seek one out when you're ready to truly test your mettle.
Your second favourite myth is a folk classic (Sasquatch and/or Bigfoot are definitely real, and possibly eating at Caramba's), followed by another local favourite (that the moguls are stored in a warehouse over summer) in third.
Honourable mentions: The Ghost of Green Lake, pink snow is from the blood of misbehaving children, The Hairfarmers are actually farmers, and White Jesus lives on Blackcomb.
What's the best location iN Whistler for a Photo Op?: Anywhere
The secret is out, guys. Whistler's easy on the eyes.
Your favourite place to take a photo is, once again, literally anywhere, followed by the Whistler peak or the top of Seventh Heaven.
But is "anywhere" really a valid answer here? Seems a bit lazy, no?
Are the public washrooms at Whistler Olympic Plaza a great place for a photo? Or that lovely little concrete enclave near Shoppers Drug Mart (affectionately referred to by some locals as the "piss cave")?
We understand the sentiment, but maybe next time, be a little more specific. Nobody wants to take their family photo with the bus loop.
What's the Best Decision by Council in 2018?: Work on housing
Complimenting your least favourite trend (a lack of housing) is your favourite decision by council in 2018: continued work on housing through projects like Cheakamus Crossing Phase 2 and private developer proposals.
Your second favourite decision was continuing to put an emphasis on regional transit, followed by approving construction on the artificial turf field at Cheakamus Crossing (now officially known as the Andrée Vajda Janyk Sports Field).
What's the Most Questionable decision by CouNcil in 2018?: Spending nearly $7 million on the Gateway Loop
It was a tight race for the top three in this category, but in the end, Pique readers just could not get past that $2-million bus roof.
The fact that the RMOW spent nearly $7 million to reconfigure the Gateway Loop (including the aforementioned $2-million for the roof alone) was your main sticking point with council over the past 12 months, followed closely by their failure to address neighbourhood parking after re-introducing pay parking last year, and the artificial turf field.
What's the Biggest News Story of 2018?: WB announces 200 staff beds
Sticking with the theme of housing, the biggest news story of the year, according to Pique readers, was Whistler Blackcomb's announcement that it will build 200 new staff beds to help house its employees.
The legalization of cannabis, and the RMOW's cautious approach, came in second, followed by new Mayor Jack Crompton running unopposed in the Oct. 20 election.
What is One Thing you would ChaNge About Whistler?: More affordable housing
If you've been reading along to this point, you should be able to predict what the top answer was in this category.
People who live in Whistler love this place, and many people wouldn't change a thing.
But it's hard to enjoy a place when you can't physically live there, so most of you would like to see more affordable housing (first place), a lower cost of living (second) and less traffic/congestion (third).
What Was the Best Environmental Initiative in Whistler over the past year?: Banning smoking on the Village Stroll
Your favourite environmental initiative in 2018 was one of the last official actions of Whistler's outgoing mayor and council.
When the smoking bylaw first came forward in October, council sent it back asking staff to make it more comprehensive.
On Oct. 16, council gave first readings to a bylaw that will designate the entire Village Stroll as smoke free (now, how about some enforcement?).
Free transit on summer weekends came second, followed by the Association of Whistler Area Residents for the Environment's zero-waste strategy in third.
Favourite INdividual Volunteer: Grace Blok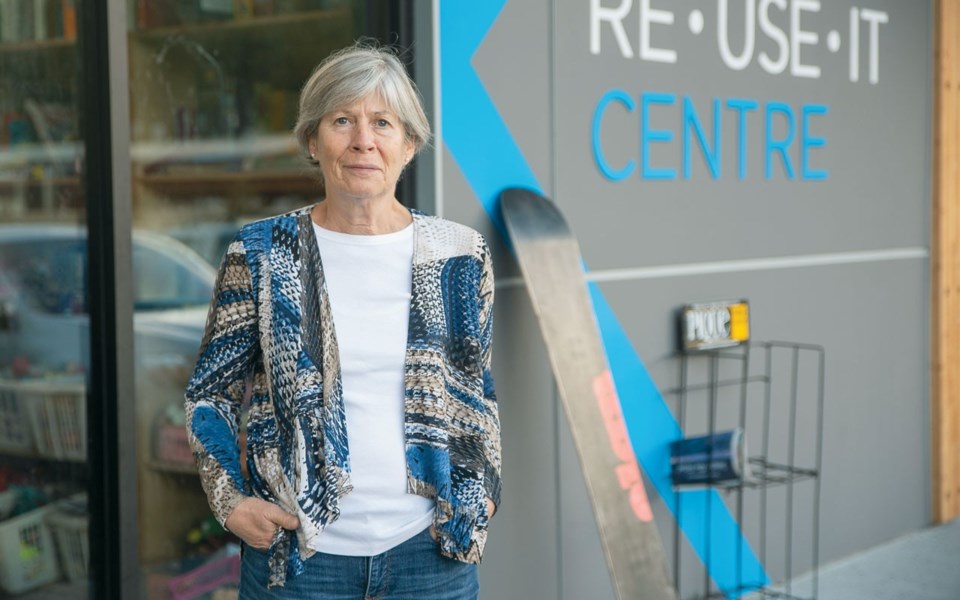 Like many to take this category before her, Grace
Blok
was taken aback to hear she's been named Whistler's Favourite Individual Volunteer for 2018.
"There are so many people that volunteer so much. I do a couple of things, but really, not nearly as much as so many others," Blok says, adding that she typically volunteers for races like the Whistler Half Marathon and Ironman Canada, along with volunteer work for her church.
"I work in an organization where you're always helping people (Whistler Community Services Society), so that might be part of it."
Blok says she's a big proponent of the idea that people are blessed when they volunteer.
"I think it's an enriching experience, and whether you're volunteering for an arts program or for a sports program, I think it just gives you a sense of community," she says.
As surprised as Blok was to hear she'd won, she was even more surprised to hear who rounded out the top three: Heather Paul in second ("She deserves to be first! She's fabulous," Blok adds) and Cathy Jewett in third.
"I am in very good company," Blok concludes.
To learn more about volunteer opportunities in Whistler, head to www.whistlerfoundation.com/initiatives/volunteer-in-whistler.
What's Your Favourite Whistler Non-Profit organization?: WAG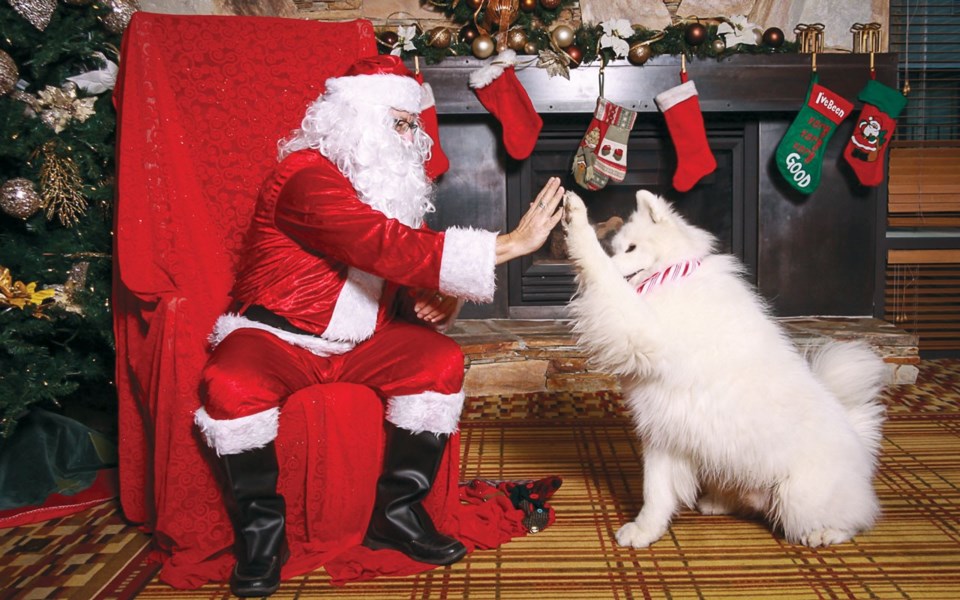 It was no contest once again in this category, with the team at Whistler Animals Galore bounding away unleashed for another decisive victory.
The fine staff at the Whistler Community Services Society (who moved to a brand-new building on Nesters Road this year) took second, followed by the wheeled warriors at the Whistler Off-Road Cycling Association.
Favourite Backcountry Spot: It's a secret
We get it. When you've got the perfect spot, no way you're going to share it with the world (close friends, maybe, but definitely not the entire collective readership of Pique Newsmagazine).
We will allow you your secrets, and confirm that "It's a secret/Not saying" is once again your favourite backcountry spot, followed by Khybers and the Duffey Lake Road.
Restaurants and Cafés
Best Coffee: Mount Currie Coffee Co.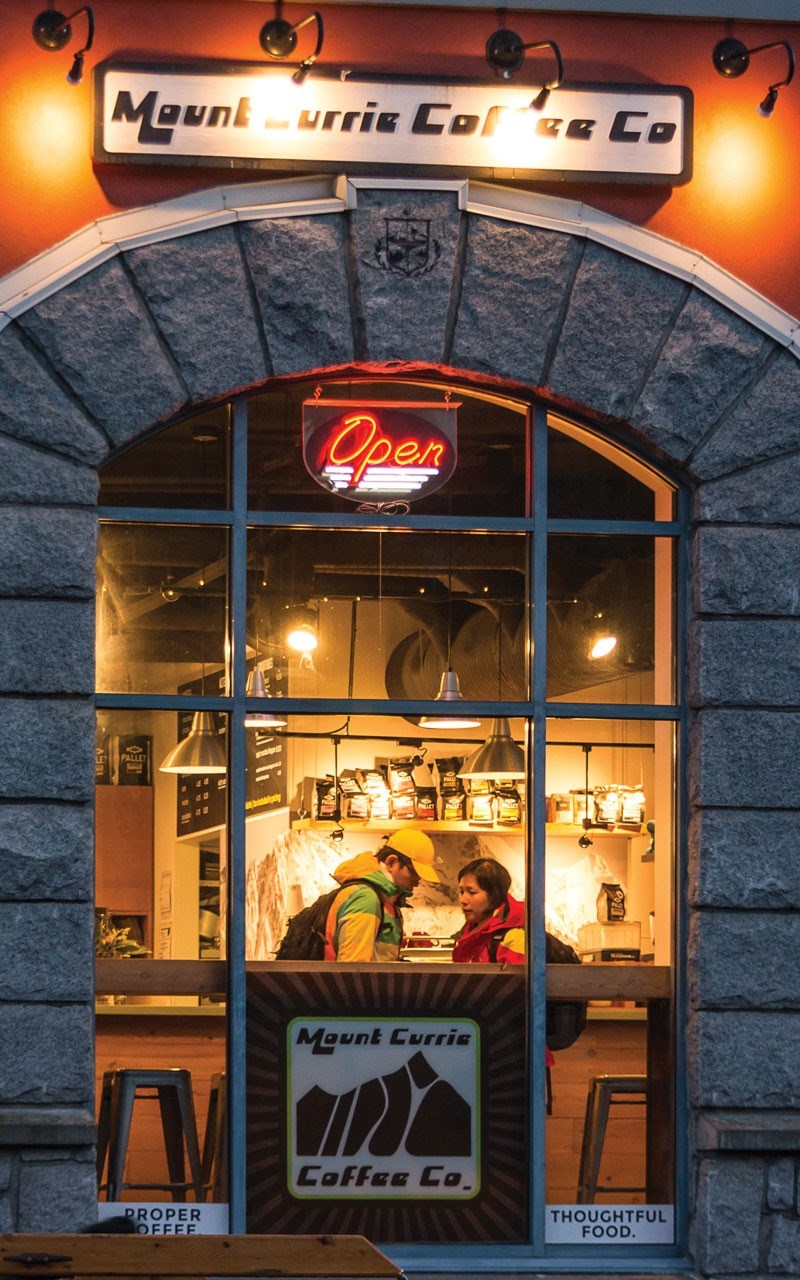 According to Mount Currie Coffee Co. owner Chris Ankeny, making a stellar cup of coffee takes more work than you might think. "People don't realize how much training actually goes into producing a good cup of coffee, and it takes time to get people to the level where they can consistently produce great coffee and do it with great service," he explains.
It's that commitment to craft that has kept the Main Street coffee shop at the top of this category for the past six years. "I really have to thank my staff for keeping the consistency and quality on point," Ankeny adds. "Every year, I wait to get taken down. There's more and more great coffee in Whistler now, and I feel so fortunate that we continue to have the support of our locals and our community."
Rounding out the list this year was Blenz Coffee in a close second, followed by Function Junction's Camp Lifestyle & Coffee in third.



Best Breakfast: Elements
Employees from Elements Whistler, the village mainstay that has been dishing out its modern spin on breakfast classics for years, had good reason to brag at its staff party this Christmas. For the past three years, Elements has narrowly beat out its sister restaurant, Wild Wood, in this category, ensuring the friendly rivalry will continue into the future.
"I've always said it: It's us against them," says manager Cara Stelmack with a laugh. "It's the same owners, of course, so it's a win-win all the time, but obviously we're very loyal to what we do and we bring a lot of pride and passion to it. We're fierce about our overall objective, which is putting out the best breakfast plates, and we think we do that."
Wild Wood, which counts locations in the village and Function Junction, came in second. Beloved local haunt the Alpine Café earned enough votes for third.



Best Quick Lunch: Ingrid's
The secret to Ingrid's Village Café's continued success in this category is simple, according to co-owner Fiona Minton: Staff doesn't serve anything that they wouldn't put out on their own dinner table.
"We put out a product that we love. I think if you like what you do, that spills over to the customers that come in," she says.
This is the seventh year in a row that Ingrid's has taken the Best Quick Lunch title, which is a credit to the small-but-mighty café's consistency and commitment to freshness. "We don't like to say we do fast food, we do good food, fast," Minton says. "It's fresh. We're a very small space, so we can only do a limited amount of stuff, and the produce that comes in is delivered daily. We can never keep too much product in the store, so we're making food to be sold as quickly as possible."
Whistler's favourite spot for affordable Japanese fare, Samurai Sushi, took silver this year, with taco joint La Cantina scoring bronze.
Best Dinner: Rimrock Café
The RimRock ran away with this brand-new category, proving that locals will never get over their longstanding love affair with Whistler's place for fish and game. And you can be sure that, whether you dined there in 1988 or 2018, you're going to get the same quality fare and outstanding service that continues to set the RimRock apart.
"We always ask ourselves, and we always think we want to change the menu, but we don't. It doesn't seem to affect us," co-owner Bob Dawson says. "It's amazing that after 33 years, we're still in business and still getting the awards and people are still enjoying it."
21 Steps claimed second place in the Best Dinner category, while Red Door Bistro wasn't far behind in third.
Best Dessert: Purebread
Hell has a better chance of freezing over than Purebread does of relinquishing its title in the Best Dessert category, which the beloved bakery has won every year of its existence. Purebread started as a labour of love years ago in Mark and Paula Lamming's kitchen. Today, Purebread has expanded to include locations in Function, the village, and three in Vancouver, and it's thanks to its committed staff's ability to continually reinvent itself with a regular slew of new fresh-baked treats.
RimRock took second again, with ice-cream shop Cow's Creamery landing the final spot on the podium.
Best Wine List: Araxi
Whistler's longest running fine-dining restaurant eked out a close win in this category, with its more than 1,000-strong wine list being recognized once more by local voters.
"Our ever-changing menu at Araxi allows me to showcase both the amazing wineries of B.C., as well as treasured finds from around the world," says wine director Jason Kawaguchi. "We look forward to an upcoming year of even more wine dinners with exciting new additions (Champagne!) arriving just in time for the holiday season."
RimRock was only a dozen votes back in second, while Bearfoot Bistro's extensive wine list wasn't far behind in third.
Best Burger: Splitz Grill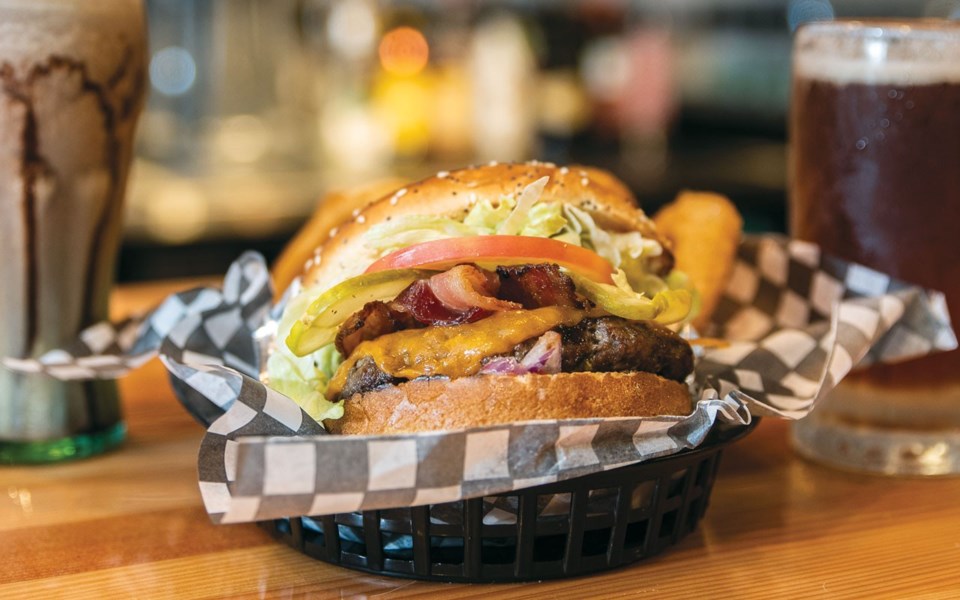 2018 was a year of change for Splitz Grill since new ownership took over last fall. Along with taking over the reins from longtime owners Cathy and Paul McGeough, Peter Goff oversaw a major renovation of the Main Street restaurant this fall that included a new front counter and a fresh mural by Whistler artist Kris Kupskay.
But there are some things Goff was certain not to change.
"Importantly, we chose to not mess with the recipes that everyone loves," he says. "We have added a couple of new features that we think compliment the burger experience well, so draught beer is one of them, and we're doing waffles as a new item. We've also got boozy milkshakes on the menu, too, so there's been a bit of a focus on that."
Whistler Blackcomb's Mountain Square mainstay, Garbo's Grill, claimed a distant second this year, while Roland's Pub in Creekside came in third.
Best Pizza: Creekbread
Creekbread is synonymous with quality pizza, and has earned the victory in this category every year it has been around. (If you haven't noticed, Whistlerites are creatures of habit, as you can tell by how many repeat winners there are this year.)
Certainly, Creekbread's all-organic, wood-fired pies, which feature a range of fresh toppings you're unlikely to find at any other pizzeria, are a huge factor, but it's also the restaurant's philanthropic efforts that have earned a place in Whistlerites' hearts. The Creekside pizzeria hosts a fundraiser every Tuesday, with a portion of every pizza sold going to a rotating cast of local causes. Pizzeria Antico's traditional Neopolitano 'za claimed second place once more in 2018, with everyone's go-to post-bar indulgence, Fat Tony's, returning in third.
Best Steak: Hy's Steakhouse
Another perennial winner, Hy's Steakhouse, has extra reason to celebrate in 2018, its 20th anniversary in Whistler.
"We take great pride in what we do and being a great partner to Whistler and the community," says GM Michael Kyle. "Being here 20 years now, it takes a little bit of longevity, know-how, and it takes great service and great meals to create that legacy.
"We look forward to keep winning for years to come."
Hy's uses only top-quality Canadian beef, combined with an old-school mentality towards service that harkens back to the grand` mid-century steakhouse. It has won this category every year.
The Keg Steakhouse + Bar reclaimed second spot, with Sidecut Modern Steak + Bar at the Four Seasons in third.
Best SushI: Sushi Village
In a town full of quality sushi options, it takes something a little extra to stand out from the crowd. For repeat winner Sushi Village, that has meant fostering a lively, party-like atmosphere since it was first opened more than 30 years by beloved owner Mikki Homma, who passed away last year.
"It just makes me super proud of the team and the fact that we continue to support our local community and that we try really hard to make sure we provide for them and give them a good time every time they show up," says manager Amy Huddle. "Our tagline is 'Epic History, Epic Food and Epic Parties,' and we really do try to maintain that night after night."
Sachi Sushi on Main Street earned enough votes for second, while Nagomi Sushi over in the Upper Village landed in third.
Best Healthy Meal: Green Moustache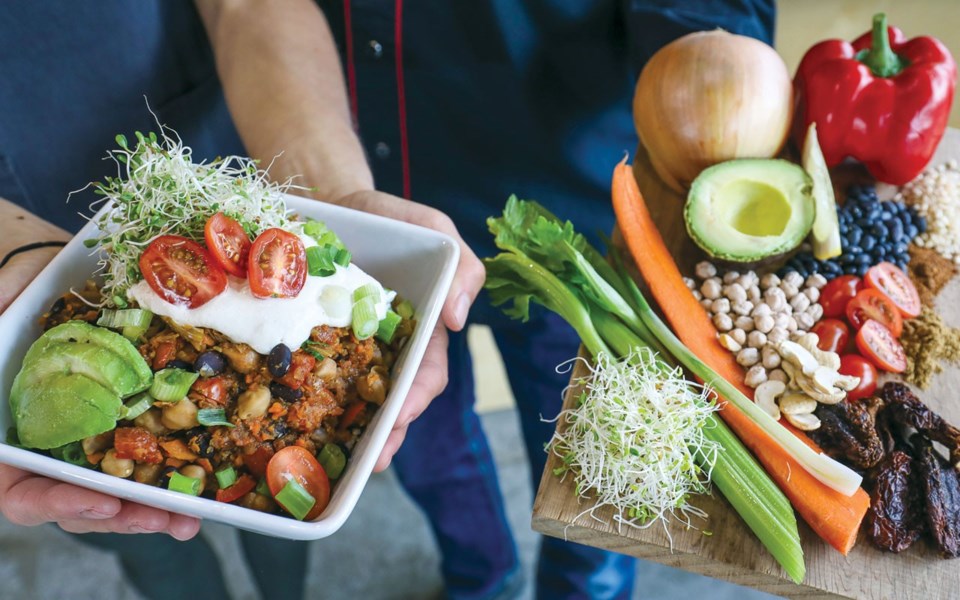 After opening several new locations, consulting on a newly built health centre in China, and launching an equity crowdfunding campaign for the Green Moustache's capital expansion, to say that 2018 has been a busy year for the green-food company would be a vast understatement.
"I just did a review of the year because one of our investors said that we do more in a year than what most businesses do in their entire existence. I was actually shocked by that and didn't really know what he meant, so I did a review and realized, holy smokes, we have done so much in the last 12 months that it's been shocking," relays Nicolette Richer, founder of Whistler's favourite spot to eat right. This is the first year of this category, replacing Best Vegetarian, a category that The Green Moustache has historically dominated. Its all-organic, vegan menu has caught on like wildfire, and the company now counts five locations in B.C. and Alberta, with two more on the way. To hear Richer tell it, The Green Moustache is anything but a flash in the pan.
"It's not just a trend," she says. "Eating healthy, clean, vibrant, healing foods is here to stay. People should not wait any longer if they haven't made the switch to a plant-based diet. It's never too late."
Ingrid's Village Café came a distant second, while Olives Market in Function earned third.
Best Takeout: Samurai Sushi
Samurai Sushi has won this category so many times that co-owner Ru Mehta began offering Pique some of his favourite quotes in response to his long string of victories. Sadly, this will likely by the last year to enjoy one of Mehta's slightly off-topic responses, as he is in the process of selling Samurai Sushi to longtime staffers Evan Choi and Takuya Ota.
So here goes: Paraphrasing Joseph Heller's classic dystopian novel, Catch-22, Mehta says, "Just 'cause you're paranoid doesn't mean they ain't out to get you."
At Samurai Sushi, the only thing diners are out to get is yummy Japanese comfort food, fast, that won't break the bank. "First of all, we're happy to win Best Takeout," says Choi. "We're going to try our best to keep the good food quality with affordable prices."
Samurai Sushi now only counts one Whistler location, at Nesters, with the Creekside spot rebranding this fall to Samurai Bowl, which features a variety of rice bowls and curries.
Pasta Lupino nabbed the second spot this year. La Cantina claimed third.
Best Overall Experience: Rimrock Café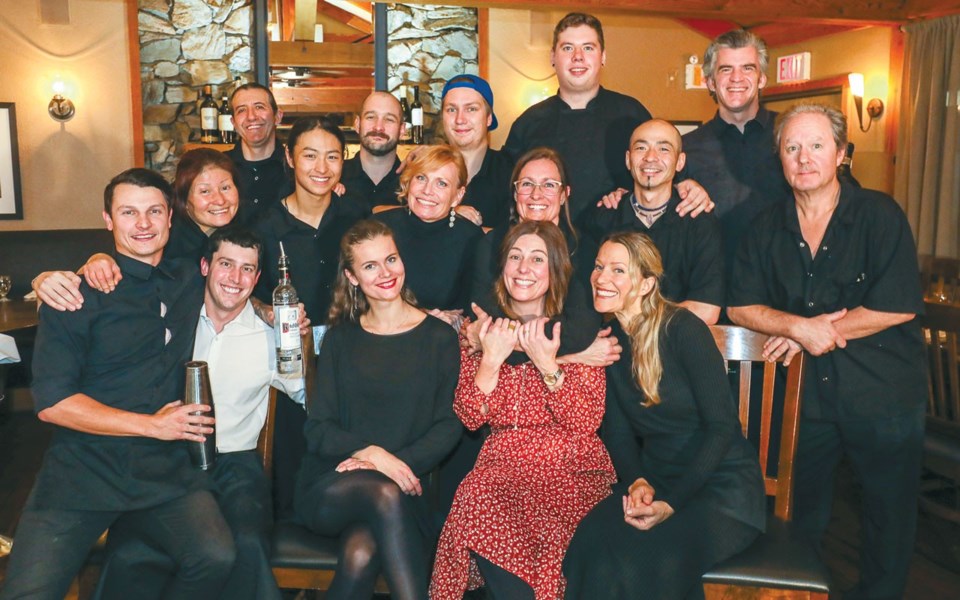 It was a standout showing for RimRock in this year's Best of Whistler poll, with voters awarding the cherished fine-dining spot with three wins, including probably the most coveted category for any local restaurant, Best Overall Experience. Consistency is the name of the game for RimRock, whether it's the classic menu that diners have known and loved for more than three decades, or the longtime staff that has stayed at the Creekside spot for years amidst Whistler's employee shortage. "I think it's a nice, cozy atmosphere, with quality staff and great food," says co-owner Bob Dawson of the RimRock's appeal. "You feel like you're at somebody's home when you come in."
Another Creekside favourite, the Red Door Bistro, came in second, with 21 Steps rounding out the list.
Best Service: Rimrock Café
While the rest of Whistler's restaurant sector struggles with high staff turnover, the majority of the RimRock's staff has been there for ages. So, what's the secret?
"We hire more mature," says co-owner Bob Dawson. "We don't hire a lot of seasonal employees, we hire more full-time employees and those people hang around more because they're the ones who live in Whistler, they're not just here for a short time. And, like any employer, you try to treat your staff as good as possible and treat them fairly. I think that's why we have such good staff retention."
The Red Door Bistro played runner-up once more, with Araxi coming in a close third.
Bars, pubs and clubs
Best Après: GLC
The Garibaldi Lift Company continues to dominate Whistler's après scene, thanks to its prime Skier's Plaza location, stellar menu, and, according to manager Zoey Cotton, its dedicated staff.
"It's the core of who we are. We're kind of a big family here, and it shows in our service," she says.
In years past, the GLC has been known for the sheer diversity of its programming, but Cotton says the popular après haunt will be taking a more deliberate approach come 2019.
"We're actually launching a new dinner program so that we're giving back to the customers a bit more stability and structure to our evenings," she notes. Of course, the GLC's live music offerings will continue, including the popular monthly Old-School Hip Hop Night and SkiiTour Après, but diners can expect a more rigid schedule to better plan their après experience.
Dusty's in Creekside missed out on the top spot by just one vote this year, while classic Irish pub the Dubh Linn Gate wound up in third.
Best Bar/Pub: Tapley's
Tapley's has been known as the "locals' living room" since it first opened its doors in the '80s, and it's that downhome vibe that acting manager Alex Edmonds believes is the bar's secret sauce.
"We're nothing special, but we always produce that fun atmosphere where everyone's going to have a good time no matter what day of the week it is," he says. "We pride ourselves on our staff and how approachable and inviting they are. I think everyone likes that vibe."
The Beacon Pub and Eatery earned enough votes for second, with the Dubh LinN Gate in third.
Best Patio: GLC
Pretty much everyone who comes to Whistler wants to be close to the action, and once you're here, you can't get any closer than the Garibaldi Lift Company's massive patio, which overlooks Skier's Plaza and the bike park in the summer.
"(From) the seating itself, especially on our mountain side, everybody can see what's going on," explains manager Zoey Cotton.
The GLC's neighbour, The Longhorn Saloon, earned second place with its large, heated patio. Table Nineteen at Nicklaus North Golf Course was a close third.
Best Club: Garfinkel's
Garfinkel's has been catering to Whistler's late-night party set going back more than a quarter of a century, and it continued its dominance of this category in 2018.
According to GM Brendon King, the Gibbons Whistler-run club couldn't do it without its local fanbase.
"We really appreciate the incredible local support and we are excited to continue to deliver world-class experiences in 2019," he writes in an email. "We would personally like to thank the incredible team, management, all of the artists who perform here, the entire Whistler Village community and our Gibbons Whistler family for the support."
Moe Joe's landed in second spot this year, with another Gibbons establishment, Buffalo Bills, rounding out the list.
Best Cocktail: Bar Oso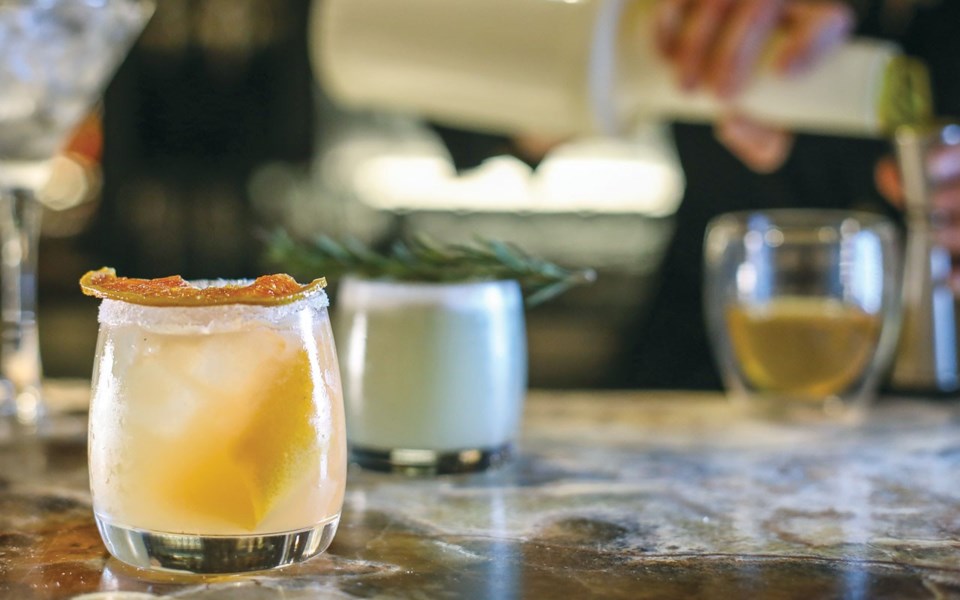 In the three years that Toptable Group's Bar Oso has been delighting village gourmands, its signature Oso Sour cocktail, made from bacon-infused bourbon, lemon juice, chartreuse, egg whites, and maple syrup, has reached near mythic proportions among libation lovers. But while that Spanish-inspired cocktail gets all the attention, Bar Oso's entire cocktail menu deserves some appreciation.
"We're so delighted to be once again named Best Cocktail by Pique Newsmagazine readers and tip our glass to Whistler's talented mixologists who share our passion," writes restaurant manager Alli Nowak in an email. "The art of the crafted cocktail is alive and well as our guests are so appreciative of our efforts to showcase locally-made spirits and regional ingredients. It's just our way to provide a sense of place and add to a Whistler memory or two."
21 Steps in the village came in second, with The Mallard Lounge at the Fairmont Chateau Whistler landing in third place.
Best beer Selection: Coast Mountain Brewing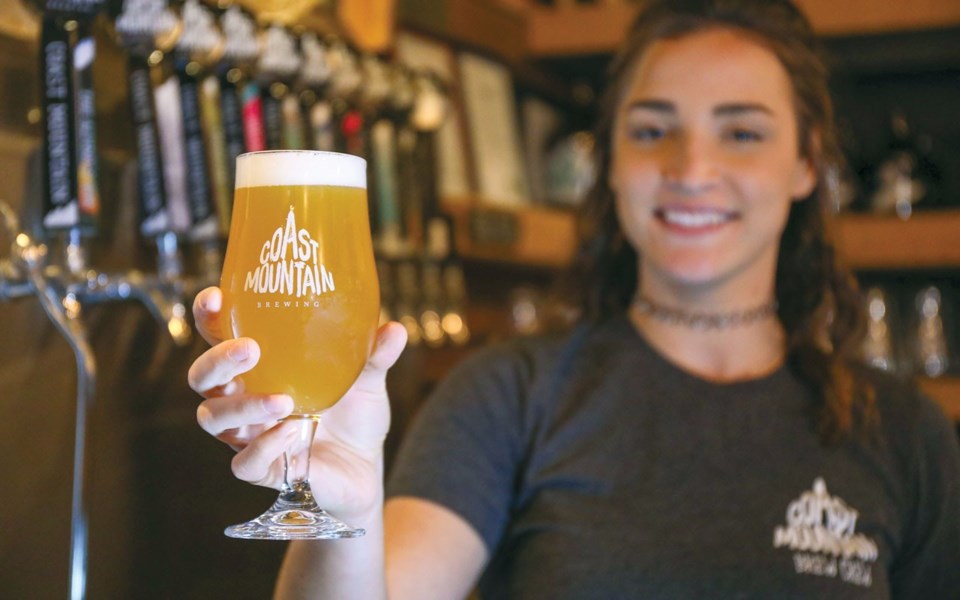 Coast Mountain Brewing may not have Whistler's most extensive beer list, but when you're brewing some of the best craft beers in the province, quality is always going to trump quantity.
"As long as the beer's good, everything else will fall into place. That's been our behind-the-scenes motto since Day 1," says co-owner Kevin Winter.
Since opening its doors in Function Junction two years ago, Coast Mountain has earned a slew of industry accolades recognizing the microbrewery for its fierce commitment to experimentation. That means that, along with its core menu of brews, Winter and his team of beermakers are always playing with new recipes that hit the taps on a near monthly basis.
"We try recipes that are true geographic recreations of how that beer might taste where it originates from," Winter adds.
"It's easy to tell our story because we care about the products we make and we're passionate about our brand and our employees that work here. We're in a good place right now."
Coast Mountain usurped the Dubh Linn Gate from its usual place in this category after cracking the list for the first time in 2017. The Irish pub fell to second this year, while HandleBar Café and Après and its wonderfully diverse craft-beer list repeated in third.
Best Local DJ: DJ Foxy Moron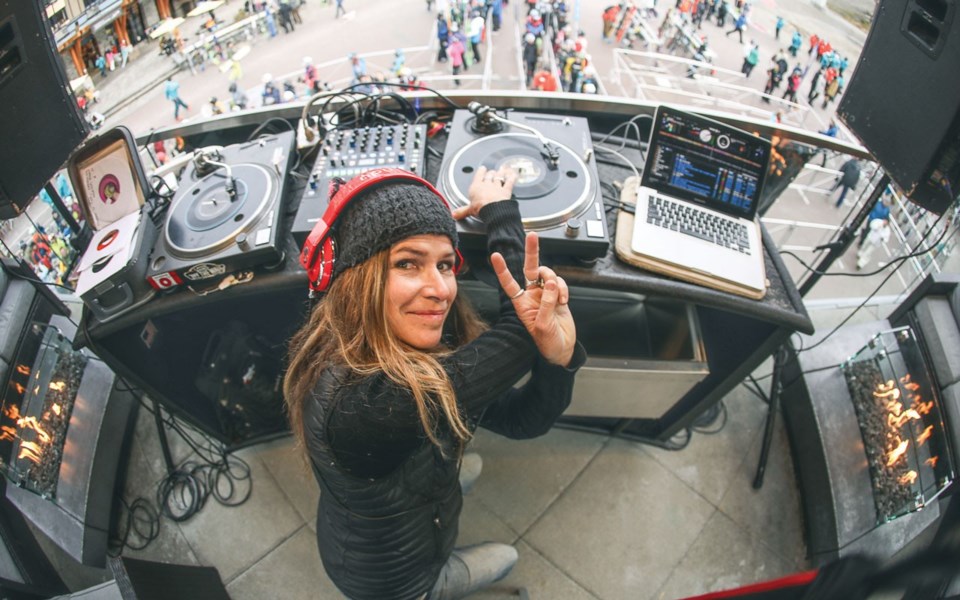 It's safe to say Ace Mackay-Smith, a.k.a. DJ Foxy Moron, is a popular gal. Along with winning the title of Favourite Whistlerite in our readers' poll this year, the longtime artist, go-go dancer and all-around rad human reasserted her reputation behind the ones and twos as the favourite DJ in a resort chock full of them.
Chances are if you've been in Whistler long enough, you've danced to Foxy Moron's grooves, which tend to veer towards old-school funk and soul. The third year in a row she's earned this honour, Foxy Moron has graced Whistler stages and signature events for more than two decades.
DJ duo Joni T and La Dooda of Case of the Mondays wound up in the second spot. Buffalo Bills staple DJ Peacefrog, a.k.a. Michel Chartrand, came in third.
Favourite Locals' Hangout: Tapley's
Winning Pique's inaugural Best Bar/Pub category this year wasn't enough for Tapley's Pub, the go-to spot for live music and all the sports action you can shake a stick at for years now.
And just like Cheers, it's the place to go where everyone knows your name.
"I think the locals like that they know what they're going to get every time they come into Tapley's," says acting manager Alex Edmonds. "Everyone enjoys when they do go to Tapley's, nine times out of 10 they're going to see someone they know."
Roland's Pub down in Creekside garnered enough votes for second, while the Beacon Pub and Eatery wound up in third.
Arts, Media & Culture
Favourite Artist: Andrea Mueller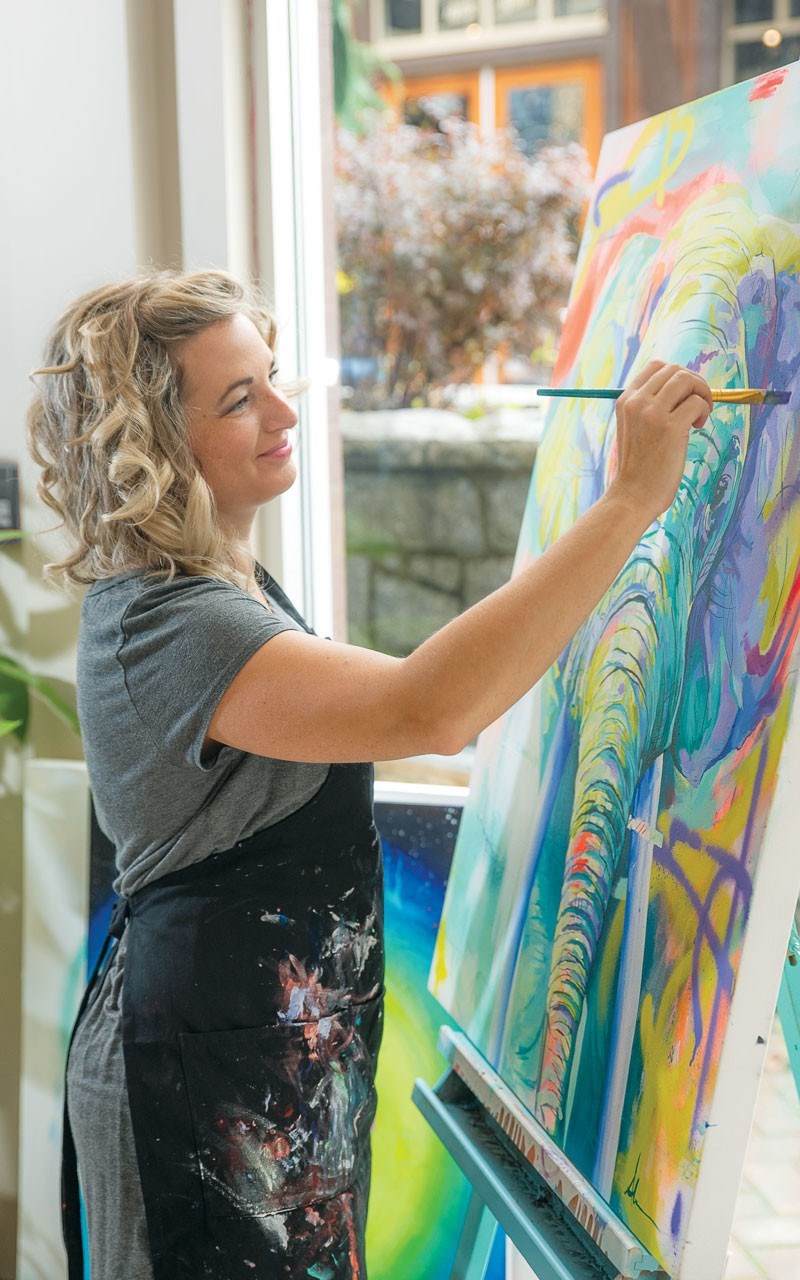 It's been a big year for Andrea Mueller. In 2018, the longtime local took the leap and quit her day job at Arts Whistler to work fulltime as an artist.
"I've come a long way and some exciting things happened when I decided to go fulltime," she says.
Earning the title of Whistler's favourite artist is a nice sign "to show me I'm on the right path," she adds.
With her use of bold colours and proclivity for depicting local wildlife, the painter narrowly edged out muralist Kris "KUPS" Kupskay, who came in second place, and illustrator Kate Zessel, who placed third.
"I'm lucky I get to be creative in such a beautiful place with so many supportive people—the community as well as all the other artists in town," Mueller says. "It's an incredible place for artists; I'm happy so many are doing so well right now."
Best Major Art Exhibit: Stone and Sky: Canada's Mountain Landscape
This year, the Audain Art Museum nabbed both first and second place for Best Major Art Exhibit, the first year of this category.
Interestingly, though, the shows could not have been more different.
Taking the top spot was Stone and Sky: Canada's Mountain Landscape, which featured landscapes depicted in a variety of mediums.
"There's definitely an appetite for landscape art—for visitors and locals," says Curtis Collins, director of the museum. "That bodes well for us. Looking forward, in our schedule this coming spring, we have another landscape-based exhibit in May. If we can fulfill that part of people's art appetite, we're happy to do so."
Just three votes behind was POP, featuring pieces from the pop-art movement, co-organized with the Smithsonian American Art Museum.
"That's particularly gratifying for the museum ... We tried a number of new efforts in terms of engaging with our audience—most notably the 'selfie wall'—that received a lot of social-media circulation," Collins says, referring to the Roy Lichtenstein-like backdrop they created. "Often people perceive museums as stuffy and stodgy places. We definitely are not."
Rounding out the list in third place was the Anonymous Art Show, an Arts Whistler fundraiser in which the names behind the works were hidden until they were purchased.
Best Arts and Culture Event or Festival: Crankworx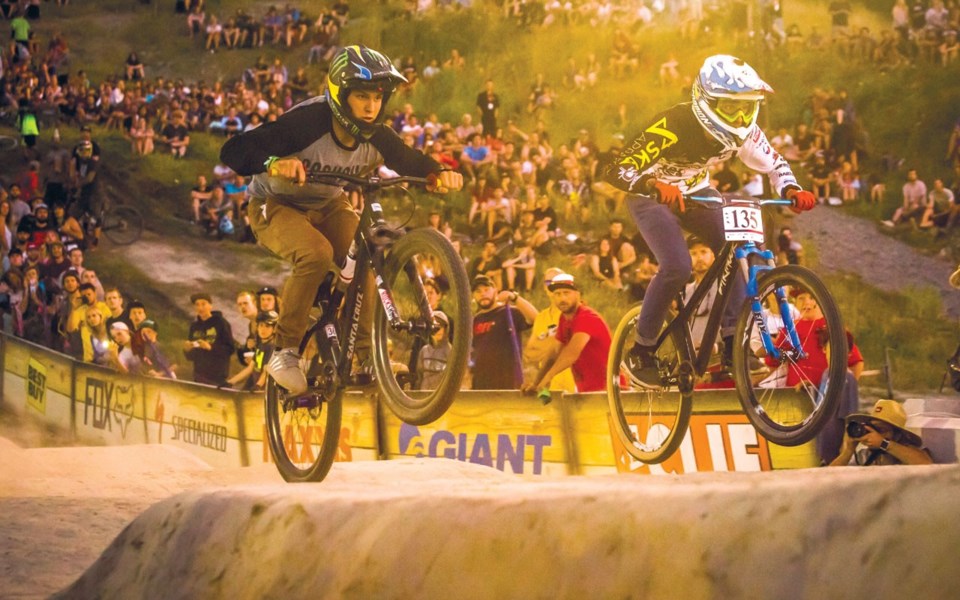 Crankworx has long established itself as the summer-ending blowout for Whistler.
After all, there's nothing like gathering under the hot August sun to watch insane people on two wheels huck themselves off a ramp to build community.
"I think some of the people in Whistler feel like it's their festival," says Darren Kinnaird, general manager of Crankworx Events Inc. "So many people I get to meet and talk to about it have this tremendous sense of ownership and pride in the festival. They're the world's biggest advocates for the festival."
Coming in second was Cornucopia, Whistler's food and wine extravaganza, followed by the World Ski and Snowboard Festival, which was co-produced by Crankworx Events last year, in third.
Favourite Celebrity Sighting: The Beckhams
Apparently Whistlerites love the Beckham family—and it seems the feeling is mutual.
For the second year in a row, the picture-perfect Brits have claimed top spot for favourite celebrity sighting.
"Well, blimey! I am gobsmacked that Whistler locals love creeping on me, Posh Spice and our children from behind their ski goggles," says David Beckham in a definitely-not-made-up interview with Pique. "It is totally cool with me that they brazenly take my photo on the Peak 2 Peak Gondola, even when I'm clearly giving them the side-eye. Well, trit trot, cheerio!"
Coming in second place is the hulking man-meat known as Jason Momoa, and in third, you'll find the newly betrothed Justin Bieber.
Favourite Piece of Public Art: Creekside Mural
You'll find this year's favourite piece of public art tucked away in a Creekside underpass.
Jessa Gilbert's massive mural depicting the Spearhead Traverse to the Tantalus Range in blazing bright colours took the top honour for the second year in a row.
"It's amazing to not only give back to the community, but have it (stand) the test of time," she says. "I'm thrilled to hear people are enjoying the piece two years after it being done."
In second place was the Welcome Figure Totem by Aaron Nelson-Moody, Delmar Williams and Todd Edmonds. Finally, Kris Kupskay's Whistler Museum mural rounded out the top three.
Best Whistler Writer: G.D. Maxwell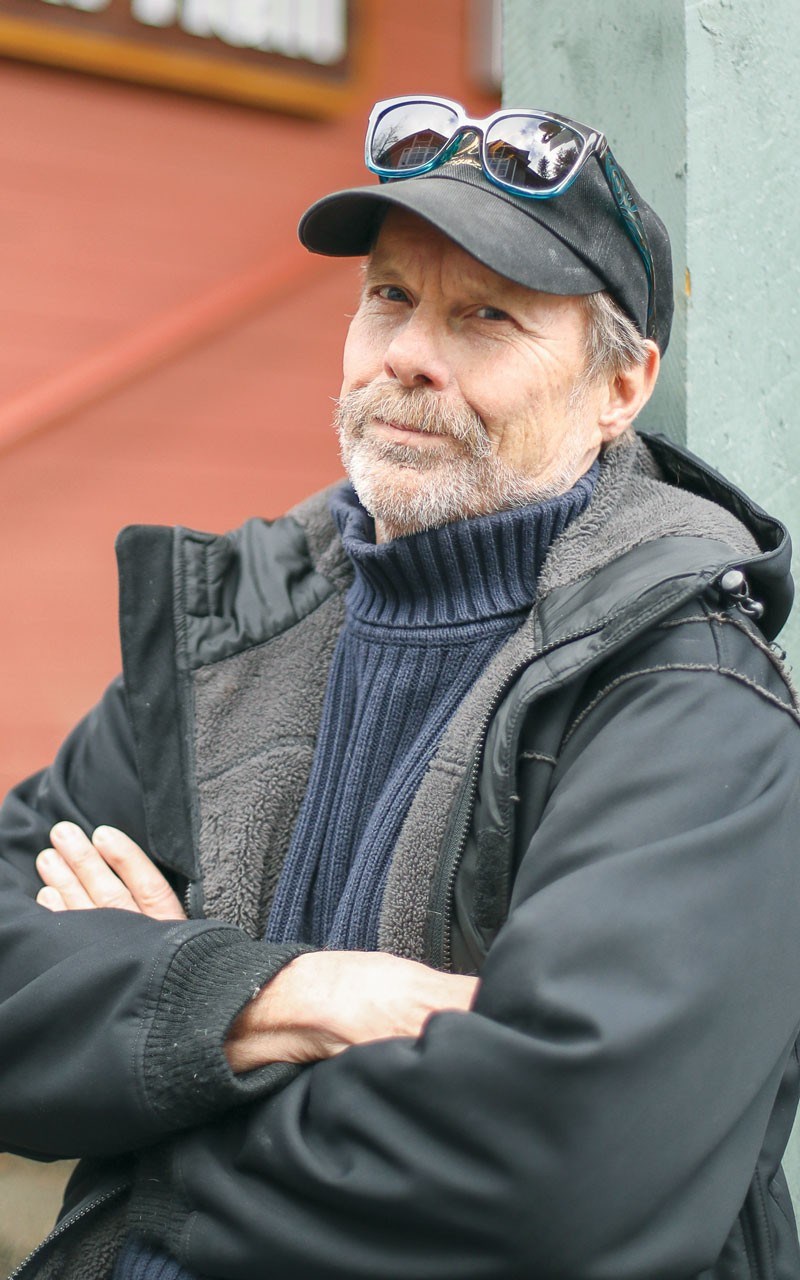 When Whistler's longtime favourite writer was finally dethroned by the inimitable Feet Banks in 2016, "it was a relief, if nothing else because there's a lot of talented writers in this town."
Sorry, G.D. Maxwell, but you're back on top for 2018. Pique's humble columnist has won hearts—and, yes, irked those who disagree with him—for his no-holds-barred opinion pieces that pair his unique voice with the issues of the day.
His many fans can rest easy; although he's penned around 1,185 columns in the last 23 years, he still finds Tiny Town endlessly fascinating.
"When I came here in '92, it was a shot in the dark," he says. "My wife and I said to each other, 'Let's find out if there's a community because all we've seen is the resort.' As soon as we discovered the community, it was like, 'Holy, this is where all the misfits moved to.' I feel at home."
Pique also gets the warm-and-fuzzies seeing second and third place going to our beloved columnists. Movie reviewer and self-described enfant terrible Feet Banks came in a close second, with environmental and outdoor columnist Leslie Anthony on his tail in third.
Best Photographer: David McColm
Every time Pique's reporters have spoken to Whistler's favourite photographer, he's deflected the attention to shine a light on the town's other talented shutterbugs.
"I'm shocked and honoured," says David McColm, after learning he was voted Best Photographer. "There are so many amazing photographers in this town. Every day I see shots and say, 'There's crazy talent here."
McColm's images of Whistler have become iconic—with some now available on Canada Post stamps and others up for grabs on popular puzzles. But images captured on his many travels have also become a big part of his repertoire.
"I'm really happy to be doing what I'm doing," he says. "I'm fortunate to be in Whistler doing it in this incredible community. I'm blessed to be mentioned in the same breath as a lot of these other people."
Those other people include Blake Jorgenson, who came in second, and Joern Rhode, who placed third this year.
Best Whistler MusiciaN or Band: The Hairfarmers
The Hairfarmers have been voted Best Whistler Band since time immemorial.
We're only exaggerating a little; this year's win makes it 18 years in the top spot for the rock 'n' roll band.
So, what do they have to say to their legion of adoring local fans? Well, for his part, Doug Craig, a.k.a. Guitar Doug, says he'd like to recruit the guy who goes around selling roses at bars and have him deposit the basket on fans' doorsteps. Then, he'd call them "with a melody and tell them to go to the front door."
"That's what good music is supposed to do anyway, right?" he asks.
In keeping with that romantic theme, Greg Reamsbottom, a.k.a. Grateful Greg, says the secret to their staying power is playing from the heart.
"Music should make you feel something, whether you're the musician or the audience," he says. "Playing music is about creating a place where that connection happens naturally."
Red Chair claimed second place in this category, with newcomer Lazy Ghost cracking the list for the first time.
Shops and Wares
Best Ski Shop: Fanatyk Co. Ski & Cycle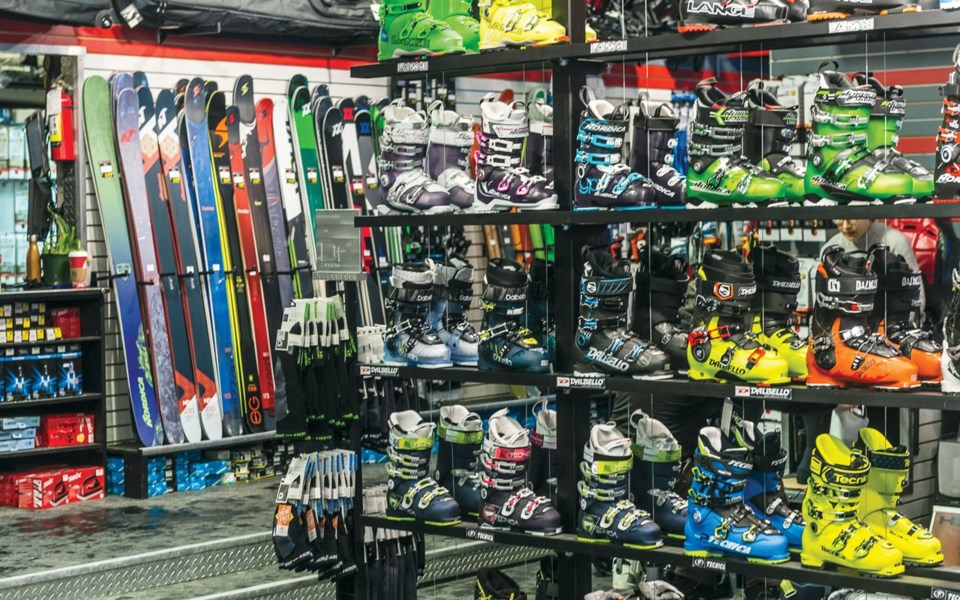 With a housing crisis in full swing, many stores in Whistler have had a hard time hanging onto employees. But Fanatyk Co.—which has won this prize six years running—appears to have bucked the trend.
Manager Bernie Duval says good staff is key to the store's long-term success. "Most of the staff is long-term, and most work here full time," he explains.
In recent years, the business is diversifying from what it is best known for—boot fitting—and offering more skies and accessories. "The rule of thumb is that if the staff doesn't like it, we're not going to (carry) it," says Duval with a laugh.
Coastal Culture received second, while McCoo's Whistler got third.
Best SNowboard Shop: Showcase Snowboard Surf & Skate
Located within steps of the Excalibur and Whistler Village gondolas, Showcase is a one-stop shop for all your snowboarding needs.
The shop is moving a lot of goggles this year. The big brands—Oakley, Electric, and Spy—are all offering models that allow users to switch lens tint with the push of a button.
"They're super popular," says Showcase's assistant manager, Erica Haight. "I mean, one lens for all conditions is pretty great, especially in Whistler....They're pretty awesome. I want a pair!"
This is the fourth year Showcase has taken top spot. Prior Snowboards and Skis got second, while The Circle claimed third.
Best Bike Shop: Coastal Culture
Since opening in 2016, Coastal Culture has had a strong record in the Best Bike Shop category: it's won the title every year of its existence.
Those strong showings appear to have sparked some "friendly competition" between Whistler's top bike shops, says Coastal Culture co-owner Thomas Thatcher.
"It keeps us trying to better ourselves," he adds. "If one doesn't have any healthy competition in the marketplace, it's difficult to continuously get better."
The shop, which carries popular high-end brands, such as Rocky Mountain and Santa Cruz, is gradually getting into the e-bike market. You can expect to see a few more offerings next spring, Thatcher explains.
Fanatyk Co. received second, while Evolution Whistler earned third.
Best ClothINg Store: The Beach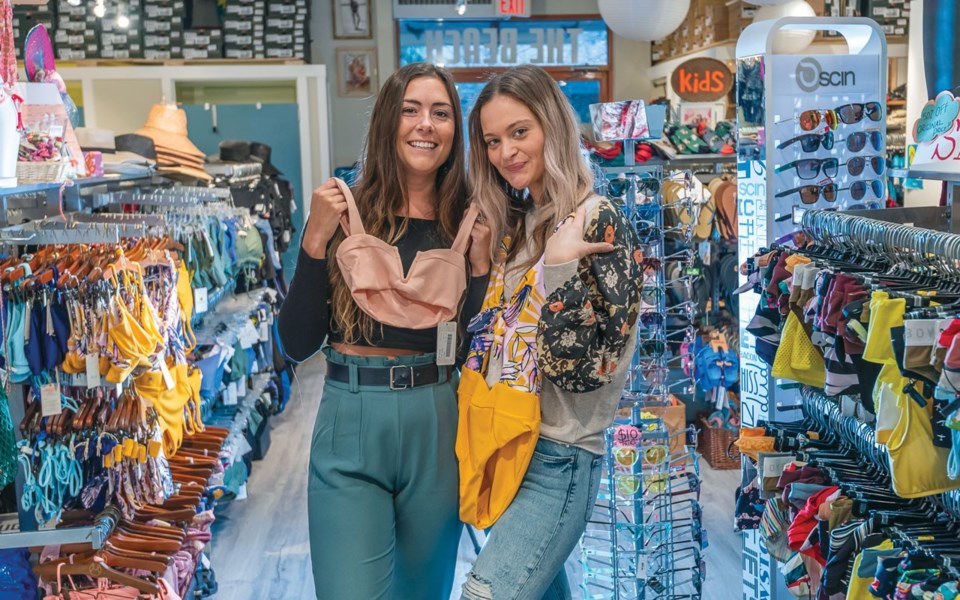 Whistlerites know that if you're hunting for cool indie clothing brands, look no further than The Beach. According to manager Louise Heyman, the store is guided by a desire to make everyone who comes in feel welcome and comfortable.
"We just want everyone to feel confident," she explains. "I find it really satisfying, especially with women, when they find swimwear they feel great in."
Lululemon Athletica got second, while The Circle got third.
Best Jewelry Store: Keir Fine Jewelry
Lana Beattie, co-owner of perennial Best of Whistler winner Keir Fine Jewelry, says the store has always sought to appeal to everyone.
For example, it offers a 10-per-cent locals' discount to anyone who lives in Whistler, Squamish and Pemberton.
"We love giving back to our locals, and it's great to be recognized for our efforts," Beattie says.
"It's very important for us to be a locals-friendly jewelry store—and it's fun, too!"
Ruby Tuesday received second, with Rocks & Gems winding up in third.
Best Grocery Store: Nesters Market
Although it's been in Whistler for years now, Nesters Market is constantly selecting products that reflect the evolving tastes of its customers, according to manager Bruce Stewart.
Recently, the store has focused on adding more products that promote "good gut health," such as Kombucha and vegan offerings.
"Another trend would be grass-fed dairy products. We've seen a huge (demand) for that these days," Stewart adds.
And it's not just Nesters' stocked shelves that reflect its health-conscious consumer base. It hosts a weekly speaker series every Thursday morning that focus on nutrition and wellness.
In second spot this year was Creekside Market. Your Independent Grocer in Rainbow claimed third.
Best Realtor: Dana Friesen Smith
"I'm so grateful that our community backs us," says a happy Dana Friesen Smith upon learning of her third win in a row, and fourth in the past six years.
She credits her success to her team's low-pressure approach to sales: "It allows our clients to be in the driver's seat, which I think is super important when you're making one of the biggest decisions of your life."
An inductee to the RE/Max Hall of Fame for her overall career sales, Friesen Smith said she couldn't have done it without the rest of her "Sea to Sky Dream Team," buyer's agents Kristen Dillon and Madison Perry.
The Wolf of Whistler Dave Nagel earned enough votes for second place, while Dave Burch was third.
Best Hair SaloN: Elevation Hair Studio
Elevation Hair Studio in the village boasts an international staff, with hairdressers from Australia, Britain and Japan—and manager Rhiannon Rogers feels that cosmopolitan makeup adds to the salon's success.
"They're able to share with each other," says Rogers. That gives the studio's hairdressers an advantage, she believes, as they can pick up tips from various regions from around the world.
Farfalla Hair & Esthetics was second this year, with Jono Hair in third.
Best New BusiNess: Pangea Pod Hotel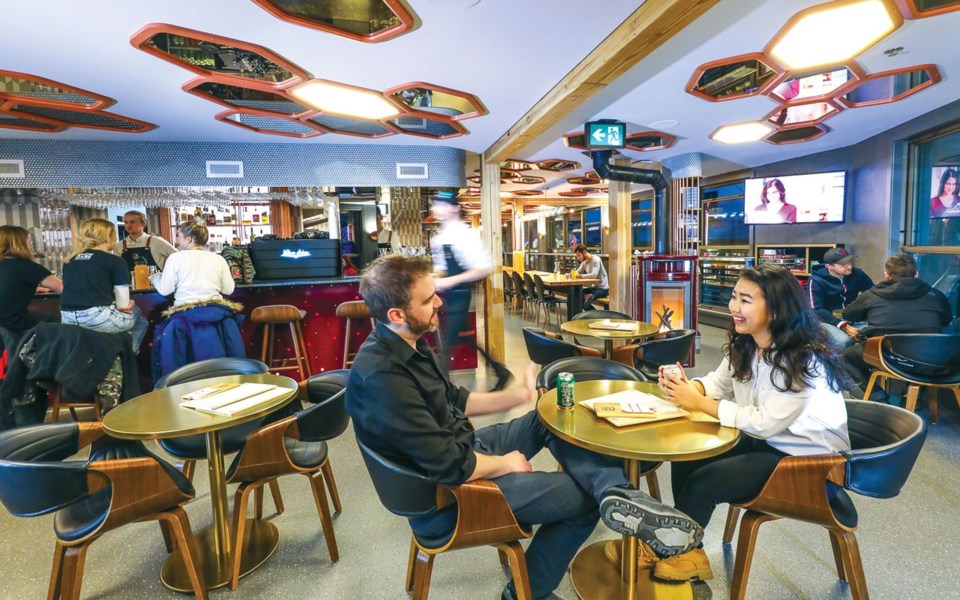 Canada's first boutique pod hotel has garnered waves of media attention from outlets around the globe heaping praise on Pangea Pod's distinctly modern aesthetic and efficient approach to hospitality.
Owner Russell Kling thinks it is the hotel's unique design that is resonating most with locals.
"I think people walk in from a design perspective and think, 'Wow, this is a super slick space and there's nothing like it,'" he notes.
The hotel's contemporary lounge and rooftop patio also offers a stellar food and drink menu—plus "none of it kills you budget-wise," Kling adds.
The Corner Deli on Main Street got second, while Bread Bunker—a new café at Nesters from the good people at 200 Degrees Bakery—received third.
Best Financial InstitutioN: TD Canada Trust
TD Bank in Marketplace is no stranger to this award. Bank manager Chris Smith believes the bank's success owes to its staff's approach.
"We invest in our people to create a welcoming environment where we put the customer first," explains Smith. "It's more laid back in Whistler than in some other markets. We're really approachable."
RBC Royal Bank came second, while CIBC earned third.
Best Customer Service: Fairmont Chateau Whistler
The Fairmont brand is renowned the world over for its luxurious take on the modern hotel, and that reputation starts first and foremost with the customer service its staff prides itself on offering.
Lynn Henderson, director of public relations for the hotel, says that its success owes to its atmosphere.
"Whether you're a local or a visitor, the moment you walk through the doors of the Fairmont Chateau Whistler, there is an energy. You feel it—it draws you in," she explains in an interview.
The iconic hotel also goes out of its way to appeal to the Whistler crowd. For the past dozen years, it has hosted Fairmont Fridays from spring until fall, when locals are invited to enjoy drink specials and free appetizers.
"We want the local community to feel like they own a little bit of the Fairmont, that this is their iconic hotel," Henderson adds.
Second place went to Creekside Market, while third went to Ziptrek Ecotours.
Best Building or Construction Company: RDC Fine Homes
In the last two years, RDC Fine Homes has won six Georgie Awards, a prestigious accolade celebrating excellence in British Columbian home building. So it's safe to say that the company is used to taking home its fair share of hardware.
But according to Bob Deeks, president of the company, winning Pique's readers' choice award feels especially poignant.
"I've always held the people who won Best of Whistler in really high regard," says Deeks. "To me, it's one of the most coveted local awards, in part because it's so organic."
Coastal Mountain Excavations Ltd. took second this year, while TM Builders Inc. rounded out the list in third.
Best Overnight Accommodation: Fairmont Chateau Whistler
Whistler's largest hotel is also locals' favourite spot to spend a night in the lap of luxury.
In an email to Pique, PR director Lynn Henderson attributes the success of the hotel to its ability to cater to the discerning needs of its guests.
"We know expectations are high when they visit Whistler, therefore we continuously strive to improve not only our room product (which we renovate on an ongoing basis) but also our service standards," she says. "The extraordinary hospitality provided by our colleagues create memories that last a lifetime for guests."
The Four Seasons Whistler came in second this year, while the Westin Resort & Spa cracked the list in third.
Best Shop for Deals: The Re-Use-It Centre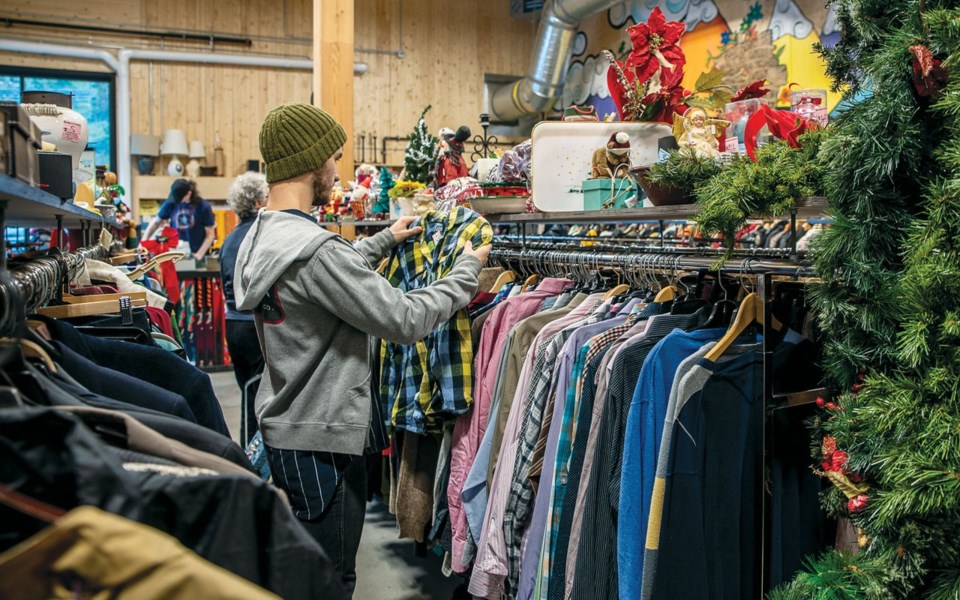 You never know what you're going to find at the Re-Use-It Centre. An electric drum kit even showed up recently, explains manager Paul Rehel.
Rehel put it on the Whistler Winter Facebook page, and straight away someone from Big Brothers Big Sisters Sea to Sky hit him up.
"We have a lot of people who come in and resell (purchases), and we get why people want to do that," Rehel says.
The Re-Use-It Centre moved from Function Junction into its brand-new location on Nesters Road in 2018, giving the store a more central location, not to mention oodles of extra space.
GAP was Whistlerites' second-favourite spot to bargain hunt in 2018, while the Whistler Clearance Centre wound up in third.
Sports and Recreation
Favourite Summer Athlete: Brandon Semenuk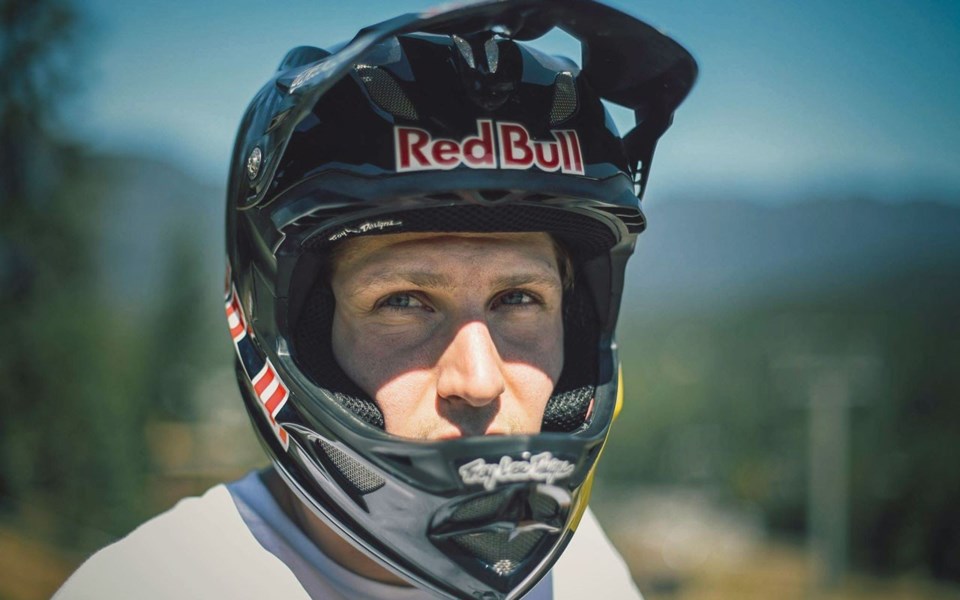 Though Joyride legend Brandon Semenuk has taken a step back from competition in favour of filming, he's still burrowed deep in the hearts of Whistlerites.
Though he opted against defending his Red Bull Joyride title here in Whistler, Semenuk kept busy this year as he appeared in the Troy Lee Designs movie Contra, and also competed at Red Bull Rampage in Utah.
Finn Iles, who finished his first season on the Union Cycliste Internationale downhill elite men's tour ranked 19th, placed second. Georgia Astle, who won the Garbanzo DH during Crankworx, placed third.
Favourite Winter Athlete: Stan Rey
If there was any doubt about Stan Rey's chances to defend his 2017 title in this category, he almost certainly locked it up when he captured the Saudan Couloir Ski Race Extreme in its return after a 15-year absence.
"It was really cool, because as a kid, I always wanted to do it but I was never old enough," Rey says. "Having them bring it back, right away, I knew I wanted to participate in it, but I wasn't sure if I was going to be able to just because I had filming that had to be done.
"It was pretty amazing having Sylvain (Saudan) there, too, because I'd never met him ... It was pretty cool to get the prize from him and to get my poster signed by him."
To top this category as well was a thrill for Rey.
"It was super exciting, for sure. I'm very honoured and humbled. People obviously seem to like me in Whistler," Rey says with a chuckle.
Rey's primary focus is filming with Blank Collective partner Alexi Godbout, and the company has plenty up its sleeve for the coming winter.
Taking second was snowboarder Mercedes Nicoll, who placed 18th in the halfpipe in her fourth and final Olympics in South Korea in February. Nicoll edged ski-cross racer and 2014 Olympic ski-cross champion Marielle Thompson, who took third, by a single vote.
Favourite Junior Athlete: Finn Finestone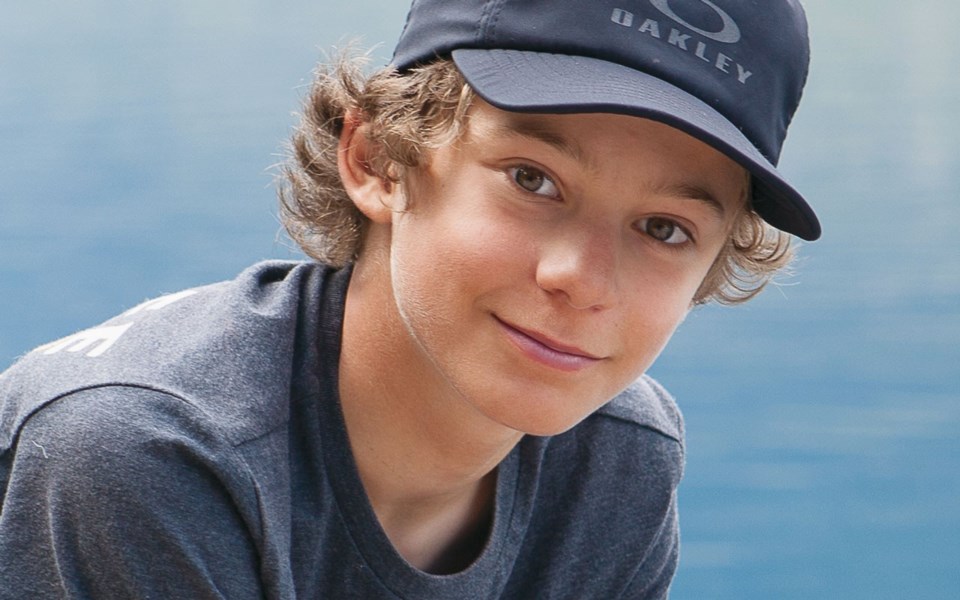 It was finally time for Finn Iles to pass the crown, and appropriately, another downhiller named Finn takes the title.
"I always looked up to him, and we have the same name, so it's like following in his footsteps," Finestone says.
Competition-wise, though, the 15-year-old Finestone is focusing less on biking and more on his winter specialty: slopestyle and big-air snowboarding.
"I've progressed quite a lot this year in particular, learning a lot of new tricks on the snowboard," Finestone says.
Even at such a young age, Finestone is already posting strong results on the NorAm Cup circuit and an eighth-place finish in slopestyle at this year's National Junior Championships.
In second place was freeskier and mountain biker Wei Tien Ho, while snowboarder Jadyn Chomlack took third.
Best Run on Whistler Blackcomb: Peak to Creek
In this category, it doesn't tend to be the winner that's worth holding one's breath for—it's the jostling for position among the other podium finishers.
The monster 11-kilometre run proves size matters amongst the electorate, while any path leading to beer and nachos at Dusty's (not to mention the sense of accomplishment to justify them doesn't hurt, either).
"The run offers everything that makes Whistler great. You start off at the summit and you take in all the sights from Black Tusk all the way to Cheakamus Lake. As you go down, it's a leg burner," says Whistler Blackcomb director of communications Marc Riddell. "You have those days where there's no one on it and it's just you and the forest and the mountain. It's a wonderful experience."
This year, Spanky's Ladder made it into the top three while Ridge Runner slipped from second to third, with Riddell noting stark differences between them.
"I shouldn't be speaking out of turn here, but Ridge Runner is one of those fun runs that you just love to bomb. Because it angles and weaves through the Crystal Zone, it's just a real fun ride to get down to the chair," Riddell says. "Spanky's is a more technical one. It can be intimidating and it also provides that big-mountain experience. You've got to want to ride Spanky's and take your time to get out there and choose your line."
Best XC Ski Area: Whistler Olympic Park
You get the feeling you're in a blessed part of the world when the top two finishers garnered a combined 500 votes—and only eight votes separated them in the end.
Whistler Olympic Park eked its way to a second consecutive win over the Lost Lake Trails.
"We're proud to see the efforts of our team recognized in preparing the facility," says WOP managing director Tim Hope. "(2018) was a good year. We had a really good snowfall and the season started out really well for us.
"In mid-November, snow started falling and we were able to get a fair number of trails up and skiable in a fairly reasonable time."
At press time, Mother Nature was less cooperative for 2018-19's Opening Day, though the park opened with one kilometre of trails on snow stored from last season with the hope of more white stuff falling sooner than later.
"We don't need a significant amount of snow for many of our key trails. It's basically a gravel base that things are falling on, so we've got a good surface," Hope says.
(Update: As of Dec. 27, all cross-country skiing and snowshoeing trails, as well as the tobogganing hill, are operational.)
A number of off-the-beaten-path options, including "Alta Lake when it's frozen," "From Tapley's Farm to Rainbow with the dog after a morning up the hill," and Hanging Lake, all tied for third with a single vote apiece.
Best bike trail: A-Line
The Whistler Mountain Bike Park's feature attraction re-emerged after being upended by the newly opened Lord of the Squirrels in last year's poll.
But it may have a challenger from inside the park.
Crank It Up finished just one vote back in what could be a fascinating battle for supremacy in coming years.
Lord of the Squirrels still cracked the top three this year, finishing tied for third with the Lost Lake Trails.
Best Golf Course: Nicklaus North Golf Course
Similar to the results in the cross-country skiing category, voters expressed fondness for three preferred options on the links. There were 530 total votes cast for the big three, but just 31 votes separated first and third.
On top once again was Nicklaus North Golf Course, which general manager Jason Lowe credits to drawing in both destination golfers and locals through special programming for Whistlerites. Of course, the club's upkeep played a major role as well.
"We're proud and honoured to win the award again here," Lowe says. "We really value the opinion and the feelings of the local marketplace, so for the community to recognize us once again as best golf course definitely means a lot.
"We feel we've found the fine line of balancing the destination golfers and the locals."
In 2019, golfers can expect even better experiences before and after their rounds, as the clubhouse is set to undergo major renovations.
"It will refresh that part of the experience," Lowe says.
The Fairmont Chateau Whistler Golf Course took second, while Whistler Golf Club was third.
Best Sports Event of 2018: Crankworx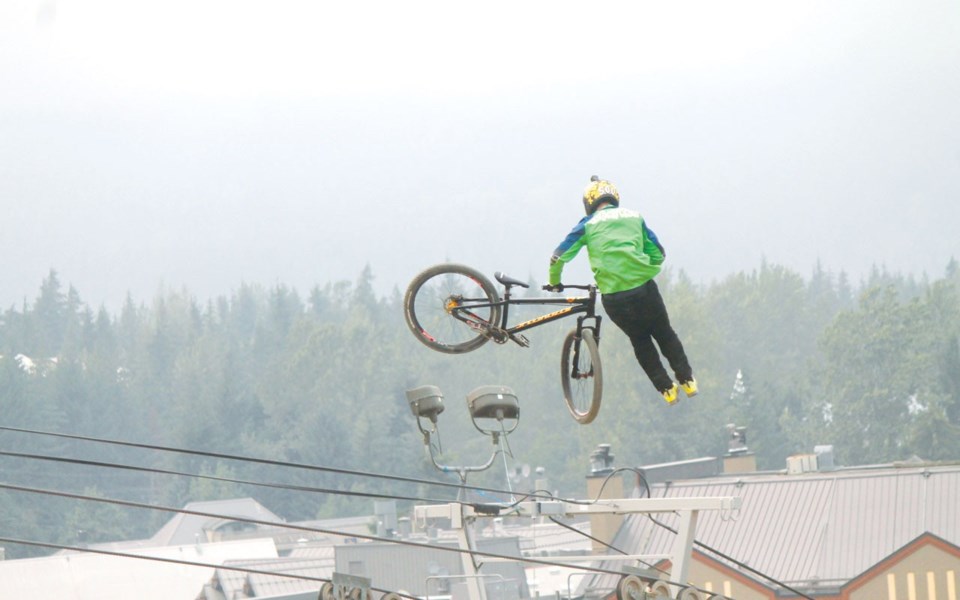 It's not surprising to hear a longtime event organizer gush that the most recent edition was the best ever.
But each and every year, coming from Crankworx Events Inc. general manager Darren Kinnaird, that enthusiasm always comes off as genuine.
"It was pretty awesome. This past year was incredible," Kinnaird says.
Like many spectators, when pressed to pick a highlight, Kinnaird defers to Red Bull Joyride. This year's competition had goosebump-inducing moments even beyond American rider Nicholi Rogatkin landing a pair of incredible runs, withstanding a challenge from Canadian Brett Rheeder, to become the first rider to capture the Triple Crown of Slopestyle. He also cites Swedish rider Emil Johansson's last-minute entry after sitting out the whole season to that point, and British competitor Matt Jones finally landing a run here after struggling in prior years.
"There were so many moments during Joyride where I was pretty emotional just with how electric it seemed up on the hill, and how excited and energized everyone was in spite of the (wildfire) smoke," he says.
Local sports fans agreed, resoundingly voting Crankworx as the best sports event ahead of the World Ski and Snowboard Festival and Subaru Ironman Canada.
Best AdveNTure Tour Company: The Adventure Group
In a neck-and-neck race, The Adventure Group (TAG) dethroned last year's champion, Canadian Wilderness Adventures, by a mittful of votes.
The company organizes everything from RZR tours, ziplining, hiking, whitewater rafting and treetop adventures to snowmobiling and snowshoeing tours. TAG also put on the interactive Vallea Lumina multimedia experience on Cougar Mountain this year in conjunction with the Moment Factory.
"I will definitely remember 2018 as the year we opened Vallea Lumina and brought the forest to life at night," owner Joey Houssian writes in an email.
Houssian adds that he was thankful for the support, and looking towards the future, he expects the company to accomplish big things in years to come.
"It's a genuine honour to receive this acknowledgement from locals in Whistler and we are grateful for the nod. I suppose I would attribute the win to our continued commitment to the community of Whistler through our early-season Locals Ride and Superfly Free programs which reflect our desire to showcase what we do to people that might not otherwise come and check us out," Houssian writes.
Ziptrek Ecotours placed third.
Health and Fitness
Best Spa: Scandinave Spa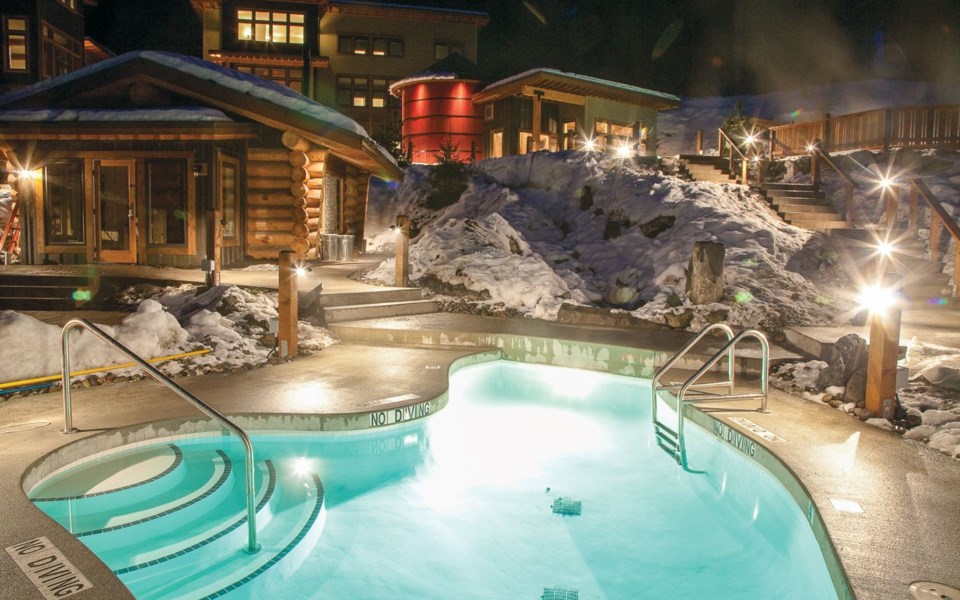 Whistler might be best known for offering plenty of options to be active and push the limits, but the opportunities to relax in this resort town are just as abundant.
When it comes to relaxation, no one does it better than the Scandinave Spa. That said, it should come as no surprise to see the nordic-style spa voted back on top of the list this year.
"We are honoured to win the best spa in Whistler again this year, it's a fantastic achievement and evidence that we are achieving our mission at Scandinave Spa; to offer a haven for personal renewal, in the age-old tradition of the Scandinavian baths, where mind and body find peace," writes spa director Simmone Lyons in an email.
With steam rooms, saunas, fire pits, hot and cold baths and relaxation areas scattered around the picturesque property, coupled with their team of skilled massage technicians on hand, it's the perfect place to head for some peace and quiet.
The Spa at Nita Lake in Creekside came second, with Be Beauty Spa & Tanning Lounge voted into the bronze-medal position.
Best Chiropractic Facility: Whistler Chiropractic
There's nothing that puts a bigger crank in your day than back pain—or any kind of pain, for that matter.
Luckily for all the active residents and visitors who spend time in Whistler, Whistler Chiropractic has been around to provide care for many of those issues for more than 20 years—whether you're an elite athlete prepping for a competition or a weekend warrior ready for a big day on the slopes. Led by Dr. Keith Ray, Dr. Jacqueline Brusset and Dr. Patrick Shuen, the clinic offers traditional chiropractic and soft-tissue techniques, in addition to registered massage therapy and traditional Chinese medicine treatments, such as acupuncture, cupping and herbal medicine.
Locals voted Dr. Bologna (out of Blue Highways) into the second-place spot, and Dr. Adam Underhill Chiropractic (out of Coast Medical) into third.
Best Physiotherapy or Massage Facility: Back in Action Physiotherapy
When most people think about physiotherapy, they typically think of heading into an office for a standard appointment.
But at Back in Action Physiotherapy—voted the best physiotherapy or massage facility for the second consecutive year—their services extend right into the community's phones.
"We try and make it as easy as possible for our clients ... and we create a lot of access to resources for free," says Back in Action's office manager Ainslie Conway. Those resources include concussion materials, prehabilitation tools in preparation for ski and bike seasons, and their new SKIRAD app.
"We can use that to give people exercises, there's self-assessment tools, there's advice on nutrition, there's advice on concussions, that sort of thing," Conway explains.
When it comes to concussions, Back In Action's step-by-step guides are available to help clients work through their brain injury, she adds. "A lot of people who are coming in don't necessarily have family around them, and they don't have someone to recognize when things are going wrong, so we give those tools to them. It's sort of like a concussion action plan."
The facility also focuses on getting involved in the community, whether it's through its free seminars or its work with the Whistler Community Services Society's concussion support group.
In second place this year was Peak Performance Physiotherapy. Lifemark Whistler Physiotherapy took third.
Best Dental Practice: Creekside Dental
Despite the fact that Creekside Dental has taken the Best Dental Practice win many years in a row, office manager Marjorie Ordona was still surprised to receive the call with the good news this year.
The main reason? They've grown so used to receiving that call, she was surprised to hear a different reporter that usual on the other end of the line this year. "You caught me off guard," Ordona says with a laugh. "I usually get the call from Dan Falloon!"
Ordona attributed Creekside Dental's consistent results in Best of Whistler to its staff's commitment to clients, whether they be longtime locals or visitors referred by their hotel's concierge. "We're passionate about what we do, we love coming to work and we're so invested in our patients that it makes it easy," she says. "In a small community like Whistler, we're tightknit."
The practice has also seen a change in management in 2018. Dr. Julian Truong became a partner, after first starting with Creekside Dental as an associate in 2012. "I know he'll be super stoked (to hear of the win)," Ordona says.
Whistler Dental followed in second place, while Whistler Smiles finished in third.
Best Medical Clinic: Whistler Medical Clinic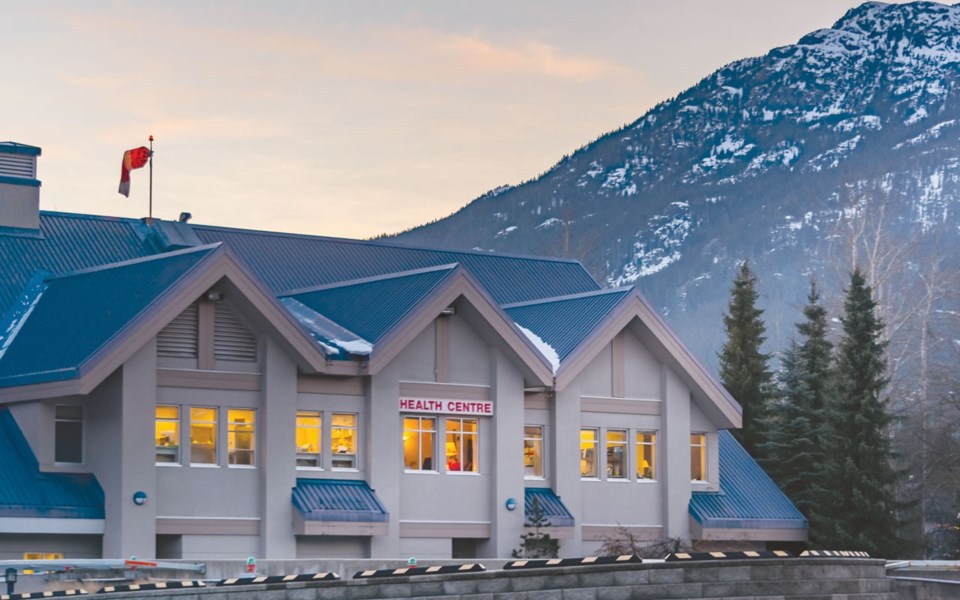 Another repeat champion in this year's Best of Whistler contest is Whistler Medical Clinic (WMC). It's easy to see why the clinic, open 365 days a year and conveniently located on top of the Whistler Health Care Centre, was locals' top choice for another year.
"It's great that people recognize our efforts at WMC," writes Jocelyn Read, practice manager at Whistler Medical Clinic, in an email. "It is a challenging time for healthcare in Whistler, with clinics closing and doctors leaving—many people have been left without a (general practitioner). Three years ago, there were 12 family practice doctors in Whistler and now we are down to seven.
"We try our best to accommodate the community by providing family practice, same-day and walk-in services—it makes for some crazy days lately, but we truly appreciate everyone's patience and understanding," she adds. "Our patients are very lovely and the partners at WMC are a great bunch of (doctors and) people and that helps make our environment a great place to work.
"Thank you, Whistler, for voting for us... We truly appreciate it."
This year's runner-up was Coast Medical Clinic, with Town Plaza Medical Clinic rounding out the top three.
Best Fitness Facility: Meadow Park Sports Centre
In a town as small as Whistler, it's difficult to leave the house without running into someone you know.
But nowhere is that more true than at Meadow Park Sports Centre.
"It's a real gathering place for the community. You walk in the front doors, you recognize people in the pool and people on the ice," says Mayor Jack Crompton of the municipally run facility. As a community, "we love recreation and we love that place," he adds.
That's just one of many reasons why Meadow Park continues to come out on top year after year in the Best Fitness Facility category—in fact, "we're looking for new competition," Crompton says with a laugh. However, those competitors will have to bring their A game: Meadow Park stands out from the crowd with its NHL-sized ice rink, swimming pool, squash courts, weight room and fitness studio (all for some of the most reasonable prices in town).
The list of amenities will only improve in the coming year. Thanks to a $400,000 donation from the Community Foundation of Whistler's Emerald Foundation, construction is set to begin on an expansion of the cardio room and inclusion of a dedicated public-use stretching area in 2019.
Fitness and indoor climbing gym Whistler Core earned second place, while newly opened Creekside facility Altitude Fitness sprang onto the scene in third.
Best Yoga/Pilates Facility: YYoga Whistler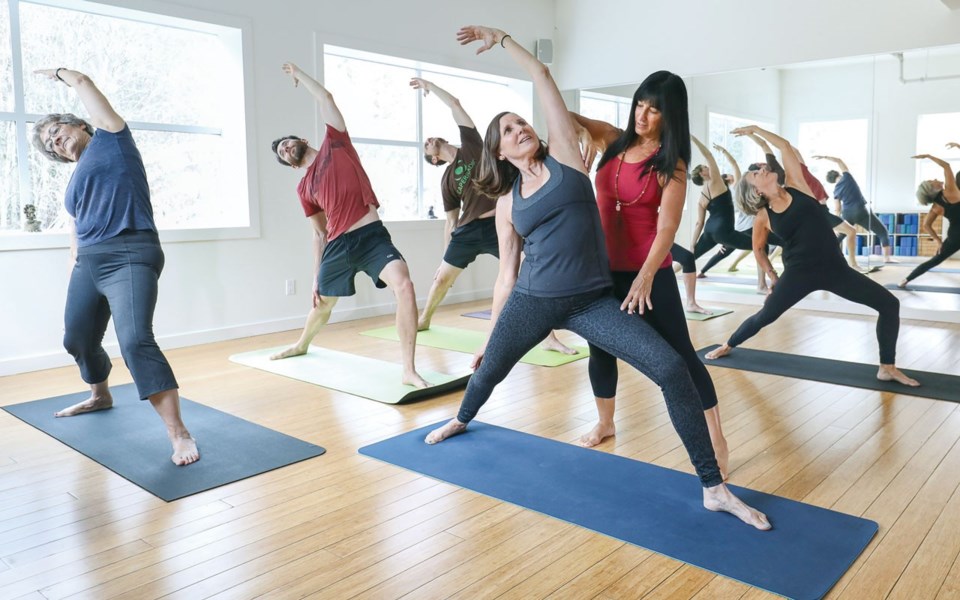 When yogis walk through the doors of YYoga Whistler in Function Junction, they don't have to wait for a hot yoga class to begin before feeling the warmth.
"It's kind of like a nice hug when you come into the studio," says Laura Ward, studio manager at YYoga Whistler, of the welcoming, open-to-all vibe the Function Junction studio strives to foster.
YYoga's Whistler location has reclaimed the top spot this year after dropping out of the top three in 2017. "We're so grateful. That's amazing," Ward says of the win, chalking it up to "consistency—and just awesome teachers."
"Our studio is extremely consistent with the quality of classes we offer and the clarity around what students can expect when they come into class. Every class is taught so that a beginner can enjoy but also so the advanced practitioner has the option to take the pose to where they want to go," she adds.
Yogacara Whistler claimed the second spot this year, while Loka Yoga landed in third.