Quintessential Whistler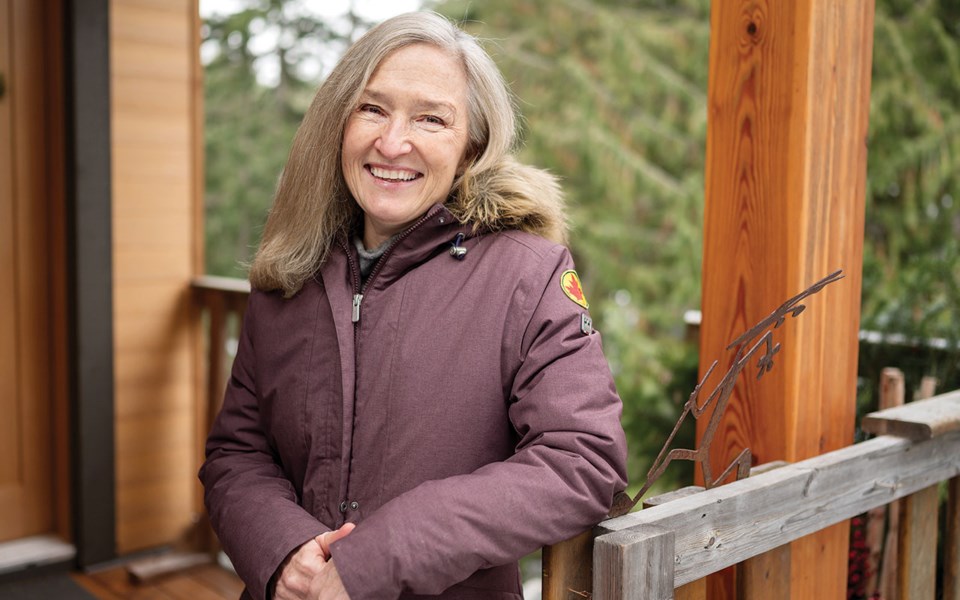 FAVOURITE WHISTLERITE: KARIN KAUSKY
It took a pandemic to do it, but perennial Favourite Whistlerite Mike Douglas has been bumped from the top of the mountain.
Pique readers chose Dr. Karin Kausky—who also won Citizen of the Year at the Whistler Chamber's annual Excellence Awards in 2021—as their favourite local in this year's reader poll.
But Kausky sees the nod as less about her, and more about where the community's priorities lie.
"What I really think this reflects is, our community, in this age of COVID, just really values health and well-being," Kausky says.
"The reason our community has done so well [during the pandemic] is because we have this incredible community that's rallied and worked together to really just take care of everyone.
"There's no place I'd rather live."
Aside from highlighting the value of health and wellness, the pandemic has also created "phenomenal relationships and collaborations" between healthcare, local government, social services and non-profits, Kausky says.
"They existed before, but they're just much richer and I think those relationships are incredibly effective," she says.
"And I think they'll outlast COVID."
Kausky has practised in Whistler since 1993, in recent years serving as a member of the Primary Care Task Force aiming to improve the quality and availability of primary care in the resort.
In October, the task force presented its ambitious vision for a community-led, non-profit primary care centre that would bring a range of healthcare professionals together under one roof.
"I just can't tell you how proud I am of our entire healthcare community, and how well everyone has worked together, and at the times of sort of lowest energy and greatest workload, that whole team-based care concept and working with others and getting good results has been really reinvigorating," Kausky says.
"So I think there's a lot of optimism around that."
Douglas wasn't completely forgotten—the filmmaker and pro skier took second this year, after earning seven first-place nods from 2012 to 2020.
Ace Mackay-Smith (a.k.a DJ Foxy Moron) and realtor Madison Perry tied for third.
FAVOURITE VOLUNTEER: DENISE WOOD
Volunteering at Whistler Animals Galore (WAG), you're bound to end up with some favourites from among the shelter's many four-legged residents.
For Denise Wood, longtime WAG volunteer (and this year's Favourite Volunteer, as voted by Pique readers), there are a few standouts.
There's Lola, the three-year WAG resident pit bull (and star of many a WAG Instagram post), or the bonded pair of Cal and Sol, brothers who are coming up on a thousands days at the shelter, to name just a few.
"It's what I love the most about volunteering with WAG, is just the experiences with the animals," Wood says. "I love meeting the really special ones—WAG has some challenging cases sometimes with animals, and it's really rewarding to spend time with them."
Wood is a 25-year resident of Whistler, and has volunteered with WAG since 2009, sitting on the board of directors (she's now the chair), helping with human resources and animal enrichment, and even selling handmade bandanas to raise funds for the shelter.
"I absolutely love WAG," she says.
"I love what they do for the community, and neighbouring communities … They're instrumental in animal welfare in the Sea to Sky, so I'm really proud to be part of WAG."
For those hoping to give a forever home to one of WAG's residents, Wood recommends doing your research to determine what type of pet will fit your lifestyle.
"And when you have adopted, take your time with that animal, and give them time to adjust to their new lifestyle," she says. "Invest in a good trainer, with positive enrichment for the animal, so that everyone is successful and it's a successful match and a forever family."
As for being voted this year's Favourite Volunteer, "it's an honour, because there are so many amazing people out there giving their time," she says.
"So thank you."
In second place was Andy Sward, technically a resident of Coquitlam, but a common sight on the highway around Whistler in recent years chipping away at his goal to pick up 1 million pieces of trash.
Cathy Jewett and Mary Briggs tied for third.
BEST THING TO COME OUT OF THE PANDEMIC: A FOCUS ON COMMUNITY
After two years of exhaustive research, we've come to a definitive conclusion: The pandemic (drumroll please…) sucks.
The back and forth restrictions, the masks and sanitizer and social distancing, the angst and division, the sickness and the death—it all just sucks so bad. 0/10, would not recommend.
But there are some positives to be found, too, and Pique readers helped us find some light amongst the darkness with their responses to this question.
Your No. 1 answer to this question was all about community—community support, community spirit, community engagement, and community connection.
In second was the stretch of weeks and months in 2020 where everything slowed down, and there were far fewer people in the resort.
An increased focus on supporting local was third.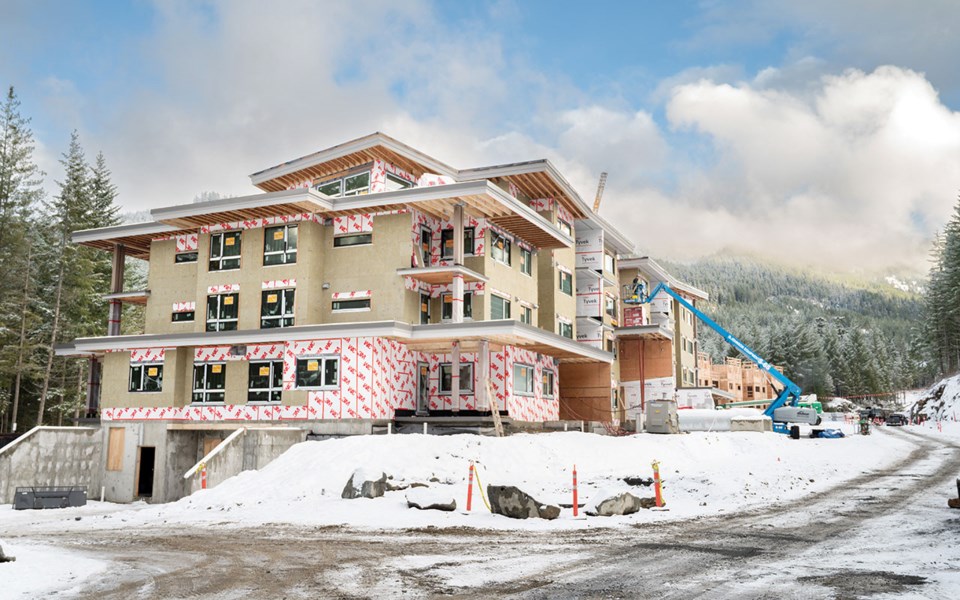 BEST DECISION BY WHISTLER COUNCIL: CONTINUED WORK ON HOUSING
Will Whistler's indefinite housing crisis ever be solved? No, probably not.
Rents will likely stay high, availability will likely remain scarce, and some greedy landlords will undoubtedly keep cramming dozens of people into houses and charging as much as people will pay—at least until the next black swan event comes along to crash the market or upset the status quo.
But that doesn't mean we should give up on trying to fix it in the meantime.
Council's continued focus on building more housing in Cheakamus Crossing Phase 2 was Pique readers' favourite initiative to come out of municipal hall this year, and if all goes according to plan, there will be 100 new Whistler Housing Authority units available for ownership by summer 2022.
Looking further out, another 195 could be added in Cheakamus Crossing in the coming years—a mix of townhomes and condos for both rental and ownership—as well as dozens of others proposed from private developers.
Now if only council could do something to address Whistler's rapid loss of market suites…
Continued work on reconciliation with local First Nations—including adopting an official territorial statement and renaming Squaw Valley Crescent in Creekside to Chamonix Crescent—was your second favourite council initiative in 2021.
Climate change mitigation and adaptation efforts through things like the Big Moves Strategy came third.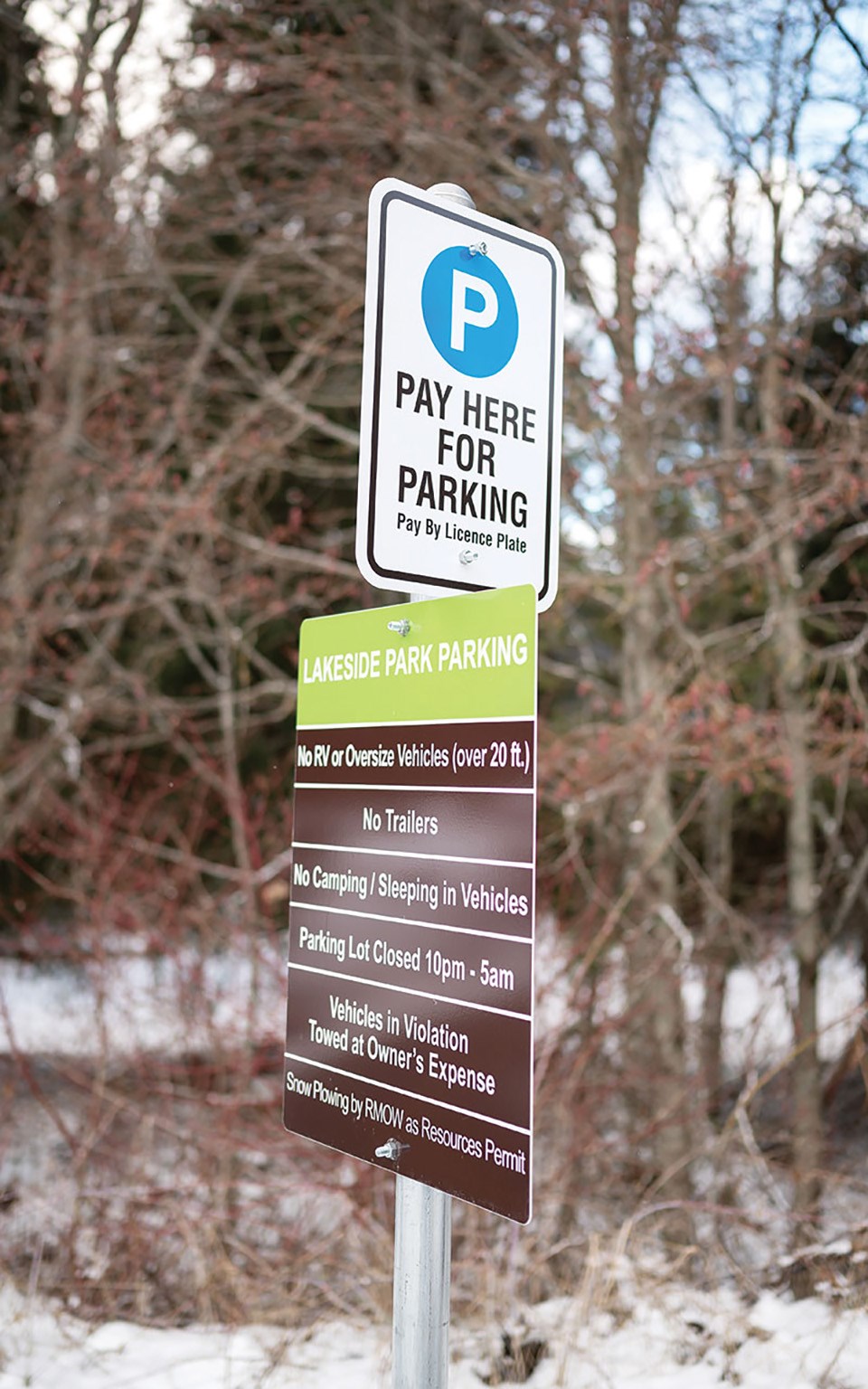 WORST DECISION BY WHISTLER COUNCIL: PAY PARKING IN PARKS
Pay parking has long been the bane of Whistler locals' existence, and it was no different in 2021. The introduction of pay parking at local parks this summer was far and away Pique readers' least favourite decision by council this year.
The introduction of pay parking in the Day Lots in 2010 is often cited as a major factor that led to the ousting of Whistler's entire mayor and council in 2011. Will history repeat itself in October 2022?
The Resort Municipality of Whistler's decision to sue Pique Newsmagazine over its coverage of a late-April ransomware attack was your second least favourite council decision in 2021, followed by the approval of a controversial development on the shores of Nita Lake in third.
BIGGEST NEWS STORY: LABOUR CRISIS
Like securing affordable housing, attracting and retaining enough workers to staff Whistler's hotels, restaurants, bars and attractions is a perennial concern in the resort—and the two issues being as interconnected as they are, it's really no surprise.
But the COVID-19 pandemic made an already challenging situation worse, and in 2021 many businesses found themselves shortening hours and taking other creative measures in an attempt to serve the visitors who returned to the resort en masse.
As such, Pique readers voted Whistler's worsening labour crisis as the Biggest News Story of 2021.
In second place was the ransomware attack on the Resort Municipality of Whistler, which handcuffed services in late April and necessitated a complete rebuild of municipal servers.
The provincial government's introduction of the COVID-19 vaccine card in September was third.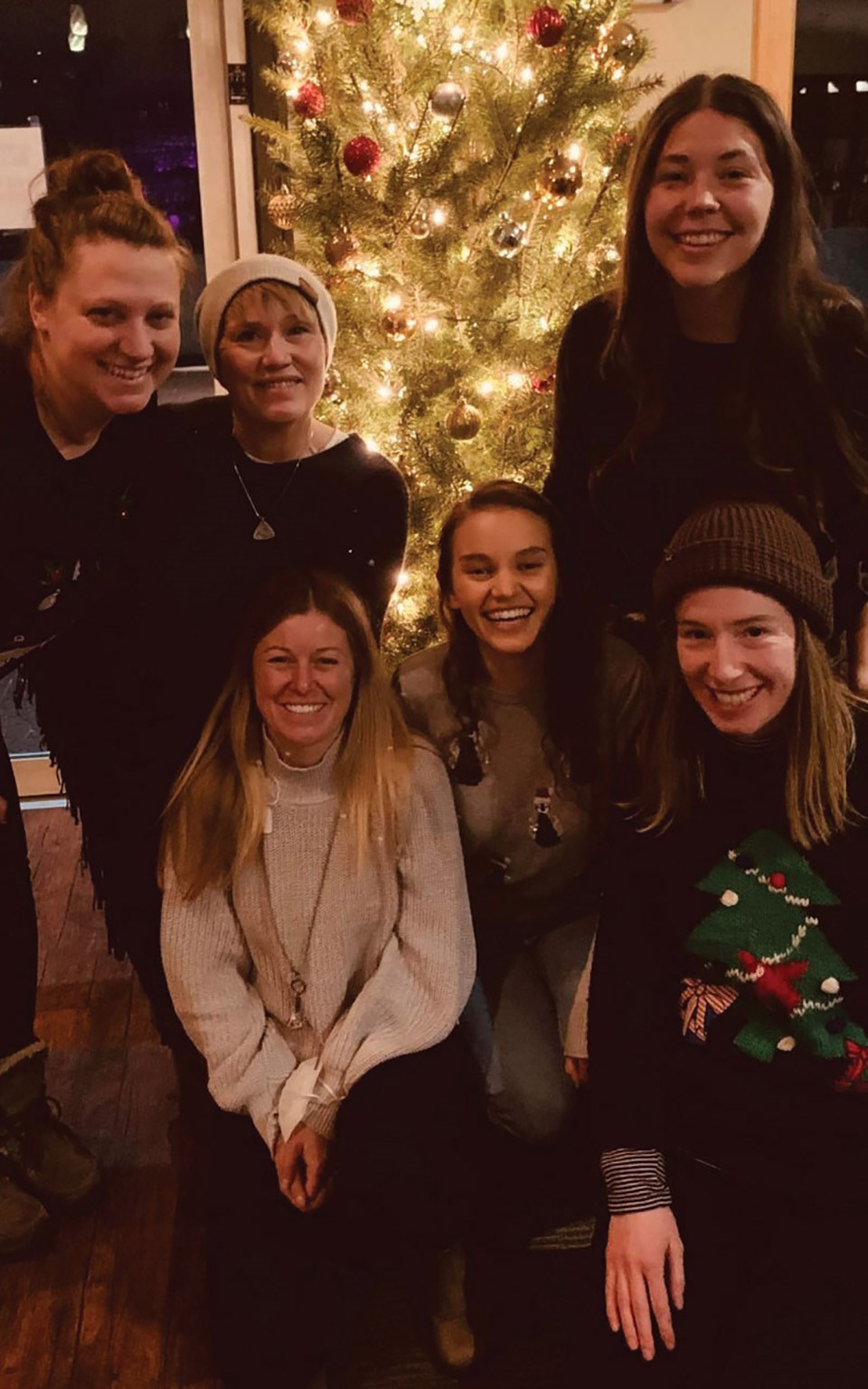 FAVOURITE WHISTLER NON-PROFIT: WHISTLER ANIMALS GALORE
In the nine years Pique's Best of Whistler survey has asked readers for their favourite volunteers (first as one category, then broken out into individuals and non-profits), the team at Whistler Animals Galore has never lost.
The undefeated streak continues this year, as WAG is once again Pique readers' Favourite Non-Profit.
The Whistler Community Services Society, which has a massive impact in the resort with its food bank, Re-Use-It and Re-Build-It stores, outreach services and other programs, came second, while Zero Ceiling, the local non-profit committed to ending youth homelessness in B.C., took third.
Restaurants and Cafés
Best Coffee
1.Mount Currie Coffee Co.
2.Blenz
3.Forecast Coffee
Best Breakfast
1.Elements
2.Wildwood Café
3.Stonesedge
Best Lunch
1.Gone Eatery
2.La Cantina
3.Samurai Bowl
Best Casual Dining
1.Earls
2.Hunter Gather
3.21 Steps
Best Fine Dining
1.Rimrock Café
2.Araxi
3.Red Door Bistro
Best Wine List
1.Araxi
2.Bearfoot Bistro
3.Rimrock Café
Best Burger
1.Splitz Grill
2.Caramba Restaurant
3.Cure Lounge
Best Pizza
1.Functional Pie
2.Creekbread
3.Pizzeria Antico
Best Steak
1.Hy's Steakhouse
2.RimRock Café
3.The Keg Steakhouse
Best Sushi
1.Sushi Village
2.Nagomi Sushi
3.Sachi Sushi
Best Healthy Meal
1.Green Moustache
2.Naked Sprout
3.Hunter Gather
Best Dessert
1.Purebread
2.Rimrock Café
3.Cows Creamery
Favourite Food Pop-up
1.Spcy Grls
2.Lucia Gelato
3.Whistler Wood Fired Pizza Company
Best Off-Season Deal
1.Araxi
2 Rimrock Café
3.21 Steps
Favourite Takeout
1.Samurai Sushi
2.Samurai Bowl
3.La Cantina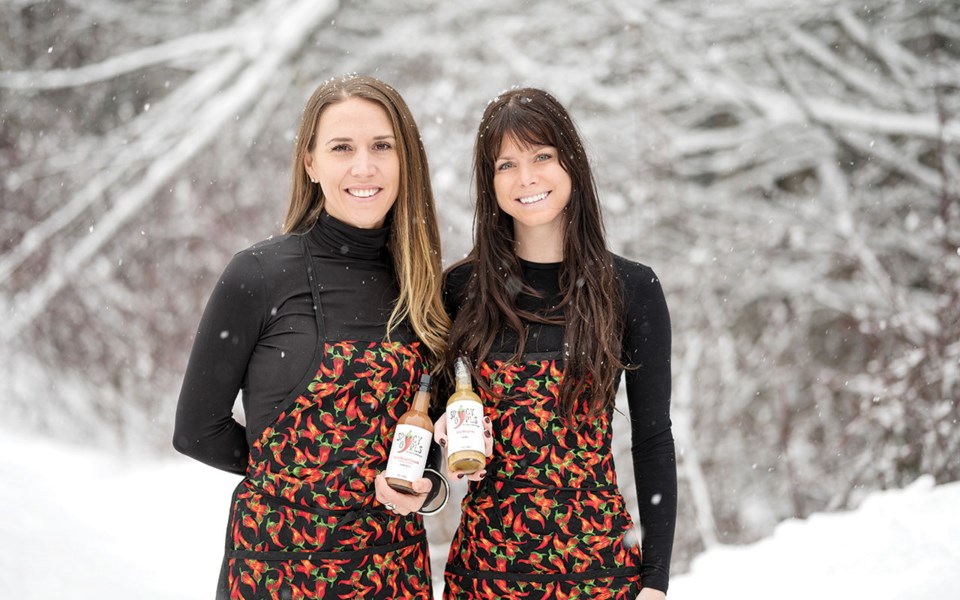 Spicing things up
It would have been easy for Amie Comerford and Kirby Emmett, the duo behind Spcy Grls, Whistler's delectable line of hot sauces—not to mention the inaugural winner of Pique's Favourite Food Pop-up—to lament the series of wrenches COVID-19 has thrown at them over the past couple years.
But if there's anything the friends-turned-business-partners have succeeded at during the pandemic, it's adapting on the fly. When the coronavirus shut down markets across the corridor, they essentially reimagined their entire business plan. Instead of the food truck they had planned to launch, they set up shop at The Corner Deli and transitioned into selling their own hot food, like pierogies, tacos and burgers, all complemented by a new line of sauces.
"We feel like this has been a really good year, all things considering," Comerford says. "The world did open up a bit further this year. But I feel like a lot of people now know what Spcy Grls is and we get a lot of compliments on our tacos and burgers. Everyone seems to know our sauces or recognize me and Kirby."
More recently, the pair has taken advantage of the kitchen at Dubh Linn Gate, where Comerford works, setting up weekly taco and burger nights that have proven a hit with the pub's regulars. They've also redoubled their efforts on the event side of things, setting up barbecues at on-mountain lunches for Whistler Blackcomb and selling their wares at the Pemberton Speedway this summer for its stock car and motocross events.
In hindsight, it proved to be the right decision for Spcy Grls, eschewing the overhead costs of a food truck while still growing their brand's visibility.
"We've kind of adapted just because knowing the world was closed down, no one was making that much money, so we just kept it simple," Comerford says. "We just need a big barbecue and cook burgers and tacos."
For the young entrepreneurs, the key to their success was as simple as focusing on what makes them happy.
"For us, we're still learning and we're still growing ourselves personally. Sometimes we're just winging it, but I just think you should do what makes you happy," says Comerford. "I think if you enjoy what you do, you'll want to work at it. We don't mind working everyday on Spcy Grls, because it's what we love to do."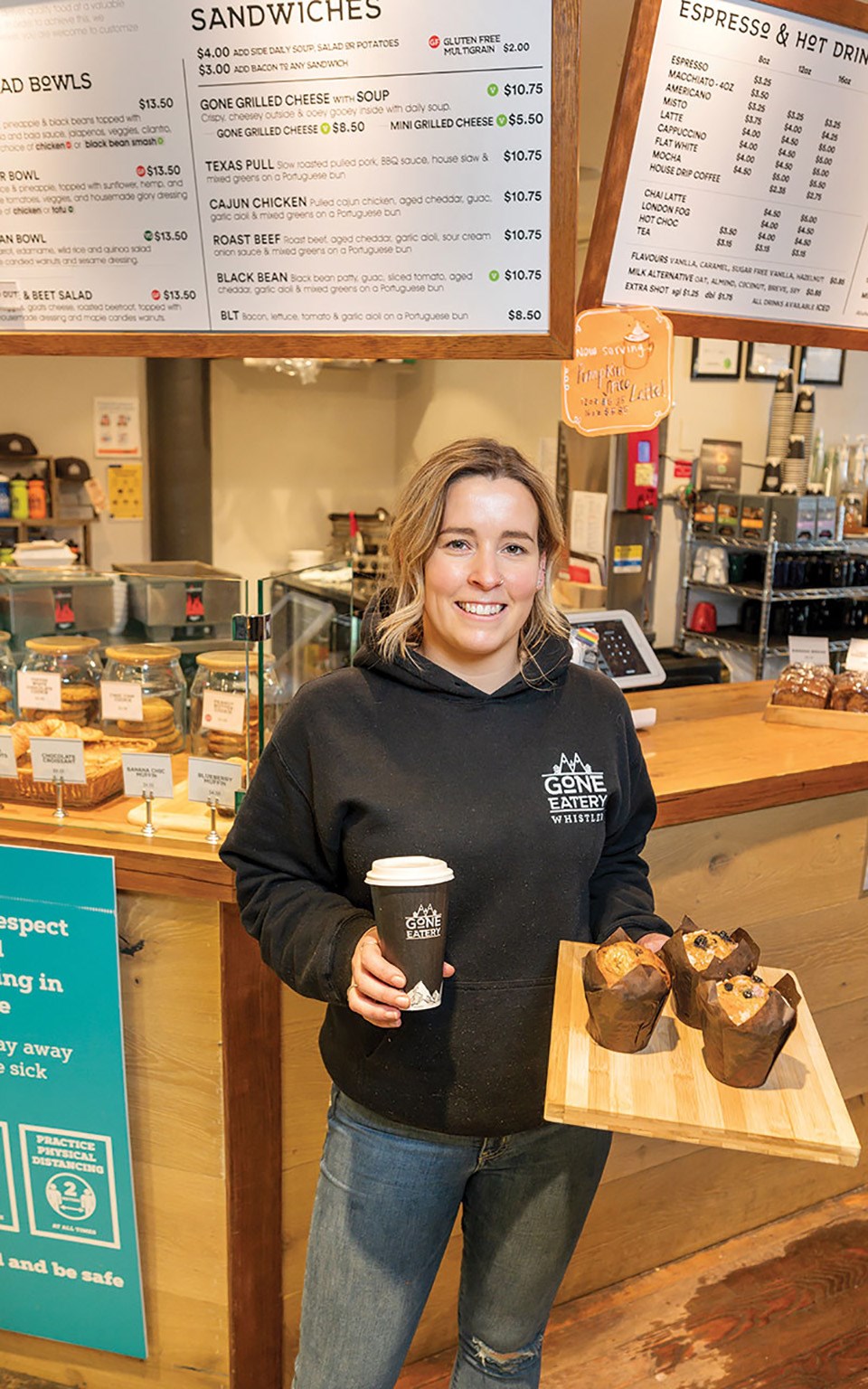 Long (live) Gone
When Jim Salusbury of 49 North Foods Co. purchased the local haunt Gone Eatery several years back, it was more than just a business transaction. It was personal.
"I've been eating at Gone since I was a kid coming up here from North Van to ski, so I knew what a special place it was," he says. "I also knew I wanted to preserve what made it so special."
Winners of this year's Best Lunch category, Gone has always been known for its no-fuss, home-style cooking, the kind of place you go to fuel up before a day on the mountain or catch up with friends. It was important for Salusbury and his team to maintain that inviting atmosphere (as well as some of the menu's most beloved dishes—pad Thai, anyone?), especially in a year when it was more essential than ever for people to have somewhere to come together over a warm meal or cup of coffee.
"The locals are our bread and butter; they're what kept us going through the pandemic, so if we could offer a bit of comfort and familiarity, then we are proud to do so," Salusbury says.
Bars, Pubs And Clubs
Best Après
1.Dusty's Bar & BBQ
2.Garibaldi Lift Co.
3.Dubh Linn Gate Irish Pub
Best Nachos
1.Dubh Linn Gate Irish Pub
2.The Mallard Lounge
3.Garibaldi Lift Co.
Best Wings
1.Dusty's Bar & BBQ / The Crystal Lounge (Tied)
2.Earl's Kitchen
3.Roland's Creekside Pub
Best Bar/Pub
1.Dubh Linn Gate Irish Pub
2.Tapley's / Stinky's on the Stroll (Tied)
3.The Beacon
Best Patio
1.Table 19 at Nicklaus North
2.Longhorn
3.Nita Lake Lodge
Best Cocktail
1.Raven Room
2.Bar Oso
3.Fairmont Chateau Whistler
Best Beer Selection
1.Coast Mountain Brewing
2.Dubh Linn Gate Irish Pub
3.The Beacon
Favourite Locals' Hangout
1.Stinky's on the Stroll
2.Tapley's
3.Roland's Creekside Pub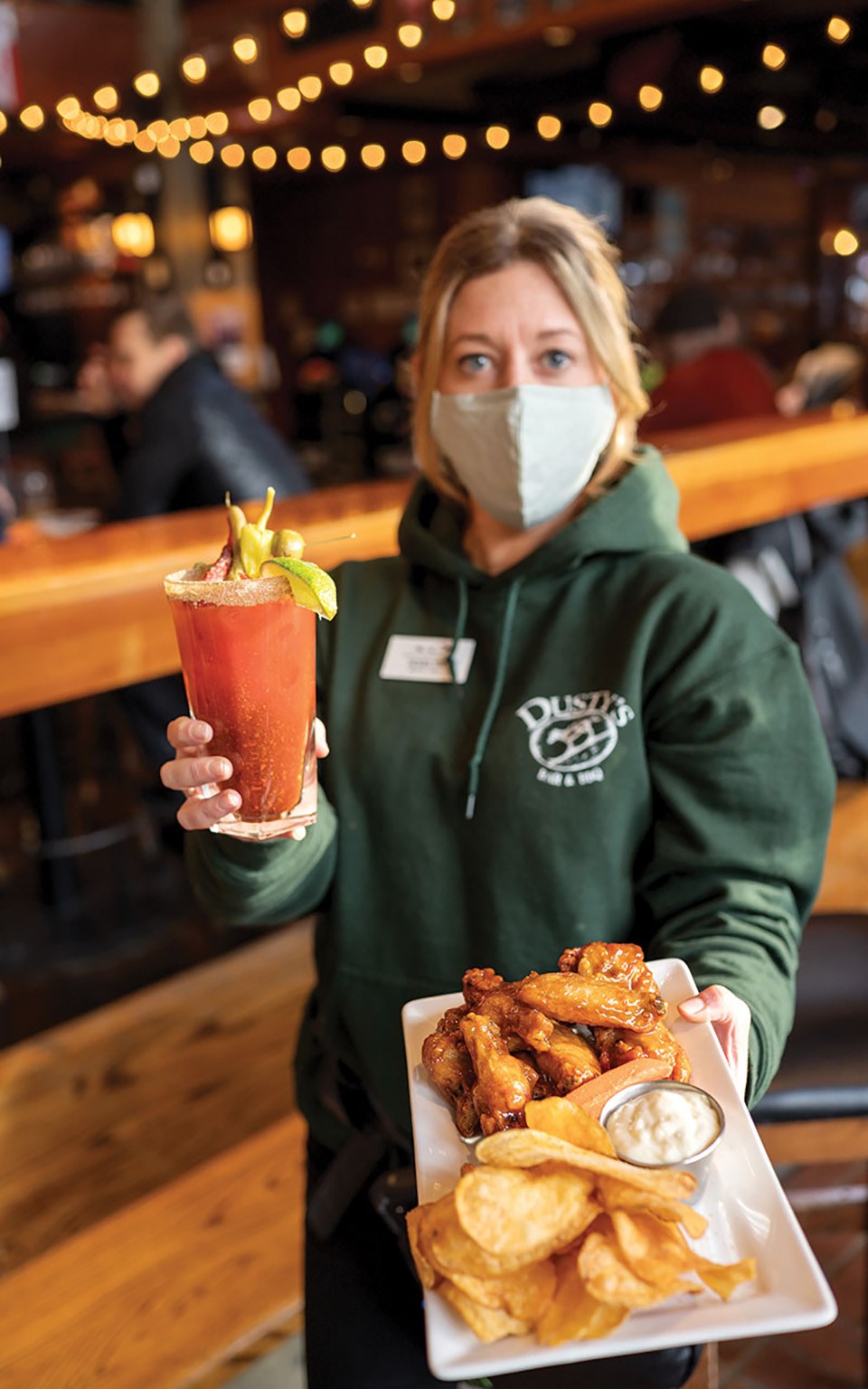 Dusty's: The Bar, The BBQ, The Legend
It's long held the title of Whistler's original watering hole, but now Dusty's Bar & BBQ in Creekside has been named Whistler's Best Après, too. (An honour stolen away from its rival Garibaldi Lift Co. to boot!)
"We focus our business towards après, so winning this is kind of like the ultimate goal," says general manager Julie Vachon. "I'm very happy about this."
It's fitting, considering that Dusty's was originally known as L'après when it opened its doors in 1966, the same year as Whistler Mountain. In the decades since, the Creekside bar has hosted prime ministers, celebrities, locals and visitors alike and has earned a reputation built on both raucous fun and a questionable history.
L'apres was renamed Dusty's in the 1980s after a stuffed horse named Dusty that had a tendency to pop up throughout the resort. As the legend goes, a partier stripped down and jumped on Dusty's back one fateful full-moon Friday. Dusty bucked into life, burst through the bar doors, shook the shocked, nude woman into a snow bank and galloped off into the night, never to be seen again.
These days, Dusty's is better known for its ski-in patios, Power Hours (the famous Caesar/beer combo is called a Voyageur because it gets you on your way, in case you were unaware), as the best place to dance in your ski boots to a Hairfarmers' set, and, of course, for its barbecue.
In this year's BoW awards, Dusty's (tied with the Crystal Lounge) was also voted as having the Best Wings in town.
"I think we focus a lot on having good wings because they're our biggest seller," says Vachon, adding that, on a Saturday afternoon in early December, Dusty's kitchen staff pumped out 130 orders of wings in a three-hour span. It even has a vegan "wings" option, so your plant-based pals don't need to feel left out.
But speaking of inclusion, it's the come-as-you-are, we're-all-friends-here, sure-I'll-share-a-shot-ski-with-you atmosphere that really makes Dusty's what it is.
"[Our customers and staff] are very loyal to Dusty's and I think that created kind of like a family vibe," says Vachon. "Each time you come in Dusty's, you know you'll bump into your friends or someone you know … I think that's a big part of why people love it so much, to come here after skiing."
New this winter, Dusty's is also shifting its hours to offer breakfast and an extended morning happy hour—meaning you no longer need to save all the fun for après only.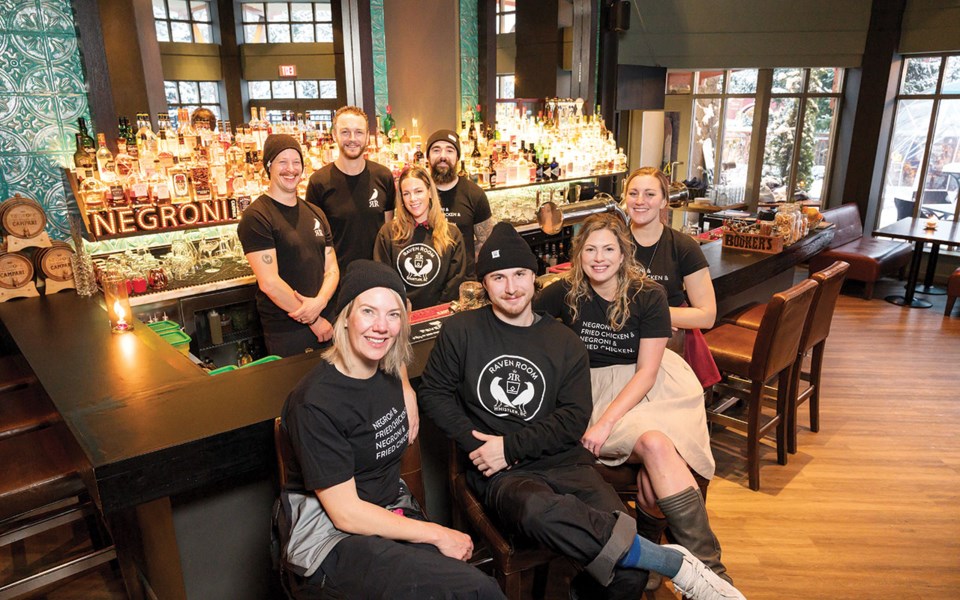 On The Rocks At Raven Room
The Raven Room might have only opened its doors in January 2019, but in just three years it has already solidified itself a spot in the hearts of most cocktail-loving locals.
So much so that those locals voted Raven Room, located in the Whistler Village Pan Pacific, as having the Best Cocktail in Whistler for a third consecutive year, by a landslide.
"We're really excited as a team; really, really proud of the team all the work we put in, so we're definitely appreciative that we were voted for and a lot of it has been local support from day one," says co-owner/operator Jason Redmond, offering credit to Raven Room's "amazing" staff and culture of positivity. "We consider [our team] like a small family."
"We really decided to sort of elevate the game a little bit. We want to be definitely quality-focused, and that comes down to spirits used—which a lot of it is supporting local distillers and craft beer producers and wineries that are doing amazing things—and then techniques and care, and a lot of time and effort."
Much of that effort comes in the form of research, tasting, testing and, above all, collaboration when developing Raven Room's seasonal menus.
"We all get together and bounce some ideas off each other before we start putting things in a glass, and then it usually takes us a few versions to get it right," explains Redmond. "But we try and take whoever's idea it is, or inspiration, and turn it into something delicious in a glass that people will appreciate, enjoy and that may be a little different from you're going to see on the average menu."
The cocktail bar recently released a winter 2021-'22 menu that looks, without a shred of exaggeration, jaw-dropping. To list all of the creations and their contents here would take up far too much space, but we'll include an example: "Queen of Barbados," comprised of Plantation Stiggins' Fancy pineapple rum, Sheringham coffee, yellow Chartreuse, espresso, and Fernet Branca spritz.
"I recommend working your way through the list," says Redmond.
That's something that should be no trouble for the members of Whistler's hospitality industry that tend to frequent Raven Room during its late-night hours.
While Redmond said Raven Room has grown from being "very local centric to having a nice mix of tourists, hotel guests, and locals," in its three years of operations, there's "still a ton of locals and a lot of the industry coming in [after their shifts] to support us and unwind the day, as we're there 'til 1 a.m."
Raven Room, he adds, is "always there for them, never closing early."
Arts and Culture
Favourite Artist or Artisan
1.Andrea Mueller
2.Kris "KUPS" Kupskay
3.Vanessa Stark
Favourite Major Art Show
1.Art on the Lake… literally
2.Anonymous Art Show
3.Teeny Tiny Art Show
Favourite Arts and Culture Event or Festival
1.Crankworx
2.Cornucopia
3.Whistler Film Festival
Favourite Photographer
1.David McColm
2.Logan Swayze
3.Blake Jorgensen
Favourite Filmmaker
1.Kris Dontas
2.Mike Douglas
3.Jeff Thomas
Favourite Musical Artist or Band
1.The Hairfarmers
2.Red Chair
3.Ruckus Deluxe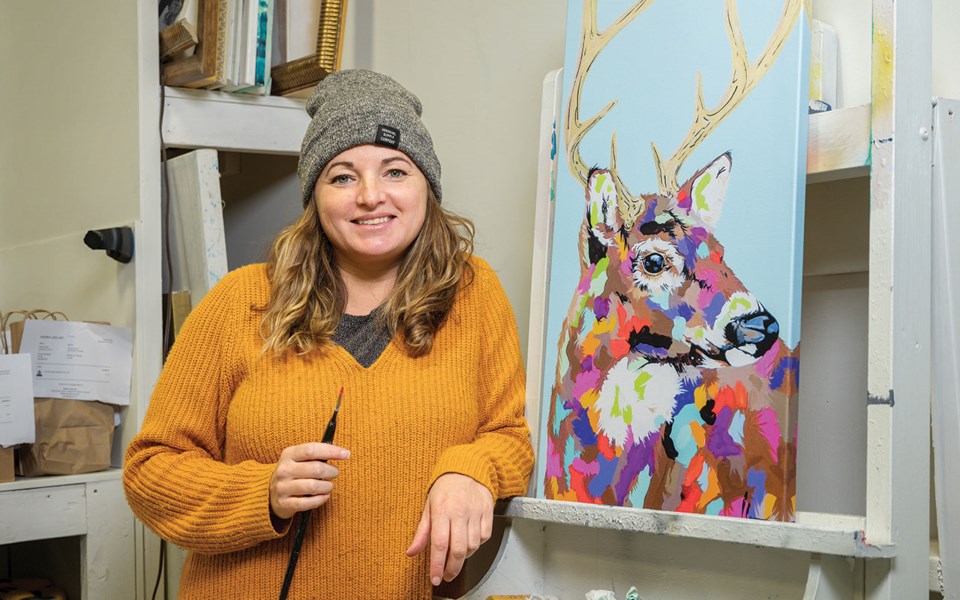 Making a mess
Andrea Mueller is a big proponent of creative chaos.
Whether at her popular Paint Nights or through her summer kids camps, the award-winning painter encourages a healthy dose of artistic experimentation.
"It was more about creativity and creative thinking, less about a specific outcome," she says of her kids' arts camps offered last summer through Arts Whistler. "I had different age groups, so I had these little guys, like these three- and four-year-olds, five and six, and seven and eight. The three- to six-year-olds just went for it. I was like, 'Here's the thing: make a mess and go crazy.' And they were like, 'What? I'm allowed? This is awesome!'"
A sought-after instructor, Mueller, a multi-time winner of this category, has also used the uncertainty of the past year to redouble her focus on her own work. Known for her brightly coloured, highly stylized paintings of local wildlife and landscape, Mueller has also been exploring more personal work that she says is "100-per-cent different from what people know me as doing."
Eyeing 2023 for a slate of new solo exhibitions, Mueller says audiences can expect a more conceptual, darker style that touches on themes of the female body, motherhood along with the profound societal disruptions of recent years.
As an accomplished commercial artist, Mueller plans to unveil a new creative alias, website and social media persona for her new work, an idea that harkens back to her college days.
"It's a whole separate person," she says. "Honestly, part of what's taken me so long to do this is figuring out what the alias was. I've been trying to have an alias since I left art school. Looking back, I wish I had actually started with an alias."
Like so many creatives in Whistler, Mueller feels the pressure to deliver on what her audience wants, which in a tourism town replete with scenic vistas and interesting wildlife, usually means landscapes and bears.
"When I first moved here, I was like, 'I'm never painting a bear.' Then it's like, 'OK, I'll do 35 of them," she says with a laugh. "It's funny living in Whistler. This is other people's holiday spot … They want a place-based memory that they can take home with them, look at the picture and go, 'Man, I had a really nice time in Whistler. That was a really great memory for me and my family.' If you want to be working commercially in this community, in my opinion you need to take that into account. But it doesn't mean you can't be more than one thing."
The best of both worlds
In her 30 years as an event producer, Arts Whistler executive director Mo Douglas has learned an important lesson about what makes events in Whistler click.
"[S]ome of the most successful and I'd say magical events here have been … the ones where we combine the arts with Whistler's unique experience and landscape," she says. "It's unique propositions and that's what we're trying to do more and more."
You certainly can't say that Whistlerites' Favourite Major Art Show this year, the second annual Art on the Lake … literally, wasn't a unique proposition. Held on Alta Lake (and that is meant literally: attendees paddled their way though the festivities), this roving art show, musical extravaganza and series of performances brought locals out in droves this August to enjoy a cultural event, held right on the water, unlike anything this town has seen.
It was also tailor-made for a pandemic year when large-scale indoor events were few and far between.
"Art on the Lake was an idea not so much born of the pandemic because we had talked about it before, but it was actually accelerated because of COVID," Douglas says, adding that the event was so popular it will expand to two days in 2022.
It was a clean sweep of this category for Arts Whistler, with each of the top 3 events being produced by the organization. After a tumultuous year for the arts in general, garnering such gratitude from the community was all the more significant.
"This has really helped our spirits and fingers crossed what we've done has also lifted the spirits of our community," says Douglas. "The Arts Whistler team has certainly been onboard for this crazy ride but the community has also been there with us. We appreciate how much they've appreciated what we've done."
Sports
Favourite Winter Athlete
1.Stan Rey
2.Marielle Thompson
3.Mercedes Nicoll
Favourite Summer Athlete
1.Jesse Melamed
2.Finn Iles
3.Brandon Semenuk
Favourite Junior Athlete
1.Wei Tien Ho
2.Juliette Pelchat
3.Marcus Goguen
Favourite Park
1.Rainbow Park
2.Lost Lake
3.Alpha Lake Park
Favourite Ski Run on Whistler or Blackcomb
1.Peak to Creek
2.Dave Murray
3.Ridge Runner
Favourite Slackcountry/Run Area
1.Million Dollar Ridge
2.Flute Backside
3.Khyber's
Favourite Bike Trail
1.Lord of the Squirrels
2.Crank it Up
3.A Line
Favourite Golf Course
1.Nicklaus North Golf Club
2.Whistler Golf Club
3.Fairmont Chateau Whistler Golf Club
Favourite Adventure Tour Company
1.TAG: The Adventure Group
2.Canadian Wilderness Advenutres
3.Blackcomb Snowmobile/Whistler ATV
Back-to-back champ
For the second year in a row, the people spoke, and Stan Rey came out on top of Best of Whistler's Favourite Winter Athlete category.
"There are a lot of good athletes in town and maybe I have a leg up on them because I've lived there pretty much my whole life, so maybe I'm more recognizable. So yeah, I'm stoked," says Rey.
"It's super humbling and I definitely feel honoured from that. I just try to be myself and I think for me, my biggest goal every year is just to have fun, and that is somewhat infectious, so maybe that's why they enjoy watching me ski."
As a well-known and long-time Whistlerite, there's nothing inherently shocking about Rey being recognized in the winter athlete category … except for the fact he hasn't really skied competitively for years.
Instead, Rey and his partner Alexi Godbout have spent the last several years focused on producing movies for the film company they started seven years ago called Blank Collective Films.
"It's a lot of fun. It's a bit of organizing and getting other athletes involved and stuff but it's cool because we can try to put some spotlight on some up-and-coming athletes that are very talented, a lot of skiers that are better than me," says Rey. "And it's just cool to see the talent in Whistler and kind of give them the platform to show off their skills is kind of cool. So that's what I've been up to the last couple years."
Rey's latest film, Tales from Cascadia, recently won Film of the Year at the iF3 Festival held in Whistler, marking the first award for the film company in its seven years.
While he's not sure what the focus of the next film will be or where the project will take them, Rey says it will definitely maintain the fun, lighthearted tone of his past movies, while they continue to try out more creative filming techniques like using drones.
Despite his films, and his ski career before that, taking him to mountains all over the world, when asked about some of the favourite spots he's been to in his life, Rey's can't think of a more deserving place than right here in his own back yard.
"I might be a little biased, but Whistler Blackcomb is a pretty amazing place. When you think about the resort itself and then the backcountry you have around this place, we live in a pretty special area and I feel very lucky to call it my playground, my backyard," he says. "The sled-skiing when you go into those mountains, it's crazy what's out there because you don't really see it just looking across from Whistler Blackcomb."
Putting it all together
Not only did Whistler's Jesse Melamed ride to the best finish of his Enduro career with a third overall in the world rankings, he also finally cracked the top spot in the Favourite Summer Athlete category after losing out to the likes of Finn Iles and Brandon Semenuk in years past.
"I think that kind of just shows on one hand the rise of Enduro and its legitimacy as a discipline of mountain biking, which I think is really cool. I think having done so well just shows that maybe a lot more people tuned in and were, I would hope, proud to have me as their local that was off doing well around the world. We live in one of the mountain bike meccas of the world and to kind of come from this area is special for me and I love representing it," he says.
"I think it's special and I hope I give the entertainment back to the Whistler community and they enjoy following along."
Melamed's third-place finish on the world circuit this year was the culmination of what he says was his most consistent season to date. In the first half, despite the pace not quite being there to push for the top spot, Melamed finished with a third- and three fourth-place finishes, showing the consistency he has struggled with in the past.
And after returning home for the mid-season break, and having some time on familiar trails to get in touch with his bike again, Melamed went back to Europe where he had some technical issues leading him to put up an eighth and a DNF before he finished the season with three second place finishes to three different people.
"That showed that I was the most consistent to round out the season and that's kind of something I've always struggled with in the past so I was really proud of consistently putting up top results and doing so safely in a way that kind of suited me," he said. "Because of those mechanicals and the DNF I had in France, I think I dropped to sixth overall so it was really cool to have to fight back for that third overall because I really wanted it and I knew I could do it."
During his offseason, Melamed plans on enjoying his time at home and getting some days in on the mountain before gearing up to start training to defend his podium in next year's season.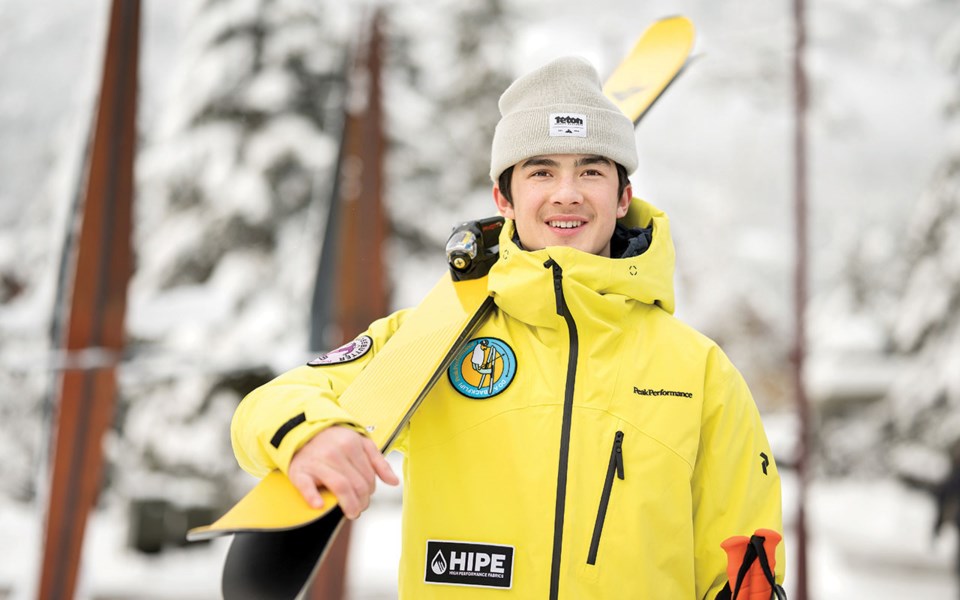 Balancing act
Freeride skier in the winter, Enduro and downhill racer in the summer, with a passion for filmmaking, Whistler's favourite junior athlete WeiTien Ho fits perfectly right alongside Whistler's other favourite athletes this year.
But not having much of a freeride season last year, and switching mountain bike disciplines from enduro to downhill this past summer, Ho was surprised to be receiving the text saying he won Favourite Junior Athlete.
"It's an honour," he says. "I mean, with the level of competition and how talented the community here is, it's an honour to hold this and I'm stoked."
But that wasn't the only surprising message the 17-year-old Whistlerite received this year.
Being a long-time enduro racer already, Ho decided to try his hand at competitive downhill mountain biking for the first time in his career. Over the summe rn ,bmvs, competing in Canada Cups, Ho continued to improve culminating in a fourth-place finish at the National Championships in Kicking Horse.
And shortly after his impressive finish in Kicking Horse, Ho received an email inviting him to the World Championships in Lenzerheide, Switzerand, something he never would have thought possible in his first season.
"That was a huge shock," he said. "I've watched [downhill World Cups] since I was a kid, so it has been a dream of mine to actually go to them and be there in person. And then to do it along with some of my best friends from Sea to Sky as well, was a sweet experience," he said.
But now that summer is over, and the ski season is ramping up, Ho is switching focus to the upcoming freeride season where he plans on attending nationals at Red Mountain, Lake Louise and Whistler as well as a handful of regional competitions like the ones in Whistler and Revelstoke.
But his main goal this season is to work on a film project with one of his ski coaches.
"I like competing in free ride and stuff, but I find I just really feel at home when filming and just that creative piece," he said.
- Harrison Brooks
Business Services
Best New Business
1.Joe Fortes
2.The Movement Lab Whistler
3.Mountain Chic Hair Lounge
Best Ski Shop
1.Coastal Culture
2.Fanatyk Co.
3.Comor Sports
Best Snowboard Shop
1.Evolution
2.Showcase Snowboard Surf & Skate Shop
3.The Circle
Best Bike Shop
1.Coastal Culture
2.Evolution
3.Fanatyk Co.
Best Clothing Store
1.The Beach
2.Aritzia
3.Re-Use-It Centre
Best Jewelry Store
1.Keir Fine Jewellery
2.Ruby Tuesday Accessories
3.3 Singing Birds
Best Hair Salon/ Barbershop
1.Elevation Hair Studio
2.Mountain Chic Hair Lounge
3.The Loft Salon
Best Grocery Store
1.Nesters Market
2.Fresh St. Market
3.Creekside Market
Best Customer Service
1.Creekside Market
2.Evolution
3.Nita Lake Lodge
Best Realtor
1.Madison Perry
2.Katelyn Spink
3.Dana Freisen-Smith
Best Building or Construction Company
1.TM Builders
2.RDC
3.CVC Custom Builders
Favourite Building
1.The Audain
2.Fairmont Chateau
3.SLCC
Best Store for Gifts
1.3 Singing Birds
2.Get the Goods
3.Whistler Kitchen Works
Favourite Hotel
1.Fairmont Chateau
2.Nita Lake Lodge
3.Four Seasons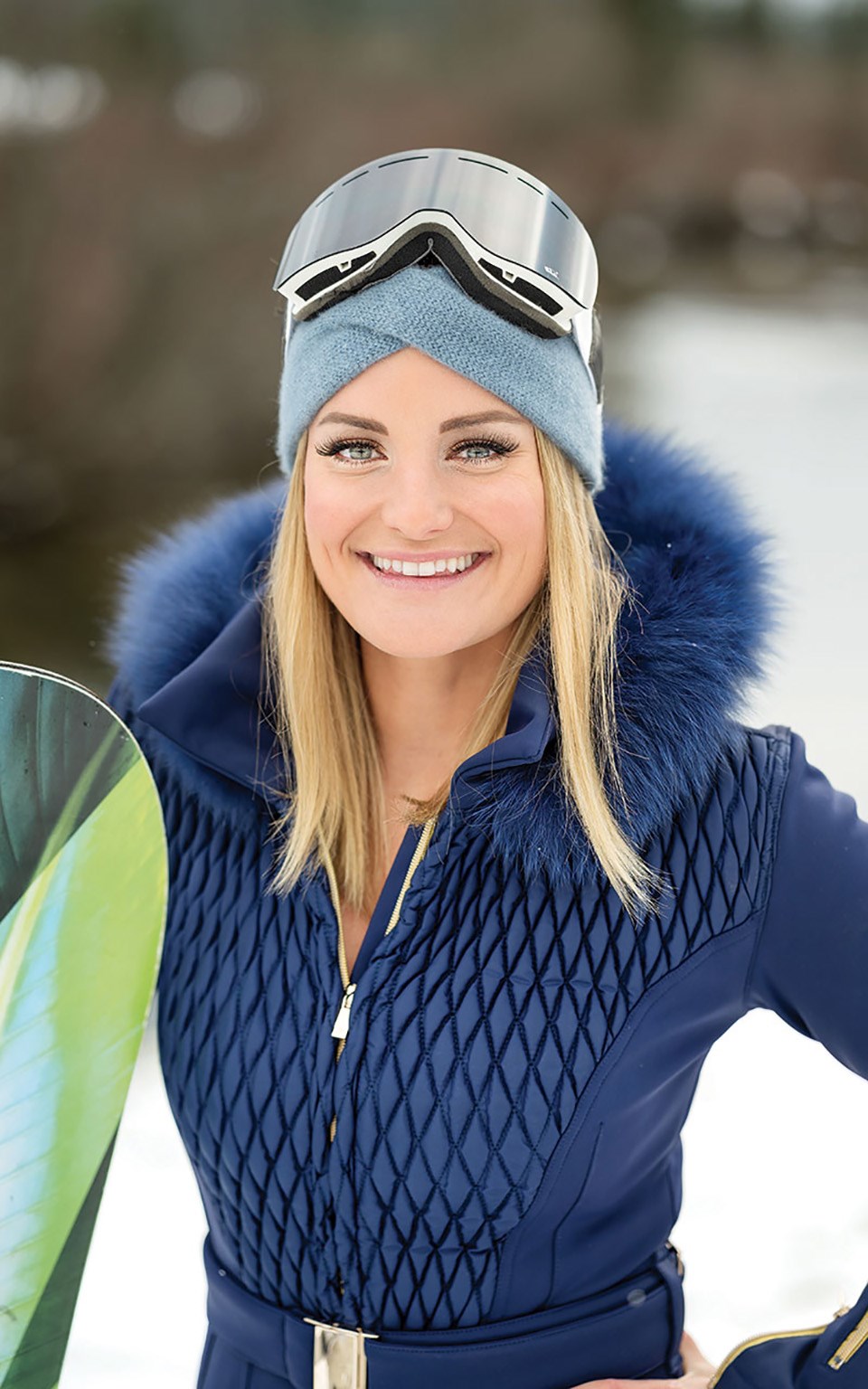 On the Rise
Since the COVID-19 pandemic reared its ugly head in the spring of 2020, houses in Whistler have been flying off the market at a furious pace.
Whether it's people looking to work remotely or looking to purchase a second home, the market has been on the upswing with no sign of slowing down anytime soon, according to Remax realtor Madison Perry, who recently won Whistler's Best Realtor in Pique's Best of Whistler poll.
"[The market] definitely took an upswing, and it was incredibly interesting to see how our inventory stayed at an all-time low. So it's just creating a higher demand. And with such low inventory, it's just been spiking all of the pricing in town," she says. "The way that this year has gone has meant tons of multiple offers, which for sellers was absolutely amazing and incredibly lucrative with people throwing in these massive over-asking offers. But for buyers, it was obviously incredibly daunting and frustrating and challenging."
And for someone like Perry, who is stuck in the middle of those two extremes, it has created an incredibly hectic environment.
With houses being listed one day, and sold the next, usually way over the asking price, it means Perry, and everyone on her team at Remax, had to be "on it" at all times to give their clients the best advice and best chance at landing their dream homes even though in many cases, clients didn't succeed until their fourth or fifth attempt or sometimes even got priced out of the market entirely.
"When you're working with buyers, your whole goal as a real estate agent has kind of transferred from it being 'I want to get you this property for the lowest price possible,' to now it's almost that your client just wants you to obtain the property, no matter what it takes," said Perry. "So the question now is, how much more do we put down higher than the actual listing price? Do we put $20,000 over, do we put 50? Do we put 200? It's an incredibly challenging spot to be in as a realtor because they're looking to us to give them guidance and really what we have to do is give them our best educated guess and really work with our client to find out what they are comfortable with, and usually, obviously, everybody's not comfortable with going over asking."
But through all the chaos, and the hectic nature of the job that Perry joked can sometimes be "panic-inducing," she's incredibly thankful not only for the support of her team but for the community that has recognized all the hard work they do by voting her Whistler's Best Realtor.
"To have the community's support, honestly means that all of the hours and the long nights, the long days, all the effort that goes into this career, it just makes it all worth it, to be honest with you, because there's so many times in this job where it is so demanding and draining, and honestly soul sucking at the same time," she says. "So when you find out you won an award like this, and you find out that you have the community that's out there,
it just makes it all worth it and it's a huge boost for us to continue to keep giving out the service that we do."
Evolving Evolution
While owner Jenine Bourbonnais and the team over at Evolution Whistler are no newbies when it comes to winning Best of Whistler awards, this year feels a little different.
Normally, Evolution sticks near the top of the rankings when it comes to the Best Bike Shop category, but this year they were voted Whistler's Best Snowboard Shop thanks to a plan to refocus their energy on making the store a premier spot for both winter and summer sports.
"About four to eight years ago there was a stretch where there was a lull in snowboarding, so we have been working hard at trying to hone in the exact right gear, but then we also started to focus on boot fitting realizing that boots are quite a core part of our gear in the winter," says Bourbonnais. "That's been about four years now where we've focused on boot-fitting and foot beds and then also having more performance rentals and demos because everyone wants to try before you go out. So we have a big fleet now. We needed to pick it up in the winter as far as having a lot of people recognize us and come to us and it's worked, we've been doing a great job."
Having already been serving the community since 1995, Bourbonnais says their goal has always been a simple one: "to help as many people as possible have fun."
"Every customer who comes through the door, our goal is to help them have more fun in the mountains so that means having gear that works and the correct fitting gear and all that but basically it is all about spreading the fun," she says.
Moving forward, having fun will remain a core element to what they do over at Evolution, while also focusing on stocking the very best gear and getting their customers exactly what they need to get the most out of winter and the summer.
With their increased efforts over the last few years to make Evolution a true every-season store, Bourbonnais is super thankful to have her team's hard work be recognized by the community. But even more than that, she's thrilled just to be a part of a community as awesome as Whistler.
"I really appreciate all the support, like the locals have been amazing over the last two years through this whole pandemic thing, we've really been recognized as a true local shop by the community," she says. "I love Whistler. I love living here. I love being part of the community. Rock on Whistler."
Health And Wellness
Favourite Spa
1.Scandinave Spa Whistler
2.The Spa at Nita
Lake Lodge
3.Vida Spa at the Fairmont Chateau Whistler
Favourite Chiropractic Practice
1.Whistler Chiropractic
2.Dr. Andrea Bologna
3.Dr. Keith Ray
Favourite Physiotherapy Provider
1.Back In Action
2.Peak Performance
3.Alex Fell – The Movement Lab
Favourite Massage Provider
1.The Spa at Nita Lake Lodge
2.Peak Performance
3.Back In Action
Favourite Dental Practice
1.Creekside Dental
2.Whistler Dental
3.Whistler Smiles Dental Clinic
Favourite Doctor or Nurse
1.Dr. Karin Kausky
2.Dr. Tom Demarco
3.Dr. Brennan McKnight
Favourite Fitness Activity Provider
1.Altitude Fitness
2.Meadow Park Sports Centre
3.Peak Training
Favourite Beauty and Aesthetic Provider
1.The Spa at Nita Lake Lodge
2.Be Beauty Spa & Tanning Lounge
3.Elevation Hair Studio
Back In Action, Back Again
Naming a community more active than Whistler's would be a challenging feat.
One downside to all that activity? The inevitability that an injury will strike every so often, whether you're an in-season Olympian or a weekend warrior ripping through tree lines on a Sunday morning.
When an injury does occur, the pros at Back In Action Physiotherapy & Massage are available to help Whistlerites get back to the activities that make living in a resort town so fun no matter your ability level.
Back In Action physiotherapist and owner/operator Bianca Matheson credited that wide-ranging pool of clientele as part of the reason why the practice was voted Whistler's favourite physiotherapy provider for the fifth year running.
"We do work really closely with the elite athlete groups, and that gives us access to a lot of really good resources that those groups have: education; we get the up-to-date knowledge, and I think that gives us a bit of an edge," she says.
While several Back In Action staff members are currently busy travelling with national teams ahead of the 2022 Beijing Winter Games, "our focus has always been to try and provide the same service that we provide to elite athletes, to as many people as possible," says Matheson.
Plus, "we've been part of this community for a long time," she adds. Whistler's community "is full of great people and it's great to be part of keeping them active."
Amid the challenges posed by the nearly two-year-long COVID-19 pandemic, Back In Action has adapted to find new ways of keeping its clients active, says Matheson, from developing new exercise software, offering more online services, loaning out exercise equipment and more gym-based physiotherapy.
"We can offer something to help a lot of different types of problems," she says.
"Physio services have definitely been more utilized since the pandemic started, because of everything from people wanting to be more active outside, people wanting to look after their bodies more, to people in chronic pain from different procedures and surgeries [being delayed], which have caused them to need physio for longer.
"All of that is definitely a challenge, but one that I think we've risen to pretty well."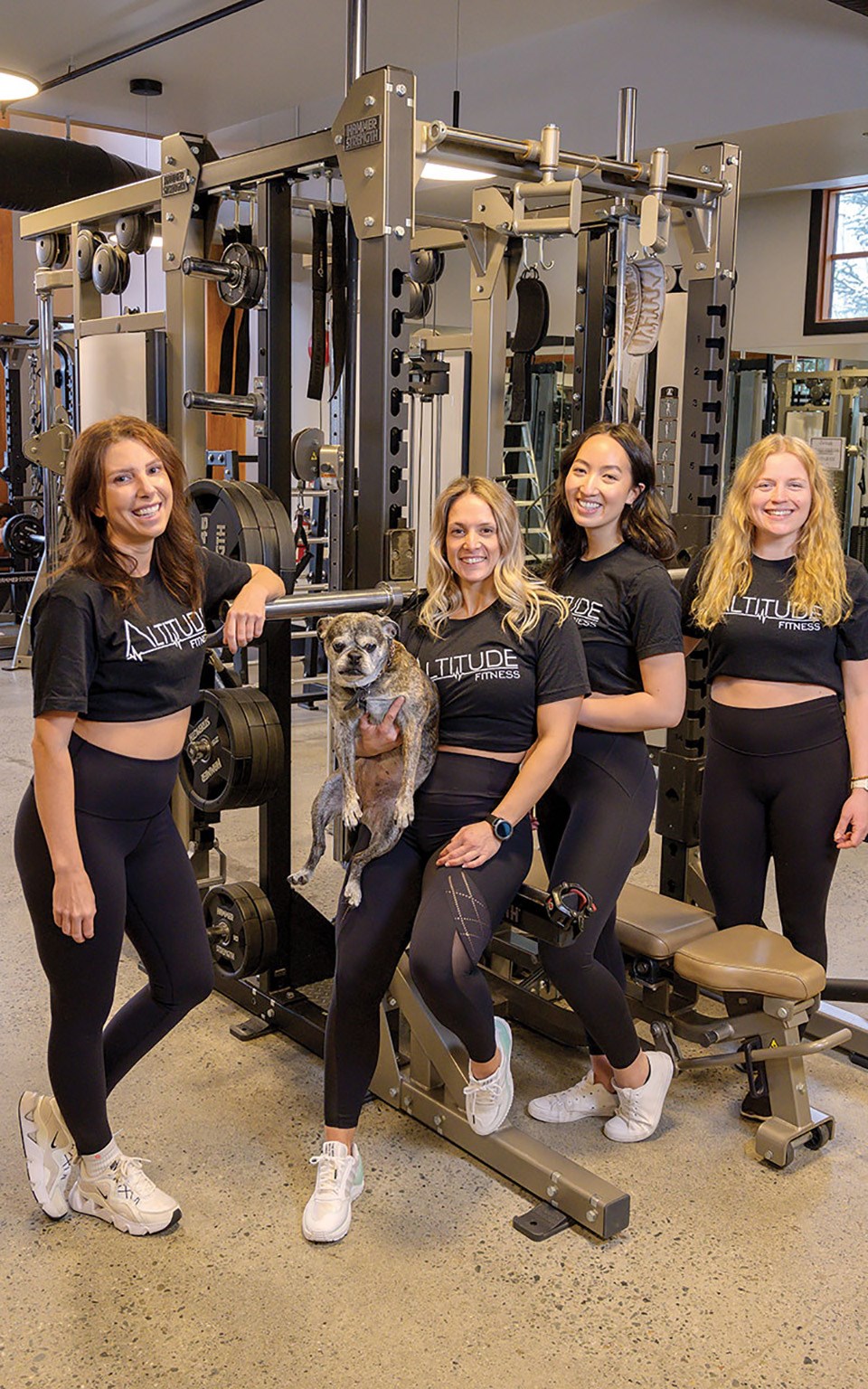 Altitude Fitness reaching new heights
A call to discuss Altitude's win as Whistler's favourite fitness activity provider should have been a purely exciting occasion, but the mood proved to be more bittersweet when Pique reached owner and director Katie McFetridge on Christmas Eve.
She had just returned from dropping barbells off at clients' homes after Altitude, like every other gym in B.C., was ordered to close until at least Jan. 18, amid surging omicron cases. It marks the second official closure the gym has suffered in as many years.
"It's a lot of administrative work behind getting everyone's passes on hold and like trying to figure everything out, but it is what it is," she says. "We've done it before."
With that in mind, learning about the win was "so exciting," McFetridge adds. Altitude has steadily climbed up the ranks since opening its doors in 2019, finishing third in that year's Best of Whistler Awards and second in 2020.
"It's just crazy. I know we have what it takes to be there, but I didn't know—based solely on the fact that Meadow Park has, like, an arena and all this extra stuff—if we could actually [win]," she says. "But I have such an awesome team, and our community here, our membership is so amazing. Everybody's been so supportive in the last couple years, especially going through COVID. I'm just so thankful."
McFetridge offered a particular shout-out to Altitude's head trainer Cinta Cassini, the force behind the facility's popular women's-only BootyCamp classes. "She's been with me since the beginning, and I'm very proud of her and all she's accomplished here," McFetridge says.
The entire Altitude team has also worked hard to implement several new, stringent health and safety measures since the onset of the pandemic, from Plexiglas to individual sanitizer bottles, which McFetridge says are likely to stick around once the public health situation improves.
If anyone hasn't yet stopped by the spacious, high-ceilinged facility in Creekside for a workout, McFetridge says complementary drop-ins are available for first-timers (once gyms have the go-ahead to re-open, that is).
"Come and check us out. We've heard from some people before they started coming here that they were intimidated to go here, but just come in and try it out … We all smile," McFetridge adds with a laugh. "We're friendly here."