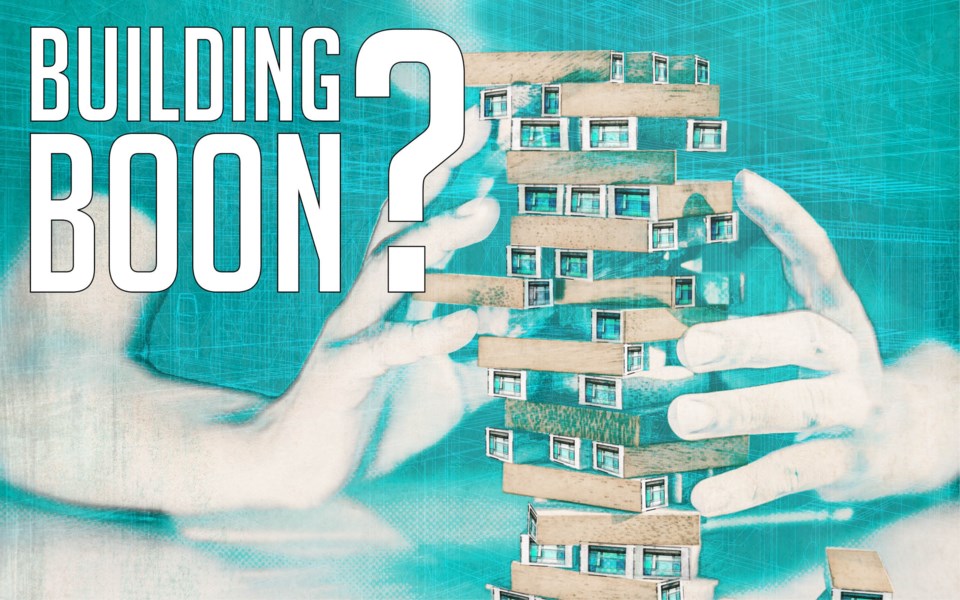 The rather ordinary building at 1020 Legacy Way looks like any other compact four-storey apartment complex, buzzing with activity in the push to have renters in place this fall.
From the outside looking in, there's nothing to indicate that this building will set a standard as the most expensive employee housing project on Whistler's books, coming in at close to $10 million for 24 units of affordable rental housing.
This equates to $411 per square foot to build.
Of course, to the layman, the windows at Legacy Way are simply windows, not triple-paned glass; the exterior walls look like any other, not prefabricated panels that were specially insulated offsite, constructed in a controlled environment; and you can't see the energy-efficient HVAC system from the outside looking in. All these components, and much more, make this building the Whistler Housing Authority's (WHA) first Passive House apartment block, a showpiece building highlighting the "unique marriage of Passive Housing building and affordable housing," says WHA general manager Marla Zucht.
But building to Passive House standards isn't cheap.
Add to that the fact that Legacy Way was built in a red-hot construction market, with labour hard to source, and the ever-increasing price of materials and costs begin to mount. There is also the Whistler premium at play, that somewhat elusive figure that comes with building in the top ski resort in North America, inflated for things like Whistler's prescriptive design guidelines and snow-load requirements.
"[The Legacy Way building is] well in excess of market housing in Vancouver," says quantity surveyor Jody Pamplin, an associate with Butterfield Development Consultants, which was in charge of the project. Pamplin says higher-end market apartment units in Burnaby and Coquitlam typically fall in the $300/sq. ft. range.
The last three years have marked an unprecedented time for the construction industry in a resort known for its high-end ski chalets, tony hotels and affordable employee housing program. Whistler is not alone in this building boom.
In times like these, however, all eyes are trained on the public purse and the headline-grabbing municipal projects: a confounding $7-million Gateway Loop project completed last year, a $3-million village washroom project on the books, and a $1-million-plus expansion to the Meadow Park Sports Centre that attracted just one qualified bid, which also came in over the projected budget.
What does this construction climate mean when it comes to the annual multimillion-dollar public works program on the backs of Whistler taxpayers? It's big business paving new roads, installing new water pipes, upgrading aging infrastructure, building affordable employee housing and keeping Whistler's tourism face fresh.
And what does it mean when the Whistler Housing Authority (WHA) is in the throes of a $35-million flurry of building, with three new projects and the bulk of the construction debt to be paid back in rental income over several decades?
"It's a good news story in that there's a lot of economic activity," says Councillor John Grills. "The hard part is trying to build affordable employee housing... and it's hard right now."
Building in a boom
Mateo Durfeld always has two major worries when it comes to running his longstanding construction business: Not having enough work to keep his staff busy, and having too much work that his staff can't keep up.
Durfeld Constructors have long been associated with high-end log homes, and now with its Passive House builds, is managing the construction of two employee housing projects for the WHA.
His aim now is to remain good and steady, even when the work is plentiful; you never know when it might dry up again, particularly in a Whistler market that tends not to follow the norms of the industry.
"The goal is to really keep our core staff busy," says Durfeld. "The trick is to keep them full and gainfully employed."
It's a familiar refrain, this work-life-balance conundrum, as builders looked to hire both skilled and unskilled labourers in a market where staff is hard to come by.
Municipal stats paint part of the picture.
Building permits reached a 10-year high last year, the second busiest in the last two decades. Meanwhile, the total value of residential building permits tipped the scales at a staggering $120 million plus in 2018, a record high (see related graph).
To put that number in perspective, take the post-Olympic lull year of 2011. There were 132 residential permits issued that year (compared to 212 last year). The total dollar value of those permits was under $20 million.
In the last two decades, construction costs have dramatically increased, over and above the expected bump for Olympic inflation. In fact, there has been a roughly 1.7 increase in the cost-to-build index. In 1999, that cost index was at 90; flash forward to today and the index sits at 170... with no signs of levelling off.
And despite the resort workforce being bigger than ever before, with 16,399 full-time-equivalent employees in 2018, more than 40 per cent of local businesses reported being short staffed, with more than 900 unfilled positions that year. Construction, compared to other sectors such as tourism and hospitality, has always had the advantage of paying well. It is not immune, however, to the same staffing challenges affecting other sectors: namely, finding, housing and retaining skilled labour.
"It's not uncommon to hear of staff going to work across the road [on another job site] because someone offered them a little more money," says Chris Bozman, president of the local chapter of the Canadian Home Builders' Association.
"We could definitely employ more people," admits Bozman with Kindred Construction.
Because of that, he adds, many homebuilders are picking and choosing their projects carefully.
"Most homebuilders are being selective on which projects they're looking to take on," Bozman notes.
That's not a bad problem to have—when you're the builder. But when you're on the flipside of that equation, looking for multiple bids in order to get the best bang for your buck, it can be a challenge.
A sign of the times?
Earlier this summer, the municipality found itself in a challenging spot when just one qualified bid was submitted for the $1-million-plus renovation project at Meadow Park Sports Centre. It was unusual, to say the least; municipal projects typically attract multiple bidders.
Grills was not in favour of handing out the $1.4-million contract when it came to a vote at the council table in early June. Among his concerns over the project, which will see the expansion of the cardio room and stretching area by enclosing the building's west rooftop patio, was the fact the sole bid on the project, from TM Builders, came in at almost a quarter of a million dollars over the original estimated cost, provided by outside consultants just six months prior.
Grills was not alone in his concerns. Coun. Jen Ford also voted against awarding the contact but the duo was ultimately defeated 4-2 at the council table.
This prompted Grills to call for a review of the municipal tender process.
More than two months later, his concerns have been assuaged to some extent. Grills explains that the single bid could have been due to a timing issue—the bid was put out later in the construction season when contractors may have already filled up their schedule.
In the meantime, TM Builders, a local company, has also been working with the municipality to find ways to bring costs down.
"I'm a little surprised they only got one bid," says Durfeld, who wasn't aware of the bid opportunity.
"We were in the thick of doing the apartment block for the municipality," he adds, referring to the new employee housing building in Cheakamus.
"At some point you're just limited in how much you can take on."
It takes time and money to bid on complex projects like the Meadow Park expansion. In this climate, builders aren't waiting around for jobs they might get; rather, they're more inclined to pursue confirmed work. Bidding mid-season takes much-needed resources from other projects on the go.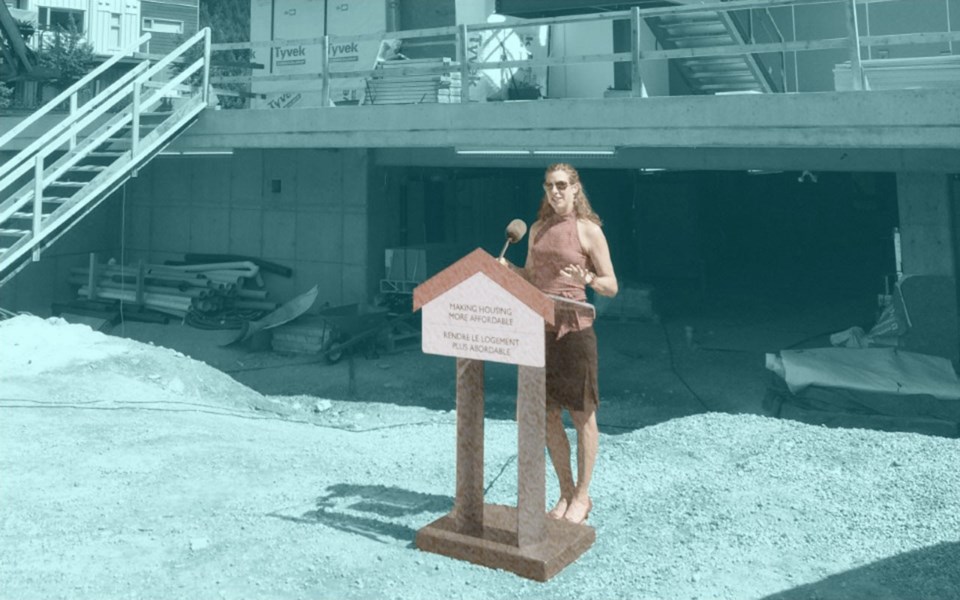 Though Grills called for a delay to the project in order to get a more competitive bidding process, that too ran into roadblocks, with municipal staff warning that there was no guarantee the project cost would come down at a later date. It could have also jeopardized a $400,000 anonymous donation to the expansion, facilitated through the Community Foundation of Whistler.
"There's no indication that pricing and materials are going to change," adds Grills.
Predictability vs. Uniqueness
Not all municipal projects miss the estimated budget. Take the waterproofing of Whistler's leaky village parkades that has been ongoing for several years. The pricing on those multimillion-dollar upgrades all came in close to estimates and the schedules have stayed on track.
So, too, did a project involving laying pipe for aging water mains and paving the municipal road systems. These types of projects are fairly predictable in terms of costs, given the record of historical pricing and the limited variables to the job. There is $2.3 million in the budget to finish off the last parkade this year.
Likewise, another $3.1 million in the budget for water main replacement; $1.1 million to upgrade roads; and $3.6 million for sewer mains, with similar expected costs in the ensuing five years for that work.
This is the predictable municipal work.
Unique, one-off projects, are a different story altogether.
Take the $7-million Gateway Loop, the redevelopment of the bus loop at Whistler's arrival point in the village.
"Gateway Loop is your poster child for community concern about budget," admits Coun. Duane Jackson.
Council has heard those concerns.
Gateway Loop was a project with a unique design, complex engineering and a broad scope of work that relied on many different subcontractors. And yet, initial cost estimates in 2014 pegged the project at just $3.1 million.
"Involving a greater number of subcontractors introduces a higher level of uncertainty in the bid process," states an email from the municipal communications department.
That original estimate was "during a different construction climate, before a detailed design and based on a simpler concept," a municipal spokesperson told Pique in 2018.
It can be difficult, however, to reconcile the two numbers in the minds of the public.
The same can be said of the $3-million price tag for three sets of municipal washrooms planned for this year. The project was part of the 2019 municipal budget funded fully from $7.5 million in provincial Resort Municipality Initiative funding.
In April, council gave third reading to the polarizing project that will see the construction of three sets of public washrooms—at Gateway Loop, Lost Lake Park, and Whistler Olympic Plaza. When pushing the project forward, council recognized the community concerns over cost.
"To have a few projects that are out in the media... I guess that's going to happen when you're doing as many projects as we are," says Grills.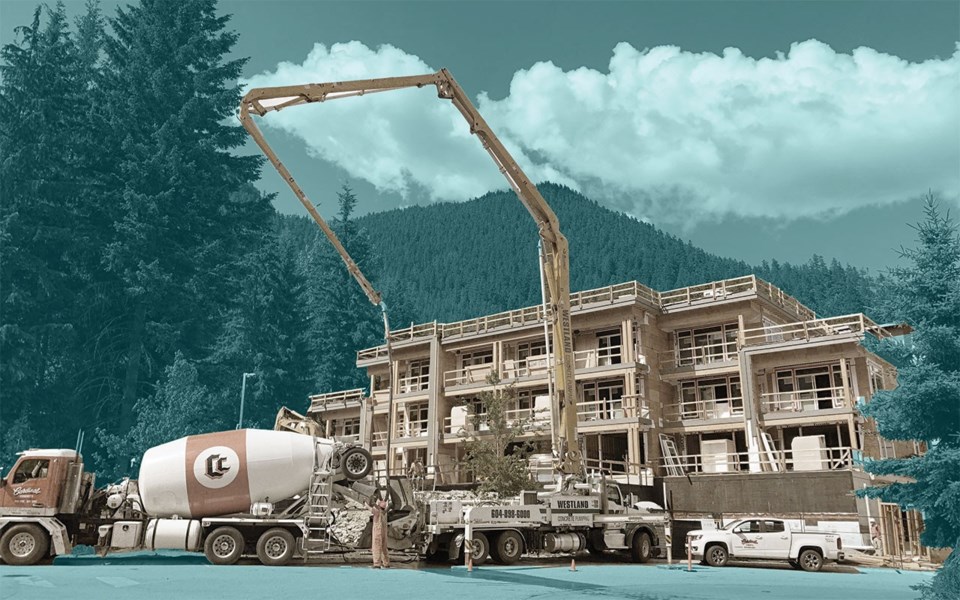 Affordable Housing
In the midst of Whistler's year-long housing shortage, the projects on everyone's minds remain employee housing opportunities. The WHA, which is a subsidiary of the municipality, has three projects on the go at various stages. Combined, these projects will cost in the range of $35 million: $10 million for Legacy Way, $8 million for the seniors housing project at Rainbow, and an estimated $17 million for the largest rental project on Cloudburst Drive, also in Cheakamus.
The WHA has not been immune to the construction challenges.
"The shortage of labour has been really tough on us," admits WHA general manager Zucht, highlighting the challenges at Legacy Way.
It proved difficult, for instance, to find a siding company locally; labourers came from the Lower Mainland to do the work. "We had to pay for accommodation for those trades," she says. The same is often true for engineering firms, whether civil, structural or mechanical.
"All of those pieces add up," Zucht says.
Key to this project remaining affordable is a $7.3-million boost from the federal government. That comes in the form of preferential financing rates of 1.5 per cent.
And that means rent can stay "affordable." Seventeen units in the building, for example, will have rental rates below 30 per cent of the area's median household incomes. Zucht told Pique last month the rental rates are expected to range between $1,250 and $1,950 a month, depending on unit size.
The mortgage on the building is at a 50-year amortization.
"The rationale for why the [Canada Mortgage and Housing Corporation] makes this financing tool available to established low-risk housing providers is because it requires less operating income to service the debt," Zucht explains. "This in turn allows for lower rent levels to be charged, which increases rental affordability."
The construction challenges, however, remain ongoing at Bear Paw Trail—the $8-million seniors housing complex with 20 units in Rainbow. That project got a helping hand in the form of $2.5 million in grant funding from senior levels of government, which goes a long way to ease some of the strain of the current construction climate.
The biggest building, a 45-unit rental building on Cloudburst Way in Cheakamus Crossing, has just gone out to tender.
"That will be a telltale sign," says Zucht of how the industry will shake out out in the coming years.
Estimates put the cost of that building around $17 million, with an expected $4 million in grants, but Zucht says they will have a better understanding of costs once the bids come in. It will not be Passive House certified but it will incorporate the lessons learned from the Legacy Way build.
"It costs a bit more [to build to Passive House standards] but it will make a dramatic difference," says Durfeld, who also has a stake in BC Passive House, a prefabrication company based in Pemberton that specializes in panelized building systems.
"It makes a huge difference to quality of living and the impact on the environment," he adds.
Indeed, it is a game changer when it comes to greenhouse gas emissions, 40 to 50 per cent of which come from our buildings.
"If you want to make an impact, then you focus on housing, and it's not complicated," adds Durfeld.
Zucht echoes the sentiment.
"As the building owners and long-term operators, that makes sense for us," says Zucht of the Passive House standards.
She points to the mid-construction air tightness testing at Legacy Way at the end of May, part of Passive House certification requirements.
"The results of this May test revealed that the building had attained an impressive air tightness result of 0.1 air changes per hour (ACH), which is one of the highest results the Passive House building scientists have seen, and is well on track to meet the Passive House Certification requirement of 0.6 ACH," she adds.
As the WHA readies to welcome renters to Legacy Way, the board remains hard at work. Jackson, one of council's appointees to the WHA board, says they are spending a lot of time and oversight on the $17-million Cloudburst project in these early design stages, adding the board has a fiduciary duty to optimize budgets and get as much value as possible out of each project.
What are the energy savings? How does that compare to additional costs? How do you measure the environmental impact? What is the return on the community investment? All questions that are top of mind at the board level.
He adds: "At the moment, we're doing everything we can to be diligent."
And it remains to be seen how the construction industry in Whistler will shake out in the years to come.