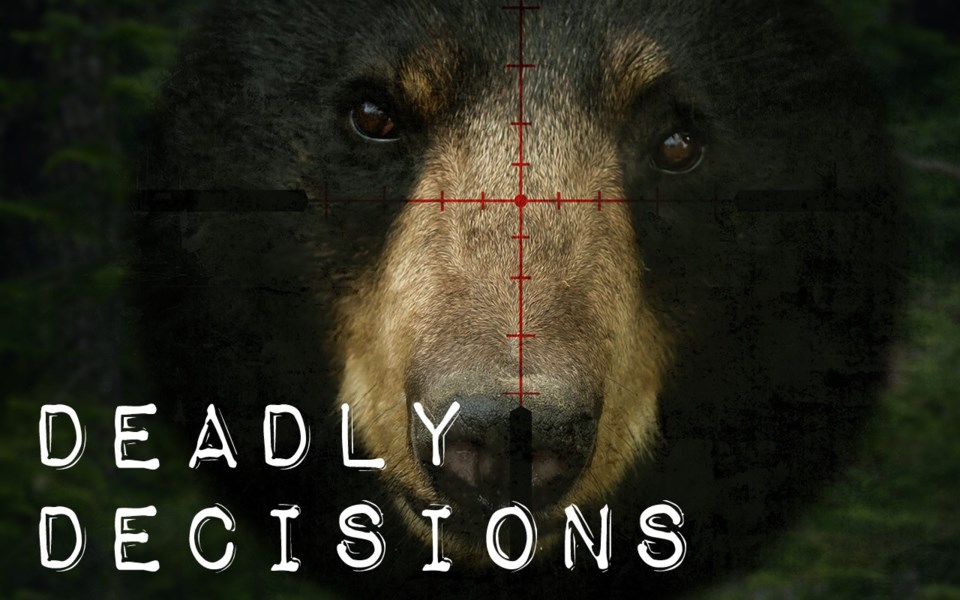 This summer, tensions between the public and B.C.'s Conservation Officer Service (COS) seemed to hit a new level.
In July, conservation officers were pursuing a sow and her cubs in a residential neighbourhood of Coquitlam when residents allegedly intervened.
Ultimately, the three bears were killed and three people were arrested and charged with obstructing a conservation officer. And, controversially, a cell phone belonging to one of the residents was confiscated.
Susan Flint was one of the people arrested. "I walked out in my yard and there was a conservation officer in my yard with a shotgun," she told CTV News. "I said to him, 'Get off my property.' Like, what are you doing?"
For Flint and others who sympathized with her, it was the COS that was in the wrong—not her or the bears.
"They're conservation officers," she said at the time. "They're supposed to look after the animals, not destroy them."
The incident came in the middle of an extraordinarily busy bear season for the COS.
Between April and the end of July, the COS attended 1,219 calls involving black bears province-wide, destroying 250 bears. That compares to 772 calls attended and 130 bears destroyed in that time period in 2018.
The arrests and killings were seized upon by critics of the COS, whose rhetoric can be extreme. Angered by what they see as an overreliance on lethal force, they say the COS lacks independent oversight and officers are given far too much discretion when it comes to the decision to kill wildlife.
Bryce Casavant, a former conservation officer turned prominent bear advocate, says that animals are being "killed and hunted in the absence of a legitimate safety risk, when it's the easier option."
Sylvia Dolson, executive director of The Get Bear Smart Society, echoes that sentiment, writing that the COS has "lost its sense of ethical and moral values" in an August 2019 letter to Pique. "It is on what seems to be a zero-tolerance killing spree. Mothers and newborn cubs are shot in the head because they are considered a nuisance."
[Dolson could not be reached for comment by press time.]
Just where the general public stands on the issue often has to do with where they reside and the officers operating in that region.
A 2016 Insights West survey, commissioned by Casavant (who was completing his doctorate at Royal Roads University at the time) and the wildlife advocacy non-profit The Fur-Bearers, suggests the COS is facing a crisis of confidence.
More than 75 per cent of respondents indicated they had "little confidence" in the agency, while only 18 per cent said the COS had their "complete confidence."
How the COS is perceived—and how much confidence the public puts in it—is not an abstract concept for the agency. A common refrain in Whistler is that residents will avoid reporting a wildlife issue for fear that it will lead to an animal being killed, which, in turn, can lead to a situation where wildlife become more habituated to humans and their food sources and thus less amenable to hazing.
The public, says the COS, often only sees and hears about the most unpleasant part of their jobs, when things escalate to the point where an animal must be killed.
That's why it wants to get its message out.
'The public feels our job is just bears'
On a bluebird day in September, Brittany Mueller, a conservation officer who has worked out of the Whistler COS office for the past four-and-a-half years, took me for a ride-along, giving me a firsthand look at the agency's wide-ranging mandate.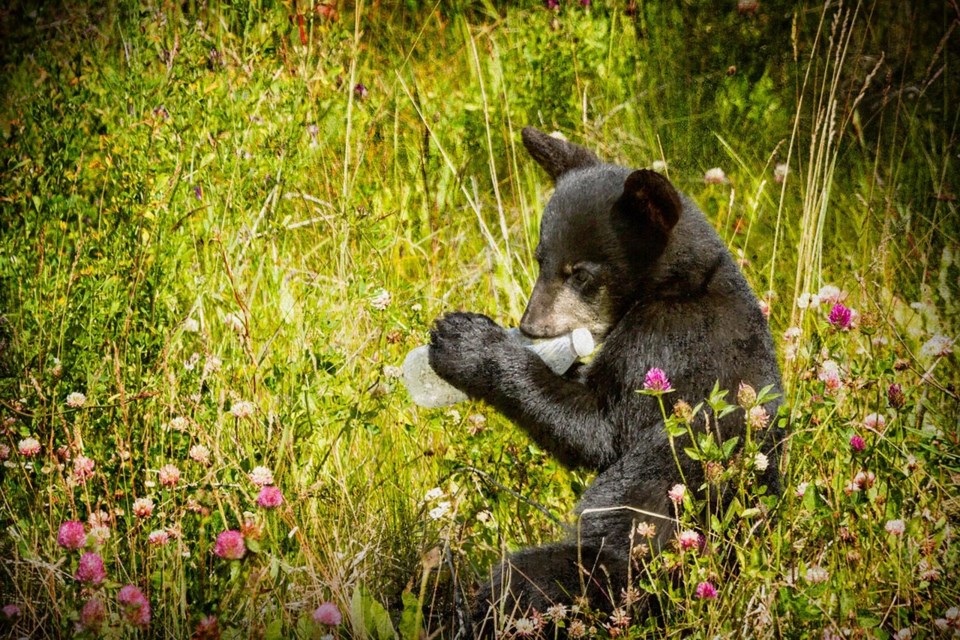 "The public feels our job is just bears, but we do a lot more than that," says Mueller, sporting a bulletproof vest over her all-black, utilitarian COS uniform, and a baseball cap emblazoned with the agency's distinctive logo.
There is, she says, no typical day as a conservation officer. The COS is charged with everything from enforcing fishing and hunting regulations, to investigating cases of illegal dumping and poaching, in addition to managing human-wildlife conflict.
Conservation officers hold Special Provincial Constable Status under the Police Act and can even make arrests in instances such as drunk driving, she explains.
"Our mandate is so large," says Mueller. "We do our best to protect all areas of the environment and the resources within it."
Mueller is one of two COS officers stationed out of the Whistler office and is on-call at nights, meaning she is sometimes pulled out of bed when a situation arises.
The Sea to Sky zone, which stretches from North Vancouver past Pemberton, has a total of five field conservation officers, one conservation officer sergeant, and one seasonal conservation officer overseeing a large swath of land, which only adds to the challenges of managing wildlife here.
Friendly and talkative, Mueller explains the challenges that come from policing a conflict issue that largely stems from (some) people's inability to properly manage their trash.
Her conversational skillset is an asset to her job, which sees Mueller making school presentations, training RCMP in hazing techniques, and attending Resort Municipality of Whistler's (RMOW) monthly Bear Advisory Committee stakeholder meetings.
Whistler, she says, has taken a lot of important steps to reduce attractants, having received BearSmart status from the provincial government in 2011 for its commitment to address the root causes of human-bear conflict.
But, of course, bear attractants persist in the community, and especially on backcountry roads, where Mueller said she is finding more and more trash.
As we enter the Cal-Cheak area, she spots a bag of garbage sitting on the side of the road that has clearly been rummaged through.
While it's not technically part of her job description, Mueller throws on a pair of gloves and picks up the trash. "I just can't leave it," she says with a sigh.
Originally from Ontario, Mueller always knew she wanted to be a conservation officer, and even volunteered at an animal shelter as a teen to gain experience.
The notion that conservation officers like her are indiscriminant when it comes to killing animals is dead wrong, she says.
This, she says, is borne out by statistics for the area. Despite another busy season of bear activity in Whistler, the COS or RCMP has not had to destroy a single black bear in the Whistler area.
That compares to six bears that were destroyed in 2018, three in 2017, and six in 2016.
The host of hazing techniques she employs—from a paintball gun that shoots organic chalk rounds to bear bangers—is working, she claims.
Mueller said that destroying animals is "the most difficult" aspect of her job, and that it's made especially difficult by the fact that the animals have been food-conditioned by no fault of their own, but rather from careless people.
"No [conservation officer] ever wants to pull out their firearm and put an animal down," she says. "It's the most difficult part of the job, because of who I am and why I'm into this career."
'Mandatory destruction'
Casavant, the ex-conservation officer, came to prominence after he refused an order from his superiors to kill two bear cubs on Vancouver Island in 2015.
The bears had gotten into a freezer full of meat and fish. Casavant killed the sow, but made the decision to take her cubs to a rehabilitation centre.
Casavant, who currently has a wrongful dismissal suit against the province making its way through the court system, maintains that, under COS policy, he wasn't required to kill the cubs.
"I followed the provincial policy, and put the mother bear down. The cubs, though, within that same policy document, don't fall into the same destruction category, so I didn't destroy them," he says.
"In my mind, I followed exactly what the policy was and exactly what I was supposed to do, and I didn't deviate from it in any way."
The directive, Casavant says, came as he was evacuating people out of the Port Hardy area due to a wildfire threat.
"The fact that, amongst all that, someone a few hundred kilometres away wanted me to go whack a couple bear cubs was just ludicrous," he says. "I was working back-to-back 18-hour shifts, and on top of that they wanted to go kill the cubs. It was just dumb."
Casavant was suspended and subsequently transferred to another branch of government. He's since moved on from his government job and now works for the Pacific Wild Alliance, a non-profit, wildlife conservation organization.
Casavant's story blew up both nationally and abroad, receiving supportive tweets from the likes of British comedian Ricky Gervais, who called on the B.C. government to "Reinstate this honourable man." The high-profile incident eventually helped land him a position as an NDP candidate in the 2017 provincial election.
For many, Casavant's story exemplifies what they perceive is wrong with the COS: its overreliance on the destruction of animals and reluctance to employ alternative management techniques.
Casavant seemed to gain mainstream credibility and approval after defying the order (NDP leader and now-B.C. Premier John Horgan referred to him as a "bear saviour" during Casvant's failed 2017 election campaign), and he is now regularly called upon by a host of media outlets on COS-related stories.
Like others critical of the COS, Casavant feels the service isn't doing enough to police human attractants.
His contention was given added weight earlier this year when it came out that the COS only gave out 33 orders to clean up attractants and 12 tickets and fines between January and June 10, 2019, information obtained through a freedom-of-information request by the Fur-Bearers. This despite the fact that COS officers killed 113 black bears in a two-month span between April and May.
(For the COS' part, they say those fines aren't a full reflection of the number of tickets issued, as oftentimes they are administered by municipalities, rather than the agency. The COS also says it is rolling out an attractant enforcement project, later this year, that should see the number of tickets increase.)
Casavant's research was also instrumental in revealing a strong hunting culture within the COS.
In 2018, a freedom-of-information request he made revealed that 75 out of 106 mainly uniformed officers—about 70 per cent of the force—had hunting records, including four who had applied for a controversial grizzly bear tag in the year prior.
"Let's call a spade a spade here. The majority of the Conservation Officer Service is made up of hunters, licensed hunters," says Casavant. "A good portion, or perhaps the majority of conservation work, has nothing to do with enforcing provincial legislation or environmental police work, and everything to do with basically hunting on government time."
Casavant wants to see third-party oversight of the service, a non-partisan outside body the public can go to when they feel an animal has been wrongly killed.
That same call was made in a recent report, titled "Reform Proposals for Managing Human-Wildlife Conflict in British Columbia," released last month.
Commissioned by the Raincoast Conservation Foundation and produced by the University of Victoria's Environmental Law Centre, it calls for third-party oversight by the Office of the Police Complaint Commissioner and for the service to revise its guidelines to "reflect a more restrained approach to using lethal force and a better understanding of the science of wildlife behaviour."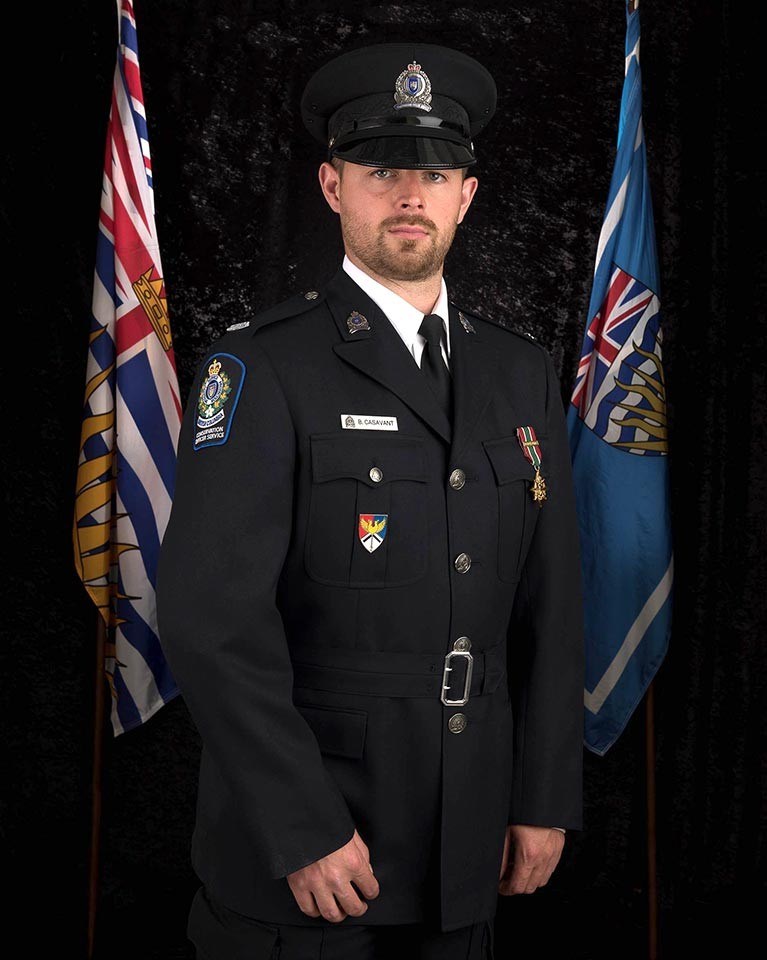 "Given the amount of public criticism of BC conservation officers' decisions to kill wildlife in recent years, a thorough review of BCCOS policies and operations is overdue," the report says. "The province should review and amend procedures for responding to human-wildlife conflict to ensure officers use lethal force as conservatively as possible. Furthermore, instituting independent oversight of the BCCOS must be an immediate priority."
The courts have their say
The circumstances under which a conservation officer can kill an animal were recently tested in court, with a B.C. Supreme Court judge ruling that conservation officers have considerable latitude. The case, which accused the provincial government of not following its own law on the destruction of wildlife, was ultimately dismissed last year.
The case was brought to court by the Fur-Bearers in 2017 after a woman attempted to save a cub from destruction in northern B.C.
According to Arden Beddoes, the lawyer who prosecuted the case on behalf of the organization, the woman put the cub in a dog kennel and pleaded with the conservation officer not to kill the cub after she learned that was his intention. The officer ultimately destroyed the animal.
Beddoes argued that conservation officers are restricted in when they can kill by Section 79 of the Wildlife Act, which states that, "an officer may kill an animal, other than a domestic animal, that is at large and is likely to harm persons, property, wildlife or wildlife habitat."
"In my view, Section 79 isn't that narrow," he says in a follow-up interview. "There is this argument by the province, that they will have all these problems if it's narrowly construed. But what are you talking about? If [an animal is] a threat, you have the authority [to destroy it]. Why do you need the authority if it's not a threat?"
On behalf of the Fur-Bearers, Beddoes also argued that the Prevention of Cruelty to Animals Act—which bars the killing of an animal unless it is in critical distress—should apply.
In its defence, the province argued that the law implies officers can destroy animals at their discretion, and the conservation officer had decided the cub was not a suitable candidate for captive rearing and release.
"I find it inconceivable that the legislature intended to restrict the wildlife management powers of officers to kill wildlife to those that are at large and likely to harm," wrote Justice Gordon Weatherill in his B.C. Supreme Court decision.
Weatherill added that the authority of a conservation officer is not "unlimited or unfettered," as officers must follow government policy.
Beddoes worries the ruling effectively codifies conservation officers' discretion to kill when they see fit. He believes this represents a troubling development. "We need to have confidence that wildlife conflict issues are being done in a way that is not only transparent and prescribed by law, but also in line with our values."
The province, he says, needs to do more than simply "clarify circumstances under which officers can kill animals," as, under the current framework, two officers may react differently in the same situation.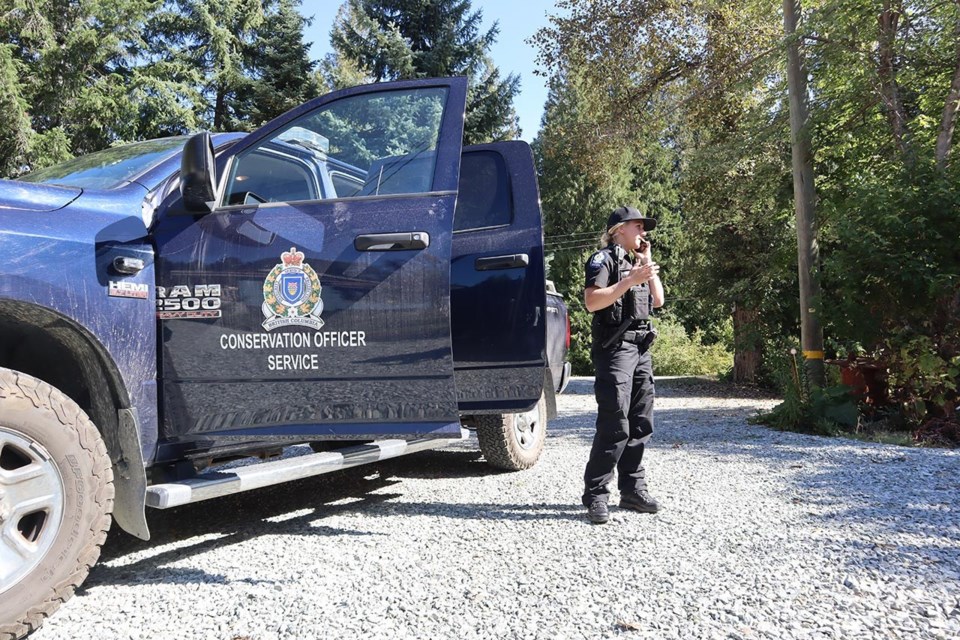 "What rules are they following? That's too much discretion," he adds.
At this point, Beddoes feels the province needs to step in and sort things out.
He would like to see a provincial commission take a deep dive into the issue, and believes it is incumbent on the public to pressure their elected officials to demand one.
"When you get to the point where there is a broad swath of the public that doesn't have faith in an important part of law enforcement, that's a troubling development," he says. "I think it's a development that needs to be taken seriously."
In the field
At a hobby farm in Pemberton Meadows, Mueller moves cautiously, scanning the area for any sign of a bear.
The day before, she hazed a bear out of the area with chalk rounds, and asked the home's caretaker to take down some grape vines on the deck.
The bear reportedly returned that night and killed several chickens.
Mueller inspects the area carefully, looking for any other possible attractants and considers where the bear may have entered the yard, which is cordoned off with an electric fence.
"See how the boards are pulled off," she says, pointing to the base of a chicken coop.
That, she explains, is likely a bear's handywork.
"They'll just put their hand in a coop and pull out a chicken."
Overall, she's impressed with the amount of "husbandry" the owner has shown.
Before we leave, she demonstrates how the gun works, firing a chalk round into the yard.
"It's soft, but it's enough that the bear can feel it and it just moves on," she says. "Plus, with the smoke, it's also a visual deterrent."
The rounds, she explains, fire off quickly, allowing her to direct the bear to where she wants it to go. "They just run ... I don't have to hit them with it," she says. "They will hear it hitting other spots, and they will just run away from it."
Mueller is no stranger to hazing bears. But sometimes, when she hazes in Whistler (where the animals have a revered status), there can be added challenges.
Earlier this summer, a bear was hanging out in the village, attracted by fruit-bearing trees. (They have since been removed by the RMOW.)
Crowds of people gathered around the bear, snapping photos, not realizing, as Mueller puts it, that what they are doing is "teaching the animal that it's OK to be that close to people."
In coordination with the Whistler RCMP, she was able to use chalk rounds and bear bangers to haze it back to Lost Lake.
Though Mueller hasn't destroyed a bear this year, she did kill a cougar.
The cat, she explains, was stalking domestic pets in the middle of the day in Alpine, and didn't react to hazing efforts.
"That was the concern, that this cougar was hunting in a high-density community," she says, adding that the COS does not necessarily destroy an animal in the event it kills a domestic pet. "No hazing was working, and it escalated to the point where the cougar was sleeping on patio decks with children playing nearby."
The cat, she says, simply wasn't displaying the "wild cougar behaviour that we typically see.
"The more we can do to gain public confidence, the better."
In Whistler, the COS runs out of a spartan office right near the Cheakamus Crossing neighbourhood, next to the RMOW's wastewater treatment facility.
The modest building, explains Chris Doyle, was the community's original municipal building.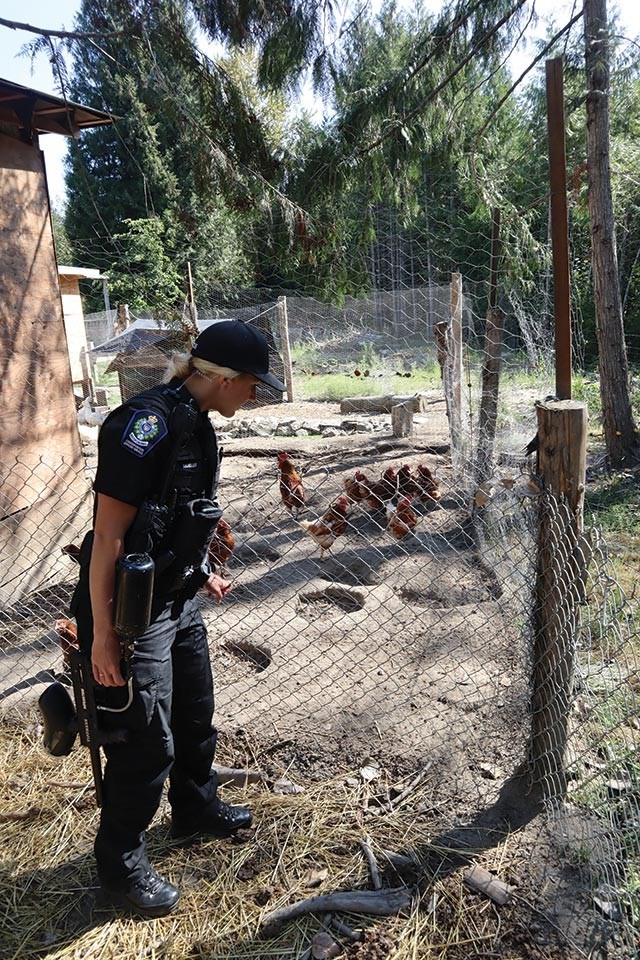 As deputy chief, Doyle has one of the biggest jobs at the COS, overseeing operations for the entire province.
He's soft spoken but forthcoming—not exactly what comes to mind when you think of law enforcement.
Doyle, moreover, knows the Sea to Sky as well as anyone from a wildlife perspective, having spent 11 years working in the corridor as a conservation officer in the field before being promoted.
With a number of high-profile cases of late, the COS was under a high degree of scrutiny this summer.
It's clear, from talking to Doyle, that the agency is keen to share its message with the public: Its officers conform to a strict set of rules and regulations, have a large and important mandate that goes far beyond bears, and is engaged in a ton of work behind the scenes to mitigate human-wildlife conflict.
The COS recognizes how important having the public's confidence is, and has been putting in a concerted effort to "push our story out there" through social media, engaging with media, and attending community events, he says. "The more we can do to gain public confidence, the better," says Doyle.
The public, he adds, tend to see the "end result" of a conservation officer's work, and those results can be tragic, especially when a bear is destroyed.
"Our officers are making difficult decisions that they would rather not have to make at times, to have to put down an animal that's a high-conflict animal," he says.
"But I think a lot of the time the public might not understand the work that goes on behind the scenes to prevent those conflicts from occurring in the first place."
When it comes to oversight, Doyle says that while the COS already has an internal investigations system, he later added, by email, that it is in the "early stages" of developing "appropriate external oversight mechanisms."
"We do have oversight," he says. "We have a complaints process, so we can conduct internal investigations. And then because we work for the provincial government, we have the public service agency oversight as well."
And in the event that someone is killed or hurt during the course of an officer's work, an investigation is led by the Independent Investigations Office of BC, similar to any police agency would be subject to, he adds.
But when it comes to what some bear advocates would like to see—a robust third-party oversight system that could look into all cases of animal destruction—Doyle doesn't seem keen.
"I'm not sure of the practicality of that," he says.
The COS averages about 20,000 calls related to bears a year, and many more when you add in other wildlife species, he says. There is concern that, given the scale of human-wildlife conflict, a third-party oversight system would be impractical and could negatively impact conservation officers' capacity to respond appropriately in dynamic situations.
"We need [our officers] to act with confidence when they do have to act, to protect themselves and public safety as well," he says.
"We don't want to subject an animal to suffering because we aren't making the decision we need to make at the time."
Though he didn't go into specifics, when asked about the Coquitlam incidents from July—when three people were arrested for trying to protect a bear from being killed—he says it's important to remember that there is a backstory to everything.
I get the sense that, in many ways, the incident typifies the larger problem that the COS is grappling with, of people only seeing the final outcome of an officer's work, rather than the full picture.
"That was a snapshot of that bear family's conflict history," he says. "But leading up to that was a longer history of conflict, and officers had been working to try and capture the bears early on.
"It had gotten to the point where, with their conflict history, that was the only alternative for officers at that point."
The road ahead
Social media, of course, has opened up the floodgates for the public to voice criticisms of the COS, and the negativity (and sometimes borderline personal attacks) made against officers is a concern for the agency.
"I try not to let it affect me," says Mueller.
"It's hard, for sure, when people think that I'm just out there trying to kill bears, and I haven't had to put one down for a conflict this year."
On the flipside, there are also the people, she explains, who feel she isn't doing enough, that that bear snacking on a fruit tree outside of their home, where their kids play, shouldn't be tolerated.
Yet, overall, she feels she has the support of Whistler.
"I do feel that I've gotten the support of the community, and the people have gotten to know me and understand the position I'm in ... that I'm actually out there trying to protect the environment," Mueller says.
It also helps that she works in a proactive BearSmart town like Whistler.
The RMOW has an enhanced service agreement with the COS, meaning the agency does extra hazing and attractant work with them, and a dedicated cadre of bear-loving volunteers who support her work. The COS has also used Whistler as a training ground to test new hazing techniques.
It is, in many ways, a leader when it comes to co-habitating with bears, with a deeply ingrained culture that recognizes that we live in their territory.
The story, of course, isn't the same everywhere the COS operates.
And with a province as large as B.C., the 174 sworn officers who manage wildlife and enforce hunting and fishing regulations are undoubtedly stretched thin.
COS critics make some strong points, and instituting changes that increase public confidence would likely be an all-around win, as the public confidence issues appear to be a growing concern for all parties. The COS appears to be amenable to third-party oversight, but the extent to which it's implemented will likely leave critics wanting more.
But from what I saw, the more incendiary comments that have been made towards officers—that they are "hunting on government time" or on a "zero-tolerance killing spree"—are misleading and damaging to people's understanding of the mandate and ethos of officers.
While a lot of how this story unfolds is yet to be seen, one thing is for certain: As the province continues to grow and developments continue to expand into bear habitat, high-profile instances of human-bear conflict will continue to occur and result in calls for change.