In the last decade food awareness has grown substantially. Most people know the difference between a vegetarian and a vegan, a "locavore" and an omnivore and have at least heard of The 100-Mile Diet. Organics have moved out of the co-op veggie cooler and into the mainstream. Food, particularly the health and nutrition of, has become a North American conversational mainstay. And more than ever, we want to know where our food comes from. This Sunday, there's the chance for everyone to find out.
Sunday, August 17 marks the 10th anniversary of the Slow Food Cycle, an event that sees farms in the Pemberton Valley opening their gates to food fans on bicycles. This year around 4,000 cyclists are expected to travel up to 50 kilometres down Pemberton Meadows Road to visit farms, purchase fresh produce and enjoy lunch along the way. It's an event that's become a favourite locally and regionally, with the majority of participants travelling from the Lower Mainland to take part.
The event was conceived by valley farmer Anna Helmer as a low-impact way of bringing together urbanized folk with the source of their food. The "slow" part of the name was an homage to Slow Food, a movement founded in the Piedmont region of Italy in the mid-'80s as a response to fast food and fast lives. At its most basic, the Slow Food Movement's philosophy links the enjoyment of good food with the responsibility, sustainability and harmony with nature. Combining good food with good politics, the event became an immediate success. Helmer and her wife Niki VanKerk, with support of local writer Lisa Richardson, grew the event from 400 riders to 4,000 during the nine years they organized the event.
"I was in my late 20s, had grown up in the 'burbs, eating food straight out of supermarket refrigerators, and I suddenly found myself living in Pemberton, 'seed potato capital' according to the sign, but you couldn't even buy a Pemberton potato in the store. I was looking for a bridge between what I was eating and where it was coming from and where I was living," says Richardson of her early involvement. "The intimacy of a bike ride seemed the perfect way of expressing that."
Last year, increased demands on their time made Helmer and VanKerk reconsider their involvement with the Slow Food Cycle. A tragic, yet unrelated, vehicle accident at last year's event proved to be a deciding factor for the two women. The two organizers considered putting the event on hold for a year while they regrouped. Then Tourism Pemberton stepped in and made an offer they couldn't refuse. The local tourism agency was prepared to take on the event with a commitment to keep the spirit of the event intact.
"Slow Food Cycle is a great fit for us. It's a family-oriented, healthy event that promotes our valley as a perfect place for cycling and showcases our agriculture," says David Mackenzie, president of Tourism Pemberton. "It's grown a lot over 10 years and we want to see it continue to grow. And because it's growing, we'll be implementing new traffic management solutions to ensure that it remains safe. But we'll also be focusing on creating a great day celebrating the 10th anniversary of an amazing Pemberton event."
This year participants will notice a $5 single/$20 family registration fee. That money will be used to offset the expenses. Pre-registering for the event, which will reduce time at registration the morning of the event, can be done online at www.tourismpemberton.com. Other than that administrational change, Slow Food Cycle will offer the kind of organic, fun and educational experience Helmer first imagined in 2004.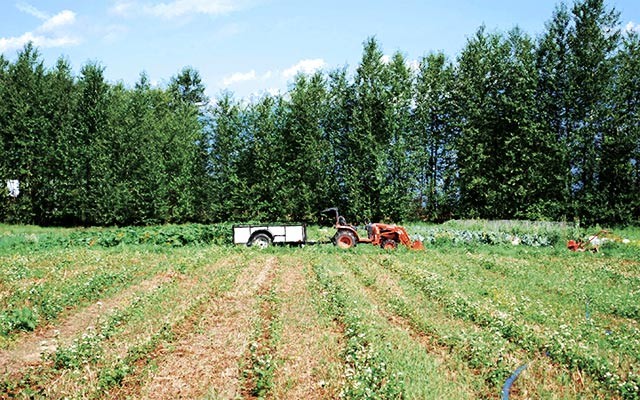 PHOTO: MAUREEN DOUGLAS - Rootdown Organics.
The 100-mile Diet
Around that same time, the term "locavore," coined by chef and food activist Jessica Prentice, first came into use. A locavore is someone who consumes only food that is grown within 100 miles of where it's purchased — someone like J.B. Mackinnon.
Mackinnon, along with his wife Alisa Smith, took on the challenge of eating a 100-mile diet in 2005. Both writers, the couple published the results of their yearlong experiment on The Tyee, a politically progressive website. The dozen pieces detailing their trials and triumphs of trying to eat locally for an entire year were bundled into a book titled The 100-Mile Diet: A Year of Local Eating. The book was an instant bestseller, a conversation starter and resource for a new kind of conscious eating. It also became a way of life for its authors.
"While we aren't as strict as we were during our 100-mile year, we still eat a diet that is about 85 to 90 per cent local. Our main import foods are rice, olive oil, prepared pasta, a few spices and, for Alisa, chocolate," says Mackinnon. "Even when we travel, we try to eat locally, which also happens to make travelling much more interesting."
These days it's a lot easier to meet the demands of the diet, explains Mackinnon, who has primarily eaten local foods for the past eight years.
"Alisa and I often joke that if we did the 100-mile diet today, it wouldn't make much of a book — it has become too easy. It seems hard to believe now, but when we started, grocery store and restaurant staff looked at us like we were freaks when we asked what was local, or where different foods had come from," says MacKinnon. "There were no regular winter farmers' markets, far fewer markets and community gardens than there are today, and it was an epic challenge to find people growing things like grains or dried beans. Obviously, the 100-mile diet was only one small spark toward all these changes — the real work was done by farmers and local-food activists."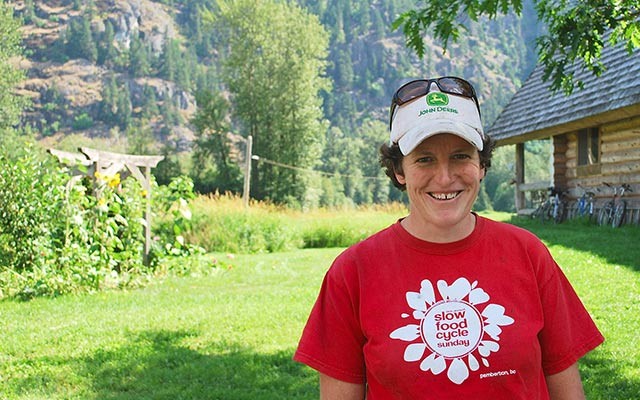 PHOTO: MAUREEN DOUGLAS - Anna Helmer.
Farmer activits
McKinnon is referring to farmers and activists like Anna Helmer. More than a decade ago, this one-time Whole Foods manager retuned to her family farm in Pemberton to produce the heritage potatoes that are a sought-after commodity at farmers' markets throughout the Sea to Sky corridor and in Vancouver. Helmer's Organic Farm is both organic and biodynamic certified. Originally purchased by her great-great aunt in the 1880s in anticipation of a railroad that never came, the farm has become the foundation for Helmer's family's life.
"My great grandfather grew the first seed potatoes in the valley. He was raised in the city and became the newspaper editor at the North Vancouver newspaper, but his health wasn't good. He moved to the farm and lived to 104," says the affable farmer.
By the time the land had come to her grandfather, he was considering turning it into a trailer park. That plan fizzled. When Helmer was 10 years old, her grandfather suggested that her parents start coming up to the farm. What was initially a weekend and summer retreat eventually became a way of life for the family.
Sitting in the shade of a small grove of deciduous trees near the log farmhouse her parents' call home, Helmer recalls the state of the land in the 1980s.
"This was just a scrub alder forest, it wasn't farmable land... We cleared the land and Mom grew a huge garden right away. She couldn't believe the carrots and onions she grew. The bounty of the soil was amazing."
In 1984, Helmer's mom, Jeannette, got into the wholesale organics business by selling her excess produce to Caper's. The following year the farm received its organic certification.
"At that time it was not cool to be organic. (Other farms) were afraid we'd be a vector for disease," says Helmer, adding that the crop has never had so much as an aphid. "It was a rocky start, but we had some credibility because my grandfather grew the first seed potatoes. They saw we were working hard and were committed and they begrudgingly accepted us."
After that shaky start, Helmer's Organic Farm has definitely become a part of the Pemberton Valley farming community, with Anna contributing her time to the seed potato lab, a vital piece of protecting the valuable seed potato crop. And the fact that Helmer's is now a biodynamic farm doesn't appear to have phased anyone.
"Biodynamic farming is about what you can do to improve the soil," says Helmer. "And some of the practices can seem a little out there."
Developed in Germany by the polymath, and founder of Waldorf education, Rudolph Steiner, biodynamic agriculturae is holistic in its approach using mineral and mineral additives to compost and field spray preparations. Environmental factors, such as planting in certain phases of the moon, also inform biodynamic practices, as does a belief in universal energy. While stuffing a cow's horn with yarrow and manure, burying it for a six months to a year until dissolves into a powder so that it can be mixed with water and sprayed to activate the soil's energetic properties may seem odd, it appears to work.
"Steiner came up with this series of lectures to address issues German farmers were having around land fertility, which had declined with the introduction of chemical fertilizers. His bottom line is that soil health is what creates people health and you need to try to create this system where the health of the soil is the basis of the farm... kind of like homeopathy for the soil," says Helmer. "If our food didn't taste good we wouldn't bother doing it because it's a costly way to grow potatoes."
Thirty-five of the 78 acres that make up Helmer's Organic Farm is dedicated to growing spuds. Eighteen potato varietals are currently being grown on seven of those acres, with the other 28 acres in cover crop. The farm also produces smaller quantities of carrots, celeriac, garlic, squash and other vegetables. Most of these show up in farmers' markets throughout the Sea to Sky corridor, East Vancouver and Kitsilano that constitute the bulk of the farm's sales. Although these veggies, grown in soil that has benefited from receding glaciers, volcanic activity and frequent flooding are exceptional, Helmer says they will never be a significant part of what the farm produces — they are just too labour intensive.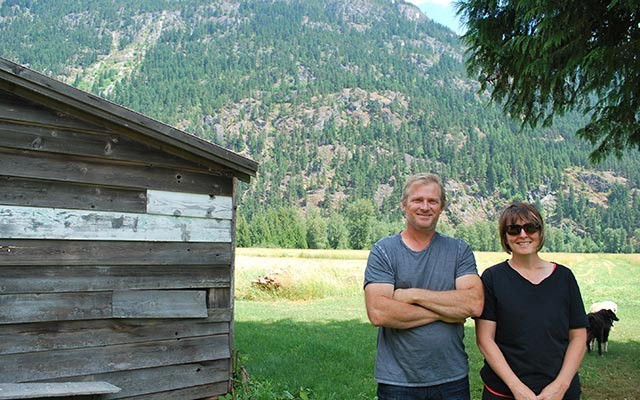 PHOTO: MAUREEN DOUGLAS - The Millers.
The Rootdown story
The owners of Rootdown Organics, a small farm that uses three acres to produce 30 different veggies and varietals, a handful of turkeys, a couple of sheep and 20 Berkshire pigs, know just how much small-scale mixed-vegetable farming takes. Farmers Sarah McMillan and Simone MacIsaac met in 2008 as participants in an apprenticeship program at UBC Farm. McMillan, who knew Anna Helmer through farmers' markets in the city, had become aware of the possibilities the valley presented for organic farming. The Helmer family offered McMillan a lease on a small parcel of land they had. In 2009, Rootdown put in its first crop. Six years later, the trepidation that MacMillan felt time and time again that first year has faded and the farm has become an integral part of Pemberton's organic farming community.
"I was very intimidated when we came here, I didn't know much and we were coming in with a mixed veg and organic farm coming into a seed potato growing valley," she says. "The first year was that crazy hot, forest fire year. Irrigation was so hard and things weren't growing properly. It was so much work and we were doing three farmers' markets... I wanted the fire to have us evacuated," she laughs.
McMillan was drawn to the idea of farming while a student in her native Australia.
"I studied nutrition and got really curious about food and the food supply and realized I wanted to learn more. I went and did an apprenticeship on a farm — a small-scale, Mixed veg farm," says Macmillan. "It was a great experience, I loved it and I knew then I wanted to farm after that season."
She also knew that she wanted to help other people become farmers. Each year the farm takes on two apprentices, providing room and board and a small stipend. In exchange the apprentices receive lessons in various aspects of organic agriculture from crop planting to harvesting. As well, apprentices take on their own projects that may include animal husbandry. Current apprentices are raising turkeys. The birds are a nice compliment to the sheep and pigs that call Rootdown Home.
The pigs are part of the farm's "pig-share" program where customers put $200 up front to purchase a share which is deducted from the cost of the "hung-weight" pig when its slaughtered in the fall. The pig-share is one way the farm diversifies its revenue streams. Weekly CSA (Customer Supported Agriculture) harvest boxes, retail and restaurant sales — to top-tier Whistler restaurants like Araxi, Rimrock Café and Red Door — contribute significantly to the financial health of the farm. But the farm's bread and butter comes from one-on-one sales at Whistler's Farmers' Market.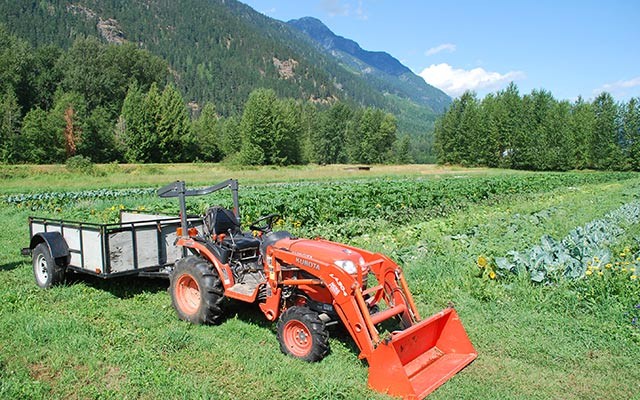 PHOTO: MAUREEN DOUGLAS - Rootdown Organics.
The farm comes to the Community Barn
At one time or another almost every local organic veggie producer has shown up behind a stall at the Pemberton Farmers' Market. After years of being set up in parking lots around town, the market now has a permanent home in the Pemberton Community Barn and has 40 members. One of those members is J.D. Hare, president of the association and owner of Hare's Farm, an organic farm renowned for its excellent blueberries.
"There are a lot vendors here who couldn't be doing what they're doing if it wasn't for the farmers' market. It's a unique opportunity to get storefront for nothing," says the association's president speaking at the Wednesday afternoon market.
Hare, a carpenter by trade, started farming in 2009, when a broken leg caused him to reassess his life. The first thing he and his wife had to do was log the land. Today, those five acres produce 15,000 lbs. of blueberries, a figure that could quintuple when the bushes mature in another four or five years.
"Prior to the organics movement you couldn't grow anything on five acres and expect to make any money," says Hare.
Not everyone organically farming in the valley is doing so on small parcels and selling primarily at farmers' markets. Across the Creek Organics is an example of the type of large-scale organic farm that could, in the future, become a major feature in the valley. Miller, and his wife Brenda, farm on 490 acres— the same land the Miller family has been farming in the Pemberton Valley for more than a century. While his father produced seed potatoes that incorporated chemical sprays, Miller, and his wife Brenda, have returned to the traditional methods his grandfather used. The decision to go organic 15 years ago was an easy one for the couple to make.
"We had five good reasons," says Miller. " Our sons. We had to keep the boys inside when we were spraying. It's hard to control five little boys running around. You're constantly thinking 'What's in that puddle?'"
His wife Brenda concurs that the move to organic farming has had a dramatic effect on their family.
"I don't judge anyone who is using sprays, after all, we all have to make a living. But what I noticed is that once we went organic and the boys' diets became cleaner their behaviour and health improved. And it was nice to be able to have them run down the rows in their bare feet, getting covered in dirt from head to toe."
Switching over to an entirely organic potato crop took the Millers three years. Today they grow 60 acres of potatoes with a yield of 500 tons representing 10 different varieties. Ninety per cent of that crop is distributed to retail through wholesalers in Vancouver. The rest ends up on restaurant plates and in cocktails.
"One day Tyler Shramm just walked into the field and said 'I'm starting a vodka distillery and I need lots of off-grade potatoes," says Miller, of the start of his relationship with Pemberton Distillery. Today, those off-grade potatoes feature in a number of products, most notably the acclaimed Shramm's Vodka. And the boys who inspired their parents to go organic? They're all healthy, happy young men.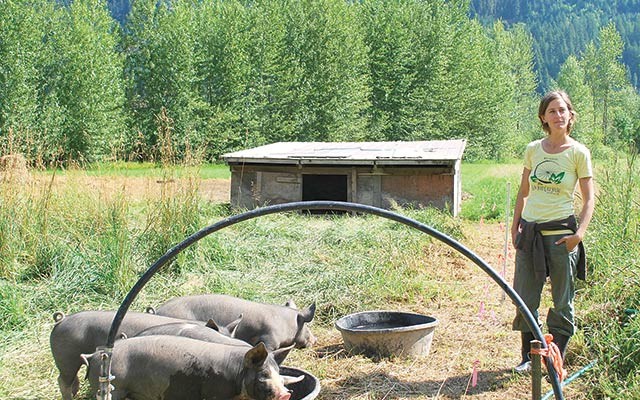 PHOTO: MAUREEN DOUGLAS - Rootdown Organics.
The end result
The valley's bounty, from the spud-based vodka to sweet yellow beets and spicy micro greens, shows up on restaurant menus throughout the region, but perhaps nowhere as rigorously as at Solfeggio. Owned by freestyle skiers, Olympian Kristi Richards and her fiancé Mark Abma, this Pemberton eatery features farm-to-table eating for everyone from conscious carnivores to vegans. Opened in July 2013, the establishment has been turning people onto food that is not only delicious but also extremely nutritious. It's exactly the kind of thing you'd expect from a health-aware athlete with a degree in nutrition and a passion for organics.
"It takes great risk to make great outcomes. But if you believe in the underlying values of what you're doing, there's no risk," says Richards of a venture most would define as risky.
Raised on a biodynamic cherry farm in the Okanagan, Richards cut her culinary teeth working at bistros accompanying some of the area's finest vineyards including Sumac Ridge. This helped support her skiing career that saw her competing in both 2006 and 2010 Olympic Winter Games.
"During my skiing career I saved some money. So now skiing pays for the restaurant job," she laughs.
That money has transformed a non-descript space into a charming bistro featuring reclaimed wood, farm chairs and recipes that destroys the myth that vegetarian and vegan cooking is bland.
"I'm inspired by the food I've had in my travels. Our flavours are quite worldly but the food has a holistic, nutritional basis," explains Kristi. "I want it to appeal to the masses, I want to have a couple come in here — a vegan woman and a total carnivore husband — and both enjoy a meal."
While she knows it would be more lucrative to run a restaurant emphasizing vegan and raw food in Vancouver, Richards sees her location as being far more organic and connected to the cycle of food production.
"I'm here, because the farms are here. I need to be able to text my farmer and get kale in five minutes —which is the beauty of being here," says the upbeat restraunteur. "We have all those farmers who are busting their butts, trying to make a difference, taking a stand and doing things right... I wanted us to be a real hub and a face for that and support organic and biodynamic farming."
From farm to table, organics have clearly become a cornerstone of Pemberton food culture. Take in a little of that culture this Sunday, August 19 from 9 a.m. to 3 p.m. by participating in the 10th Annual Slow Food Cycle. To pre-register, please visit: www.tourismpemberton.com.