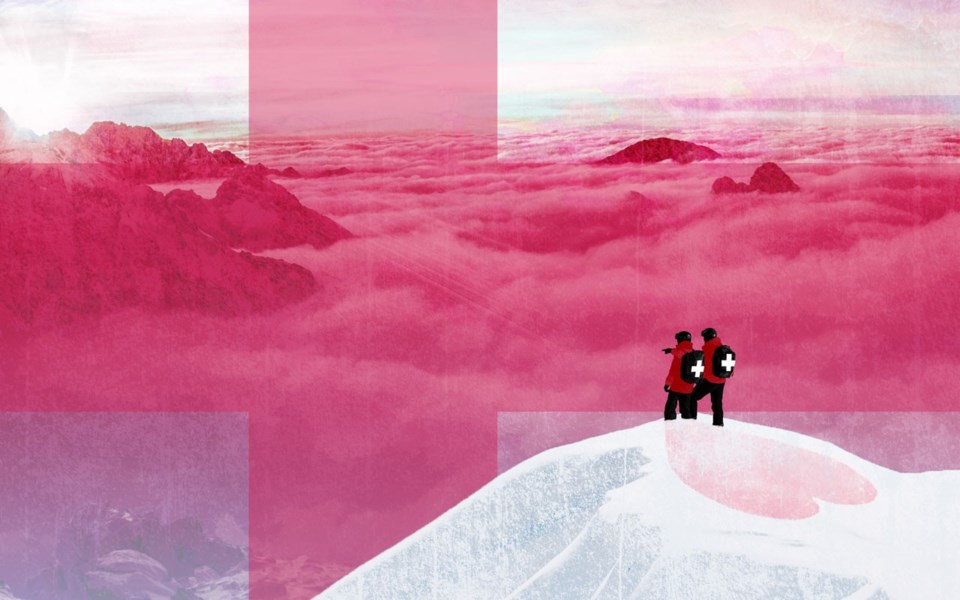 Two years ago, as another busy March Break kicked off in Whistler, a 24-year-old American skied into the lift line at Excelerator Chair and collapsed. He didn't collide with another skier and didn't run into any obstacles; his heart simply stopped beating. Lying on the snow hundreds of kilometres away from an emergency room, he inexplicably hovered on the precipice between life and death in full-blown cardiac arrest.
A quick-thinking liftie began CPR as another radioed dispatch to summon the closest patrollers, who rushed to the scene. It took a combination of drugs and a portable defibrillator to get his heart beating again, enough to stabilize him to be medevaced to Vancouver General Hospital. There, he was whisked into emergency surgery where doctors discovered an undiagnosed congenital heart defect. Little did he know he had been a ticking time bomb for more than two decades; he just happened to go off on Blackcomb Mountain. And he survived.
As it turns out, the lift line at the Excelerator Chair was not a bad place for his heart to give out.
Had he been anywhere else, he would not have survived it,"
says veteran pro patroller Richard Wynne. "Had he been in the village, he would not have survived it because of the amount of time it takes to get help to him. If he was in his own car, driving to the store, he would not have survived it. And even at home, he would not have survived it.
"That type of event is very powerful."
Events like these are part and parcel of living in the Sea to Sky corridor, where millions come every year to make the most of a vast mountain playground. Over the last 60 years or so, a tightknit, expert community of first responders has taken root in Whistler: patrollers, search and rescue volunteers, firefighters, police, ambulance, emergency room doctors and nurses. They are a family of mountain guardians, waiting in the wings for their call to take part in the daily drama of mountain rescue.
A way of life
Brad Sills, long-time manager of Whistler Search and Rescue (WSAR), has answered hundreds of calls. He has plucked lost skiers from cliffs, tended to injured snowmobilers, searched high and low for missing hikers. That all amounts to thousands of hours—volunteer hours—spent in the mountains, more often than not in challenging and adverse conditions. This is a calling; it's what he was meant to do.
But there is a price. It's a job that takes its toll on the family around him, who accept that the cell phone is always on, the gear is always ready at the door, and regular life is always set for standby. Sills has missed Christmas dinners, anniversaries, birthdays. "For the first responder, when you get the call, you go," he says.
"When someone is in need, it far outstrips any personal matter."
Those at home are left to pick up the slack, keep life on track, all while watching and waiting and worrying as their partners disappear into winter storms or risky avalanche conditions, pushing the boundaries before darkness falls and night settles in.
"To be an effective first responder, you have to be very focused on what you're doing," explains Sills. "You need to know that the rest of your life is in order.
"I don't know if there's any real way you could ever compensate a spouse."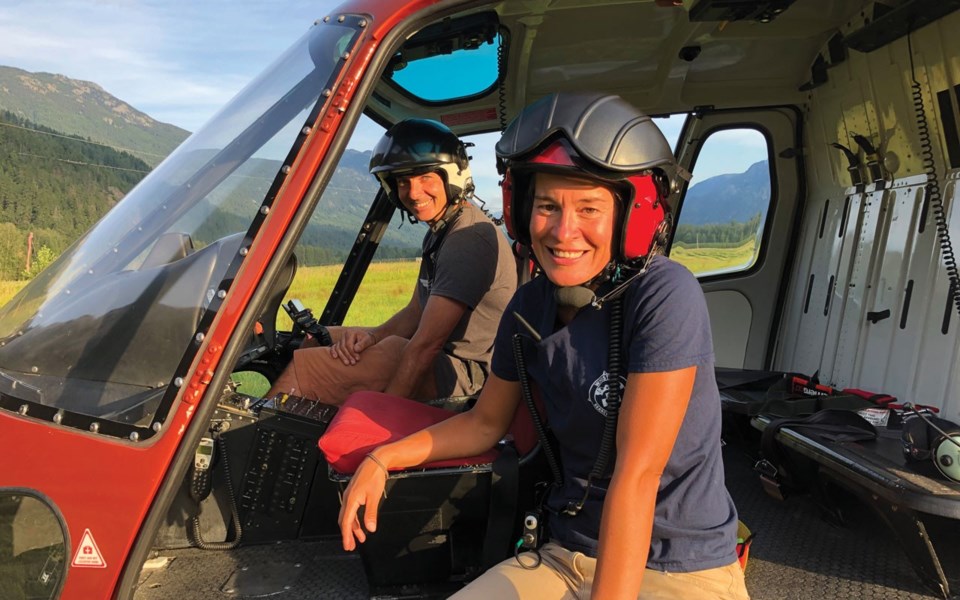 Take it from Wynne, who has been patrolling on Blackcomb Mountain for more than 30 years. "(My wife) has undertaken a huge amount of sacrifice in her career, in her daily life, so that I can continue to do what I do in Whistler."
And then there are the couples who are in the business of saving lives together.
Search and rescue volunteer Dr. Renata Lewis-Arnott remembers one anniversary dinner in particular. She was just about to sit down to a dinner at home with her husband, helicopter pilot Doug Arnott, when both of their cellphones lit up. It was a call to an injured hiker on Singing Pass. Dinner was abandoned, the anniversary celebration put on hold. They had a job to do.
Arnott often finds his wife hanging 50 metres from his machine as they work in tandem on rescues (Arnott is one of a few local pilots trained in Human External Transport System rescues.
"It's the work I enjoy doing the most," says Arnott. "You just get a lot of satisfaction from helping people."
Like the eight skiers last winter who found themselves "cliffed out" in an area known as Cakehole, a tempting but treacherous out-of-bounds area off the backside of Whistler Mountain. The first was a party of out-of-country tourists, the second a duo who simply followed them past the ski-area boundary. Unable to ski down and now impossible to hike back up, the skiers were stuck. They were scared. And, they were totally ill-equipped to spend a night outdoors in plummeting temperatures.
The quickest, safest and most efficient way of getting them out was a long-line rescue. As dusk approached, Arnott was piloting the machine and his wife was at the end of the long-line rope.
"We know what each other is thinking without it being said," says Lewis-Arnott of the implicit trust between them when there's just a length of death-defying rope separating them high above the mountains. She knows how he flies and the time pressures he's under as daylight fades; he knows that she is compelled to do everything she can to save people who are injured or lost and scared in the mountains. It is a deep and abiding connection under tense and often difficult circumstances.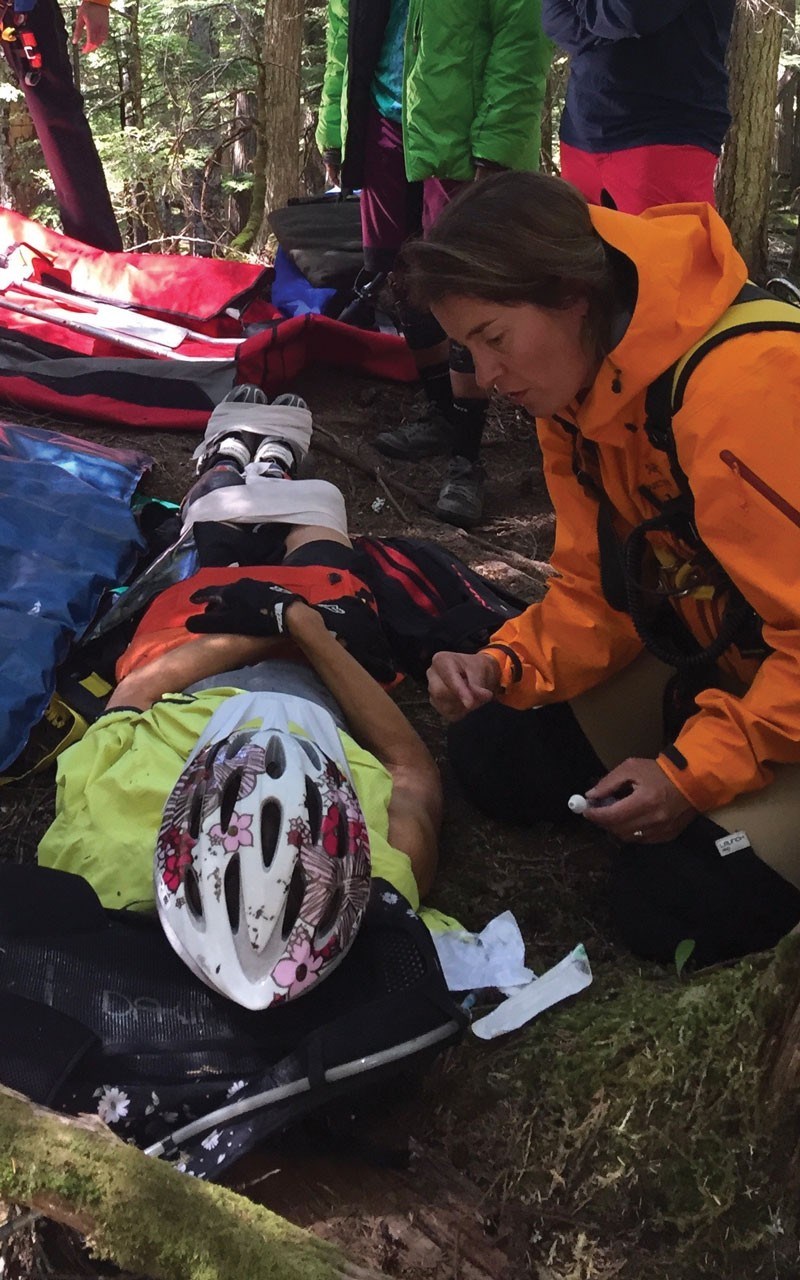 And there is nothing better than working together to help people, says Arnott, who has been flying for 17 years.
"I always wanted to fly in the mountains," he adds. "I always wanted to do rescue work.
"When it goes well, there's no better feeling."
The same is true for Lewis-Arnott, who was a SAR volunteer in Nelson and Revelstoke before the family moved to Whistler eight years ago. As the main doctor volunteer for WSAR, Lewis can provide a higher level of care than most other volunteers. She tends to go to every call that she can attend. And having her there can make a significant difference to someone suffering in the backcountry.
"I love the 'drop-everything-and-go' aspect of it," she says, "not knowing what you're dropping into, having to make decisions and critical interventions on the fly ... literally."
"That I get to do it with Doug, I love it."
They made four trips over Whistler Mountain to Cakehole that evening, bright ski suits huddled together marking their journey on one side of the mountain, the flashing red and blue RCMP lights guiding the way back to safety on the other side as darkness closed in. All made it home safely that night.
These are the stories that the couple's children have grown up on. No made-up fairy-tale stories for them; real-life heroic mountain rescues are the tales that get them to sleep at night, knowing that their parents are dedicated to keeping Whistler safe.
"Both girls were so proud of us being on rescues together," says Lewis-Arnott.
Joint efforts
There have been times when the whole first-responder community mobilizes—fire, ambulance, patrol, search and rescue, RCMP and medical staff at the healthcare centre.
In 2008, early in the season, a tower on the Excalibur Gondola collapsed, the result of "ice jacking"—water had penetrated the seal between two sections on Tower 4. The water froze, then expanded, causing the top section of the tower to shear away from the bottom and the gondola line to sag.
It was an inter-agency response—all hands on deck. First responders rushed to the scene that stretched up the lower part of Blackcomb Mountain (Tower 4 was just a few hundred metres from the Village).
They evacuated 53 people from the gondola that day; 12 were taken to the Whistler Health Care Centre and later released that night.
"It's always a reassuring feeling to walk up and see people that you've worked with over the years," says firefighter Tony Del Bosco, of those multi-agency calls.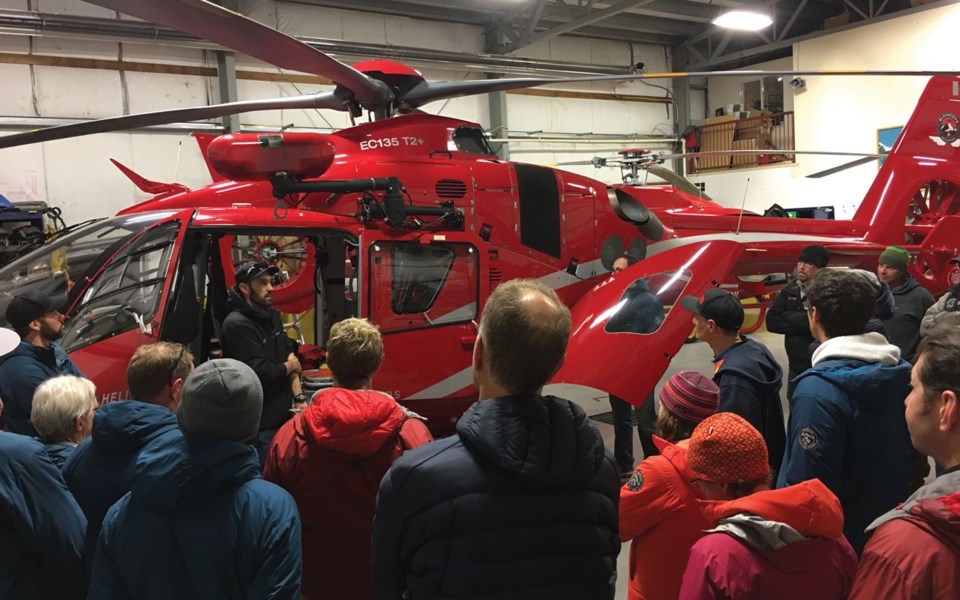 There is a common theme to all the people who do these jobs: "If you talk to people in these roles, there is an underlying personality trait ... you have to want to help people," says Del Bosco.
"When people are out there in a bad situation, it makes me feel good to be helping them."
Del Bosco works full time with the fire department but also volunteers for WSAR and Whistler Blackcomb patrol. He's not the only one: there are doctors who also volunteer for patrol; there are patrollers who volunteer for search and rescue; there are police officers who also volunteer for both patrol and WSAR.
"We've got so much cross-pollination of talent here in the corridor," says retired RCMP Staff Sgt. Steve LeClair, who also volunteers for WSAR as well as now working as a reserve constable.
With so many collective years of experience and local knowledge of the area, it all stacks up in favour of the patient.
"We're very unique in Whistler with our relationship with the other agencies," says Del Bosco.
"The result of all that professionalism is it's going to make for a good experience for the patient. And that's good for Whistler."
LeClair recalls one particular case, a challenging missing persons case involving a couple that disappeared in the backcountry near Pemberton. He recalls a manager at WSAR wondering if the police could access the homes of the missing hikers and figure out what gear was missing; that would give some clue to where they were planning to go and where they might be. It was an angle worth pursuing. The police were able to enter the home and discovered that the hikers had taken crampons, suggesting they may have intended to hike on the glacier. It was one clue, offering a little help in a search that felt like looking for a needle in a haystack. Despite the clues, those hikers, Rachael Bagnell and Jonathan Jetté, have never been found. Almost 10 years later, LeClair is still actively involved in the file and hasn't given up.
"From my experience, I've learned so much from search and rescue that has helped me from a police perspective," says LeClair.
He recalls another particular search for two 11-year-old boys, who went missing beyond the ski-area boundary.
Earlier in the day, a witness riding the Peak 2 Peak Gondola took a picture of two figures around Fitzsimmons Creek below; the creek is in the valley between the two mountains, out of bounds and dangerous. The sighting was reported to patrol and RCMP who investigated but came up empty-handed at that time. It was only when the report of the missing boys came in, after they failed to return to their designated meeting place, that the sighting became critically important. Armed with GPS coordinates from Google Earth, pulled from that fateful photo, two search-and-rescue teams began to look on both sides of the creek as night fell. The boys were found, unharmed, by 11 p.m.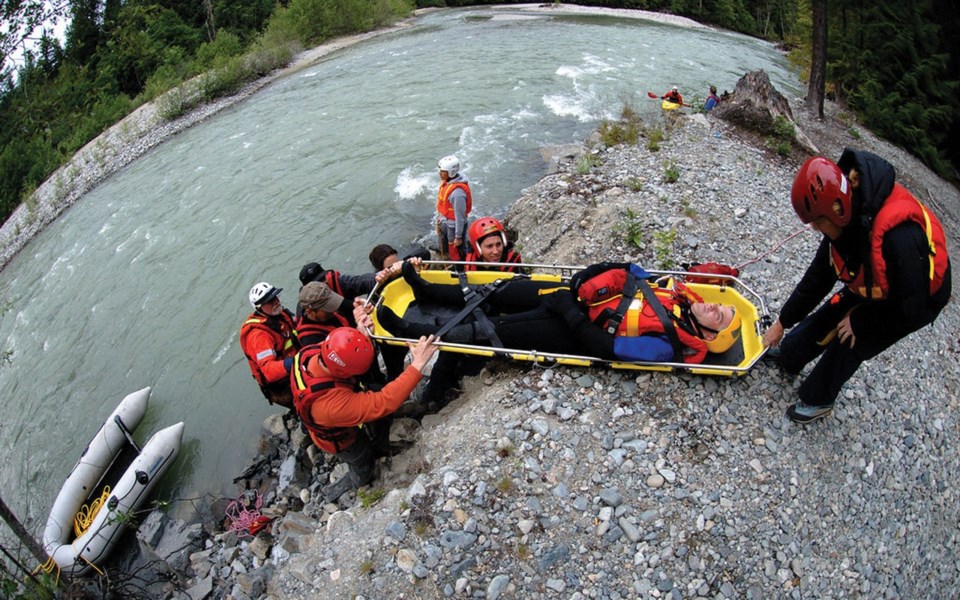 Nurse Lynda Cowan works at the Whistler Health Care Centre and is married to Del Bosco.
"I feel like we're a well-oiled machine dealing with that stuff," she says of the flow of communication and compassion transferred from one level of care to the other.
"Knowing that we're all in it together brings us together," she adds. "It affects us when big things happen in a small town."
Dealing with the aftermath
Being a first responder often comes at a cost. For a job that is focused on helping others, there are times when first responders are in great need themselves.
Not all events have a happy ending and even the ones that do can be harrowing.
In a 2017 Canadian study, of the 6,000 first responders who were surveyed, 44.5 per cent struggled with symptoms consistent with one or more psychological disorder, compared to 10 per cent in the general population.
Research among firefighters specifically shows they experience a 50-per-cent higher rate of marital problems and a 30-per-cent higher rate of death from suicide.
Firefighter Del Bosco has just returned from a three-day course in the city called Resilient Minds: Building the Psychological Strength of Firefighters.
The course is designed to help firefighters build skills to reduce the personal risks related to psychological impacts, as well as help members of the public, colleagues and family who might be struggling with a mental-health problem or be in a crisis.
"Mental health is really coming to the forefront," says Del Bosco, of the emphasis these days of breaking down the stigma of people in distress.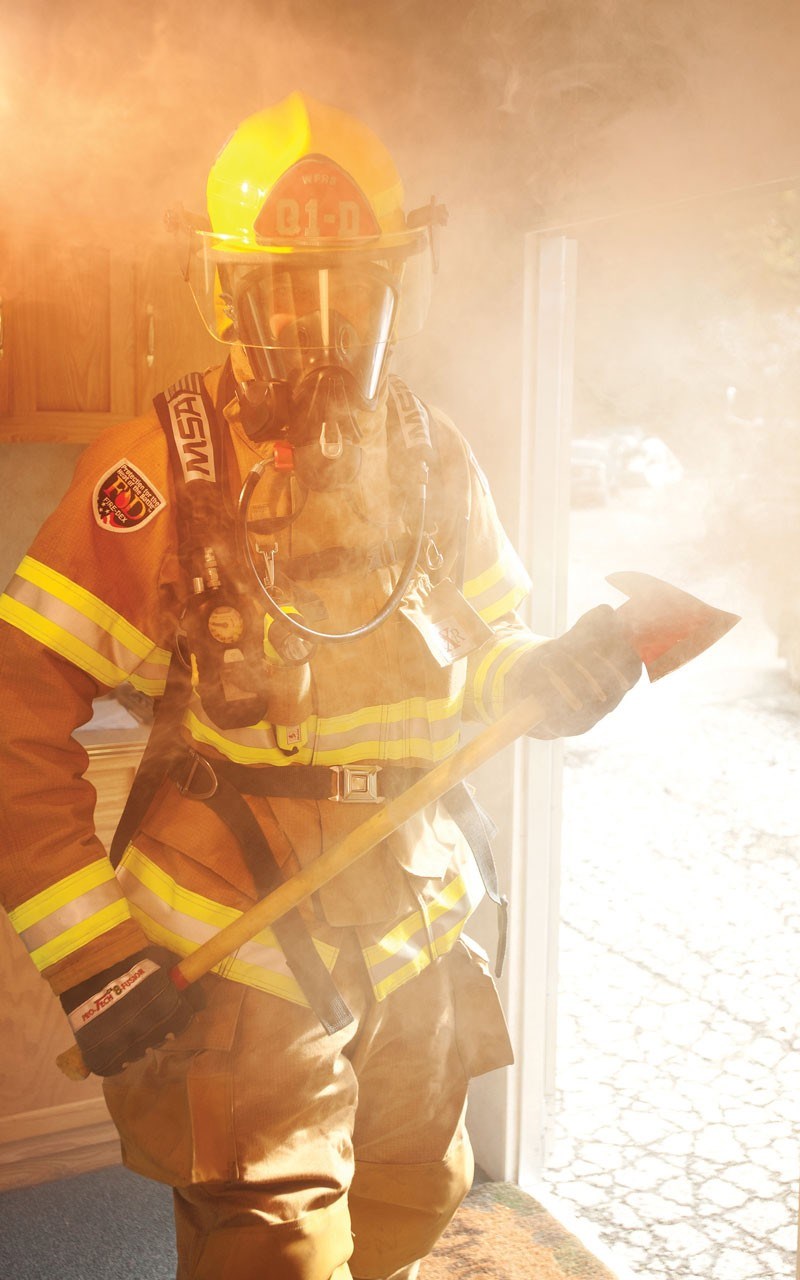 "As a first-responder community, we're definitely heading in the right direction."
First responders all have their own ways of managing their mental health, whether that's talking about it, spending time outdoors or doing things to calm the mind.
"I think the key is catching it before it becomes a problem," adds Cowan.
It is worth noting that it doesn't have to be a poor outcome to have a big impact on first responders. For Wynne, it's important to focus on the positive. It's all about perspective.
Take the all-too-familiar sound of the helicopter flying towards the Whistler Health Care Centre. Most people look up with worry or concern.
"My perspective is: Someone is getting the help that they need," says Wynne. He is part of the team at Whistler Blackcomb dedicated to mitigating the effects of post-traumatic stress.
"It's fundamentally important to work with people and for people to recognize that they're not alone," says Wynne. "As humans, everybody wants to realize that they're not on their own and they're part of a community."
And the wins help too, when you know you've played a role in bringing someone home to safety. Pique was unable to speak to the young American skier whose heart stopped beating at Excelerator Chair. But, in a video message sent to WB, he stood outside a hospital in the U.S. to say thank you to the men and women who were there that day.
"You guys saved my life; you're the reason I'm here today," he said, lifting his shirt to show the scars around his heart, the only lasting sign of his trauma. He has no deficits from that time when his heart stopped beating on the side of a mountain. He now lives with a tiny subcutaneous defibrillator that allows him to get back to his daily life.
"You guys are truly the reason that I'm here today.
I can't thank you enough, from the bottom of my heart."