During the '60s, '70s and early 1980's, when natural resources were extracted from Howe Sound at an almost unprecedented rate, little thought was given to a sustainable future. The consequences of that today are a fractured economy, lack of job security and now climate change.
As the move towards a liquefied natural gas production plant at Woodfibre heats up, there's an opportunity to reflect on the lessons we have learned in the Howe Sound region and not make the same mistakes again. But that window is rapidly closing. If jobs, taxes and corporate profits take precedence over securing sustainable renewable energy for the future we may end up with no climate at all, let alone economic benefits. Before we look forward we need to look back, not just to the benefits it brought, but also to remember the cost paid for resource extraction — on the land, in the environment, and on the people.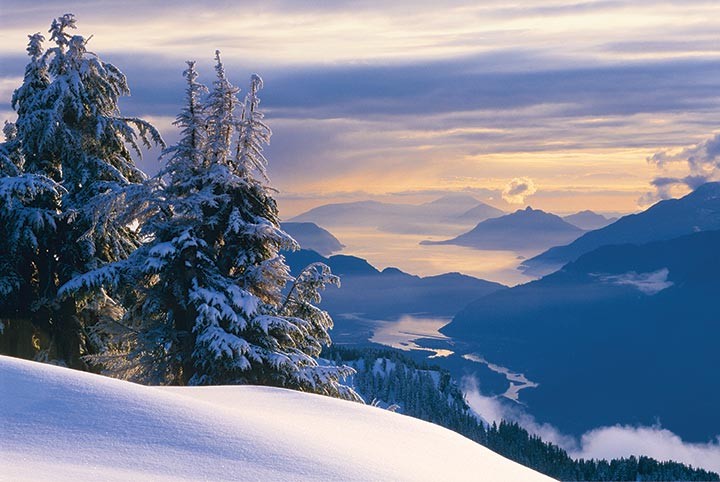 RICH DUNCAN PHOTOS - View of Howe Sound in winter.
In earlier times
When the Drenka family moved to Squamish in 1936 logging was pretty much all there was.
"I had three choices," John Drenka, now passed away recounted during a 2004 interview. "Fishing, mining and logging. I hated the salt chuck and didn't want to go underground. I had no choice."
When Drenka started logging above Logger's Creek near Lions Bay in the early '50s, there was no road. A crew went ashore, tied a cable to a stump and proceeded to haul a 25-tonne diesel-powered donkey winch 760 metres up the mountain. It took three days just to get the winch up there.
When the rigging was set up the job didn't get any easier. Fallers climbed to work every morning carrying 13- to 16- kilogram, two- to three-metre crosscut saws over their shoulders.
And it wasn't always about how hard you worked — conditions weren't fair. Drenka was fired after a confrontation with a cook.
"I got some worms in my sandwich and raised hell," he explained.
Little did Drenka know that the cook was a friend of the site superintendent and the next day Drenka got his walking papers. There were no safety standards in the woods either. A crewmember didn't stop hauling cable just because the loose metal jagger went through his leather glove into his hand.
"You had to suck the blood out so as not to get blood poisoning," said Drenka. "You got all the bad stuff out right away and it just healed up."
Loggers were being hurt by axes, and saw cuts and falling branches. If someone got killed on the job, the logging operation didn't stop.
"As soon as we got the body on a stretcher, we took him out to the railway car and then went logging again," Drenka recounted.
Accidents like that didn't have much of an effect on Drenka.
"Jobs were just so goddamned hard to get, you were just going to be that much more careful," he said.
In those days if you made it home alive, let alone had anything to eat, you were lucky. The word "environment" just didn't exist.
Things weren't much easier in Britannia Beach where, as recently as 2001, you couldn't get a glass of fresh drinking water at the Ninety Niner café because of arsenic pollution from the copper mine.
Once the largest copper-producing mines in North America, the residents of Britannia lived through it all, from taking pride in producing copper for the war effort and nurturing Olympic-class swimmers in a swimming pool heated with water from the mine year-round, to enduring flu epidemics, flooding and landslides.
Along the way an industrial tax base was slowly being blasted out of the Howe Sound corridor. The Squamish highway would become a lifeline for the exploitation of natural resources.
When the highway opened on August 7, 1957, workers claimed that the two-lane route was the toughest road ever built in British Columbia. Geared to accommodate traffic at 40 to 60 kilometres per hour, highway engineer George McCabe cautioned the route was not built for high speeds. But build it for high speeds we did. Through debris torrents, and mudslides, and falling boulders the size of Volkswagens, the notorious "Highway of Death" became one of the most scenic and exhilarating drives in the province. Today, the Sea to Sky Highway links communities from Horseshoe Bay to Squamish, and to Whistler and beyond, with recreational pursuits and industrial activity. Those hard-living pioneers paved the way for the resource era that was perhaps the strongest economic period of our times.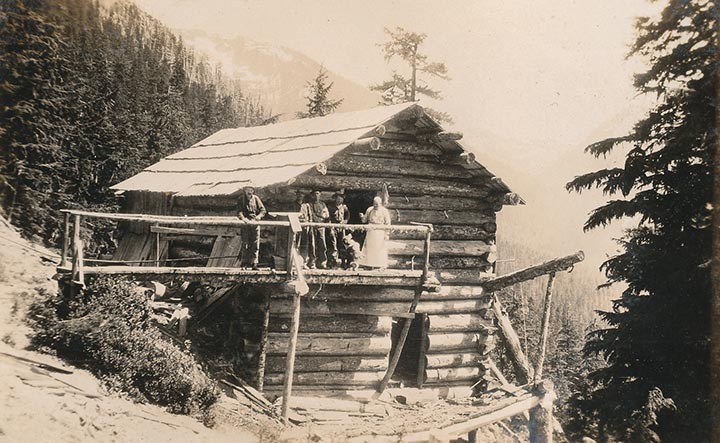 PHOTOS COURTESY OF THE BRITANNIA MINE MUSEUM ARCHIVES - Log cabin at Empress Camp, one of Britannia Mine's early mine camps.
But it couldn't last forever
Throughout the 1960's post-war parents were reasonably secure knowing there was a steady household income from the time the kids were born right through to university. It was easy to get work. A young man could get off a bus in Vancouver and walk into an office on Hastings Street and ship out the next morning to a job in a sawmill on northern Vancouver Island.
Then one day in the early '70s it was all over. Front-page headlines in the Vancouver Sun screamed that thousands of forest-industry jobs were going to be lost in British Columbia.
"It'll never happen," my friend Charlie Keats remarked one morning on our way into the mill — I worked in the sawmill pulling lumber off a greenchain. But happen it did. The markets for lumber products were shrinking and labour costs were blamed for being too high.
"We've come ahead too fast," Keats said a couple days later on the way back to the bunkhouse when the layoffs started.
Planning for the sustainability of the timber resource for future generations had not been taken. The log source dried up. Sawmills closed.
Britannia didn't fare much better. The copper mine was long gone and globalization was on the horizon. Though the legacy from that era includes a strong tax base and a medical system that is the envy of the world.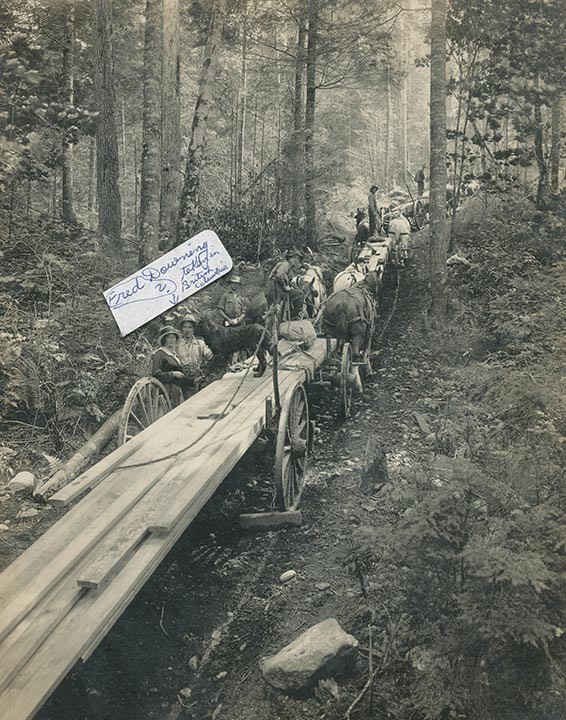 PHOTOS COURTESY OF THE BRITANNIA MINE MUSEUM ARCHIVES - Pack horses on the trails to the early Britannia Mine camps.
The price paid
Those pioneering loggers who worked without hard hats, and the worn-out women who hung their linen outside uninsulated, plywood shacks in Britannia, never knowing whether their men would come home at night, should be honoured.
The men who came afterwards, those who exploited our natural resources with no thought at all for a sustainable future should not. Their legacy includes a compromised environment, which many people feel may be irreversible.
From the blue and yellow skull and crossbones sign warning against mercury pollution at Porteau, to the line of yellow foam visible from the highway in the waters around the pulp mill at Woodfibre, to dead eel grass in the headwaters of Squamish and the ling cod fishery closure outside of Horseshoe Bay, the signs of environmental irresponsibility in Howe Sound were everywhere.
By the late '70s the resource sector was starting to acknowledge, "mistakes had been made." Still by the 1980's when B.C's premier, Bill Vanderzam, was taken to an island off northern Vancouver Island logged right down to the waterline, except for a spindly ring of trees left standing, so as not to upset people on cruise ships, Vanderzam remarked, "how did this happen?"
There was no accountability for future resource development and that, say many, sadly continues to this day.
A recent request to talk with Rich Coleman, deputy premier and minister of energy, and the minister responsible for housing in B.C., about the mistakes that were made during the resource era and preventing these mistakes with LNG production was brushed off with an email.
The email listed the usual things; Woodfibre will be the cleanest LNG plant in the world; it will bring jobs, markets, economic growth and a debt-free future; ongoing discussions expected to address clean LNG facilities "may" lead to a greenhouse gas emissions benchmark that "could" include lowering the emissions intensity of facilities by paying into a technology fund used to develop carbon reduction technologies.
But is it enough to speculate on a greenhouse gas emission benchmark? In a column in Pique, International Space Station astronaut, Ron Garan is profoundly moved by viewing our beautiful planet from a distance ("Science Matters," Aug.14). At the same time, he's profoundly upset.
"It's really sobering to realize that that little, paper-thin layer is all that protects every living thing on earth," says Garan.
A commitment has to be made to pay for the development of carbon reduction technologies over and above discussions at conventions, such as the recent Union of BC Municipalities in Whistler last month, which discussed a municipal cap on taxes from LNG.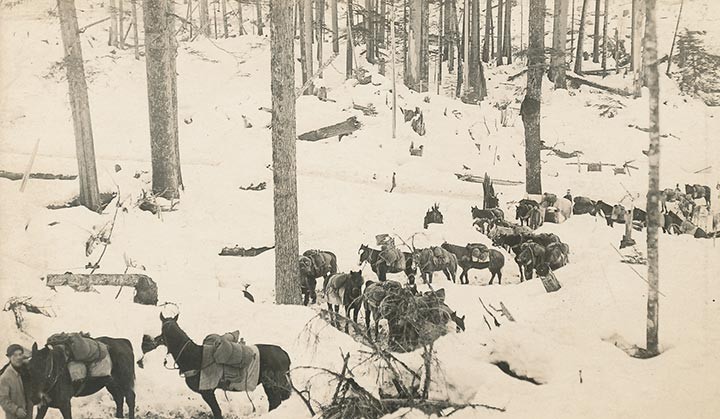 PHOTOS COURTESY OF THE BRITANNIA MINE MUSEUM ARCHIVES - Pack horses on the trails to the early Britannia Mine camps.
LNG in the picture?
The 100-year-old pulp mill site at Woodfibre is well suited for a liquefied natural gas facility. The site has a deep-sea port with an existing on-land pipeline, and infrastructure that's already attached to the hydro grid (there is an existing pipeline (FEVI), which is well over 300km and runs to the site — about 52km of additional pipeline has been proposed in the plan, which would be added alongside FEVI to increase capacity as part of an expansion/"twinning). About 1.3 million tonnes of natural gas will be received, refrigerated for conversion into liquefied form, and shipped from that facility three or four times a month to markets in Asia.
"This would be easily transferred with a minimal footprint into a small- scale facility," Marion Ngo, manager of communications and external relations for Woodfibre LNG, says.
The terms of the $25million purchase include Western Forest Products successfully remediating the site. The cleanup includes removing asbestos from the ground, capping the landfill and water treatment. Dredging of woodchips along the shoreline has already been completed.
"We took on the liabilities for everything on site," Ngo continues. "We don't need the majority of the site itself. We're greening up a lot of the area for further remediation down the line. That's actually a risk we're willing to take regardless of what happens and how long it takes."
Woodfibre LNG decided to go electric early on.
"The goal of the project is to be one of the greenest in the world," Ngo reiterates. "We want to hold ourselves to a high standard and ensure we're working with the community."
Transfer of ownership will take place once WFP obtains a Certificate of Compliance from the B.C. ministry of the environment by the end of 2014.
Serious concerns have been raised in Squamish and beyond about 40 tankers transporting LNG down Howe Sound every year. The Village of Lions Bay has urged the federal government to ban the passage of LNG tankers in these waters citing potential leaks from tankers, foreshore erosion because of wash and the possibility of rogue waves.
Ngo says Woodfibre LNG shares these concerns that's why it engaged Moffat & Nichol, an engineering firm, to conduct a study of tanker wash associated with the project. The study concluded that, due to the deep water of Howe Sound, tanker wash would be insignificant. The analysis showed that these 290-metre vessels travelling at speeds of around 10 knots, or less, might not produce a noticeable wake. The analysis concluded that the wake would be no greater than wind generated waves in Howe Sound.
Discussions are underway with local governments and community members regarding joint efforts to monitor tanker traffic. Woodfibre LNG has made a voluntary submission to Transport Canada's Termpol Review Committee, which measures navigational risks associated with a proposed marine terminal designated to handle bulk shipments of liquefied natural gas. The success of the Termpol Review process depends largely on the quality of the data submitted to the committee. Through this process the project can be reviewed to ascertain measures that will ensure the safe navigation and operation of the design ships in Howe Sound. Under Transport Canada's Single Port Mooring Guidelines, tanker departure prior to adverse weather should be suspended when wave height is in excess of 2.5 metres, and wind velocity exceeds 39 knots.
Sometimes hurricane force winds can rip down Howe Sound. A "Squamish" wind happens when cold arctic air from the Interior meets warm air on the coast. The collision of high and low pressure can turn sections of Howe Sound between Pam Rocks south of Anvil Island and Hood Point off Bowen Island into a frothy mass of standing waves in minutes. There is a weather station at Pam Rocks and a buoy to measure wave height in Georgia Strait between Halibut Bank and Roberts Creek on the Sechelt Peninsula but no buoy to measure wave height in Howe Sound.
"It would be great to have a buoy so we can have good wave information in Howe Sound and capture these events," Andre Barsson, a meteorologist with Environment Canada says. "We don't have that buoy to verify wave height in Howe Sound."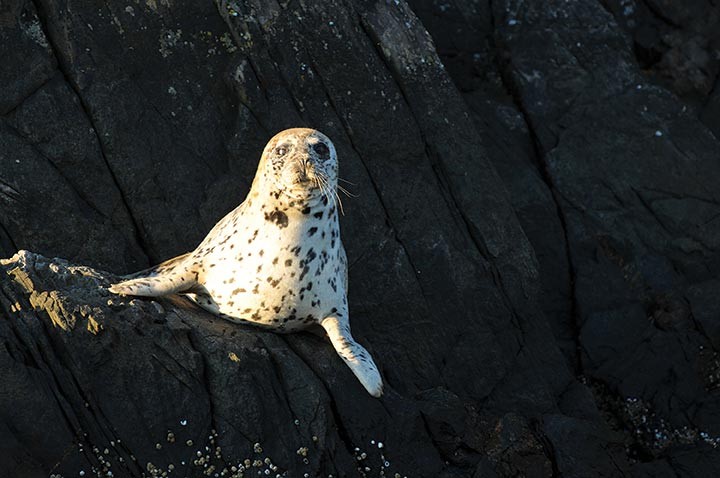 RICH DUNCAN PHOTOS - Wildlife of all types have been returning to Howe Sound as the waters return to a less - polluted state.
An economic opportunity or a climate change contributor?
Woodfibre LNG could be an economic boom for Squamish.
"Preliminarily there would be three shifts totalling 100 workers," Squamish Mayor Rob Kirkham says. These would be specialty jobs and trades people. Labour would see upwards of 500 workers during the two-year construction period. There will be no housing on site. Workers would commute by ferry from the old terminal south of Squamish. A fair share of revenue for the project will start with $2 million in taxes for Squamish per year.
"There are definitely very strong benefits for the community," Kirkham continues. "We are looking for a balance for our community between business, industry and residency."
Ngo says that the Woodfibre LNG team has been hearing a lot from individuals with different perspectives from those who have lived in Squamish their entire lives, and have seen industry come and go, to new residents who came to enjoy the outdoors.
"We completely understand," Ngo says. "This is one of the reasons why we wanted to remediate the site just to start off with."
Ngo grew up in the lower mainland and has driven the Sea to Sky Highway many times.
"What you see is that it's a beautiful area. It's majestic but it's also an area where tourism, industry and environmental sustainability are not mutually exclusive. It's about maintaining high standards for yourself, and ensuring that there are tax contributions, and jobs and that you are developing responsibly."
All of this sounds promising, but there's something that's not being addressed.
Climate change is the single most serious challenge facing humanity. The atmospheric greenhouse gases that cause the Earth's natural greenhouse effect, total less than one per cent of the atmosphere. But that tiny amount makes the difference between the Earth's average temperature being minus 19 degrees Celsius and what it is today, 14 degrees Celsius. It doesn't take much to understand that by tinkering with that one per cent, increased greenhouse gases will cause increased temperatures.
Scientists and environmentalists have been warning that the only way to stabilize the climate is to reduce atmospheric causes of greenhouse gases, primarily carbon dioxide. To achieve an 80 per cent reduction by 2050 will require nothing short of a fundamental shift in the underlying habits, behaviours, policies and practices that shape our energy use.
It's good to know that the availability of raw resources; wind, wave and tidal energy won't limit Canada's embrace of low-carbon energy futures. The more interesting question is, how can that potential be turned into deliverable energy?
The answer depends on the cost of harnessing that energy, the challenge of integrating it into the existing system and, for biomass in particular, the sustainability of the source materials and the ecosystems that support it.
That the sustainability of the biomass is possible was demonstrated more than two decades ago.
Es Preus owned a logging company in Campbell River. Preus had been a member of the Truck Logger's Association, a highly respected but radical group of independent men whom, among other things, was instrumental in resolving a very difficult labour situation in B.C. These were guys like John Drenka, who built their companies from nothing and were as hard bitten as anyone when it came to change. Preus was interviewed for a story about certification whereby logging practices in B.C. had to meet environmental standards from the point where the tree was cut down, to the final product being sold in building-supply stores.
Preus was a clear-eyed, intelligent man who was very proud of this program. Certification worked for his company, the economy and for the environment.
The point of this story is that it illustrates that attitudes can change, and if attitudes can change, then renewable energy can be achieved and climate change might not be such a movable target.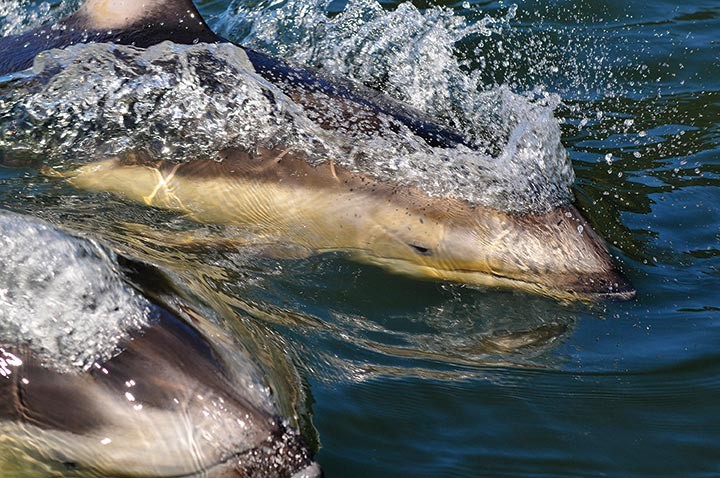 RICH DUNCAN PHOTOS - Wildlife of all types have been returning to Howe Sound as the waters return to a less - polluted state.
And if we do nothing...
To see what might develop if climate change is not a priority with LNG production we only have to look at what's happening in the Maldives, an island nation in the Indian Ocean.
In the 2011 documentary film The Island President, Mohamed Nasheed, president of the Maldives, was asked what he thought had to come out of United Nations Framework Convention on Climate Change's Copenhagen Accord of 2009 if there was any chance of his country surviving climate change.
"If we can't come up with this understanding then God help us," he said.
One month before Copenhagen, in a heated exchange with Nasheed in the documentary, India's chief negotiator on climate change, Shyam Saran, said that the response to climate change among developed nations has to be based on equality.
"You cannot say I will stay where I am because I got here first and you stay where you are because you're all late-comers. Can you sell that in your country? I cannot sell it in mine."
Saran gave the impression that, really, the end of the world was not India or the U.S.'s problem. Climate change might mean the end of the world for the Maldives, but not for India.
Ian Bruce, a science and policy manager with the David Suzuki Foundation, says there has been progress since Copenhagen.
"The big difference has been the influx of global investment that has been prioritizing clean energy," Bruce says.
What has been a hindrance to global discussions in response to climate change has been the issue of fairness.
"Canada, having the resources and capacity to lead on climate change typically hasn't followed through with action, and that's been a real barrier in getting countries like India on board," Bruce continues.
Bruce's concern about LNG production in Howe Sound is that liquefied natural gas is mostly coming from shale gas that requires fracking and other techniques that have a very detrimental impact on water and air.
"More and more industry is shifting towards sources from shale gas, which requires massive amounts of water, as well as having a much higher carbon footprint," Bruce states. "It's not looking as promising a transition fuel as it was claimed to be a few years ago."
However, he remains optimistic that the technology sector is one of the fastest growing industries in B.C. for creating jobs though he cautions: "I think it's dangerous that the government has been so focused on a one resource economy around the development of shale gas for export, that we're missing out on opportunities to be leaders in clean renewable energy."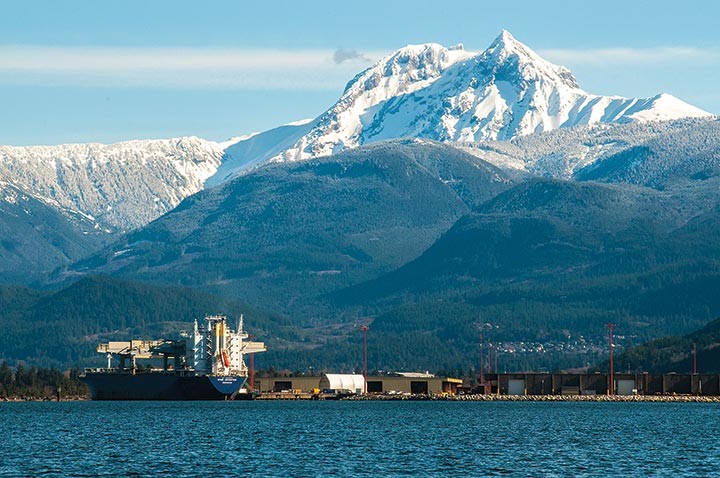 RICH DUNCAN PHOTOS - Squamish Terminals is a deep-water, break-bulk terminal which has been in operation since 1972.
Nature will have the final say...if we let it
Not long ago, in a newspaper article, when asked about the degradation of our environment acclaimed Canadian author Farley Mowat said in an exasperated voice, "I really think we're a flawed species and we won't be missed."
He's right.
Since the demise of the industrial resource era, Howe Sound has made a remarkable comeback. The herring have returned and so have porpoises and orcas — even a humpback whale off Lions Bay.
One gets the impression that there's a lot more going on in nature than we're aware of.
Natural gas has been branded as the cleanest-burning fossil fuel. It is non-toxic, non-corrosive and less dense than water. It produces up to 30 per cent fewer emissions than traditional fuels and there's less than half as much C02, less than one tenth as much nitrogen oxide and less than one per cent as much sulphur oxides.
Woodfibre LNG could be an opportunity if responsibility is taken to ensure that profits bridge the chasm to renewable resource energy. But in the end whether we've learned from our mistakes or not, Nature will win.
Rick Crosby has pulled lumber in sawmills, worked as a tree planter and edited forest industry magazines in British Columbia. He lives in West Vancouver and has been following the LNG proposal closely.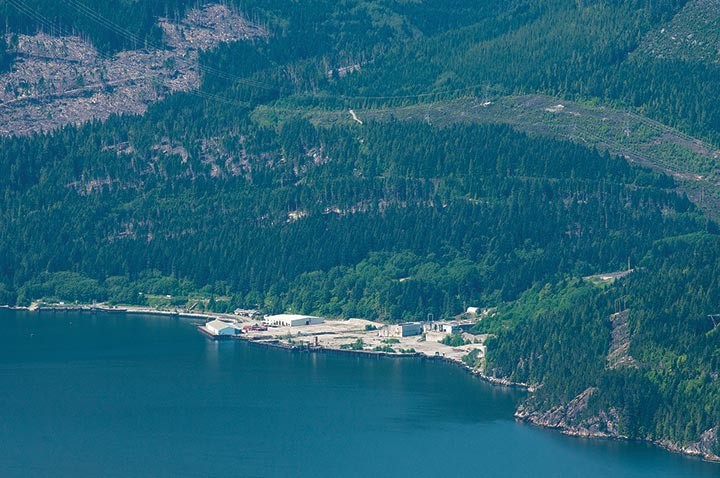 RICH DUNCAN PHOTOS - The proposed site of Woodfibre LNG.