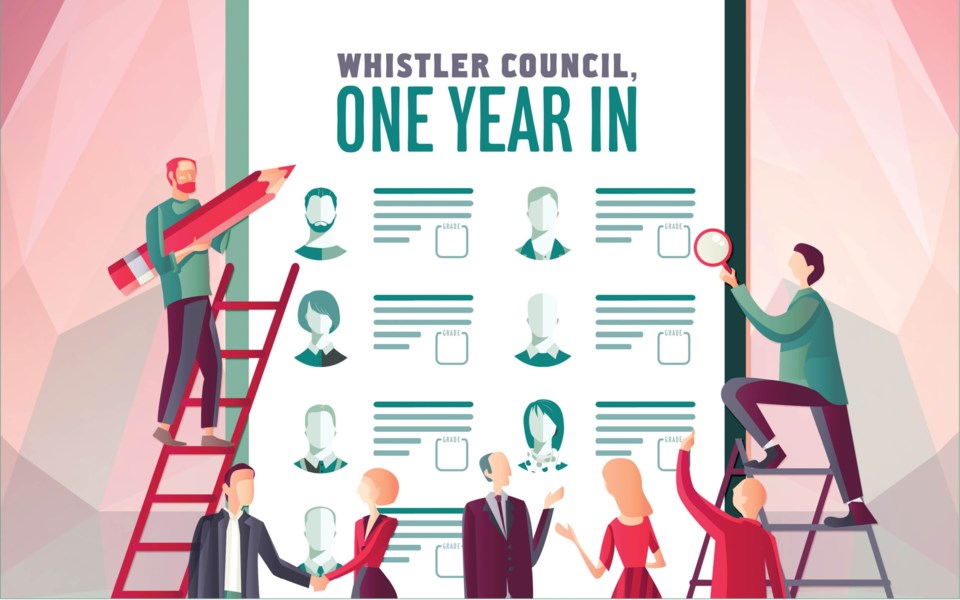 Like many politicians, Whistler Mayor Jack Crompton has a secret. But unlike some of the more salacious political secrets hiding behind closed doors, it's not a particularly alarming one.
And if you've spent any time talking to him, it might not even be a secret: Crompton is a nerd.
Lamer yet, he's a local politics nerd.
"There are few people like Jack Crompton who loooove local governments," the mayor said, in an interview at the Pique office in early September.
What did I tell you? Just a local government nerd.
"Yeah, totally. There are a few of us," he agreed.
"I think the public wants their local government to do good work. We build public trust by focusing on the basics: Peace, order, good government. Like, just clear the street in front of my house in a timely manner. Make sure my toilets flush, and the transit service is effective.
"There's a reason why we talk about this concept of 'the trains run on time.' I think our community, and I think communities everywhere, want their local governments to deliver on the services that they pay for. That's exciting work for me."
A year into his four-year term as mayor, Crompton is living his dream job.
The council Whistler elected to govern alongside him is effective, he says. Everyone gets along, and while they may bring different viewpoints to the table, they are respectful and willing to work together for Whistler (subsequent conversations with each of them would back up these statements).
With one year under their belts, Pique checked in with all seven local elected officials to hear their take on the year that was—their highlights, disappointments, successes and failures, areas to improve and work yet to be done.
It's hard to be too critical after year one of four (there will be plenty of time for a comprehensive council audit closer to the end of the term)—and in looking back at their campaign promises a year ago, council has, for the most part, made progress where it said it would—but that's not to say they were perfect in Year 1.
An initiative to allow private developers to build employee housing in exchange for bed units has left a bad taste in the mouths of many residents—and changes to the guidelines to allow said developers to include "limited amounts" of market housing in their proposals did nothing to wash it out (residents revolting against a recently announced project on Alta Lake Road is just the latest example of several).
Paid parking is still having an impact on neighbourhoods, childcare is still a challenge, the housing file isn't moving fast enough for some, and the decision to create a new senior management position for CAO Mike Furey (as chief of strategic planning and partnerships, lasting until early 2021) remains questionable in the eyes of many.
And the implementation of regional transit—a stated goal of more than one council member before the election—appears to be stalled out.
But the wheels of government are slow moving, and in hindsight, Year 1 appears to have been very much about the setup.
Now it's on Whistler's elected officials to carry out the execution.
(Warning: if this feature story appeals to you, you may be a local government nerd. Consult your coolest friend if symptoms persist.)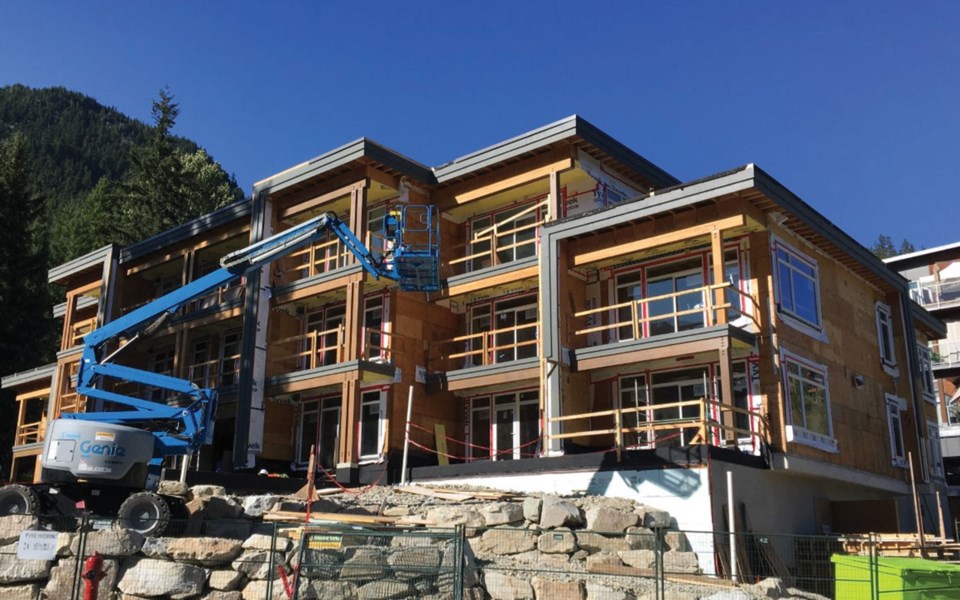 THE HOUSING FILE
One of Crompton's first orders of business as mayor was to assign each councillor a portfolio, tasking them with honing in on various areas of municipal interest (housing, environment, tourism, finance, arts and culture and social services) while still remaining generalists in the grand scheme of things (see "The RMOW Files," Pique, Jan. 27).
As a developer with a wide breadth of knowledge, Councillor Duane Jackson was well suited to take on the housing portfolio.
One year in, what stands out for him? What are the highlights?
"A lot of work," he says with a chuckle.
About 75 per cent of his time has been devoted to work on housing, he estimates.
"It all depends how many hours you count in a week, but [it's] a major portion," he says. "Whether it's housing in WDC [the Whistler2020 Development Corp], or housing in WHA [the Whistler Housing Authority], or just thinking about the review of what we are currently familiar with, and past policies of waitlists and demand and understanding the demand...
"And also trying to understand the changing sort of development cycle as we look forward for our construction costs."
While the WHA is busy with projects at 1020 Legacy Way in Cheakamus (24 units and 53 employee beds, with occupancy slated for November 2019), 8350 Bear Paw Trail in Rainbow (20 units and 39 employee beds for seniors, December 2019) and 1330 Cloudburst Dr. in Cheakamus (45 units and 103 employee beds, occupancy 2021) the WDC is hard at work advancing the design of Parcel A in Cheakamus, which could yield up to 750 homes.
"The beauty of Parcel A is it is not in an existing neighbourhood, so we're able to look at a good design, good sun exposure, access to recreation, on a bus route, so it's an ideal site for development," Jackson says.
When we spoke in September, he said the WDC was preparing for a second visit to the municipal Advisory Design Panel, as well as working on more detailed financials and alternative parking sites.
The public will learn more about the work at an open house this fall.
Is Jackson satisfied with the progress made on housing in Year 1?
"Well, I'm satisfied that we put a lot of work into it, which sets us up for success. You can't build these big projects in a panic, you know? There's a lot of risks," he says.
"To get them financed at an affordable and competitive rate, and to be able to get it to bid, you have to do your due diligence, and so I think we've taken our time this year to make sure that we're not going to shoot ourselves in the foot, and that everyone understands what we're doing and why we're doing it."
If Year 1 was about planning, Year 2 is about execution, he says.
"I think we'll have more certainty about costs; I think we'll certainly have a much better sense of what the two waitlists need," he says, pointing to the work done by the WHA and municipal economic development office to understand where the demand is and what needs to be built.
"I think that research will help refine the planning, which will happen over the fall and through winter here," he says.
"So, by next year, we will have decided what it is we're building, we will have got more feedback, and I think we'll be more certain about what we can deliver in this term."
Looking ahead to the end of the term, where does Jackson envision the housing file in 2022?
Well, he doesn't have a crystal ball, he says, and the municipality can only do so much.
"I think I'm hoping that we're going to be working more with businesses and the private sector to look at other things as opposed to taking on the load ourselves," he says.
"I think it's a community responsibility, it's a business responsibility; I don't think it's wholly an RMOW and housing authority responsibility, so I'm hoping that we can find some creative partnerships with housing with some of the major employers, Vail [Resorts] included, and would like to see their [200-bed employee housing] project complete, and maybe in the next 12 to 18 months, find a second opportunity.
"So, by the end of the term, I'm hoping we will have seen some success out of the private sector, some solid commitments from the business community and a really good, stable portfolio of WHA, WDC and RMOW assets."
THE ROOKIE
While the new council elected in October 2018 was already rife with experience, there was one outlier.
Coun. Arthur De Jong was the only local government rookie among them (though Coun. Cathy Jewett, having won a byelection in 2017, had just one year under her belt).
Like Crompton, De Jong also carries a not-so-secret secret with him into work every day: he loves the environment.
The rookie councillor rolled into office with big plans to help our warming planet—is he satisfied with what was accomplished in Year 1?
"How can I say this honestly? I come from a dairy farm where you go out and you work as a kid; I'm hardwired that way," he says.
"And I've been raised in this—ever since I was what, 19, when I came here—in this entrepreneurial culture of building Whistler Blackcomb, and so when you step into politics, you almost feel like a fly hitting the windshield at first."
Splat.
"You can't just move on the things you feel need to get done, or as my father says, pushing molasses uphill in winter," he adds. "As a rookie, that's something I have had to adjust to, and that's just a reality ... but within the political system, how can I help do my little part on expediting the actions that we need as quickly as possible?"
In his first year, De Jong took on a host of environmental issues, including (but not limited to) a campaign to get local businesses to close their doors in winter and working to ban single-use plastic locally.
Perhaps going back to his point about the molasses (or the bug on the windshield—take your pick), both projects ran into some problems with red tape.
The RMOW doesn't have the legal jurisdiction to force business owners to close their doors, nor does it have the legislative powers to ban single-use plastic without some amendments at the provincial level.
"I will do everything that I can, in partnership, to be able to do a number of the small actions that we didn't get done this year, like [the] closed-door merchant policy in the village, like banning of single-use plastics, and have a whole list by the end of Year 2 of what's doable in the next two years that will have greater impacts, in terms of reducing our greenhouse gas emissions," he says.
"That would mean that we've been able to achieve some transit goals that we don't yet have; certainly more local transit, as well as regional transit."
In speaking with Whistler's elected officials for this story, that last point sticks out as one of their few things that disappointed them in the first year of their term.
"My biggest disappointment is that we don't have a regional transit system in place. To be honest, I expected we would have buses on the road right now," Crompton says.
"Regional governments continue to advocate for a funding solution that will work for the region and the province. I haven't given up, but there is more uncertainty now than there was six months ago."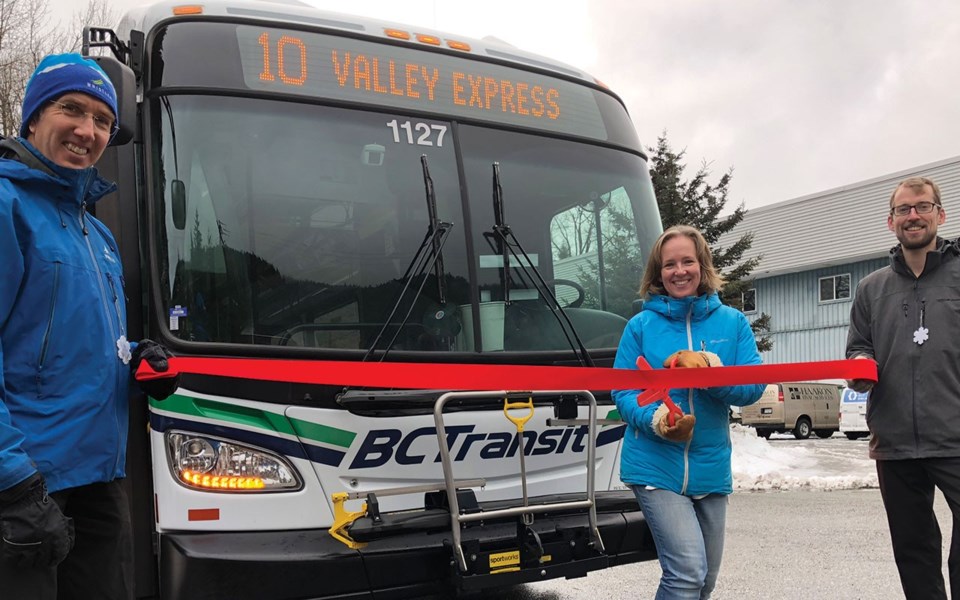 AN EXERCISE IN GOOD GOVERNANCE
During the 2018 election campaign, one of Coun. Cathy Jewett's biggest priorities was increasing transparency and a focus on good governance.
Shortly into the term, she got a chance to spearhead those causes directly as the chair of the newly formed Governance Committee.
The committee "got off to a really good start," Jewett says, looking at things it wants to accomplish, what the community is saying, and best practices in other municipalities.
"What we do want to know is what can we do better, so if there is feedback, we'd like to hear it, if there's a best practice out there, we should be aware of it, and staff is currently looking into that," she says.
"I think that we have to appreciate the things that we're doing well, but always realize that we can be doing it better, and that's what we want to do. That's what we want to accomplish with this governance committee—it's not merely checking the boxes, but being able to do that outreach. Public engagement is a huge part of this."
While the RMOW hosts many open houses to hear from the community, they often attract "the usual suspects," Jewett adds.
"How can we change that? How can we engage other parts of not only our residents, but also our second homeowners?" she says.
"It's really important to us that we make these conversations achieve what we're setting out to do, and that is to get the input to come up with a better policy, a better project or a better initiative."
As for when the committee will produce some tangible changes, Jewett couldn't commit, saying it's still in the research phase.
"It's not something that, unfortunately, we can change overnight," she says.
"But if we did do it overnight, it might not be as thorough or well thought out."
SOCIAL SERVICES AND HEALTHCARE
One year into her second term, Coun. Jen Ford has found her footing.
"I think we've been busier ... Second term, you kinda go into it with stronger feet under you, if that makes sense, so I'm not like, whirlwind, holy smokes, what truck just hit me, feeling like I did after the first nine months of the last term," she says.
"I feel like I'm better prepared, I'm continuing the work that we were doing rather than starting from scratch."
Much of Ford's recent focus has been on finding childcare solutions for Whistler.
The Whistler Waldorf School adding 16 daycare spaces is "a huge win for the community," she says.
"For me personally, it's something I advocated hard for [in] the years before I was elected, and then through the last term, and so I certainly am pleased to see that they're finding success through the provincial programs and the funding that's been made available."
A September stakeholder meeting with daycare and childcare providers was "really well attended," she adds.
The meeting consisted of the RMOW planning team and the Whistler Centre for Sustainability discussing a grant for a space-needs assessment with stakeholders.
Two surveys have been issued—one for families and one for providers—to find out where the gaps are.
"We did sort of a roundtable at the end [of the meeting, talking about] what are the successes, and I think no surprise, our No. 1 challenge has been staffing, finding qualified people, housing those qualified people and retaining those qualified people," she says.
"That has been one of the biggest challenges, but it was really nice to hear from many of the providers that they've collaborated together."
Another big piece she's been working on is healthcare, she adds.
"There's been a lot of work understanding what that need is—is the healthcare centre meeting the needs? Do they need an expansion? What are the challenges they're facing as far as staffing and retaining doctors?" she says.
"We're hearing from our seniors, we're hearing from young families that they can't find family doctors, and then other needs like further levels of care."
There's a "somewhat informal" working group discussing these and other healthcare challenges, Ford says, but it's "too soon to tell" when we might see some tangible results.
GETTING TO THE BOTTOM OF THE GATEWAY LOOP PRICETAG
Shortly after the election, Coun. Ralph Forsyth told Pique he wanted to dig deeper into the finances of the $6.8-million Gateway Loop project.
In his new role overseeing the Finance and Audit portfolio, he had a chance to do just that.
"I would say that there's no smoking gun. Certainly nothing wrong was done, and I don't think that it was any ineptness on the part of the staff, either," Forsyth says.
"And trust me ... I wanted to find a smoking gun; to say 'Here's the goddamn problem' and come out and be the hero with the hide of whoever was responsible. But I have not, sadly," he adds with a laugh.
"I will not be the hero today."
The fact of the matter is that the project's price tag—while it did increase from its original estimate of $3.8 million or so—was approved by council at every step of the way.
In an August media briefing about the project, general manager of infrastructure James Hallisey explained in more detail why the cost was as big as it was.
The $1-million landscaping costs included all the paving stones, Hallisey said, which were chosen to match the village feel (the design also changed through the tendering process—adding more grass and using a slightly thinner stone—to reduce the costs).
The design itself was twice approved by the municipal Advisory Design Panel, and presented to the public at an open house in early 2014.
The roof structure cost $2 million in part because of the unique engineering it required.
The structure was designed to eliminate dark corners, tall enough to fit buses underneath, while still meeting seismic loading and snow requirements.
To support it, the roof required 138 cubic metres of concrete—about enough to pour foundations for three 2,500-square-foot homes.
The roof includes an internal drainage system coupled with heat tracing to allow snow and water to flow through two of the 13 columns into the storm drainage system.
The RMOW says the entire site is "serviced and prepared for future growth," and estimates it is averaging 5,000 people a day.
"That's 1.8 million people a year, pretty much," Hallisey said. "That's pretty huge."
It became apparent that the original 2014 budget estimate of $3.8 million was "not going to buy us the project that we asked these guys to design for us," Hallisey said. "I think there was some pretty rapid escalation in the market at that point, which caught everybody a little bit by surprise."
The project originally went out as "one big tender" that garnered two bids—one for $5.6 million and another for $9.7 million—so it went back to the drawing board.
The redesigned project was split into two bids (for civil construction/landscaping and the roof structure). Though local contractors were engaged, none ended up bidding on either proposal.
As such, the final bid costs included labour that was brought up from Vancouver.
For Forsyth, the takeway is to focus more on the tendering process and timelines of future projects to avoid similar expenditures where possible.
"I think [it's], 'What does the design look like when it goes out? Is there another vetting process? ... Why are you being so prescriptive on what the siding has to be, or how closely do I have to adhere to the architect's drawings?'" he says.
"So that's one step. The tendering process and timelines of that, and keeping a pulse on it, because we know the building climate is busy right now, so things cost more. So can we aim for when it's not [so busy]? Those are the main takeaways."
THE TOURISM ECONOMY
Before last year's election, which was rife with community angst over growing pains, Coun. John Grills said he wanted to see the level of visitation maintained.
"I like dealing with issues of volume as opposed to some of the issues we had in 2011 and 2008 ... I can name a number of times where it's just been a real struggle for the businesses," he says.
"Let's work on infrastructure and visitation, quality of the visit, and working with the businesses as they [upgrade and renovate]. You see a lot of upgrades right now, and that's what we're hoping for as business levels improve, that there would be investment in storefronts and building facades."
Perhaps the biggest challenge in supporting the local tourism economy at the moment is finding and retaining qualified staff, he adds.
"That's why, again, the biggest impact we can do on the guest experience in Whistler is to work on the housing issue, which we are," he says.
Now in his third term, Grills is a veritable council veteran.
As such, he's been tasked with an important role in overseeing the resort's Tourism Economy portfolio.
While "everybody's aware the numbers have settled off and to a certain degree dropped a little bit," Grills said he's not seeing any major red flags indicating an aggressive downturn.
"I think our product is still in high demand, in summer and winter, and this experience is still among the best in the world," he says.
"We're still in good shape that way."
The resort is very lucky to have Tourism Whistler, he adds—a group marketing board that's alive to the fluid changes in global markets and where to best invest.
"Numerous times we've said, 'OK, this isn't working, we've got to go somewhere else, find additional numbers somewhere else, because this market is drying up or changing,'" he says.
"So I think that's a constant conversation at the Tourism Whistler board table, and within the Tourism Whistler staff ... so if there's going to be changes, hopefully we'll know them well enough in advance to make the change, and the modifications to our plans."
FOR LOVE OF LOCAL GOVERNMENT
Just as he accepts the good that comes with his job, Crompton rolls with the bad.
In fact, he embraces it—criticisms, conspiracy theories and the rest.
"I think it's back to Whistlerites caring deeply about their town, and taxpayers pay for a service from local government, so they're well within their rights to have extremely strong opinions," he says.
"It's council's job, and it's the mayor's job, to understand those concerns and respond with action or an explanation of why we can't.
"I don't for a second hope that [the public] stops asking the difficult questions ... I want my feet to be held to the fire, and I don't begrudge them a single second for doing it."
And just why does the mayor love local government so much? What made him fall in love with this very nerdy thing?
"Because I think local governments do extremely important work," he says.
"As I've said more times than I care to, it's not sexy work, but it's crucial work. It allows people to grow and learn, it allows families to grow and learn. It allows space for community to flourish.
"I find that really exciting."