Even before athletes cross the finish line Sunday at Whistler's second annual Ironman Canada triathlon, race stakeholders will be tallying the dollars and cents of the event.
Ironman is not only a physical and mental test of endurance for über-athletes and a fun spectator sport; it is a business — a big business, and it is growing.
In North America, around 200,000 athletes will cross an Ironman finish line this year — compared to about 60,000 people just five years ago — earning Ironman annual revenue of more than US$150 million, according to Fortune magazine.
Half of the revenue comes from participants' entrance fees, which are $700 per athlete (If a competitor drops out, Ironman keeps $550). Most of the rest of Ironman's income comes from sponsorships.
Since being bought by Providence Equity Partners in 2008, World Triathlon Corporation, which operates the Ironman race series, has taken steps to broaden its reach and increase profits. These steps have included adding races; expanding its selection of Ironman-branded merchandise and reclaiming races it was previously only licensing its name to, such as the Ironman race in Penticton, which ended its 30-year connection to the corporation in 2012.
There were various reasons for the split with Penticton.
Though it grew to a sold-out 2,500 participants, and was part of the summer routine in the Penticton, the city said it dropped the race for business reasons.
"The plum jobs were coming from outside, our local businesses were not permitted to participate as they had in the past, and the volunteers were wondering why they were working so hard for someone else's corporate profit," then acting mayor Gary Litke, told B.C. Business magazine in 2013.
Ironman representatives say it was a city decision that had nothing to do with business.
"(The race) was run by a third-party event producer and Ironman bought back the license and were always planning to buy back the license," said Whistler's Ironman race director Evan Taylor.
"The deal that Penticton wanted was not what Ironman wanted so from there they decided to go with Challenge (race series), so it was more the City of Penticton than the businesses."
Whatever the reasons were for Penticton stepping back, Ironman promises there will be a financial benefit to the communities, like Whistler, that win the bid to host its races.
In addition up to 2,500 participants and 10,000 spectators — made up of family, friends and supporters of the athletes expected to descend on the village this weekend for the race — approximately 2,700 volunteers step up to help run the event. Twenty-two per-cent of volunteers come from outside Whistler and Pemberton. Ironman has five permanent, paid employees in the Sea to Sky corridor and about 35 more Ironman employees are brought in for race day. These numbers make Whistler's Ironman second only to the 2010 Winter Olympics in terms of its size and scope.
Danny Ng
The RMOW contributed $250,000 to the event from Resort Municipality Initiative (RMI) funding, part of a five-year annual deal with Ironman for augmentation funding. Tourism Whistler kicked in a further $45,000 in 2013.
Of the $250,000, $100,000 goes to traffic management and other required municipal services.
According to an Economic Impact Assessment funded by the Resort Municipality of Whistler (RMOW), the 2013 Ironman generated $8.4 million in local economic activity, including $7 million in spending in the resort. There was $17.3 million in economic benefits for the province.
"Keep in mind that the event last year was at the end of August when historically the resort is usually really busy anyway, so because (the race) is moving for the remainder of our five- year contract with them to July, which is a time of greater need, we expect the economic activity generated will be increased further," said Whistler Mayor Nancy Wilhelm-Morden.
"Because this is our second year, I think there will be more involvement from a business perspective," she said.
Ironman customers are, according to Tourism Whistler, the ideal Whistler guest.
The average Ironman competitor is 39, has a college degree, owns his/her own home, is married and has a family income of around $174,000.
According to a 2012 Ironman Canada race guide, the average first-time Ironman competitor will spend between $7,300 and $26,500 before he/she crosses the finish line, including shelling out for training, equipment and accommodation. Approximately 22 per cent of participants prefer to pay extra for luxury accommodations.
Whistler's Danny Ng, 41, represents both sides of Ironman — the physical and the financial. He is both a competitor and part of a Whistler business hoping to cash in on the event. This will be his second Ironman competition. He first competed in 2012, in Penticton.
"It is more of a journey to get there than anything," he said. To prepare for the race this year, the father of three hired a local trainer and stuck fast to the program.
For Ng, the feeling of crossing the Ironman finish line is unmatched. "It is glorious," he said.
Ng is also group sales manager at the Four Seasons Whistler, and the hotel's only employee competing in the event.
To appeal to the Ironman guest, the hotel, he said, is completely catering to the needs of the athletes.
"Guests are allowed to keep their (bikes) in the room. We even provide complimentary bike towels to clean the bike chain," he said.
Staff will don T-shirts that say, "Ironman. Pain Now, Beer Later" and the hotel's executive chef has designed Ironman-specific menus for before and after the race.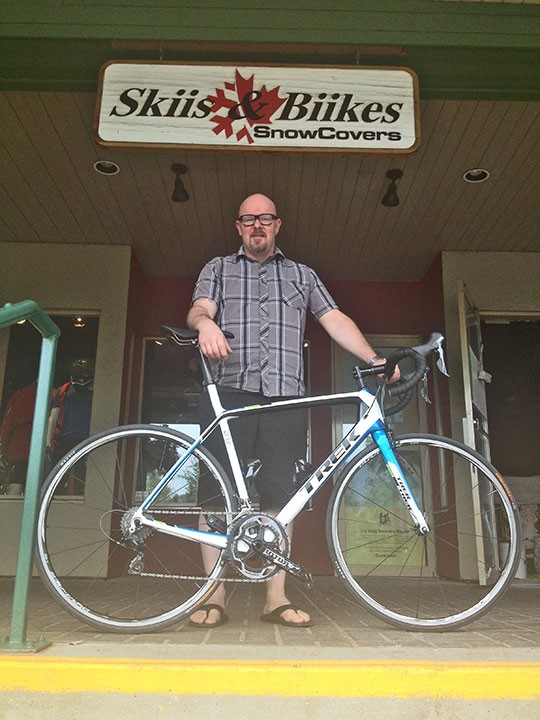 Erin Keam
To celebrate their achievement, Ironman guests will receive shortbread with their actual race times imprinted on them.
"This is very labour intensive," said Ng. "Our pastry team stays all night, waiting for our guests' results."
Ng said even as early as May he started to see fellow participants from around the world arrive to test the course.
Rooms at the Four Seasons start at $319 per night for single occupancy.
At minimum, Ironman athletes arrive with three supporters and stay for four or five days during event week.
Judging by last year's event, Ironman can be a boon for other Whistler businesses as well, especially those that offer items and services directly related to the race.
"Definitely there is an upswing in business," said Erin Keam, general manager of Skiis and Biikes in Whistler's Marketplace.
"It is the classic Whistler tourist that we love to see; they are well off, they are educated, they kind of know what they want to buy, they know what they are looking for and they are not super concerned about price, and I will tell you right now, they are polite."
According to Keam, during last year's Ironman his shop saw a 15-to 20-per- cent increase in bike service sales, which included anything from putting in new bike tire tubes to complete bike overhauls.
His shop also saw an upswing in bike rentals by family members of the athletes who wanted to ride around to see the course, he said.
For this year's Ironman, Skiis and Biikes bought into the Village Expo.
Ironman brings in 15 to 20 sponsors, such as Timex, to each Ironman in North America and these sponsors set up in a central, restricted location that serves as a hub for all the Ironman athletes. The Whistler expo is at Whistler Olympic Plaza and will include about 10 area merchants.
To get into the expo, merchants can purchase packages based on space rented. Prices vary from a 10-foot by 10-foot space for $1,750, to a 10-foot by 30-foot space for $4,725. Vendors must supply their own infrastructure such as tents, tables and chairs.
At the Skiis and Biikes space, Keam and his team will be servicing bikes, and promoting products for the four days of the Expo that runs July 24 to July 28.
"For us it is a great way to... see what is going on and see if we can do things better and find stuff that we are missing," he said.
For other businesses, such as food and beverage sellers, Whistler Chamber of Commerce CEO Val Litwin recommends stocking up and keeping things simple.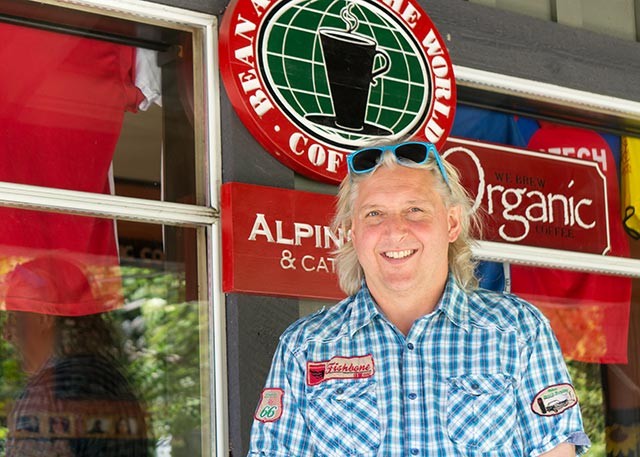 Martin Bart
"This is your chance to animate your business," he said.
"You have got to think through the mind of both the competitor and the spectator."
The competitor is hungry, so have a specialized menu with carbohydrate-loaded meals for athletes who are training and recovering, Litwin said.
He said last year there was a shortage of bananas and chocolate milk in town, so even something as simple as grocery stores remembering to stock up on key items will help businesses make the most of the event.
Another lesson learned last year involved the meal vouchers given to athletes for local restaurants. The quick expiry on the vouchers meant that venues were swarmed with customers experiencing long wait times to be served. This year the expiry dates have been extended to hopefully spread out the busy times and create a more enjoyable dining experience for hungry athletes.
Litwin said business owners should consider the type of person coming to Ironman and tailor their services to the well-educated, middle-aged, affluent guest.
He suggested bosses sit down with staff and go over the basics of customer service, and to make proper signage, not just throw something up on cardstock with a felt.
"With a lot of businesses it shouldn't be rocket science, and I don't think you need to overthink this," said Litwin.
For businesses outside of the heart of the village, garnering the same amount of attention from athletes and spectators may take a bit more creative thinking.
Alpine Café, at McKeevers Place, is in the middle of the Ironman action for most of race day. Hundreds of spectators go by the café on their way back from watching the swim start in the morning, and it is a key spot to catch the cycling action in the middle of the day, but because it is such a key area for the race, it is also closed off to traffic for most of the day.
Vehicles can't go up or down Highway 99 until around mid-afternoon so co-owner Martin Bart said the café has to take advantage of the captive Ironman audience to make up for customers who would normally have stopped on their way by in their cars.
For race day last year the eatery offered a simple menu of quick and easy items, such a scrambled eggs in the morning and light sandwiches in the afternoon, which cooks could churn out quickly.
Chefs set up a barbecue in the parking lot, a small beer garden and chairs for people to sit and cheer on the athletes as they went by.
"With the road being closed we knew nobody would come out here, but we knew no one could go anywhere either, so we just created a party," Bart said.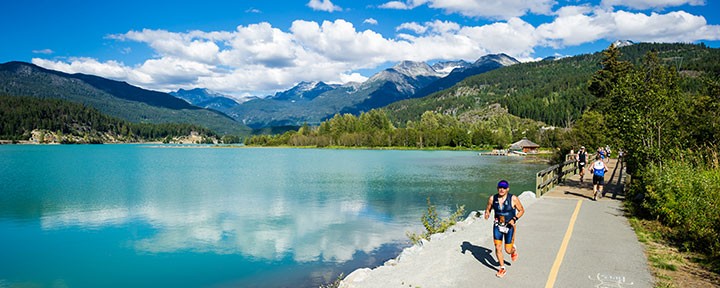 MIKE CRANE COURTESY OF TOURISM WHISTLER - The marathon segment along Green Lake
The day of the race ended up being one of the busiest of the year for the café and so this year they are going to do the same things.
"Just keep the neighbours in the neighbourhood," he said.
While things worked out well for his business, Bart said he knows for some businesses, which are cut off by the road closures, the event may not be as positive.
"I think it could have gone either way," said Bart of last year's event.
"We are in a unique spot here because the race does come by our place so many times. I wouldn't know how to give anybody advice if you are stuck somewhere else that is not part of the race."
Indeed, though most business owners within in the Sea to Sky corridor Pique spoke to reported having an uptick in business due to the event, some reported less favourable results.
Businesses in Pemberton, in particular, didn't see as much benefit as their cousins in Whistler. According to the economic impact study Pemberton saw just $140,000 in spending, supporting $212,000 of local economic activity.
"Last year the Sunday was completely dead here at the course and restaurant," said Kevin McLeod, general manager of the The Meadows at Pemberton golf course and The Black Squirrel Restaurant.
"I think it should be moved to October or early spring considering all of the other events — Slow Food, GranFondo, music festivals — that make it difficult for people to come up here."
McLeod said he is considering having a huge sale on golf and food to try attracting people to the course this year.
Other Pemberton businesses reported similar issues with race day.
"Last year the Ironman weekend was really slow for us," Nada Shureih, owner of Be Natural, a health food store and clinic, said by email.
"It brings people to the area, but I don't think they are really coming up here to shop, which is fine. I'm pretty sure I closed early and went to the beach, so it was a good day, just not for sales."
After last year's Ironman, Pemberton Councillor Alan LeBlanc expressed concern over how businesses fared during the event.
"I talked to 13 businesses and shops that were closed and seven businesses that were open, and the consensus was that they were at least two-thirds down in business," LeBlanc told council in September 2013.
LeBlanc estimated stores and restaurants lost $80,000 on the day, while the two golf courses lost $50,000.
In response to concerns expressed by Spud Valley businesses and residents, Ironman did tweak the Pemberton portion of the 180-kilometre cycling route. This year, as triathletes head northbound they'll take the roundabout and turn left onto Frontier Street, turn right onto Aster Street, then right on to Prospect Street before continuing down Pemberton Meadows Road. This should create more of an atmosphere in the town and inconvenience fewer residents and businesses.

MIKE CRANE COURTESY OF TOURISM WHISTLER - Waiting for the swim to start at Whistler's first Ironman event
Acting Pemberton mayor James Linklater said it is too soon to say if Ironman will benefit the village in the long run.
"Because it is year two we are still trying to figure that one out," he said.
"I think overall people see the opportunity, even if they don't know what that opportunity is, and the benefit to the overall community in exposure and PR and all that."
Linklater said he would like to see a tangible legacy of the event for Pemberton.
"I would love to see a bike lane paved all the way from Whistler to Meadows," he said, though he admitted that might be a bit of a pipe dream.
"If we can get the Friendship Trail (paved) between Pemberton and Mount Currie that might provide another alternative route, which would take the cyclists off the roads, not entirely, but certainly more so."
However, that doesn't look like it is in the cards for the village at the moment.
"Ironman is not in the road construction business," said Taylor, but added Ironman would advocate for such things on Pemberton's behalf.
Karen Ross, president of Pemberton and District Chamber of Commerce, admitted the reaction to the triathlon has been mixed, but believes overall, Pemberton benefits.
"It is that world-class event and the exposure is phenomenal, when you think in terms of going out and buying that kind of marketing," she said.
Tourism Whistler's vice president of marketing strategy, Louise Walker, agrees Ironman's biggest legacy will be the raised awareness of Whistler and the region as a great place to hold world-class events. This in turn, she said, will bring visitors and their wallets to the accommodations, shops and eateries of Whistler and beyond.
"Hopefully Ironman will stay around for many years to come," she said.
Whistler is set to host Ironman for at least another three years. Next year's race is scheduled for Sunday, July 26.
For more information on Whistler's Ironman go to www.whistler.com/events/ironman.