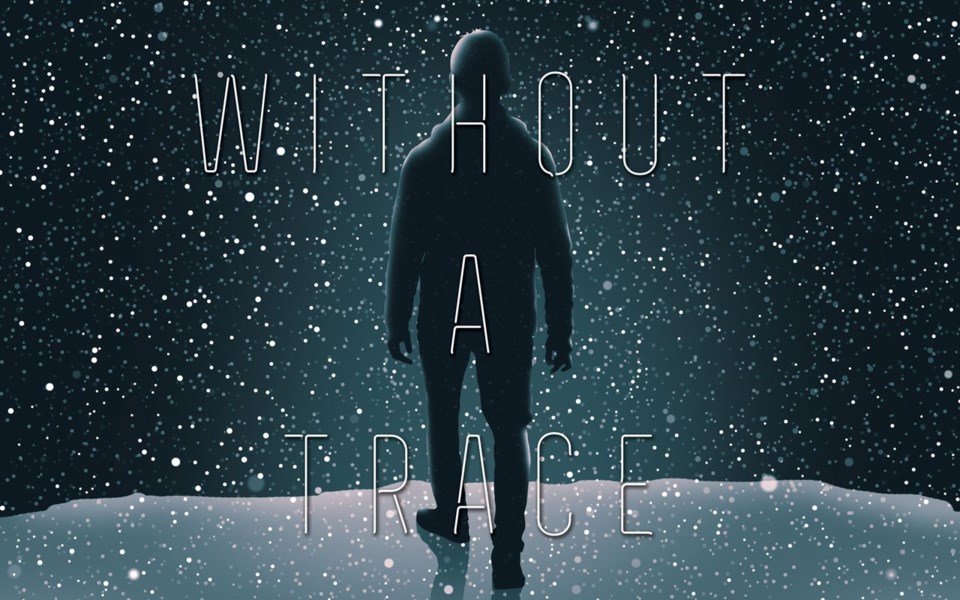 It's been a year since her son's disappearance as Heather Shtuka sits at the head of a dining table in a modern, post-and-beam cabin in Sun Peaks.
Friends and family—including her daughters, 18-year-old Jordyn and 13-year-old Julianna—surround the table and talk.
At various times in the day, everyone's attention turns to social media, to posts that eulogize Ryan's young life. One, from an ex-girlfriend, has everyone in tears.
The cabin is full of people, a mix of Kamloops and Sun Peaks residents, and friends from Beaumont, Alta., the Shtukas' hometown.
A group of Ryan's friends, some of whom are in town for the first time, play cards in the family room.
Almost everyone is wearing green—Ryan was born on St. Patrick's Day—and a bunch of people are wearing black hoodies, emblazoned with the hashtag #findryanshtuka and a friendly looking, long-necked green dinosaur.
Following Ryan's disappearance, the Shtukas spent five months in Sun Peaks, scouring the valley through the winter and spring in painstaking detail, looking in ditches, ravines and backyards for any trace of their son.
Since leaving in June, they've returned to Sun Peaks every month since, and have publicly vowed to keep looking until he's found.
While there are moments of unspeakable sadness, there is also a good deal of laughter as people recall happy memories of Ryan and joke amongst each other.
This particular weekend, Heather explains to me, is about creating new memories. "I feel like if we didn't do this ... then this whole weekend will always be burned into our minds as the worst."
Yesterday, Sun Peaks Resort—Ryan's employer at the time he went missing—organized a group ski in his memory. Around 100 people, including resort staff and members of Ryan's family, gathered at the top of a green run just off the Sunburst chair.
Green flags were distributed, and everyone skied down together as the sun broke through the clouds for the first time that day.
Later that night, family and friends visited a community hockey rink, where they skated under the lights and sat around a propane fire.
Heather will try her hand at snowboarding on the trip. Her friend, Nancy, tumbles on the ice. Kids laugh and dance in the snow. She knows these new memories will never erase the horrific ones of her son's disappearance, but they serve an important purpose nonetheless.
"It doesn't balance it out, but it won't be just one tragic memory," she says. "There will be a collage of them."
The mysterious disappearance of Ryan continues to haunt Sun Peaks, and in the absence of any significant clues, theories abound as to what may have happened on that fateful night in February 2018.
Yet despite the challenges and the unimaginable pain they must be feeling, the Shtukas—and the lifelong friends they have forged in the last year—continue to search for their son.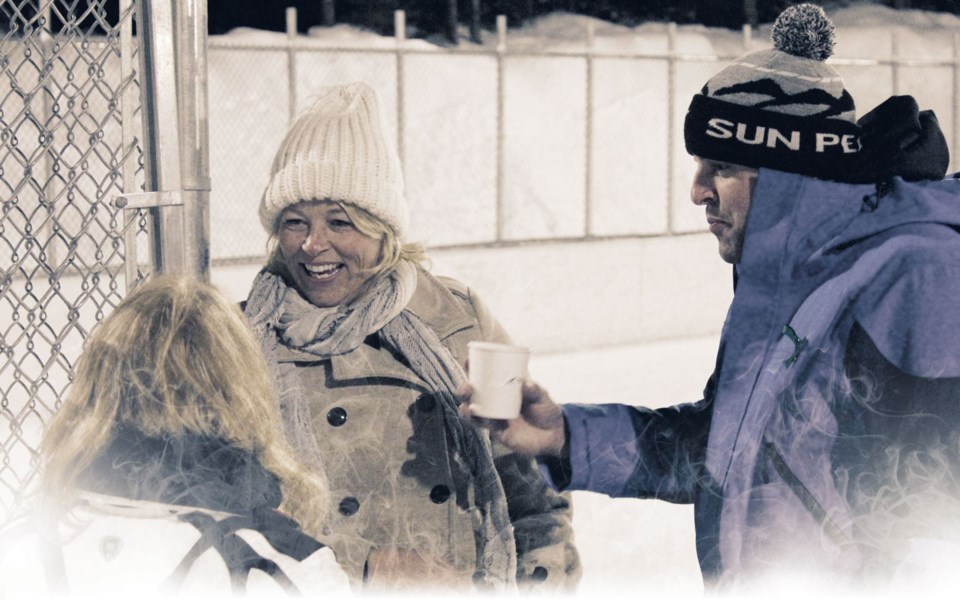 Settling in
In the winter of 2017-2018, Ryan Shtuka was settling into the comfortable rhythms of ski-town life, snowboarding as much as he could, hanging out with new friends, and working a relaxed job in the resort's tube park, where kids bomb through a series of banked turns in inflatable tubes.
Ryan had moved into a cabin with five other people in an older part of Sun Peaks, near the entrance to the resort. Ryan shared a small room ("no bigger than a closet," according to Heather) with James Maxwell, whom he knew from high school, and soon made friends with his other roommates, including Chris Feeney, a 31-year old Australian, who shared his passion for rugby and ribbing his friends.
Ryan had grown up riding his local Alberta hill, and appeared to have been living out his dream in a B.C. resort known for champagne powder and short lift lines.
At one point shortly before his disappearance, he texted his father, Scott, boasting that he had been boarding for "36 days straight" and had just landed his first backflip.
Ryan was two years removed from high school, having spent a year working for his father's commercial construction business in Edmonton followed by a year of post-secondary education.
It was a year meant for fun and adventure, the kind of youthful sojourn that is so common among 20-somethings looking to find themselves.
While they supported the move, Ryan's decision to relocate to Sun Peaks had caught those closest to him off guard. To them, it was a bold decision that seemed a bit uncharacteristic.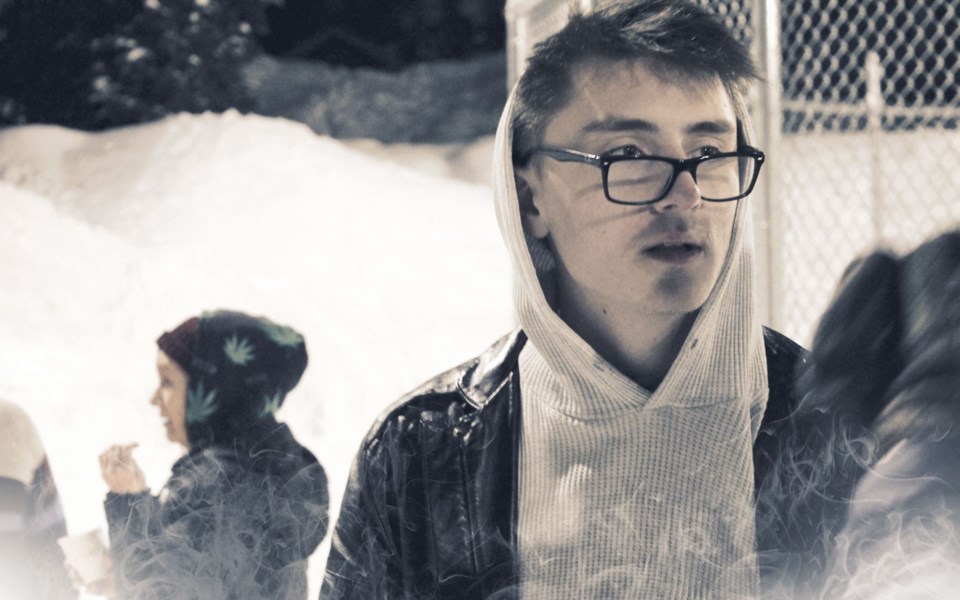 "It was nice to see he found something," says Danny Perrault, one of Ryan's closest friends. "He just decided, like, 'Hey, this is what I want to do right now,' and he just did it."
Perrault, who speaks thoughtfully with a slight French accent, learned to snowboard with Ryan, and the two stayed in touch over the years, even after Perrault moved to Saskatchewan at the age of 10. "Normally, a friendship would probably have faded away, but we would always be playing Xbox (online) when he was gone, and that's kind of how we maintained our friendship," he says.
Before moving West, Ryan asked his friend to join him in Sun Peaks, but the move didn't make sense for Perrrault, who had recently started working at his brother's electrical business.
Ryan's disappearance has affected Perrault deeply. On his left forearm, he has a four-leaf clover tattoo inscribed with Ryan's birthday. After his friend's disappearance, he upended his life to move to Sun Peaks and assist with the search. He refers to the Shtukas as second parents.
"It's something that I really appreciate, too, that even through all of this tragedy, I was able to build new relationships with people who were already there in my life," Perrault explains.
Perrault describes Ryan as shy, but says, once you got to know him, he could be "a bit of a shithead" who was quick to "rip on you."
"I don't remember any times with Ryan when we weren't just laughing away," he reflects. "We'd just always be having fun."
A tragic night out
It was Feb. 16, 2018, and Ryan is at a silent disco party at Bottoms, a quintessential ski bar with a pool table in one corner and a flurry of stickers all over the fridges.
He jams along with dozens of other 20-something seasonal workers, listening to music over headphones that allow them to toggle between two DJs playing different sets.
That night, Ryan—along with Maxwell, Feeney, and others from the bar—go to an afterparty at a house on Burfield Drive, a 15-minute walk from Ryan's home.
It is a frigidly cold night, dipping to -20 Celsius. Later that night, nearly 20 centimetres of snow will fall—an uncharacteristically large dump for Sun Peaks.
People filter in and out of the party; Heather estimates between 30 and 50 people could have been there over the course of the night.
Maxwell is the first of his friends to leave, followed by Feeney and his girlfriend, who depart the house sometime between 1:30 and 2 a.m. Heather said that Ryan gestured he was going to leave with them, but never did.
"(Ryan's friends) stood up and said, 'OK, we're going,' and (Ryan) stood up ... and looked like he was going to put on his coat," explains Heather.
"And (the friends) continued out, and that's ... the mystery, I suppose. Nobody can really remember him staying afterwards. Nobody remembers him saying, 'Hey, I'm leaving ... and yet, when (his friends) looked behind them at some point, he was not there."
Heather doesn't blame them for leaving without Ryan. "I think they were like, 'OK, maybe he thought to stay. And I think their thoughts would have been different if he had said, 'I'm coming with you.'"
Ryan is thought to have left shortly after, but no one can remember seeing him leave, according to Heather.
When Ryan doesn't make his shift the next day, his supervisor contacts one of his roommates, and, as concern grows, they post on the resort's community Facebook page.
Later, they call the local hospital, which advises them to notify the police.
After that, Maxwell texts Heather, who is at home with the family, to tell her that they have filed a missing persons report and that someone from the RCMP may be in touch.
That text, Heather says, marked a dramatic turning point in their lives.
"Last year, our lives were what our lives were," she says. "It wasn't as though we didn't have issues or problems or worries.
"And then you get this text and your life completely changes," she continues. "From that point, our lives have been overwhelmed with sadness and tragedy and torment, because I don't know where he is, and I don't know what's happened to him."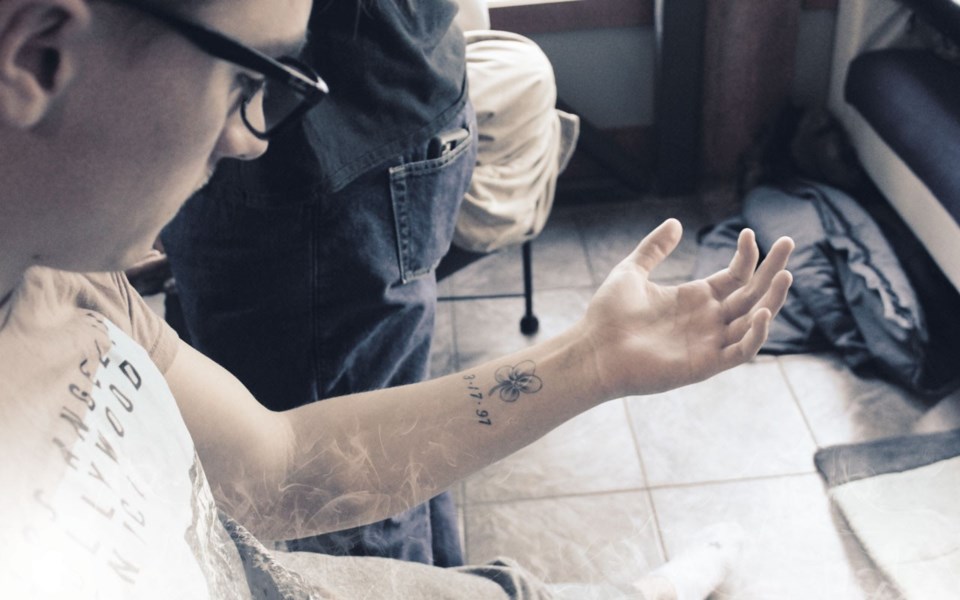 A drive from hell
Heather knows something is wrong; Ryan had always been a responsible kid, never one to miss a shift. It didn't make sense; Ryan wasn't aggressive. He didn't have a drug problem.
Frantic, she looks at her phone and realizes that the message she'd texted him that morning—"Good morning, Lovebug"—hadn't been delivered to his phone.
That night, she and Scott drive from Beaumont to Sun Peaks. During the nine-hour trip, she pleads out loud for his safety.
She wonders if he might have gotten turned around and lost. "That," she says, "was the only thing that could possibly make sense to us."
In the morning, Heather meets with Kamloops Search and Rescue (KSAR), which tells her that given the amount of time that had passed and the alcohol Ryan could have consumed, the chance of finding him alive was "slim to none."
Members of the KSAR would spend 15 hours searching for Ryan that day, a comprehensive effort that included dog and drone teams. In association with members of neighbouring search-and-rescue teams, KSAR members would return on five other occasions between February and May, as well as number of other times with specialty teams. "In total, KSAR members alone put in more than 1,025 hours over the course of the search," says Jennifer Stahn, media coordinator with KSAR, in an email.
At the end of that initial grueling day of searching, a member of the search party tells Heather there is a chance that Ryan is in a garage or shed, a possibility that fills her with hope she might find her son. "They did tell us ... that just because they couldn't find him, doesn't mean he couldn't be in a shed, an outbuilding, or a basement," she says.
What happened next is etched in Heather's mind: A search-and-rescue team manager, she says, told her and Scott that they had "done all the tasks that have been assigned to us from the RCMP, and until there is some new information, or the RCMP call us out again, we will not be coming back."
Though unable to comment on the specifics of any private conversations with Ryan's family, Stahn shared that the province's search-and-rescue teams operate at the discretion of "tasking agencies" such as the RCMP. "It is true we (could not) go out again until RCMP (asked) us to," explains Strahn in an email. "The RCMP continues to investigate (the case) and our SAR manager is in contact with them, ready to call our team out again if and when RCMP request it."
Heather, who has been up for 36 hours straight at this point, doesn't believe what she is hearing. And though she is grateful for all of KSAR's efforts, it was clearly a difficult moment for her. "I'm like, 'OK, so I will see you tomorrow?'" she recalls.
On top of that, Heather learns that the RCMP constable who was handling the case would be returning to Kamloops.
The next day—with fear that Ryan might be trapped somewhere—Heather, along with Scott and five friends from Beaumont, renew their search.
Over the course of the next five months, over 1,000 volunteers will pitch in, moved by the Shtukas' loss. A grassroots, independent campaign emerges, with the team learning searching techniques on the go. The couple doesn't leave Sun Peaks until the start of summer. "Every single day, Ryan was searched for," says Heather. "We never took a day off."
Ryan's mom quickly becomes the face of the search, granting multiple interviews with media on the disappearance and efforts to find her son.
On Facebook, she expresses the agony that only a mother who has lost a child can understand, the torture of not knowing Ryan's whereabouts. Like in this post, from less than a month after Ryan went missing:
I lie awake incredibly aware that we haven't located him. Did we do enough? Did we somehow miss him? Does someone, after 3 long weeks, have knowledge that places him somewhere else?
And in between the morning and the night is the waiting and the planning and the second guesses.
I don't know if what we are doing is right....but I don't know how to do it any other way.
The dogs did not find my son today.
And now I have to uncurl myself from this dark, dark place and find the strength to do this again tomorrow.
Insane.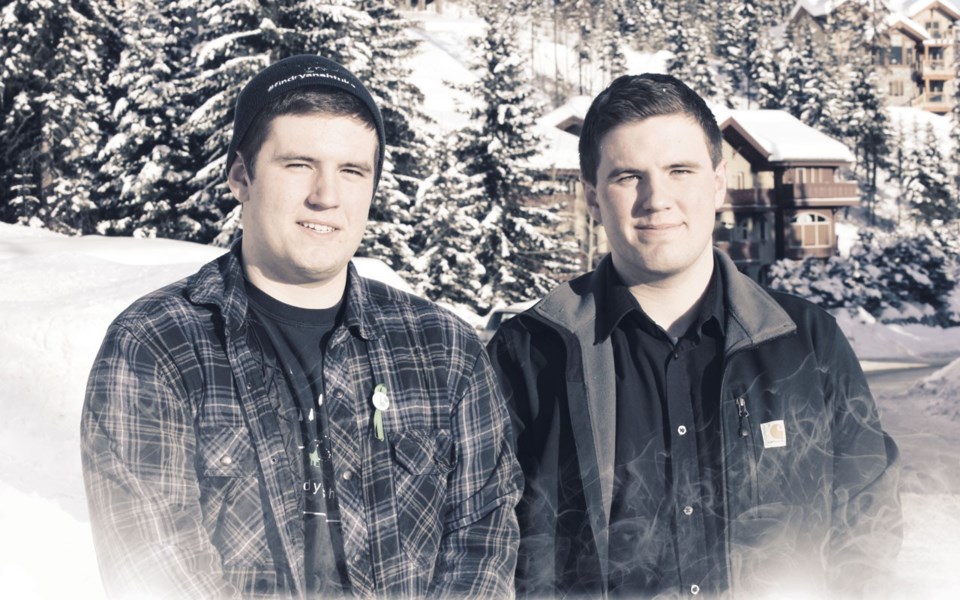 A group effort
The volunteerism that Ryan's disappearance has inspired has been nothing short of astonishing.
A GoFundMe campaign, set up by friends of the family eight weeks into the ordeal, has so far raised $95,000, money used to fund the family's living expenses, in Sun Peaks and back in Beaumont. The donations have also paid for billboards and flyers, a private investigator and a $15,000 reward for "any information leading to the location of Ryan."
In the early days, the searchers were unpracticed, with people using ski poles to probe areas they felt Ryan was most likely to be found.
Eventually, Sun Peaks local Jerry Tremblay comes onboard to help organize the search in a more systematic way. He helps develop training modules for volunteers and organizes the valley into discreet swaths that are thoroughly searched and then ticked off.
"At least, we could say, 'OK, that's done,'" he explains. "What I wanted to see, at the end of the day, was that (the volunteers) would feel effective in the search, because that was going to bring them out the next day or the next weekend."
Tremblay is impressed by volunteers' dedication, by the busloads of people who come from Kamloops and beyond to work in often cold, difficult conditions.
Among the most dedicated volunteers are two 16-year old twins from Kamloops, Colby and Gregory Griffiths. Exuding a maturity beyond their years, the two spend all of their weekends and Spring Break searching for Ryan, and continue to help the Shtukas whenever needed.
Tremblay quickly recognizes the boys' leadership skills and has them train some of the new volunteers.
"It put me in an awkward situation, telling 50-year-olds how to (properly search)," recalls Gregory. "You know, getting brought up, it was always 'Respect your elders' and all that."
When I speak with them, the boys explain that once they got involved, they became deeply invested in the search and grew close to the family. There are too many questions left unanswered for them to give up, particularly after the snow melts in the spring and Ryan still hadn't been recovered.
Even still, the boys say they have received a certain level of pushback, with some—even friends—suggesting they are "wasting (their) time at this point."
"What I keep saying to them is, 'What choices do I have?'" says Colby. "What do I have left to do? Are you just going to go home and mope about it?
"No, you are going to go out there and do what you can, and what you can do is search this mountain."
The Shtukas' story has captured the public imagination in a profound way. Heather's advocacy has given people a sense of Ryan's personality and how much he is missed, fleshing him into a three-dimensional character rather than just a headline in the news.
And in the absence of major evidence or credible theories, the public has been left to come up with their own theories, no mater how outlandish, especially after the snow melted and he still hadn't been found.
A friendly, likable young man attends a party on a night like any other and vanishes just minutes from his home. It feels like the kind of unimaginable nightmare that could have happened to any family.
"I feel so fortunate that with my kids, nothing has happened to them," says Tremblay. "I couldn't even imagine the grief (the Shtukas) go through."
An active investigation
The RCMP, so far, has been tightlipped about Ryan's disappearance. Investigators say they still don't have a theory as to what happened.
Since Ryan's disappearance, there has been significant turnover in the Kamloops RCMP, which has had two different superintendents and four different staff sergeants in charge of the rural detachment responsible for the Sun Peaks area.
That, says Heather, has been challenging, as she's had to reintroduce the case to new investigators several times.
During their press conference almost a year to the day after Ryan went missing, Kamloops RCMP stressed that the disappearance is an ongoing investigation and encouraged the public to come forward with anything they may know.
"We are receiving tips weekly, and are investigating all of them," says Cpl. Jodi Shelkie.
"At this time, we have no evidence leading us to believe that Ryan left Sun Peaks on that evening ... We know there has been a lot of speculation in the community of Sun Peaks and in Kamloops. All information has been received by Kamloops RCMP."
A true crime story
We live in a moment where true-crime stories have never been more popular, and Ryan's mysterious disappearance is no exception, drawing attention from around the world.
A documentary crew is currently working on a film about the disappearance, and Heather has amiably accepted numerous interviews, articulating the series of events that led her to this moment with remarkable candour and eloquence.
The case, Heather admits, has all the hallmarks of a crime movie. "As long as Charlize Theron plays me, I'm okay with it," she says during a lighter moment.
What happened to Ryan—how a six-foot tall, 180-pound guy could simply vanish with seemingly no trace—has been the subject of major speculation, only made worse by an RCMP force that has not ruled out any possibilities.
For a while, armchair sleuths would post their theories directly to Heather's Facebook page. (She eventually put an end to it in coordination with the administrators of her public Facebook page.)
The deluge of unsolicited theories have, at times, seemed ripped out of the script of a half-baked Hollywood plot, like the theory that Ryan was sold into the sex trade, that he was drugged and abducted.
"I get messages all the time," Heather says. "I still get messages."
For Feeney—the Australian friend Ryan went to the party with—the attention took on a negative tone. "I've definitely had some death threats, threats to turn me into the police, even people saying that they have a video of me doing something," he says in an interview with the Sun Peaks Independent News.
But the Shtukas have it even worse, he adds. "(Ryan's) two younger sisters are the nicest girls, and they are a loving family, they should not have to read stuff like that."
The speculation, says Heather, has been further fuelled by a January 2019 CBC article and radio documentary on the case. It reported that a Sun Peaks resident, Jim Reid, was awoken in the middle of the night by an "unusual interaction" and heard a person yelling at someone to "get in the car, get in the fucking car."
While Heather doesn't rule out the possibility it was Ryan, she says she hasn't seen any corroborating evidence that places him near Reid's home, which is about 20 minutes away from the party house—in the opposite direction from where Ryan lived. This information, she says, should have been included in CBC's reporting.
"No evidence puts Ryan there; everything puts him down in Burfield," Heather says.
"If you listen to the (documentary), it was really just to sensationalize (the story) and cause speculation."
There are a million theories and in the end, Heather says, only one will prove true.
Within the search's inner circle, there are diverging ideas on what could have happened. One person tells me he feels the whole thing is "too clean," and that, to him, suggests foul play.
Another voices what seems to be the predominant theory among Sun Peaks residents: that Ryan was walking towards the village, perhaps to get a bite to eat post-party, and was struck by a drunk driver. In a panic, the driver disposed of the body, or so the theory goes.
"Could he have been hit by a drunk driver? Yes," says Heather. "But there should have been evidence." Sun Peaks, she adds, is located in a quiet valley—and sound travels. "So how did somebody not hear something?"
"Was he targeted? That makes no sense at all," she says, adding that Ryan wasn't the confrontational type.
Heather tries not to let the conjecture overwhelm her. She doesn't want to be consumed by dark thoughts. She has two kids to raise and wants to give them as normal of an upbringing as possible.
"I don't want their lives to be changed," she says. "I don't want to project my fears on them and keep them from doing the things they need to do. Those are the reasons I don't want to live in (the) reality of speculation.'"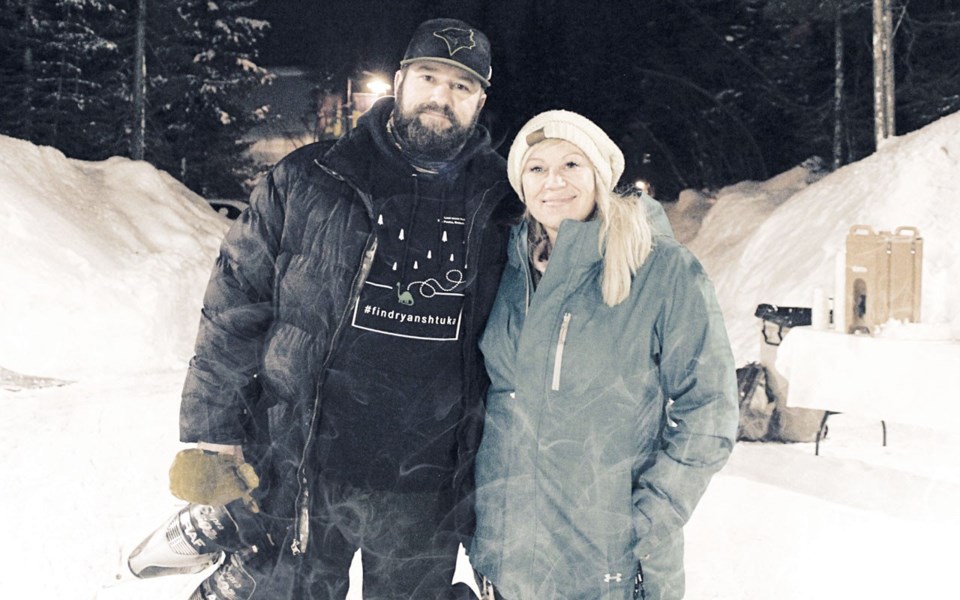 Missing but not forgotten
On Feb. 17, 2019, the group amasses outside a popular café in the Sun Peaks village.
People light candles and use plastic cups, with holes cut into the bottoms, to shield them from the wind.
The group walks around the village, ending near a clock tower that stands not far from the tube park where Ryan worked.
Standing at a lectern, Ryan's father, Scott, a hulking man who spent much of the search using a backhoe to search through snow banks, recalls a a letter he'd recently found from the time he and his wife spent living in the Sun Peaks. It read: "Love never gives up."
"That was kind of the theme over this weekend, was that love doesn't give up, and we'll never give up," he says. "And Ryan, he knows that."
Then, Heather, wearing a black, three-quarter length puffy jacket and grey sweater, takes a moment to imagine what Ryan might have thought of the scene before her.
He never loved the spotlight, she says, but he would have been amazed by "a collective group of people who have embraced kindness because he inspires them."
As for the green, long-necked dinosaur emblazoned on the clothing and hats that family and friends proudly wear, Ryan would have been "mortified."
"It was something he loved as a child"— and is perhaps "not exactly a young man's ideal representation," she says with a smile.
"But I think it's fitting," she adds. "Dinosaurs lived a million years ago, and yet we still remember them. That, too, will be your legacy, Ryan."