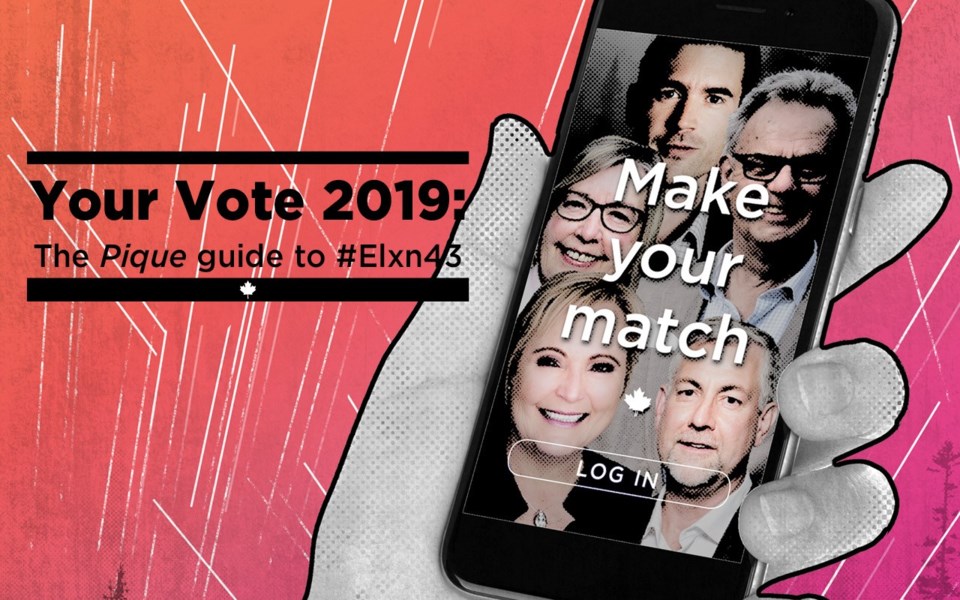 If you're reading this, it means two things: we both survived Canada's 43rd election campaign, and you're still undecided on who's going to get your vote on Oct. 21 (or you just really, really enjoy reading political coverage—we can get behind that).
And what a campaign it was.
Beginning as what could generously be described as a boring election, the campaign exploded into international controversy as old photos surfaced of Prime Minister Justin Trudeau wearing blackface on at least three separate occasions.
The Liberals didn't lose much traction in the polls over the incident (telling, or no?), and a week later the world's focus was on climate change, and the millions marching to protest government inaction.
In Canada, nearly a million people took to the streets to protest. Vancouver counted about 80,000, while Whistler's march hosted hundreds in the rain.
Trudeau marched in Montreal (seemingly oblivious to the fact that the march was protesting him?), alongside the Green Party's Elizabeth May, while the NDP's Jagmeet Singh marched in Victoria.
Conservative leader Andrew Scheer didn't march, but instead announced he would make roads wider to fight climate change and then had a pizza party in Richmond (as Trudeau learned just one week earlier, bad optics are bad optics).
But, like Trudeau, the climate march snub didn't appear to have too much impact on the Conservative Party's poll numbers (telling, or no?).
As with any election, there was also lots of talk about affordability and the economy, and "putting more money back in your pocket" (see page 44 for more on each party's national platforms).
Trudeau paddled a canoe, and said he wants to send you camping.
Scheer refused to apologize for his 2005 comments comparing the idea of same-sex marriage to counting a dog's tail as one of its legs, and was caught lying on his resume about being an insurance broker (and also about being a dual American citizen).
Singh said he hopes President Donald Trump gets impeached, and promised to build a hospital in Ontario even though building hospitals is a provincial responsibility.
May Photoshopped a reusable cup and metal straw into an innocuous photo, for some reason.
The People's Party's Maxime Bernier pledged to do nothing on climate change.
And now we're here.
The best part of any election campaign.
The end.
Before casting your ballot on the back of a campaign promise, it's good to remember these promises are easily broken—the Liberal guarantee four years ago that 2015 would be the last Canadian election to use First Past the Post is only Exhibit A of a veritable alphabet of lies.
To help all of you undecided voters make your choice at the polls, Pique put three questions to each candidate, giving them roughly 150 words to answer each: If elected, what are you going to do to help Whistler cope with climate change, help Whistler's economy, and make life more affordable for Whistlerites?
Read on for their answers, which have been lightly edited for spelling and grammar and are presented in order of party seat count in the House of Commons.
-Braden Dupuis
Patrick Weiler
LIBERAL PARTY
During his first official meet and greet in Whistler at Caramba on Sept. 20, Liberal candidate Patrick Weiler made a good impression on at least one local.
"I like him!" a woman gushed, staring intently into my eyes, after a short conversation with Weiler.
"He's smart!"
Sensing my suspicion at this seemingly random, yet oddly targeted exchange, Weiler's campaign manager jumped in to answer the obvious question.
"That's not a plant!" she said.
Thank goodness.
Judging from the reactions of other Liberal supporters at the event, the reaction was indeed genuine, and not a one-off.
Longtime local entrepreneur and philanthropist Sue Adams threw her support behind Weiler, and encouraged others to do the same.
The 33-year-old environmental and resource management lawyer has big shoes to fill, running in place of outgoing MP Pamela Goldsmith-Jones—but he seems eager to do the work despite his relative lack of political experience.
"If I'm elected, I will be a very strong advocate for Whistler, for the tourism industry, to make sure that it continues to be a strong driver of growth, " he said.
"And I'll be there to meet with communities and businesses to make sure that it's the thriving industry that it is today."
If elected, what are you going to do to help Whistler cope with climate change?
The best way to help Whistler cope with climate change is to continue to take real action to fight climate change while taking action to adapt to our already changing climate. Over the last four years, the Liberal government has done more to fight climate change than any other government in Canadian history. And if elected, I will push to do all that I can to ensure we exceed our 2030 emission reduction targets and are on track to be net-zero emissions by 2050.
I will fight for local investments in low- and zero-emissions infrastructure, such as charging stations, public transit and school buses. I am also committed to working with other levels of government to find more options for zero-emission transportation between population centres in the Sea to Sky corridor.
While we work to mitigate the effects of climate change, we also need to prepare for more extreme weather, which will require adaption. I'll work hard so that Whistler receives the necessary federal investments to be resilient in these changes.
If elected, what will you do to help Whistler's economy?
Tourism in Whistler is a major driver of our economy in B.C. and it's important that we continue to support it through a variety of measures. Through the $100-million Tourism Community Infrastructure Fund in our platform, I'll work to make sure Whistler has the proper support to continuing thriving.
By collaborating with the business community and local government, I would like to develop a pilot project that can address the specific issues and opportunities that we have here in tourism-based resort municipalities like Whistler. My goal is to address affordability and labour-shortage challenges so jobs can be filled quickly and people have a place to call home.
If elected, how will you make life more affordable for Whistlerites?
Whistler is one of the most expensive places in Canada outside of a major city centre, and that's one of the reasons it's so important we address affordability issues here. In July, we announced a $7.3-million investment for a new 24-unit staff housing project in Whistler. If elected, I'll work with the Whistler Housing Authority and other partners to advocate for more projects like this that help alleviate pressure on the housing market and provide more affordable places for people to live locally.
I'll also work to create more before- and after-school childcare spaces in Whistler so families have access to the childcare they need.
As the seasons change, we're reminded of how much energy our homes use. That's why I'll make sure Whistlerites have access to $40,000 interest-free loans to retrofit their homes to make them more energy efficient.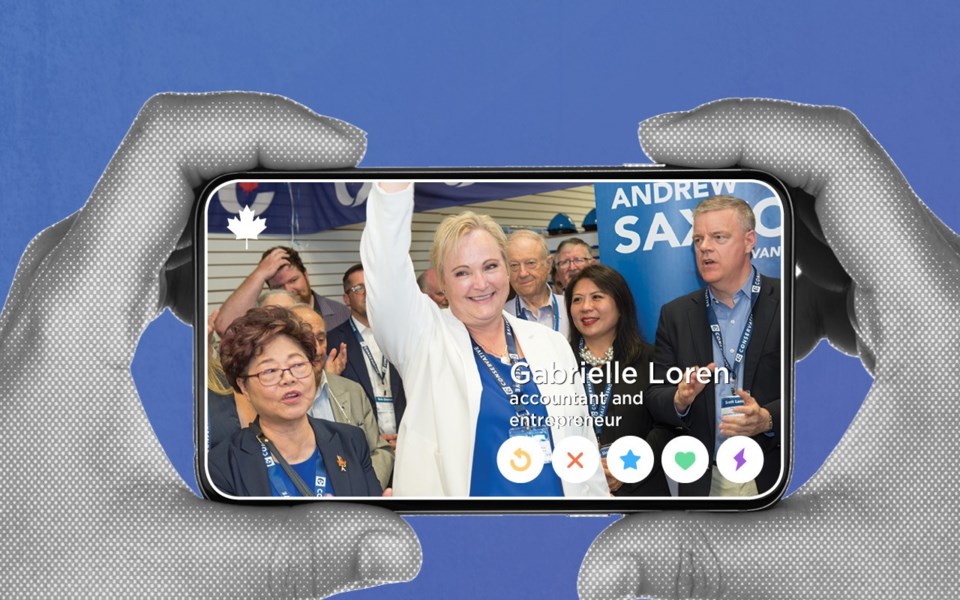 Gabrielle Loren
CONSERVATIVE PARTY
Whistler's council meetings are not the most well attended events on the schedule, so it's usually easy to pick out new faces.
Needless to say, Gabrielle Loren was instantly recognizable to this reporter in the second row at the Sept. 3 meeting.
She introduced herself and made some small talk, and I was able to flesh out her personality somewhat better than what I was able to discern from our two previous phone calls.
Loren—a longtime accountant and entrepreneur in West Vancouver—is friendly and personable, and while she's new to politics, appears ready to do her homework.
In Loren's eyes, collaboration is "the only way we're going to get anything done," she said.
"Nobody seems to realize that to get anything done in this country, we need the federal government, the provincial government, the regional districts, the municipalities all online, and it seems like we're spending so much time and effort fighting each other that nothing's going ahead," she said on Sept. 30.
"My favourite saying is that right now, it's like a bunch of kids in a sandbox throwing sand at each other, and I'd just like to sit them all down and go, 'now stop it!'"
If elected, what are you going to do to help Whistler cope with climate change?
All of the three questions are not mutually exclusive as part of an effective overall solution. In terms of the environment, I would work with the appropriate parties to investigate and advocate for technology and infrastructure that deals with the unique needs of Whistler. Pilot-proven green technology developed by Canadians, and other cold-weather communities and countries to reduce carbon emissions associated with cold-weather communities. Implement strategies used to reduce the negative impact of tourism; more vehicle electric charging stations; look at options for alternative mass transportation to Whistler to reduce individual car use; look at a community and tourist-friendly "education plan" that informs tourists to Whistler how each small change in behaviour positively affects the area.
If elected, what will you do to help Whistler's economy?
Sit down with all stakeholders in Whistler to get a clear understanding of what Whistlerites want, and then develop a clear plan for the economy; this needs to include all levels of government working together. As per Question No. 1, we need to focus on increasing tourism while minimizing the negative impact on the environment. I would meet with small businesses to find grassroots solutions; review the National Energy Corridor [the Conservatives' proposal to transport energy and resources from coast to coast] as it supports the economy and environment of Whistler; support innovative community economic initiatives. Work with all levels of government to streamline processes for business operations and reduce red tape.
If elected, how will you make life more affordable for Whistlerites?
Focus on housing shortages and create a workable plan among all levels of government: promote the use of federal lands to build a variety of housing—multi-use, rental, single-family. Advocate for a tax credit for purpose-built rentals. Promote and assist with available tax credits: Green Home, Universal Tax, Green Public Transit; Children's Fitness, and Arts & Learning as these credits will provide more money to families and individuals. Work with the community to develop comprehensive affordability initiatives that meet the needs of Whistler.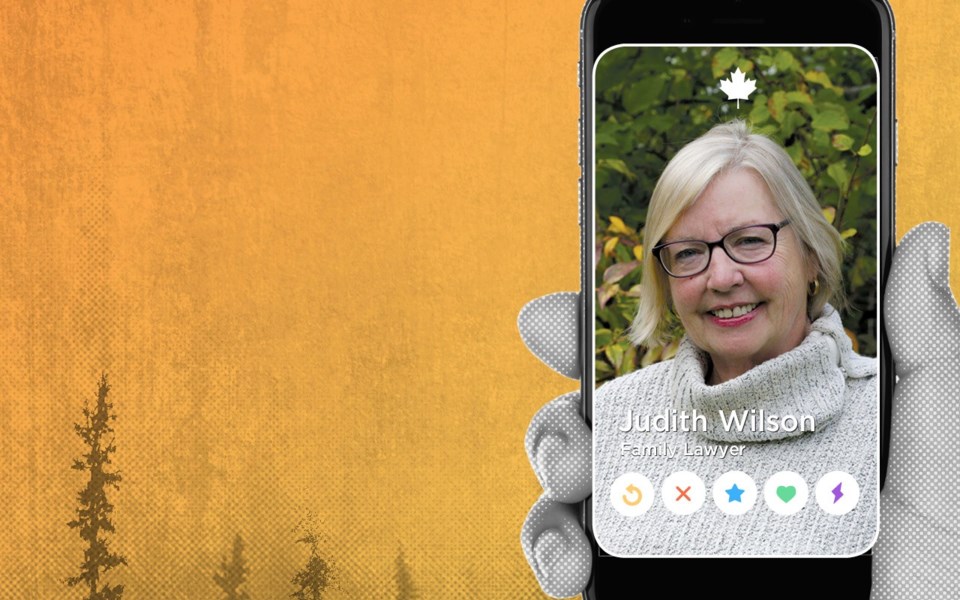 Judith Wilson
NDP
If you had to award a candidate for most low-key campaign, the NDP's Judith Wilson would win, hands down.
An also-ran in the riding during the 2006 campaign, Wilson became the NDP's 2019 candidate just a week before the cut-off, and only after two other potential candidates didn't pan out.
During the worldwide climate march on Sept. 27, a colleague asked if Wilson had a website, Facebook page or Twitter account—anything that might indicate what she was up to during the marches.
Hmm. There were none to speak of at the time, although Facebook and Twitter accounts were eventually created for the campaign just days after the march.
A longtime New Democrat and practicing family lawyer in Sechelt, Wilson is taking an earnest and straightforward approach to her campaign—she doesn't pretend to have all the answers, but she's eager to learn and ready to fight for the riding.
"[The candidates] don't have all the answers here," she told Pique on Oct. 1.
"The answers are really going to be in the community, and then what you need to have is a facilitator and a fighter. And I'm used to doing that."
If elected, what are you going to do to help Whistler cope with climate change?
The possible impacts on Whistler of the warming climate could represent significant challenges requiring the business community to adapt. The NDP will provide support [for the] mitigation of climate-change effects, and I would work with all the stakeholders to see that all the communities in this riding benefit from funds needed for adaptation. The nature of the adaptation will depend on the nature of impacts that can only be guessed at right now. I am still hopeful that the world will come together to meet the challenge of reducing emissions and if that happens, significant mitigation for climate change will not be required. I strongly believe we are all in this together and will need to work with municipal and local communities throughout the riding to meet targets for emission reductions and to meet the need to adapt to changes in our climate.
If elected, what will you do to help Whistler's economy?
I will assist homeowners to access retrofit programs to become more energy efficient, make sure that Whistler taps into the NDP's program to create 500,000 new affordable rental housing units, and work with local municipal politicians to enhance public transit. These are policies designed primarily to meet climate change head on and to address the lack of affordable housing, but the effect will be an economic boost to the community. Working to meet the commitments of the NDP's New Deal [the party's wide-ranging national platform] will be my focus. I will focus on the needs of people, because I believe that making people's lives better is the key to a better economy. This includes improvements to employment insurance rules to make the lives of the seasonal workforce less of a challenge and will make for a more stable workforce and a better economy.
If elected, how will you make life more affordable for Whistlerites?
As an NDP Member of Parliament, I will work hard to bring about changes in the way post-secondary education is funded, make sure that PharmaCare actually becomes a part of our system, and get rid of dental costs for those earning less than $70,000 per year. I will place very high on my priority list the things that really help in the affordability crunch and these include: changes to mortgage policies to allow for 30-year terms, building affordable housing units and providing rental subsidies right away for those who have rents consuming over 30 per cent of their gross income. Parents on the hook for funding education, as well as the students who currently borrow significant sums—if they can even afford to go to post-secondary education—will find life much more affordable when an NDP government gets rid of interest rates on student loans and moves, over time, towards an end to tuition-based post-secondary education.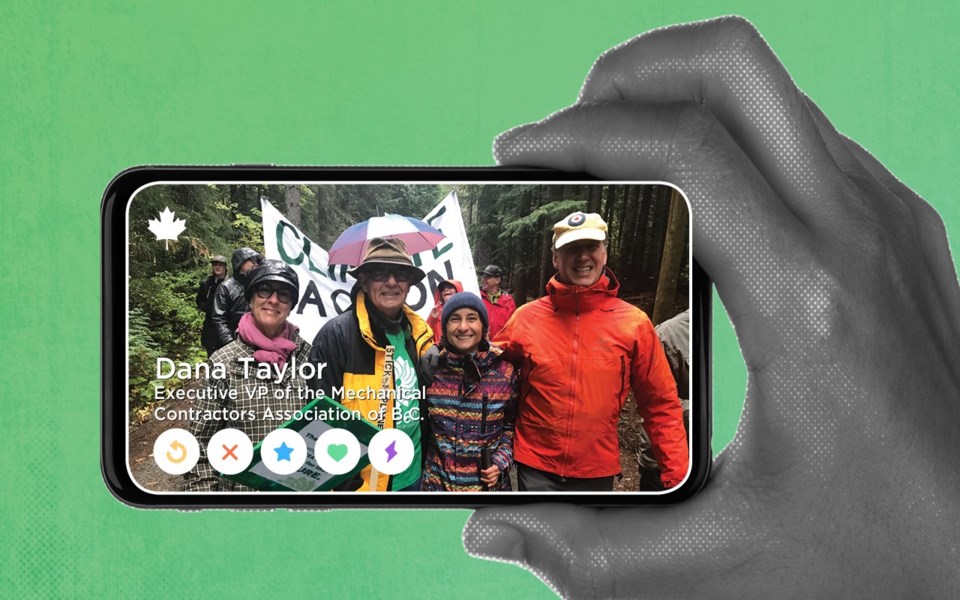 Dana Taylor
GREEN PARTY
The Green Party's Dana Taylor—a two-time North Vancouver city councillor and current executive vice-president of the Mechanical Contractors Association of B.C.—felt the love of the electorate on more than one occasion in the campaign.
Unsurprisingly, it may have been most prevalent during the climate strike march in Whistler on Sept. 27.
Taylor told the story of one young woman who stood in the rain waiting for him to finish a conversation before introducing herself.
"She waited and waited, and I could see her looking at me ... When the other people sort of dispersed, she walked up to me and she said, 'I just want to hug you,'" Taylor recalled with a laugh.
"It brought tears to my eyes, I tell ya. So I guess I'm getting some recognition in some quarters there."
Action on climate change is the Green Party's bread and butter, but it remains to be seen if the momentum of millions marching in the streets will carry forward to the ballot box.
Taylor said he has a favourite saying for young voters.
"I say, 'Go to the polls with your parents and make sure they vote for your future,'" he said.
"So where that lands, we'll find out."
If elected, what are you going to do to help Whistler cope with climate change?
Our region already experiences the impacts of climate change.
The Green Party of Canada pledges to significantly draw down carbon emissions by cutting subsidies for the fossil fuel industry, cancelling the TransMountain expansion—freeing up $13 billion—and redirecting those funds into renewable energy. We will implement a National Electric Grid Strategy that will transmit cheap, clean, renewable energy across the country.
We absolutely need to protect our natural ecosystems, which all life depends upon. The GPC will support residents and small business with a regional climate adaptation and renewable energy fund to help boost renewable energy solutions like [electric vehicle] infrastructure, plug-ins and energy-efficient retrofits for residential, commercial and industrial buildings. We'll also help small business owners convert to biodiesel for agriculture, fishing and forestry operations. And, we will map vulnerable flood, drought and fire zones, invest in long-term fire protection and restoration of affected forests and coastal areas.
If elected, what will you do to help Whistler's economy?
People come from around the world to live, work, learn and play in Whistler and the corridor. As a global destination and tourism leader, we need to protect the environment and support a stable workforce, local businesses, and increase affordable housing and transportation.
To ease mobility constraints and building maintenance costs, I will advocate for greater investment in green and affordable infrastructure like electric vehicles, buses and energy-efficient retrofits for buildings.
With partners, I will advocate for local education opportunities for our labour force with the Chamber of Commerce, Whistler Learning Centre and the Squamish Lil'Wat Cultural Centre. Investing in the arts and cultural tourism celebrates diversity and creativity and helps to shield against the negative impacts of a changing climate.
With better fire, flood and drought monitoring, we can protect our attractive wilderness and environment.
Finally, by supporting more daycare facilities and family services, local entrepreneurs, especially women, can thrive!
If elected, how will you make life more affordable for Whistlerites?
Low- and middle-income people living in Whistler and throughout the corridor are experiencing record challenges with affordability.
Increasing access to and supply of affordable housing is a priority. I and the Green Party of Canada will focus on increasing non-market and co-op housing and adjusting the mandate of the Canadian Mortgage and Housing Corporation to better serve multi-dwelling housing needs.
We will advocate for the establishment of a federal minimum wage of $15 hour to create a wage floor for every Canadian, including workers in our corridor.
I will advocate for improved investment and policy development that directly support healthcare services in communities in the Sea to Sky.
In partnership with governments, the Squamish and Lil'Wat First Nations, and local communities, I will advocate for more affordable childcare for all children. This will also support local entrepreneurs and workers thrive in their workplace and at home.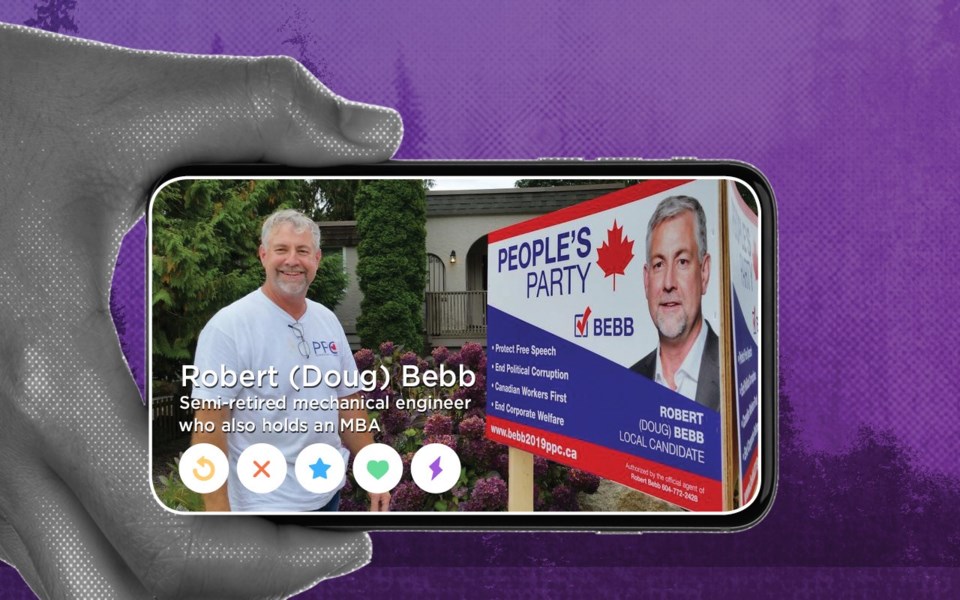 Robert (Doug) Bebb
PEOPLE'S PARTY
It takes a certain kind of conviction to walk into a room full of climate activists and tell them they're believing in fairy tales—but through the 2019 campaign, the People's Party's Robert (Doug) Bebb took every opportunity to do just that.
Sometimes he got laughed at; some people even hissed.
But Bebb stands behind his party's controversial message that there is, in fact, no climate emergency.
A semi-retired mechanical engineer who also holds an MBA, Bebb decided to run for the fledgling, far-right-leaning party due to his dissatisfaction with how things are going, both in Canada and around the world.
Does he ever get nervous taking his controversial message to the environmental masses?
"No, not really," he said.
"I'm not making stuff up. I'm reading official documents, peer-reviewed papers, all sorts of stuff that's out there. It's just not reported, and it should be reported.
"So, no. I don't feel any fear in speaking the truth."
In any crowd, there are independent thinkers, he posited—and generally speaking, he believes the crowd is wrong.
"I have no problem standing up on the basis of fact or what I read. I'm an intelligent guy ... and breaking with the crowd, it's not something I have difficulty doing," he said.
"I'm going to go to all these green debates and I'll say the same thing ... And if I get booed off the stage, I get booed off the stage."
If elected, what are you going to do to help Whistler cope with climate change?
Whistler does not need any help with climate change at this point in time. There is no climate emergency, so no rush to decision is required. This fact was made increasingly certain by the recent statement by Petteri Taalas, Secretary-General of the World Meteorological Organization (WMO). This was followed quickly by a letter written by 500 eminent scientists* to the United Nations stating categorically that there is no climate emergency (www.thegwpf.com/in-unprecedented-move-head-of-world-meteorological-organization-slams-climate-extremists/
https://clintel.nl/wp-content/uploads/2019/09/ecd-press-briefing.pdf).
The People's Party of Canada will closely monitor developments, while encouraging a free and open debate on climate change policy that will include all points of view. In the meantime, PPC policy is to fully protect the air we breathe, the water we drink, and the soil in which we grow our food.
[*Editor's Note: The letter Bebb refers to has been discredited by leading international environmental scientists for misrepresenting evidence of climate change and failing to support its own conclusions. Notably, only 10 of the signatories identify as climate scientists, with many being either engineers or professionals in non-technical fields.]
If elected, what will you do to help Whistler's economy?
People's Party policies are vetted on the basis of our four guiding principles: individual freedom, responsibility, fairness, and respect. The requirement of fairness precludes favouring one region or group over another.
For example, it is unfair to ask residents of British Columbia to pay taxes to fund rapid transit in Montreal, as part of a Liberal vote-buying scheme. Municipalities should be responsible for funding their own infrastructure.
A People's Party government will provide the same advantages to Whistler as it will to all other municipalities. The budget will be balanced in two years. After that task is accomplished, both corporate and personal income taxes will be lowered substantially. This will help all Canadians. Equal rights for all means special rights for none.
If elected, how will you make life more affordable for Whistlerites?
Affordability is comprised of two parts, personal income and the pricing of goods. Tax cuts for individuals will increase disposable income. Tax cuts for businesses will stimulate the economy and increase the supply of goods for purchase. This will increase affordability for all Canadians.
The issue of housing affordability in Whistler is somewhat unique. Housing supply has been artificially restricted in Whistler by municipal bylaws for decades. That is where real change needs to be made. Squamish is doing it and so can Whistler.
A People's Party government will respect the rights of provinces and municipalities to govern the way their populations desire, as expressed through local elections. The PPC will not interfere in local matters.
What the PPC can and will do is reduce immigration. This will relieve the price pressure on housing, reduce the wait times for medical services, and reduce overcrowding in our schools.
Also on the ballot
Voters will have seven official choices when they go to cast their ballot later this month.
Along with the above five candidates are independent Terry Grimwood and the Rhino Party's Gordon Jeffrey.
Grimwood is a 67-year-old Sechelt resident who founded his own party—the Canada Fresh Party.
"There's just so many issues that aren't being discussed, even at this election time. Nobody's talking about the north, nobody's concerned about balancing the budget. All the parties seem to be in lockstep with the status quo. In my opinion, they don't have any ideas," Grimwood said.
Rhino candidate Jeffrey, meanwhile, is a 32-year-old Whistlerite running for office for the first time under the parody party's banner.
"People are tired of the same two parties passing the ball back and forth, and no effective change coming about," he said.
"Corruption in politics ... that's one of the things that's been driving me. The more I get into things, the more research I do, the worse it seems. Pay for play, pay for access, is basically legal bribery and corruption, and it's got to go."
Read more about the two campaigns at canada-fresh.ca and partyrhino.ca/en/candidats/gordon-jeffrey-2/.
National platform highlights
Though Pique asked each candidate to provide their national party platform highlights under the topics of climate change/the environment, affordability and the economy, only the Liberal and Conservative candidates did so. The platform highlights included below for the NDP, Green Party and People's Party were taken from the parties' respective websites. Keep in mind these are only small glimpses into what each party is proposing—find the full party platforms on the websites provided.
LIBERALS:
2019.liberal.ca
CLIMATE CHANGE/ENVIRONMENT
Net-zero emissions by 2050 and five-year legally binding milestones.
Protecting 25 per cent of Canada's lands and oceans by 2025.
Plant 2 billion trees.
AFFORDABILITY
Increasing the Canada Child Benefit.
Reducing cellphone bills by 25 per cent.
Increases to the Canada Student Grants.
ECONOMY
50-per-cent tax cut for clean tech businesses.
$100-million investment in skills training to keep up with demand for energy audits, retrofits and net-zero home construction.

CONSERVATIVES:
conservative.ca
CLIMATE CHANGE/ENVIRONMENT
The Green Plan: A Real Plan for the Environment: Invest in emissions-reducing technology by emission exceeders; green investment standards to ensure that technology investment reduces emissions; Green Technology and Innovation Fund to support the development of Canadian green technology; energy-saving performance contracting for building green homes; increase availability and use of renewable fuels.
The National Energy Corridor project: minimize environmental impact; allow clean Canadian energy to be more widely distributed.
Additional tax credits to promote positive environmental changes: Green Home, Green Public Transit.
AFFORDABILITY
Taxes: remove Carbon tax and GST on home heating and energy costs; provide universal tax cut; make Maternity benefits tax-free.
Tax credits – Green Tax credit for: public transit, children's fitness and children's arts and learning tax credits, green home renovations.
Invest in Housing: work with provinces and municipalities to reduce regulatory barriers to new home construction so more homes can be built to lower prices; mortgage stress test to make it easier to save for a down payment; work with all levels of government to promote construction of multi-type housing.
ECONOMY
Small Business support measures : repeal tax increases on small business; make it easier to navigate the tax system and CRA; instigate red-tape reduction plans.
National Energy Corridor project : allow clean Canadian energy to be more widely distributed; allow smaller renewable power projects to become economically viable; work with Indigenous communities, provinces and regions on aspects of the corridor.
Reduction of taxes to provide more money for consumer spending and business development, putting more money in your pocket.
GREEN PARTY:
greenparty.ca
CLIMATE CHANGE/ENVIRONMENT
Mission Possible: new Climate Change Act legislation requiring a 60-per-cent cut in climate-changing emissions below 2005 levels by 2030, reaching net zero in 2050.
Establish a cross-party inner cabinet with a mandate to "ensure that Canada does its part to limit global warming to a level civilization can survive, and mitigate the impacts of climate change on Canadians."
Set legal emissions limits for industries that decline over time, with penalties for exceeding those limits.
Maintain a broad-based, revenue-neutral carbon fee on all sources of carbon dioxide pollution. Revenues from the carbon fee would be returned to Canadians as a dividend.
AFFORDABILITY
Establish a Guaranteed Livable Income to provide basic income security
Establish an arm's length Federal Tax Commission to analyze the tax system for fairness and accessibility, based on the principle of progressive taxation.
Close tax loopholes that benefit the wealthy.
Legislate housing as a legally protected fundamental human right for all Canadians and permanent residents.
Free college and university tuition for Canadians
ECONOMY
Transitioning to a green economy that:
Measures well-being, rather than gross domestic product, as a sign of progress.
Embeds "conserver society" values rather than consumer society values.
Powered by renewable energy.
Designed around closed-loop production systems.
Organized for zero waste generation.
Organized for local food security.
Guarantees everyone a livable income.
Provides affordable housing for everyone.
Provides universal comprehensive healthcare and education.
Protects minorities from discrimination.
Ensures gender equality.
Builds community resilience and self-reliance.
Ensures fair taxation and fiscal stewardship.
NDP:
ndp.ca
CLIMATE CHANGE/ENVIRONMENT
Stopping fossil fuel subsidies and reinvesting in renewables, creating 300,000 jobs in clean tech.
Making all new buildings energy efficient by 2030, and retrofitting existing buildings by 2050.
Moving to 100-per-cent electric (and free public transit).
Supporting local climate governments and Indigenous communities on climate action.
Banning single-use plastic.
Make it easier to buy zero-emission vehicles; build a network of charging stations.
AFFORDABILITY
PharmaCare for all
Create 500,000 units of affordable housing in the next 10 years.
Working with the provinces and territories to cap and reduce tuition fees and building towards making post-secondary education part of our public education system.
Investing $1 billion in childcare in 2020.
ECONOMY
Expand training options, including requiring employers to spend at least one per cent of payroll on training.
Increase the capital gains inclusion rate to 75 per cent, boost the top marginal tax rate and add a new one-per-cent wealth tax on wealth over $20 million.
Fully protecting supply management and ensuring reciprocity in all trade negotiations.
CLIMATE CHANGE/ENVIRONMENT
Withdraw from the Paris Accord and abandon greenhouse gas emission reduction targets.
Abolish the carbon tax.
Abolish subsidies for green technology.
Invest in adaptation strategies.
Prioritize implementing practical solutions to make Canada's air, water and soil cleaner, including bringing clean drinking water to remote First Nations communities.
AFFORDABILITY
Cut personal income taxes (after the deficit has been eliminated in two years through spending cuts and fiscal prudence)—"The objective will be to lower taxes for all Canadians by raising the basic personal exemption to $15,000 (from $12,069 in 2019) and reducing the number of tax brackets from five to two, with incomes from $15,001 to $100,000 taxed at 15 per cent, and income over $100,000 taxed at 25 per cent.
Phase out supply management to create a free, open and fair system that will save Canadians billions.
ECONOMY
Eliminate corporate subsidies.
Gradually reduce corporate income tax rate to 10 per cent.
Gradually abolish capital gains tax.
Approve pipelines using a streamlined process.
Find a private buyer for Trans Mountain.
VOTING: WHAT YOU NEED TO KNOW
Voting day is Monday, Oct. 21, from 7 a.m. to 7 p.m.
To vote, you must be 18 years or older on election day.
You must be registered to vote. To register, go to www.elections.ca. You may also register in person before you vote on election day.
Once registered, do not allow anyone to offer you false information or otherwise dissuade you from voting.
If you receive information you believe to be intentionally misleading or malicious, file a complaint with Elections Canada as soon as possible.
Your postal code determines where you vote (most will vote at the Whistler Conference Centre, for example, while Cheakamus residents will vote at the Athlete's Centre). Check your voter information card or head to elections.ca to find yours.
Unlike in provincial elections, you must go to the polling station assigned to you.
When you get to the polling station you'll be asked to prove your identity and residential address.
There are three options to do so before voting:
Show your driver's licence, provincial ID card or any other government card with your photo, name and current address.
Show two other pieces of ID, one of which must have your current address (a complete list of accepted forms of ID can be found at www.elections.ca.)
If your ID does not have your current address, you can show two pieces of ID with your name, and take an oath in the presence of someone who can vouch for your address.
You are legally entitled to three consecutive hours away from work to vote.
If you have any questions, call Elections Canada at 1-800-463-6868 or visit www.elections.ca.
For more of Pique's election coverage, visit piquenewsmagazine.com/whistler/ArticleArchives?tag=Election2019.