Metro Vancouver for the first time has two professional soccer teams, with upstart Vancouver FC launching in the eight-team Canadian Premier League (CPL) this spring.
Despite being in a lower-tier league than the Major League Soccer's (MLS) Vancouver Whitecaps FC, Vancouver FC executives say the team is competing for fan dollars and attention.
It is also trying to educate consumers on how its offering is distinct as it carves its own niche in the region's entertainment scene.
Vancouver FC's base is the new 6,500-seat Willoughby Park Stadium that the Township of Langley spent about $20 million to build earlier this year. That location makes travelling to games attractive for those who live in the eastern part of the region, and south of the Fraser River.
Vancouver FC's ticket prices are also lower than those for the Whitecaps, as they start at $15. Dynamically priced tickets for Whitecaps games often start at double that price, if not more, for games at downtown Vancouver's 40-year-old BC Place Stadium, which was rebuilt after the 2010 Winter Olympics.
Both teams have various packages for season tickets or multiple games.
"We're in a competing market, not only for fans, but also players," said Rob Friend, who is a lead investor at SixFive Sports and Entertainment, which owns majority stakes in Vancouver FC and the CPL's Victoria club Pacific FC.
Unlike the National Hockey League, for example, both the MLS and the CPL allow ownership groups to invest in multiple teams.
CPL and MLS club owners are also given shares in their leagues based on their club ownership stakes. That enables team owners to generate some income from league successes. The flip of that coin is that team owners are also on the hook for league expenses.
Whitecaps' budget is more than 13 times that of Vancouver FC
Vancouver FC's annual budget is about $4.5 million for player salaries, stadium rental, administration, marketing and other costs, Friend told BIV.
That is a far cry from the Whitecaps' more than $60 million annual budget for all expenses.
Like the Whitecaps, Vancouver FC rents its stadium. Vancouver FC also equips that venue with food trucks on game days. The team then gets proceeds from those food sales as well as from merchandise sales.
The team's agreement with the township is that it will also get paid if a corporate sponsor buys naming rights for the stadium.
Friend said that the team would get a "slight majority" of that naming-rights revenue because the team is the stadium's principal tenant. There is no rush to find a sponsor, he added, because the team is in the process of raising its own profile and that of the stadium.
Other Vancouver FC revenue comes from corporate partnerships, sometimes funnelled through the league itself.
The CPL owns and manages corporate jersey sponsorships for all teams and then provides that money to the teams, Friend said.
The team plays with CIBC on its jerseys, and CIBC is separately a league sponsor.
The Whitecaps contracted Telus to be its corporate jersey sponsor with the league playing no role, Whitecaps CEO Axel Schuster told BIV.
One of Vancouver FC's big expenses this year was to join the CPL. The league charged its original seven teams $3 million each to join the league for its inaugural 2019 season. Vancouver FC paid somewhere in the $8 million to $10 million ballpark given that the league is now more established, Friend said.
Costs to join the MLS are much higher.
When the MLS in May awarded an expansion franchise to San Diego, the ownership group paid US$500 million to join the league.
The Whitecaps do not discuss overall profitability, but Forbes earlier this year estimated that the team generated US$21 million in revenue and had a $15-million operating loss. It estimated the team's value at US$410 million.
Friend was open about the fact that his team will lose money this year.
"Our goal is to break even in three years," said Friend, who is also Vancouver FC's president. "We're like any startup business – they never break even in Year 1."
CPL acts as training ground for young Canadians
When Friend says that his team competes with the Whitecaps for players, he does not mean superstar players who the Whitecaps could sign for unlimited salaries and be one of the Whitecaps' three so-called "designated players."
Instead, he means young Canadians such as 16-year-old T.J. Tahid, who hails from Maple Ridge, and is seen as a hot prospect.
Vancouver FC this year signed Tahid to a five-year contract with undisclosed financial terms. If Tahid, who is the youngest player to score a CPL goal, develops into a league star, Vancouver FC would be eligible to sell Tahid's rights to an MLS club, or, after he turns 18 years old, to one in a European league.
This would be like what the Whitecaps did in 2018, when the team transferred Alphonso Davies's contract to the Bundesliga club Bayern Munich for up to $22 million, depending on how Davies played and potential future transfer fees.
Davies arrived at Bayern in January 2019, two months after he turned 18 years old.
Schuster would not say exactly how much of that money the Whitecaps have received.
He said his team works on an annual budget and did not keep Davies' transfer-fee revenue in a separate pot.
The Whitecaps have since agreed to pay separate multi-million-dollar transfer fees to acquire multiple players, so it has used much of the money generated from Davies, Schuster said.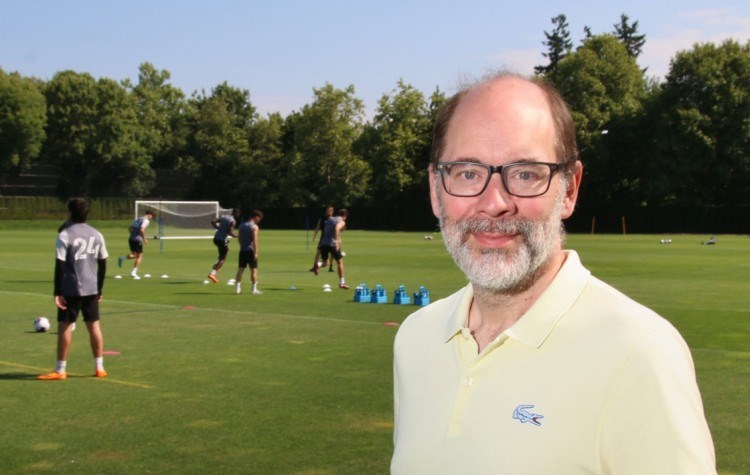 "We invest each year $7-plus million [as part of the $60-plus million budget] into youth soccer development," he added.
That investment aims to help foster future Canadian soccer stars, he said.
The Whitecaps, for example, signed Ali Ahmed, at 19 years old, to its academy program. Now 22 years old, Ahmed on June 27 made his debut for the Canadian national team, against Guadeloupe, and was named the player of the match.
Other investments that the Whitecaps' owners have made is to upgrade training-fields at the University of British Columbia.
The team did not use the Davies transfer money to buy a single pricy superstar. Its top-paid player today is Scottish international Ryan Gauld, who earns about US$2.5 million annually and is the league's 21st top-paid player.
Schuster said having a superstar is not always a successful strategy. MLS teams that have spent lavishly to acquire superstars have not necessarily outperformed teams that chose to build teams without ones, he explained.
The L.A. Galaxy, for example, won only three of their first 18 games this year despite having two of the MLS' top-paid seven players. The California team pays Mexican striker Javier Hernandez US$7.4 million and Brazilian winger Douglas Costa $4.5 million.
"I prefer to try to find players that help us to perform very, very well than to sign a big name that maybe gives us a short impact on ticket sales, because it's a big name, but as soon as everyone finds out that he is not performing, this will not help you to sell tickets anymore," Schuster said.
He also took issue with the suggestion that Vancouver FC is competing with the Whitecaps for young Canadian players.
"I don't see them competing with us at all about players," he said.
The Whitecaps have an extensive youth academy system that includes an Under-15 system that plays across North America, he explained.
Signing with the Whitecaps to be part of its youth system also enables players to get promoted to the main club more quickly.
"It's easier to move up," he said. "If you are with us, and you develop well, you can play the next weekend: 20 minutes with us, and then go back to your team."
One major difference between the CPL and the MLS is that CPL clubs' 23-man rosters must include at least 16 Canadians. The MLS only requires its Canadian teams to have at least three Canadians on their rosters. The Whitecaps sometimes start games with only one Canadian on the pitch.
The CPL also has various requirements that ensure younger players are also on team rosters, and on the pitch.
"What we offer is an opportunity [for fans] to see young Canadians," Friend said. "We have to play young Canadians, as a part of our mandate and part of the regulations of the league. I think that gives us an advantage to develop younger players quicker, because players need to play. They need to play consistently in professional environments."
Leagues tightly control player salaries
The CPL and MLS tightly regulate how much teams can pay players – perhaps because soccer executives in North America remember how player salaries got out of control in the now defunct North American Soccer League.
That league's New York Cosmos in 1975 paid Brazilian superstar Pele US$2.8 million over three years, making him the highest paid athlete in the world at the time.
Other NASL teams contracted major European stars for substantial sums that could not be recouped from operations, leaving teams unprofitable and unsustainable, leading to the league's collapse in 1984.
CPL teams' total player- compensation budget this year must be between $750,000 and $1.125 million, with all players earning at least $30,000, according to the league.
"Everyone's on the higher end of that range," Friend said. "Everyone is competing, and the reality is that you're trying to get the best coaches and players and you have to pay for it."
Teams have a separate budget for coaches and technical staff, he said.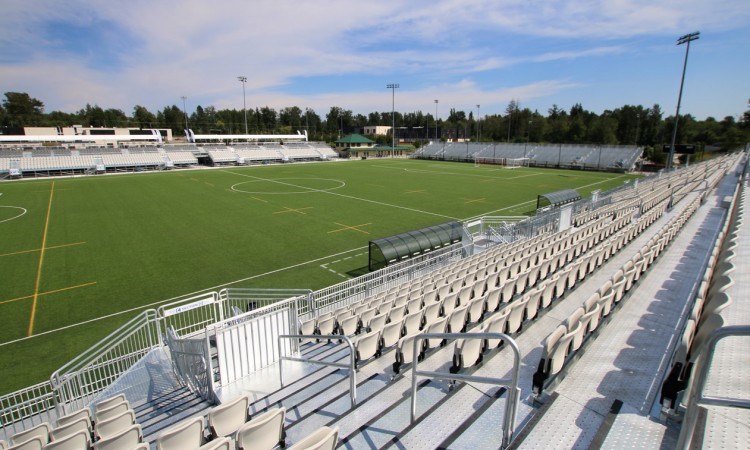 CPL rules encourage teams to have younger players, given that only half of the salaries paid to players younger than 21 years old, up to $200,000, count toward teams' overall salary caps.
"That encourages clubs to have younger players and develop them," Friend said. "Then you sell them in transfers. It is part of the business."
The MLS' salary cap is many times higher than the one in the CPL – US$5.21 million, with the minimum salary being US$85,444.
The league has mechanisms to allow teams to have total-player budgets that exceed the US$5.21 million cap.
Unlike the CPL, for example, the MLS allows teams to have up to three designated players, who can have salaries above US$651,250 with only US$651,250 counting toward the team's total-player-salary budget.
There is also what the MLS calls "allocation money," which teams are granted for various reasons and can use to bring down player salaries for the purpose of the salary cap.
The Whitecaps' total-player salary costs this season are US$12,746,625 – the 23rd highest in its 29-team league.