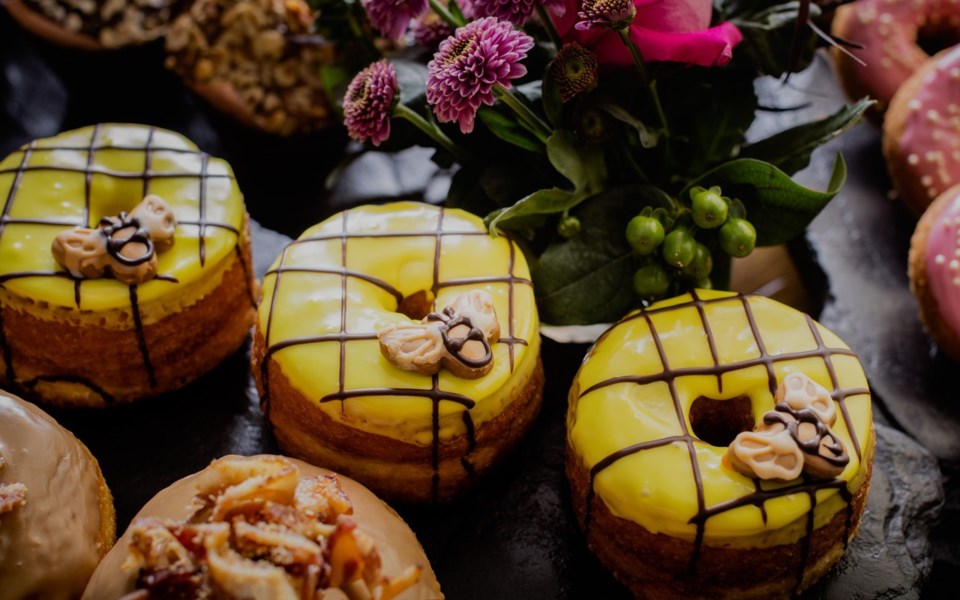 Calling all honey lovers: June is National Pollinator Month, and the Fairmont Chateau Whistler is buzzing with all sorts of exciting offerings in celebration of the bees.
As Fairmont Chateau Whistler executive chef Isabel Chung points out, these hard working honeybees deserve the attention. "Bees are responsible for one in three bites of food we consume, and the majority of our fresh produce," she said.
While bees might have their moment in the spotlight throughout the month of June, the hotel's commitment to protecting and encouraging our local pollinator population lasts all year long. In the spirit of sustainability, many of the honey-tinged creations highlighted as part of the month-long celebration come courtesy of the honey harvested from the hotel's rooftop hives in 2017 and 2018.
This honey isn't just delicious, but also serves as an educational message to the Fairmont's guests, explained Chung. "Honey is a great vehicle and a great byproduct of what's really a sustainability story," she said.
Back on the menu at the Portobello deli is the Honey Bee Donut, flavoured with honey and lemon, topped with bright yellow icing, adorned with a small decorative bee and revived specifically for National Pollinator Month.
The celebrations also extend to the hotel's Mallard Lounge, where guests can enjoy a modern twist on a long bee-loved cocktail.
In fact, the chef's favourite cocktail, "just happens to be the Bee's Knees—who would have thought?" said Chung, who shares her employer's passion for pollinators, with a laugh. (Despite finding out she's "highly allergic" to the tiny creatures a few years ago, you can catch Chung—who proudly sports a prominent honey bee tattoo on her forearm—tending to her own bees on her Pemberton property in her free time.)
This version of the prohibition-era cocktail, dubbed the Bees Knees #2, comes as the result of a recent collaboration between Chung and the Fairmont Chateau Whistler's bar manager for the 100-year anniversary of prohibition.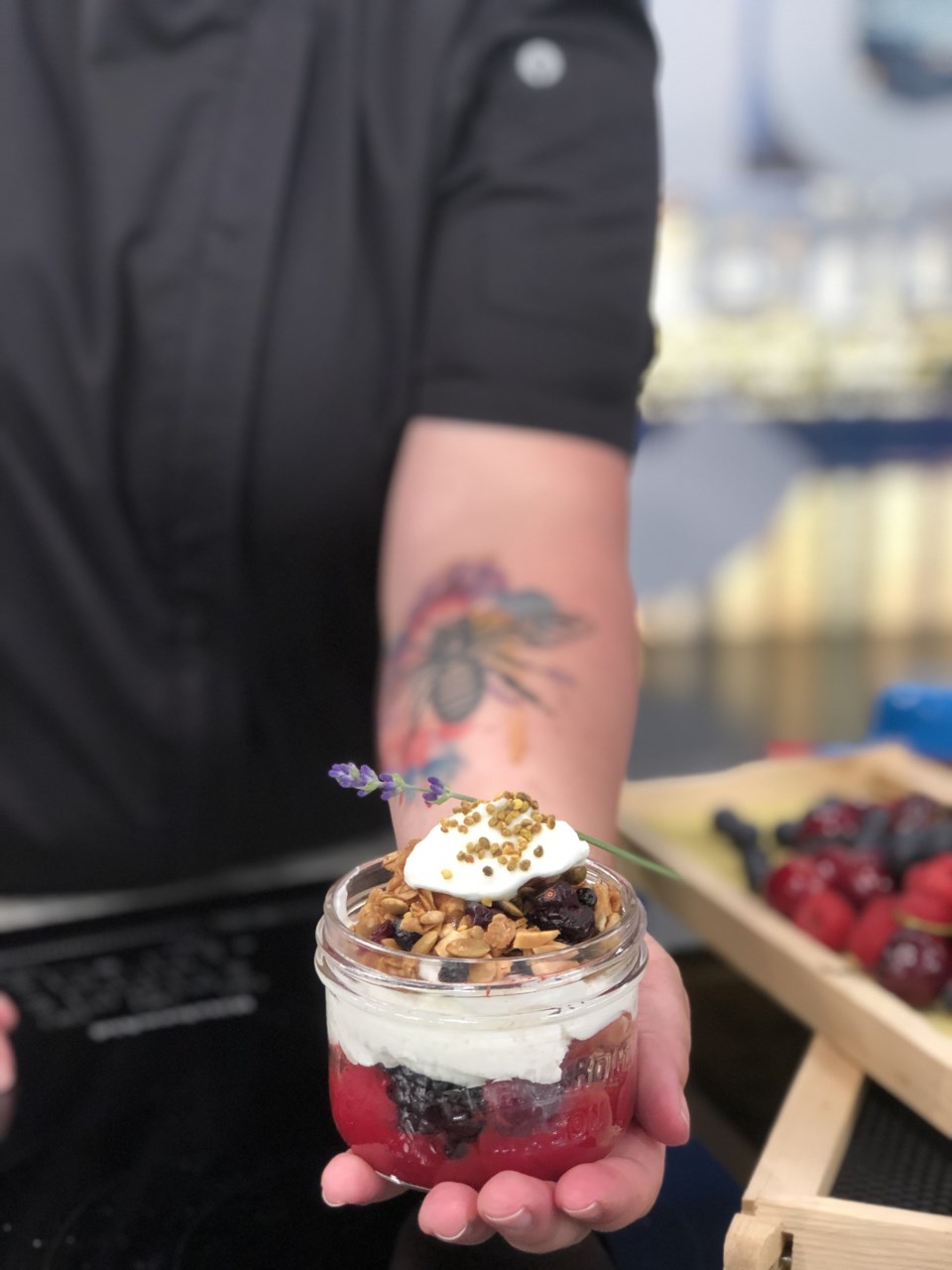 It uses a unique, house-made beeswax gin—created by combining rooftop beeswax sous vide with Canadian Ungava gin, explained Chung—mixed with simple syrup, vanilla syrup and fresh squeezed lemon, and served in a glass rimmed with dehydrated honey from the Fairmont's rooftop honeybees, of course.
Best of all, a portion from each cocktail sold goes towards the Pollinator Partnership—"the world's largest nonprofit devoted solely to the health of all pollinators," according to a Fairmont release.
Guests can also find rooftop honey in more than a few longstanding Fairmont menu items, including Chung's tasty honey granola parfait in The Wildflower, the Grill Room's B.C. cedar plank salmon with rooftop honey glaze, a cheeseburger with honey bacon at the Clubhouse, or the Summer Salad on the Mallard Lounge's menu that features mixed greens, pickled cherries, roasted almonds, and a honey and citrus vinaigrette.
The Wildflower's Yarrow Meadows Duck, a spruce-infused, honey-glazed duck breast, is also served with pollen collected from the rooftop hives.
For dessert, those with a sweet tooth can indulge in the hotel's handcrafted Honey Bear chocolate bar, made with rooftop honey, caramelized white chocolate, B.C. blueberries, almonds and bee pollen—a tasty treat that exists almost entirely thanks to bees.
"We wouldn't have almonds without bees," explained Chung, adding that bees are also responsible for pollinating the vast majority of blueberries grown in the region.
Not only is it "incredibly romantic to talk about honey from the rooftop," but in the past five to 10 years, "I think people are more open to learning about their food," Chung added. "As they're enjoying it, they want to know where it comes from."
In honey's case, much like wine, the taste profile represents the region—and the plants—it comes from, Chung explained.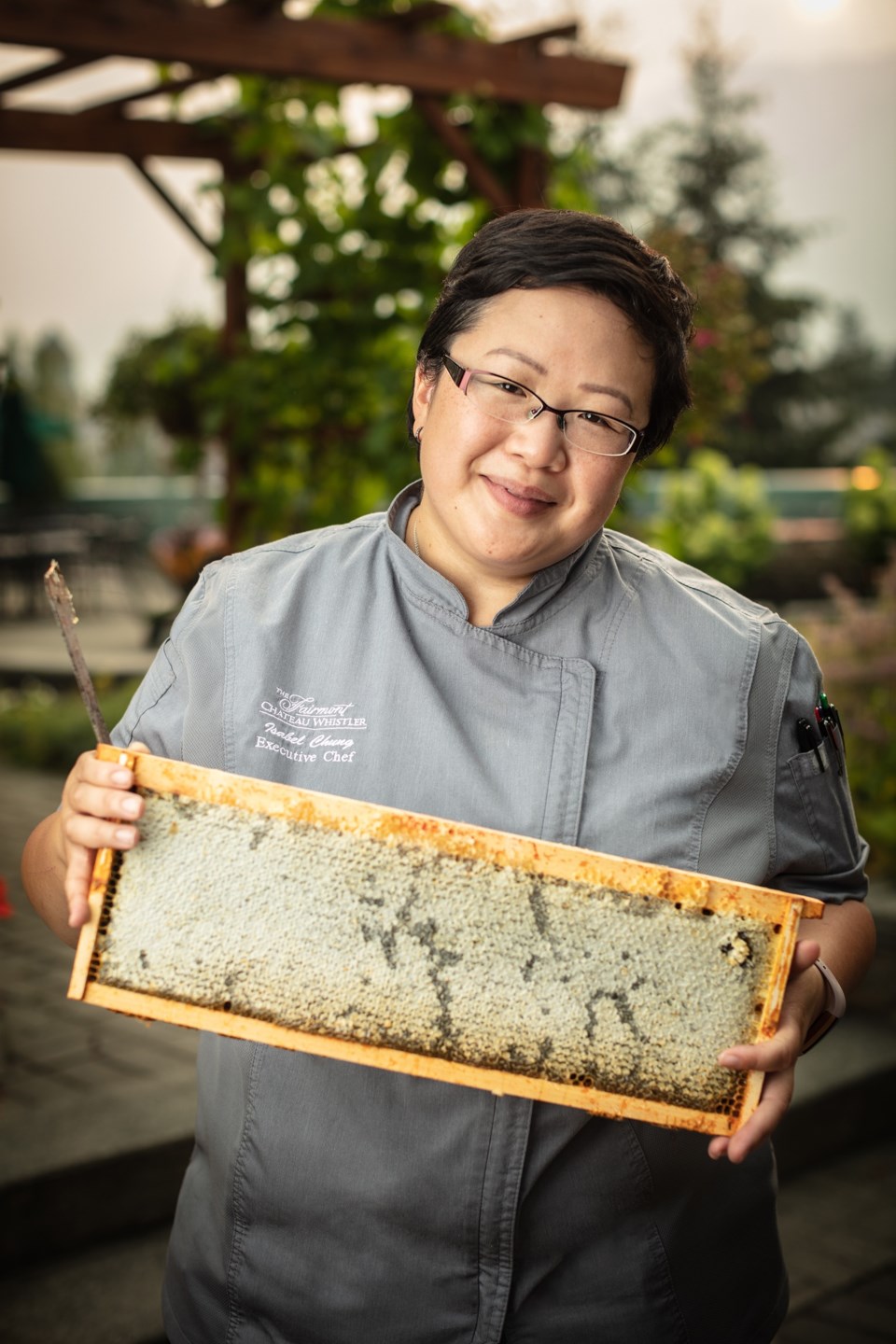 For example, "If fireweed is having a good season on Whistler Mountain, the honey will have spicy notes, while blueberries result in more aromatic, floral profiles," she said.
As part of National Pollinator Month, the Fairmont is also putting its money where its mouth is while allowing guests to do their part to help nature's best pollinators with a "Bee Sustainable Offer."
In addition to receiving 10 per cent off the daily rate, guests will have a $50 hotel dining credit to take advantage of all the aforementioned tasty treats and delectable dishes. Each stay will also yield a $10 donation to the Pollinator Partnership.
But what can guests—and Whistler residents, for that matter—do to help the bees once they return home?
It's simple: add a bee-friendly plant, or plants, to your garden, said Chung.
While any flowering herb, like oregano, mint or thyme will do, "lavender is probably the easiest to find," she suggested.