British Columbia's election laws regulating third parties need more teeth and the regulator needs more tools, says the co-founder of Democracy Watch.
After the NDP banned corporate and union donations to provincial and municipal campaigns in 2017, the government left the door open to dark money political action committees. They can operate without regulation, except if they pay to advertise for or against a party or an issue during designated campaign periods.
"All spending by third parties should be limited and disclosed, and registration should be required," said Duff Conacher. "No matter when it occurs, because in between elections, it's spending on lobbying and during pre-election, election periods, it's spending on trying to influence an election."
In August, Lululemon founder Chip Wilson announced $380,000 seed money for the Pacific Prosperity Network (PPN), to support right-of-centre candidates with social media, database and app help. PPN accepts donations, but does not publicly disclose the donors or issue tax receipts and is not registered as a third party.
Earlier this month, Elections BC fined PPN $1,000 for unregistered third party advertising — $500 for a video on Facebook opposing the NDP during the Surrey South by-election and $500 for the same video opposing Mayor Kennedy Stewart during the pre-election period in the civic election.
In an August interview, PPN executive director Micah Haince said his society was not going to be involved in the Vancouver election, despite Wilson's friendship with ABC Vancouver mayoral candidate Ken Sim. He wouldn't reveal where PPN would be active.
Sim, his ABC Vancouver city council hopeful Lenny Nan Zhou and select candidates from around the Lower Mainland are getting help from another unregistered third party.
The Chinese Canadian Society for Political Engagement operates a clubhouse at 3480 Dunbar in a nondescript, one-storey building assessed at $3.14 million.
The blinds are kept closed and windows partially blocked by large sheets of wood. A sign where one for Domino's Pizza used to hang now lists "CCSPE" and its equivalent in Chinese characters and GBRC, for Gold Butler Management Ltd., a 2021 incorporated company that runs the GoldButlers.com real estate, financial services and construction directory in Chinese. A small Sim campaign sign was the only English sign in the window. Nearby, another sign, in Chinese characters, says it is the Chinese Canadian Voting Alliance Activity Centre.
GBRC has the same Kerrisdale address as Canada Zhe Shang Investments Ltd., whose director, Zhao Mei Qing, is also on the registration for 1137556 B.C. Ltd., the numbered company that has owned the clubhouse since 2018. The numbered company also includes a director with a Xi'an, China address.
CCSPE, incorporated in 2020, has its own set of directors, now numbering 11, and living in Vancouver, Delta, Surrey and Richmond. CCSPE operates the 51Vote.org website, which identifies Kong Qingcun as the founder, and a companion WeChat group. Both online groups are in Chinese only.
Benjamin Fung, a professor in the School of Information Studies at McGill University, said it is a disadvantage to translate into English, because it would attract more attention.
"Their target audience is not the local Canadian, they are only focusing on the Chinese, the Chinese-Canadian who would use simplified characters," said Prof. Benjamin Fung of the McGill University School of Information Studies. "It's mainly for the people from Mainland China. They want to keep it in this way, because once they translate this to English, people like you and me, right, or, or the local media will have access to them."
The website said when CCSPE met to plan its municipal election strategy, Kong was joined by Bai Jiping, chairman of Phantom Creek Winery, and other businesspeople.
"This is a neutral, open, inclusive and non-profit non-governmental public welfare organization that does not represent any party," said the website. "The purpose of this alliance is to safeguard the interests of the Chinese, improve the political status of the Chinese, and promote the pluralistic and harmonious development of Canada."
Kong, the CCSPE founder, did not respond to email or WeChat messages seeking an interview.
Toronto-area Liberal MP Han Dong, a Shanghai native, paid a visit to the CCSPE clubhouse in July and the meeting report mentioned that Kong was among seven people who drove from Vancouver to Toronto in 2019 to "inspect Chinese political participation and deliberation."
The website includes a button for donations, but the link is not active.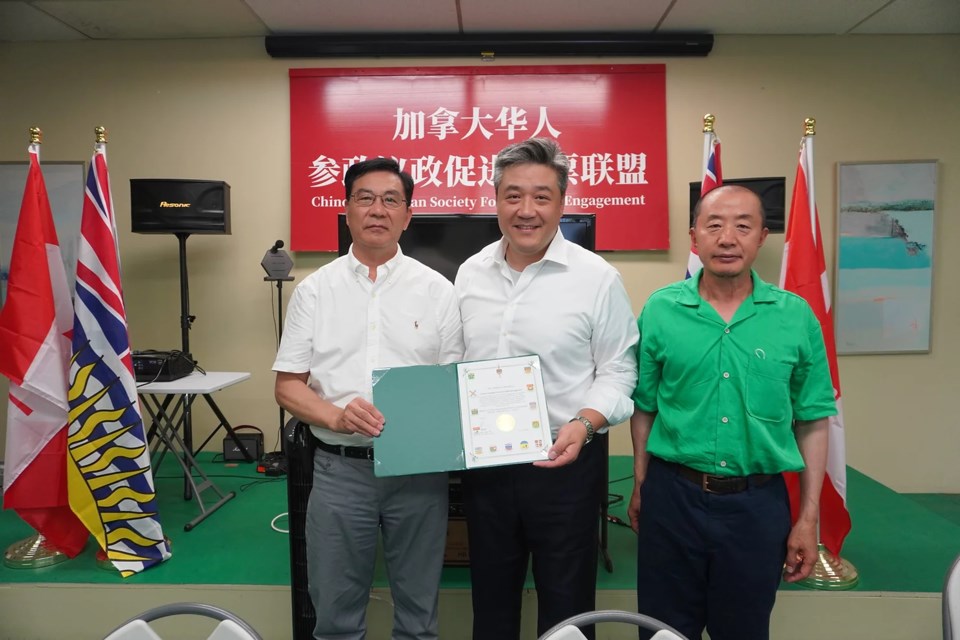 On WeChat, CCSPE features a series of promotional videos for Sim, Zhou, NPA's Morning Lee and May He of Progress Vancouver. From Richmond's election, candidates with video include: Chak Au, Melissa Zhang and Weiping Chen. From Burnaby, the candidates were: James Wang, Alison Gu and Brea Huang Sami. Videos also included those of Harvey Su of Coquitlam and Becky Zhou of Surrey.
Billy Fung, the former Hong Kong University student union president, is now a graduate student at University of B.C. He said CCSPE is one of several groups using techniques similar to the Chinese Communist Party's United Front foreign influence program to make the Chinese collective interest top of mind in a Canadian election.
"They're actually mobilizing the Chinese nationalism," Fung said. "Like claiming Kennedy Stewart as a separatist of Taiwan, they can unify those who support unification in Vancouver, and vote for Ken Sim. In the meantime, if you've read the Chinese news article [on the CCSPE website], which is about Ken Sim, they put Ken Sim's information together with the anti-Asian crime. The reason is, as if voting for Ken Sim is an act to safeguard the Asian interests, which is another form of pulling factor, to pull people to support Ken Sim and pushing people away from supporting Kennedy Stewart."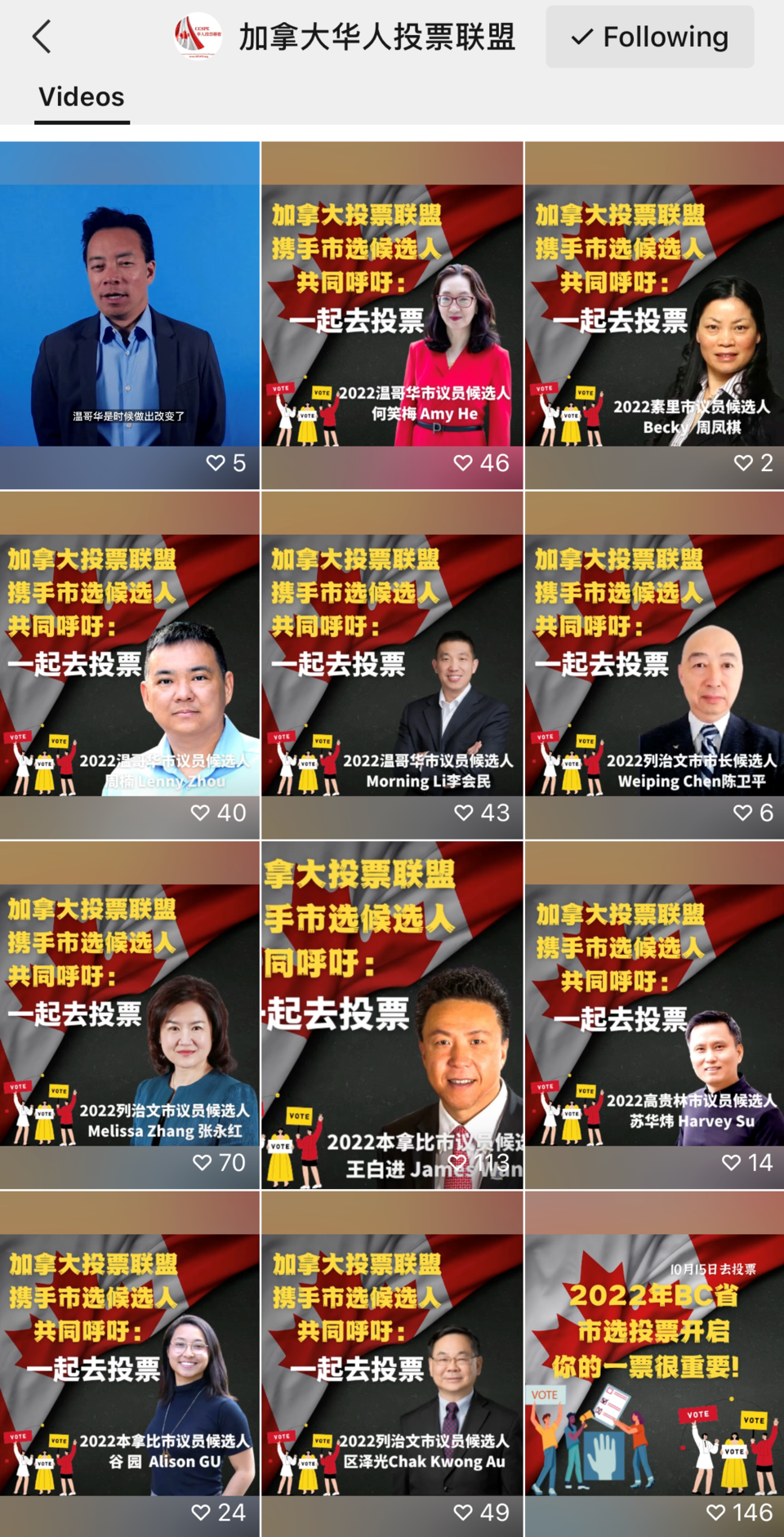 A spokesman for Elections BC confirmed CCSPE is not a registered third party and Elections BC has not been in touch with CCSPE.
"If anyone has information to suggest that this group is or has paid for election advertising under the Local Elections Campaign Financing Act, we encourage them to share that information with us," said Elections BC's Andrew Watson. "Organic social media posts and websites are not election advertising, if they occur on a non-commercial basis."
Whether it's PPN or CCSPE, Conacher says third party spending "always needs to be tracked to stop influence from outside the country or from it interest groups and to be able to track and restrict that influence based on democratic principles."
"Post-election, you can't put a judge in a position of having to try to overturn an election based on people violating the rules," Conacher said. "It's just really difficult for a single judge to overturn the will of thousands of voters. And so the penalties have to be increased to amounts that will actually discourage people from violating the rules in ways that then affect the outcomes of elections."