Triathlon world, take notice — "Bink" is back.
Marino Vanhoenacker conquered the Subaru Ironman Canada course in Whistler on Sunday, July 27, for the 11th full-distance Ironman win of his career.
Meanwhile, Hawaii's Bree Wee captured the women's title — her second full-distance triumph — in a come-from-behind effort during the running leg.
Vanhoenacker, the Belgian veteran known affectionately as Bink, made the most of his first-ever visit to Canada, needing just eight hours, 16 minutes, 10 seconds to finish his 3.8-kilometre swim, 180-km bike and 42.2-km run and claim the victory.
Despite his stellar resumé — which includes an Ironman World Championship bronze medal and the Ironman world record (7:45:58, set in Austria in 2011) — the 38-year-old felt that he had to overcome some doubts to re-establish himself as one of the world's top Ironman athletes.
"(The win is) really meaningful, because everybody was convinced I was done," said Vanhoenacker. "Everybody knew how hard I had trained the last four or five years, and everybody was waiting for me to blow up.
"Most importantly, it's big confidence that I'm almost back on track."
The 38-year-old suffered a stress fracture to his pubic bone last year, and while it was the first major injury of his career, it was an equally major setback. After further complications with fluid build-up around the injury, it took several months for him to get his running stride and mechanics back.
"Even the doctors were saying, 'OK, this could be a career-ending story now,'" he said. "For a long time, I doubted for myself if I could ever come back to the same level. I mean, I'm 38. You don't get much faster (after that.)"
Vanhoenacker put in a dominant performance on Sunday — he was first out of Alta Lake following the 3.8-km swim (50:56), added to his advantage with the fastest 180-km bike leg (4:31:34), then wrapped up the 42.2-km run in 2:51:17. After beating Trevor Wurtele's winning time from 2013 by more than 23 minutes, he said he surprised himself with his cycling result, especially.
"I thought 4:40 honestly would be the maximum I could do. I hardly ever miscalculate myself that far off," he said. "On the run... it seemed like it was flat in the first lap, then seemed like mountain climbing on the second lap."
Penticton's Jeff Symonds (8:25:22), the men's runner-up on Sunday, finished the run in an outstanding time of 2:40:34, but even after making up a good chunk of the deficit, still wound up 9:12 behind.
"Marino's the real deal. There aren't too many guys who can beat him on a course like this," said Symonds. "Unless he cracked, we were all fighting for second."
Symonds, 28, was thrilled with second place, his best-ever result in a full Ironman.
"It's pretty cool, especially with (third-place finisher Paul Ambrose) and Marino, two world-class guys, it's cool to be right in there," he said.
Ambrose spent most of his day among the top three, but said he wasn't expecting the course to be as challenging as it was.
"This is one of the hardest Ironmans I've ever done," said the Australian, who stopped the clock at 8:33:10. "Even the flat sections are false flats. It was brutal; just punishment."
Kelowna's Wurtele finished just off the podium in fourth place, while Montana's Andrew Drobeck was the fifth-place pro male finisher. Matt Russell, the 2012 Ironman Canada winner and last year's runner-up, looked somewhat disappointed with his seventh-place result — laying down a few feet from the line and rolling the rest of the way over. But the finish left him among the top 40 in the pro men's rankings, which gives him a spot at this year's Ironman World Championships.
On top of the $15,000 grand prize, Vanhoenacker also earned his way to the world championships, taking place at Kona, Hawaii, in October. He's happy to be headed back after missing last year's world championships while dealing with the injury.
"Last year, for the first time, I was on the sideline, and not by choice," he said. "That was a hard thing for me... I realized last year how much that race really meant to me, not being there."
Vanhoenacker, who spent several weeks in Whistler vacationing with his wife and daughter while preparing for the race, said the victory was the perfect ending to a great trip overall.
"We love having vacations that end like this, like we did in Austria six years in a row," said Vanhoenacker, who won the Austrian race every year between 2006 and 2011. "To be here for a month and end it with an Ironman win — the girls are happy, daddy's happy.
"There are worse things in life than this," he laughed.
WEE PERSEVERES IN TIGHT WOMEN'S RACE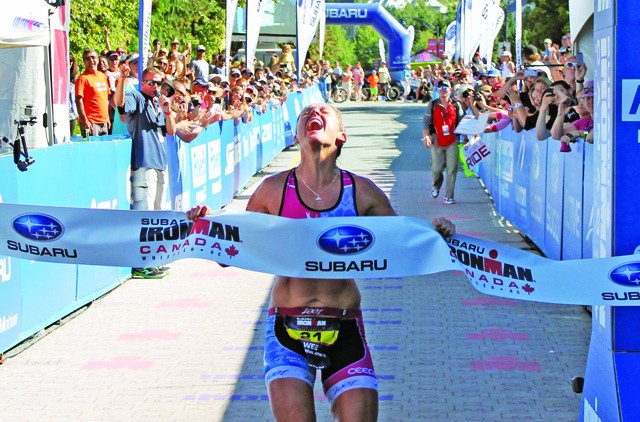 Bree Wee had to come a long way to earn the right to race at home, but ultimately, she'll be on the start line in Kona in October thanks to her performance on Sunday. That made the triumph a little more satisfying than her other full-distance win at Ironman Louisville in 2012.
"The last one didn't get me into Kona, but this one did," she said.
Wee erupted when she crossed the finish line with the winning time of 9:46:58, and was immediately mobbed by eight-year-old son, Kainoa, and her mother.
Though she was elated over the victory, she appeared equally exhausted, and was quick to name Whistler as host to one of the world's toughest Ironman events.
"It was much harder than I thought," she said. "The course was harder, the competition was harder. I was really humbled on the bike."
It was on the run where Wee grabbed the lead for good – finishing the marathon in a women's-best 3:17:41 – after a number of lead changes throughout the day.
Kiwi triathlete Anna Cleaver finished her swim nearly three minutes faster than the rest of the field, though Canmore's Karen Thibodeau took the lead away on the cycling leg while coming north through Whistler.
Thibodeau stayed up front for most of the gruelling climb back from Pemberton, but Oregon's Mackenzie Madison made a late move to pass Wee and Thibodeau, and held a small lead at the second transition – the three were separated by less than 90 seconds when handing off their bikes.
"I didn't think Mackenzie would be biking that strong... I just had to have patience," said Wee. "I didn't want to get out of my pace."
Wee reeled in Thibodeau and Madison over the first loop of the run course, and left them behind on the second lap. Thibodeau (9:51:35) outlasted Madison (9:52:46) for the runner-up spot, and their efforts throughout the day were apparent at the finish, as both collapsed almost immediately after crossing the line.
"I have never been that messed up after a race, wow. It was definitely an epic day," Thibodeau said on Monday.
"I've always seen people drop at the finish line and been like, 'I don't think I raced hard enough, that never happens to me,'" she laughed. "But then yesterday, sure enough, I was like, 'Ahh, that's what that feels like.'
"The course was humbling, let me tell you. And the battle between the three of us all day made it that much harder."
Wisconsin's Jackie Arendt finished in fourth place, while Cleaver fell back to fifth after her strong start in the water.
Wee also took home $15,000 for the victory, and the points she collected towards Ironman's pro women's standings moved her up the rankings just enough to get into the top 28 early Kona qualifiers named to the world championship start list through Sunday's events worldwide. She was the only athlete in the Ironman Canada women's field who advanced through early qualification.
Some other professional athletes were a part of Sunday's race, though not the kind that made a name for themselves in triathlon. Former NHLers Kelly Buchberger and Sean Pronger both achieved Ironman status by breaking the 14-hour mark. Kevin Curtis, a former NFL wide receiver who played for nine seasons, finished the course in 12:48:17.