In the middle of Sumas Prairie, a nearly 20-acre farm that drowned during the 2021 floods is up for sale.
"There was a good five feet of water in there," said Jay Khakh, a real estate agent who lives in the area. "It was hit pretty hard. It was gutted."
In the past, any potential buyer could have clicked through an online profile of the property. The four-bedroom bungalow is near Barrowtown Elementary, notes the REW property listing website. "Quiet" and "car friendly" says the Royal LePage listing.
Now, the two Canadian real estate platforms are offering a window into the risk individual properties face from climate change. For hundreds of thousands of homes across Canada, any potential buyer can now access a ranking system that shows how likely a property will be hit with heat waves, wildfire, drought, floods or powerful storms over the next three decades.
Those looking to move on to the farm in Abbotsford, B.C., for example, can expect the number of extreme heat days per year to more than triple by 2050. Precipitation risk, meanwhile, is rated as "very high," with the amount of storm-driven rain expected to climb nearly 16 per cent over the next three decades, according to the risk tool from ClimateCheck, the San Francisco-based company behind the risk tool.
"Ultimately, it's about quantifying these perils," said Cal Inman, the company's founder and CEO. "If we understand the risk, then we can take steps to adapt the property appropriately."
A wider push to make climate fallout more transparent
Revealing specific risks to properties is part of a wider push to create more transparency around the fallout from climate change.
The Government of Canada is currently updating national flood risk maps used to underwrite insurance, inform home buyers and help plan new infrastructure.
At least half a million buildings in Canada at risk of flooding are not identified on current government flood maps, and "virtually none of them show how climate change may affect the future risk of flooding," found a 2021 study from the Canadian Institute for Climate Choices (CICC).
In B.C., the number of homes at risk of storm surge is projected to climb 44 per cent by the end of the century to nearly 70,000. That's more than any other province in the country. And in Metro Vancouver, roughly $30 billion in home and building value sits within one metre of current sea level. Many municipalities in the region also face twin pressures from rising seas and a network of massive rivers.
Between 2070 and 2100, Metro Vancouver's annual flood damages are expected to climb up to $820 million annually, 27 times the current value, under a high-emissions scenario.
That's all expected to filter down to individual homeowners. Fifty years from now, average individual property damage is projected to hit $4,400 per year in Metro Vancouver, more than seven times today's cost, found the CICC study.
"In hot real estate markets such as Vancouver and Toronto, this means that property buyers — from individual homeowners to commercial real estate investors — are likely paying too much for homes and buildings whose value will drop when their flood risk becomes apparent," warns the CICC report.
Updating flood maps and offering a breakdown of risk through tools like ClimateCheck are meant to give people the information they need to decide where to live and how to protect their home from a heat wave, wildfire or flood.
Making climate risk legible
Inman says the tool to evaluate climate risk to real estate came out of his own personal experience with disaster. Growing up in Oakland, Calif., he says he still remembers fires ripping through residential properties.
"My co-founder lost his home," he said. "The company kind of spawned out of what I saw. I was curious: are my properties gonna flood or burn? And the data wasn't really available, particularly for homeowners."
Later, as a real estate developer, he saw existential risk all around him, from sea level rise, wildfires and drought. But it wasn't until he started lecturing at the University of California, Berkeley, that he saw researchers with access to huge volumes of data that could shed light on the impacts of climate change.
"These researchers and academics have been working on this for decades. The problem we're trying to solve is, how do we get this information in people's hands and make it understandable?" Inman said.
Without data, Inman says risks from climate change remain anecdotal and are hard for one person or family to act on.
"We're experiencing more fires, but if you can quantify it, help folks understand the best science around it, then you can take action," he said.
Four years ago, Inman launched ClimateCheck, combining U.S. government data and an aggregate of several global climate models. Local data is then overlaid on top of that to paint a more nuanced picture. The job, while massive, proved relatively straightforward because U.S. agencies collect data at the national level.
But in Canada, that data is spread out across municipal, provincial and federal jurisdictions. Inman said the data scientists and climatologists at ClimateCheck spent 18 months working with Canadian real estate listing companies to integrate a number of global climate models with local, regional and national data on how the climate will change over the next three decades.
"For surface flooding, in particular, we'll look at kind of elevation maps, and then future rainfall and then watch the flood models to understand where the water is pooling. And we've done that across all of Canada," said Inman.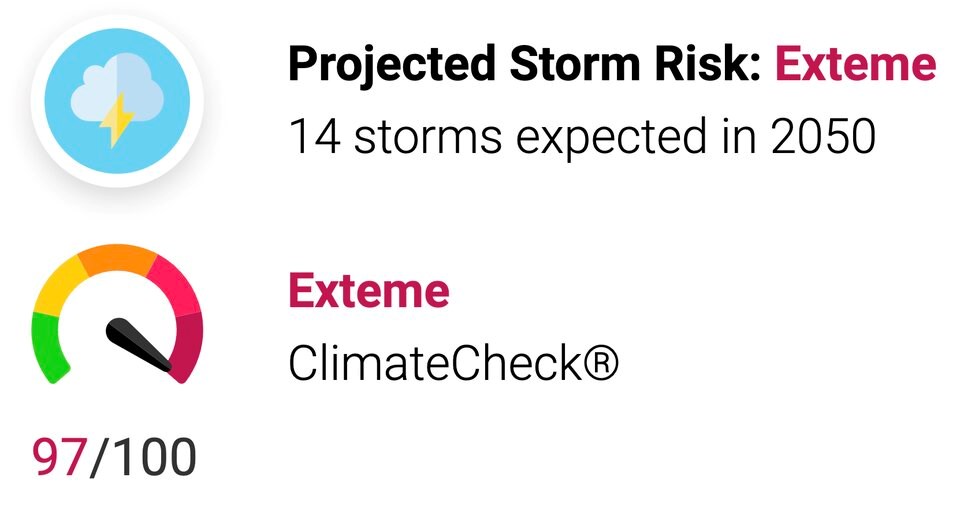 Inman says the Canadian appetite to integrate the climate risk tool in the banking and real estate sector has been massive, perhaps not surprising considering more than half of Canadians say climate change is already impacting where they decide to purchase a home.
In a 2022 Leger survey, 57 per cent of Canadians said potential weather-related events are a key factor in where they choose to buy a home. The poll also found just under half of the respondents were worried about the impact flooding, forest fires and other weather-related events will have on their homes or neighbourhoods in the coming years.
The ClimateCheck risk profile is not meant to scare people off. But to give them as much information as possible, so if they do decide to invest their life-savings, they go in knowing what they'll need to do to protect their home.
Khakh, whose own Sumas Prairie blueberry farm was flooded for two weeks in 2021, says he's already looking at building in the floodplain again. He said he plans to build structures vaulted off the ground to protect them from future floods. As a real estate agent, he said he regularly gets questions about flooding and welcomes anything that can help his clients make more informed decisions.
"I have to deal with it daily," he said. "It's better to be up front with it, rather than have someone invest three to four million dollars and get blindsided."
"It's better to get prepared for this."
River flooding still a big gap
There are several gaps in the ClimateCheck risk profiles, most notably for flooding.
Several properties listed on REW and Royal LePage fall within hard-hit flood zones in communities like Abbotsford. But flood risk barely shows up on the listings.
One farm currently for sale on Sumas Prairie is shown to have a "relatively low" flood risk despite being covered by floodwaters less than two years ago.
When asked about the apparent gap, Inman said ClimateCheck has so far only included surface flooding in its risk model. He said in April, the company will add risk data from river flooding to cover 90 per cent of the Canadian population.
"Our understanding of the science is always evolving," he said.
"There's always room to add more and that does create gaps."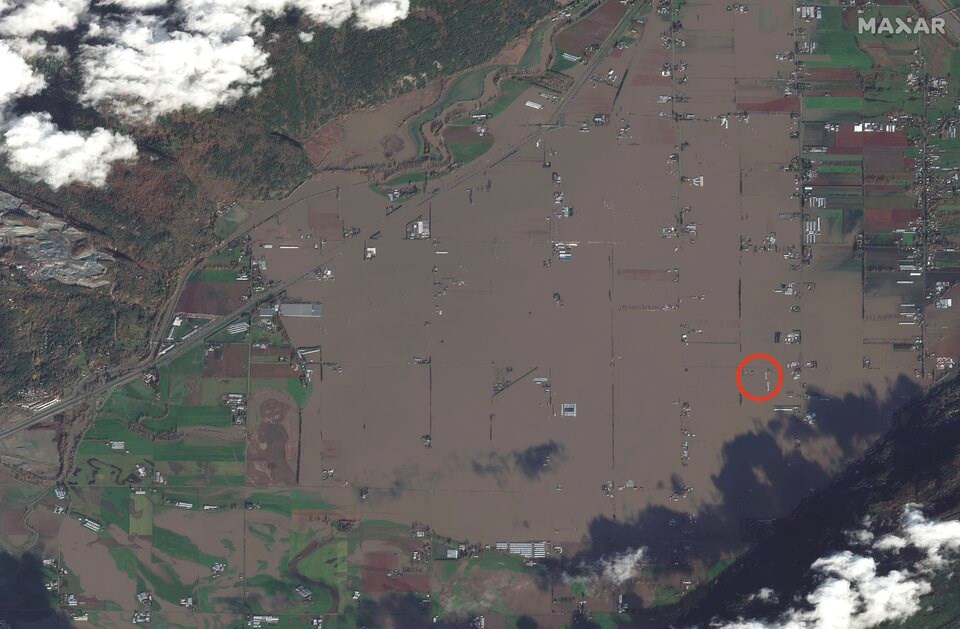 Editor's note: REW is part of Glacier Media.