At least 16 municipalities across British Columbia exceeded provincial or federal air quality guidelines in 2021, according to an annual report mapping out pollutants across the province.
The latest State of the Air study, based on multiple air quality networks and an expert round table, traced the concentrations of four of the most dangerous pollutants to human health. The results show air quality is being heavily impacted by the combined effects of heat, emissions from vehicles and industry and increasingly frequent wildfires, said Christopher Lam, president and CEO of the BC Lung Foundation, which produced the report.
"Wildfires don't really know any borders," said Lam. "It's no longer just a wildfire that's happening somewhere where population densities are quite low. It is happening all around us."
When wood burns, it's easy to track the smoke and sparks spiralling into the air. What the human eye doesn't perceive is fine particulate matter, minute fragments 2.5 micrometres or less in diameter (by comparison, the diameter of the average human hair is about 30 times wider).
Set a forest ablaze and the tiny particles will get lofted into the air, forming a haze that spreads out over a vast area. At times, they can travel thousands of kilometres away on the wind.
As many residents across Western North America know, every fire season brings something different, and prevailing winds could spare or blanket entire metropolitan areas.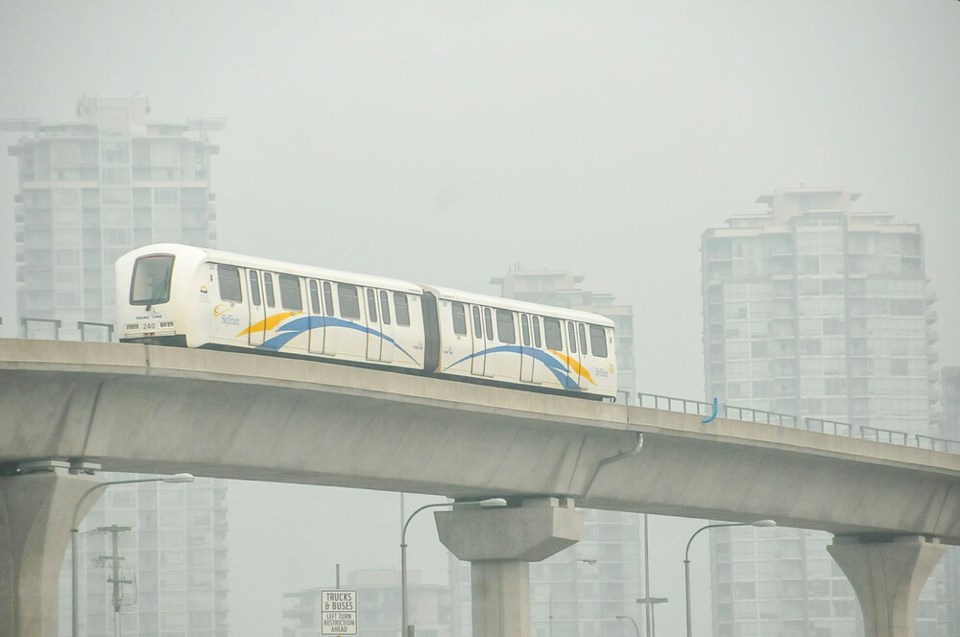 In 2021, several communities in B.C.'s Interior and northern regions exceeded the province's air quality objectives. In Castlegar, the annual average concentration of PM 2.5 more than doubled the provincial standard, making it the worst in the province.
In Kamloops, fine particulate matter exceeded the B.C. air quality objective by 70 per cent, and in Kelowna, the air hanging over the city was on average 44 per cent above the recommended limit.
Take wildfire out of the equation and none of those three communities would have exceeded the provincial target, itself only an "intermediate" goal, according to Lam.
For those immersed in the haze, every breath a living organism takes floods the lungs with tiny particles. Some are so small they can enter your bloodstream; others are too small to be coughed or sneezed up, but just big enough to get trapped in the lungs where they cause havoc.
People with lung disease, respiratory infections, COPD, asthma and diabetes face elevated risk when exposed to the fine particles, but so do pregnant women, children, seniors, outdoor workers and people who are unhoused.
Lam says his organization has preliminary data showing prescribed medication for asthma and COPD go up in areas facing poor air quality.
"We have that data that suggests that even at the prescription level, we see a spike. So imagine what that's doing in terms of exacerbations?" he said.
The report also looked at concentrations of sulphur dioxide (SO2), a colourless, highly reactive gas often found around oil and gas operations, pulp and paper plants, marine vessels and metal smelting facilities. At high concentrations, the gas can cause coughing and wheezing even after short exposures.
Air monitoring stations in the municipality of Trail were the only ones to report sulphur dioxide levels surpassing the provincial and Canadian target. At Butler Park, which houses a baseball diamond and community aquatic centre, SO2 levels averaged 170 parts per billion, nearly 150 per cent higher than the Canadian standard.
The community is home to a Teck Metals-owned smelter, which releases significant amounts of SO2. Last year, a spokesperson for B.C.'s Ministry of Environment and Climate Change Strategy told the National Observer the company isn't required to meet federal air quality guidelines and that they remain a "long-term goal."
As Lam put it, "There is a disparity in equity around who has access to clean air and who doesn't."
Nitrogen dioxide (NO2), on the other hand, is more widely seen across B.C., forming in the atmosphere from nitrogen oxides (NOx) escaping the tailpipes of internal combustion-engine vehicles and industrial smokestacks.
In 2021, even the highest NO2 levels in B.C. — recorded at a Vancouver air quality monitoring station at Clark Drive — were well below B.C.'s air quality objective, according to the BC Lung Foundation report.
But NO2 isn't the only gas that forms from nitrogen oxides. Add sunlight to a complex chemical soup of NOx and volatile hydrocarbons, and ground-level ozone is born.
A short-term exposure to the gas, also known as O3, can cause breathing problems. People with asthma and other lung disease can face worsening symptoms, and the gas has also been linked to premature death, notes the report.
The record heat wave that hit Western North American in June 2021 created ideal conditions for the formation of O3. On June 28, 2021, temperatures soared and O3 levels across parts of Metro Vancouver and the eastern Fraser Valley spiked.
The communities worst hit by ground-level ozone in 2021 were Maple Ridge, Mission, Coquitlam, Hope and Chilliwack — all of which failed national air quality standards.
"The last time the region experienced ozone concentrations that high was in 1988," Metro Vancouver staff later wrote in a report.
The June ozone advisory shows how extreme weather events have the potential to compromise "decades of progress," they later added.
Metro Vancouver has since moved to update its strategy to mitigate ozone levels "in light of more extreme temperatures due to climate change."
When it comes to wildfire smoke, the region has experienced "significant" contamination in six of the last eight summers, something experts with Metro Vancouver's air quality program say is forcing them to adapt.
From wildfire-driven PM 2.5 to last year's spike in ozone levels, the trends in what many British Columbians breathe point to one thing, says Lam — the province's air quality is becoming increasingly affected by a global climate system in rapid flux.
"The truth of the matter is — with wildfires, we're going to have those spikes. So you almost want to set yourself up for success in every other way you possibly can," said Lam, pointing to reducing pollutants from transportation and industry.
"You don't want to have that confluence of bad air."