Most wildlife crossings in North America and Europe are too narrow, found a group of B.C. scientists—a situation that is potentially limiting the number of animals that can cross major highways, and threatening their long-term survival.
The study, published last week in the journal Biodiversity and Conservation, analyzed 120 wildlife overpasses—also known as eco-bridges or green bridges—across North America, Europe, Asia and Oceania.
"In general, we found most overpasses didn't meet the expert guidelines," said lead author Liam Brennan, a 22-year-old undergraduate student at the University of British Columbia (UBC).
The ideal width of a wildlife crossing depends on the species using it. Prey species like elk, as well as a grizzly mothers and cubs are particularly wary of narrow overpasses, said Brennan, who led the study alongside B.C. government wildlife biologist Emily Chow and UBC wildlife scientist Clayton Lamb.
Most scientists agree most large animals will use a 50-wide eco-bridge. In Europe, about half the wildlife crossings met that 50-metre-wide bar. This dropped to 28 per cent in North America.
And across the planet, the average width of a wildlife bridge was only 34 metres, more than a third short of what many animals need.
Why wildlife crossings are so important
Past research has shown strong evidence that wildlife crossings—together with fencing along a highway to funnel animals toward overpasses and underpasses—can significantly reduce wildlife-vehicle collisions.
This is especially important for species like grizzly bears; for them, dying in a collision with a train or truck is among their highest sources of mortality.
Previous research along a stretch of the Trans-Canada Highway near Banff National Park found a series of crossing structures reduced wildlife collisions by 80 per cent. Collisions with elk and deer dropped by 96 per cent.​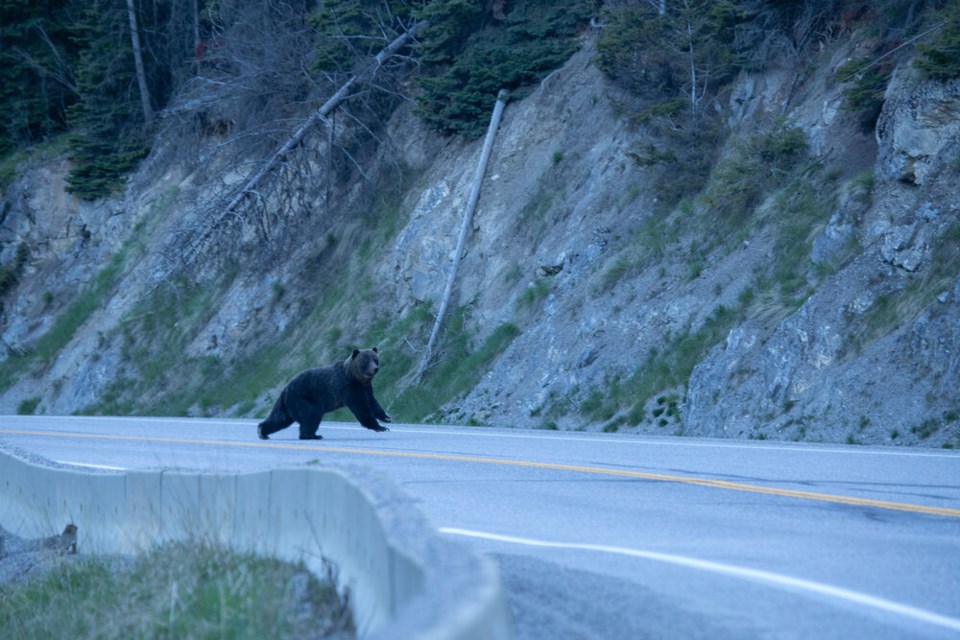 In many ways, wildlife collisions are a symptom of humanity's ever expanding footprint. As people build more cities and extract more resources, the roads that connect them carve up the large ranges big prey and predator species rely on for survival. For those animals, a safe highway crossing is more than a chance to avoid death — it's also a chance at propagating life.
"That highway is like a brick wall they can't pass." said Brennan. "They effectively form a barrier."
Build a wildlife overpass, and animals once separated from one another might be able to find a mate. Without eco-bridges, Brennan says many species face the prospect of inbreeding, and in the worst case, regional extinction.
The researcher says some wolverine populations divided by highways have been so isolated. In fact, they have genetically diverged from one another.
Build a bridge across four lanes of traffic and the genetic link could be re-established. But build a wildlife overpass too narrow and prey species like elk or a family of grizzlies will avoid it.
"They want to feel secure. They don't like to be in narrow spaces," Brennan said.
B.C. overpasses particularly narrow
In countries like South Korea and the Netherlands, the researchers found that high human population densities were matched by high concentrations of wildlife overpasses.
"At the global level, I find it incredibly encouraging of people coming together for the collective good for road connectivity for wildlife," Brennan said.
To get a better understanding of how effective wildlife crossings are, the researchers tracked animal movements across 12 overpasses in western North America: Montana, Idaho and Washington in the United States, and Alberta and British Columbia in Canada.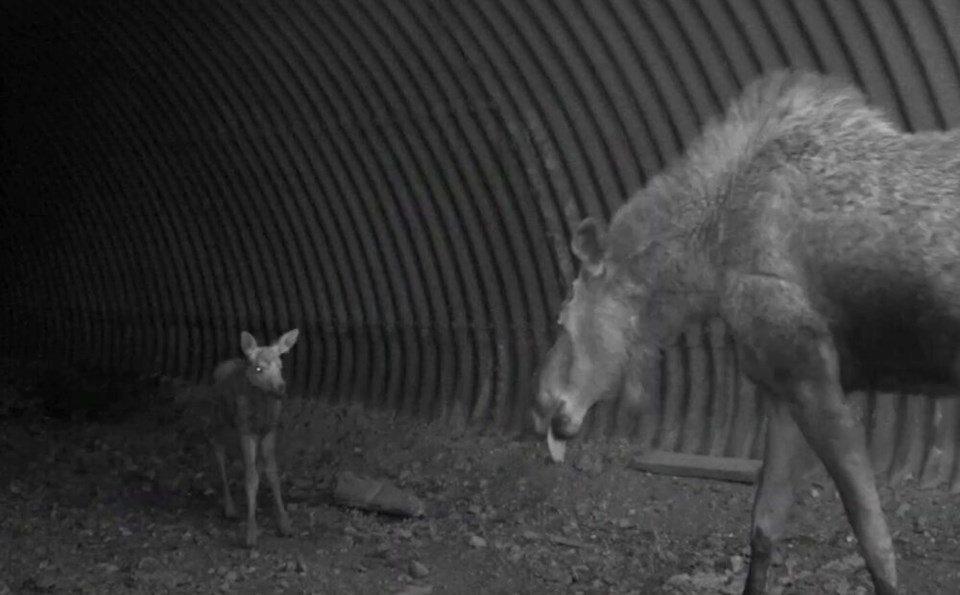 Among the jurisdiction, B.C. was found to have the narrowest wildlife crossings.
Part of that is a matter of timing. Brennan says one crossing outside Kelowna, B.C., serving deer and cougars was built long before there was a scientific consensus on how wide they should be.
And in the case of three wildlife overpasses near Golden, the narrow contractions appear to have been targeting deer populations, which are not thought to be as skittish toward narrow bridges compared to some other species.
The problem, Brennan says, is that all of their observations were done using at least two camera traps pointed at the crossings. This meant they could only count the animals that were using them, not those that lived in the area but were perhaps avoiding them because they were too narrow.
"It's really a plea for better data to make more informed conclusions," he said. "With stronger evidence, we can make stronger claims, and that would give us an opportunity to build overpasses that are the right width."
Running out of time
The study comes on the heels of COP16, a major summit where nearly 200 nations recently signed a global framework to protect nature from the greatest extinction crisis since dinosaurs were wiped off the plane 66 million years ago.
On Dec. 19, delegates in Montreal signed the landmark Kunming-Montreal Agreement to protect and conserve 30 per cent of the planet's coastal and terrestrial areas in an effort to halt and reverse global biodiversity loss by 2030.
None of that work is cheap. Wildlife crossings, for example, are estimated to cost between five and $15 million USD, and the wider the crossing, the more expensive the project, according to the UBC study.
"We need to restore biodiversity and ecosystems," said Brennan. "We need to build these in the most cost effective way."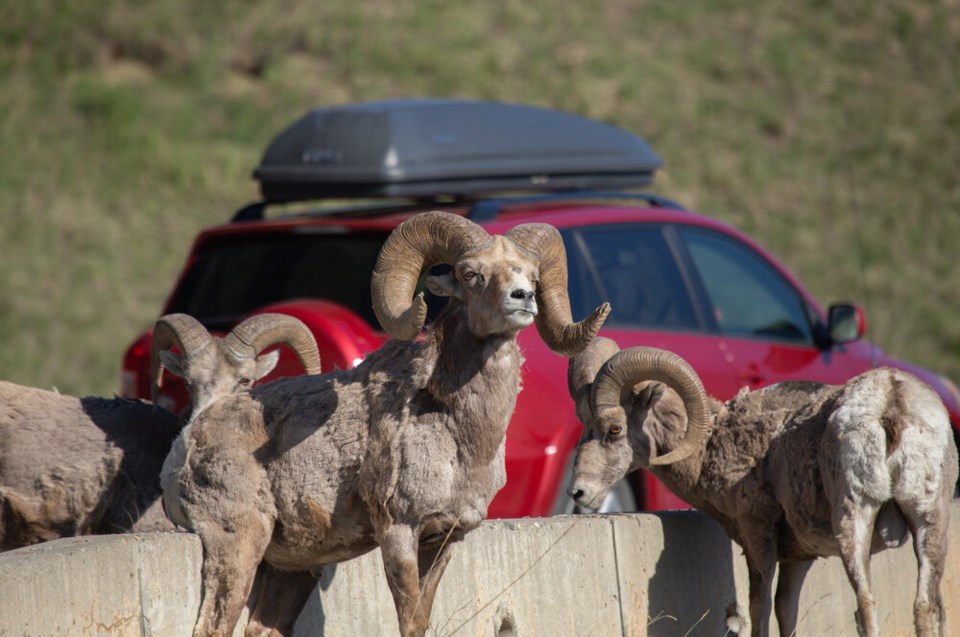 ​Past research has shown protected areas work, but have failed to slow the loss of biodiversity on the planet. Part of the failure is due to their proximity to people. More than 90 per cent of them sit within a human-dominated landscape scared by highways and other infrastructure.
Globally, two-thirds of the world's critical wildlife corridors are unprotected; almost a quarter of those crossings are also prime candidates for agricultural development.
This is what makes places like the "Yellowstone to Yukon" corridor, one of the most active migration routes for large mammals in the world, so important.
"This area of the Rockies, it's really the last stronghold of diverse mammals in all of North America," Brennan said.
And in the coming years, increasing the efficiency and number of wildlife crossings could provide a critical bridge as those animal migration patterns shift.
Brennan says there's "tons of research" showing climate change will drive animals toward the polls or up mountains to survive.
But if they can't cross the highway, and they can't move north, their populations will decline, and in some cases, die off.
All the more reason, says the young researcher, to make the bridges wider.