Navigating the airport check-in process may pose several challenges, particularly if there are any last-minute changes to a flight itinerary. And with travel rules constantly evolving, it can be difficult to keep up-to-date with what you need to do before and after a flight.
Vancouver International Airport (YVR) has released a new passenger journey tool to help passengers get through the airport in a breeze with step-by-step instructions.
The online resource offers travellers guidance prior to their arrival at the airport until the time they get on the plane.
How to use YVR's "Journeys" tool for Vancouver flights
Passengers can visit YVR's flight information page and then choose whether they are "arriving" or "departing" from the airport. After they are directed to the next page, they can put their flight number in the search bar to get their specific trip information.
The flight information appears on the right-hand side in the column called "Journeys." Select "View your Journey" to get your step-by-step guide through the airport based on your specific flight information.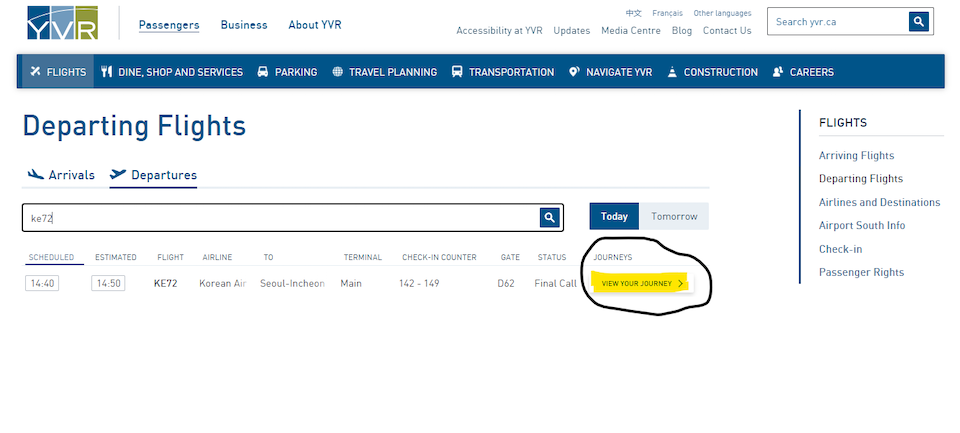 For example, a Korean Air flight that was headed to Seoul-Incheon on June 30 shows that the scheduled departure time was delayed by 10 minutes, departing at 2:50 p.m. rather than 2:40 p.m. It also had a green alert with a bullet point that reads "final call," alerting travellers to head to the gate before it closes.
Details at the top also include the terminal and gate number, but the itinerary also spells out what travellers should do before they arrive at the airport, including the online check-in which may be completed up to 24 hours prior to departure. Travellers may also reserve space in the security checkpoint ahead of their flight using the YVR Express tool up to 72 hours prior to departure.
The itinerary also provides information on how to get to the airport and what check-in counters to use. It also notes when the check-in counter opens and where travellers will pass through security to get on the flight.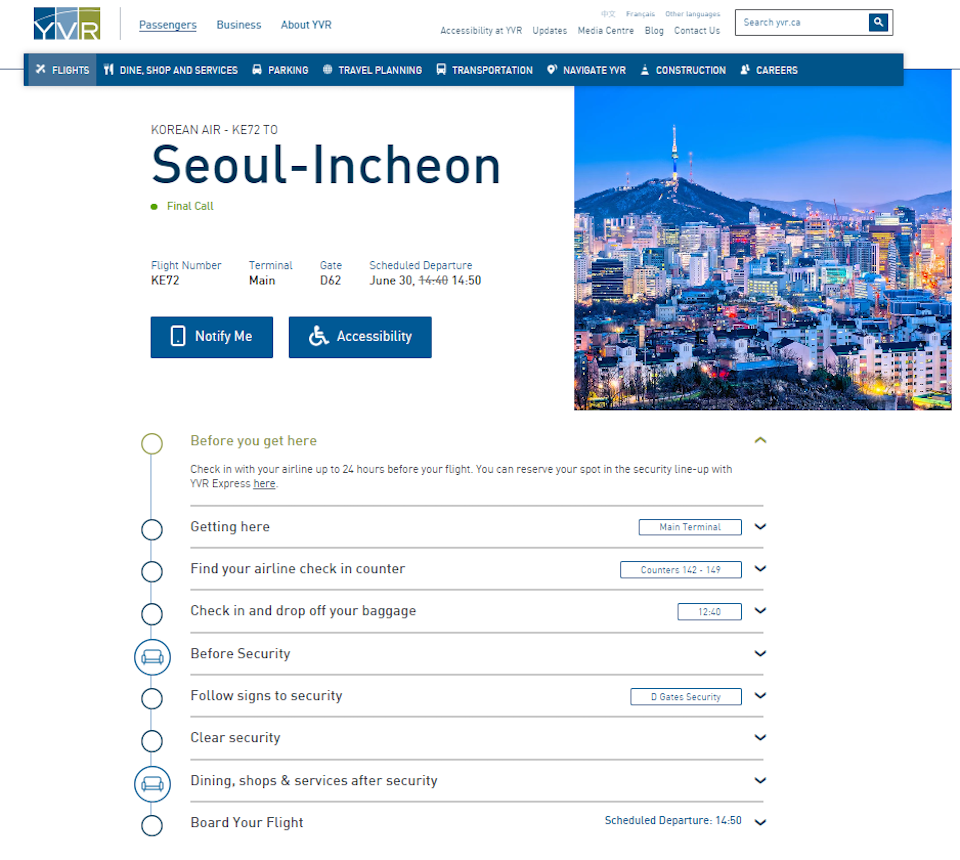 Travellers can also find airline contacts and air passenger rights information on YVR's flight information page.