The developer behind a controversial nine-storey condo building proposal in the heart of Chinatown — that was rejected by the city's development permit board in 2017 — could learn by the end of the month whether the project proceeds.
The city's development permit board has scheduled May 29 as the date that Beedie (Keefer Street) Holdings Ltd. will return to make its case for the 111-unit condo development at 105 Keefer St., as allowed after a B.C. Supreme Court ruling in December 2022.
"We continue to believe the 105 Keefer project will provide many benefits for Vancouver's Chinatown, especially given the focus on revitalizing the neighbourhood since the development permit board's decision in 2017," said Rob Fiorvento, managing partner at Beedie, in an emailed statement.
Fiorvento said the project will bring "much-needed mixed-use housing to the area," which aligns with the city's efforts to make the historic community prosperous again, adding that Beedie remains committed to "working with our neighbours and community partners on a safe and vibrant Chinatown."
B.C. Supreme Court Justice Jan Brongers said in a written decision released Dec. 13, 2022 that he agreed with Beedie's argument that the development permit board did not provide adequate reasons for rejecting the application in a 2-1 vote in November 2017.
In that court case, Fiorvento pointed out in an affidavit that Beedie's application was the only one rejected out of 111 development permit applications considered by the board between 2012 and 2017.
The application that goes before the development permit board May 29 is identical to the proposal from 2017. City council, however, has since approved new guidelines for development in Chinatown, which further reduced allowable height and density of new buildings.
But those new guidelines will not apply to Beedie's proposal, according to a Jan. 26 letter to Beedie authored by Corrie Okell, the chairperson of the development permit board. Okell said the development permit board "considers that this basic concern for fairness should prevail" and apply zoning guidelines that existed in November 2017.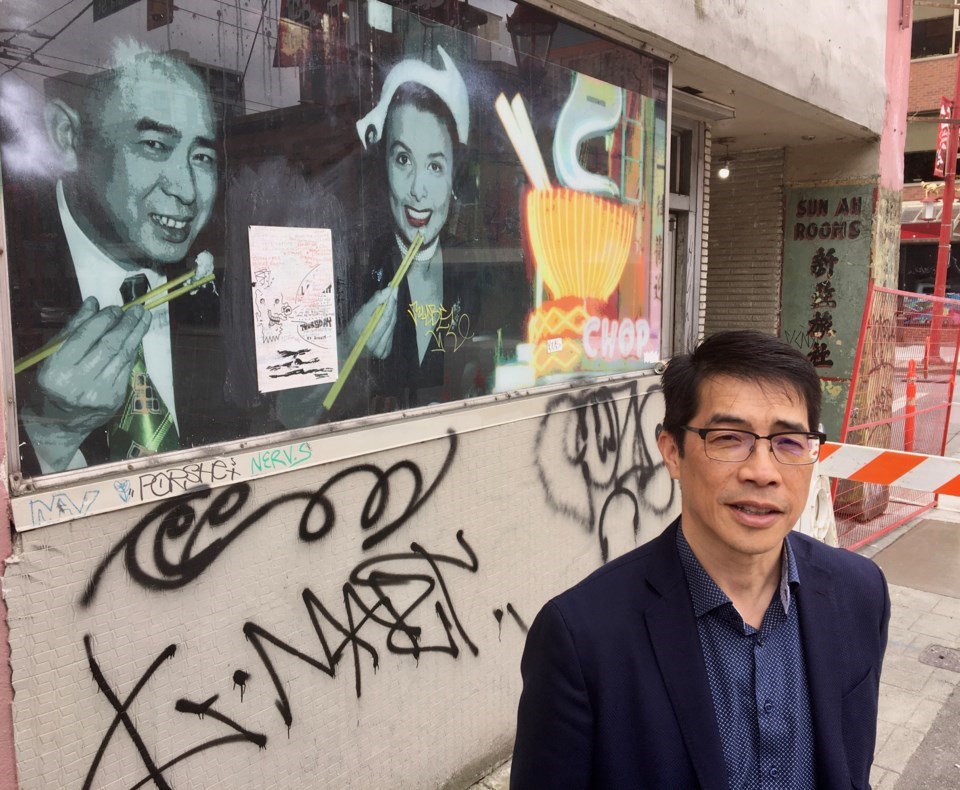 'Helicopter activists'
Jordan Eng, president of the Vancouver Chinatown Business Improvement Area Society, said his organization has yet to take a public position on the proposal. In 2017, the society supported Beedie's project, saying it would bring more people to shop in the neighbourhood.
"Because we're a business community," said Eng, when asked to elaborate on that support.
A lot has changed in Chinatown since 2017, he noted, pointing to the pandemic, a drop in business, an increase in anti-Asian hate crimes, drug-fuelled street disorder and graffiti.
In recent months, the city, provincial and federal governments have all invested in revitalizing Chinatown, including establishing Canada's first Chinese Canadian Museum, grants for graffiti removal, infrastructure upgrades and festivals.
Police have also increased their presence in the neighbourhood.
Eng said the investments are good news for Chinatown and it has come largely from pressure of what he described as the "legacy organizations" in the community such as business groups.
"The helicopter activists haven't been around with us for the last four years," he said. "Many of the legacy groups are living, so to speak, in the poop right now with graffiti and vandalism and all this sort of stuff — and those activists never showed up to help, or voice their concern."
Opponents of Beedie's project in 2017 were concerned it would lead to increased housing prices in the area and gentrify a community that is on the City of Vancouver's radar for a UNESCO designation.
Eng's response: "We have been working with city staff on promoting seniors' housing in the Northeast False Creek plan, which is still under discussion. So I think that that is an important point."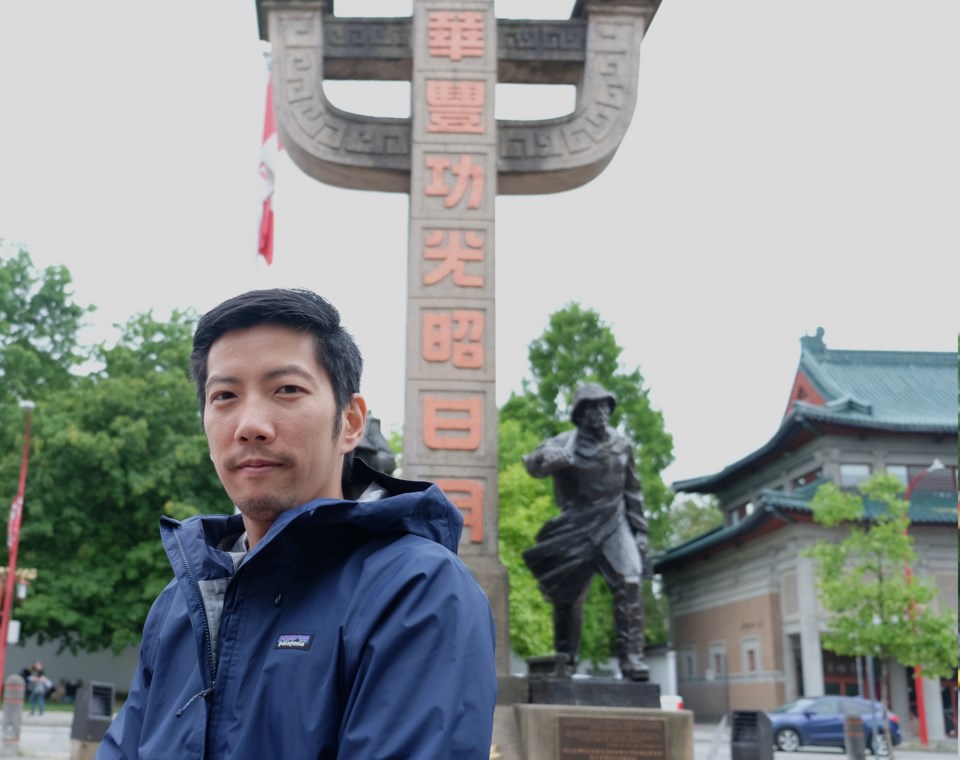 'Community does not want luxury condos'
Michael Tan opposed the project in 2017 largely because of its size and design, noting the site at Keefer and Columbia streets is in the heart of Chinatown — adjacent to the Chinatown Memorial Plaza and across the street from the Dr. Sun Yat-Sen Classical Chinese Garden, Chinese Cultural Centre and Chinese-Canadian Military Museum.
"What the community does not want is luxury condos," said Tan, who plans to speak in opposition to the project at the May 29 development permit board meeting.
Tan, who was recently co-chair of the Chinatown Legacy Stewardship Group, pointed to a report released in January about the state of seniors' housing in Chinatown.
Titled "Vancouver Chinatown Seniors Affordable Housing Inventory Report," it was authored by Louisa-May Khoo with input from several organizations, including BC Housing, the City of Vancouver, Vancouver Coastal Health and the Seniors' Advocate of B.C.
"It showed an existing shortfall of about 4,000 units of seniors' housing in Chinatown, and that's likely to triple in the next 15 to 20 years," said Tan, noting the provincial government paid $17 million in 2021 to acquire Grace Seniors Home on East Pender Street over fears tenants would lose their housing under a new owner.
Among the recommendations in the report was identifying sites in Chinatown to build affordable seniors' housing. Lobbying governments for funds to ensure existing housing stock isn't lost was another recommendation.
City officials previously met with Beedie to consider a possible land swap for another property with more favourable zoning requirements. The city also said it considered buying 105 Keefer St., which at the time was worth at least $22 million.
Tan suggested that option should again be on the table for governments.
"The province has already shown a record of stepping in to acquire sites," he said of the Grace Seniors Home.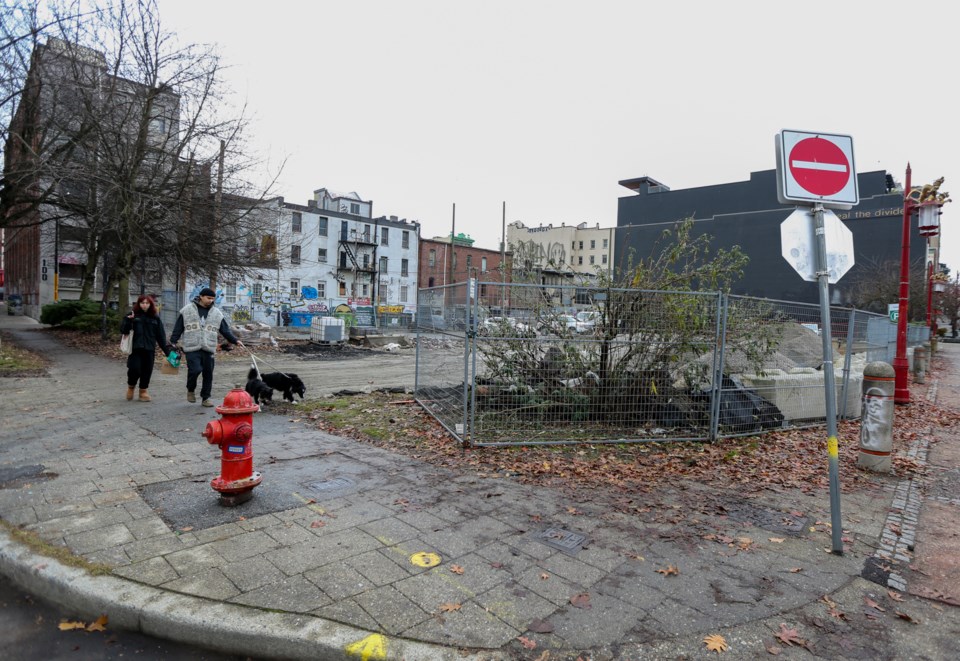 25 apartments for seniors
Originally, Beedie proposed a 12-storey condo building at 118 feet tall for 105 Keefer St. but it was rejected in June 2017 in an 8-3 city council vote. That proposal went before council because its proposed height required a rezoning and public hearing.
The building would have included 106 market condos, 25 apartments for seniors, a recreational and cultural space, and room for business on the ground floor.
At the time, the proposal deeply divided the community, with hundreds of citizens voicing their concerns over more high-priced condos planned for Chinatown, which they argued had a need for more social and seniors' housing.
The council of the day, which was led by Gregor Robertson and Vision Vancouver, said the building's design was too bulky and would block views and cast shadows on Dr. Sun Yat-Sen Garden.
They also said the building wouldn't preserve the heritage and cultural character of Chinatown, and that there wasn't enough social housing in the plan.
Beedie revised its application and reduced the project to nine storeys and 90 feet tall, erasing the need for a rezoning or public hearing. That was the version of the proposal rejected by the development permit board in 2017.
The May 29 hearing is expected to attract many opponents of the project, with #SaveChinatownYVR campaign's Melody Ma tweeting recently that "we'll fight back even harder."