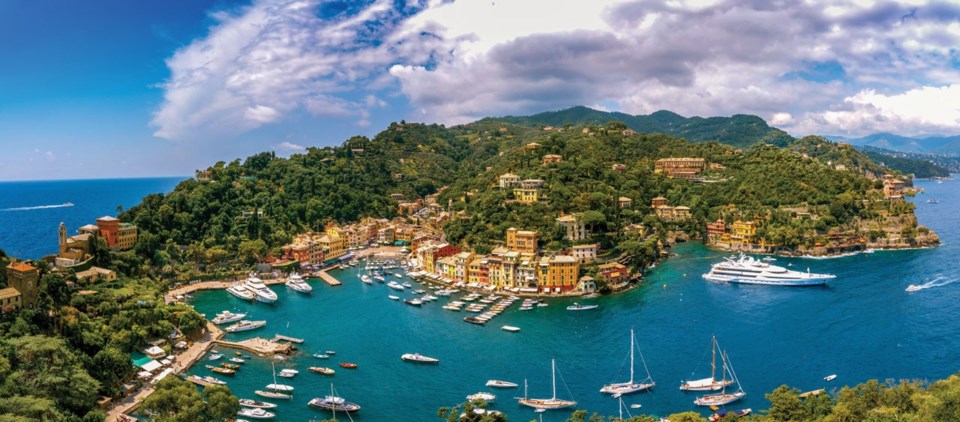 It's the breakfast of champions on the Italian Riviera.
A chunk of focaccia bread washed down with a glass of white wine launches the day with flair for dock workers and tradesmen, as well as slightly hungover tourists.
In the case of the tour group my wife and I are hiking with from Santa Margherita to Portofino, we're enjoying mid-morning sustenance of the typically Italian bread with Raggio di Sole Bianco wine.
"Of course, it's OK to drink wine when you take a break during the hike," said our guide Enrico Chierici in a charming Italian accent.
"It's the traditional breakfast in Liguria."
We're happy to oblige tradition.
But, for the record, we also hydrated with water.
Not that this hike was long or arduous.
We signed up for this six-kilometre adventure on the Emerald Princess, the elegant 289-metre-long, 3,573-passenger cruise ship we're calling home for a week.
The port we've pulled into is Genoa, the city in northwestern Italy that's the gateway for the Riviera punctuated by the charming Mediterranean trio of towns Rapello, Santa Margherita and Portofino.
The excursion starts after a 45-minute drive on the mini-bus from Genoa to high up the hill above Santa Margherita.
While we'll get a little exercise, the excursion is not really about the distance or technical difficulty of this hike.
It's about trekking high above the Riviera in Portofino Regional Park, soaking in the stunning views and anticipating lunch, with more wine, of course, in Portofino.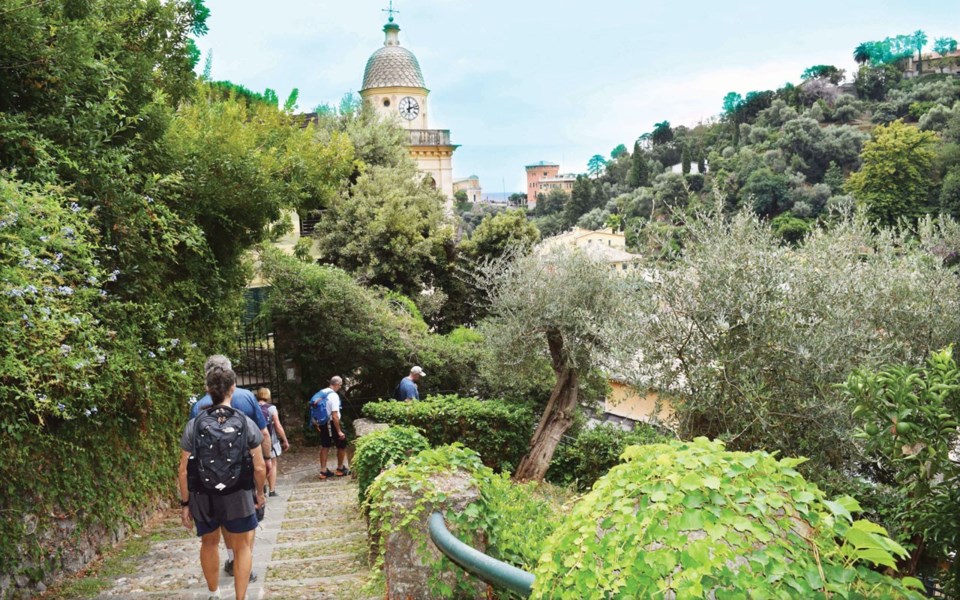 But first, we pass through the arch of the Nozarego Church to follow the Via Partigiano Berto Solimano and immediately there are 80 steps up the steeply terraced hillside.
The path evens out and we hike through olive grove after olive grove and yellow-stuccoed farmhouse after yellow-stuccoed farmhouse while our guide tells us about Liguria, farming and the flora and fauna.
At the three-kilometre mark, there's the aforementioned focaccia and vino blanco at the picnic area at Mulino del Gassetta.
If you didn't pack your own snack and wine, no problem.
There's also a bar and trattoria there, housed in the former stone mill that once pressed olive oil and now grows hops to brew craft beers.
The second half of the hike is mostly downhill, through more farmland and forest to Portofino.
We start asking our guide for restaurant recommendations for lunch and the commentary naturally turns to Italy's obsession with food and wine.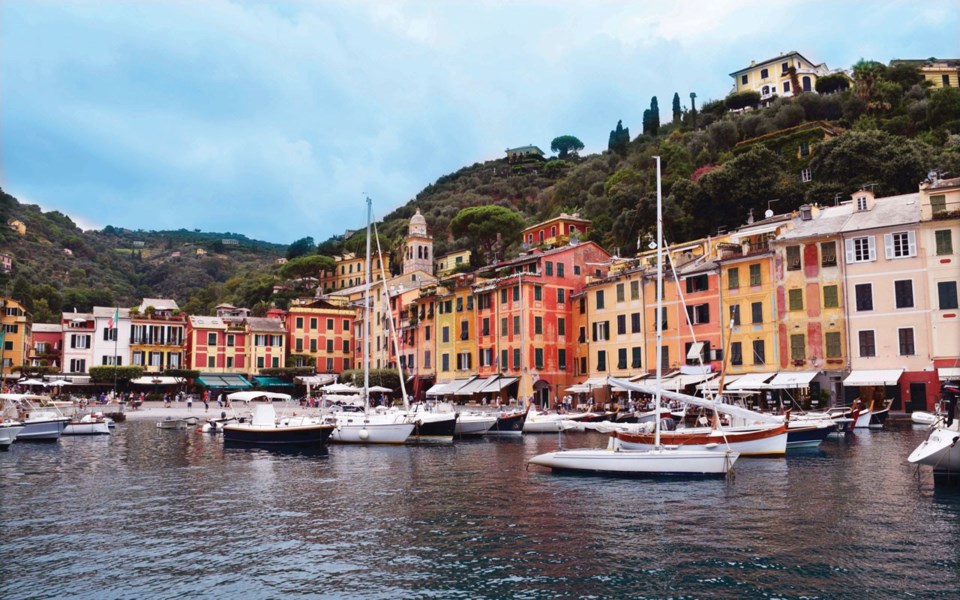 We're told we must take a patio seat at a harbourfront restaurant and eat trofiette alla crema di pesto paired with a glass of Vermentino.
The little pasta noodle twists doused in pesto sauce is Liguria's favourite dish and the crisp Vermentino white wine is also made locally.
We have such a meal at Delfino Restaurant and revel in Portofino's fishing-village-turned-chic-resort-destination vibe.
The scene is people watching (fashionable Italians and an array of tourists from other parts of the world) with a view of colourful tall houses ringing a harbour where little fishing boats share water with super yachts.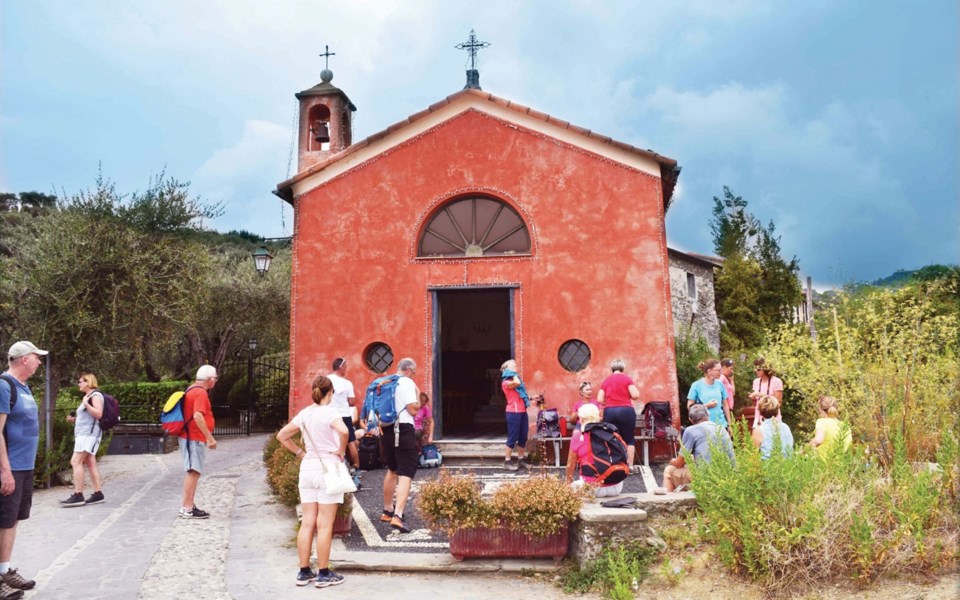 Our Med life continued aboard the Emerald Princess for another six days travelling form Barcelona to Rome with two sea days and three other stops—Gibraltar at the southernmost tip of Spain, Marseille in the South of France and Livorno, Italy, the gateway to Tuscany, Cinque Terre, Florence and Pisa.
As always, the beauty of a cruise is being whisked from one exciting port to another on a ship that's essentially a 19-storey luxury resort.
Air Canada flies between Toronto and Montreal and Barcelona and Rome, so it's easy to connect to Princess' Mediterranean cruises. Check out Princess.com and aircanada.com.