Canada isn't so much of a tale of two cultures as it is torn between two styles of city: for those double-dosha types who embrace mountains but also music, alpinism but also art, culture but also climbing, then it is between Vancouver and Montréal that one is tugged to and fro, in the endless quest to spawn a bastard lovechild of the two.
Montréal, however, has a few things on West Coast living. It is the place where hang-ups go to die. English coldness rots away during the vicious winters. Friendships are fast and run deep. And with the sudden onset of an often humid if not tropical summer, Montréal's plazas echo with music, its terrasses overflowing with revellers and its venues choked with nightlife. The vibrant and diverse metropolis has crowned itself "City of Festivals" — though with its neon strip joints and laissez-faire attitudes towards drinking and debauchery, "City of Sin" remains apt — and over the course of three months from June through August, over 100 festivals storm the streets, from the internationally recognized Festival du Jazz, and its large-scale, free urban concerts to the equally impressive — for my tastes — Montreal Beer Fest, which kicks off four days of taste bud titillation. And this is but a sampling of Montréal's endless stream of day-and-night events dedicated to world theatre, film, music, dance, and opera and joyous celebrations of culture, circus and comedy.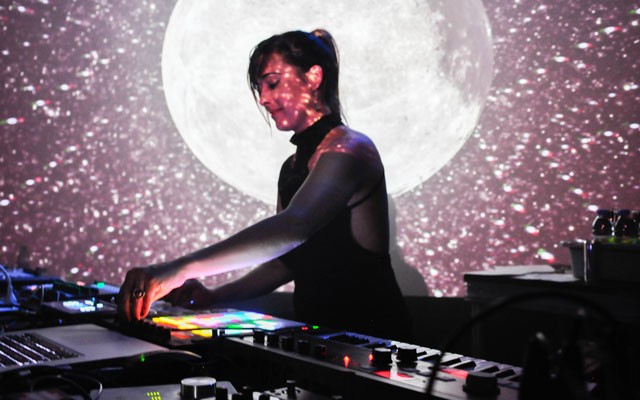 PHOTO BY TOBIAS C. VAN VEEN - Montreal's Mutek Festival
One week before the infamous F1 Grand Prix, I was in town for the 15th anniversaries of the MUTEK and Elektra festivals of electronic music and digital arts (now known as EM15). Back in 2002, MUTEK drew me to Montréal, serving as a focal point for experimentalists of strange and minimalist sound, post-raver turntablists and tattooed techno-heads. Now that Canadian electronic producers such as Richie Hawtin are world-recognized for their talents in composition, performance, and installation — though embarassingly, all but ignored by the likes of CBC's Q, even as they grace major media elsewhere — MUTEK has become an international destination for dedicated techno-head travellers as one of the world's premiere "boutique" electronic music festivals.
MUTEK's success is thanks to a community that values its arts. The Society for Art and Technology (SAT) — a 30,000-square-foot media arts venue in a former downtown warehouse — has been building upon a Printemps Numeriques showcase of technology arts for the past decade. At the same time, the city has been developing what is known as the Quartiers des Spectacles. The Opéra de Montréal and Musée d'art Contemporain (MAC) are now the institutional centrepieces to modern galleries and performance venues on surrounding streets. The Quartier is not only in name, but place: the St. Catherine's thoroughfare and side streets are closed to traffic during summer, creating a massive people plaza that extends east through the LGBT Village.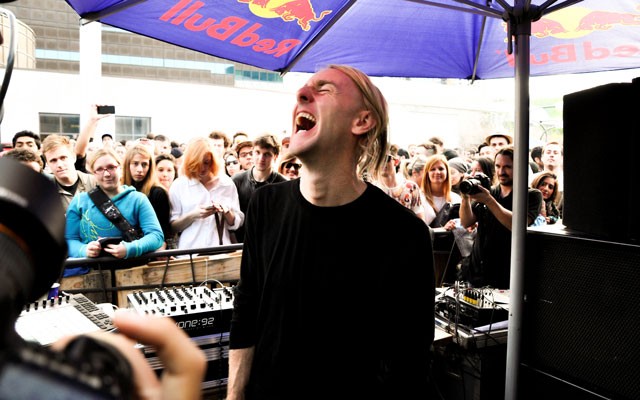 PHOTO BY TOBIAS C. VAN VEEN - Montreal's Mutek Festival
This year, EM15 occupied the MAC's illustrious galleries — a first for the festival and a nod to the institutionalization of the former dregs of rave culture. But rather than stifle the fest's minor bohemia, the MAC provided thunderous sound in a minimalist setting that was rapidly dismantled of its pretensions by the late-night antics of festival-goers. The six days and nights of performance were near overwhelming, with conferences on music software and technology during the day at Centre Phi, and music thumping and squelching until 6 a.m. most nights in multiple venues hosting simultaneous showcases. Nearly all modern electronic artists incorporate immersive takes on audio-visual performance, and EM features both club-style concerts in the two-level Métropolis venue that featured the latest in LED projections and object mapping, as well as more thankfully restful affairs in the beautifully renovated art deco Thêatre Impérial, where artists utilised the film screen and stage space to play live amongst image and objects.
The heart of EM is its live performances of enveloping sonics — whether vibrating bodies with slamming techno, such as France's Kangding Ray, who melted the opening Tuesday night, or losing spectators in a literal fog of noise and disorientating darkness, as did local luminary Tim Hecker. Other highlights included Audion (a.k.a. Matthew Dear), who ran raw techno from a space ship suspended above the stage at Metropolis; the deep sea subsonics of Greece's dub techno master and Basic Channel pioneer, Fluxion; and the always rambunctious, and this year utterly rammed showcase at Piknic Electronik, an outdoor Sunday shindig of epic proportions held under L'Homme, the giant, metallic Alexander Calder stabile in Parc Jean Drapeau, where Move D and Donato Dozzy held court until well past sunset.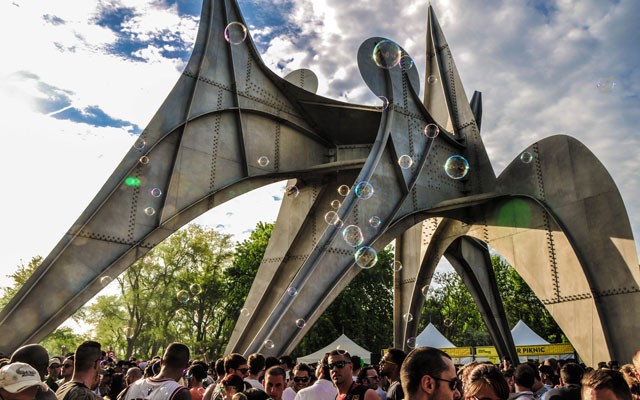 PHOTO BY TOBIAS C. VAN VEEN - Montreal's Mutek Festival
My main transport for Montreal events that tax mind and body is a BIXI and a metro pass. With no mandatory helmet laws and plenty of protected bike lanes, two wheels gets you near anywhere. Plenty of convenient lodging is within a few walking blocks of the Quartier des Spectacles, including the boutique and très modern Hotel 10.
After six days of dawn crashes, it was time to escape town. With luxury wheels from Enterprise, I gunned out to the Eastern Townships, devouring delicacies at Bromont's Musée du Chocolat off Autoroute 10 before making my way to the picturesque, brick town of Sherbrooke. A day spent at the Spa Algua-Sulis for multiple rounds of hot saunas and massages had me ready to collapse with drink in hand in Québec's cottage country. A cute little chalet fulfilled the needs of my lazy bones on Petit lac Brompton, where only the storms and sun provided the soundtrack for the next few days of solitude.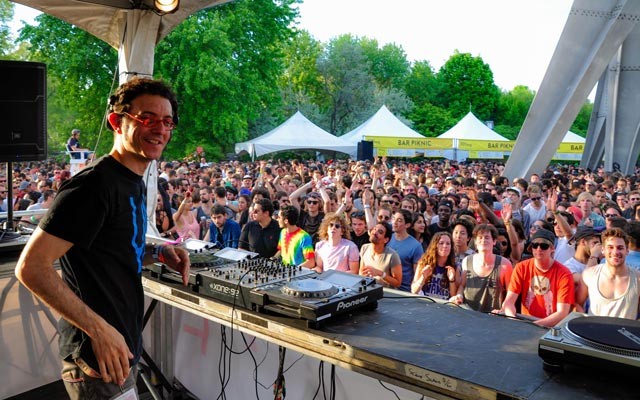 PHOTO BY TOBIAS C. VAN VEEN - Montreal's Mutek Festival
MUTEK/Elektra (EM15.ca) takes place yearly on the first weekend of June. For more on Montréal's numerous festivals, see Tourisme-montreal.org. For Hotel 10, see Hotel10montreal.com. Sherbrooke's Spa Algua-Sulis is at Spaalguasulis.com and the Musée du Chocolat at Museeduchocolatebromont.ca.