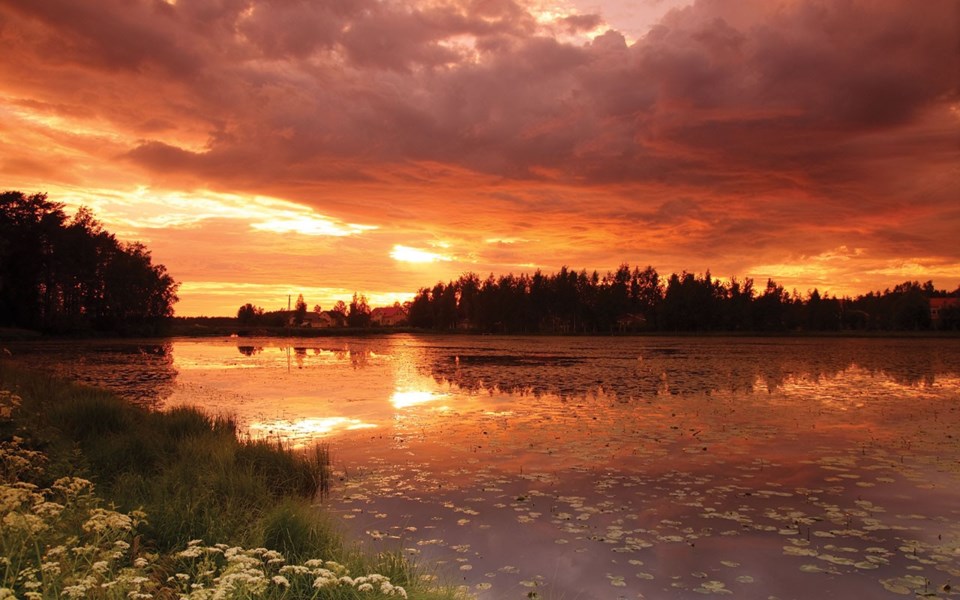 It takes two-and-half hours to cross the Baltic Sea on the ferry from Tallinn, Estonia to Helsinki, Finland, enough time to write 15 postcards. I am looking forward to replenishing my card supply at Helsinki's postal museum, surely the world's best selection of postcards, as I recall from a delightful visit there seven years earlier.
But alas, soon after disembarking, I'll learn it is gone! Some consolation is won at the post office, where I find three new bike stamps for my collection, making a record 10 on this bike tour (that began in Poland almost three weeks ago, as this is the last of a three-part story).
I snap a few photos of the brilliant tram system which includes a line that serves the ferry dock. I also enjoy shooting compositions of Helsinki's vibrant bike culture that puts soft, lazy Canadians to shame. Despite rigourous winters far darker and colder than those in most of Canadian cities (Helsinki is almost the same latitude as Whitehorse, Yukon), many hardy Finns pedal year-round, including a large contingent of mail carriers. (see photo above of Sanna, who uses her orange pannier to deliver the mail).
Postal delivery by bike (power-assisted does not count!) is a favourite photo op of mine. I've captured it in 10 countries, but tragically the service does not exist in Canada, where comfort and convenience invariably trump all other considerations.
As far north as it may be, Helsinki still experiences two or three hours of darkness nightly around the Summer Solstice, so we soon board a fast train bound for Oulu, on the Gulf of Bothnia, 600 kilometres north, near the Arctic Circle.
Though it is only late afternoon, we have a long nap en route as it is time to revert to our native Pacific Daylight Savings Time, despite still having six more days in Europe. We are not ill, yet we will henceforth be spending our days in bed. Taking advantage of the perpetual daylight, bike travel will now be strictly overnight!
Besides no jet lag when we eventually return to British Columbia, there are many other advantages to this strategy: more wildlife activity, better light for photography, better accommodation opportunities (some hotels offer reduced rates for day-occupancy, and are rarely booked up by 10 a.m.), less wind and, best of all, no cars. Everyone is asleep.
It's true that you don't get to know many locals this way, but you must understand I don't travel to meet people, I travel to get away from them. Working at an overwhelmingly busy medical practice in one of the world's most popular ski resorts, I relish the respite of sublime tranquility, with no phone and no internet either.
The only downside, of course, is that everything is closed most of the way. You can't even purchase basic necessities such as food, postcards or stamps, and there's nobody to help you if your bike frame breaks again (as it did in Latvia, two weeks prior)!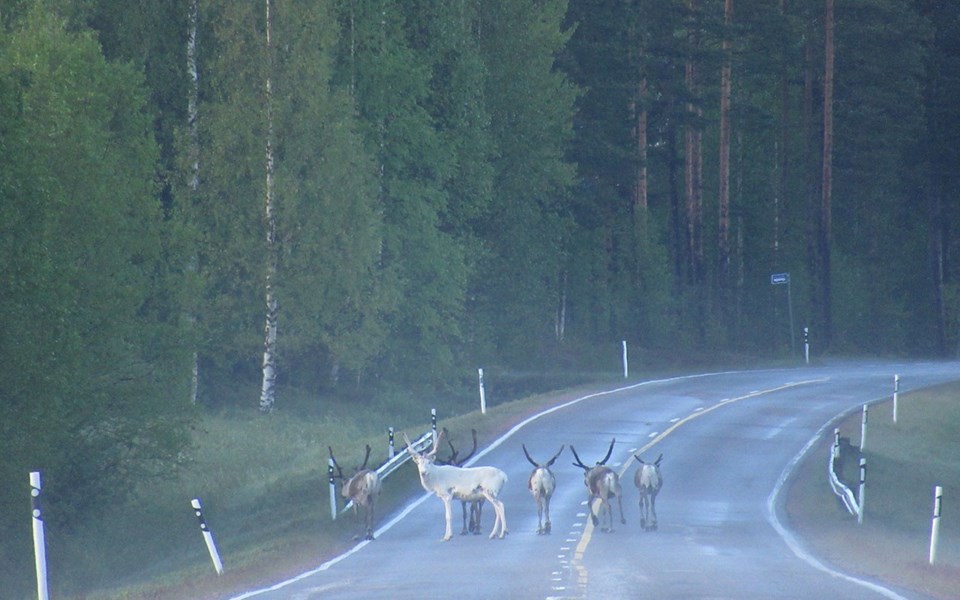 The concept first came to me when I lived in the Canadian Arctic, though we have no paved highways up there to cycle. In fact, Inuit villages have no road access at all.
This is my third tour of Europe's far north. My first two rides were primarily along the Norwegian coast and they remain amongst my very favourite of all time, with spectacular seaside pedalling and perpetual mountain vistas, yet no substantial climbs.
One night, I set an all-time personal record of riding 154 km on a paved road without a single car overtaking me. Can you imagine cycling the entire Sea to Sky Highway without ever hearing anything louder than a Stellar's Jay?
But if the Norwegian coast reminded me of British Columbia, this time our ride through Lapland of Sweden and Finland is more like the rather featureless landscape of Northern Ontario. The weather is not as favourable either. Our first night, we happen to cross a time zone on the bridge between Tornio, Finland and Haparanda, Sweden, allowing us to see the midnight sun twice. But we won't see it again as cloudy weather then prevails.
Infrequent photo ops, however, make for more consistent cycling, and so do the mosquitoes, which only bite if you are foolish enough to put your foot down!
We cover 238 km one night, and 800 km in four. En route, we spot reindeer, a short-eared wwl and Arctic terns. The latter dive-bomb us, as we presumably pass too close to their nests. Of the 3,000-plus bird species I've seen since childhood, Arctic terns remain my favourite. They epitomize my lifelong mantra: don't stop. No other living thing travels as far as they do, migrating from Arctic to Antarctic and back, every year, covering millions of kilometres in their lifetime.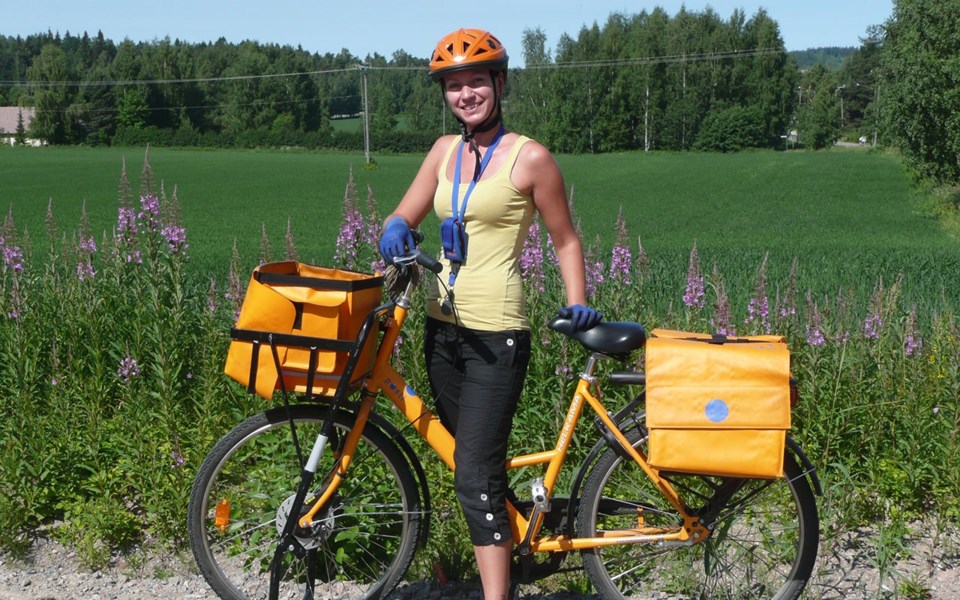 Our last sleep is at Sirrka, Finland, an alpine ski resort, not as popular as Whistler, and for obvious reasons: only a small fraction of our vertical, and can you imagine spending Christmas in almost perpetual darkness at 25 degrees below?
Too soon, it's time to board a train south back to Helsinki. On the plane, we'll be crossing 10 times zones westering home, yet we won't need to reset our biological clocks when we awake from our mid-summer's night dream!
Go to piquenewsmagazine.com to read how Tom navigated Poland in Part 1 of his bike odyssey, "Following the Lilacs," March 28. And pick up Pique's April 4 issue for Part 2, "From Russia with love," as he cycles the Baltic States and neighbouring nations.