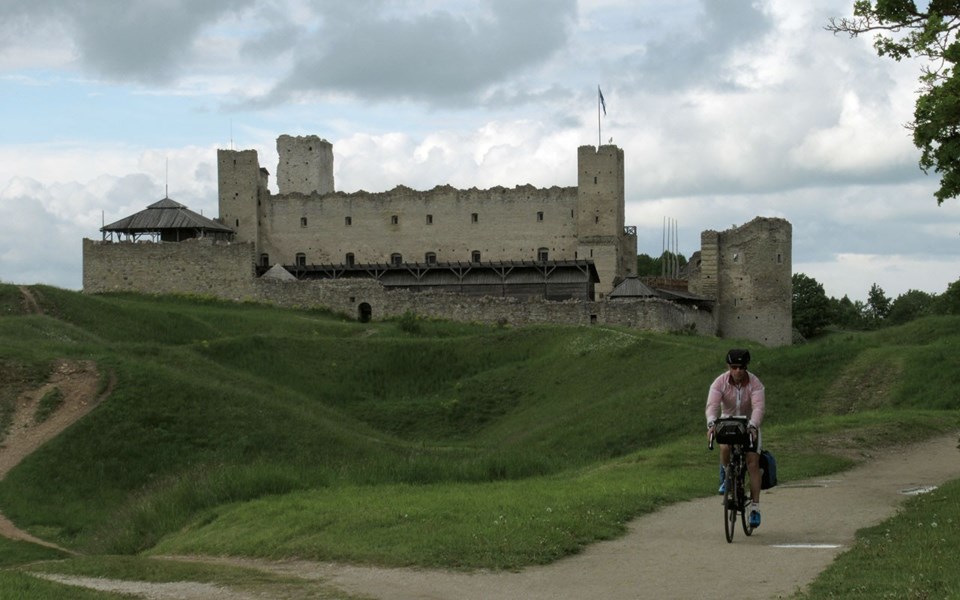 As a teenager, I read dozens of books on the Second World War, and out of them I've drawn a lesson from one of Hitler's biggest mistakes.
The Fuhrer's panzers audaciously crossed the Russian border without first procuring the necessary documents. Presumably Adolf was aware that obtaining a Russian travel visa is a tedious and expensive process. It remains so, and it cramps my style, that's why I've ridden 40 other European countries before finally coming here.
Maybe 1,300 times in my life I have awoken in the morning with no idea where I'm sleeping that night, travelling with no unnecessary encumbrances such as sleeping bag or tent, confident of always finding a room somewhere.
But Russian authorities are not into spontaneous adventure. Long before departure, they demand submission of proposed itinerary, including all hotel reservations!
For the occasion, though a native Canadian, I have chosen my Italian passport, reluctant to arouse any sensitivity amongst Russian custom officials who have witnessed Team Canada win too many Gold Medals in international hockey tournaments, often at their home team's expense. At the border, I know I've made the right choice when the officer smiles upon presentation of my visa and shouts "Juventus," a popular Italian soccer team, and maybe the only word we mutually understand! But my partner Hisano Motohashi and I must still run the gauntlet of six other, more sullen border guards.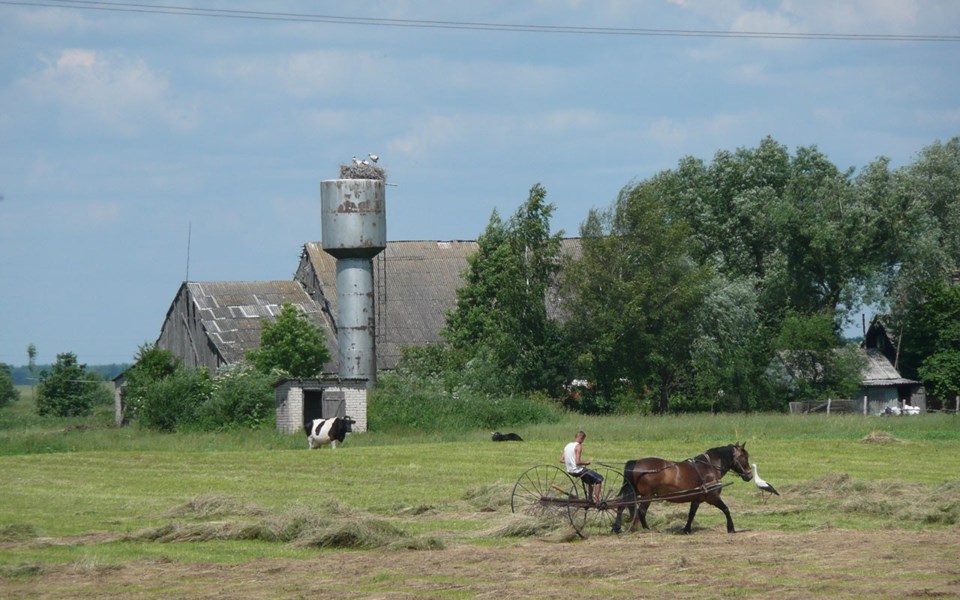 We receive a much warmer welcome from the Russian mosquitoes.
Maybe a reflection of my Italian heritage, I've long valued beauty in all aspects of life. In rural Russia, the concept appears to be entirely superfluous. The Soviet era has left a legacy of austere structures in various degrees of decay. The term "East Bloc" seems to graphically apply to the grey concrete monoliths.
Some older, wooden farmhouses retain their charm, actually enhanced by the absence of paint. Lilacs provide the odd splash of colour, as does the occasional tulip, still in bloom at this latitude in mid-June.
All in all, not very pretty here, but as an environmentalist who values peace and quiet, I approve of the Russians' evident disdain for lawnmowers, weed-eaters and leaf-blowers ... local landscaping is definitely 100 per cent certified organic.
The city of Pskov provides the only respite from the monochromatic architecture, with its warm brick medieval walls, as well as its white and blue orthodox churches topped with golden onion-dome steeples.
From a geographic perspective, Western Russia is more on the scale of Western Canada than it is with its Eastern European neighbours. As with our Sea to Sky Highway it is often 50 kilometres or more between outposts of civilization. Our cabin on Lake Peipus, Europe's fifth-largest lake, is the only accommodation available along a 250-km stretch of road. We cover 460 km in the four days in Russia, getting the cost of our visas almost down to $1/km.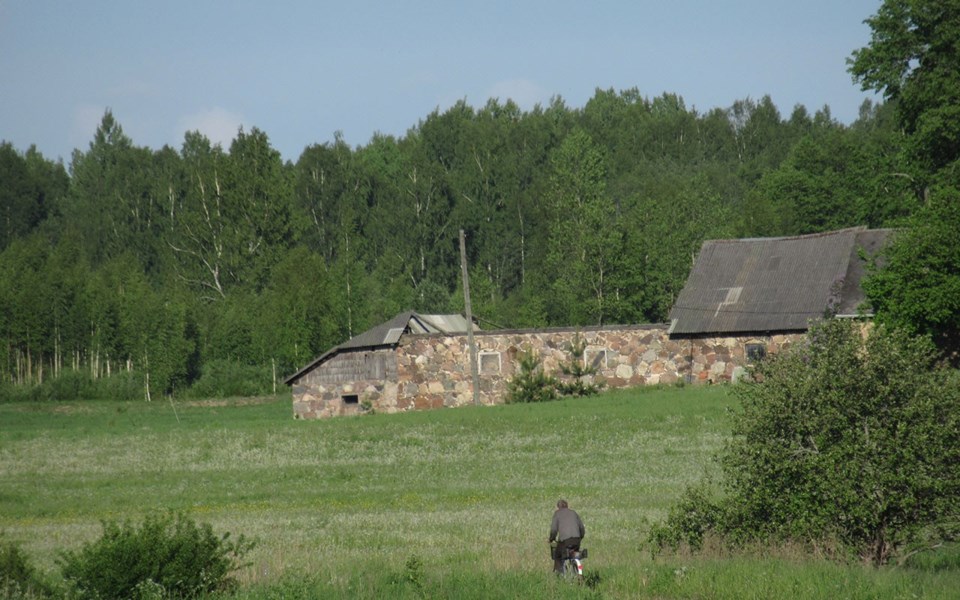 Happily, Russia is a lot easier to exit than it is to enter. At the Estonian border, formalities are concluded in mere minutes, and a heavy rain keeps the mosquitoes grounded or drowned.
Communication has been fully restored, as Estonia has rapidly embraced English as its second language. A veritable gem-in-the-rough for cycle tourists, the country is the size of Netherlands, but has only one-tenth the population, so motor traffic is light.
As with the other countries that used to lie on the wrong side of the Iron Curtain, prices here are half those of Western Europe. Comfortable accommodation is cheap, when not free ... on my first ride in this country, I recall a kind B&B owner in Simuna who was so ashamed that he could not offer the second B (breakfast) that he would not accept any money for the first B (bed) either!
Road maps, on a scale of 1:200,000, ideal for cyclists, are also available without charge.
In Sillamae, population 15,000, something is conspicuous by its absence: there are no houses. "East Blocks" prevail here: rows and rows of grim Soviet-era apartment buildings. Charmless as they may be, I appreciate their considerable environmental value, imposing a fraction of the ecological footprint compared to low-density, car-dependent, single-family homes that Western culture still considers the Shangri-La to which everyone must aspire. We spend a night here, even though it was long a Uranium Enrichment Centre during the Cold War. Thirty years ago I spent an entire winter in Uranium City, Sask., so I am confident that I am immune to the effects of ionizing radiation. Hopefully Hisano is too, what with her Japanese heritage.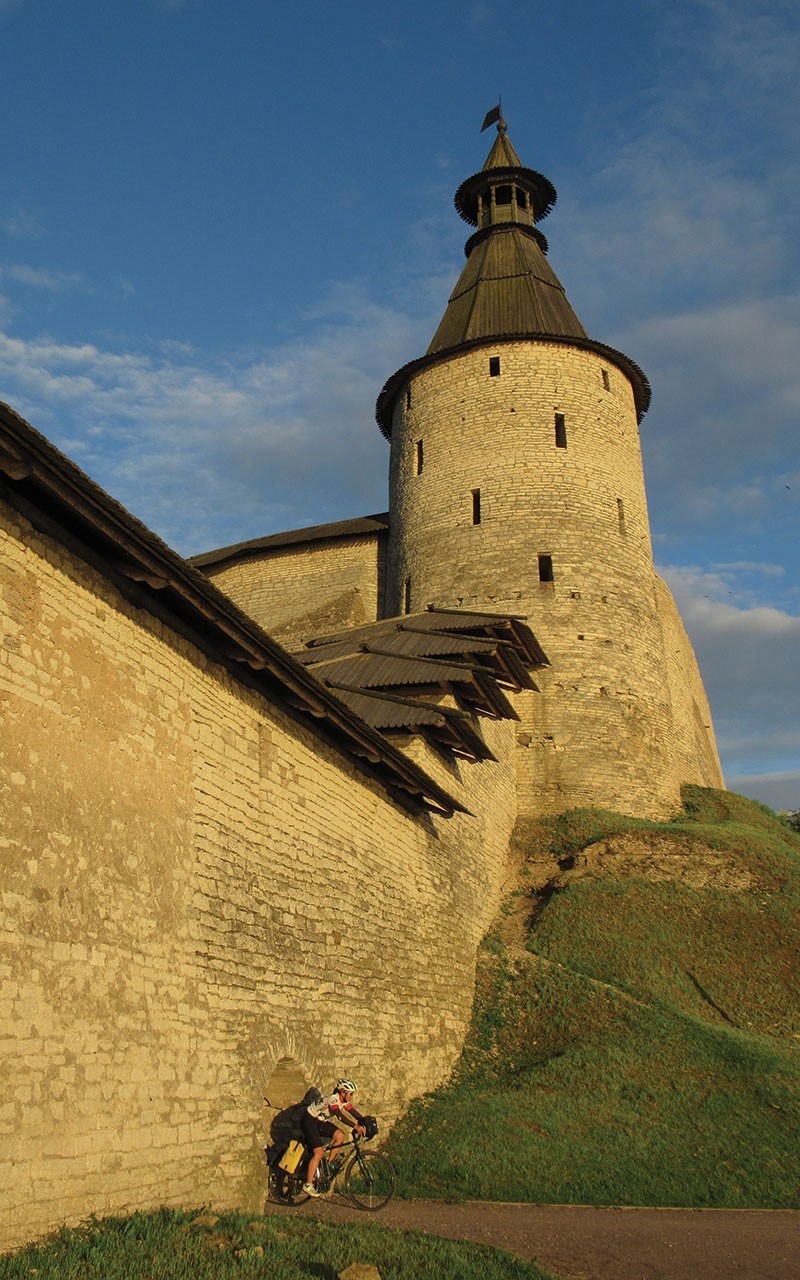 On the second day in Estonia, we battle the only head wind of the entire trip (dumb luck? Not at all, be sure to consult me before you plan your next bike journey). At Kivioli, we ride past a dowhill ski station, estimated vertical drop of 110 metres. Topographically challenged as it is, it's understandable that Estonia is not a world power in alpine skiing. On the other hand, cross-country ski trails are ubiquitous.
Medieval castles and old windmills provide frequent photo ops as well.
Near day's end we reach Tapa, only to learn that its only hotel is closed ... and it is starting to rain, hard. Time for Plan B: the last train to Tallinn departs in 10 minutes (yes, I concede dumb luck this time!).
An hour later we arrive in Estonia's capital city. Plenty of hotels here, and they are all open! Tallinn's historic centre is beautifully preserved and restored, but the cobblestone is bone-jarring to ride on road tyres and I never have time to walk when on a bike holiday. Hisano would like to linger, but the next morning I must whisk her away to the ferry terminal, as we have an appointment to respect, far to the North ... a ride under the midnight sun during the Summer Solstice!
Go to www.piquenewsmagazine to read how Tom navigated Poland in Part 1 of his bike odyssey, "Following the Lilacs," March 28. And pick up Pique April 11, for the last in this series, as he cycles the Baltic States and other neighbouring nations.