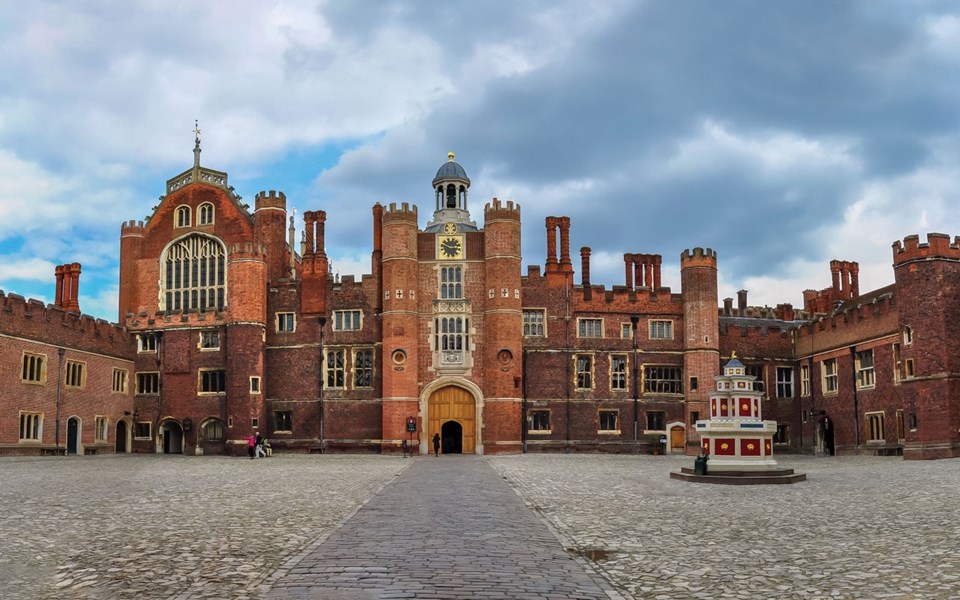 Lexicographer Samuel Johnson famously mused: "When a man is tired of London, he is tired of life."
What's truly tiring about life in London these days is the suffocating mob that, even in the off-season, choke the city's major attractions. Exhibit A: Westminster Abbey. Far better to make like Henry VIII, or his daughter, Elizabeth I, and subsequent English monarchs, and light out for the countryside, far from the madding crowd. Specifically, to Hampton Court Palace upstream on the banks of the River Thames.
Much like London, a city interlaced with neighbourhoods, the palace, first constructed in the 1500s and completed in the early 1700s, is not one building but many gathered around a series of interconnecting courtyards. Everyone enters through the West Front's bricked gate whose ancient wooden doors are flanked by an octet of sculpted Royal Beasts, including the swivel-horned Yale of Beaufort and the Seymour Unicorn. Within lies a cobbled courtyard surmounted by an outsized golden clock that has intricately ticked away not only the minutes and hours but also the days, seasons, positions of the sun in the zodiac, and phases of the moon for almost five centuries since Henry VIII pre-empted ownership of the grounds in the 1530s.
Attended by a brace of State Apartment Warders—staff versed in the minutiae of life and times of the castle—the vaulted approach elevates the atmospheric bar to regal heights. For added embellishment, a unique fountain anchors the inner yard. Beneath an inscription that reads "Make Goode Cheere Who Wyshes," spigots once gushed with red and white wine to toast significant royal occasions that occurred here, such as the birth of Elizabeth I to Henry's second wife, Anne Boleyn, or his marriage to his sixth wife, Kateryn Parr. Who wouldn't invoke good health on such lavish-minded hosts, no matter what uncertain fates lay in store.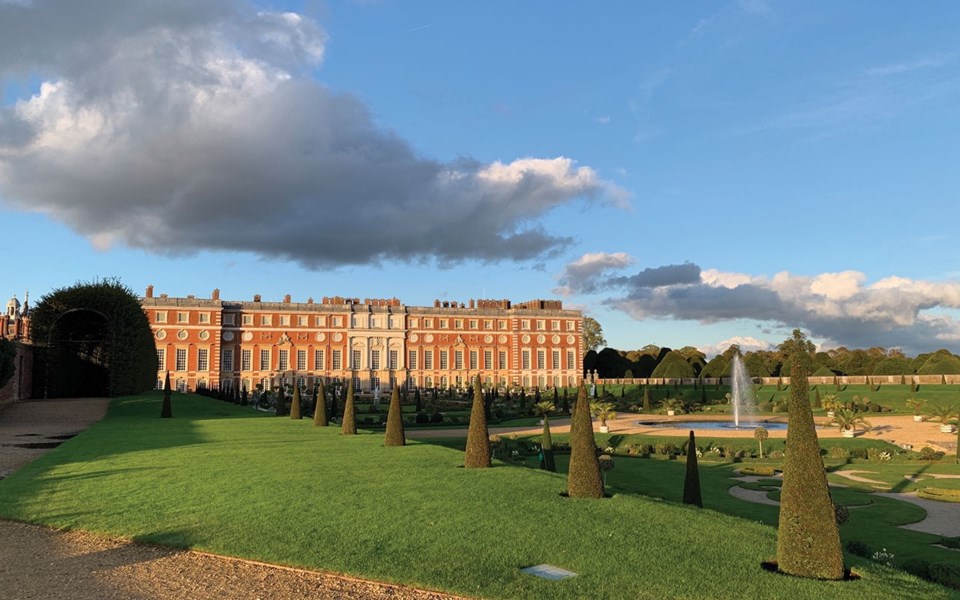 Prepare for what lies ahead by donning a crimson scholar's gown or green jerkin in the cloak room where warders dispense audio guides and point the way to Henry's Great Kitchen, a good starting point to appreciate the daily demands on staff to smoothly operate a castle when a 1,000-person court was in residence. Drop by on Saturdays to watch the wood-fired hearths lit for an all-day cooking session prepared by food historians with lashings of baked goods and locally-sourced, spit-roasted victuals on offer. Further along in Elizabeth's private kitchen, daily menu offerings include a savoury pastry with a remarkable resemblance to Function Junction-based purebread bakery's pudgy pie, guaranteed to allay any homesickness.
Far from being overwhelming, as is the case with many European regal residences, the human scale on which Hampton Court's various iterations were designed serves to put visitors at ease. Well-trodden, elaborately-ornamented stone staircases lead to successive chambers with walls draped in tapestries the size of theatre curtains. Henry alone amassed a collection of over two thousand canvases during his residency from 1529 to his death here in 1547, several hundred of which survive to this day. Five centuries later his oversized presence still permeates the palace with a real-time ambience.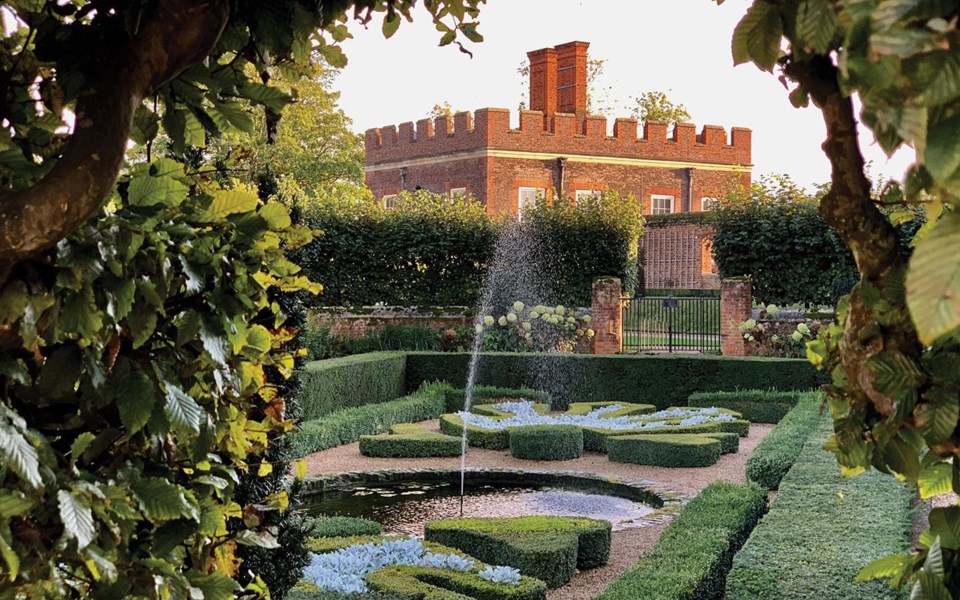 Ride along on the imaginary current of those seeking an audience with their highnesses. In total, 9 kings and five queens plus commoner Oliver Cromwell bedded down here in Hampton Court's Royal Chambers, some for years at a time. Among the many arresting portraits on display throughout the interior is one by Andy Warhol of the current landlord, a then-youthful Elizabeth II, guaranteed to blur the line between past and present.
With one eye on the extravagance, keep another on the landscaped grounds that unfold outside, glimpsed as you thread your way in and out of rooms into which daylight filters through screened windows. Eight distinctly-different formal gardens await leisurely open air inspection. At the junction of the Lower Orangery and Pond gardens stands a greenhouse that shelters the 240-year-old Great Vine in all its braided splendour. In September the largest vine in the world yields a bumper crop of sweet Black Hamburg grapes, harvested each morning by the official Vine Keeper and offered for sale to the public at noon. Not exactly your average gift shop item.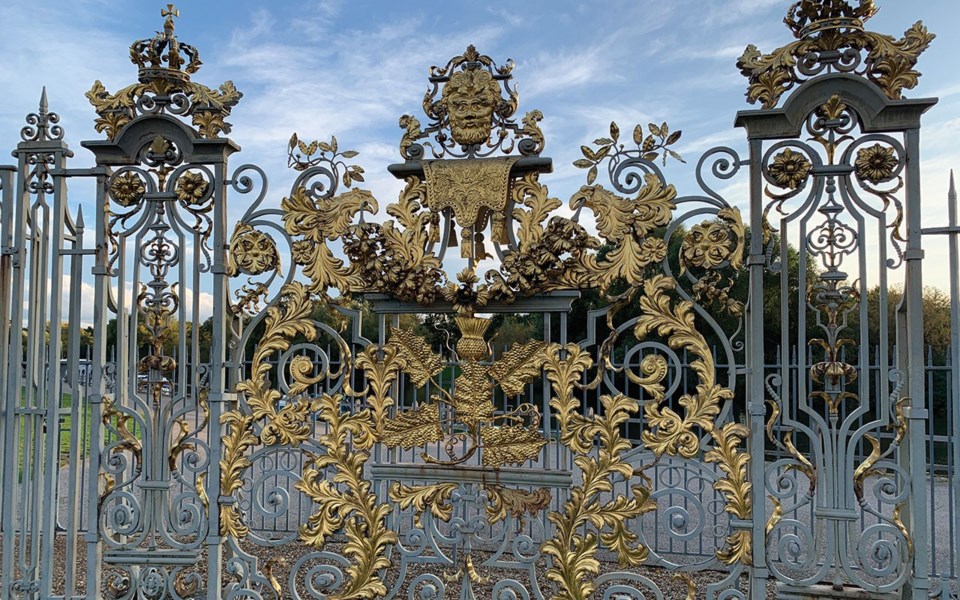 Pathways lead off in multitude directions. At the foot of the Privy Garden, densely planted with flowering spring bulbs and summer annuals, an exuberantly decorated, gilded-iron screen overlooks the Thames River where visitors then and now arrive by boat. From the raised parterre watch for the descendants of Henry's herd of red and fallow deer that graze in the nearby woodlands. As much as the castle offers engaging performances by a cast of period-costumed staff, sooner or later parents should turn their charges free to roam The Maze—a labyrinth to rival all mazes. Henry, who merrily hunted, jousted, wrestled and played tennis in the park, would have granted royal approval for them to lose their heads, in a frolicking kind of way, of course.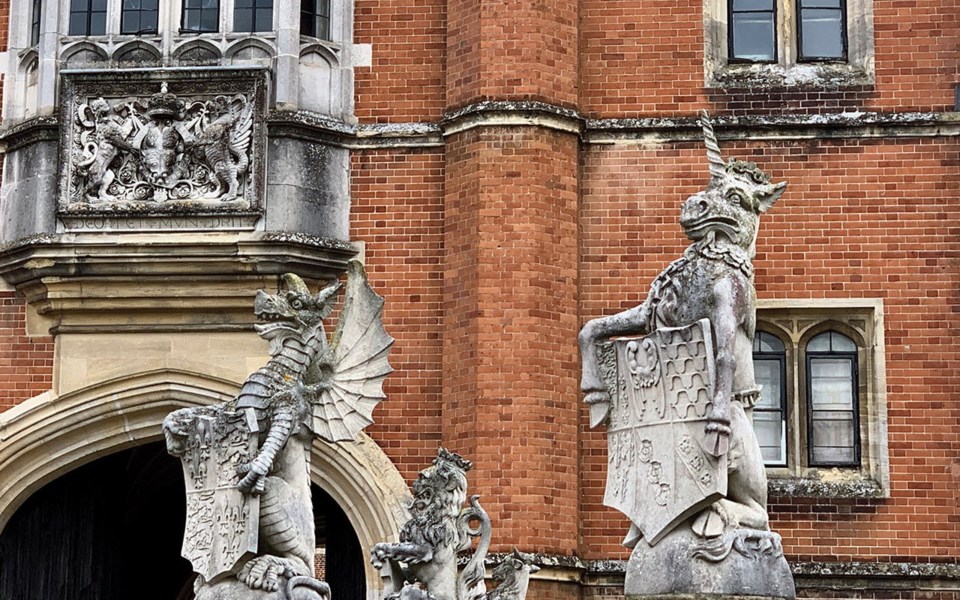 Access: Hampton Court Palace lies 20 kilometres upstream on the River Thames from central London. Boat service from the Westminster dock connects the two. For daily sailings visit www.wpsa.co.uk. Budget two hours one way. Frequent above ground train service runs from London's Waterloo station. Visit www.southwesternrailway.com for schedules. Budget 30 minutes each way. For detailed information on the palace visit hrp.org.uk/hamptoncourtpalace. Note: If you plan to visit any of the other five members of the Historic Royal Palaces group, including the Tower of London and Kew Gardens, the most economical way to budget entrance fees is to purchase an annual HRP membership.
Contributor Jack Christie has filed reports with Pique since 1994 and is a celebrated member of our quarter-century club!