My shipboard romance began with four tall masts and their voluptuous sails catching the warm Polynesian winds of the Pacific to take us to Tahiti, Bora Bora, Moorea, Raiatea, Huahine, and Taha'a. We sailed to six French Polynesian islands in a week, and every time I went ashore on tenders, it was a thrill to look out to sea and spot our distinctive masted vessel, the Wind Spirit, and to realize that it was home for another day and night.
We were in the post card paradise of Polynesia brought to life — the South Pacific trade-winds tickling our sun-warmed skin and the coconut tree fronds, our feet caressed in the powdery beach sands, and our eyes enthralled with iconic views of jagged lush verdant mountains.
The scenes were real, not a Hollywood conjuring, or Disney Tiki creation or Gauguin painting — the thatched shelters, brightly coloured tropical fish, women wearing delightful sarongs and flowers behind their ears, and even some locals donning organic crowns of flowers and reeds whether visitors were around or not. The sensual perfume of salt water and sweet flowers filled the air.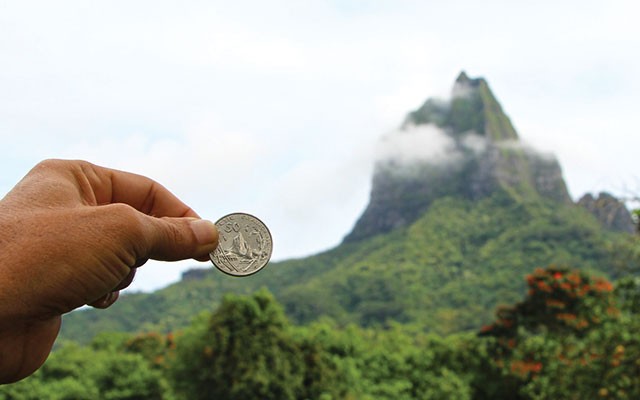 PHOTO BY LISA TE SONNE - Even the money pays homage to the mountains in French Polynesia.
Sailing
I've loved cruising in the rivers of Papua New Guinea and the Amazon, and between the icebergs and penguins of Antarctica, and in the life-teeming islands of Alaska and the Galapagos. I have savoured seeing many historic ports including Istanbul, Copenhagen, Athens, and Southampton from large ships. But I have never cruised under full sail.
And what better part of the world (please take me there if you find it) than Polynesia to sail the islands? Centuries ago, sailing was the only way to travel to these remote isles. If you think of Polynesia roughly as a giant triangle in the world's largest ocean with Hawaii the top point, New Zealand in the southwest and the Easter Islands to the southeast, then the Society Islands (a.k.a. French Poly and best known for Tahiti) are near the middle of the triangle. Thousands of miles from a continental landmass, the islands developed their own rhythms and culture.
Forget Captain Bligh. It doesn't take long to understand why the sailors on the Bounty didn't want to leave the scenery, climate and people of this alluring part of the world. Or why, more than two centuries ago from different wooden sailing craft, the European explorers, Cook and Bouganville painted romantic pictures of a paradise that made Eden seem pale and sterile.
And those sailing visitors didn't have our amenities. Our 21st-century Windstar vessel sails with a hot tub, spa, library, air conditioning, choices of cuisine, rooms with views, laundry service, diesel motors for additional control and only 148 passengers and 90 crew, many with infectious smiles. We are also offered a range of entertainment onboard and off.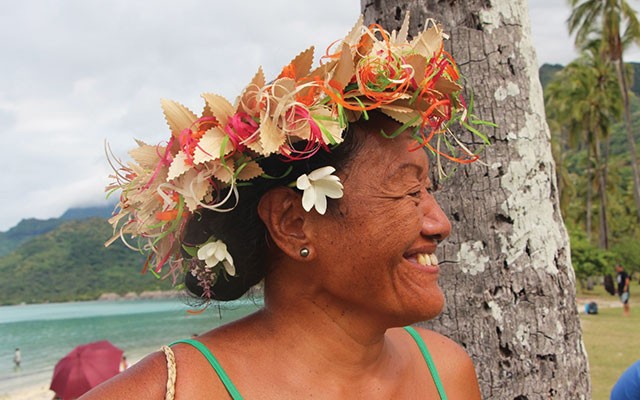 PHOTO BY LISA TE SONNE - Local life.
Island Excursions
At every island, frequent tenders take passengers ashore to enjoy public markets or private beaches, to create their own experiences or join a pre-selected excursion that can range from "easy to strenuous" and from sacred sites to stingray encounters. At some anchorages, a floating "tail" is unfurled from the back of the four-storey yacht as a water sports platform to provide more options — kayaking, paddle boarding and water skiing, if conditions allow.
Inside the Wind Spirit, live music, a small casino, gift shop, the spa wellness center, eating and lectures provide other ways to enjoy vacation time. The cruise also offered ship-wide experiences on the shores of motus (islets), including an evening pig-roast dinner with a fire dancers show and an afternoon of coconut drinks, hammocks and kayaking on a private motu.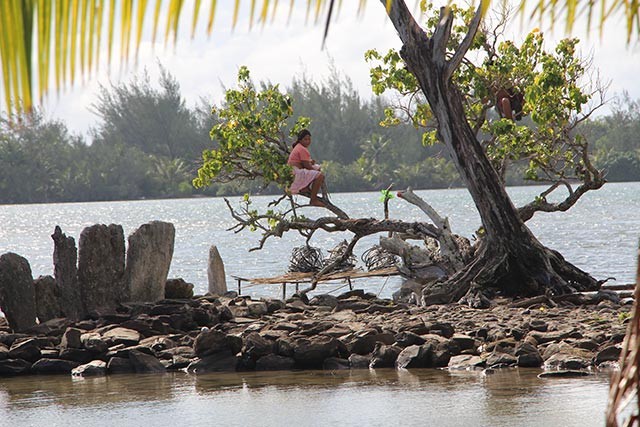 PHOTO BY LISA TE SONNE - Local life.
French Polynesia is famous for its lustrous black pearls, but the pearls I took home were memories and photos, a string of them including:
• Walking away from my little tour group and seeing a girl in a pink dress on a tree branch in the distance — above fishing nets, and rock slabs that were probably part of an ancient marae (prehistoric temple). She and someone else, almost hidden in the tree, seemed part of a dreamy timeless vignette. Their small island of Huaine is home to Maeva Village, billed in the excursion information as "the densest concentration of archeological sites in Polynesia."
• Floating face down with a snorkel and mask, my husband and I drifted languidly with currents in 80-degree waters through a tropical garden of diverse corrals, purple and blue lipped clams and gorgeous fish. Our cameras captured one enormous mesmerizing school of fish. The "Coral Garden Drift Snorkel," off a little motu (islet) of Taha'a, is a consistent favorite of Wind Spirit passengers. It was like a gentle flowing water massage in a giant fantastic warm aquarium.
• Being surrounded by the eerie elegance of black tip reef sharks in a memorable dive off Bora Bora. As scuba divers we really wanted to see the giant manta rays, sea turtles and little sea horses we had heard about in this realm, but were fascinated by these sinewy creatures instead.
• On Moorea, the enchanted island credited with inspiring Michener's Bali Hai in South Pacific, we jumped in a rental car and headed out on our own with another couple to find a truck garden restaurant called Lilikoi Garden Café. Once there, we were charmed by the local food and the two girls, Lily (age 12) and Mei (age 10) of the family that runs this sweet spot among orchids and palms. The girls were dressed for a dance competition and shared the antics of their cat.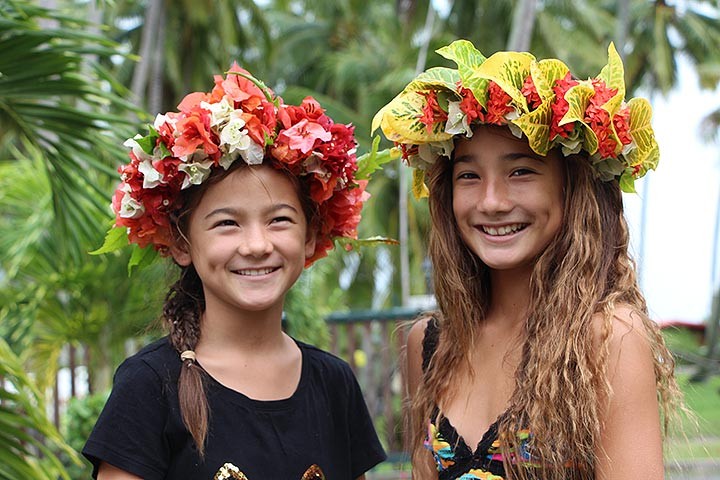 PHOTO BY LISA TE SONNE - Two Girls with garlands from the Cafe. Made for a dance event.
And then, of course onboard the ship, every good romance needs an "our song," and the Wind Spirit obliged. Each time the sails were being unfurled majestically as we left port — often in the sensual hues of sunset with passengers enjoying the liquids and edibles of Happy Hour — music would soar with the sails. For our voyage it was Conquest of Paradise by Vangelis, from the soundtrack of the movie 1492.
And what a way for modern travellers to "conquer" paradise!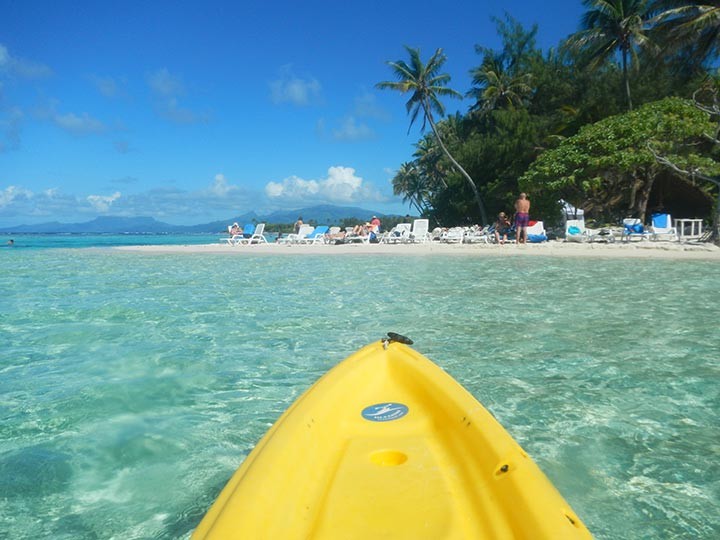 PHOTO BY LISA TE SONNE - Kayaking, paddleboarding, snorkeling, beach lounging-- all options after a picnic on this private motu
HOW TO GO 
Windstar offers sailing cruises in French Polynesia every week through mid-November and then again in June. Voyagers fly into Papeete, Tahiti to start their journey. Windstar also offers sailing journeys in many other seas: www.windstarcruises.com.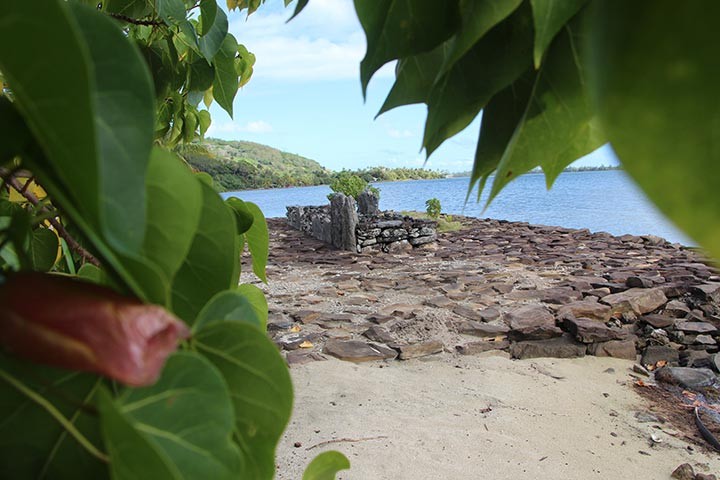 PHOTO BY LISA TE SONNE - Sacred Ruins