When wicked winds whip through Canada's Coast Mountains, Southern California basks in warm sunshine. With 345 sunny days each year, Long Beach offers a delightful break from grey skies and snow.
This pretty oceanside city in the shadow of Los Angeles is a great pre-cruise, post-cruise or anytime destination. Husband Rob and I spent two delightful days exploring Long Beach prior to a Coastal California Princess cruise embarking at the San Pedro pier in Los Angeles.
During our spring visit, brilliant purple Jacaranda trees dotted the city. Trees, greenery and colorful blooming flowers were everywhere. After checking in at Hyatt the Pike Hotel, we did a walking tour.
The $1 billion Long Beach pumped into its waterfront has transformed it to a delightful daytime playground and nighttime entertainment centre. The Pike area, once a 1920s-era amusement park, today is comprised of the Aquarium of the Pacific, Rainbow Harbor, several hotels, a bevy of eateries and unique shops.
When our feet were tired, we rode a free red Passport bus from the Aquarium of the Pacific past trendy waterfront areas, through the downtown, past the mass transit centre and out to the Queen Mary ship attraction.
The bus stopped at Shoreline Village, a pretty waterfront area with a colourful array of architecture reminiscent of an early California fishing village. Eclectic shops feature gifts, collectibles and gourmet chocolates. Visitors can enjoy the warm Pacific weather while strolling the wooden boardwalk overlooking Rainbow Harbor, the downtown marina and The Queen Mary.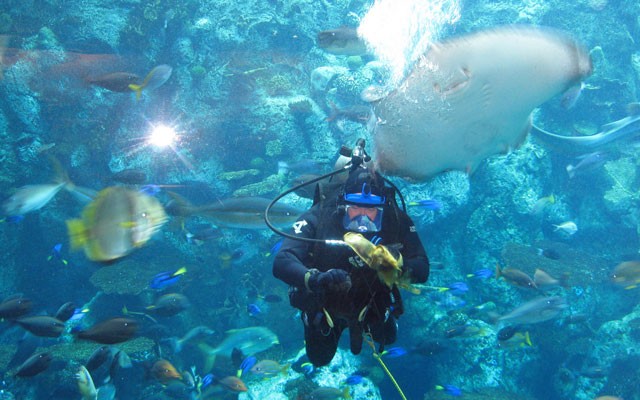 PHOTO BY PAT WOODS - A diver chats with guests while feeding fish at the Aquarium of the Pacific.
The free Passport buses have served conventioneers, tourists as well as locals and those with handicaps for 12 years. Drivers are friendly, considerate and compassionate.
After a delicious dinner at Bubba Gump Shrimp Company, we walked back to the hotel over an attractive pedestrian bridge. A relaxing swim in the Hyatt the Pike's heated rooftop pool was a fitting end to a beautiful day.
The next morning we did a self-guided tour of the Aquarium of the Pacific (www.aquariumofpacific.org), then lunched at Parkers' Lighthouse Restaurant, which is surrounded by stellar 360-degree views of the lighthouse, marina, yacht basin, downtown buildings and seaport.
One of Long Beach's most recognized attractions is The Queen Mary. Launched in 1936, she was considered the grandest ocean liner ever built. When Second World War began, the Queen quickly transformed into a troop ship. Known as the Grey Ghost, she carried 800,000 troops by the war's end.
Retired from active service in 1967, the Queen Mary was purchased by the City of Long Beach as a floating hotel/restaurant and conference centre. Hear fascinating stories on the guided tours: Behind the Scenes, World War II, Ghosts & Legends — or do a self-guided Scorpion submarine tour (www.queenmary.com).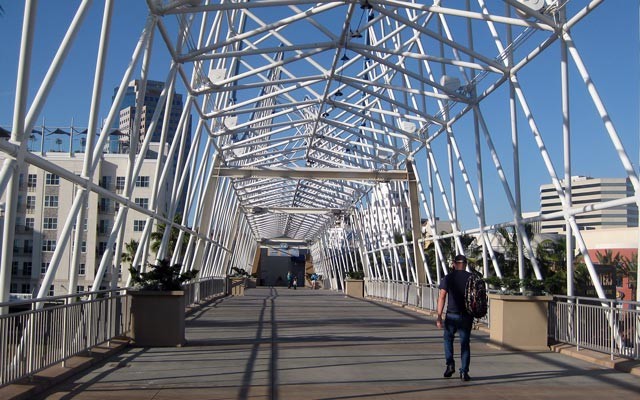 PHOTO BY PAT WOODS - A pedestrian bridge connects downtown Long Beach buildings.
To celebrate our anniversary, we took an evening sunset cruise through the scenic canals of Naples Island, an affluent neighbourhood known for its multimillion-dollar waterfront homes. Gondola Getaway features authentic Venetian gondolas rowed by costumed gondoliers.
Along with singing "Arrivederci Roma" under a bridge, Erick, our gondolier, pointed out the watercraft belonging to the homeowners. He said the Christmas season is magical with all the coloured lights and festivities (www.gondo.com).
After sundown in Long Beach, LED lights turn on. The sprawling convention centre is surrounded by 125 restaurants within an eight-block radius. Nightclubs, live music and artisanal bars line the city's downtown, up and down Pine Avenue, the Promenade and Broadway.
Shutterbugs will find fantastic photo ops of the Long Beach skyline, the majestic Queen Mary and seal-covered buoys on a narrated 45- or 90-minute harbour cruise with Harbor Breeze Cruises. Board the boat in Rainbow Harbor. Three-hour whale watching tours are available during the whale migration season (www.2seewhales.com).
Art aficionados can explore two floors of galleries at the Long Beach Museum of Art on a scheduled tour (www.lbma.org). A great beginning to a sunny Long Beach day is the Earl Burns Miller Japanese Gardens with a tour of the waterfalls, tea house, Zen Garden and Koi pond (www.csulb.edu/~jgarden).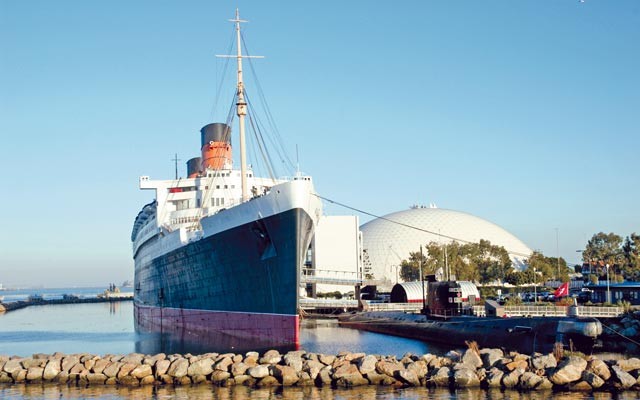 PHOTO FROM SHUTTERSTOCK.COM - The Queen Mary; Removed from British registry and officially turned over ownership to the City of Long Beach in 1967, now serves as a tourist attraction and hotel.
Long Beach's mild year-round climate is conducive to events and festivals. More than 200,000 racing fans flock here each year to witness the nation's biggest race through city streets, the Toyota Grand Prix of Long Beach.
In addition to being a busy container shipping port, Long Beach also is a cruise ship port. The Carnival Imagination and Carnival Inspiration are home ported here and do short cruises to Mexico. Carnival Miracle also sails seasonally to Mexico, Hawaii, Tahiti and Fiji.
Remember the 1958 song "26 Miles (Santa Catalina)" by the Four Preps? At Catalina Express Landing in Long Beach, board a speedy catamaran for a trip to Catalina Island, one short hour away. Arrive in Avalon, hike the hills, or glimpse the world below the waves on a classic glass-bottom boat tour. Other options include deep sea fishing, kayaking, snorkeling or simply lying on the beach watching the waves roll in (www.catalinaexpress.com).
Incorporated in 1888, Long Beach is 35.4 kilometres south of downtown Los Angeles, 16 kilometres southwest of Anaheim and 144.8 kilometres north of San Diego. This beautiful seaside city of 466,000 boasts 8.85 kilometres of sandy beach, which rarely is foggy because it faces southwest.
Ten minutes from downtown, Long Beach airport recently underwent a $140 million modernization with a new concourse and upgraded concessions. Alaska Air, Delta, JetBlue Airways and US Airways/American serve the award-winning airport (www.lgb.org). Los Angeles World Airport is 25 minutes north (37 kilometres).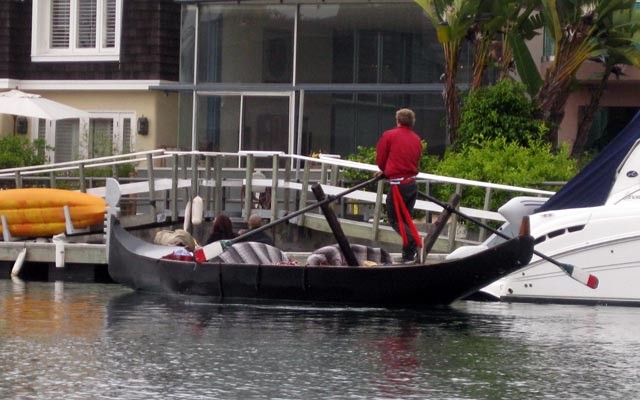 PHOTO BY PAT WOODS - A Gondola Getaways gondolier skillfully maneuvers his vessel through Naples Island canals in Long Beach.
In addition to Catalina Island, nearby attractions include Disneyland, Disney's California Adventure, Universal Studios, Hollywood, Getty Center, downtown Los Angeles and Beverly Hills. Most of these places can be reached by public transit from downtown Long Beach, saving parking fees and the stress of navigating California's busy freeways.
Wherever we went in Long Beach, locals were helpful and friendly. For more Long Beach information, visit www.visitlongbeach.com or call 800-452-7829.
A widely published travel and cruise writer, Pat Woods loves to visit California.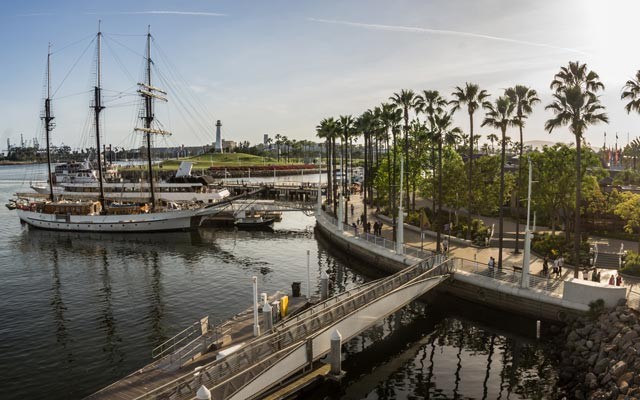 PHOTO FROM SHUTTERSTOCK.COM - Boats docked and people in motion at Rainbow Harbor in Long Beach, California.