In Myanmar, holy men are more revered than rock stars, right-hand drive cars drive on the right side of the road, and friendly betel-chewing oldies show blood red teeth when they smile at you. English writer and poet Rudyard Kipling wrote about Burma more than 100 years ago. "It is quite unlike any place you know about." He may be surprised to know that it is still accurate today.
For the past thirty years Myanmar has been in the news for all the wrong reasons. The United Nations and many other organisations have condemned the county's rulers for their imprisonment of political prisoners, use of forced labour and violent crackdowns on demonstrations. Many countries, including Canada, have applied economic sanctions.
Now things are improving. The government has implemented many changes that are opening up the country; most of the sanctions have been lifted; and tourism is taking off in a big way.
You experience a time warp when you visit here. Many men and most women still wear an ankle-length skirt, most rural women paint their faces with a white traditional makeup and there is not a McDonalds, 7-Eleven or Starbucks to be seen.
What you find is refreshing, humbling and slightly daunting to many visitors. If not on a packaged tour, it's easy to get out of your comfort zone, but this helps to make Myanmar unique. While many other countries are losing their culture, here you find the gentle population is still embracing their traditions and religion like they always have.
A Myanmar experience should start in Yangon (Rangoon), the largest city but no longer the capital. Most visitors fly in from Bangkok or Singapore after obtaining a visa at the Myanmar embassy in those cities. The city is sprawling and low-rise. Many magnificent British colonial-era buildings still decorate downtown, but unfortunately most are unused and are rotting away.
Yangon is home to one of Asia's most awe-inspiring religious monuments. The Shwedagon Pagoda is visible from almost anywhere in the city and is a "must-see" site for all visitors. So too is Kandawgyi Lake, with its boardwalk, concrete reproduction of a royal barge, and quiet corners.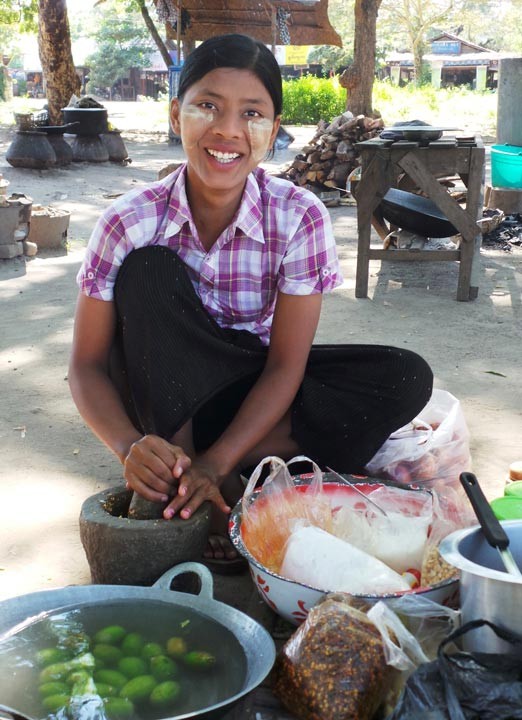 The vibrant, colourful downtown streets, the open-air markets, and bustling Chinatown can provide plenty of action and excitement. That substitutes for a nightlife that is still almost non-existent. There are some nice hotels in the city, but more demand than supply has seen the price skyrocket in the tourist season. Expect to pay at least twice what you would pay in Bangkok and don't rely on your credit card for payment. Cash is king here.
Bagan is probably the country's star tourist attraction. This was the capital from the 11th to the late 13th century and the remains of thousands of pagodas and temples, dotted across the plain of the Ayeyarwaddy (Irrawaddy) River, is a wondrous sight. It is the largest collection of religious monuments I have ever seen and most visitors find it stunning.
Bagan is nearly 700km north of Yangon so most people fly there. It is easy to spend three days exploring the temples by bicycle and horse-cart, taking a sunset boat trip and perhaps ballooning over the spectacular site at sunrise.
Accommodation options include cosy guest houses and lovely riverside resorts. Try one of the small but clean Burmese restaurants which are dotted around the area to sample the local food.
Mandalay is a 25-minute flight away or a seven-hour boat ride. This was the last capital before the British takeover of the country but equally intriguing are the other adjacent older capitals of Inwa, Sagaing and Amarapura.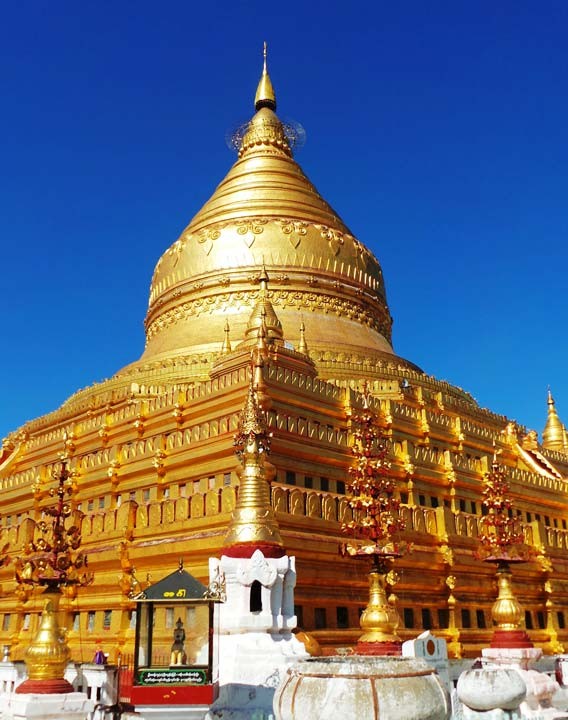 Many people think of Mandalay as traditional Burma and are then disappointed when they find a traffic-choked city full of low-rise concrete buildings on straight, dusty roads. It takes a while to discover that Mandalay is still the cultural heart of the country.
This is a convenient place to see intimate traditional dance performances and marionette shows. You can visit silk weaving factories, gold leaf manufacturers, stone-carving workshops and foundries where giant Buddha statues are made using centuries-old methods.
Climb Mandalay Hill, take a boat to Mingun to see what would have been the world's biggest stupa had it been finished, wonder at the remains of Inwa as you travel in the back of a horse-cart, and visit one of the many active monasteries that still exist.
Pyin Oo Lwin was once a British-era summer capital and it is being rediscovered for its stunning botanic gardens and some of Myanmar's best cuisine in lovely cool hotels. Further east, historic Hsipaw was once home to Shan princes but today it serves as a base for hikes into fascinating Shan and Palaung villages.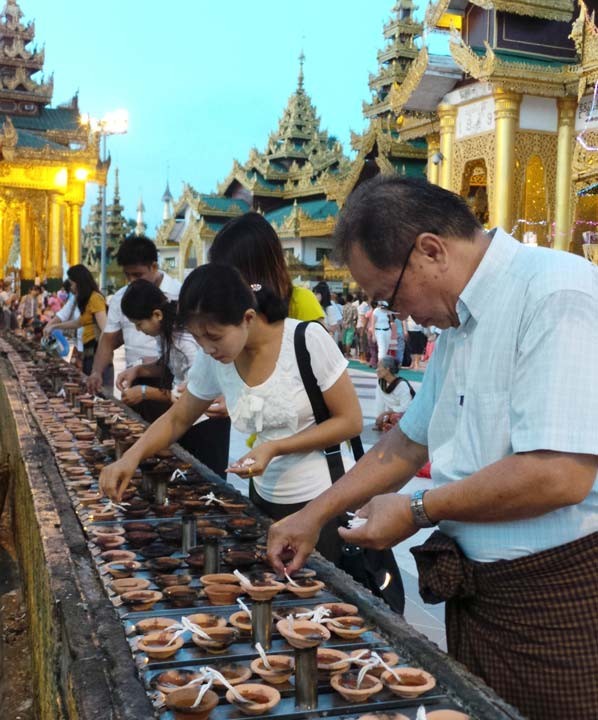 Inle Lake is second only to Bagan in attractiveness. This is a region of Shan, Pa-O and Intha people and their culture and lifestyle fascinates most visitors. Accommodation is in guest houses in Nyaungshwe or in lovely lakeside resorts. From here visitors criss-cross the lake in motorised canoes visiting stilt-house villages, floating gardens, tribal markets and lovely water-bound temples.
Travelling through the mist that hangs over the lake in the morning then seeing the famous one-leg rowers heading out to fish is a magical experience.
This eastern region has other attractions as well. Mountainous Kalaw is a good base for hikes through forests and fields to pretty villages, while the four day trek to Inle Lake is becoming ever more popular. The towns further east towards the border with China have seen an influx of new residents and much trade with their neighbour.
Western Myanmar is difficult to reach but a visit to the former Rakhaing capital of Mrauk U is an eye-opener. This sleepy village was once the centre of a kingdom that stretched from the Ganges River in India to the Ayeyarwaddy River in Myanmar. You can explore many temples, monasteries and ruined city walls in this rural landscape and wonder how these civilizations have been lost to the world.
Len Rutledge is the author of Experience Myanmar, available as an e-book from Amazon.com. www.LenRutledge.com