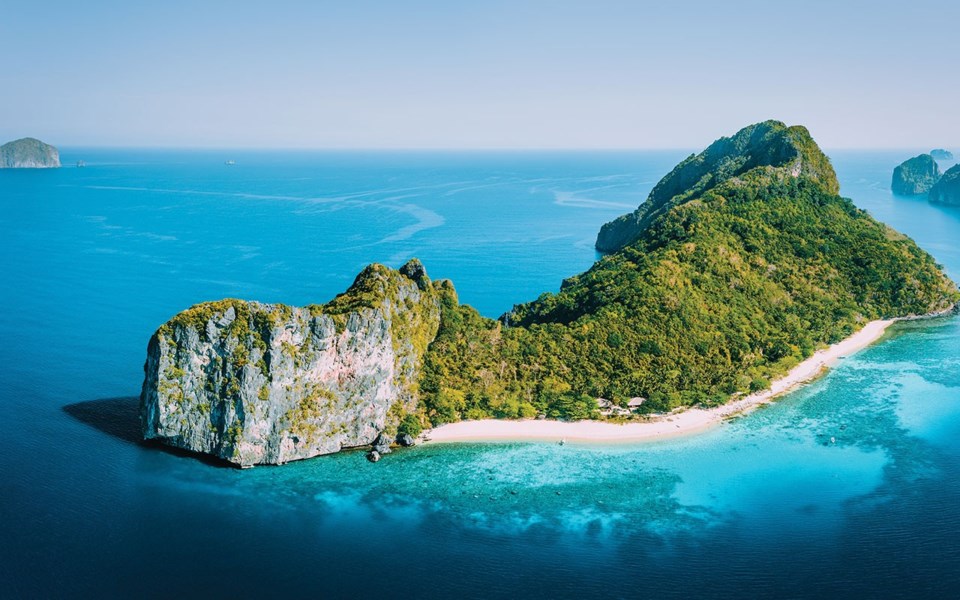 It was a natural distraction.
I was trying to assemble my Vancouver-made Feathercraft Wisper XP collapsible sea kayak, but my eyes were repeatedly drawn to the implausibly clear, blue-green sea dotted with islands. The Karst limestone outcroppings of panoramic Bacuit Bay exploded from the water to extraordinary heights, demanding attention. My eyes darted from the kayak's frame assembly to another island and back. I could hardly wait to begin the adventure.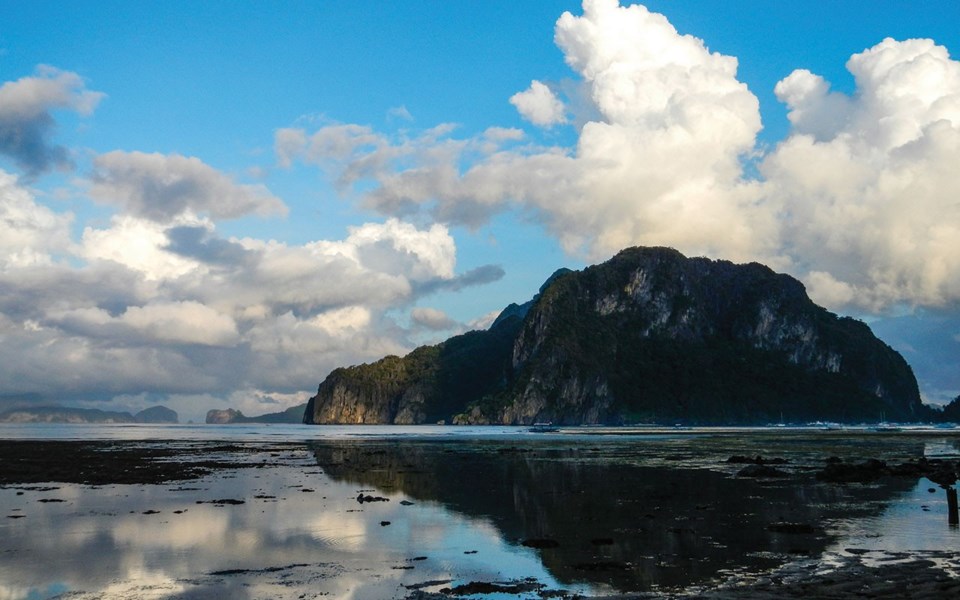 Palawan is the southernmost province in the Philippines, boasting more than 1,700 islands, nearly 25 per cent of the more than 7,100 islands that make up the Philippines. It is the second-largest archipelago. Although designation as a fish and wildlife sanctuary in 1967 has only slowed illegal fishing and logging, it remains a nature lover's paradise.
Loaded with our Hennessy Hammocks, cook stove, food and lots of water, my friend Ian Taylor and I departed Corong-Corong, just south of El Nido and, pointing ourselves south, we set out for Port Barton. A sizeable swell and strong wind on the starboard beam set the tone crossing Bacuit Bay with "Amihan," the Filipino term for the season dominated by powerful northeast trade winds that blow from mid-December until mid-April, making itself felt. We stayed in the lee, on the west side of the island, to avoid its brunt.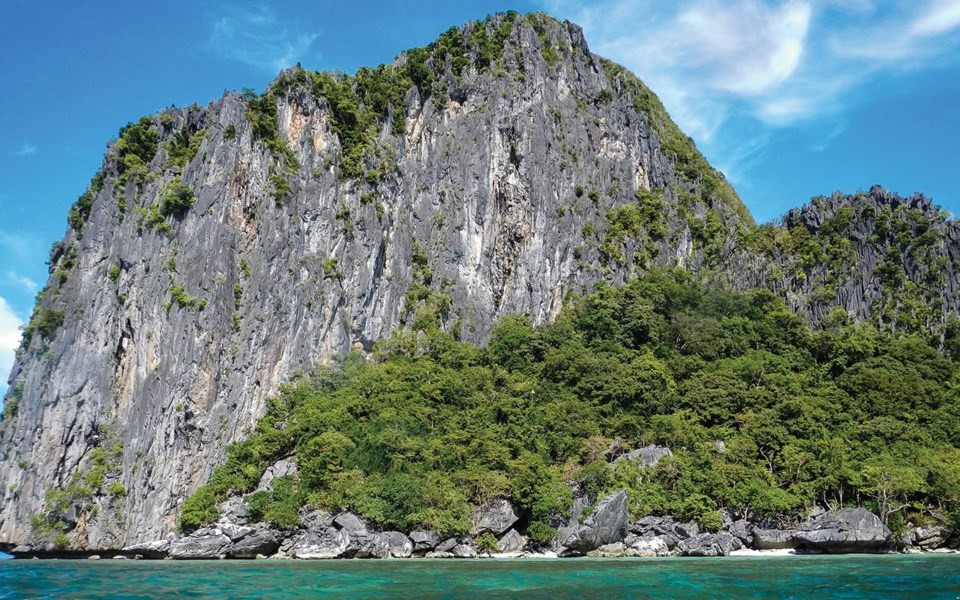 Across the bay, we tucked into sheltered water behind Antalula Island. A classic clamshell beach revealed itself in the cliffs and the promise of a stunning sunset drew us ashore. But as we were early, we decided to continue to another sunset beach on a nearby island.
The islands of the Bacuit Archipelago are mostly empty and it looks like open season for camping until you stumble on an unmarked resort, or discover the island is privately owned and armed guards tell you to leave. Such was our experience as the dream of a secluded sunset on Pangalusian Island was dashed when we paddled into a major construction project—600 labourers working 24/7 building a luxury resort defied the desolation indicated on the chart and GPS.
However, as we cast our gaze across the strait we noticed a beach dotted with a few bamboo homes beckoning. Beaching our kayaks, we were welcomed by Roy, a construction worker living in the area. He spoke English and was full of information, including a key piece of data: Palawan was under a Signal 1 typhoon warning.
Accepting Roy's invitation to hang our hammocks in a sturdy mangrove storm shelter turned out to be a good idea, as strong winds and heavy rains raged all night. By morning, it appeared the storm had passed, an observation confirmed by Roy, who said it was 420 kilometres offshore.
We set out thinking all was well.
Indeed, the rolling waves in south-western Bacuit Bay diminished as we rounded a headland and entered the northern end of Endeavour Strait. For the next few hours, the sea was like glass.
In a fishing village near Malampaya Sound, we gleaned from the locals that they were concerned about the typhoon, but trusting what Roy had said earlier we carried on, blissfully unaware of the intense weather looming.
Malampaya Sound was regarded historically as the fish basket of the Philippines. It stretches 20 km inland and almost cuts Palawan Island in two. The variety of species here was once incredible. Now, however, the numbers are low. Illegal fishing has depleted fish stocks and local fishermen we observed had limited catches. A mere 29 resident Irrawaddy dolphins remain, patrolling the narrow sound.
Ships vacuuming the seafloor in search of minerals are creating the next environmental disaster—we could see a dark brown sediment colouring the water—and it was obvious the ecosystem was under threat.
Camp that night was an abandoned resort, and with ominous clouds rolling in and the wind intensifying, my habit of setting up camp well above the tide line seemed an especially good idea.
The rain that night was Biblical and the wind topped 100 kilometres an hour. The following morning, we learned that Roy got Tropical Typhoon Sendong's direction wrong—it was 420 km east of us, not west. The eye of the typhoon had passed overhead just 50 km south of our campsite during the night.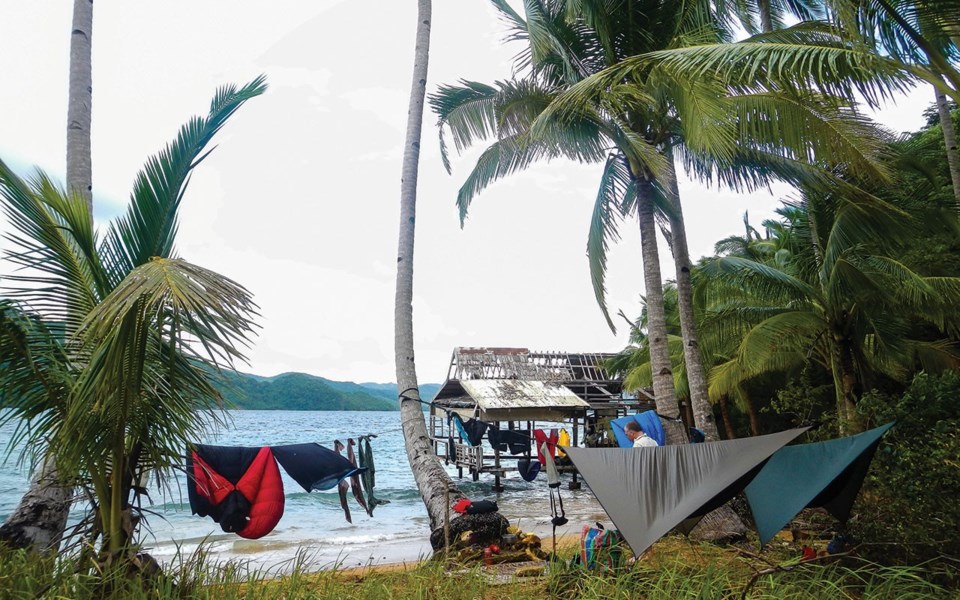 With the wind raging all next day and the sea frothing ferociously, we decided to stay put and wait it out. Gusts came from every direction and the waves followed suit, slopping this way and that. It was an experience we won't soon forget.
Pick up Pique, or check back online, for Part 2, Aug.22 when Tim finds a Canadian in an unlikely place in the archipelago.