Two bikini-clad beauties strike provocative swimsuit-model poses while their boyfriend, which they apparently share, snaps pictures on the Smartphone.
My wife and I speculate they are nouveau-rich Russian tourists.
Another woman arrives teetering in high heels and a cut-out one-piece to lounge poolside.
With her elaborate hairdo and flawless makeup, she has no intention of swimming.
However, she is there to be admired while non-nonchalantly chatting with a cute friend and updating Facebook.
Two guys with washboard stomachs don goggles and start doing Olympic-style lengths, seeking attention in their own way.
Couples lie entwined on sunbeds and parents yell at kids in their water wings.
Meanwhile, men with their wives in burkas file into the upscale floating restaurant, Kebap, for lunch, bypassing the pool.
This is the contradictory seen-and-be-seen scene at the hinge of Europe and Asia.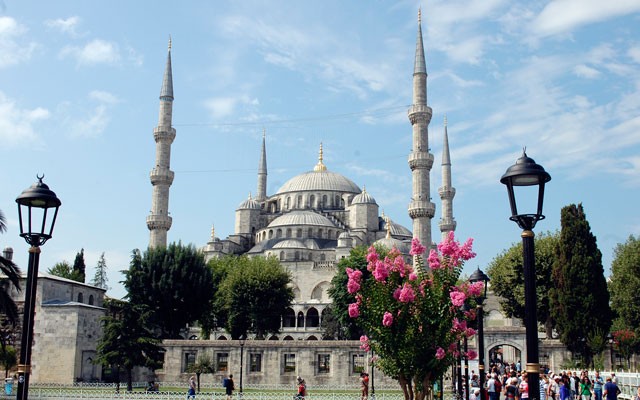 PHOTO BY STEVE MACNAULL - The Blue Mosque is Istanbul's most famous tourist attraction
My wife and I are at Suada Club on the Bosphorus Strait in Istanbul, Turkey, which is quite literally bisected by the border between the two continents.
There's even a sign indicating the imaginary line running down the middle of the pool.
Initially we've chosen Suada to escape the heat and humidity of the heavily-touristed and monument-laden Old Town where everyone is scurrying around visiting the Blue Mosque and Grand Bazaar.
But, we're finding the people-watching is a fascinating bonus.
Since we are there to, in fact, cool off, we swim and then also have a more extensive look around Suada.
It's located right in the middle of the Bosphorus Strait, the waterway denoting Istanbul's European and Asian sides and a busy thoroughfare for both commercial and tourists boats coming and going from the Mediterranean and Black Seas.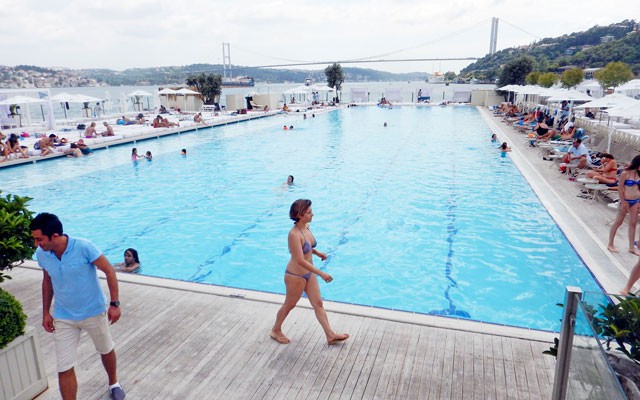 PHOTO BY STEVE MACNAULL - Suada Club is a pool-restaurants-bars-and-nightclub complex built in the middle of Istanbul, Turkey's Bosphorus Strait, the body of water dividing Europe and Asia
Besides the giant pool, this complex, cleverly built on an outcropping of rocks, includes waterside restaurants and bars and even a rave-worthy nightclub.
Access is granted via the Kurucesme dock, located a half-hour tram and bus ride away from Istanbul's famous historic Sultanahmet.
With our shallow need for pool time and people watching over, my wife and I play tourist back in Sultanahmet.
We visit the Blue Mosque and tour the Topkapi Palace, the elaborate home of Ottoman sultans and their harems from the 15th to 19th centuries.
We decide to eat Ottoman-style too, dining on food from centuries-old recipes at Matbah restaurant at the Ottoman Imperial Hotel and Tugra restaurant at the royal residence turned five-star Ciragen Palace Kempinski Hotel.
Think feta cheese soaked in rose water, stuffed calamari, lamb cooked with dried apricots, raisins, honey and almond in earthenware, and baklava every which way.
At the Grand Bazaar, the world's oldest mall dating from the 1400s, I see a side of my wife I've never witnessed before.
Taking heed of the adage that bargaining is a sport and you should never pay more than half of the price first quoted, my wife goes to work with an early-morning start.
She warms up buying a cashmere scarf at Markiz Pashmina for 40 Turkish lira (the equivalent of about $23).
Shopkeeper Mahmut Akpinar jokes she's his first customer of the day and that's why he discounted the price.
Then it's onto the bigger-ticket item of a lamb skin jacket.
Willing to walk away when the style, fit and colour aren't quite right and the price wouldn't drop to half or less, she makes her way through several bargaining sessions and shops before landing a sharp red-and-black jacket for 350 lira, originally 780.
We break for Turkish tea and the ubiquitous baklava in the oldest section of the bazaar at Ethem Tezcakar Kahveci, a café that's been in the same family for over 300 years.
Our waiter, Mustafa Cigdem, who's also taking a double-major in management and mathematics at Istanbul University, isn't quite sure of how many great prefixes he should give the grandfather that originally started the café.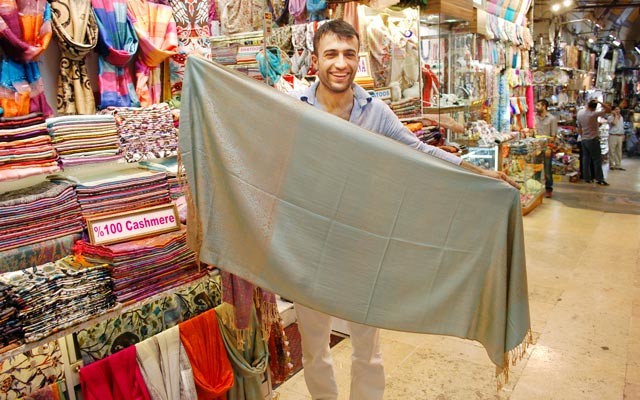 PHOTO BY STEVE MACNAULL - Shopkeeper Mahmut Akpinar will "make you a deal" at Markiz Pashmina at the Grand Bazaar
We exit the bazaar, and rather than seeing the vendors as aggressive, we laugh with them at their blunt and standard 'How can I take your money?' opening line.
My wife likes the 'Hello beautiful lady' greetings.
We buy full-priced boxed teas and Turkish Delight as treats to take home.
We stay at the ideally-located boutique hotel Armada in Sultanahmet, walking distance to all the biggest tourist attractions and sidewalk cafés.
It also has a rooftop restaurant and bar with views of the Blue Mosque to one side and the mouth of the Bosphorus to the other.
It's along the water and while going for an early-morning jog, I find an old man fishing and the Sunday morning swim clubs, groups of old men, taking a dip off the rocks.
Air Canada flies Toronto-Istanbul daily.
Check out SuadaClub.com.tr, GoTurkey.com, ArmadaHotel.com.tr and AirCanada.ca.