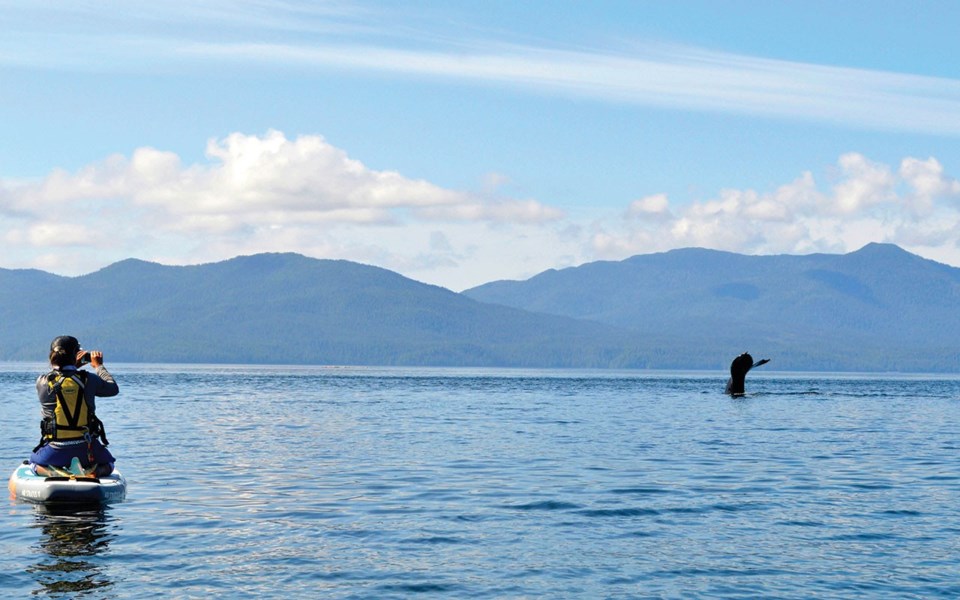 British Columbia's Great Bear Rainforest is more than a place—it's a sensory voyage. A six-day stand-up paddleboarding expedition through one of the world's last wild places is both a deeply introspective journey and a stark reminder of what's at stake for this planet.
After a five-hour boat ride south from Prince Rupert, my journey begins.
It's low tide and the channel is dead calm. As we SUP into the fog, the rich textures and colourful sealife sprinkle the shoreline like jewels in a crown. Spikey, smooth, porous and slimy, the emerald anemones, burgundy sea urchins, and tangerine sea stars contrast against the muted Earth tones of forest and ocean. The sun backlights a fallen tree covered in kelp, creating an illusion of gold strung across an outdoor palace. The persistent crackling of barnacles plays a Rice Krispies symphony.
Suddenly, a trio of sea lions surfaces, craning their necks in unison to watch us. At first, I'm alarmed; worried they may get territorial. But, after they follow us for several kilometres, it's clear that they're just curious.
Later in the day, we're paddling along the shores of a protected bay. Fifty metres away, we hear the forceful exhale of a blowhole dispelling air — and then more after that. The bay is dotted by humpback whales. The thundering splash of a breach in the distance echoes in the channel. Then, a small pod of Dall's porpoises swims by my board.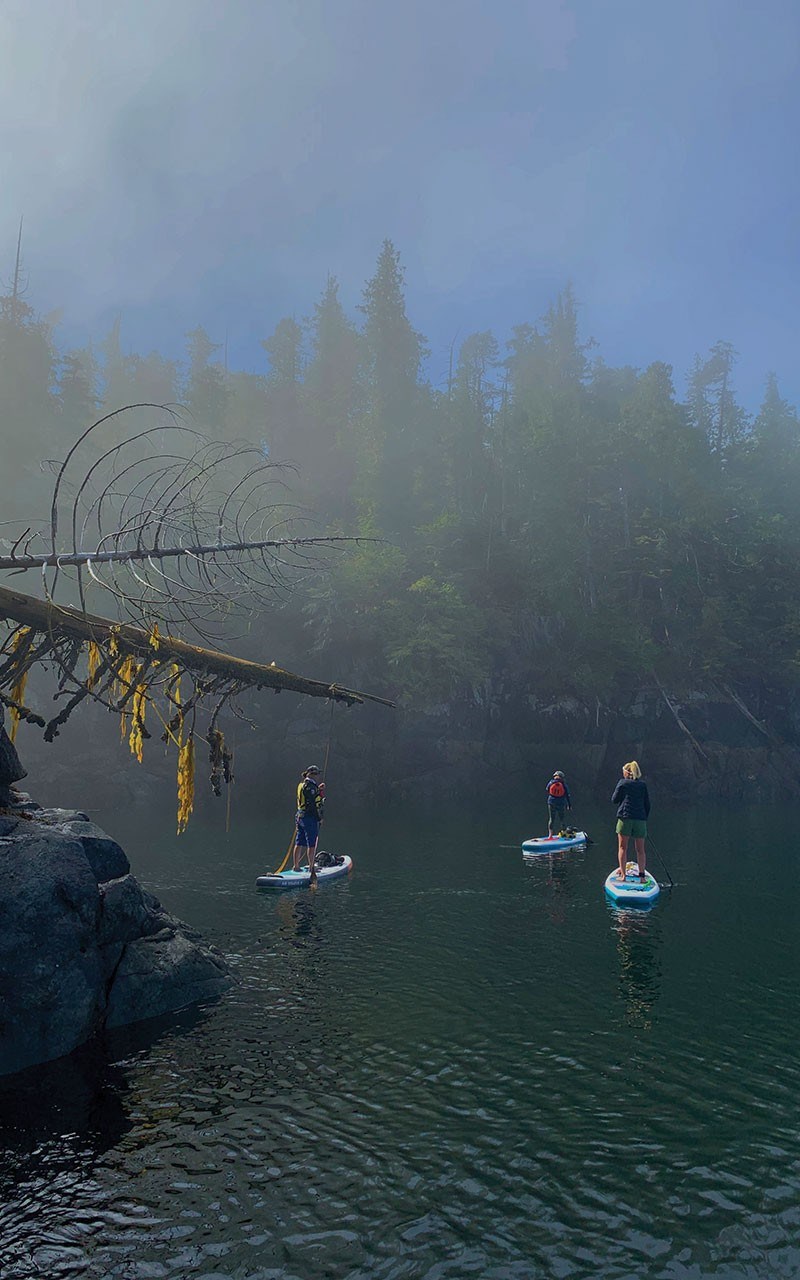 It's just another soul-stirring day in the Great Bear Rainforest.
Famous for the Spirit Bear (Kermode) and star of a new IMAX film, the rainforest covers 64,000 square kilometres of virtually untouched Pacific temperate rainforest. Extending from the Discovery Islands to the B.C.–Alaska border, it's one of the most biodiverse regions in the world.
On this trip with Squamish-based Norm Hann Expeditions, wildlife encounters are astounding: a young bear foraging for crabs at low tide, coastal wolves hunting salmon, a mother bear and her cub walking silently along the shore at dusk, and hundreds of spawning salmon. Sometimes, we'll only see remnants of the action— footprints in the sand, a carcass or blood-spattered rocks.
While the sights are stunning, it's the complex soundscape that stimulates my senses the most. Whether it be the billowing flap of an eagle or the energetic plop of a salmon in the night, nature's multi-layered soundtrack is rich.
Hann has been guiding in the area for more than 20 years and, this year, celebrated the 10th anniversary of the Great Bear Stand expedition. He runs trips to other parts of B.C., but this area is special. Having been adopted into the Raven Clan, Hann's forged a deep connection with the land and the Gitga'at people who call it home.
His trips to the Great Bear Rainforest take paddlers deep into Gitga'at territory; interweaving wildlife viewing, cultural discovery, conservation and adventure. With special permission, Hann's groups stay on the land—in a longhouse at the end of a protected inlet and a Watchmen Cabin, located on ancient harvesting grounds.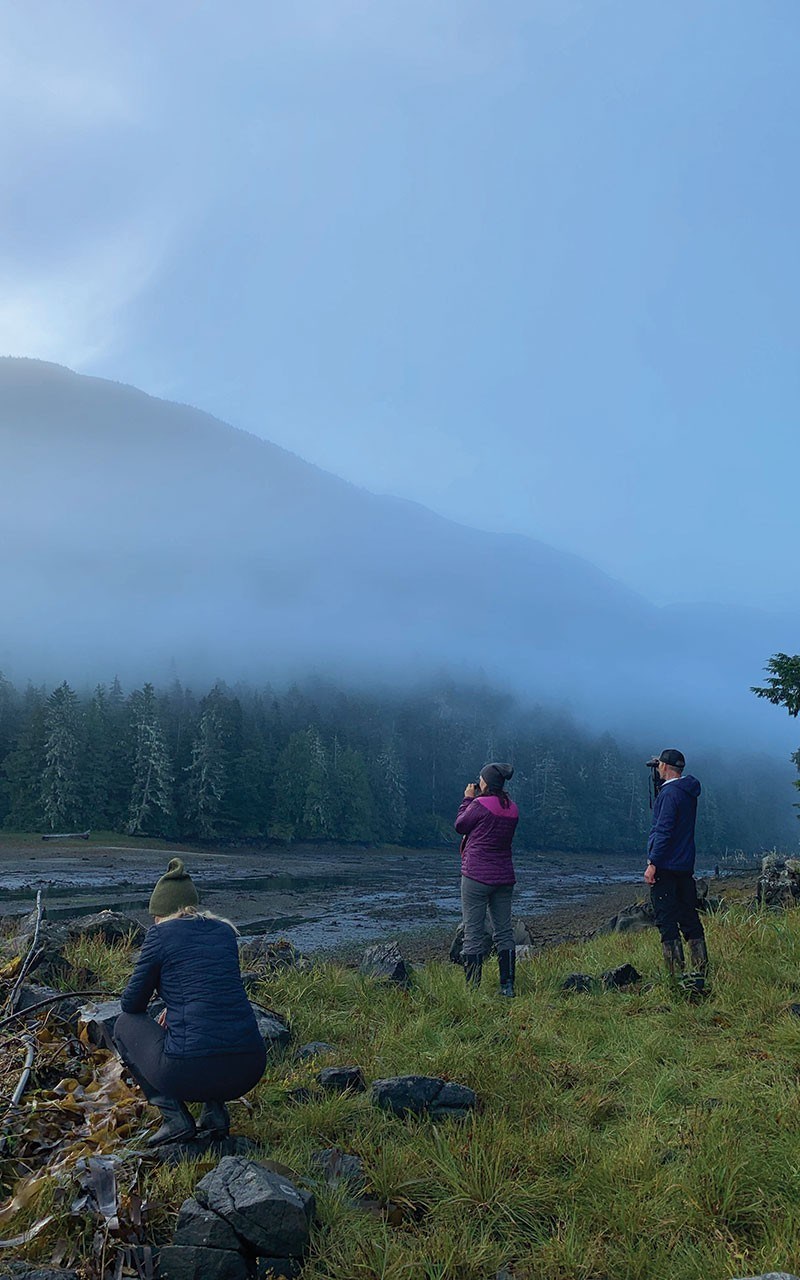 Coastal First Nations people have lived in harmony with nature for 13,000 years, managing the abundance of resources with respect and care. While obvious signs of indigenous habitation in the area are difficult to identify, a trained eye can spot them. Culturally modified cedar trees with bark striped away for weaving, canoe run-outs along the shoreline, petroglyphs, burial sites, and remnants of man-made fish weirs to trap salmon are present in the bays and inlets all along the coast.
A multitude of academic research projects, along with oral history, plays an important role in empowering the First Nations communities to fight for land sovereignty. Given the influx of infrastructure projects along B.C.'s coast and wildlife management strategies, such as the wolf cull, their reclaimed role as stewards of the land is critical to conservation efforts.
While Indigenous people have long understood the power of the Great Bear Rainforest, visitors like myself are overcome by its magic too. This is how Mother Nature should exist.
A place with such magnetism is worth standing up for—even if your first action is to simply stand on a paddleboard and experience it for yourself.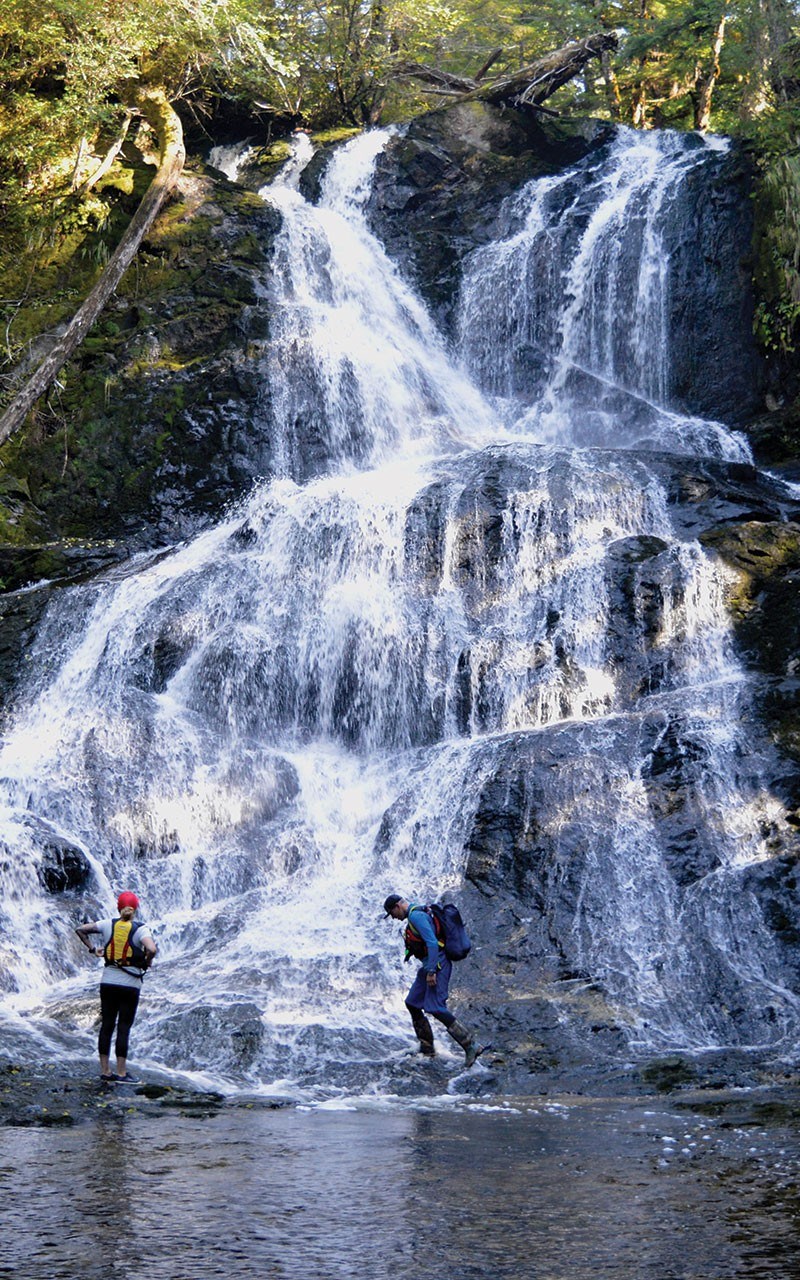 Tips
Visit normhann.com for more information on Great Bear Rainforest paddleboard trips.
Air Canada runs daily flights to Prince Rupert, a jumping off point for Great Bear Rainforest exploration.
Stay in Prince Rupert at the budget-friendly Pioneer Guest House or higher-end Crest Hotel.
Learn more about how coastal indigenous communities are working to protect the Great Bear Rainforest by visiting coastfunds.ca.