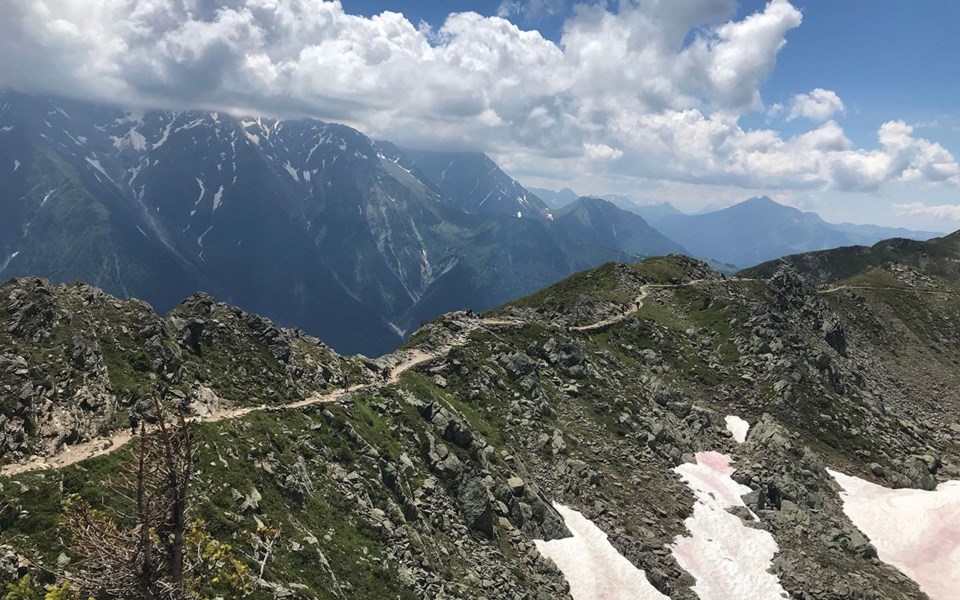 Keeping the pace is the biggest challenge on the Tour du Mont Blanc, and it's not because the terrain is too difficult. With every step, another impressive scene comes into view: Mountains, snow fields, verdant hills studded with wildflowers, crystal streams, and the occasional chamois, marmot and ibex.
How do you keep hiking when faced with a continual desire to pull out the camera?
The Tour du Mont Blanc—the TMB—is a spectacular approximately 170-kilometre trek that circles the Mont Blanc massif and touches France, Switzerland and Italy along the route. The accumulated height gain and loss is about 10,000 metres and depending which variations you choose, you will cross 10 or 11 passes between valleys.
Most hikers start their adventure from Les Houches, France, which is easiest to get to. The train from Geneva airport takes travellers to Chamonix and then it's a short bus ride to Les Houches in the Chamonix Valley and the beginning of Stage 1 of the TMB if you're travelling in an anti-clockwise direction. Some choose to hike clockwise and start from the lakeside Swiss village of Champex Lac. It means a longer travel day to get to the starting point, but the reward is fewer hikers to squeeze past and more "Bonjour," "Buongiorno," (and sometimes "Good morning") as you walk by.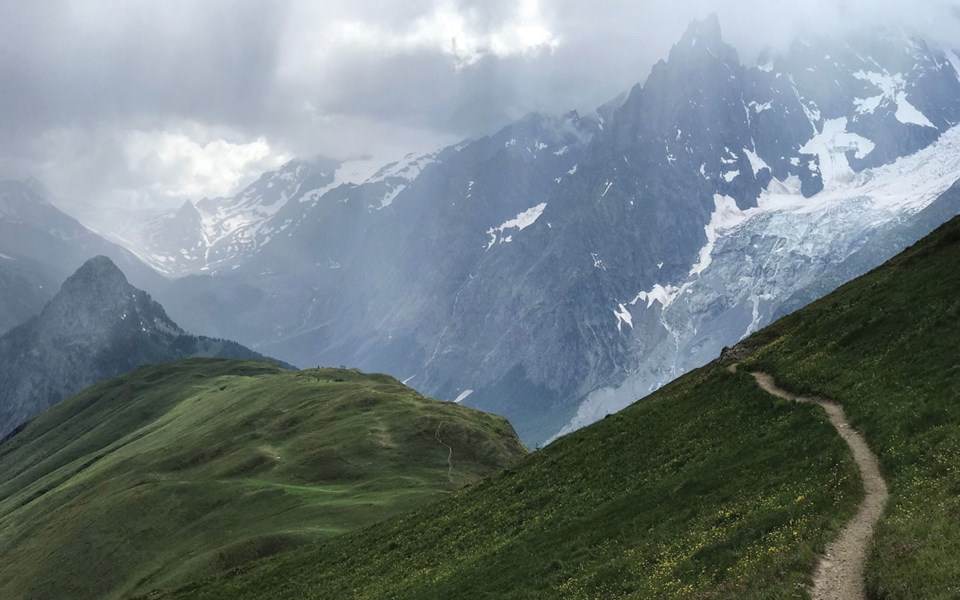 The TMB is considered one of the great walks of the world. One of the first to complete the circular route recorded his journey in 1767. Two hundred and fifty-one years later, we decided to begin our hike in Champex Lac. It was a long travel day from Vancouver: Flight to Geneva (with a stopover in Montreal), then a train to Martigny. Change trains to Orsières, and finally a local market bus to Champex Lac at the top of a steep zigzagging road.
Trekking the TMB can be done at high speed in a week or perhaps less, or in 10 to 12 days (or more) for those who prefer shorter days on the trail and maybe an extra day in a village along the way. We completed the circle in 10 days, but walked for nine. We decided on an extra day in the Italian ski town of Courmayeur to book rooms ahead as we found eight hours a day of hiking was comfortable and also realized rifugios (in Italy) and refuges (in France and Switzerland) were filling up, and camping is not an option on the TMB.
The weather in early July was perfect; only one grey drizzling day required a jacket for a few hours. The rain pants and cold weather gear never left the backpack, and we walked comfortably in shorts and T-shirts. On the lower slopes, wild azaleas were in bloom along with so many wildflowers. Some parts of the trail were still under softened snow, but hiking poles provided plenty of stability and the traction devices stayed in the pack.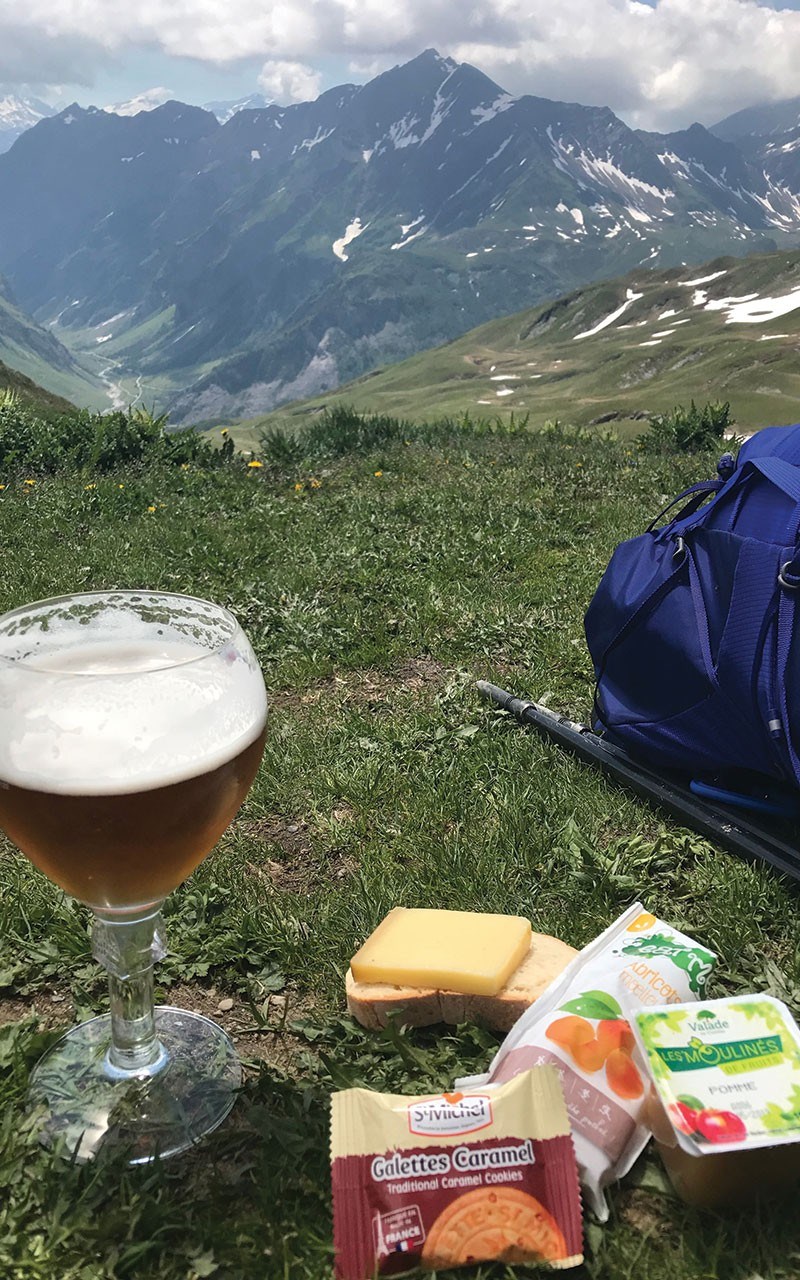 Accommodations along the TMB are excellent. We stayed in mountain refuges whenever possible, not only to save money but to enjoy the company of other trekkers from around the world. Breakfast and dinner are served at long communal tables (local wine and beer were for sale at every refuge), and hikers can order a sack lunch to take on the trail the next day. The few larger villages along the route have small hotels and shops where you can buy food.
There is no need for a tour guide—the route is well marked with TMB logos and distance signposts. We both carried a guidebook (www.cicerone.co.uk/tour-of-mont-blanc-fourth) and referred to it continually, for route information as well as hotel recommendations in villages.
Booking accommodation in advance, at least at the refuges that work best with your daily mileage estimates, is a good idea; we were unsure about how long we would walk until the third day on the TMB and we didn't have any stops planned in advance.
The hostel in Champex Lac was full by the time we arrived in the village in late afternoon, and we were lucky to find space in shared rooms above a bakery. Rifugio Elena was our destination on Day 1 of the TMB, but we might have stopped at La Peule if it hadn't been full. The same happened at Elisabetta, forcing us to hike a very long day to Mottets to find space for two dusty and exhausted trekkers. Thankfully we arrived just as dinner was served, and there was time later to shower and pet the alpacas tethered outside.
It is impossible to choose a favourite part of the TMB; every day was stunning and the refuges were unique and comfortable. Some were older and not as up-to-date as others (bring your own soap, flip flops and travel towel—and be prepared for squat toilets in Italy).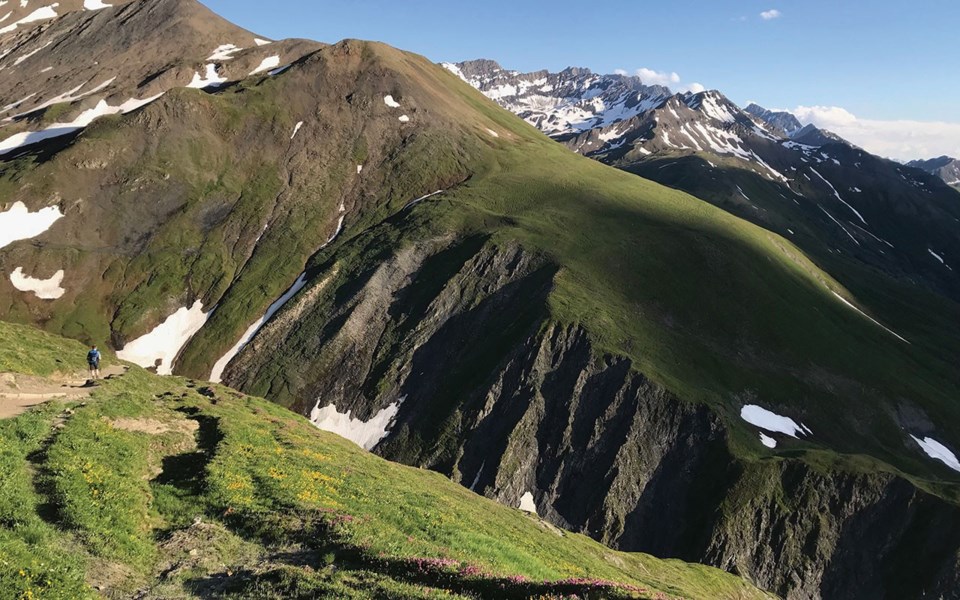 A stop at Bonatti for hot chocolate is a must, even if you don't choose to stay for the night. The pastries at Col de la Forclaz are perfect with a morning espresso, and lunch al fresco (with a beer) at Alp Bovine overlooking the Rhône Valley 1,500 metres below is delightful.
A day of exploring in Courmayeur and Chamonix are also worthwhile. The pizza and pasta in Courmayeur, along with the local red wine, was the best ending to celebrate a long day on the mountains. At Le Brévent, some trekkers chose to take the chairlift to Chamonix rather than stay at the refuge; the town has plenty of hotels, shops, bars and restaurants to inject some lively energy into the otherwise peaceful, early-to-bed TMB experience.
Wendy McLellan is a North Vancouver writer-editor who hikes as much as possible (with and without canine companions) in the North Shore mountains and on alpine trails from Squamish to Whistler.