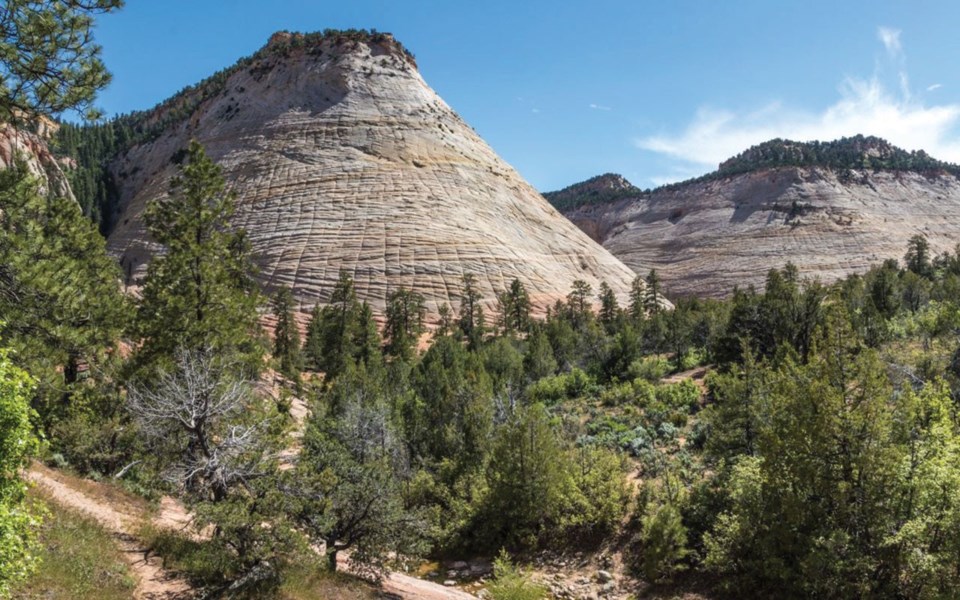 The concept of National Parks was developed in the United States, so it is no surprise to discover that some of the best parks in the world are here. I recently toured through a number of western parks and was amazed by the beauty and diversity I saw. The great thing is they are easily accessible from British Columbia.
A good way to visit is to fly from Vancouver to Salt Lake City and rent a car from there. Depending how much time you have, travel south through the Utah parks and then go north to Yellowstone. It is quite a bit of driving but you will be rewarded with wonderful experiences quite different from anything in Canada. These are places I really enjoyed.
Zion National Park
This is almost 500 kilometres south of Salt Lake City and is best known for its steep and jagged red rock cliffs and its arid landscape. From hiking trails to rock climbing, from mountain biking to bouldering, there is a heap of fun to be had in Utah's favourite national park. It is a canyon of soaring towers and massive monoliths excellent for photographing and you can see many of the great sights from the road.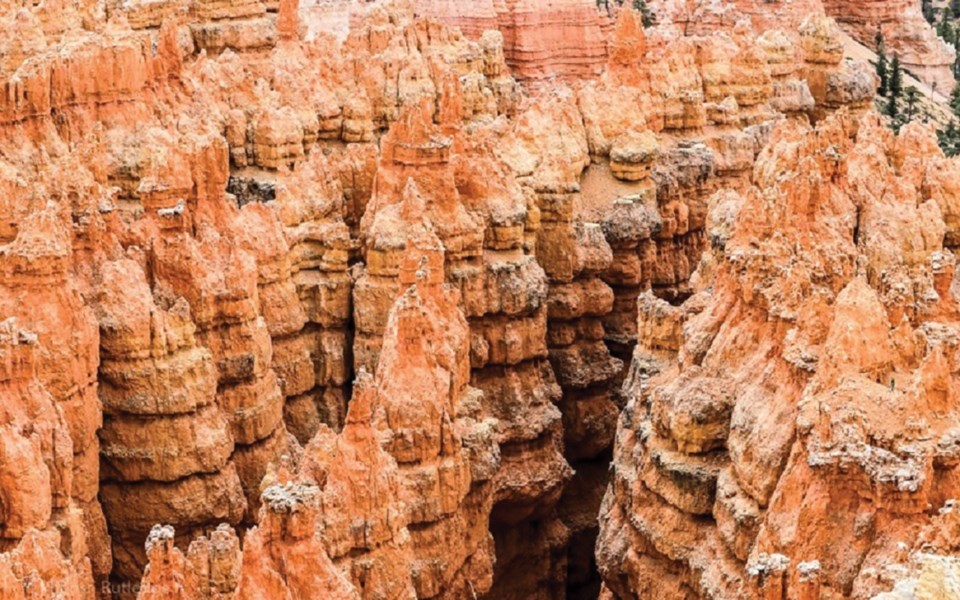 Bryce Canyon National Park
It's only 1.5 hours driving from Zion to Bryce. If time is short, you can do both of these parks in the one day but this would be a pity because they both have great interest and are quite different. At 2,500 metres above sea level, Bryce Canyon is a series of natural amphitheatres sunk into pink cliffs and filled with delicate red rock structures called "hoodoos." Take the 60-km scenic loop drive for incredible vistas and hike the two-kilometre Navajo Loop Trail, which wanders down into the rock formations. You will be stunned.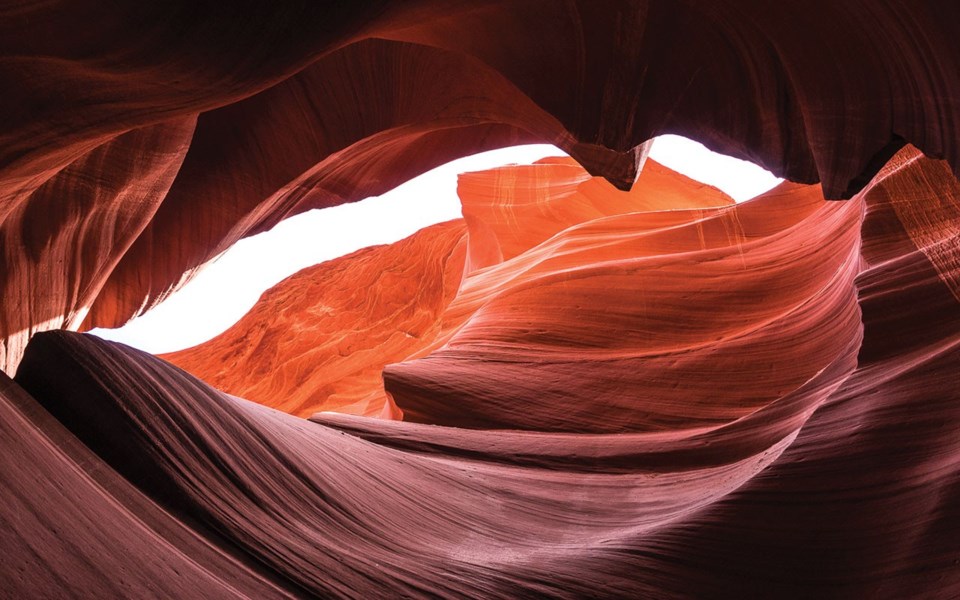 Antelope Canyon
This famous Instagram site is 240 kms south of Bryce National Park, just across the border in Arizona. Antelope Canyon is a slot canyon on Navajo Indian land. It has two separate, scenic sections; Upper Antelope Canyon and Lower Antelope Canyon. The two canyons are distinct but are within a 10-minute drive of each other. You can choose to do both in one day and each will take roughly two hours. But it's not as easy as that because you need to book ahead and tours are often running late.
Because I was on a very tight schedule, I could only visit the lower canyon where two operators provide tours. As far as I can tell they operate almost identical tours at a similar cost. To a large extent the success of the tour depends on the guide. Our guide was very helpful in taking photos and told us stories surrounding the rock formations. The colours and shapes are quite amazing.
Monument Valley
Although it is directly east of Antelope Canyon, it is a 200-km trip because there are few roads in this area. The main features are clusters of vast sandstone buttes, the largest reaching 300 m above the valley floor. Access to the Tribal Park is from US163 and you need to pay an entrance fee.
This gives you access to the Visitor Centre and the View Hotel and also allows you to drive Valley Drive. You can access this unpaved road in your own vehicle or take a tour with a Navajo guide. The drive is 27 kms long and typical times for the full trip are two-to-four hours. The road can become very busy during summer days, with queues at the major overlooks. I recommend early morning at this time of the year as the light is better for photography and there are far fewer people than later in the day. Organized tours, which you pay extra for, provide access to other parts of the park.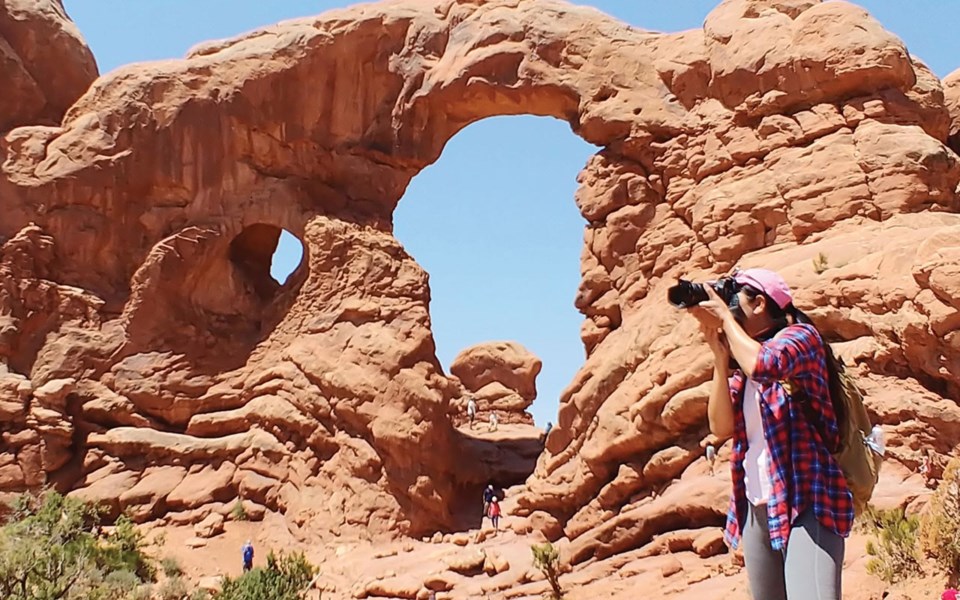 Arches National Park
Arches National Park is located in southeast Utah, eight kilometres north of Moab on US 191. The park has more than 2,000 natural stone arches, in addition to hundreds of soaring pinnacles, massive fins and giant balanced rocks. This is the largest concentration of arches in the world. Our first impression of the park was of a windless, sun-warped sprawl of red spires and orange buttes rising and falling to the horizon like a city of stone.
Plan on spending at least a few hours in the park, exploring the scenic drive and several of the viewpoints and short trails. Many of Arches' famous rock formations are easily seen from the single road that goes through the park. If time permits, longer hikes lead to many spectacular rock formations.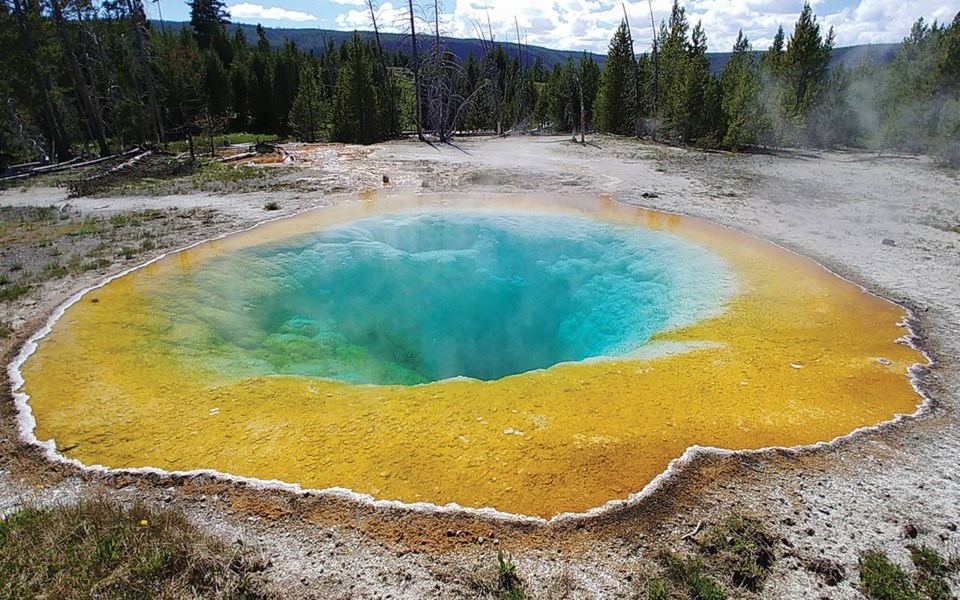 Yellowstone National Park
You need to return to Salt Lake City then go another 500 kms north to reach here. With geysers, grizzlies, a grand canyon, and great mud pools, Yellowstone National Park is dramatic, imposing and at times overwhelming. The world's first national park, established in 1872, is a wonderful blend of land, water, forest, grassland, wildlife and geothermal features. It challenges your senses and stirs your soul.
Yellowstone is in Wyoming with small parts spilling over into Montana and Idaho. Heat and volcanic activity from the depths of Earth power this dramatic landscape which is visited by four million people each year. In 1978, Yellowstone was named a UNESCO World Heritage Site.
Rather than a single focus, Yellowstone has several hubs so travelling around is essential. Don't miss these three highlights. Old Faithful Geyser erupts about 17 times per day to an average height of 40 metres. Wait on the wooden boardwalk built around the geyser and watch it erupt with your camera in hand.
Yellowstone's largest hot spring is in the Midway Geyser Basin and is accessible by boardwalk. It is a large turquoise pool ringed with orange and yellow with steam coming off the surface.
Yellowstone's grand canyon is an immense multicoloured trench that stretches 38 kms and rises as much as 360 m above the Yellowstone River. Trails lead to outstanding viewpoints like Artist's Point for great views of the 100-metre-high Lower Yellowstone Falls.
Accommodation
There is accommodation in many of the National Parks and Indian areas, and in nearby towns. Camping is also permitted in the National Parks within designated camp areas.