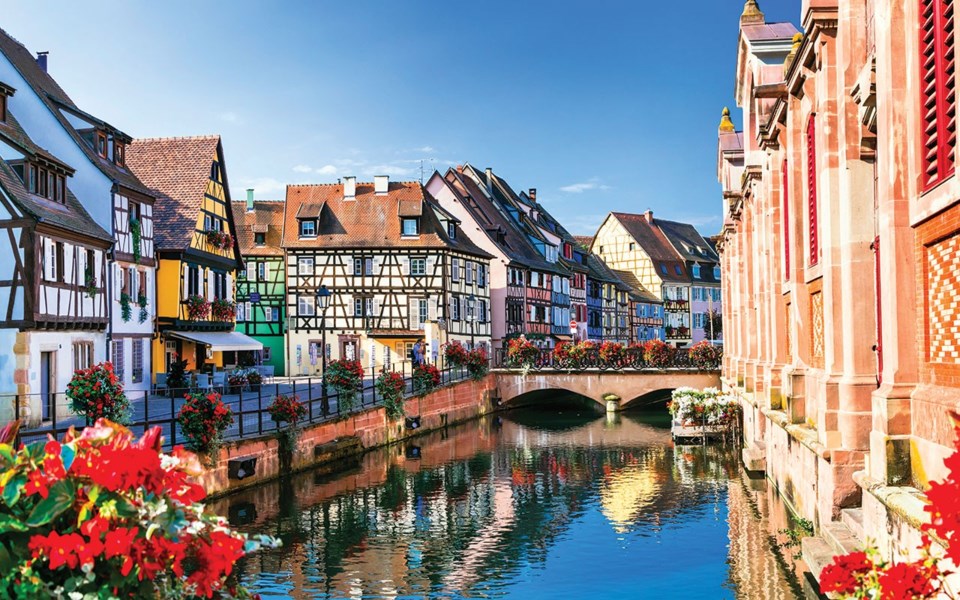 I feel like I've stumbled into a Brothers Grimm Hansel and Gretel fairy tale when I arrive in the tiny town of Ribeauvillé: half-timber medieval houses in pink, apricot and sea-green boast window boxes spilling geraniums and hug narrow cobblestone lanes.
We crossed the Vosges Mountains to get here from Champagne. These "blue hills" are politically significant because they separate the rest of France from the Alsace region, which was annexed by Germany in 1870, returned to France by the Treaty of Versailles after the First World War, taken by Germany again during the Second World War and then reclaimed by France.
Today, the Germanic influence still permeates the architecture, food, culture and wine. But while Alsace and Germany grow the same grape varietals, wines here are produced in a different style, aren't aged in new oak barrels and have a higher alcohol content.
Ribeauvillé is perfectly located in the middle of the wine region and the wines are something else. Aromas of rose, lychee, peach and honey fly out of the glass and many wines are unctuous enough to pair with German fare like smoked pork and bratwurst.
Of course, beer is big here, too. On our first night in town, we eat at La Flammerie, which has been around for 30 years. With red-checkered tablecloths, dark walls and peasant-inspired food, we may be only a short distance from Champagne in kilometres, but it feels a world apart in culture and cuisine.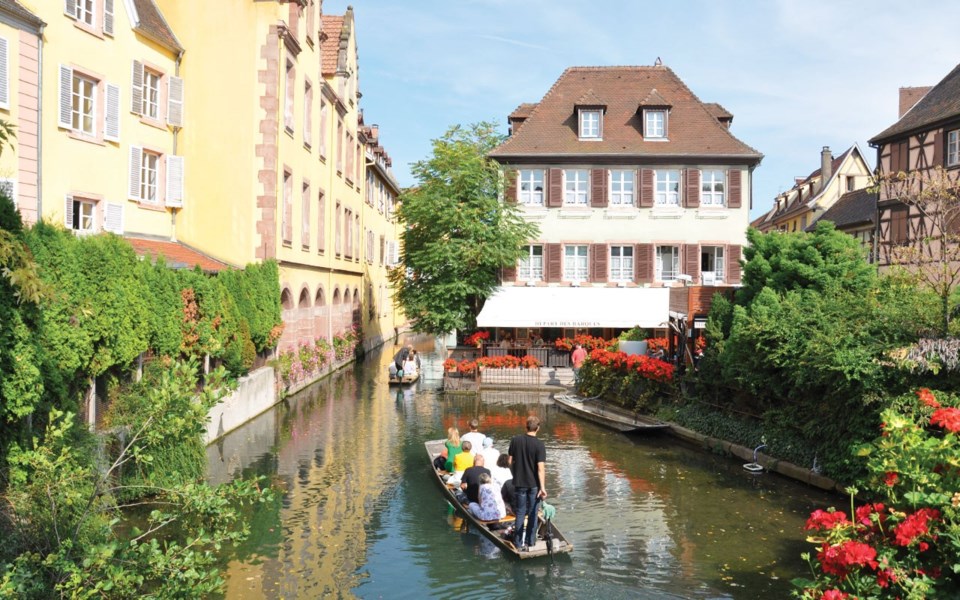 My sister Melanie tries a flight of beer, which sounds more like hair salon selections than brews: white, blonde, ombre, dark brown. I try a Riesling, which takes me by surprise because it is not at all sweet; Melanie, who is a sommelier, explains that Alsace Rieslings are fermented to dryness.
After the heavy meals in Champagne, I'm delighted to see pickled beets, carrots, radishes and green beans on the menu. My entrée trends back to hearty, though, as I order the "knuckle of ham." The inexpensive cut of meat is rendered tender by a long period of preparation. It comes with sauerkraut, which is almost as good as what my Ukrainian mom used to make.
The next morning, we again see red tablecloths, this time in our host Marie's dining room at Maison des Roses, an apt name given roses abound in her garden, the exterior of her large home is a deep pink and she crumbles praliné roses (almonds covered in cooked sugar, colored pink) in the cereal. She serves breakfast by candlelight!
In the Middle Ages, this town was the seat of the Lords of Ribeaupierre (hence the name Ribeauvillé) and perched high on the mountain edge are the ruins of three fortified castles.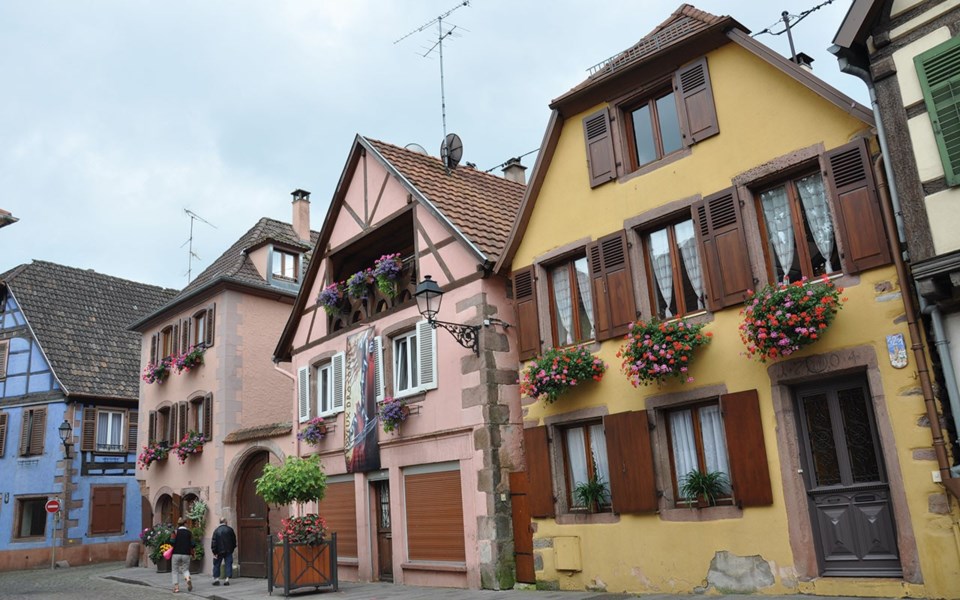 With full bellies, we saunter four kms up switchbacks lined with mossy trees to Château de Saint-Ulrich, the largest and best preserved of the three. It is quiet save for the occasional whoosh of avalanches of acorns and the plop of chestnuts falling and breaking open on the ground.
Originally constructed in the 12th century, Ulrich was expanded over the next 400 years, resulting in a marvellous mix of military architecture, Gothic and Renaissance elements and Romanesque characteristics. You can still climb the keep, for superb views over the valley. Haut-Ribeaupierre castle, as its name suggests, is higher still and older, built in 1084, but is also more dilapidated.
We take the shorter, steeper route back down to town, where we wander into the tasting room of Domaine de Moulin de Dusenbach. The manager, Greg, is passionate about Alsatian wines (he has two hectares of his own vineyards) and, over the course of two hours, pours us 20—yes, 20—tastes.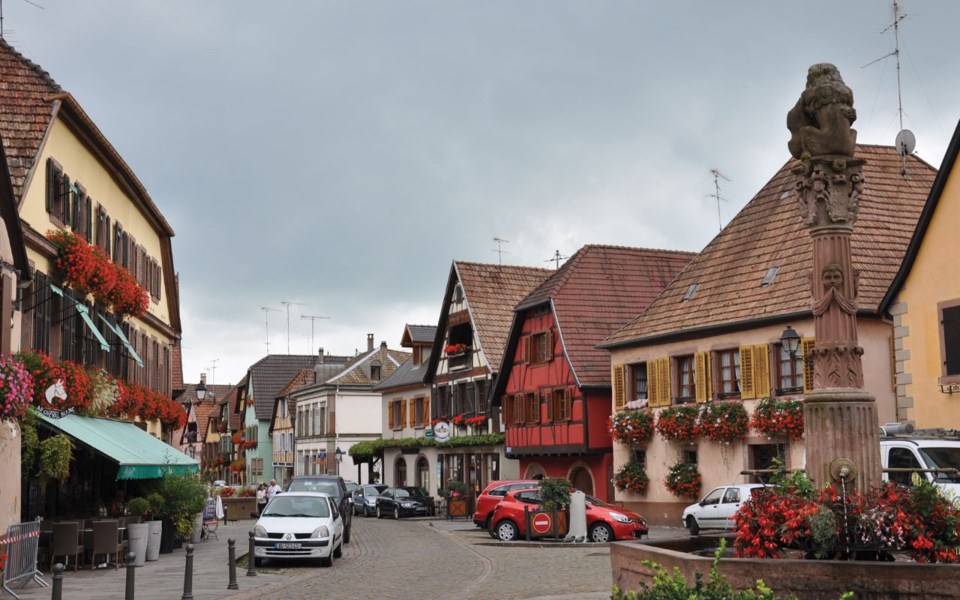 We start with three Crémants, which translates to "creamy" and is the perfect way to describe these velvety bubbles. Vintners use the Champagne method to put sparkle in this wine but it is meant to drink young, making it an affordable and fun sister to Champagne.
We move on to Riesling, Pinot Gris, Muscat and Gewürztraminer. Alsace produces a third of the world's Gerwurzt (German for "spice") and we try a "grand cru," made from hand-picked botrytis-affected grapes, also known as noble rot, which raisinates the grape. This, Mel explains, is why it is so expensive. Think of how little juice you would squeeze out of a raisin! It is like drinking honeyed nectar.
With such a fine introduction to the region's wine, we are excited to head out on the Alsace Wine Route, officially established in 1953. It is 170 kms long, featuring a plethora of producers, but we cycle only portions of it, stopping randomly at wineries, but also soaking in the scenery.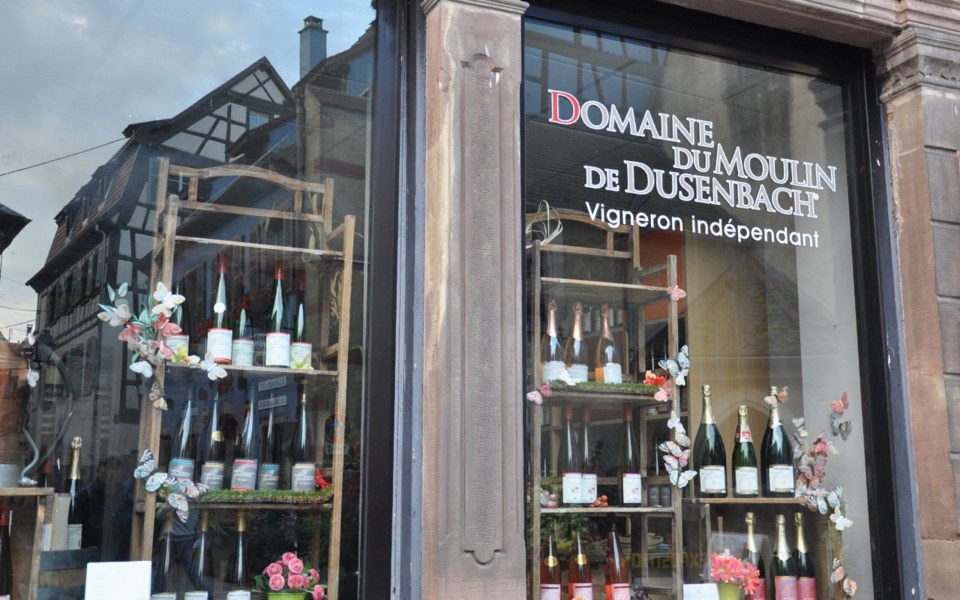 One day, we head south through dense forest, along waterways, through villages and into a couple of walled towns so picturesque they almost don't seem real. Romantic Riquewihr is our favourite. Colmar charms with historic churches, including the imposing Gothic, 13th-Century Église Saint-Martin, and a picture-postcard canal.
This is hilly country, with extreme hairpin turns cut into cliffs; we are jangled by motorcyclists who roar by as if auditioning for a James Bond movie and drivers who fancy the Fast and Furious style of squealing round corners at high speed.
As we near home, Melanie lags a bit. Until we enter a wee town where, upon seeing her maple leaf bike jersey, people yell out, "We luv Can-a-da!" She pedals harder.
Another day we head north to tackle an 18-km climb to Haut-Koenigsbourg Castle, which is shrouded in mist when we arrive.
The 12th-century castle was besieged, destroyed and pillaged numerous times due to European conflicts and royal rivalries. It was abandoned after 1633, then given to Kaiser Wilhelm II in 1899. He commissioned an architect specializing in medieval fortifications to restore the castle—apparently dreaming of a return to the old German Empire. The castle was handed over to the French government in 1919. More conflict followed—this time over the restoration work—due to fluctuating Franco-German relations.
I walk up to the medieval garden, my bike shoes clacking loudly, and a man asks me something in French that I don't understand. He switches to hand signals: did I cycle up to the castle? When I say, "Oui," he says, "Brava!"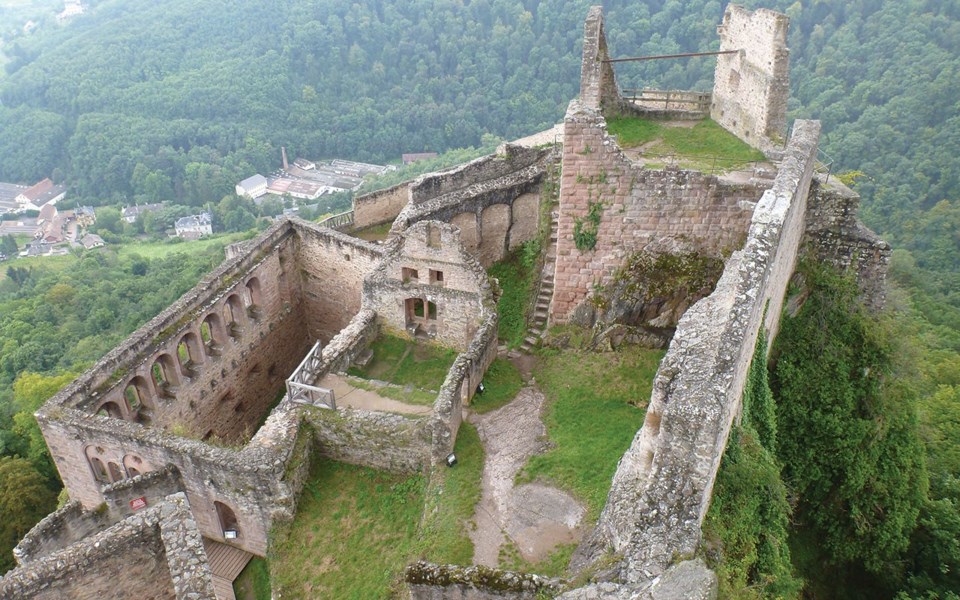 While we enjoy exploring the area, we're always happy to return to Ribeauvillé to wander the pedestrian-friendly Grand Rue with its chapels and scenic squares, fountains and flowers. The sense of history here is palpable. As is the joie de vivre.
To read Part 1 of Virginia Aulin's trip through the French Champagne country, visit piquenewsmagazine.com/whistler/venturing-into-vineyards-and-villages-of-northern-france/Content?oid=14317109.