What is Prime Early Access?
This is a two-day event available exclusively to Prime members in Canada. Not a member? Joining is quick and easy with a short trial period.
What's on sale?
The deals are steep and varied, with everything from rice cookers to Polly Pockets to blow dryers to Yeti tumblers available at a discount. It's a mix of Prime Day, Black Friday, Cyber Monday and Boxing Day deals all rolled into one.
How long will it last?
The best deals often sell out (there is limited stock) and the dates (Oct. 11-12) are set. This is a two-day-only sale and unlikely to be extended. In other words, clear your cart before time is up.
What's the easiest way to shop the best name-brand deals?
The V.I.A. Amazon Storefront has you covered. Shop the best picks in home, kitchen, tech, personal care and fashion in our curated list. See more at Endorsed by Vancouver Is Awesome.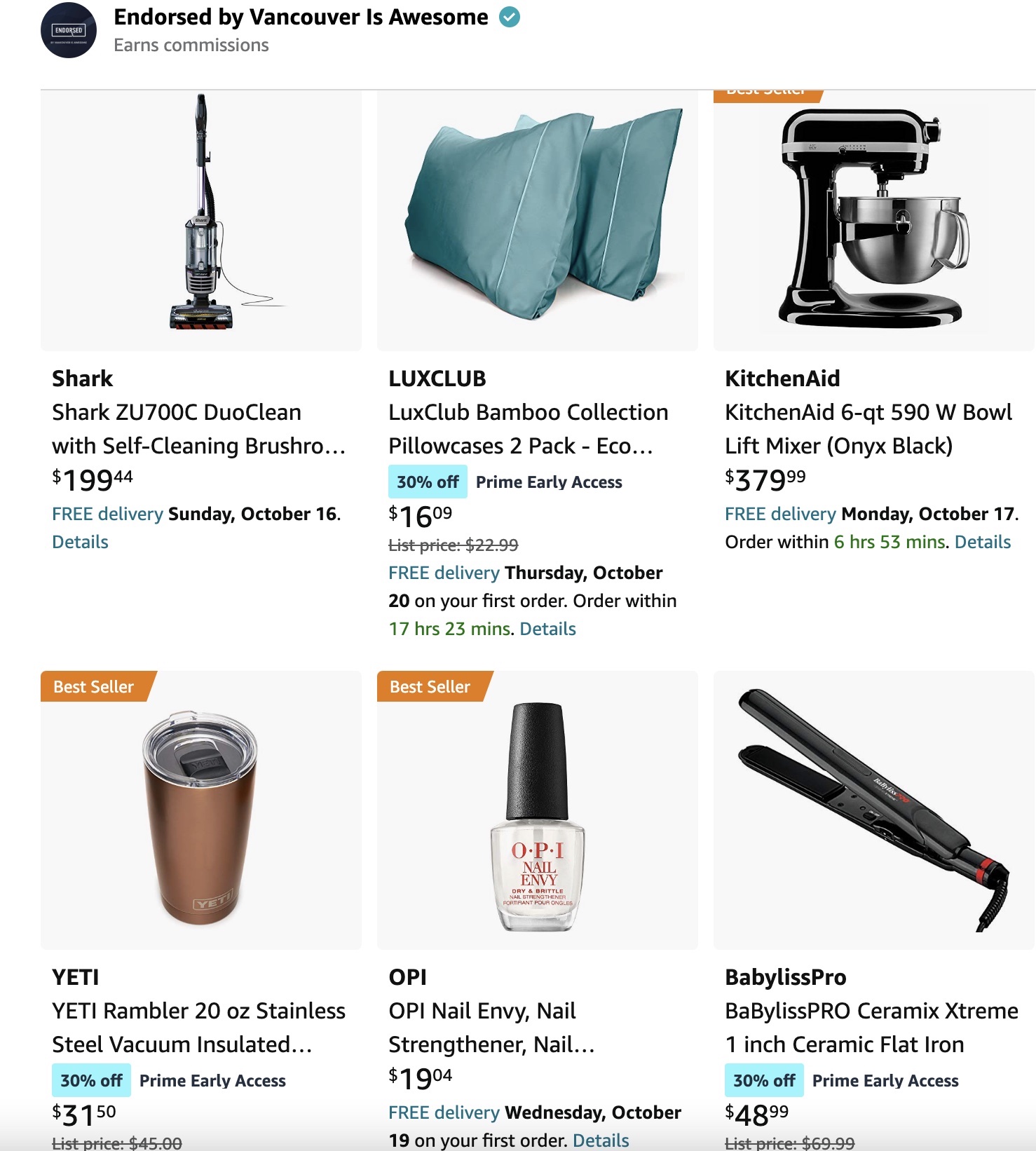 Jump to best deals in kitchen appliances.
Jump to best deals in home goods.
Jump to best deals in skin care and beauty.
Jump to the best deals in hair care.
Jump to the best deals in toys and games.
Jump to the best deals in fashion.
KitchenAid has some amazing deals on small appliances and yes that includes the highly coveted KitchenAid 6 quart mixer (33% off, $379.99), a 13-cup food processor ($189.99) and a retro-design countertop blender (46% off, $128). Shop the full KitchenAid line here.
Been waiting on a deal before investing in a new air fryer? The much-love Cosori XL cooker with 5.8-quart capacity is 17% off. $145.99 at Amazon.
For pro home chefs who prefer to steam their food (rather than using an Instant Pot or air fryer), this triple-tier steamer set allows for multiple dishes (veggie, fish, dumplings, pasta) to cook at the same time. $84.78 at Amazon.
Great for whipping up pumpkin spice lattes at home, the FoodVille milk frother is handheld and battery powered. $16 at Amazon.
Yeti tumblers are high quality, durable and rarely go on sale, so this selection of colsters, ramblers and mugs at 30 per cent off is a pretty big deal.
Lux Club's super soft bamboo sheet sets and pillow cases are on sale for up to 30% off here.
The Shark vacuum deals are similar to discounts seen on Black Friday and on Prime Day, with discounts ranging from 20-25% off.
Umbra's stylish home organization goods, like hanging planters and touchless soap pumps, are on sale.
Apple products rarely go on sale and right now, there are Macbooks and iPads on sale, with discounts in the $100-off range. Shop Macbooks and iPads here.
The Bose Soundlink Revolve+ speaker boasts 360-degree sound and a 17-hour battery life. It can pair with two devices at once and is dust- and water-resistant. $289.99 at Amazon.
Microsoft Surface laptop savings go as high as 29% off on the 13.5" touchscreen ($1,349). Shop Microsoft Surface laptops here.
Power up with longer cables, wireless chargers and multi-port stations on sale from Ankler.
OPI polishes (including the iconic Nail Envy) are 15% off.
This Renpho motorized foot bath is 23% off and would make a great holiday gift for a parent or grandparent. $131.19 at Amazon.
From gel cleansers to tonic lotion to hydrating face cream, Bioderma's line of products are up to 36% off right now.
Micellar water, L'Oreal night cream, charcoal face wash, Garnier face masks and glycolic acid toner are just some of the skin care products on sale here.
Coco & Eve Like a Virgin hair mask (30% off), Revlon hair tools (up to 31% off), a wide selection of drugstore brand shampoos (up to 27% off), Conair hot tools (up to 34% off), silicone scalp massagers ($10.37), the BaByliss flat iron (30% off) and Morocconooil products (up to 30% off) are just some of the steep deals to be found while supplies last.
It's not too early to start thinking about Advent calendars as the best ones sell out quickly. This Marvel/LEGO crossover is perfect for an Avengers fan who also loves holiday cheer. $46.19 at Amazon.
The classic set of tactile infant toys (six months and up) includes stacking rings, a xylophone and colourful blocks. $27.98 on Amazon.
It's never to learn to pretend to check emails on your watch: this "smart watch" for little ones plays music and lights up. $9.59 on Amazon.
Bigger kids who love race cars would appreciate if Santa (cough, cough) brought them this Hot Wheels Track Builder Stunt Box. $47.99 at Amazon.
The Orolay jacket shot to popularity in 2018 after an article in The Cut and since then, the down jacket with the signature front pockets has become a winter-wear staple. It comes in 17 different colour combinations, some of which are up to 52% off.
For a functional running shoe or every day "dad" sneaker, New Balance fits the bill. There are multiple styles on sale and sizes are going quickly.
The Drop's elevated basics are a high quality pick for the price point but the downside is, pieces sell out very quickly. Shop the entire line or look for select pieces like the vegan shacket or supersoft genie jogger.
This has been an unseasonably warm fall in B.C. — all the more reason to splurge on a new pair of Ray-Bans. Shop Wayfarers and more at up to 25% off here.