With the "first of a series of storms" arriving on the South Coast, the B.C. River Forecast Centre (RFC) has issued a flood watch for the South Coast, including Whistler, Pemberton and Squamish.
The Resort Municipality of Whistler (RMOW) is assessing the upcoming storm as low risk, "meaning that no major flooding is expected, but minor flooding in low-lying areas is possible," a spokesperson said.
"Staff will reassess the flood risk rating at regular intervals until the storm has passed."
To prepare for the storm, the RMOW is setting up a sandbag station at the municipal Public Works Yard; ensuring ditches and culverts are clear; monitoring the Fitzsimmons Creek and associated tributaries; and keeping crews, equipment and the Emergency Operations Centre ready should flooding occur.
The public can find updates at whistler.ca and through social media, and residents are advised to sign up for WhistlerAlert, the RMOW's emergency notification system, at whistler.ca/whistleralert.
The public is also asked to report urgent road or flooding issues to the RMOW's roads department at 604-935-8300 or roads@whistler.ca.
"Should the public see a downed power line, they should remain at least 10m (length of a school bus) away and call 911 immediately," the spokesperson said in an email.
With regard to the Fitzsimmons Creek, forecasts from the RFC show potential for two high-water events in the next week.
"This particular forecasting is suggesting it may reach similar levels as what were experienced on [Nov. 15], and that was really because of three successive storms," said Jonathan Boyd, a hydrologist with the RFC.
With the current storm rolling over the South Coast, "I do think that temperatures may be cool enough that it might be a pretty subdued response in a lot of the creeks and rivers," Boyd said. "[But over] the weekend, the freezing levels are going to go up," with potential for "a very extreme event to occur Tuesday and Wednesday of next week," he added.
The RFC forecasting shows potential for "two 100-year events occurring within a two-week period," Boyd said.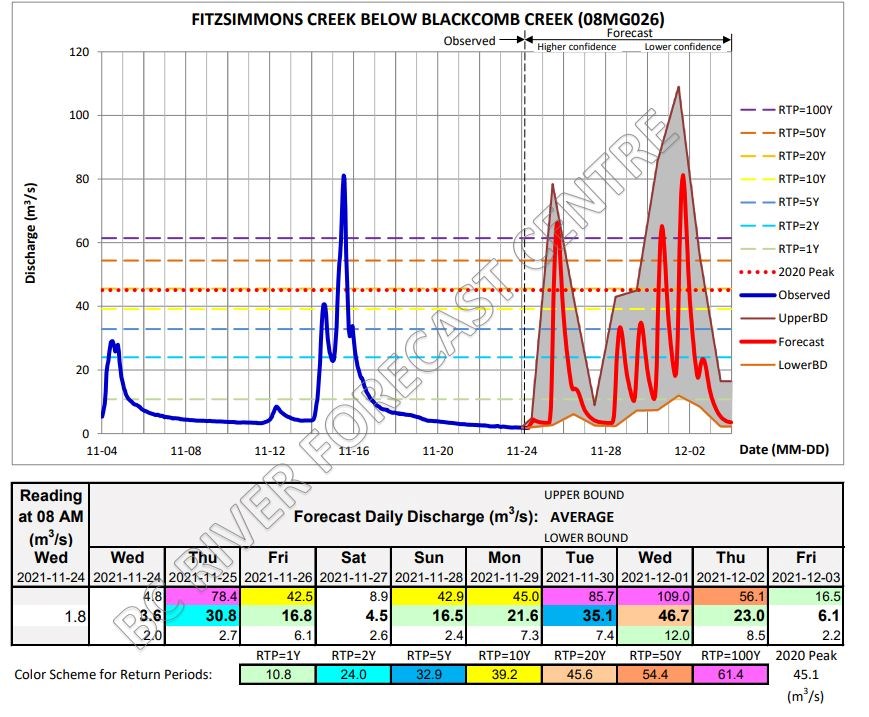 The previous high-water event on Nov. 15 was the result of back-to-back storms, he said, "and this one has the potential of actually being three storms back to back."
With that in mind, "there is still quite a bit of uncertainty just because it's so far out into the future," Boyd added.
The flood watch issued by the RFC is primarily in preparation for a storm expected over the weekend, Boyd said, and river flows are expected to rise on Saturday, peaking on Sunday or Monday.
"It's a good idea to be aware of the current conditions, and that the forecast always changes," Boyd said.
"So do your best to be up to date each day in terms of the changing notifications or warnings."
Find the latest river forecasts at gov.bc.ca/riverforecasts, and stay up to date on weather alerts here.
Having seen what flash flooding has done to other areas of B.C. recently, it's important to be prepared, Boyd said.
"These destructive events can come out of the blue, or seemingly with little awareness and notification, and we are moving into a world that's changing with climate change," he said.
"The potential is that storms are going to be more frequent and more destructive, [so it's important] to have a plan in a situation where you have highways that are closed for more than just a day."