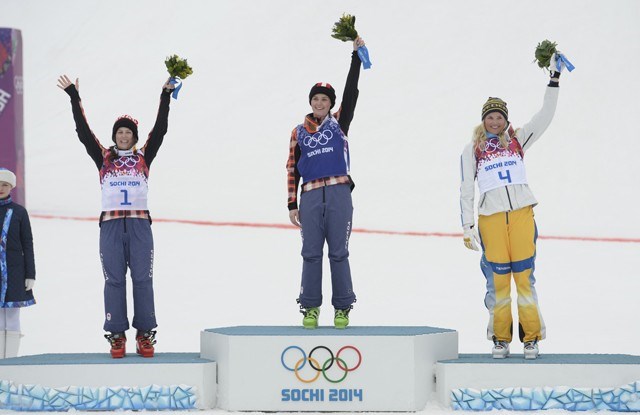 In less than four years at the top level of ski cross racing, Marielle Thompson has already achieved so much. That's why her Olympic triumph on Friday shouldn't have come as a surprise to anybody.

Consider her accomplishments heading into her race at the Rosa Khutor Extreme Park: She won Canada's first-ever individual ski cross Crystal Globe at age 19, winning three of the final five races in the 2012 season to claim it. The six podium finishes she recorded that year are the most by a Canadian woman in one season.

She collected a junior world championship title and a world championship silver medal at age 20. And today, the 21-year-old is an Olympic champion.

In a sport where the unpredictable happens, Thompson's consistency has been remarkable. Her victory Friday means her streak of top-five finishes remains intact, and it's a run that has now lasted 13 major races dating back to last season.

The first event in that streak was last season's Olympic test event in Sochi, when she was second and teammate Kelsey Serwa won. Those two skiers occupied the top two steps in Sochi again on Friday, simply trading places on the podium.
[jump]
She may be soft spoken and laid back away from the hill, but put Thompson on a race course and her intensity shines through. There's been nobody on her level in women's ski cross this season and she's making it look easy, dominating out of the start, rarely failing to get the hole shot, then cruising to easy heat victories.

That said, her calm demeanour is also obvious between the gates — it was on full display during the only moment where she faced adversity Friday, shrugging off a challenge from behind by Australia's Katya Crema, and keeping out front and upright when Crema's move forced her to bump with Swiss skier Sanna Luedi.

Without question, there is nobody as good as Thompson in women's ski cross right now, and any doubt of that fact was stomped out on Friday. Considering her youth and ability to stay healthy thus far, this might be just the beginning of what Thompson will achieve in her career.

Her Olympic triumph is especially noteworthy because there have been just two gold medals awarded in women's ski cross, and both of them belong to Whistler skiers, with the now-retired Ashleigh McIvor topping the podium in 2010.

Though they haven't skied together as teammates since McIvor's last race in 2011, the two have maintained a relationship that has clearly had a positive impact on Thompson's career.

Thompson was struggling mightily at the start of last season, and some bad qualification results early in the winter made defending her Crystal Globe impossible before January was over. But she said things started to turn around for her last year after sitting down for coffee with McIvor and taking some of the 2010 champ's advice to heart.

A few weeks ago, McIvor told me that she felt a responsibility to play a mentor's role to Thompson. But she also said she was hardly surprised to see Thompson's quick and consistent success, considering the two skiers' parallel upbringings.

"It's so interesting to me that Marielle's doing so well, being a Whistler girl with such a similar upbringing to mine and such a similar attitude, naturally," said McIvor, who said growing up in Whistler provides the perfect path to ski cross success.

"(It's about) having that wild side. That's what draws people to Whistler, and it's what happens naturally to people who grow up in Whistler. You just have that free-spirited, race-your-buddies-from-the-top-of-the mountain-to-the-bottom — through gullies, off cliffs — mentality. That's what makes a good ski cross athlete."

Though ski cross has a short history, Whistler has a long list of athletes who have been successful in the discipline. Beyond the two Olympic champs, Julia Murray was a world championship silver medallist, Davey Barr had a world championship bronze and an X Games silver in his career. Dave Duncan has had his best World Cup seasons since moving to Whistler, while Serwa spends a lot of her time in the resort during the offseason with her partner, another former national team racer from Whistler, Stan Rey.

Thompson's gold was hard earned and well deserved; and it was forged right here in Whistler. This resort has helped put ski cross racers in a position to be great, and today, Marielle Thompson is the greatest.